The only drawback of having short hair is that it sometimes seems like you're stuck and always have to wear your hair the same way—but all you need is a little inspiration. Bob-length hair gives you lots of casual and formal updo options, and you can have fun even with a pixie.
Here's a varied selection of bridal, prom and other formal updos for short hair, but also fun everyday hairstyles when you want something different for the day. Prepare your bobby pins!
1. Chignon With Pearls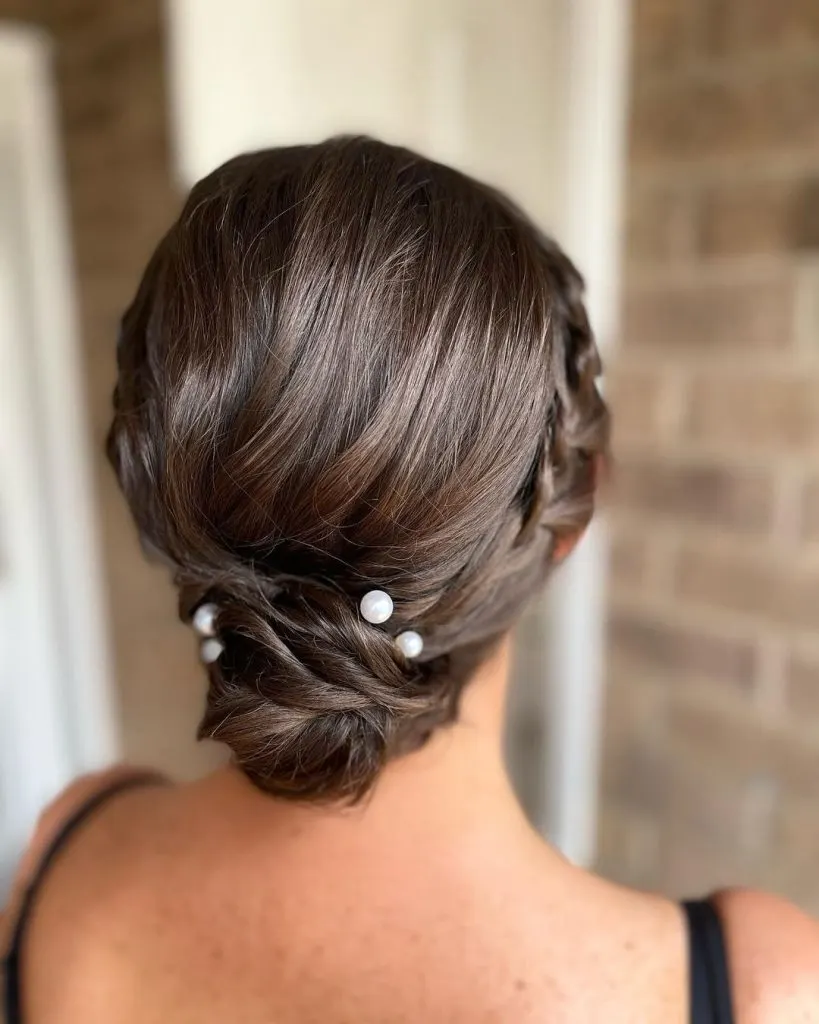 This gorgeous formal updo works best on a long bob without layers. You'll need bobby pins, plus some decorative accessories.
Part your hair the way you prefer. Tease the hair at the crown to create volume.
Starting from the front, braid or twist the strands around the face going towards the back.
When you reach the part of the head where you want the bun to be, pin the ends, going over the hair at the nape.
Twist the loose strands, pinning them under and over each other to hide the ends, creating a bun shape.
Leave as is, or carefully insert decorative bobby pins.
2. Updo For Short Curly Hair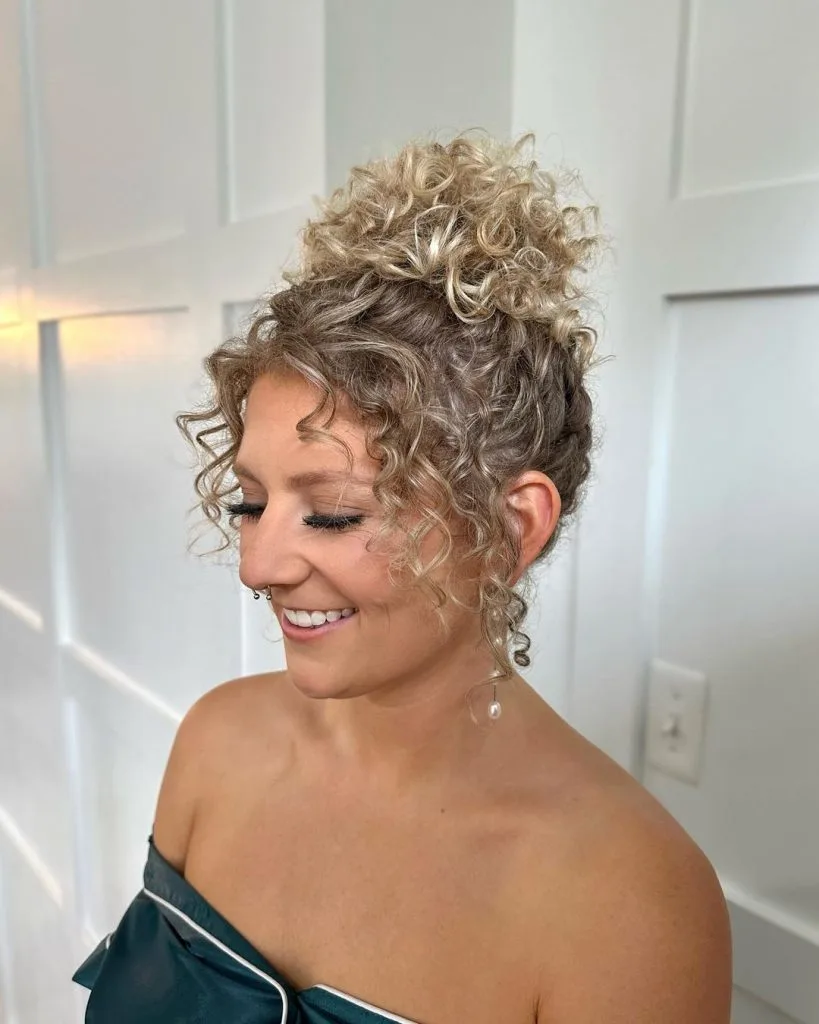 With the help of a few bobby pins, short curly hair tied in a ponytail is transformed into a super-easy updo that works for any occasion.
Decide on how much hair you want to keep loose before yout tie your hair. You can pin everything back or leave some face-framing strands.
Gather your hair into a high pony. The placement of the ponytail depends on your hair length, but since you'll pin loose strands anyway, you can go as high as you want.
Wrap strands around the base, tuck the ends down and secure with pins, creating a bun shape.
Pin any loose strands in the back for a more formal updo or leave them loose to create a messy, casual look.
3. Braided Pixie Cut Updo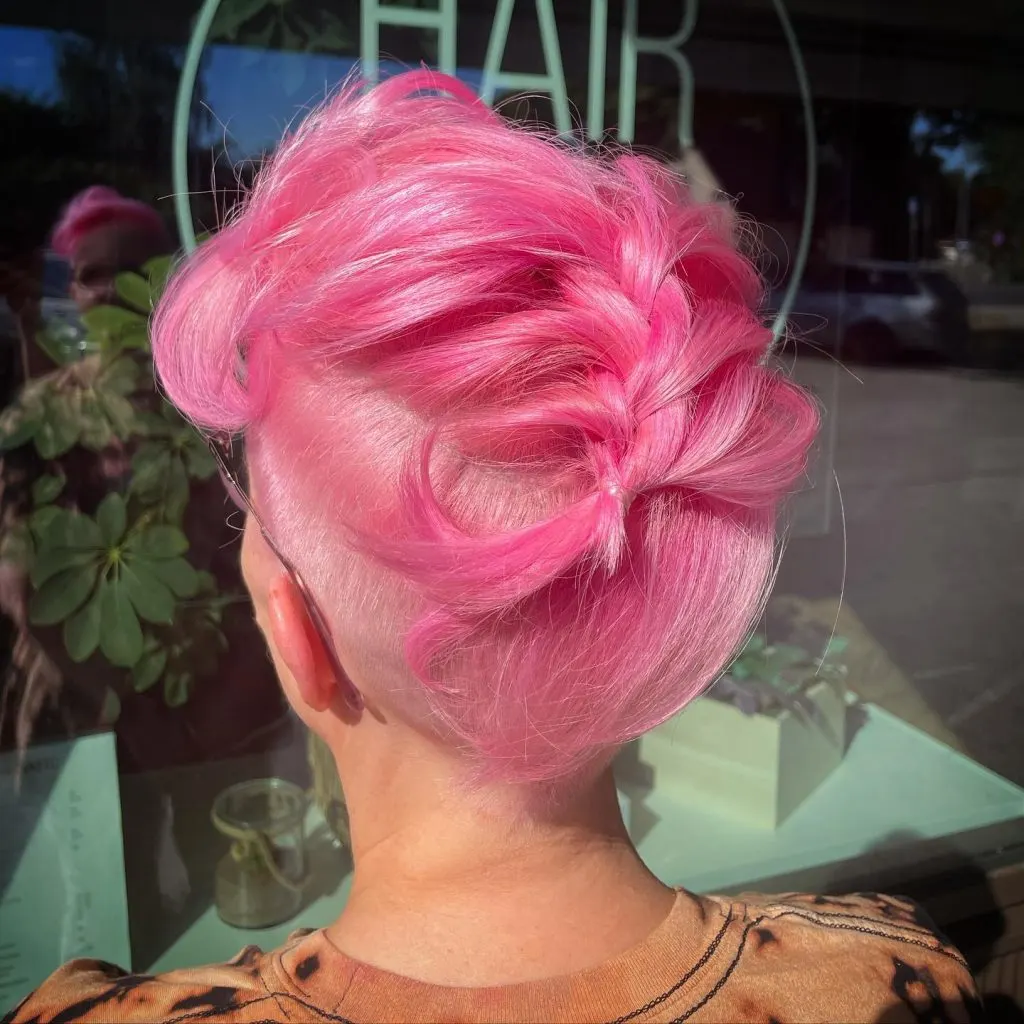 A longish pixie can easily be transformed with a simple braid. This pink pixie uses a loose French braid to create a soft, effortless look, but you can experiment with other braid types and see where it takes you.
4. Cornrows With Beads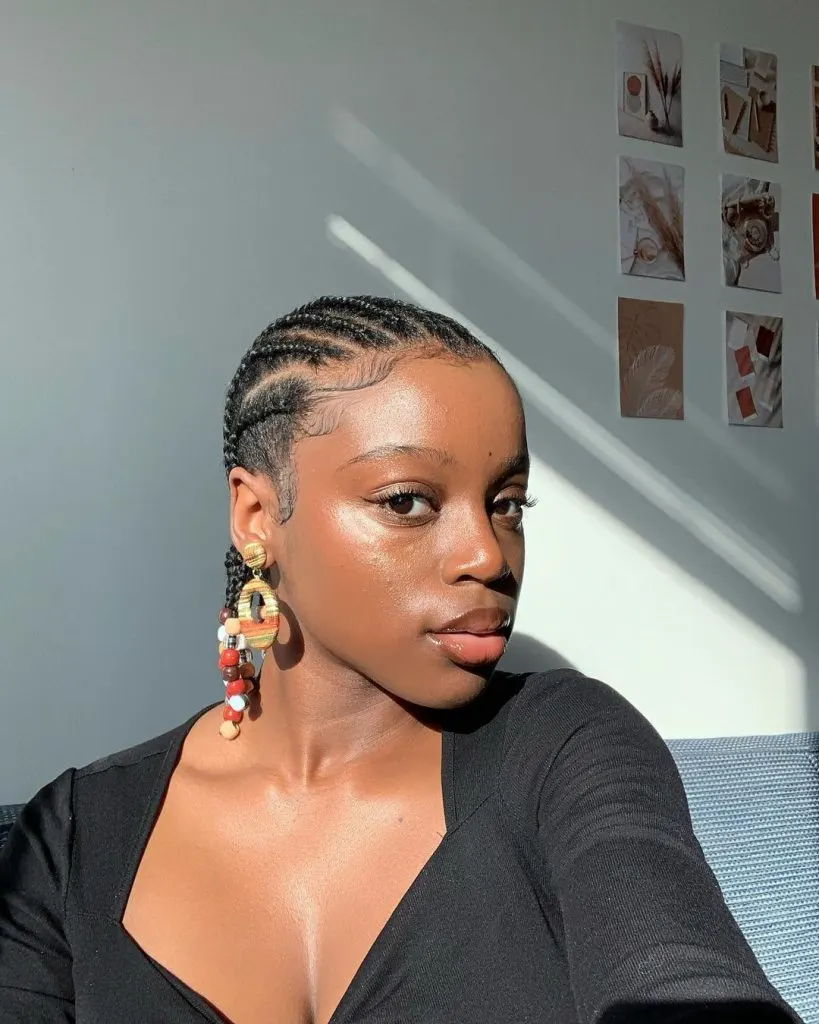 Simple cornrows are easy, elegant and protect your hair. Spice them up with accessories, such as these colorful beads.
5. Top Bun With Bangs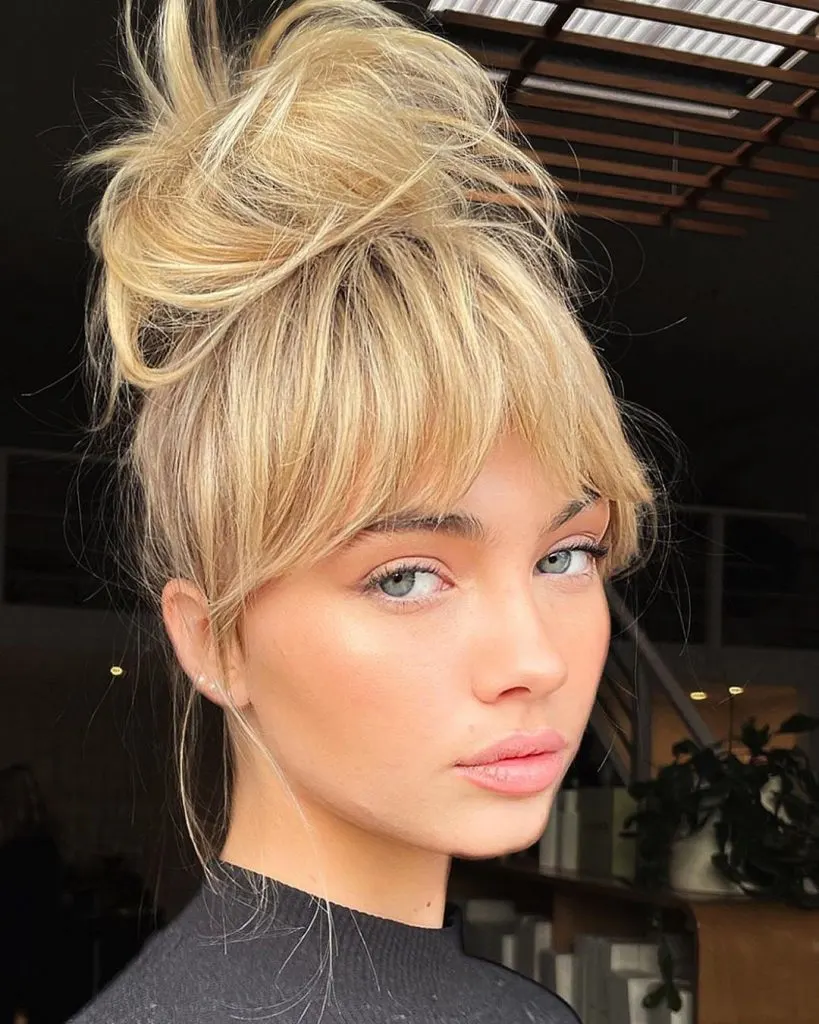 Perfecting the method of making a messy bun on long hair can be tricky because there's all that hair to deal with and make it look effortless, but with bob-length hair you can fake this imperfectly flawless style.
Gather your hair into a high ponytail, leaving any bangs and face-framing strands out.
Twist the pony into a bun, securing each section with bobby pins. It doesn't have to be perfect—in fact, the messier it is, the more effortless it looks. And you're done!
6. Low Twist With Accessories
This low twist is perfect for a formal occasion, and it's super easy.
Tease the hair at the crown. If you have bangs, arrange them where you want them to be.
Smooth the hair on one side of the head diagonally towards the nape, so that all the hair is on the opposite side. Pin at the center.
Twist the hair from the other side over the pins, tucking under and securing with more pins.
Add a decorative accessory.
7. Dutch Braid Half Up Half Down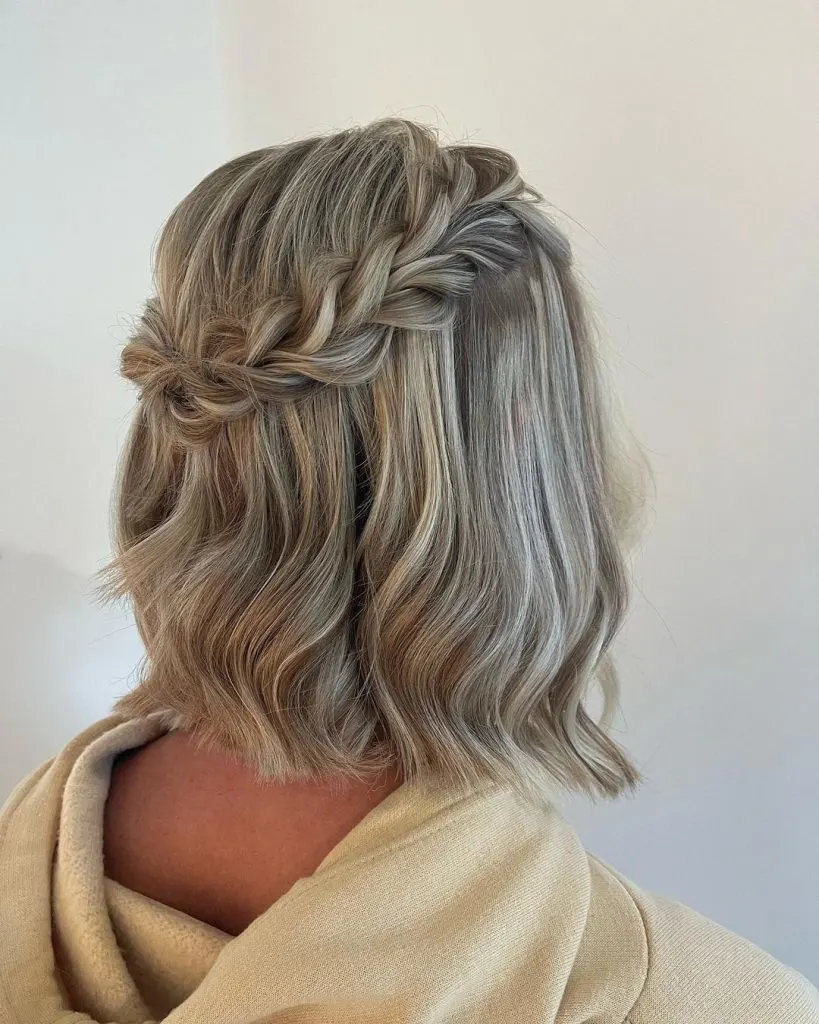 A Dutch braid creates a cool 3D effect and looks amazing in a half updo. Here's an easy half-up Dutch braid tutorial that works on short and long hair.
8. Easy Updo For Short Hair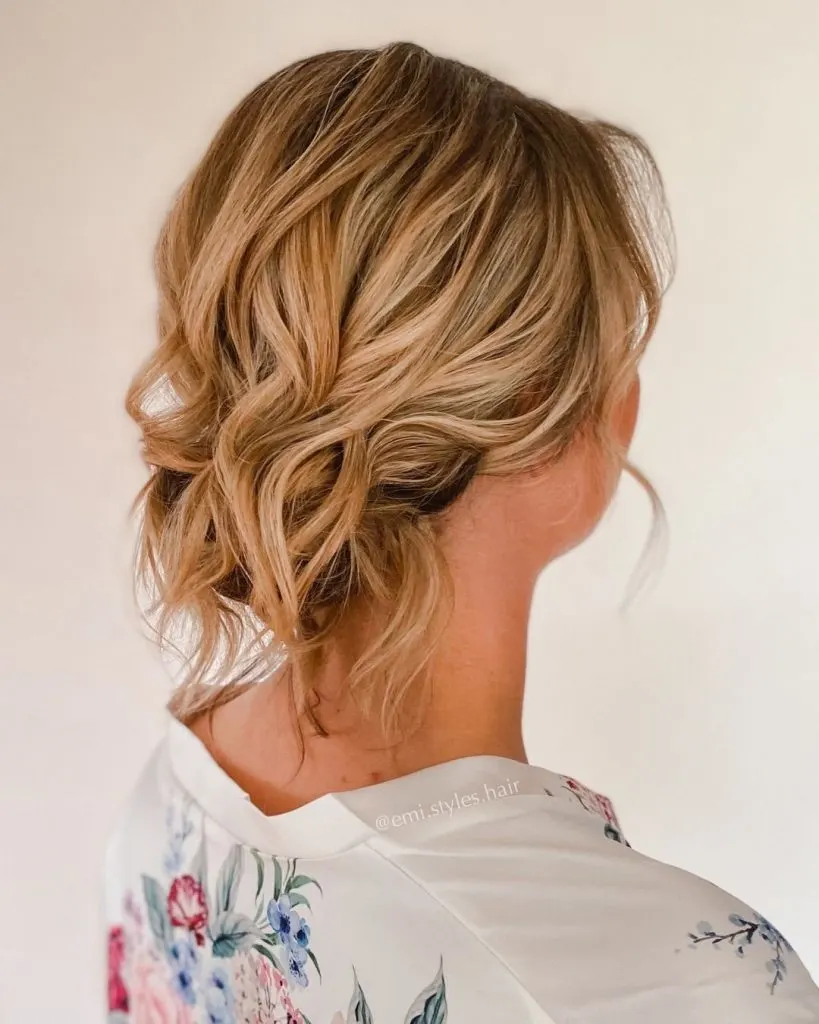 This updo looks unusual, but it's nonetheless elegant and fun. The key to making it look good is texture—before you start with the updo, apply lots of texturizing spray to create separation. Then, all you need to do is twist and pin the strands without trying to create a bun. Leave some strands loose to make it look laid back.
9. Pixie Cut Headband Updo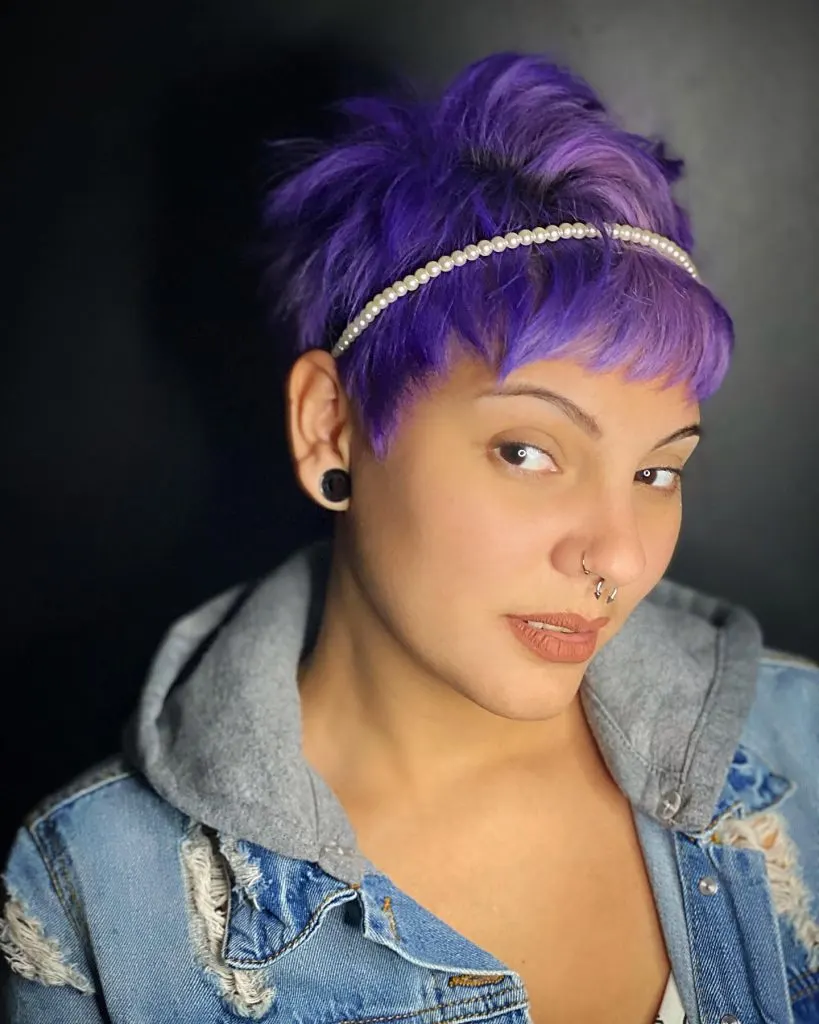 Style your pixie as usual, and add the prettiest headband you can find. And voilà! A gorgeous formal short hairstyle.
10. Braided Space Buns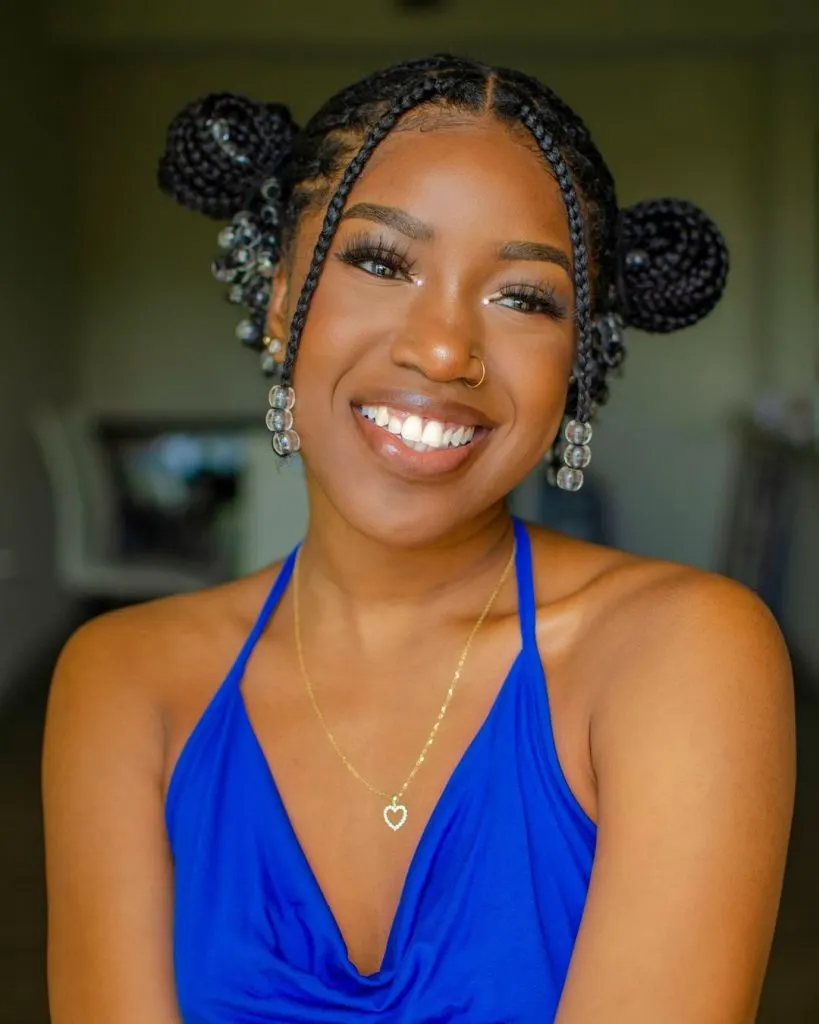 Space buns are fun and cute, but more importantly, so easy to do on short hair. All you need are two elastics.
11. Simple Twist Half-Up Hairstyle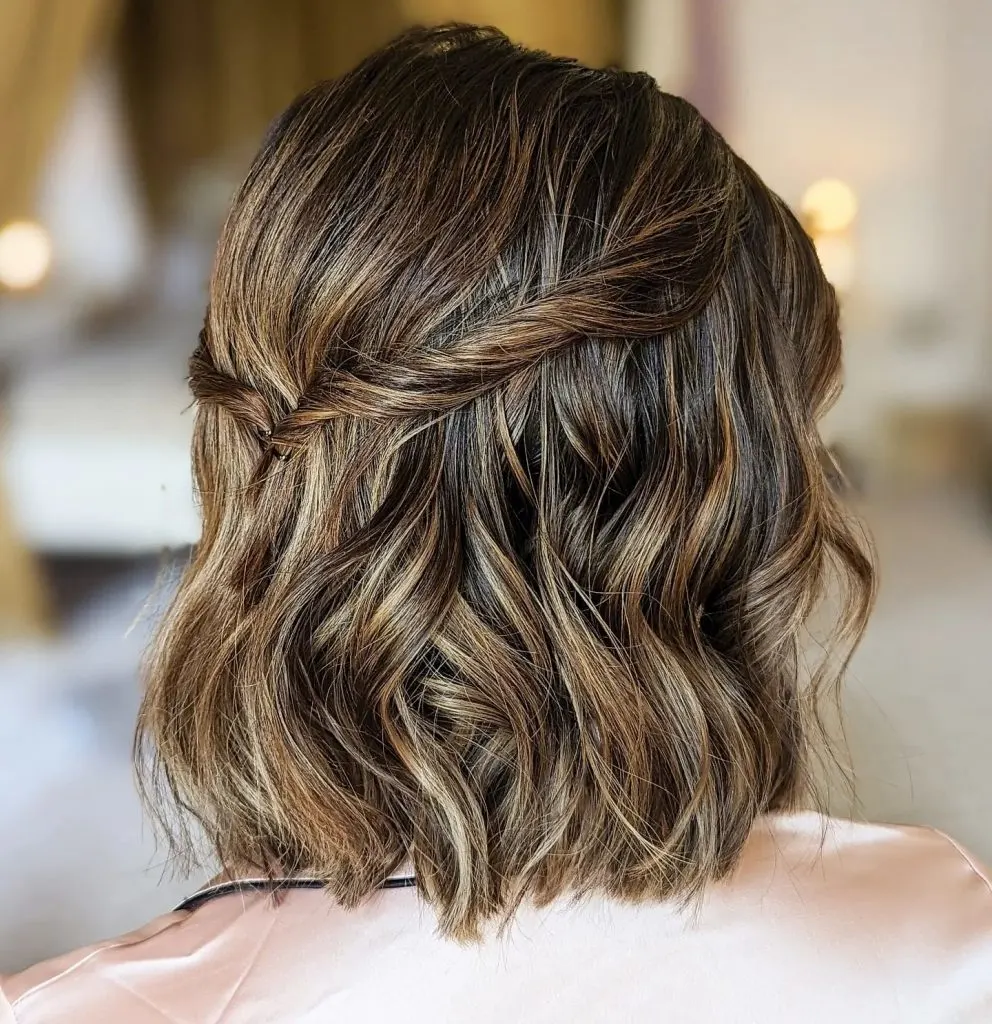 This is the easiest half-updo around, and if you prep your hair right it can look like you really made an effort. Take a section at each side and twist towards the back. Secure with an invisible elastic or bobby pins.
12. Bun With Hair Stick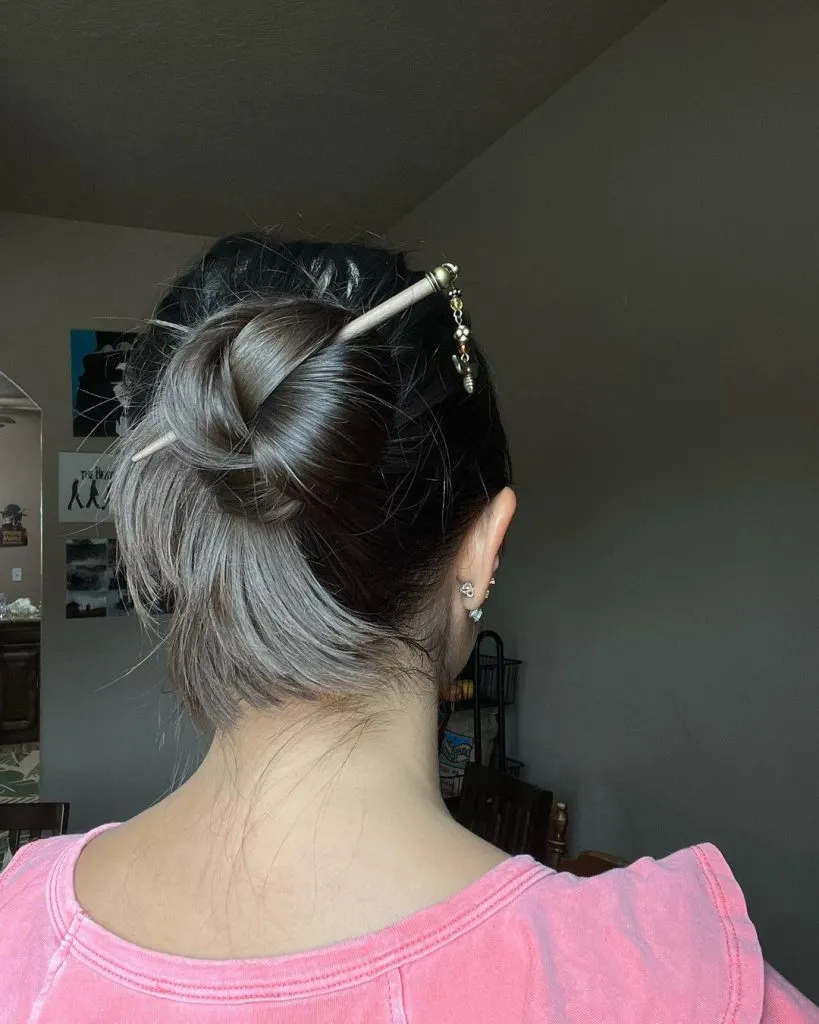 If you've ever used a pencil to move your hair out of your face when you didn't have a hair tie, you know how to create a hair stick bun. But, if your hair isn't long these days, you might have to fake it. Gather your hair into a medium or low pony, twist into a bun and secure with bobby pins, then just decorate with a hair stick (but please don't use a chopstick).
13. Half-Up Twists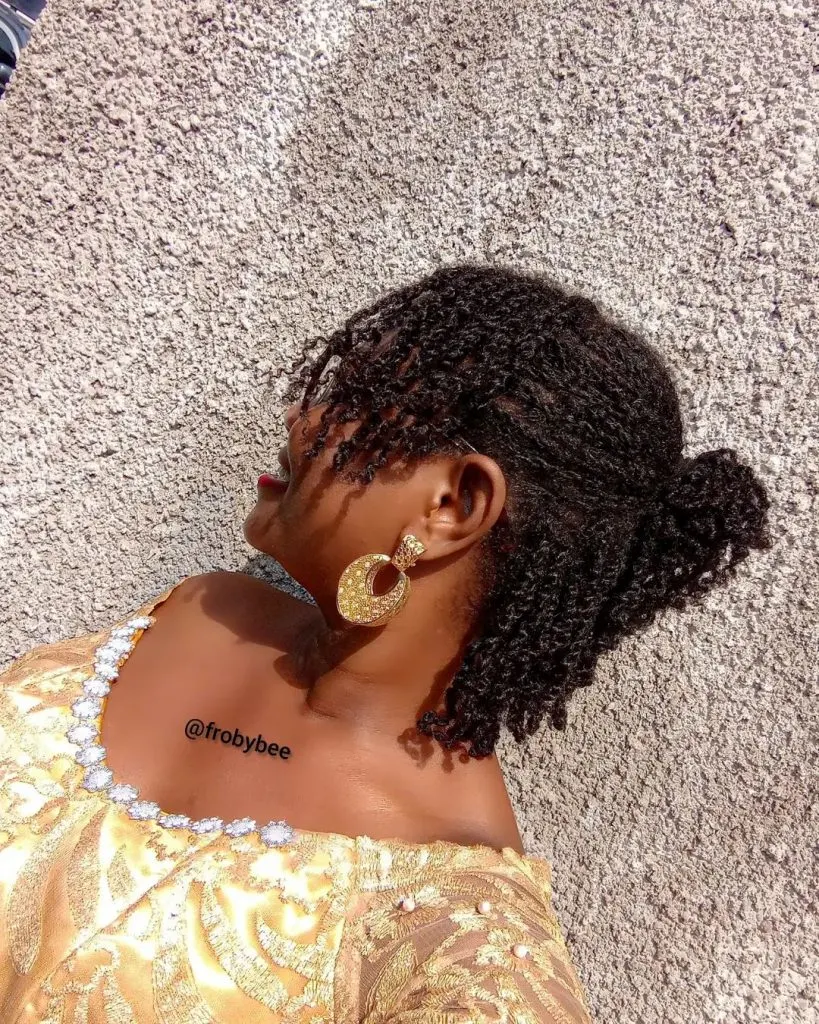 A half pony is one of the easiest ways to do something different with your hair. Play with the placement of the pony and how much hair you leave out in the front and at the back and you can create plenty of stylish and interesting hairstyles.
14. Dutch Braid Half Updo
A messy half updo with a braid is a cute and pretty hairstyle that takes a little practice but can be done quickly once you get into it. A Dutch braid looks thicker and creates more lift than a French braid, so it's a great choice when you want more dimension.
15. Pompadour Pixie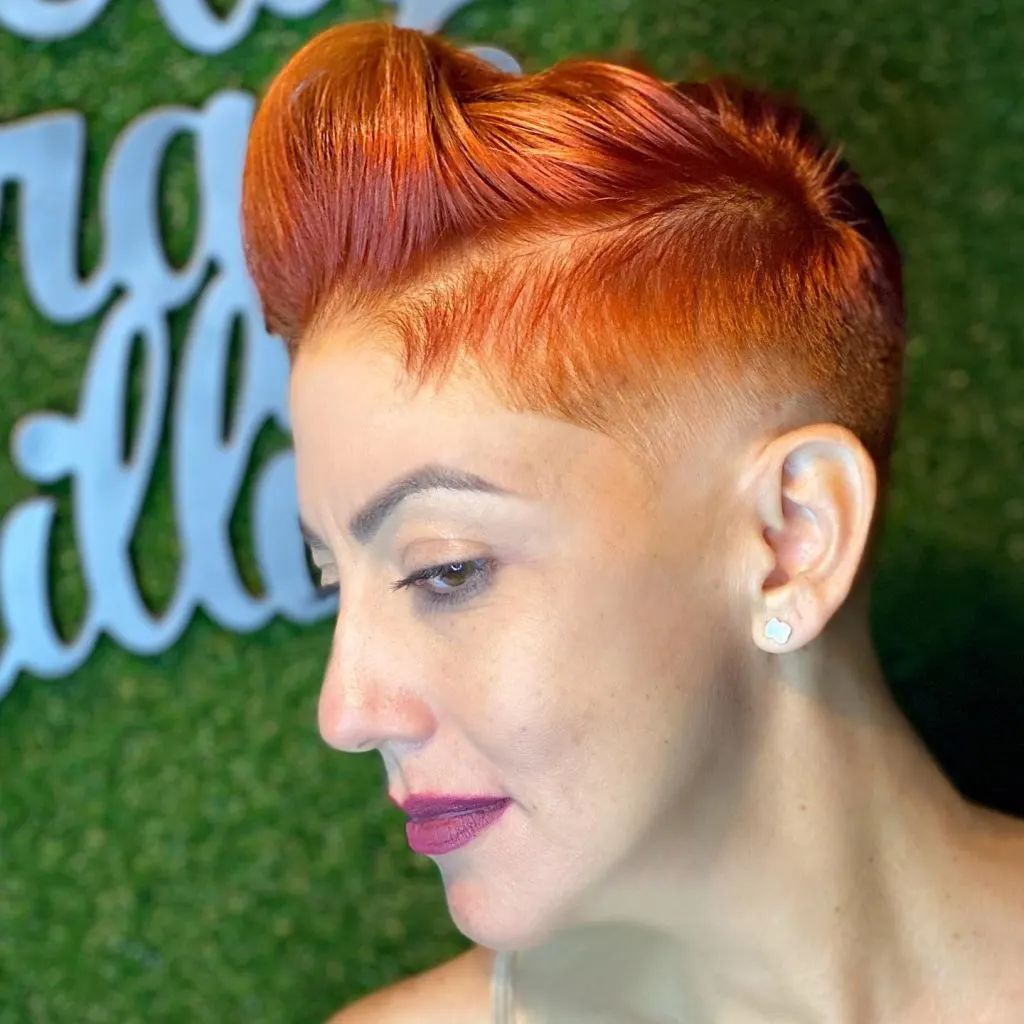 You can create a edgy pixie pompadour with no heat by using only three products: volumizing powder, wax and hairspray. Here's a detailed yet simple tutorial.
16. Twisted Low Bun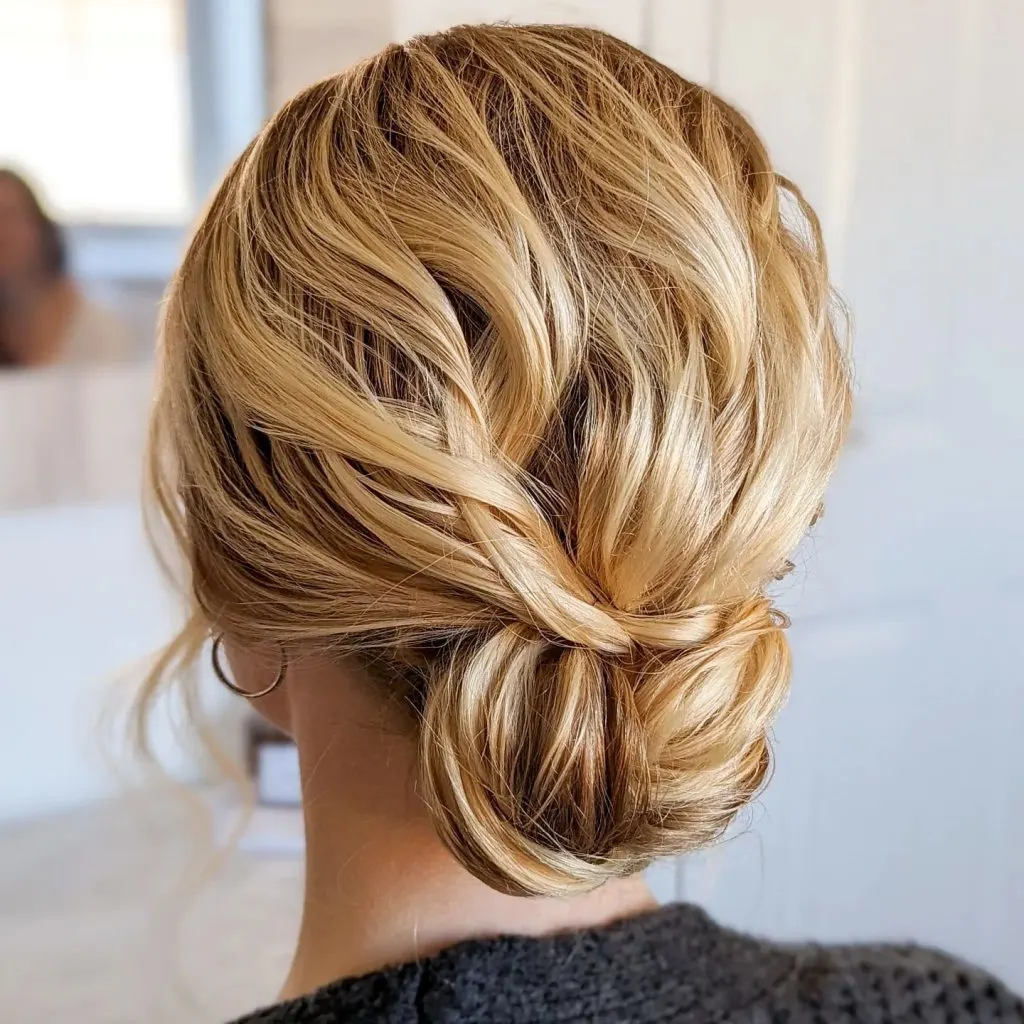 Gather everything above the ears and pin at the nape, then twist the loose hair into a bun shape and secure underneath. This simple, elegant style will look best if you start off with lots of texture.
17. Twisted Wavy Half Updo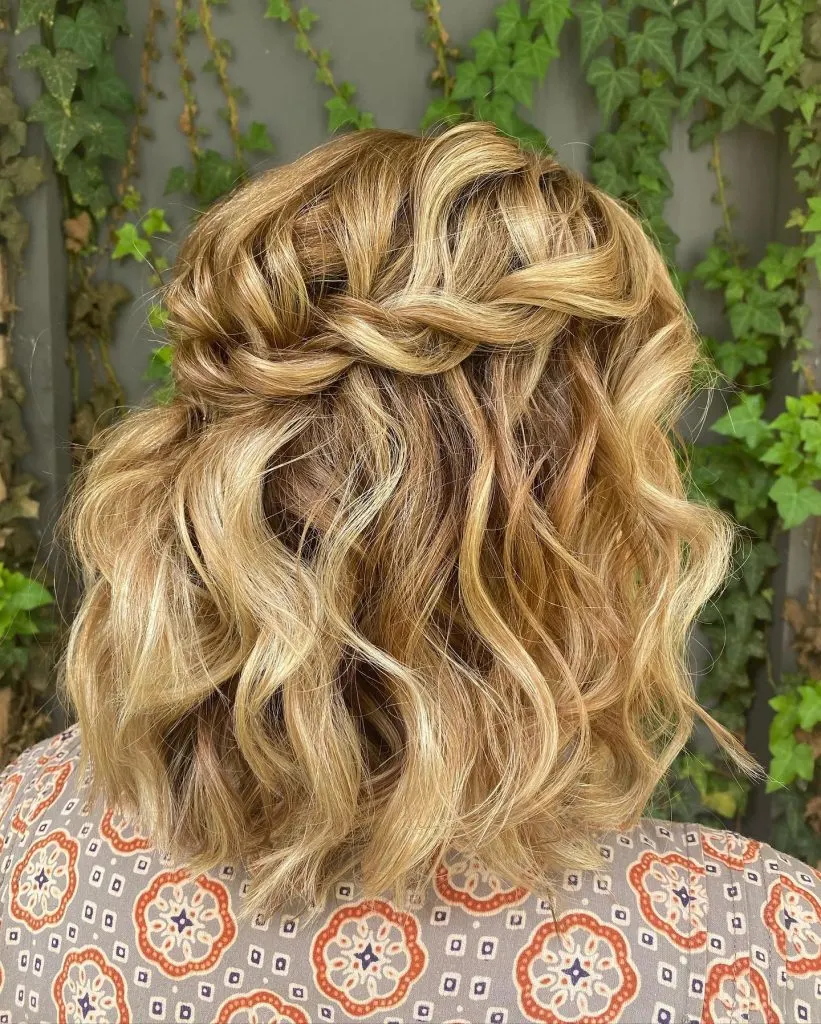 Twisting the hair at the crown to create a faux-braid sounds like it's too simple too look good, and yet it looks totally dreamy. You can do this with straight hair, but to make it really pop, start off with beachy waves that complement the simple twist.
18. High Pigtail Buns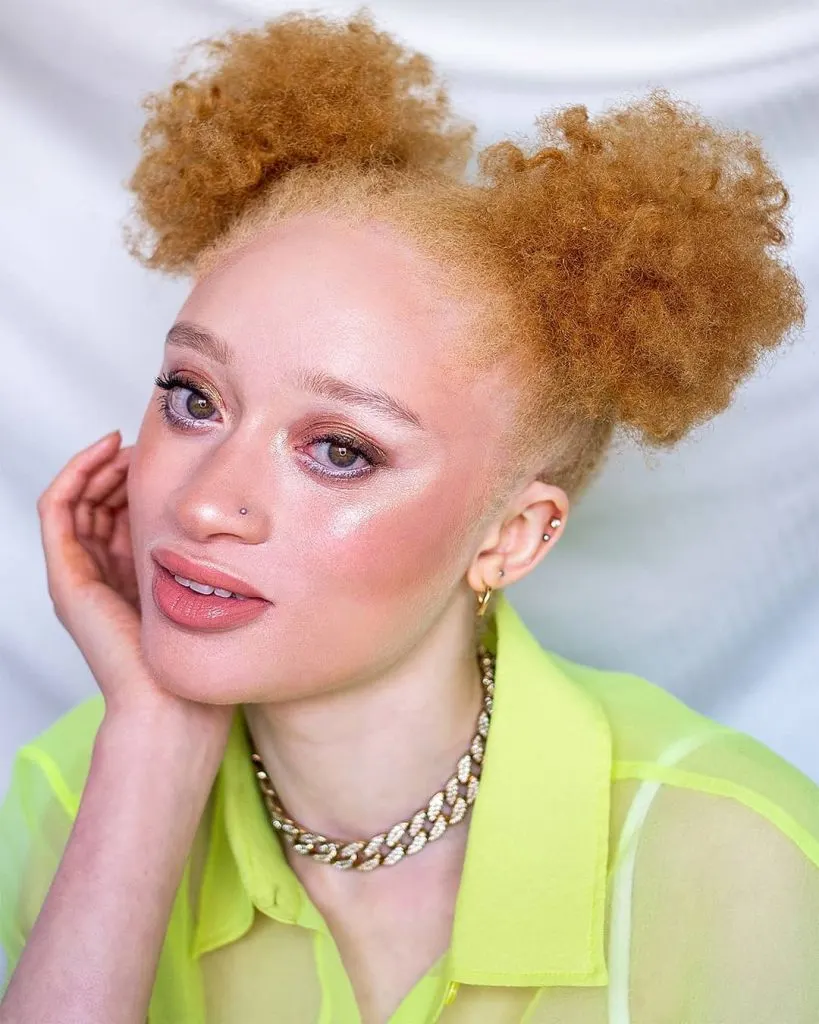 Natural hair tied in a ponytail creates a chic rounded shape, but if your hair is shorter or you just prefer a more playful look, pigtails are as easy as they're cute.
19. Simple Low Bun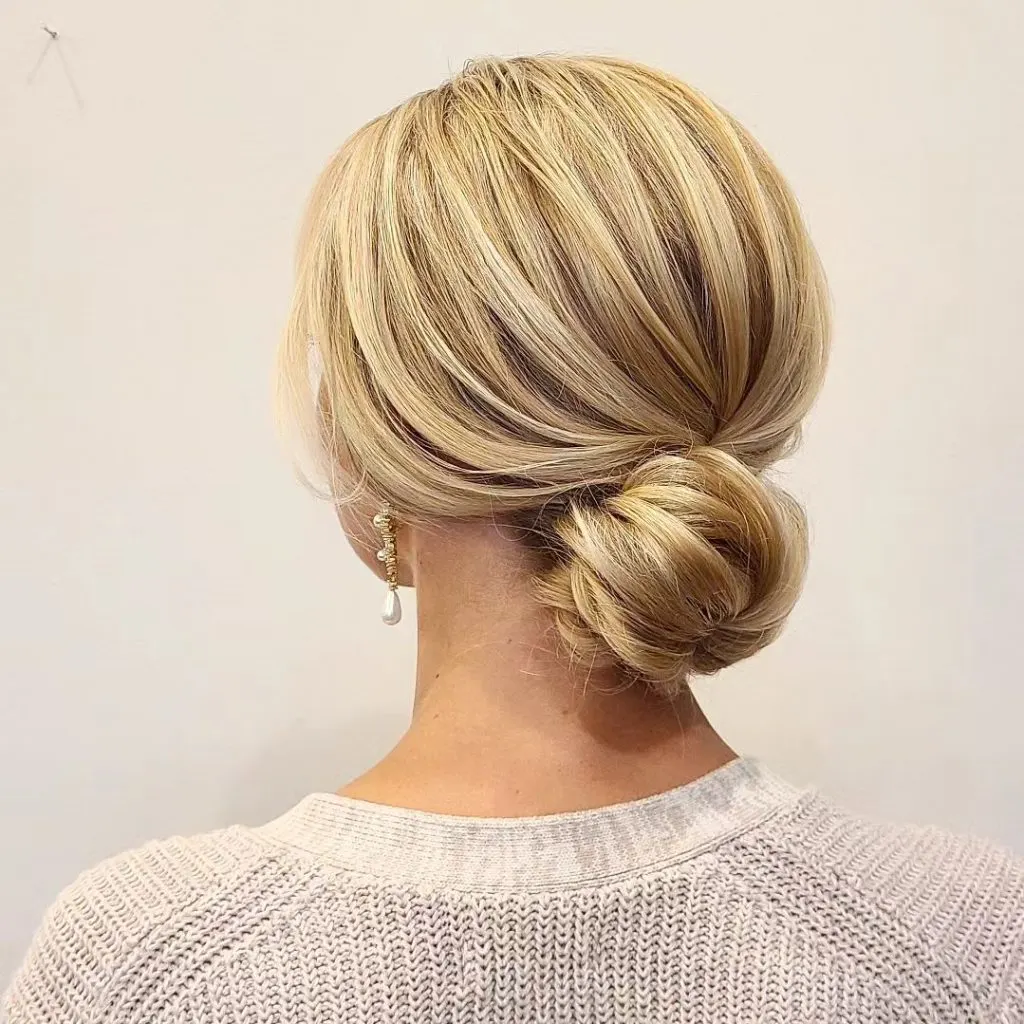 This basic updo can be created on bob to lob length hair—the shorter your hair, the higher the bun should go. Gather the hair at the nape or a little higher, then twist and secure with bobby pins.
20. Updo For Pixie Cut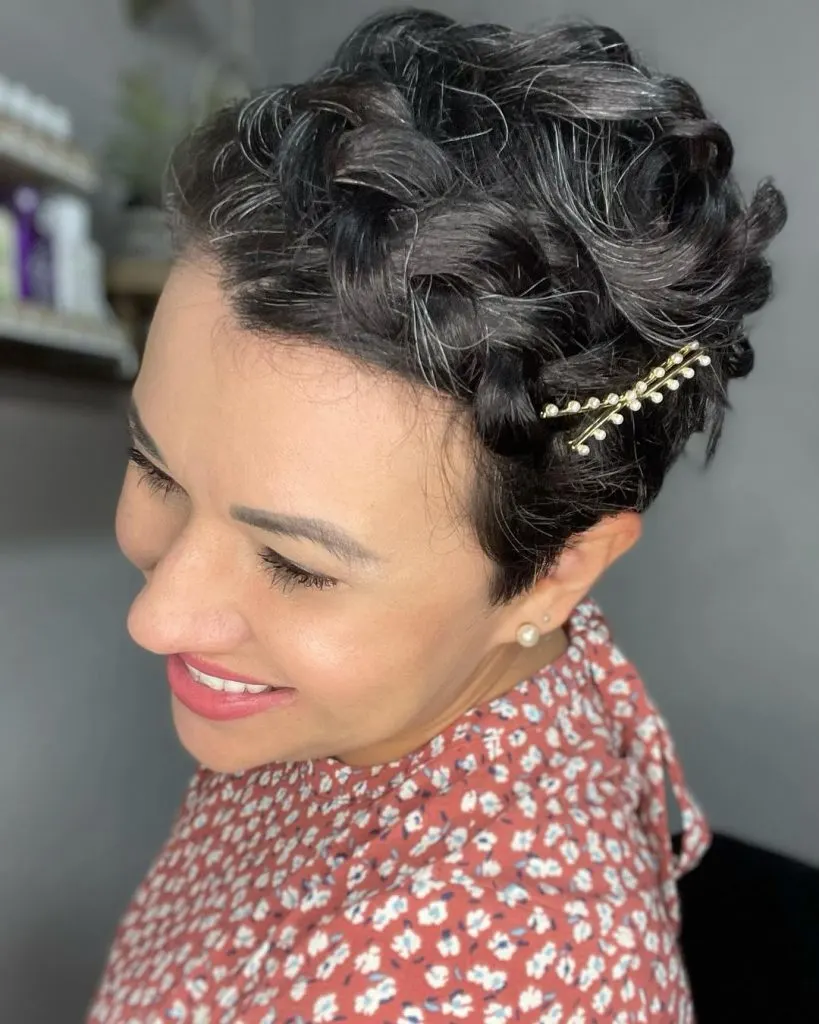 Loose braids and pretty pins, and your pixie is ready for a special occasion, or if you're feeling extra, for a regular day but fancy.
21. Undercut Ponytail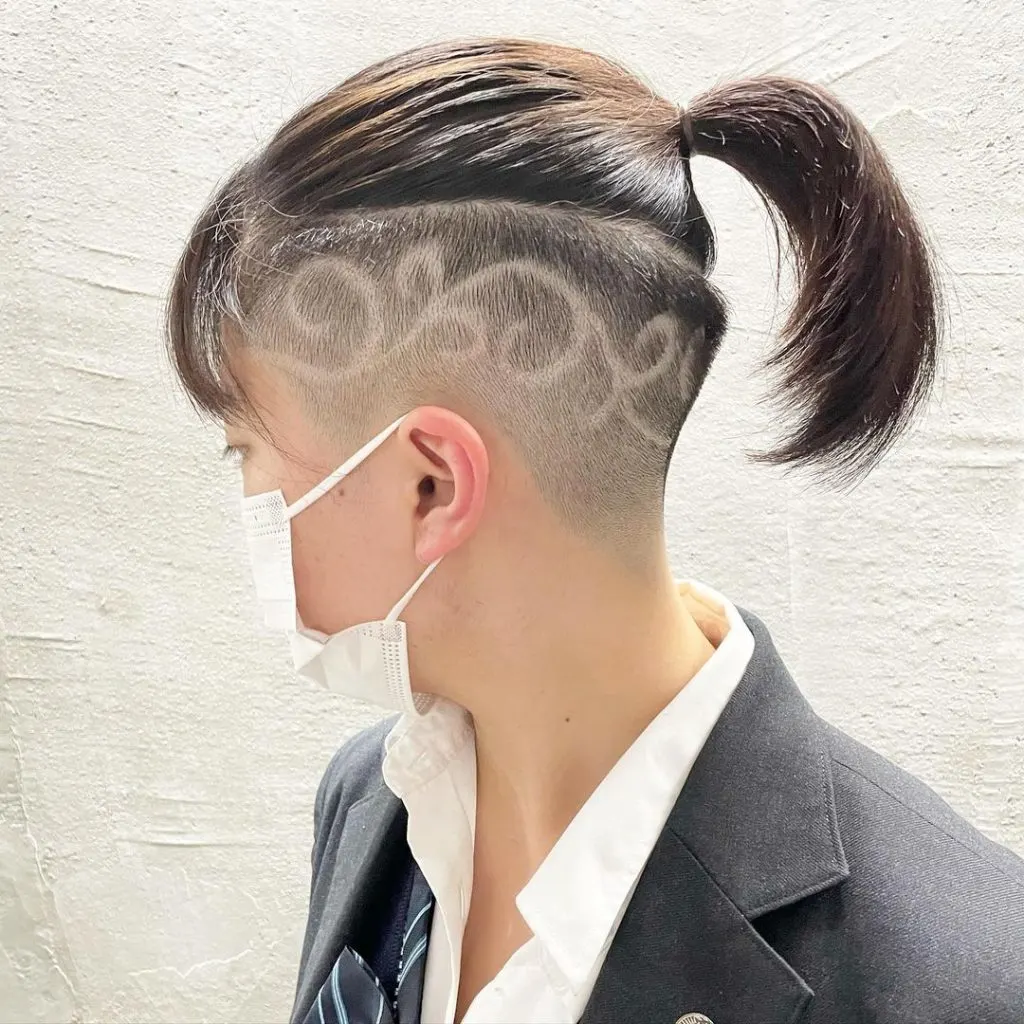 If you have a hidden undercut, any way you put your hair up will look good, especially if you're rocking a cool design. Even a simple ponytail won't be a miss.
22. Bantu Knots With Ribbons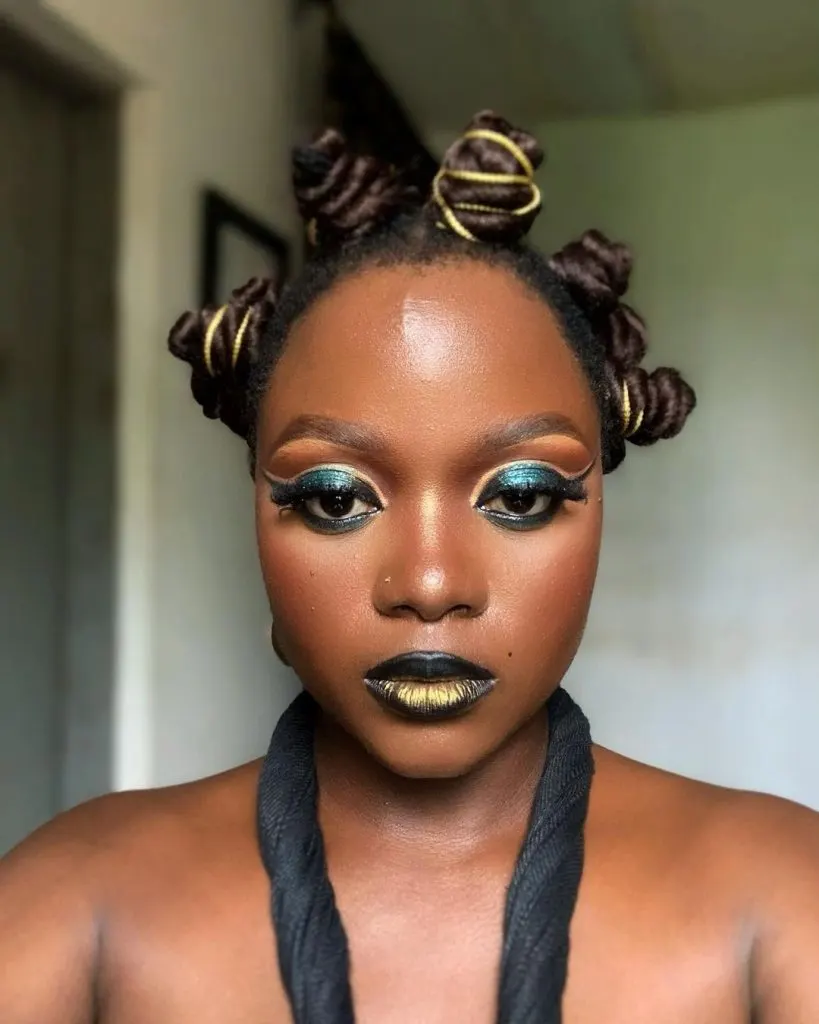 Bantu knots are a safe updo style that won't damage your hair, and they look good and stylish. Here's a detailed tutorial that will teach you how to do them perfectly every time.
23. Easy Elegant Updo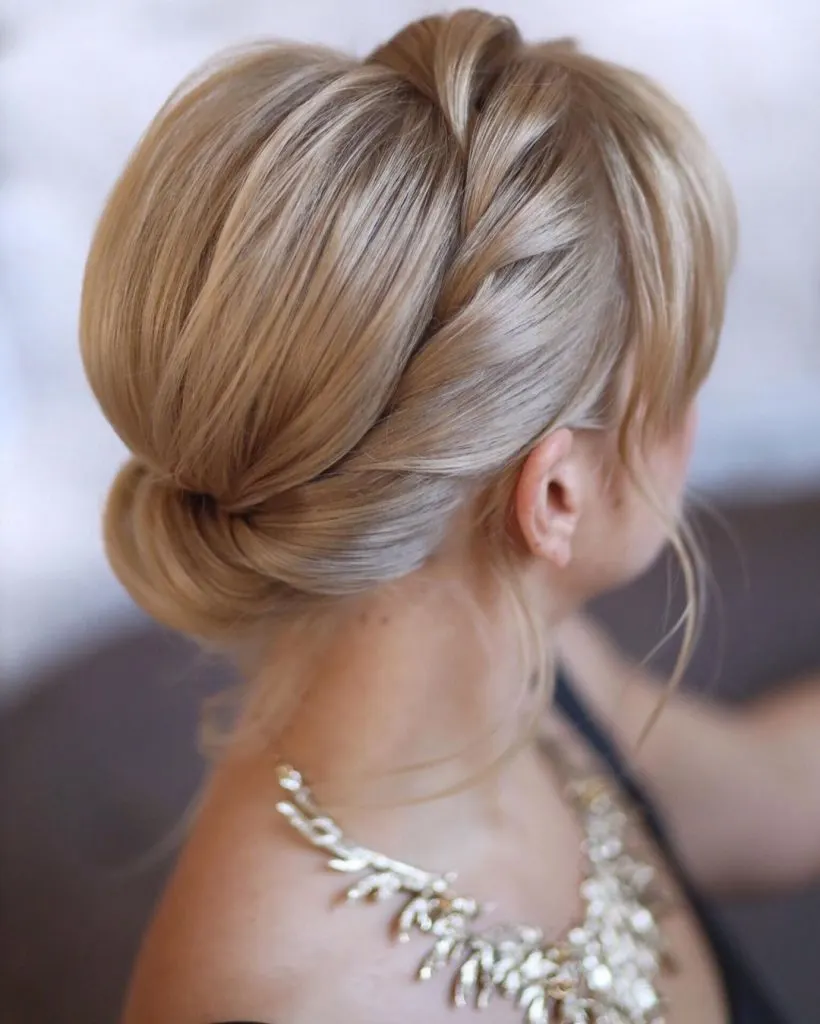 This hairstyle looks much more complicated than it is. Try it out!
Start by creating a twist at the crown, carefully going around the back of the head. Pin as you go, until you reach the nape, making sure the pins don't show.
Tease the hair at the crown and pin in place at the nape.
Continue the twist, tucking the ends to create the appearance of longer hair.
24. Half-Up Messy Bun With Bangs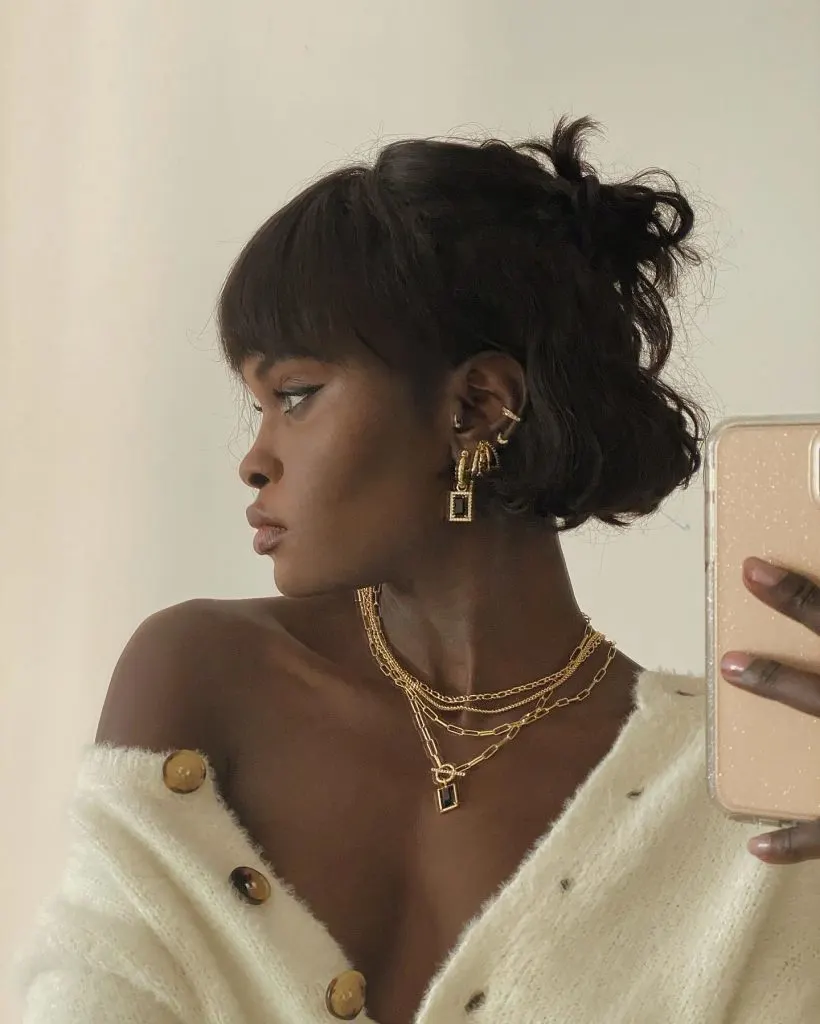 A messy half-up bun is incredibly cool and super flattering on a bob hairstyle. Play around with how you wrap the hair around the elastic until you achieve something you like, or if you prefer being more deliberate, use bobby pins to secure the hair exactly where you want.
25. Wedding Updo For Short Hair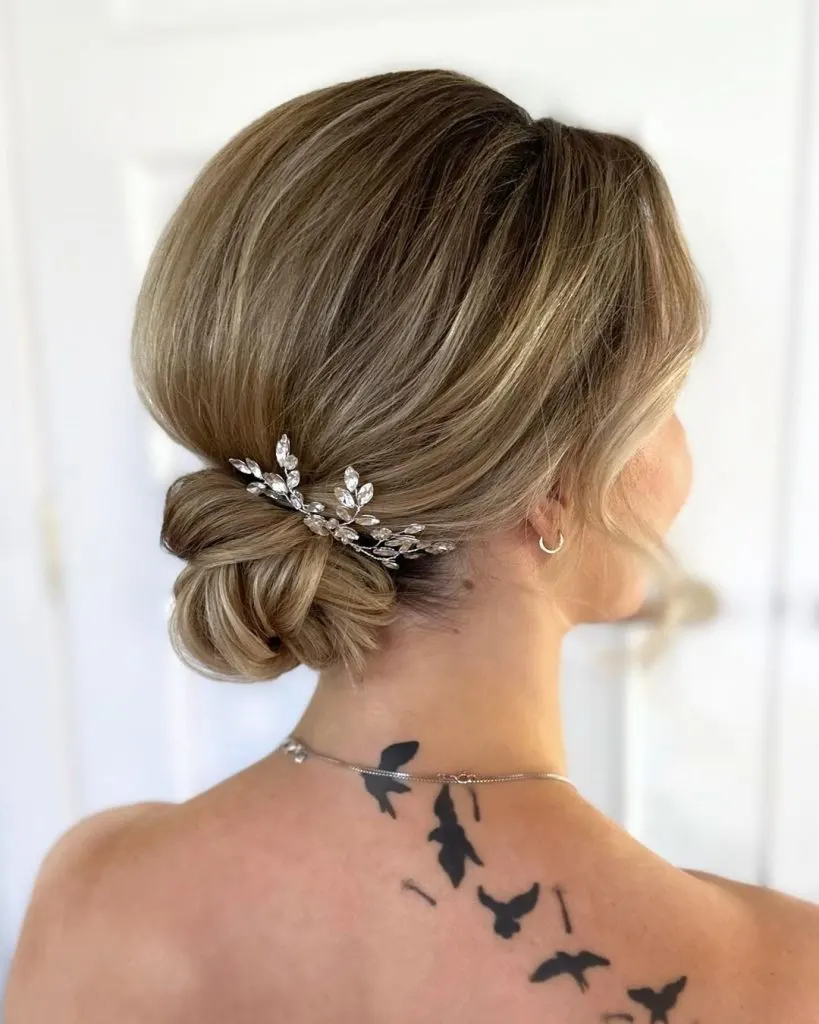 You'll need a lot of bobby pins to create this beautiful hairstyle, but the effort is worth it.
Tease the hair at the crown then pin at the back as if you're creating a half updo.
Pin the hair from the sides over the bobby pins, twisting inward.
Decorate with an accessory.
26. Golden Headband Bantu Knots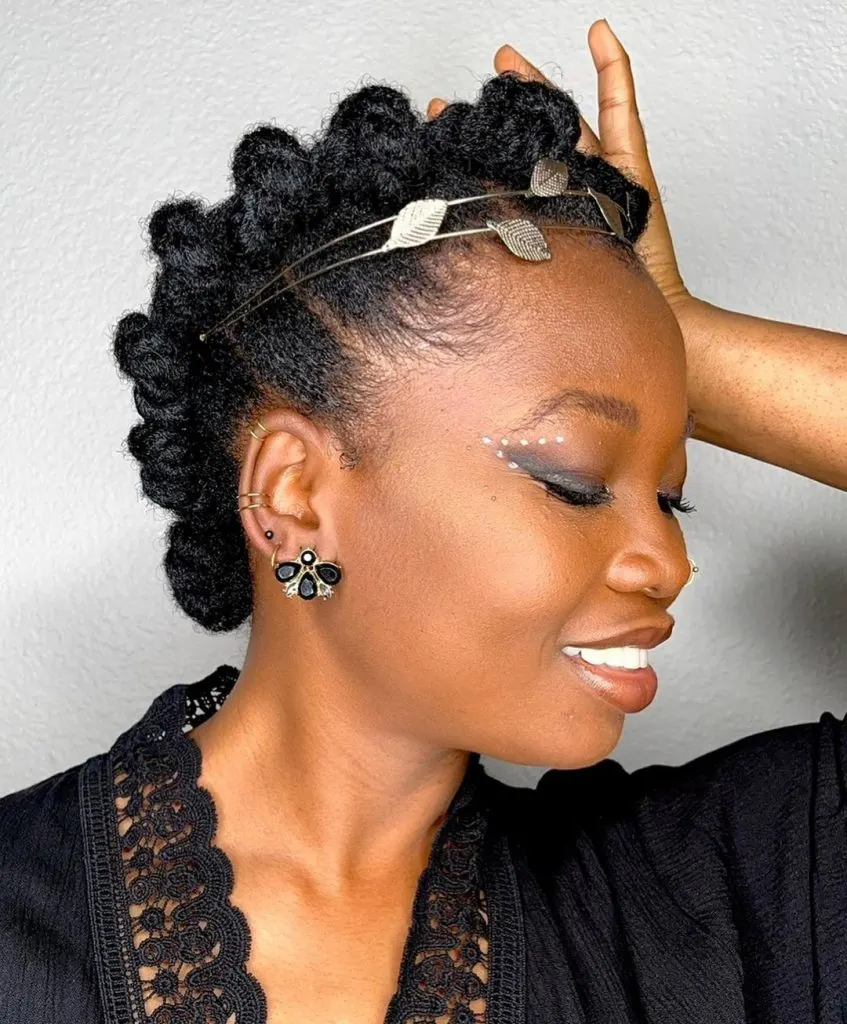 Take any updo to the next level with accessories—this golden leaf headband transforms an everyday style to something special. Be on the lookout for your own statement piece.
27. Easy Hairstyle For Short Hair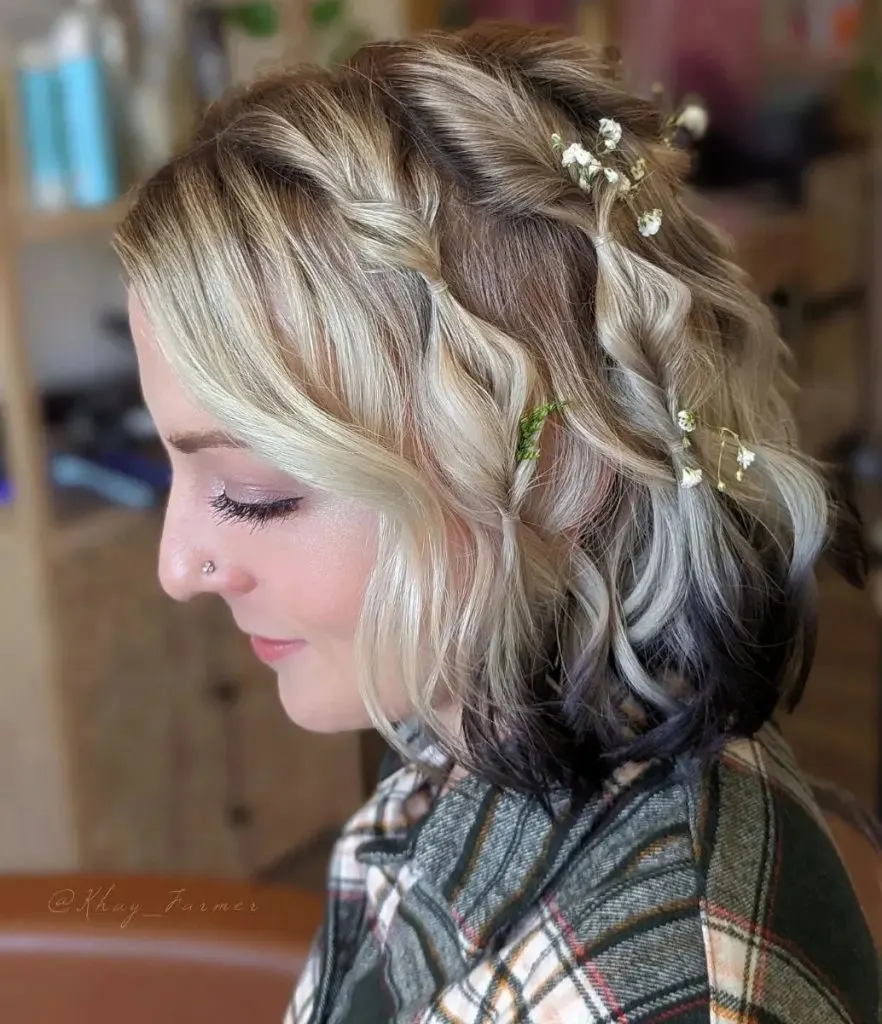 Tiny invisible elastics will be the secret weapon in your updo arsenal. This styles uses them to the max: each section uses two of them to create a lovely bubble effect. Bonus: they make it super easy to tuck flowers into your hair.
28. Pixie Updo Hairstyle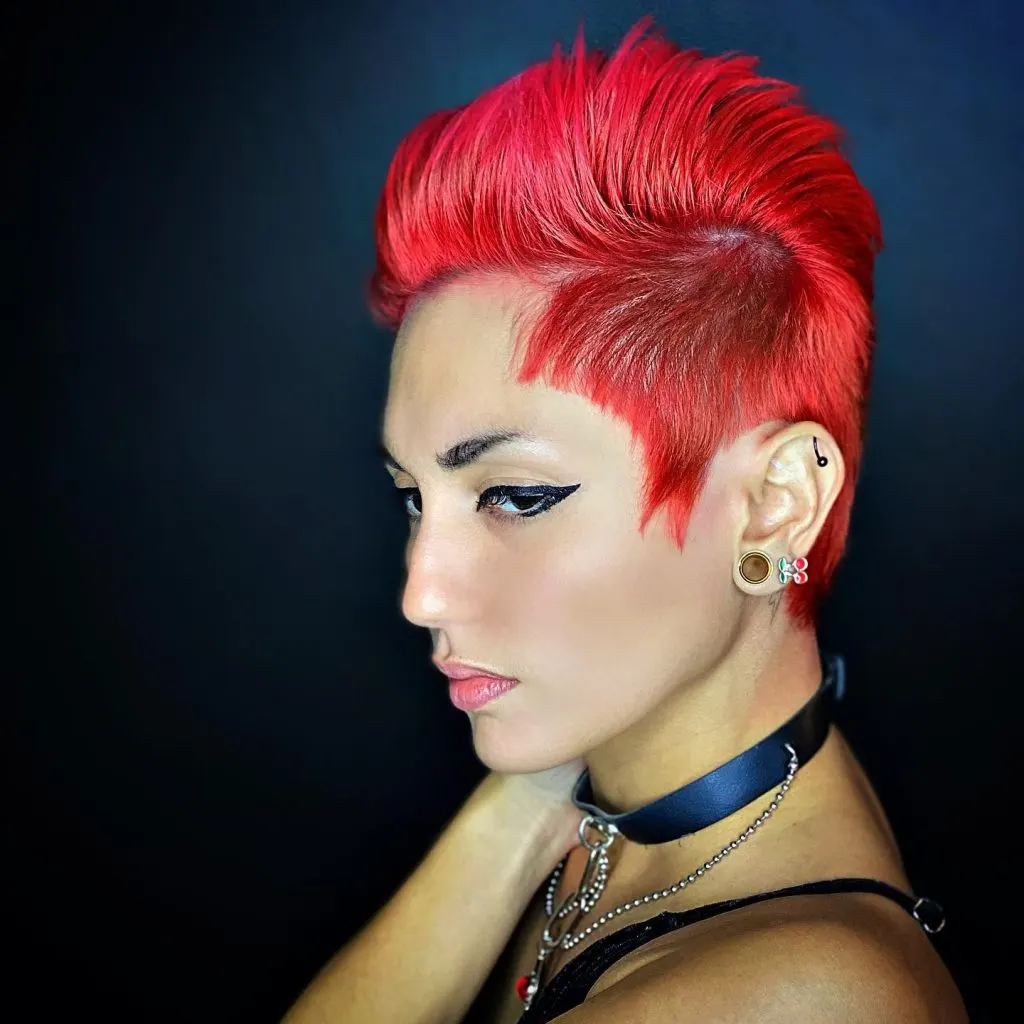 When it comes to a pixie, you can go soft and delicate or edgy and cool. This is styling and not really an updo, but it has the same effect because it's so effective—and shows how you can achieve a special style even with very short hair.
29. Low Chignon For Short Hair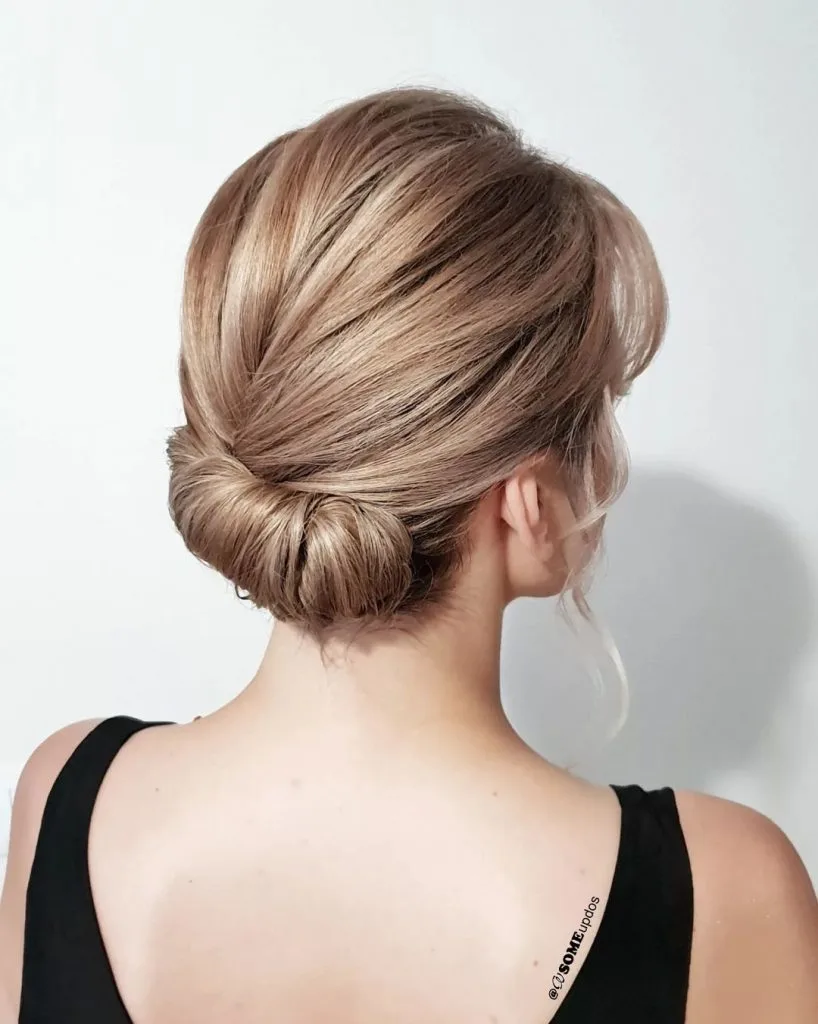 Smooth the hair and gather it at the nape, securing with bobby pins. Twist the lengths and tuck underneath. This style is simple, so it needs to be executed well, which should come with practice.
30. Double Buns Half Updo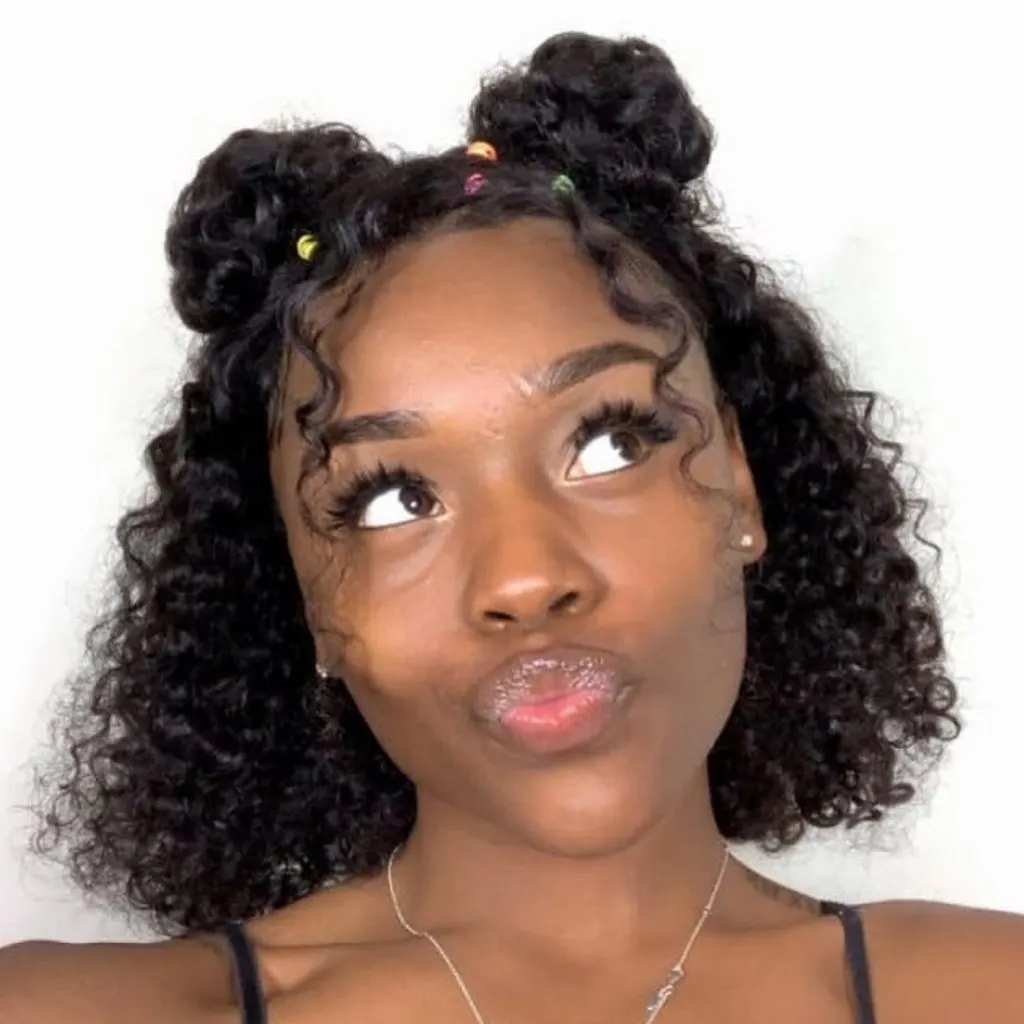 Double buns? Check. Face-framing pieces? Check. Accessories? Check. This half-up hairstyle has all it takes to make a long curly bob cute and fun—and it's a breeze to create.
31. Face-Framing Braid Half Updo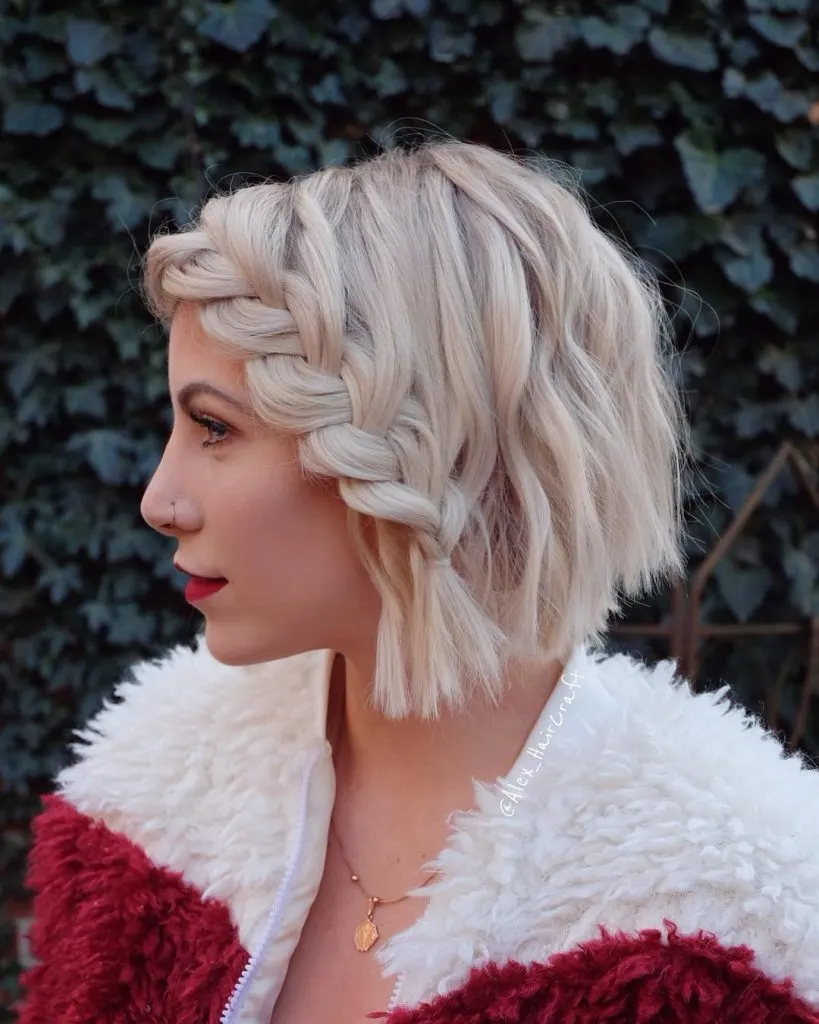 You can place a braid anywhere you like and it will always create an impactful look. This simple braid near the face is a playful touch and unusual enough to be special.
32. Sleek Finger Waves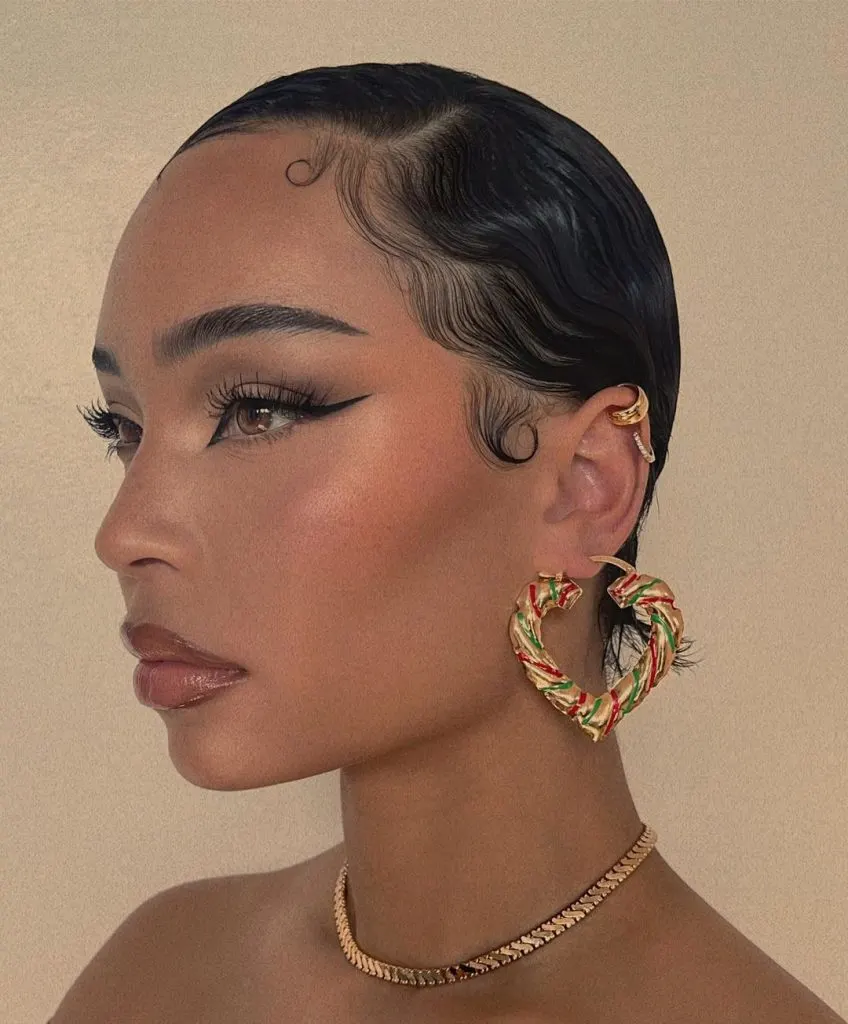 Technically not an updo, but with super-short hair, it counts as one. Slick your hair back, then lay your edges. If you don't know how to make them flawless, this tutorial will teach you everything you need to know.
33. Pixie Updo With Bandana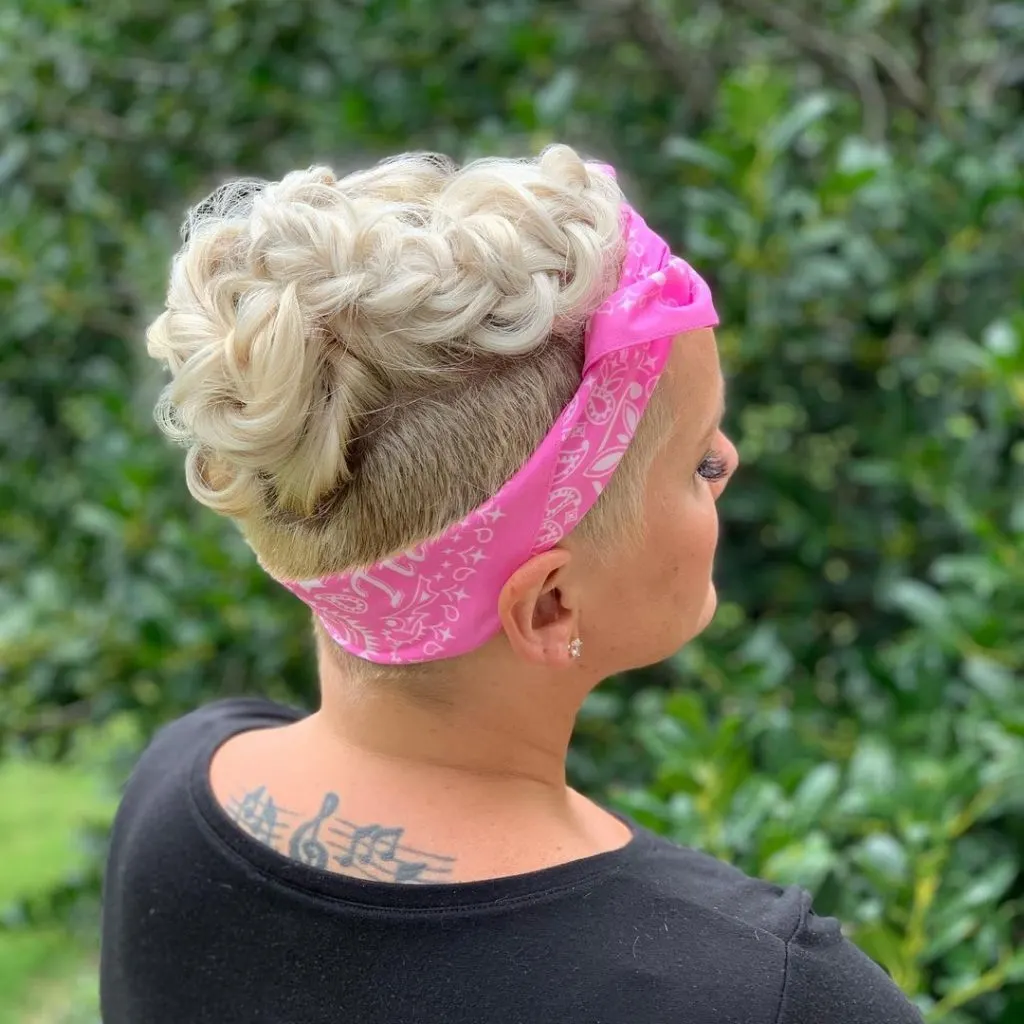 Tying a bandana or a headband around your head can transform your look more than you think. It's a pop of color and a point of interest, and leaves you plenty to play with.
34. Faux-Hawk Knots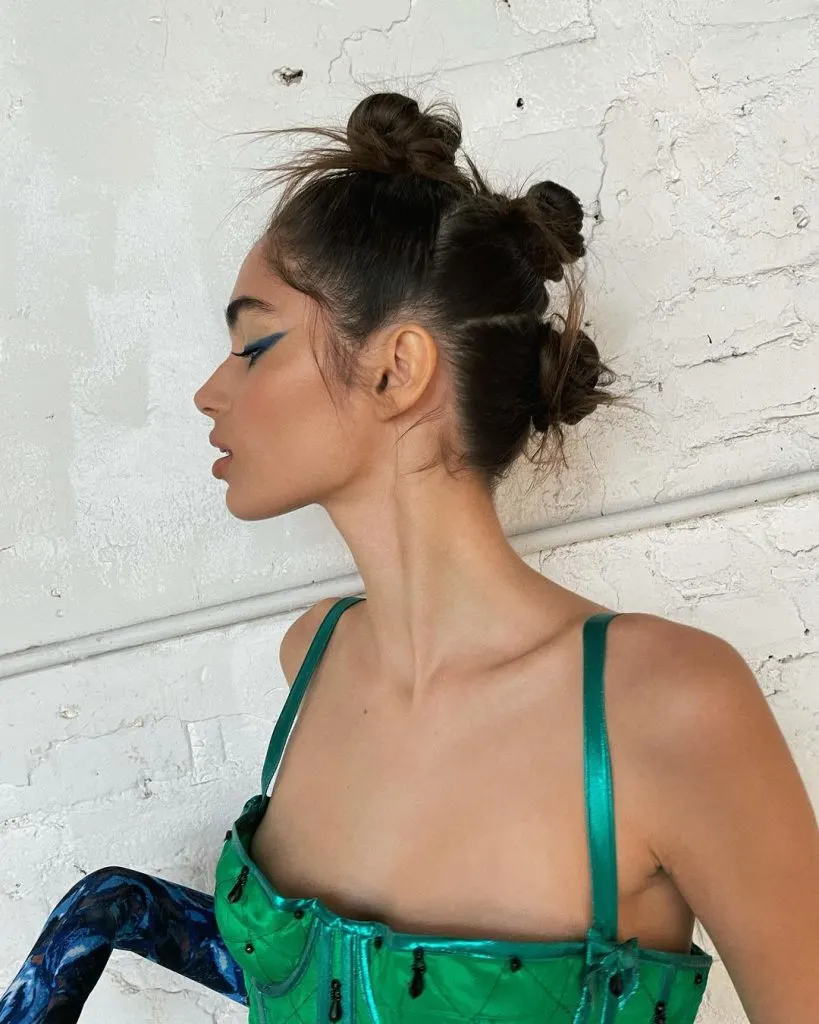 Divide your hair in three or more vertical sections and tie into ponytails or buns. If your hair is too short for a messy bun, fake it by tucking it under with pins.
35. Tiny Twists Half Updo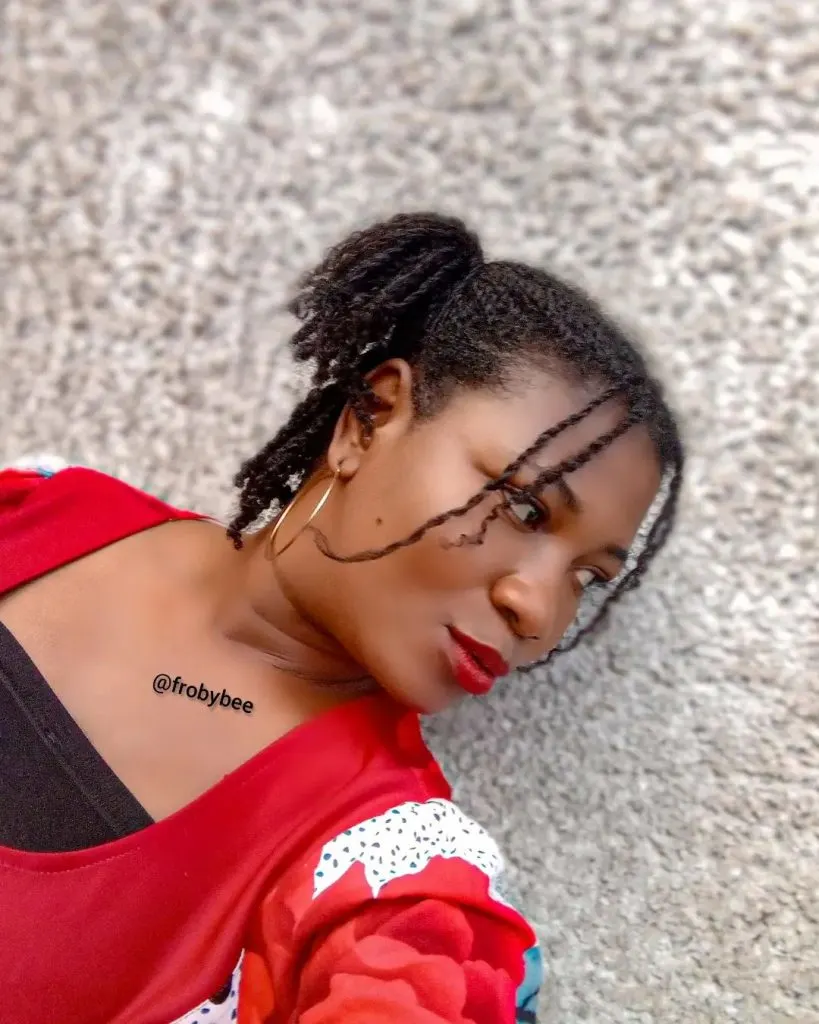 Depending on the how you style it, you can achieve different looks with a simple half updo. Experiment with the placement of the pony and the hair you leave loose in the back and around the face—a small change can make a style go from okay to awesome.
36. Easy Short Hair Updo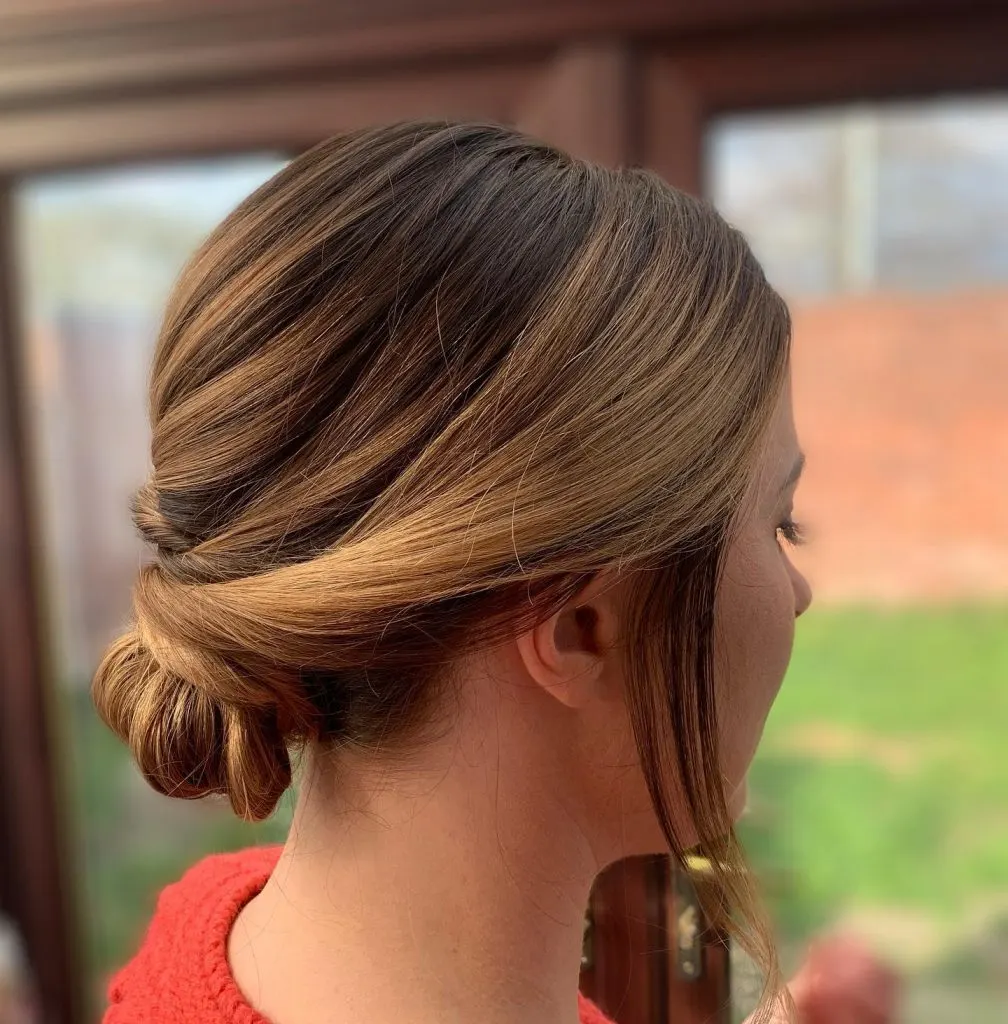 Create an illusion of longer hair by twisting the strands towards the back and pinning everything in place.
37. Formal Hairstyle For Short Hair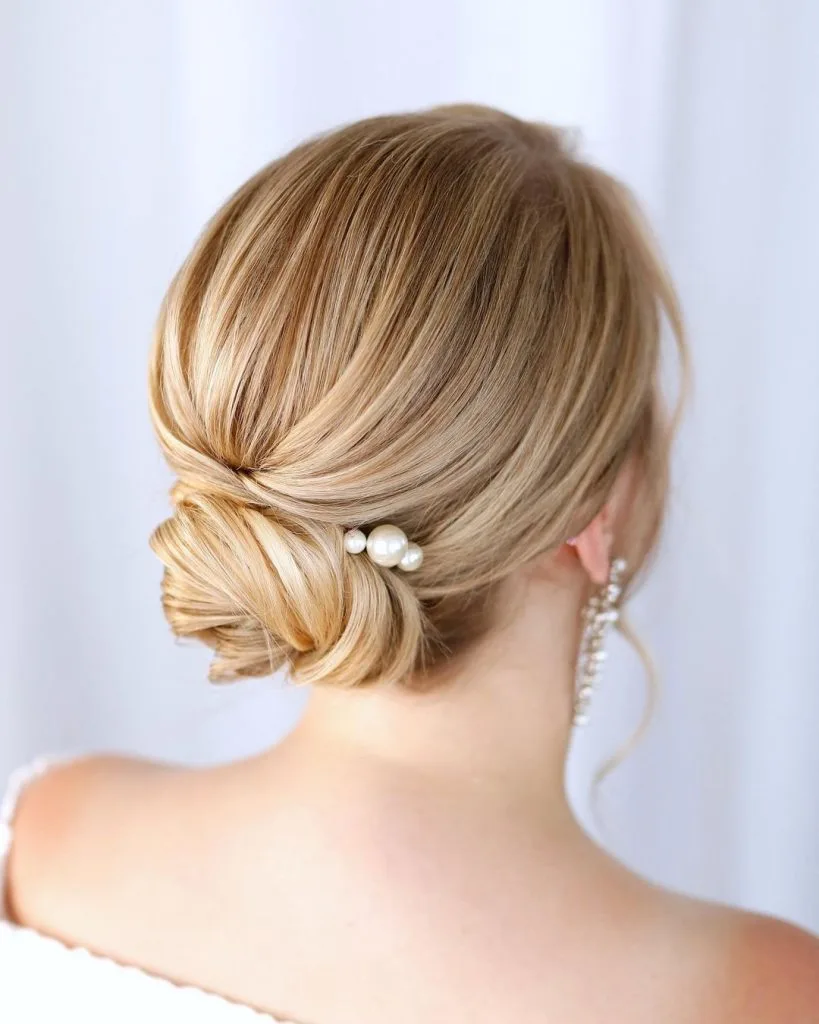 The power of hair accessories can't be overstated—this lovely pearl pin takes a simple low bun from lovely to stunning.
38. Coily High Pony With Bangs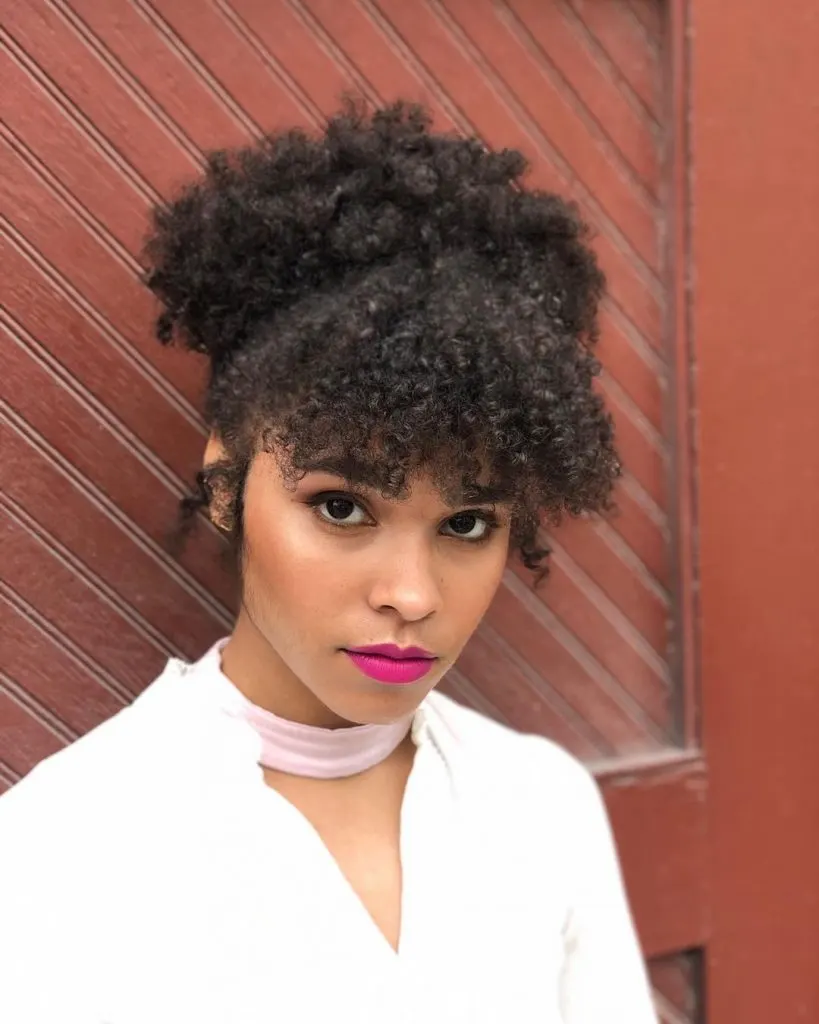 You don't need to get fancy to look fab: don't underestimate the power of the humble ponytail. It works for all hair textures, as long as you have at least a little length.
39. Simple Half Updo For Short Hair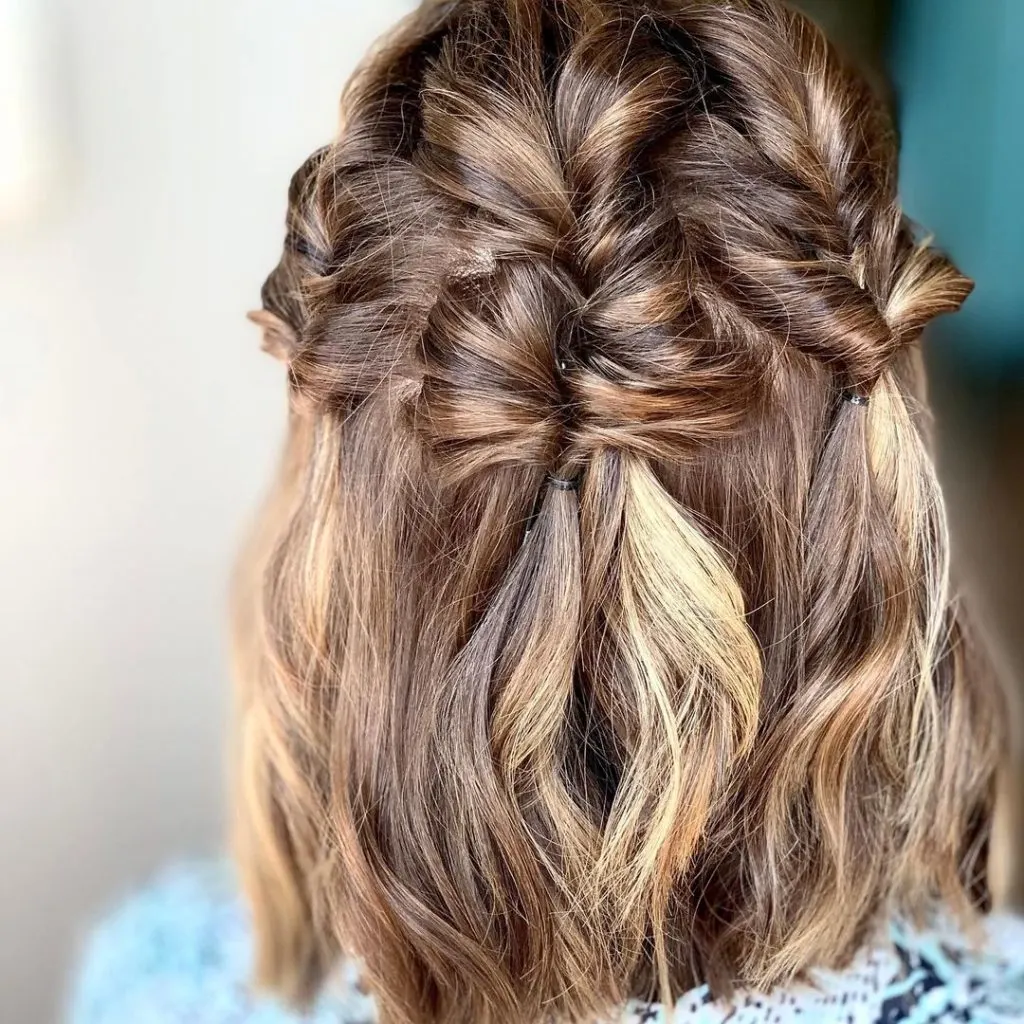 This pretty style can be done in five minutes. You'll need transparent elastics.
Divide the hair at crown into three sections.
Tie three small ponytails with a transparent elastic.
Take the hair under a ponytail, twist over it and tie another one. Repeat on each of the other two original ponytails.
Fluff up the tied hair to make it more voluminous.
40. Half-Up French Bob Buns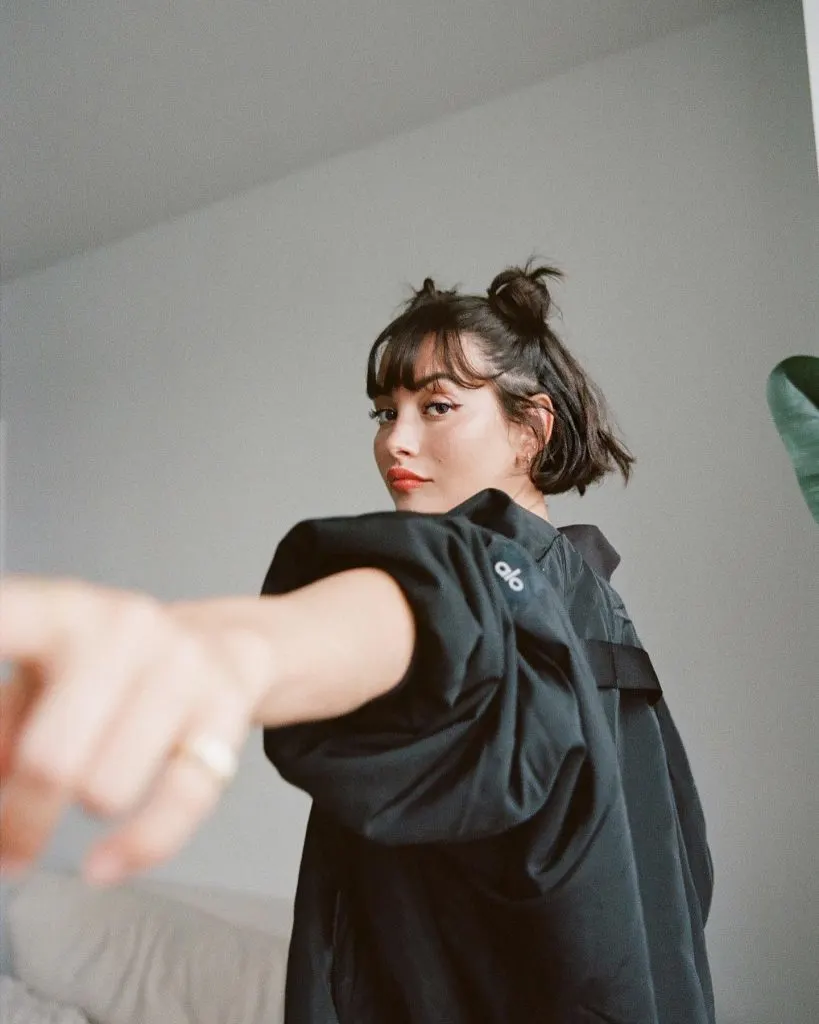 There are lots of styles that are easy to create, but somehow you never think of them. Half-up space buns are one of those styles. A hairstyle done in moments that looks cute, but you never seem to remember that it exists. Consider this a reminder to spice up your French bob!
41. Pixie With Braid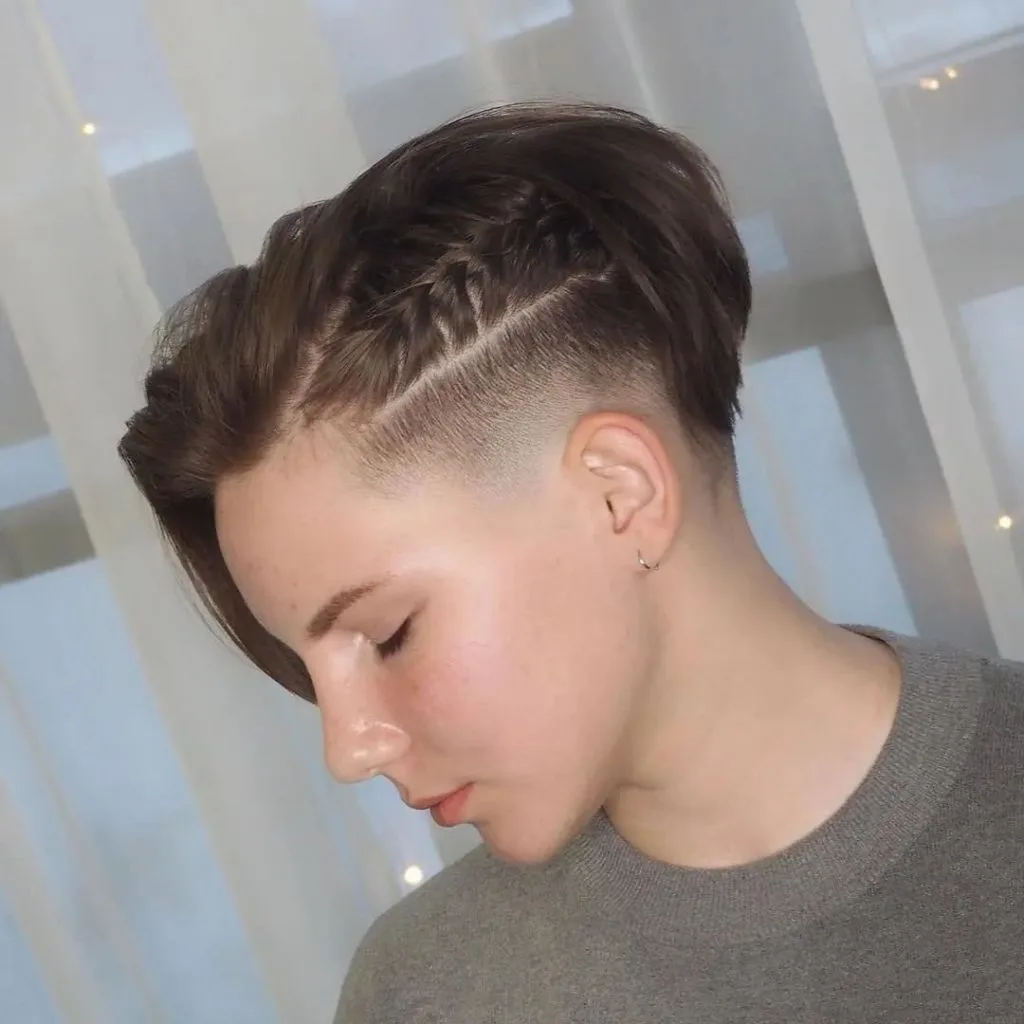 When in doubt, go for a braid. If you think of a pixie with an undercut, the idea of an updo sounds impossible, and yet here's a sophisticated and easy one.
42. Plait Half Updo For Short Hair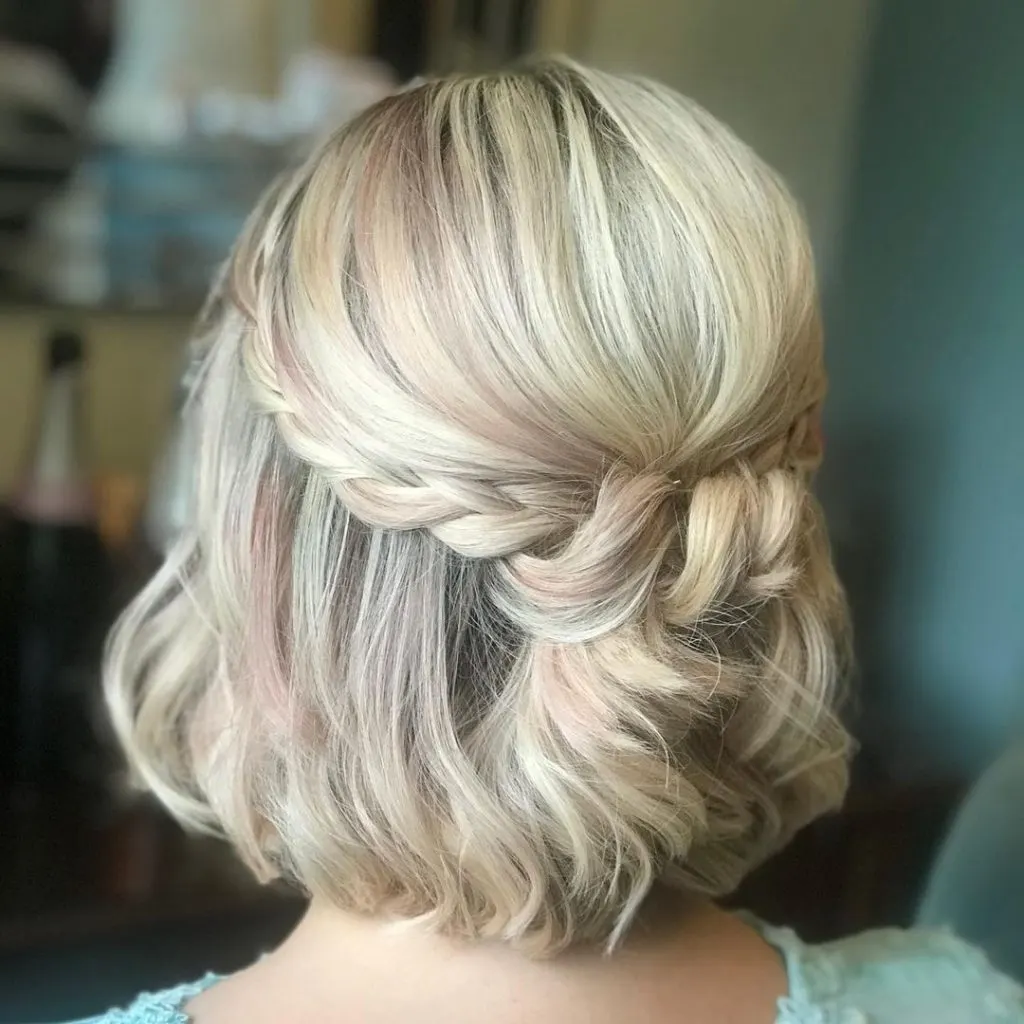 Twists and braids and half-updos: there are lots of options to experiment with, and they all look pretty. Combine your favorites until you find the combination that speaks to you.
43. Buns Half Up Hairstyle With Fringe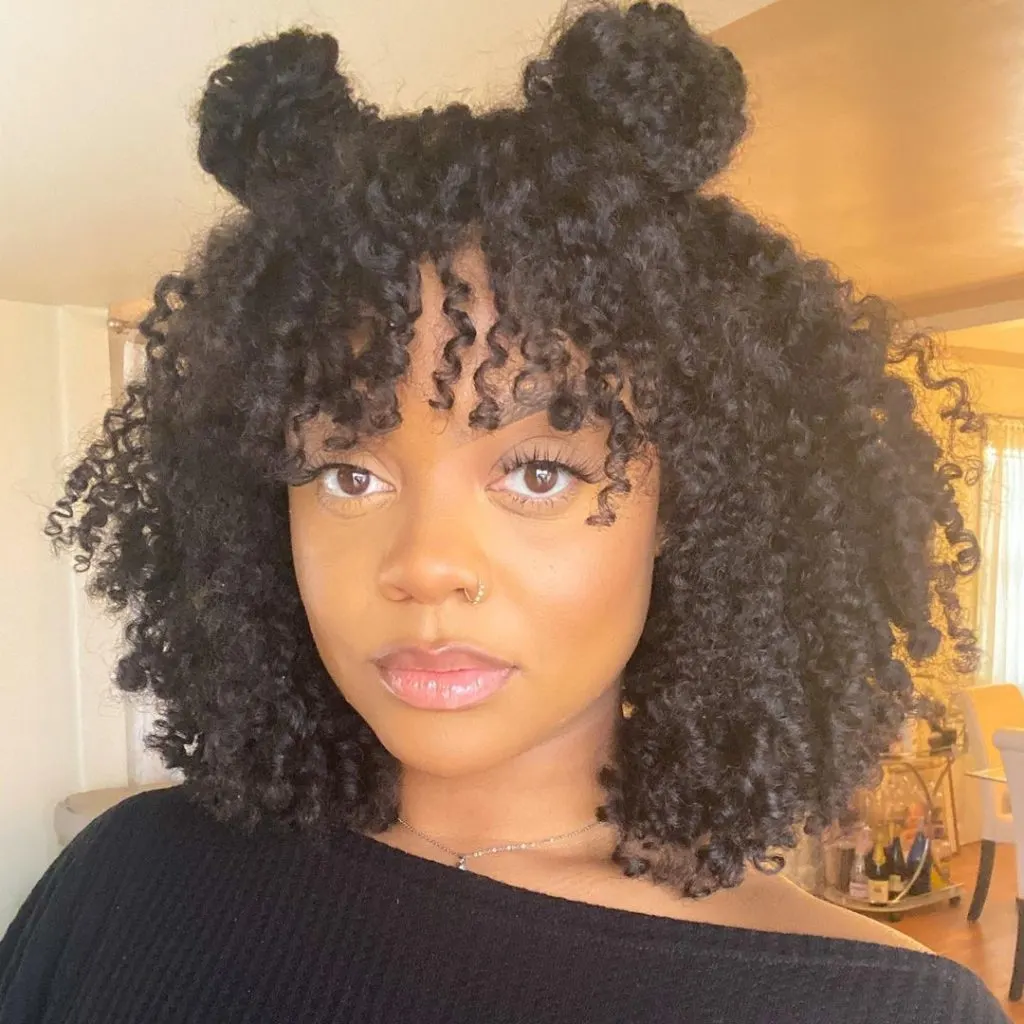 Tiny space buns look adorable if you have bangs. Play with the placement to find the most flattering style for your face shape.
44. Side Pinned Half Updo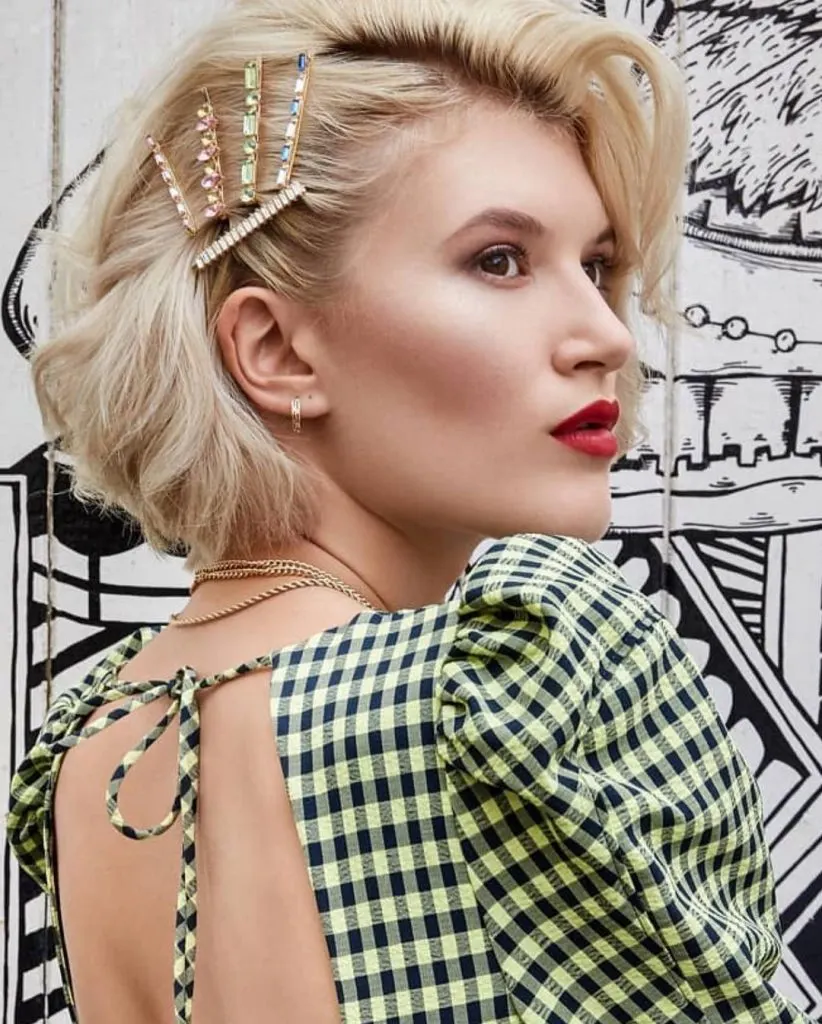 Get some pretty hair pins and you're set. This sexy hairstyle can be creates in minutes: smooth and brush back one side of the hair and secure with decorative pins—a single or multiple will work.
45. French Twist With Pin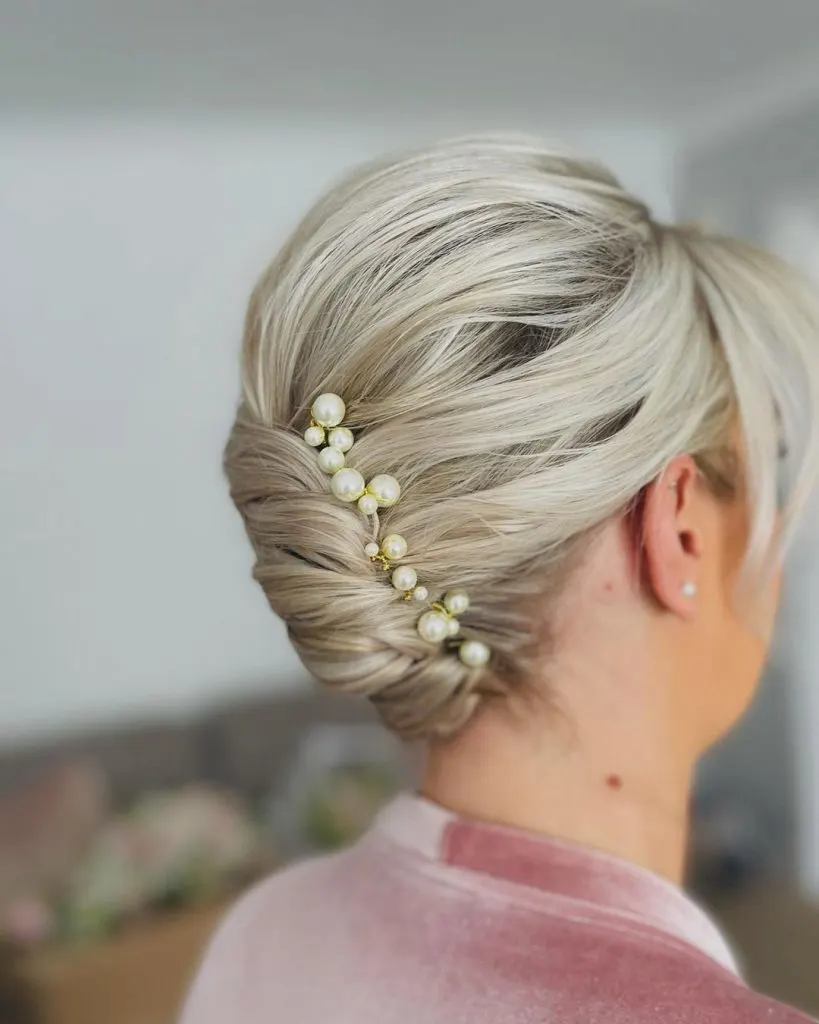 Pin back one side of the hair at the nape, then roll the loose strands over the pins, creating a twist. Secure with regular bobby pins and decorate with an ornamental accessory.
46. Claw Clip Half Updo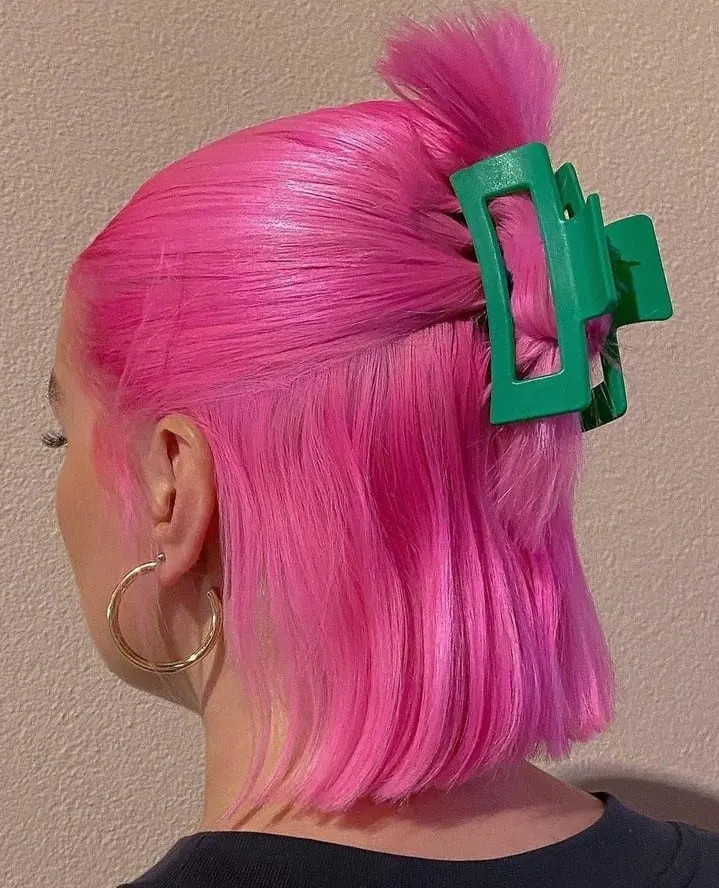 Claw clips are still on trend, and an easy way to create an updo or a half updo. Here, the hair has been tied with an elastic, then lifted with the claw clip. Simple and easy.
47. Undercut Space Buns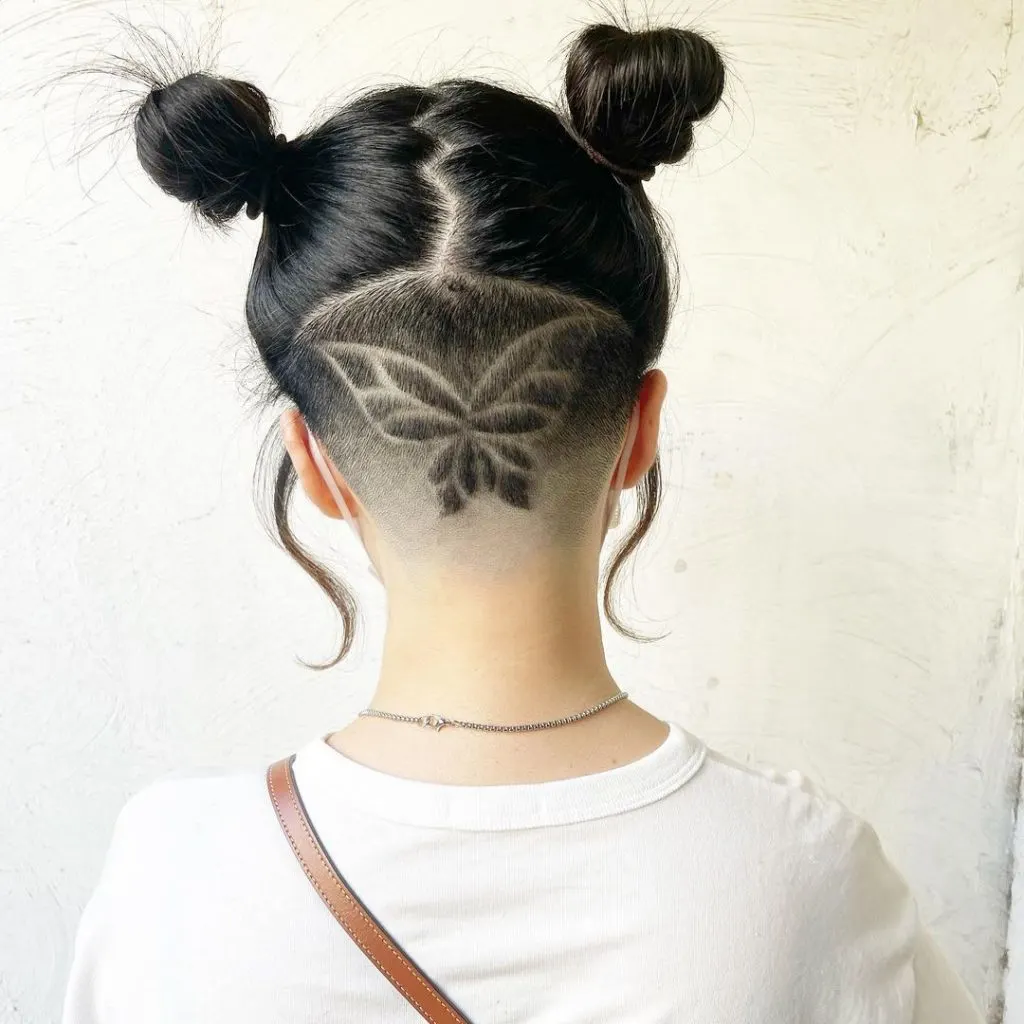 Show off your undercut by pulling your hair back into a bun or two. You can section the hair in a straight line, zig-zag or leave it messy, as long as the design can be seen clearly.
48. Braided Updo For Short Hair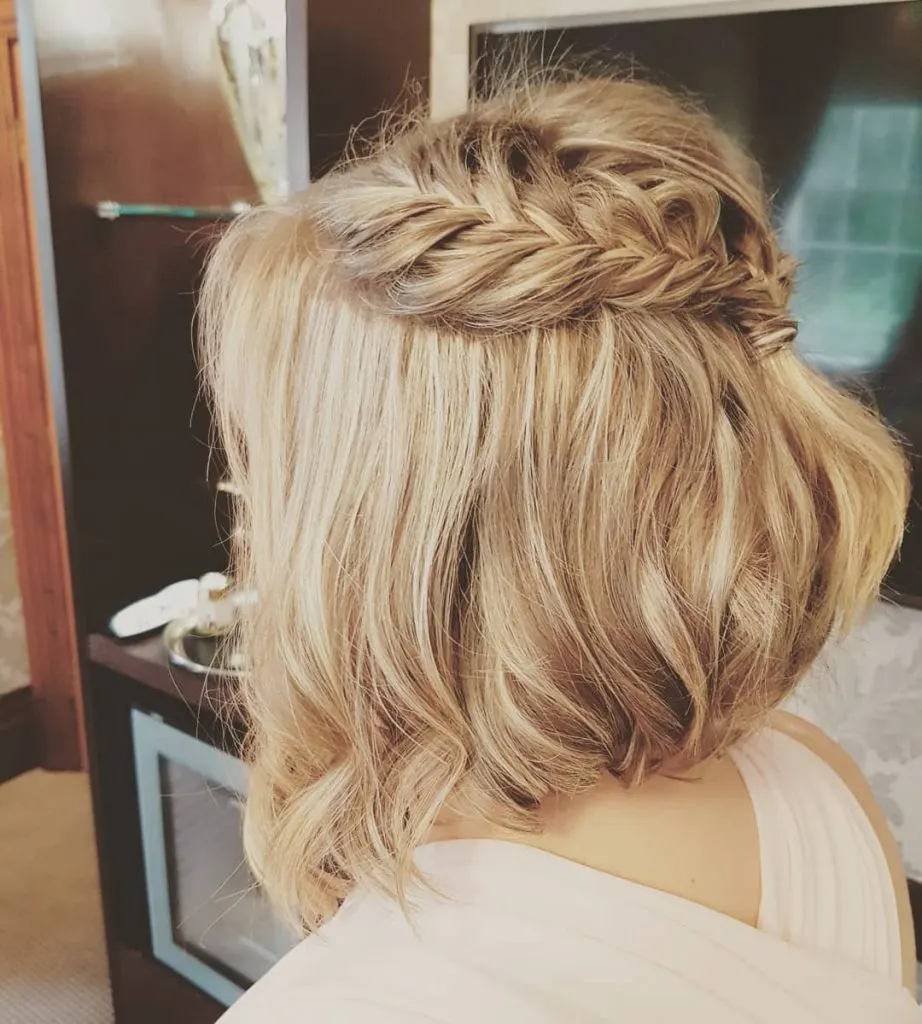 Even though this half updo is similar to other crown braid hairstyles, the fishtail braid makes it special. Here's a tutorial that will help you perfect this gorgeous braid style.
49. Undercut Pixie Updo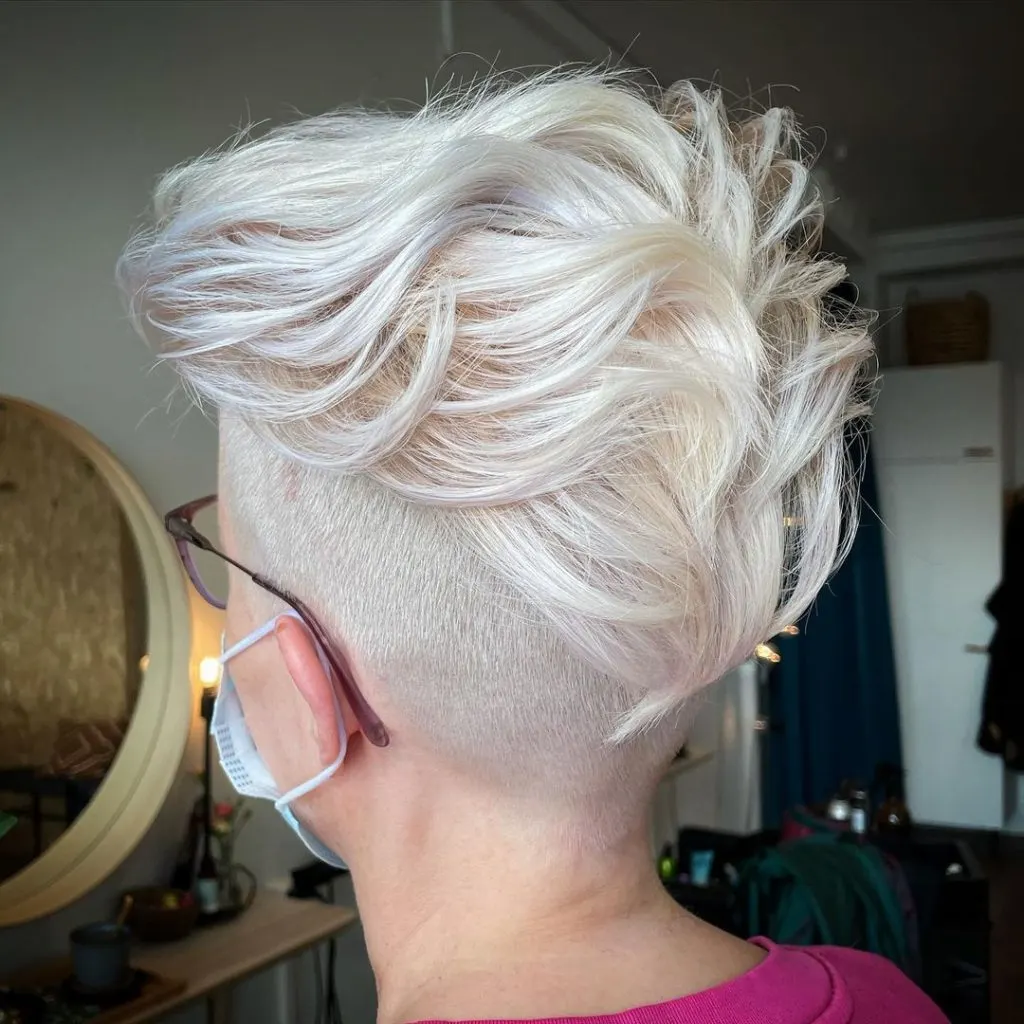 This style has been created in a similar way as the pompadour pixie at number 15, so refer to the tutorial above to start you off.
50. Easy Wedding Hairstyle For Short Hair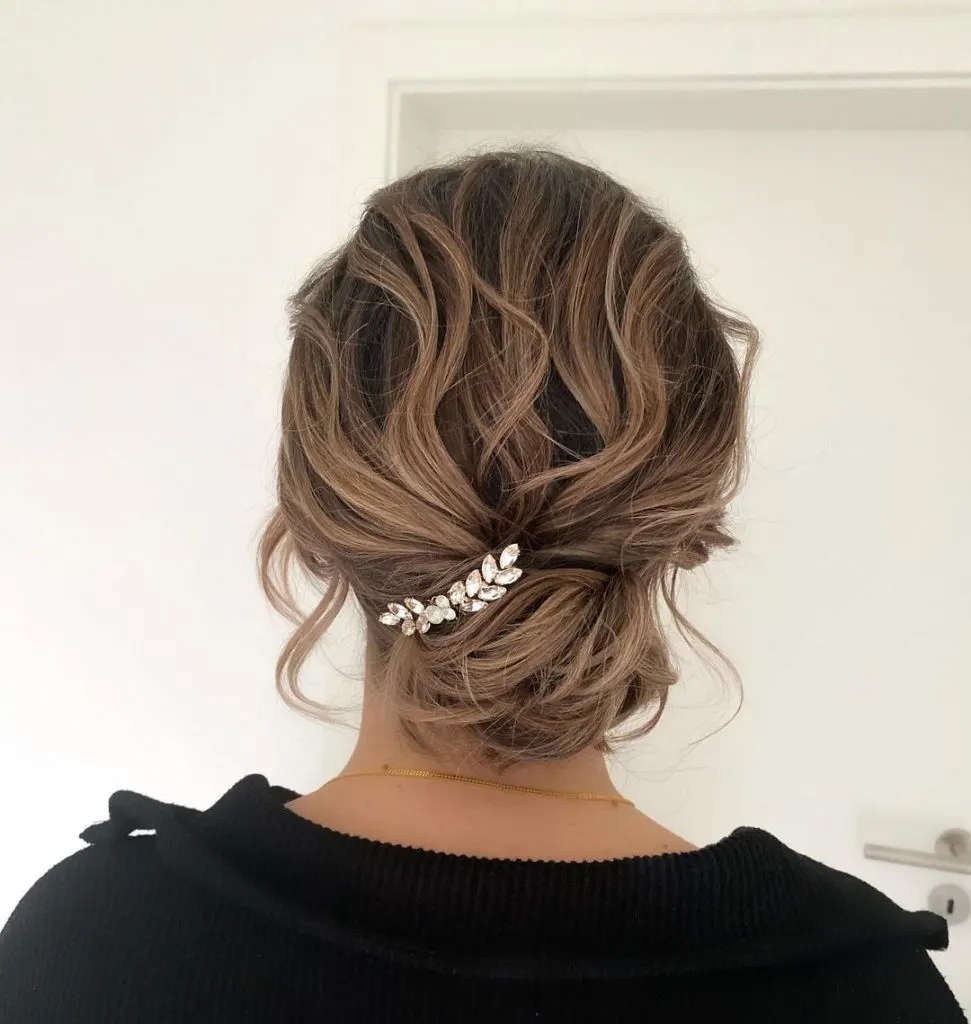 Prep your hair by creating loose waves and applying a texturizing product. Divide your hair into two sections and pin them at the nape, then twist the sections around each other and pin the ends in place. Finish up with a decorative accessory.
51. Coily Hair Pigtails With Bangs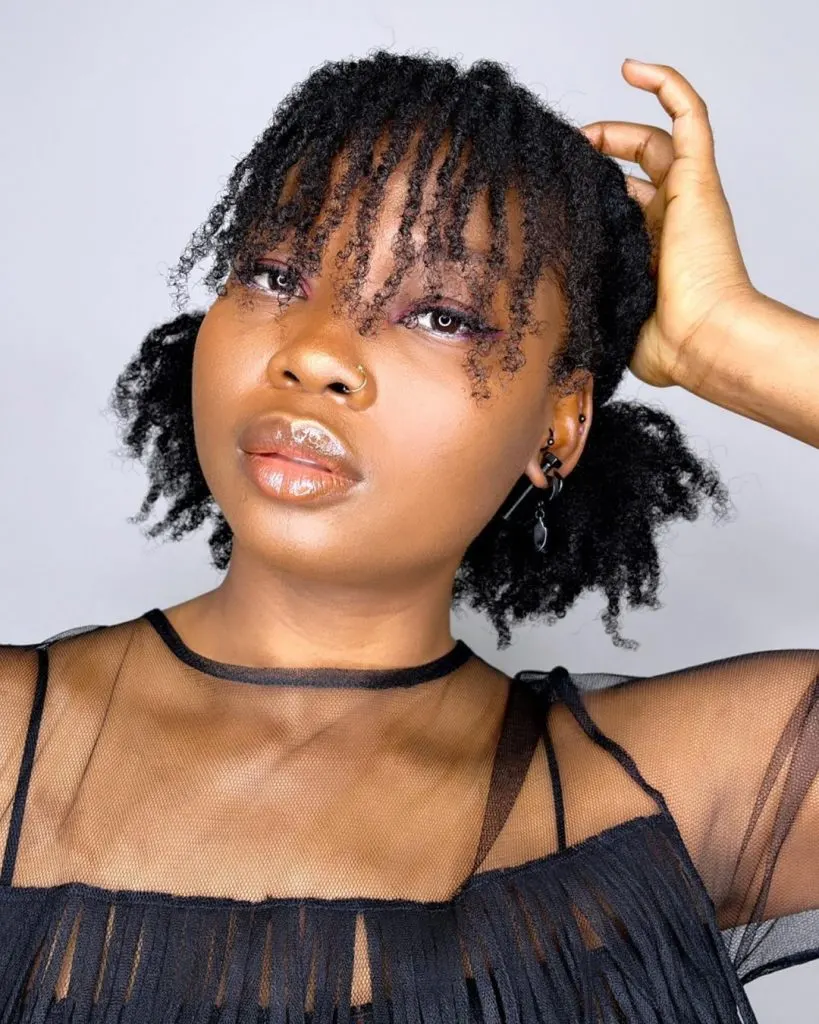 Low pigtails are flirty and playful, and take moments to create. A great everyday style when you want to switch things up.
52. Quick And Easy Half Updo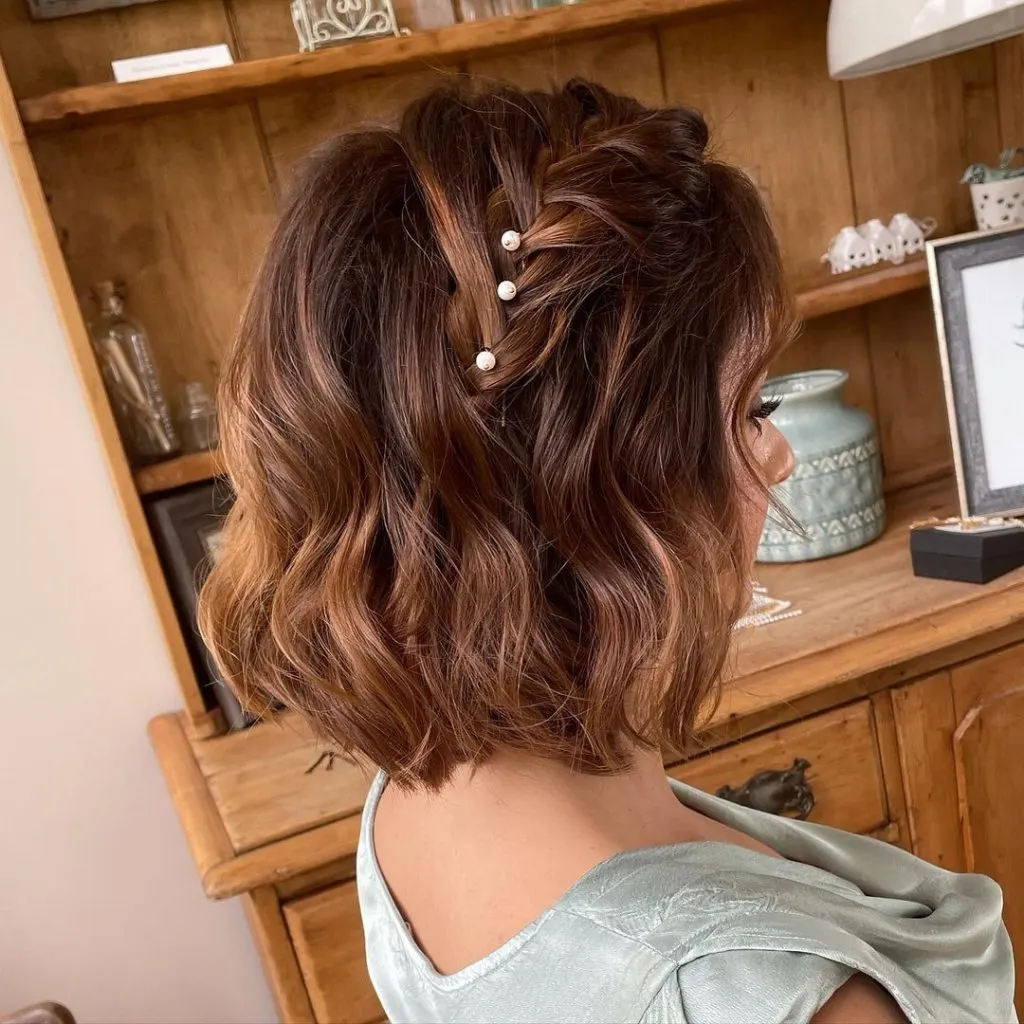 A simple braid and pretty pearl pins are all it takes to create this easy half updo. Curl the loose hair to make it even prettier.
53. Cute Updo For Short Hair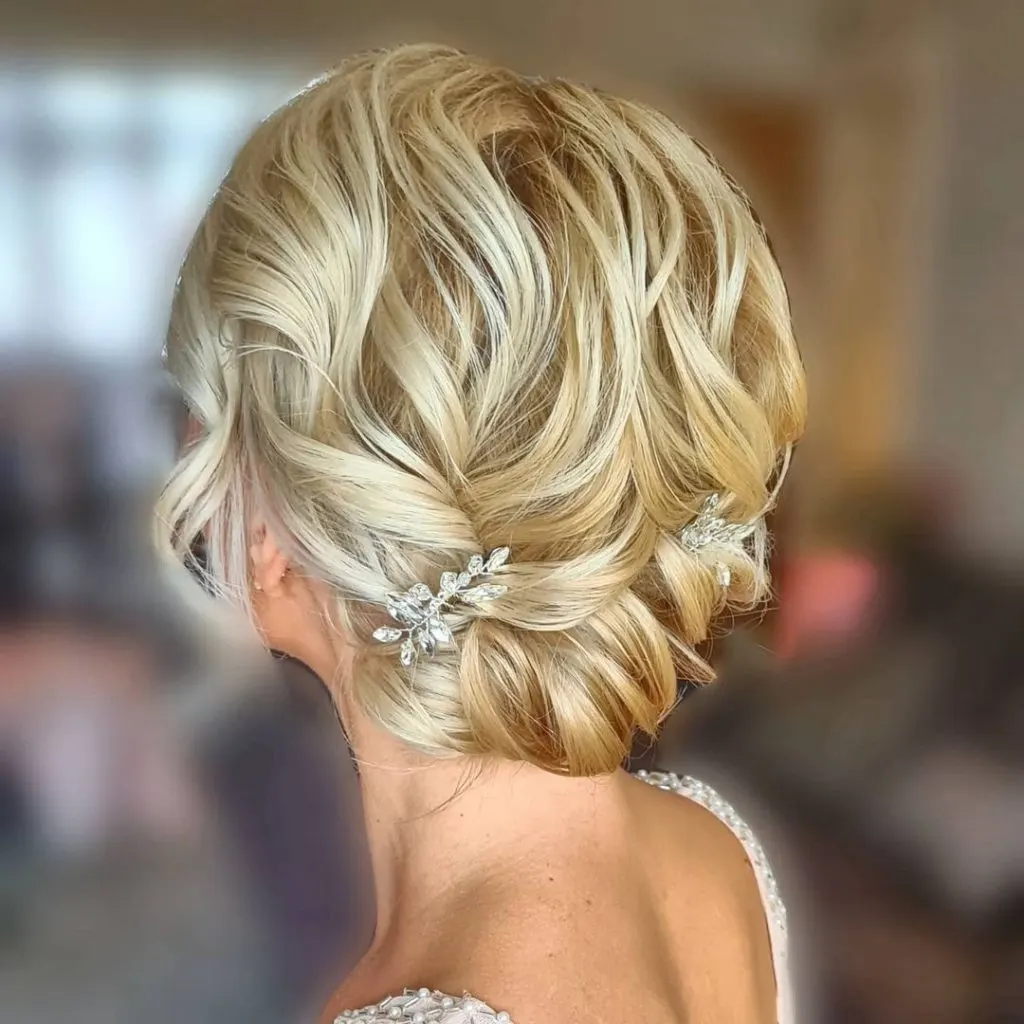 Chin-length hair is barely long enough tp pin back, but it can be done. Camouflage the short ends with texture and cute accessories.
54. Floral Bun For Short Hair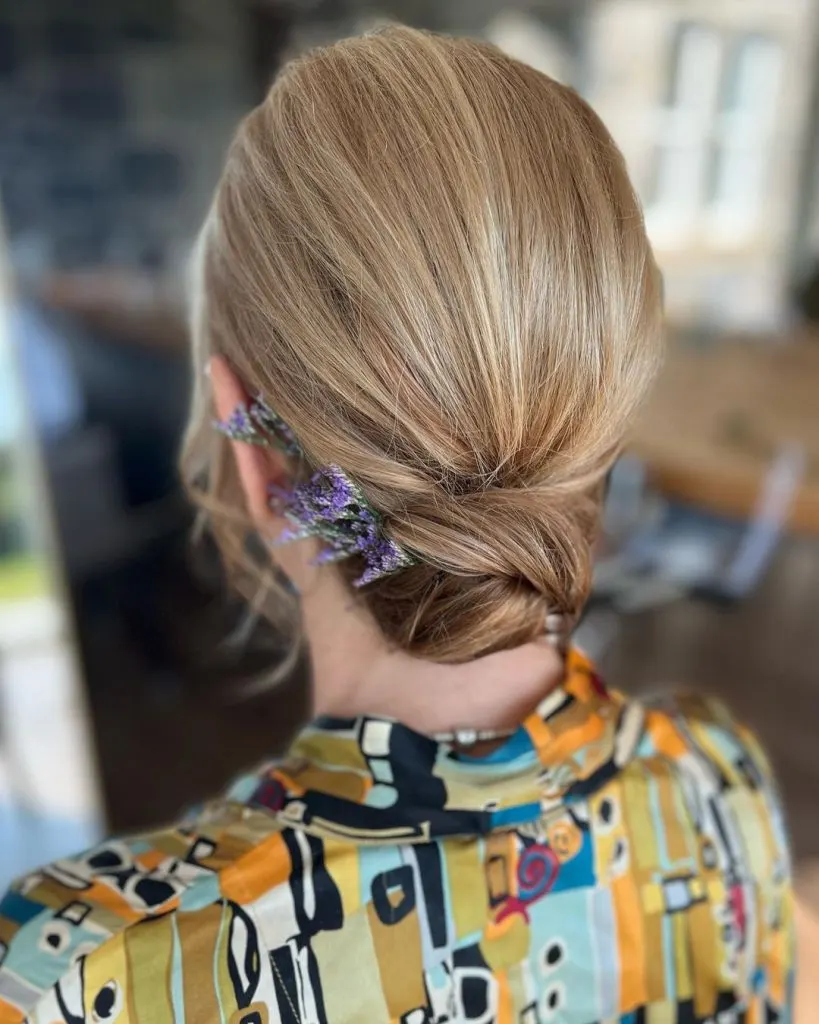 A simple low bun or twist can be elevated with accessories: for a more formal event, choose something classic and sophisticated, and for every day, play around in any way that suits your personal style.
55. Twist Half Updo For Short Hair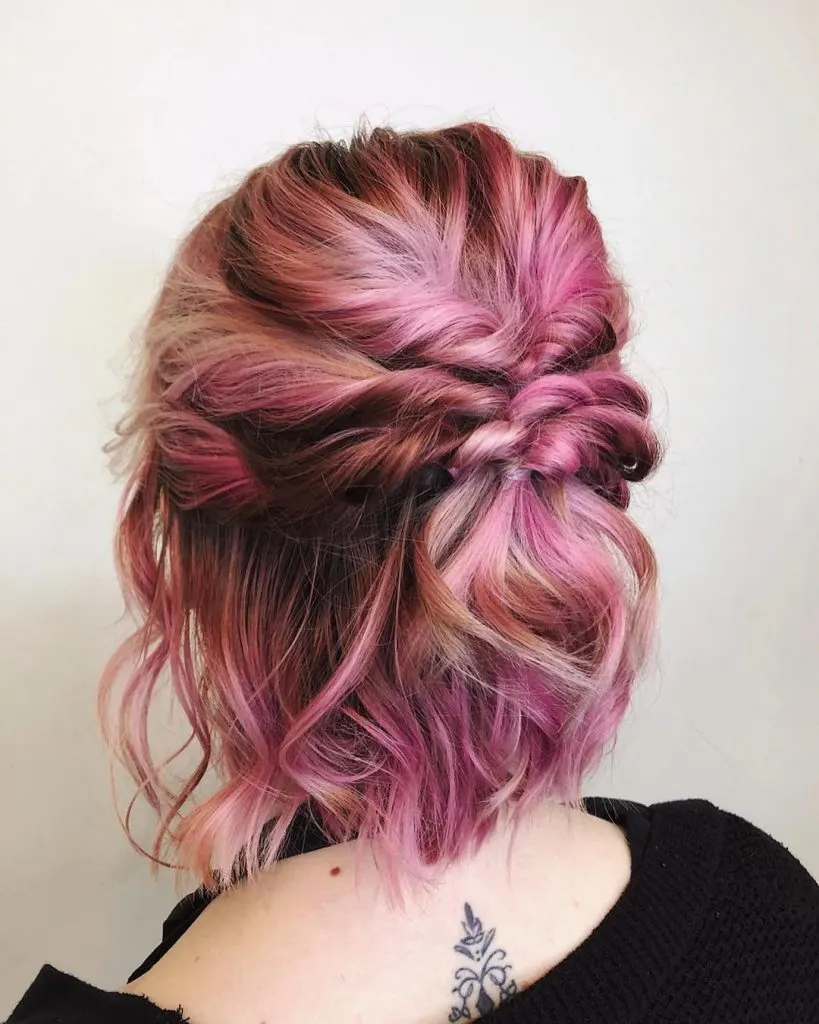 This layered half updo is best suited for thick hair and needs lots of texture to achieve this shape. If your hair is fine or completely straight, a texturizing product is a must.
56. Half-Up Bun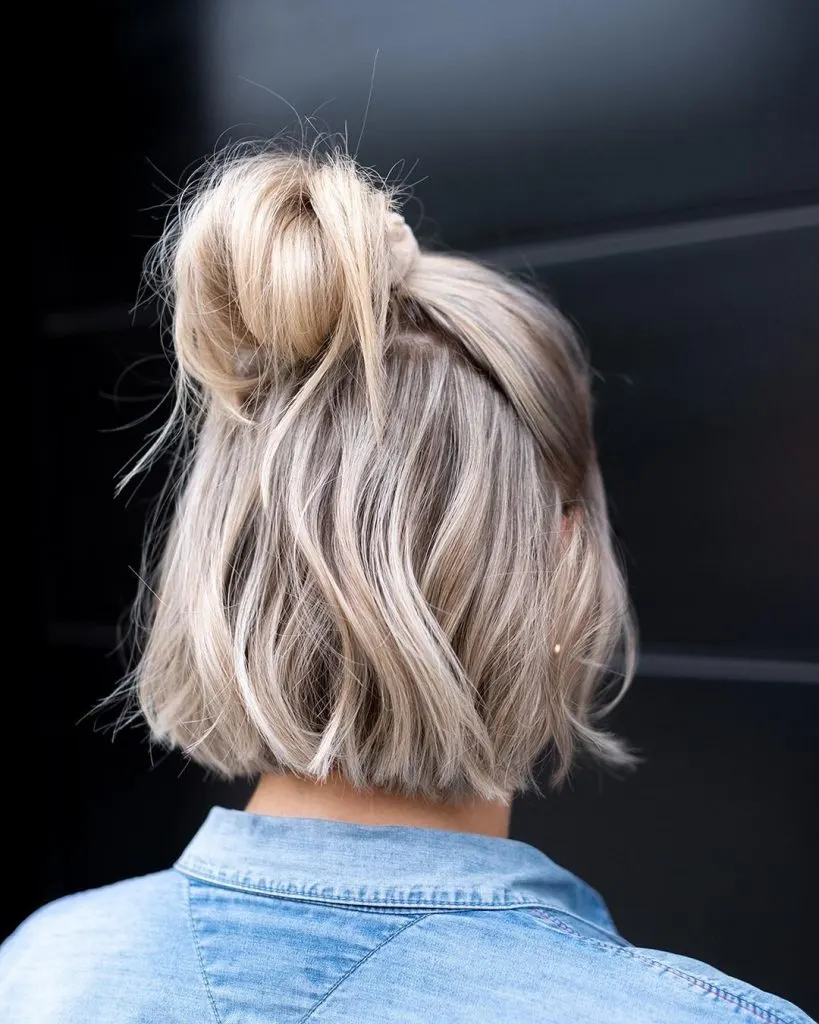 This style will turn out the best if you just take an elastic and tie your hair without looking in the mirror. There's something about the randomness that's difficult to replicate if you're being too careful.
57. Easy Updo For Thin Short Hair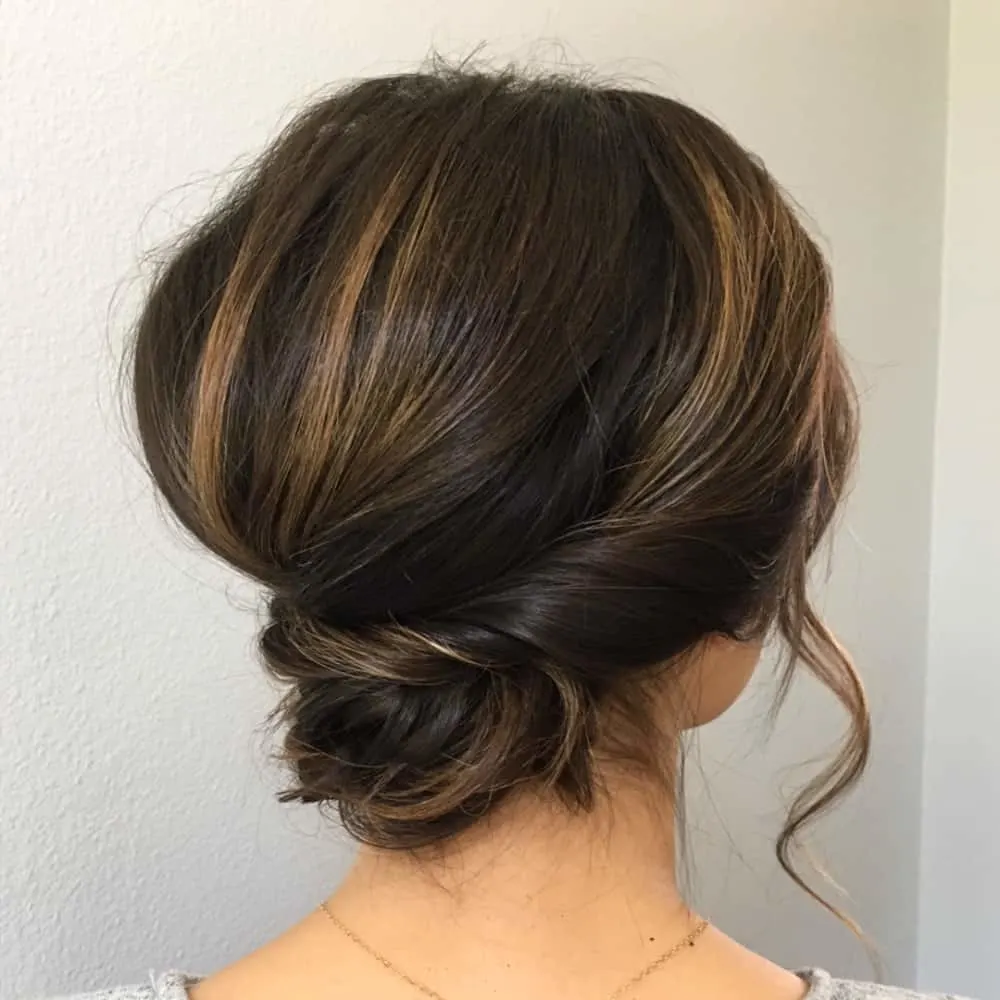 When you want to create volume at the crown by teasing, lift the uppermost layer and tease the hair underneath, then replace the top layer. This is how you can achieve a smooth look with lots of lift.
58. Casual Half Updo For Short Hair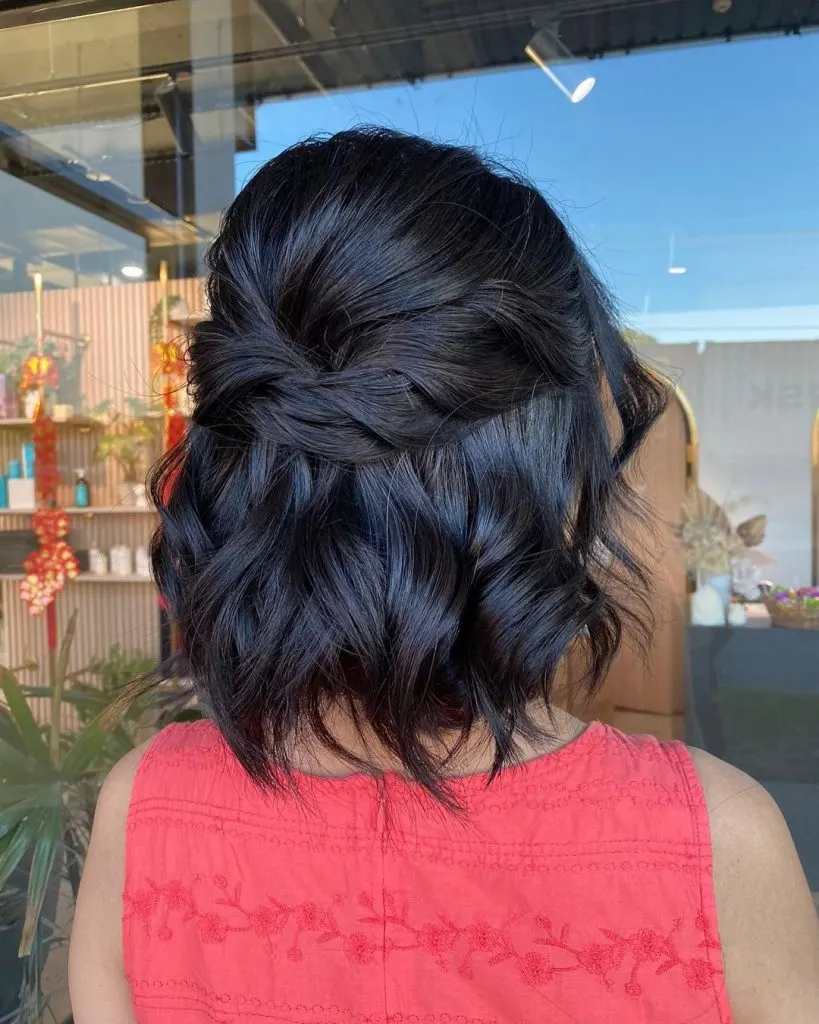 Twist the sections at the sides backwards, then secure when you reach the back. Works great on straight or wavy hair.
59. Easy Half Updo With Pin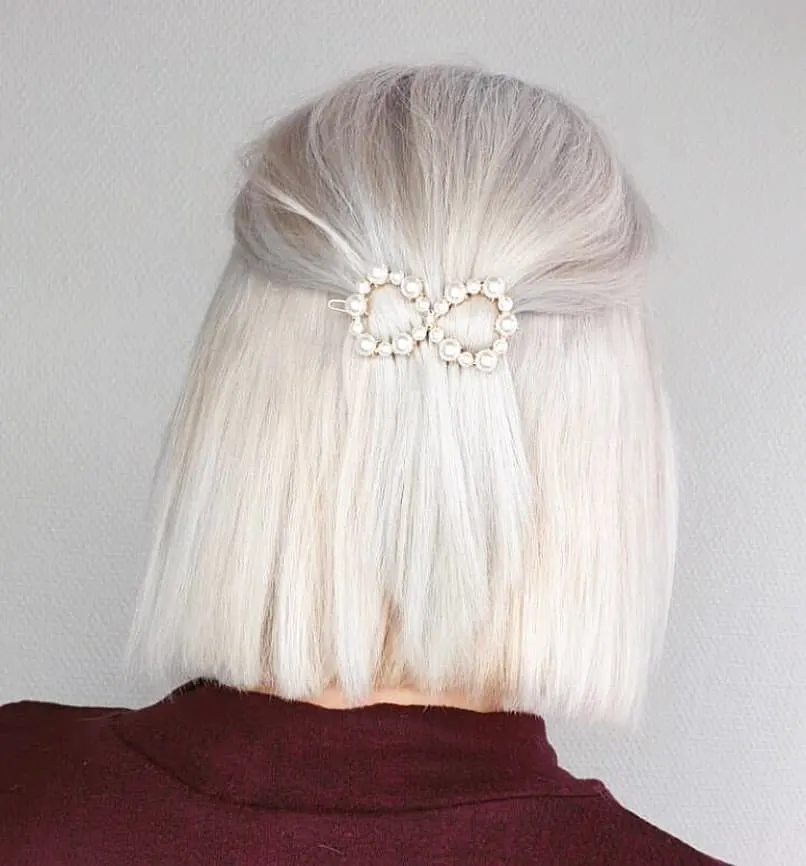 This short straight hairstyle takes no effort—it's all about the accessory. Section off the hair at the crown and secure with a decorative pin.
60. Scrunchie Pony Updo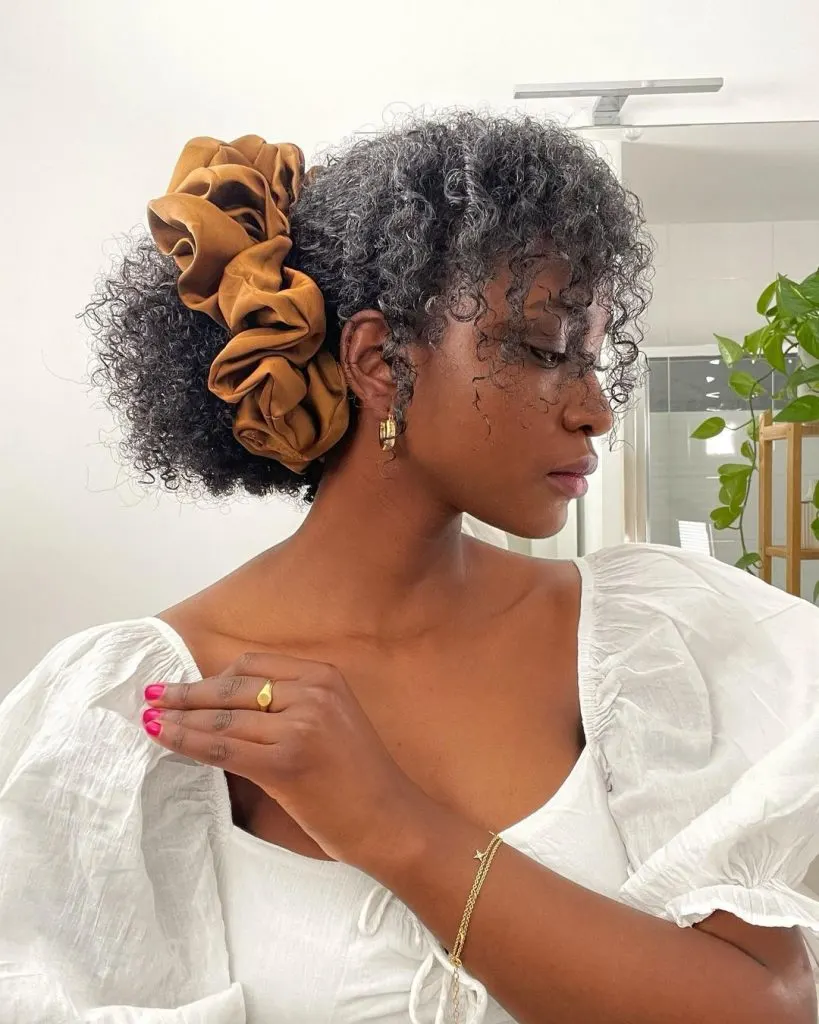 A large scrunchie is a statement accessory that transforms a simple ponytail into a dramatic updo. Play around with color and size to achieve various styles.
61. Pixie Cut Updo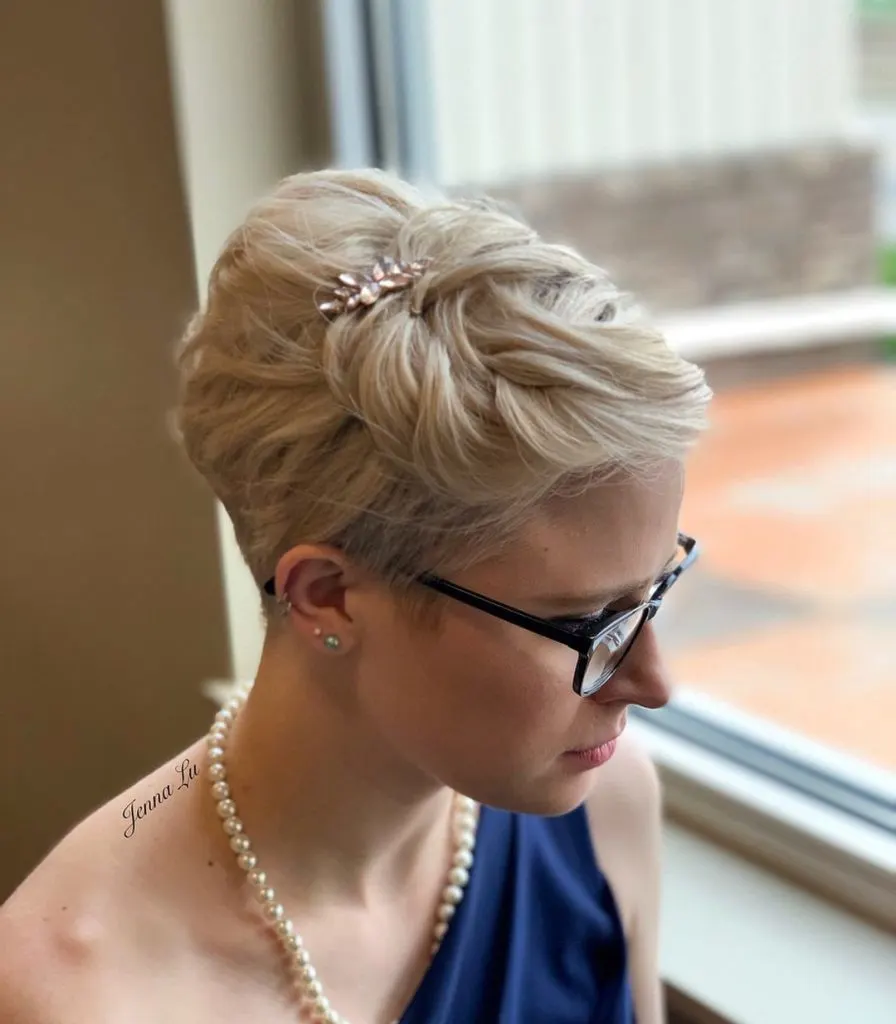 Twisting the hair and decorating it with a pretty pin isn't just for bob-length short hair—it works just as well on a pixie.
62. Formal Half-Up Hairdo For Short Hair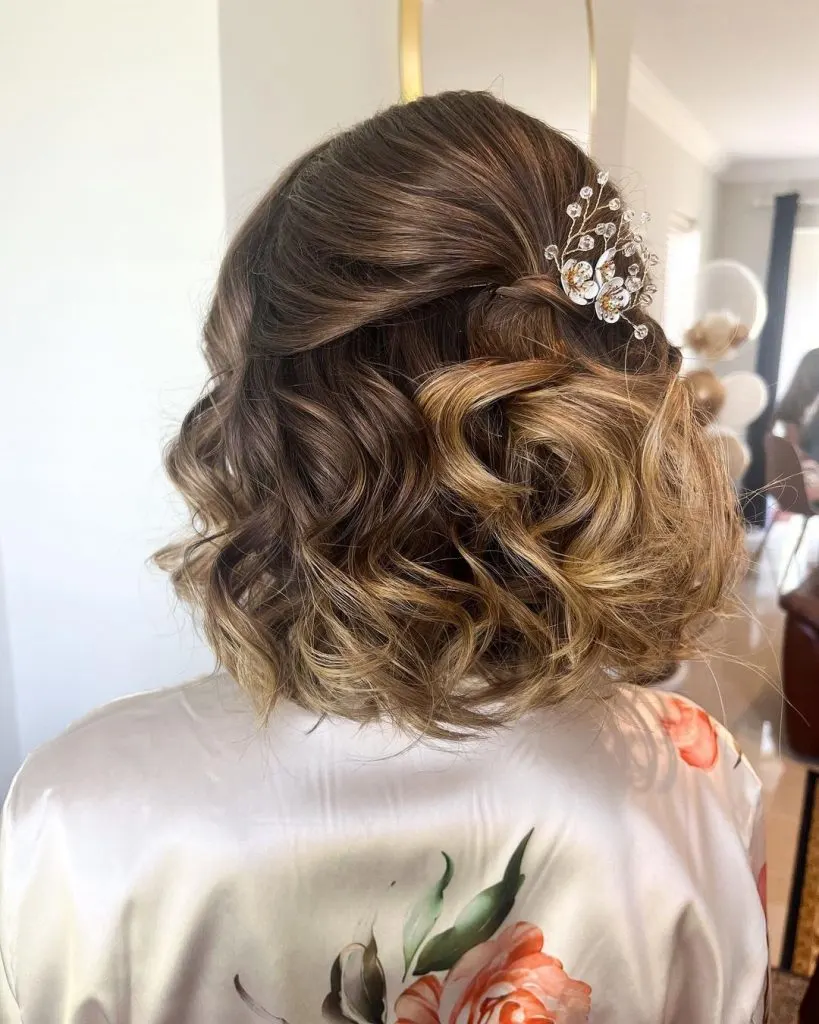 Large curls and a floral pin are enough to make this long bob appropriate for any occasion. Simple and pretty.
63. Bantu Knots Updo For Short Hair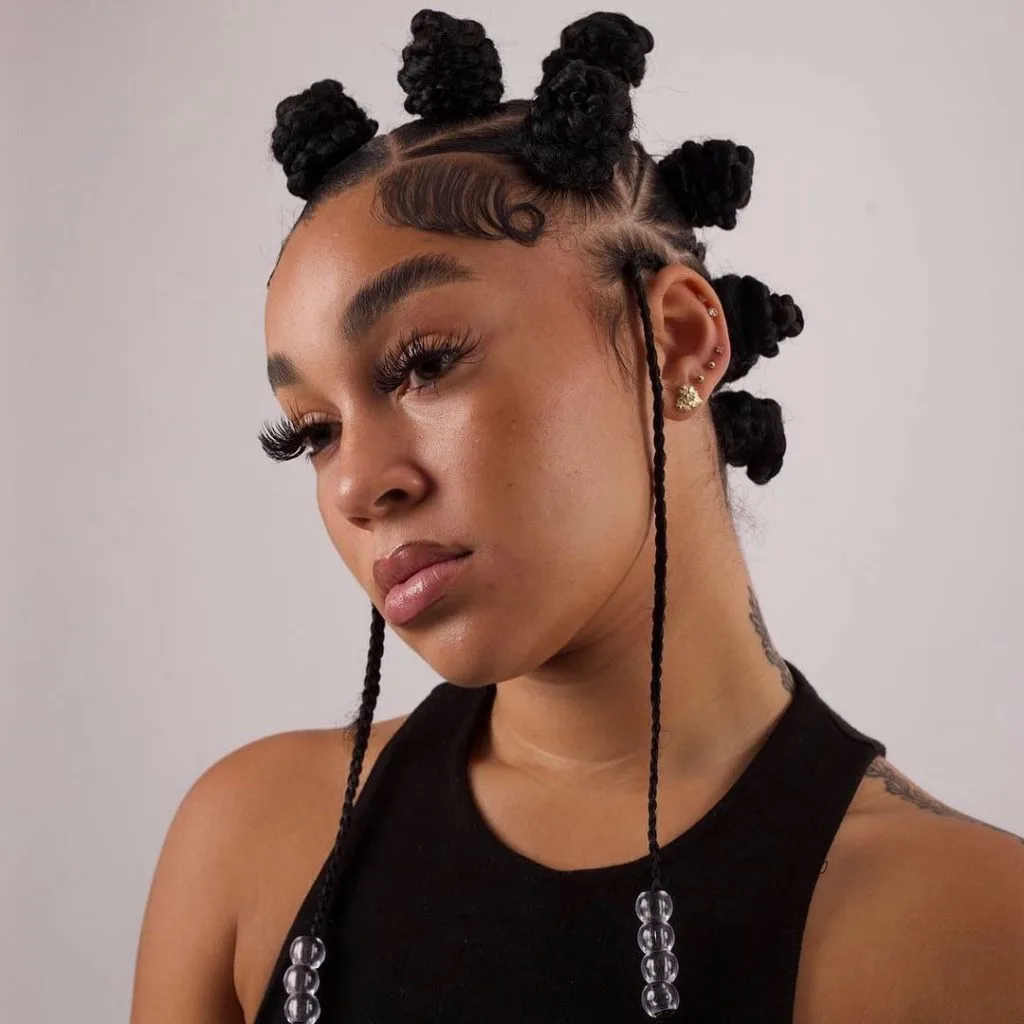 This pretty updo uses the longer strands to create a dramatic effect through contrast and by adding accessories. If all your hair is the same length, this styling will still look great, so try it out.
64. Easy Updo Hairstyle For Short Hair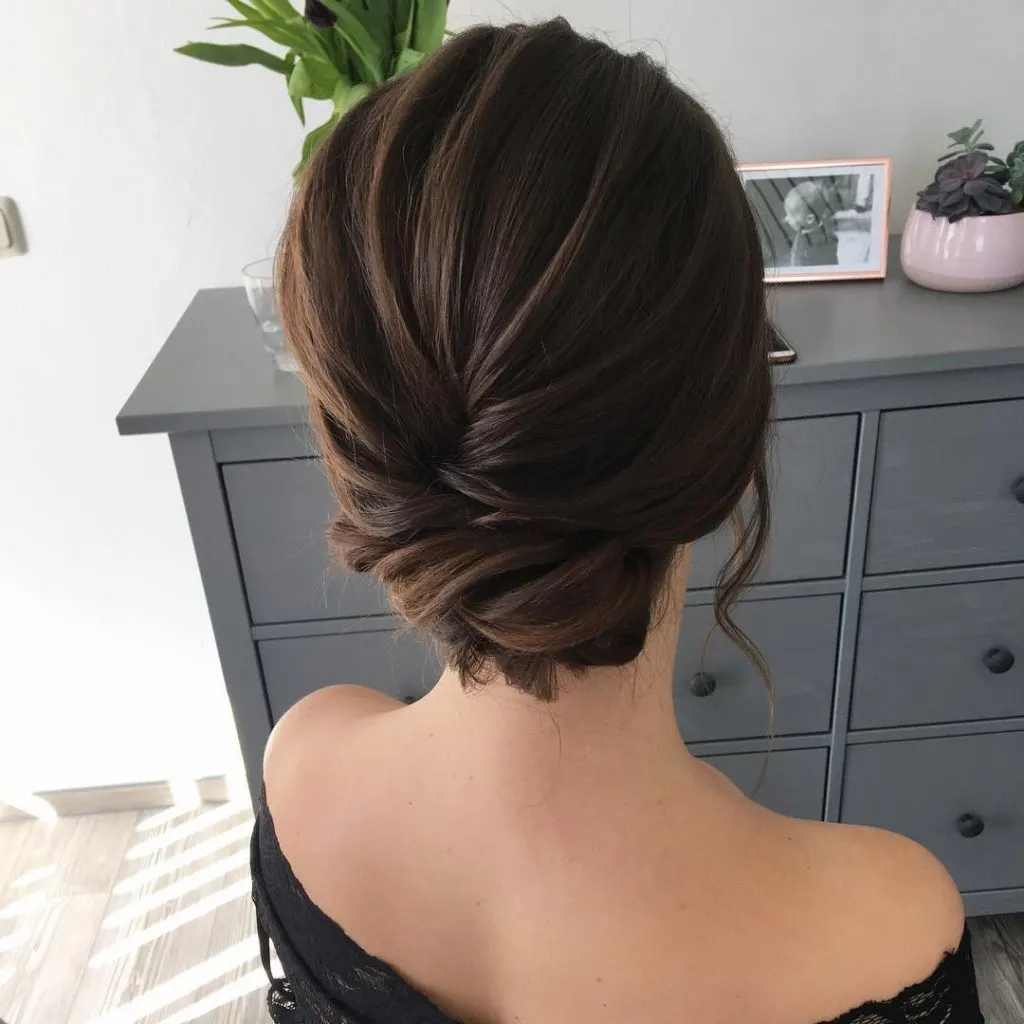 Create this easy bun by tying your hair into a low pony, then divide the hair into two above it, creating a gap. Tuck the ponytail through above the hair tie. You can pin down the stray hairs or leave them loose.
65. Crown Twists Half Updo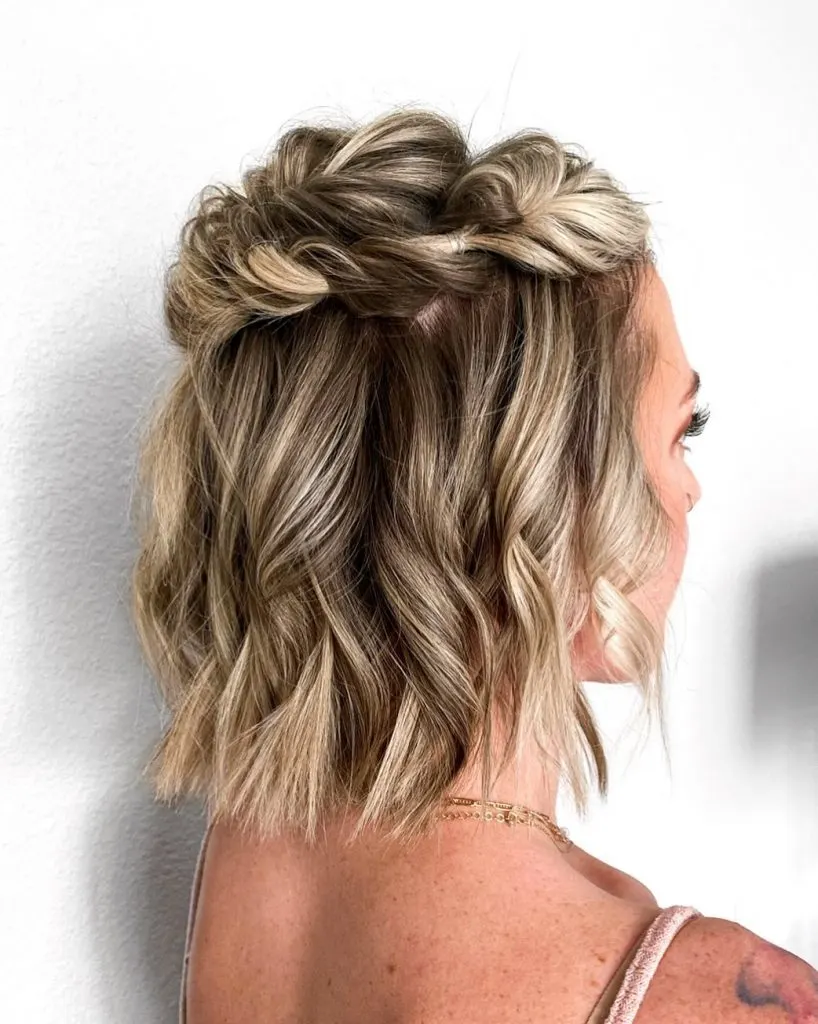 Section off the hair at the crown and twist towards the back of the head. You can secure the ends with bobby pins or twist them inward to create more volume on top.
66. Retro Finger Waves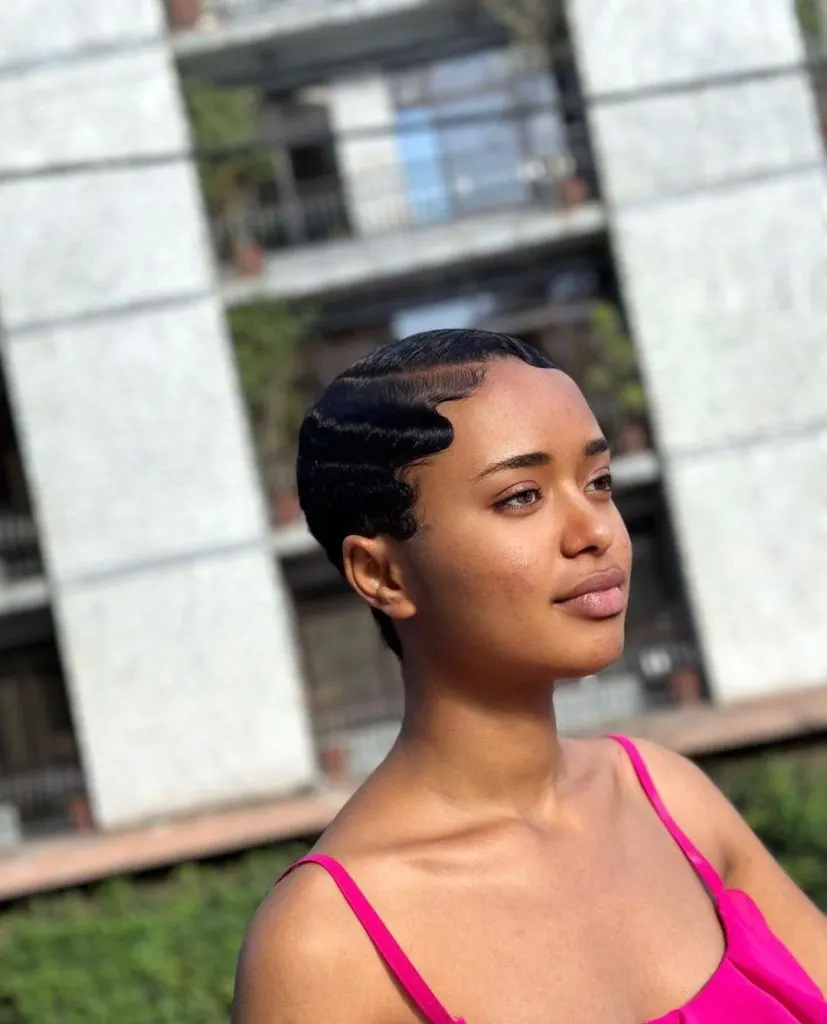 Finger waves are an elevated short hairstyle that you can wear even in most formal occasions. They take some time and patience, but this gorgeous style is worth it. Here's a detailed tutorial.
67. Easy Updo For Bobs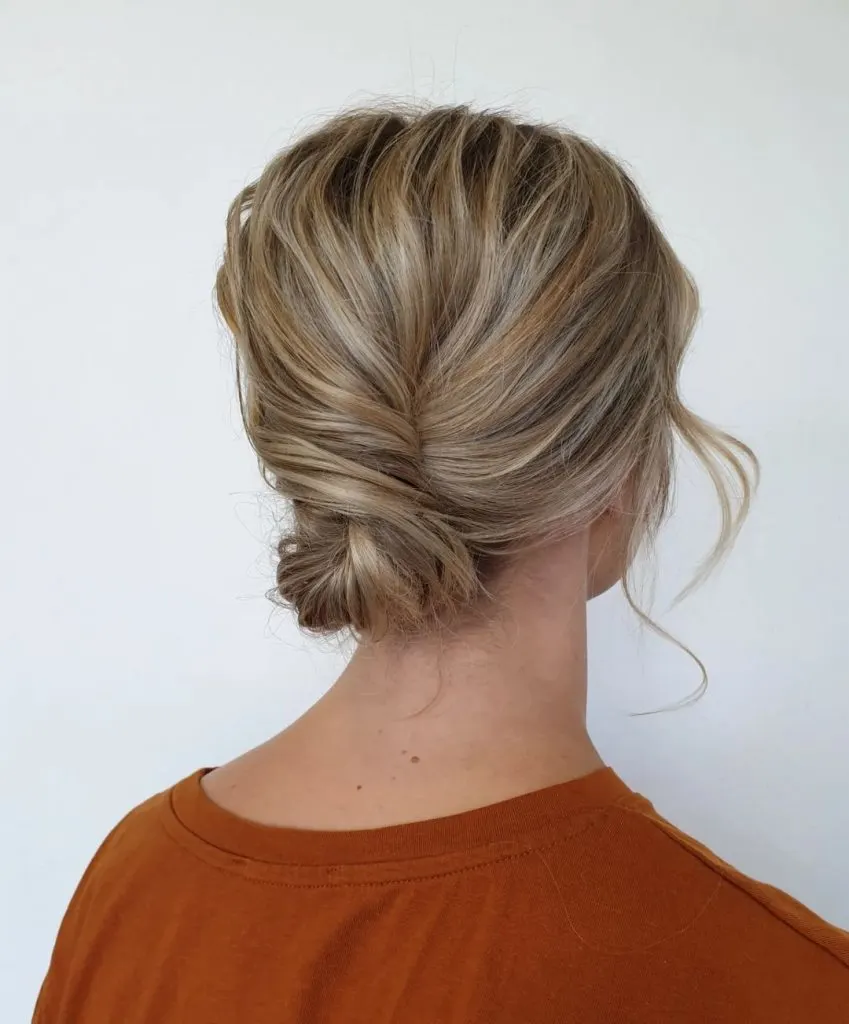 If your hair is longer than chin length, you can simply twist your hair and roll it towards the nape then secure with bobby pins to create this hairstyle. If it's shorter, first pin one side of the hair at the center, then twist the other side over it.
68. Side-Braided Half Updo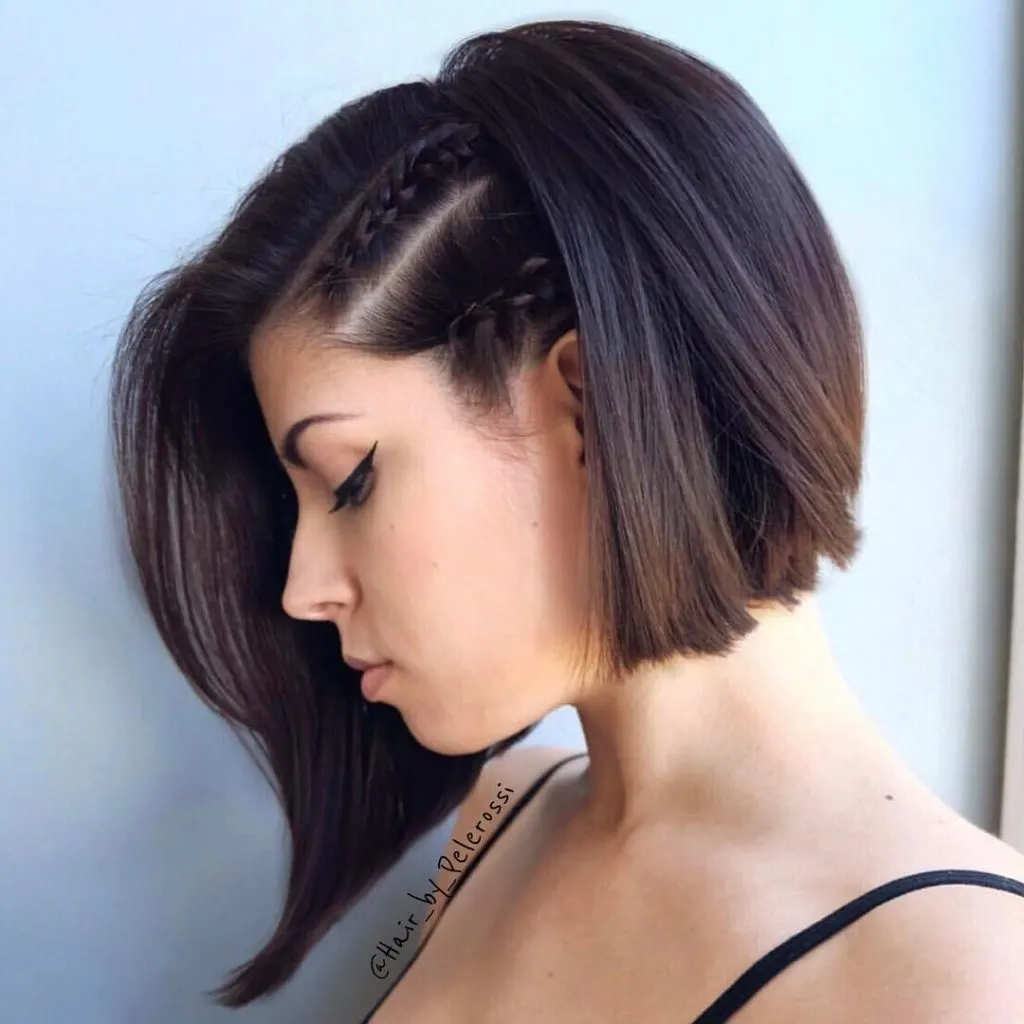 Braids on one side of the head create a dramatic, edgy look that works on all hair lengths, from pixie to lob. Looks particularly impressive with an asymmetrical bob.
69. Short Bob Updo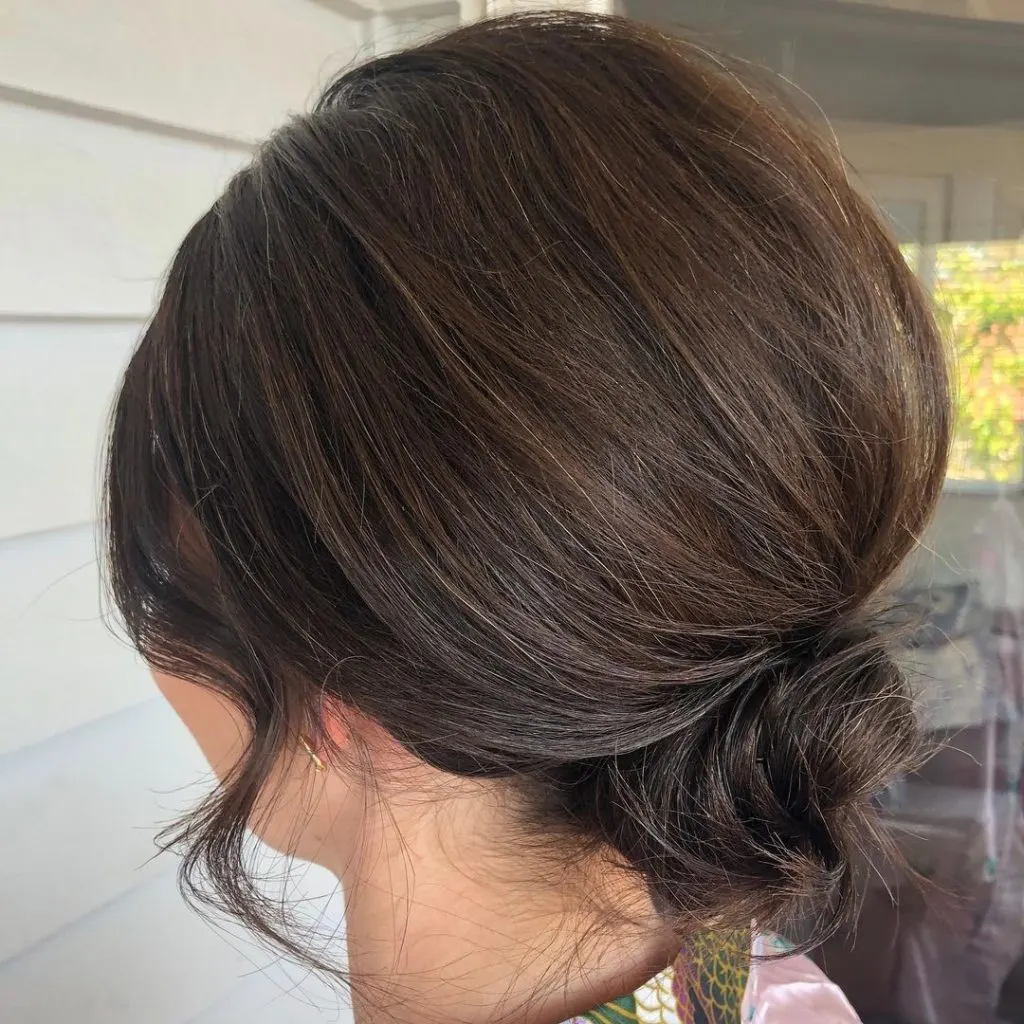 Tie your hair into a low pony at the nape, and create a bun using bobby pins. It looks great with lots of volume like this one, or sleek and close to the head if that's what you prefer.
70. Half Updo Hairstyle For Short Hair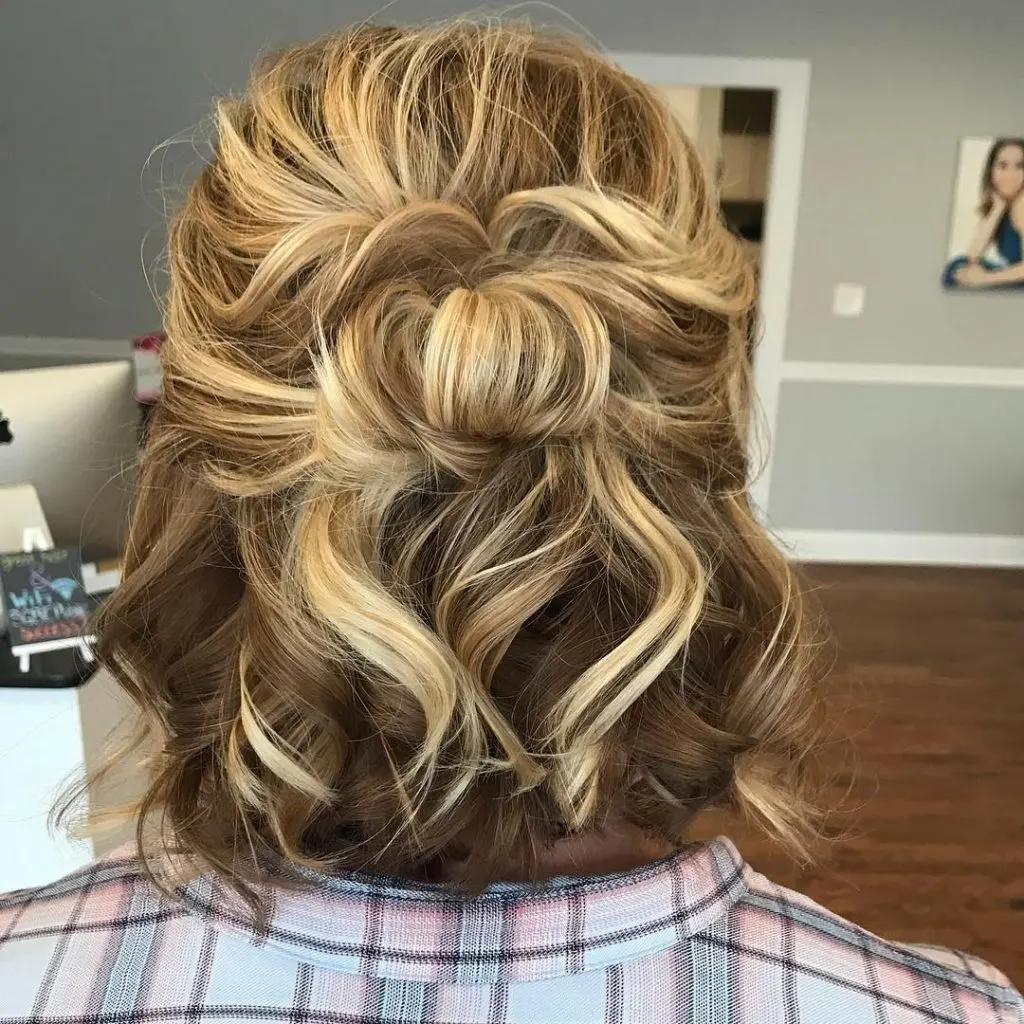 Thanks to the waves and the highlights, this hairstyle looks more complicated than it is. Section off the top layer of your hair and create a pony, then twist around the hair tie.
71. Simple Updo For Short Hair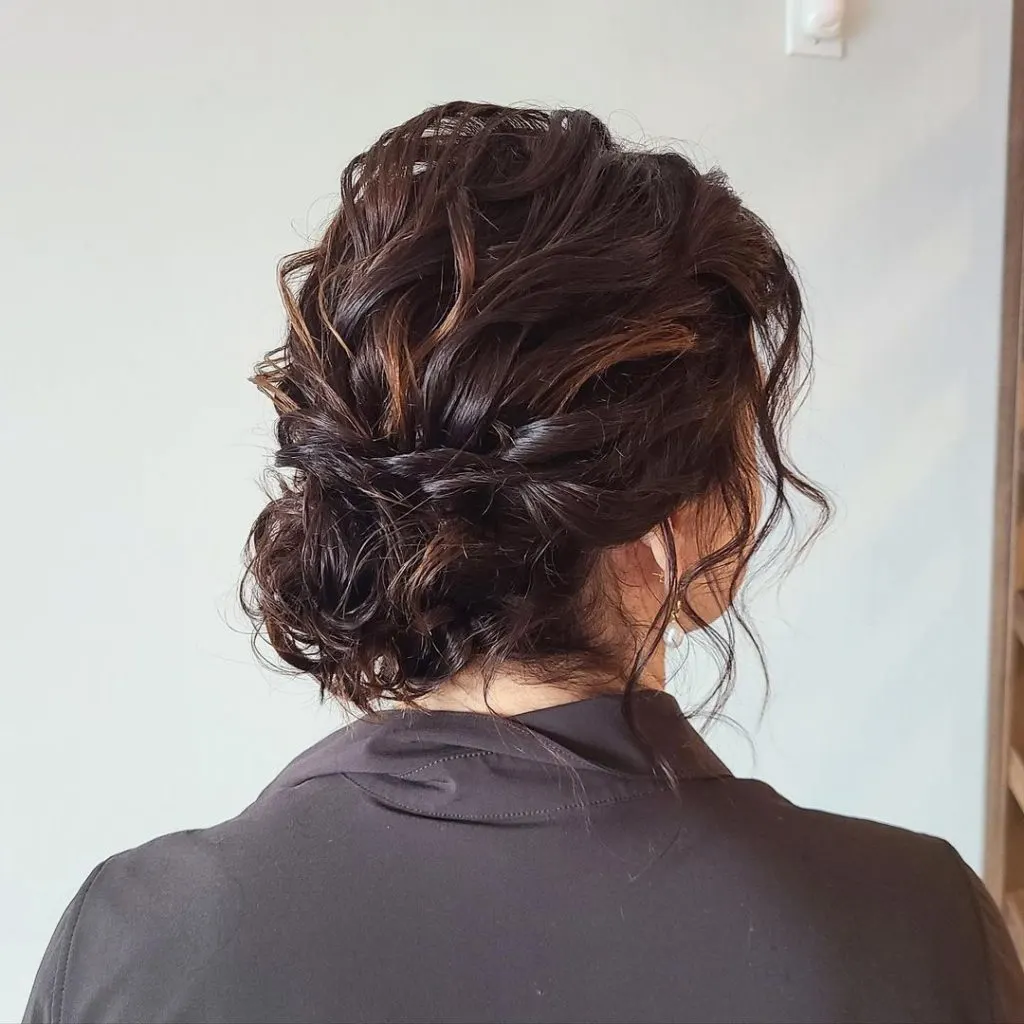 Curly hair has plenty of volume and texture, so even a simple twist will look rich and sophisticated.
72. Sleek Half Updo With Pins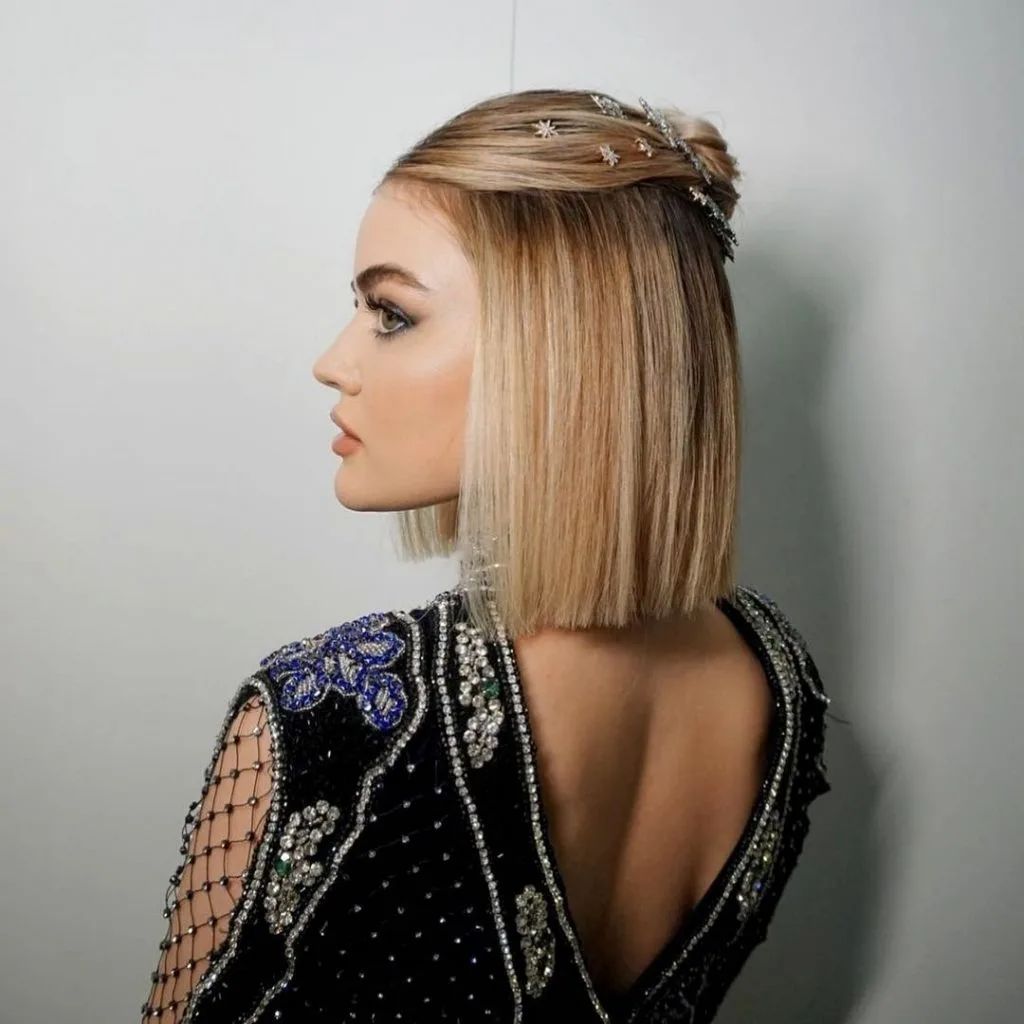 A sleek bob is the perfect background for elaborate accessories or if you want to use multiple, like this combination of a simple half-up bun and glittery pins.
73. Easy Messy Short Hair Updo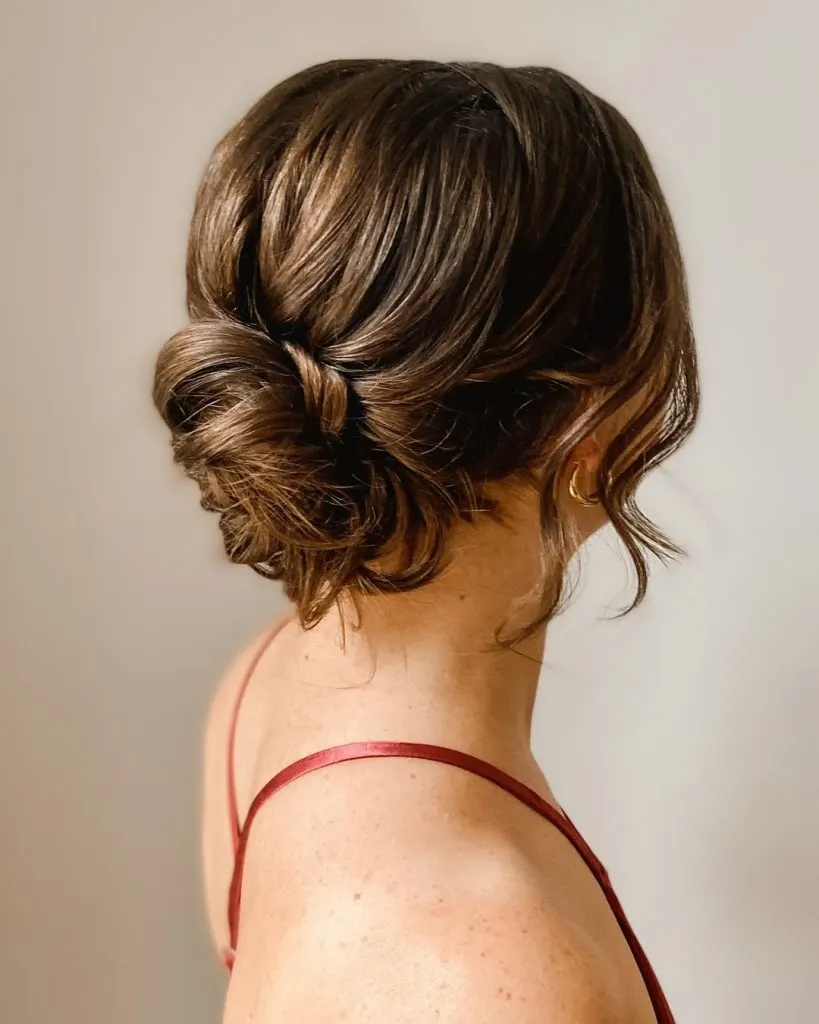 A low messy bun is an easy and sophisticated everyday style. Unlike its more formal counterpart, this type of style looks effortless and laid back when you leave lots of loose strands.
74. Twisted Updo For Short Hair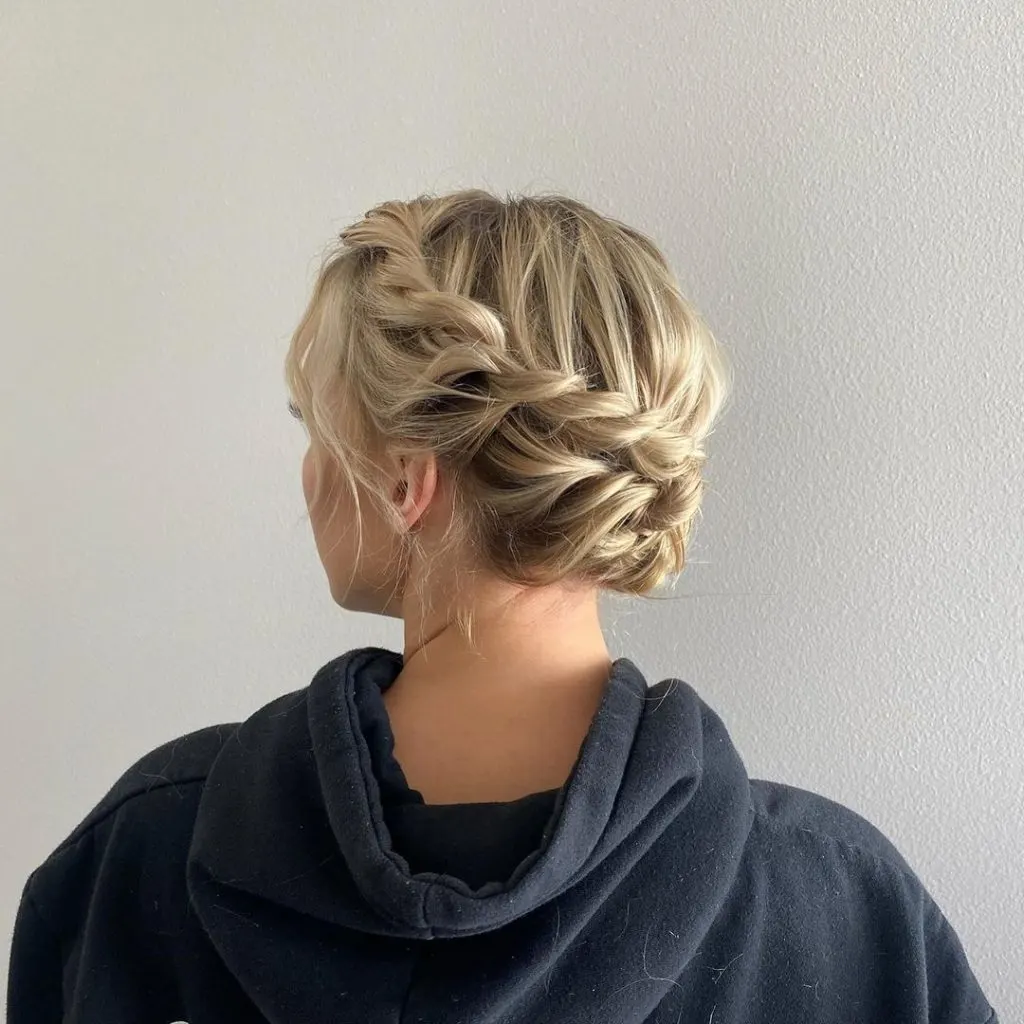 A braided updo can be created with any type of braid, but Dutch and twist look best because they have more dimension that the French braid..
75. Cute Easy Hairstyle For Short Hair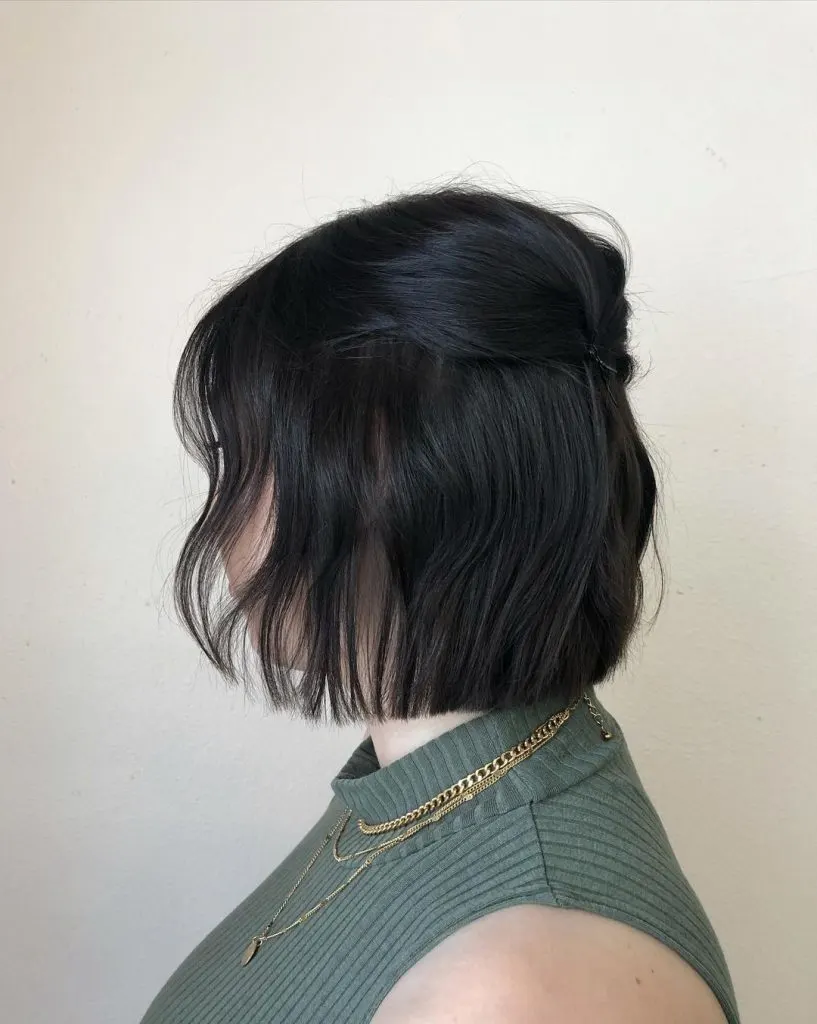 If you're a fan of simple, understated hairstyles, this half updo should be right up your alley. To avoid a too-simple, unexceptional vibe, makes sure that your hairstyle is flawlessly executed. It's also a great base if you want to showcase an accessory.
76. Messy Short Hair Updo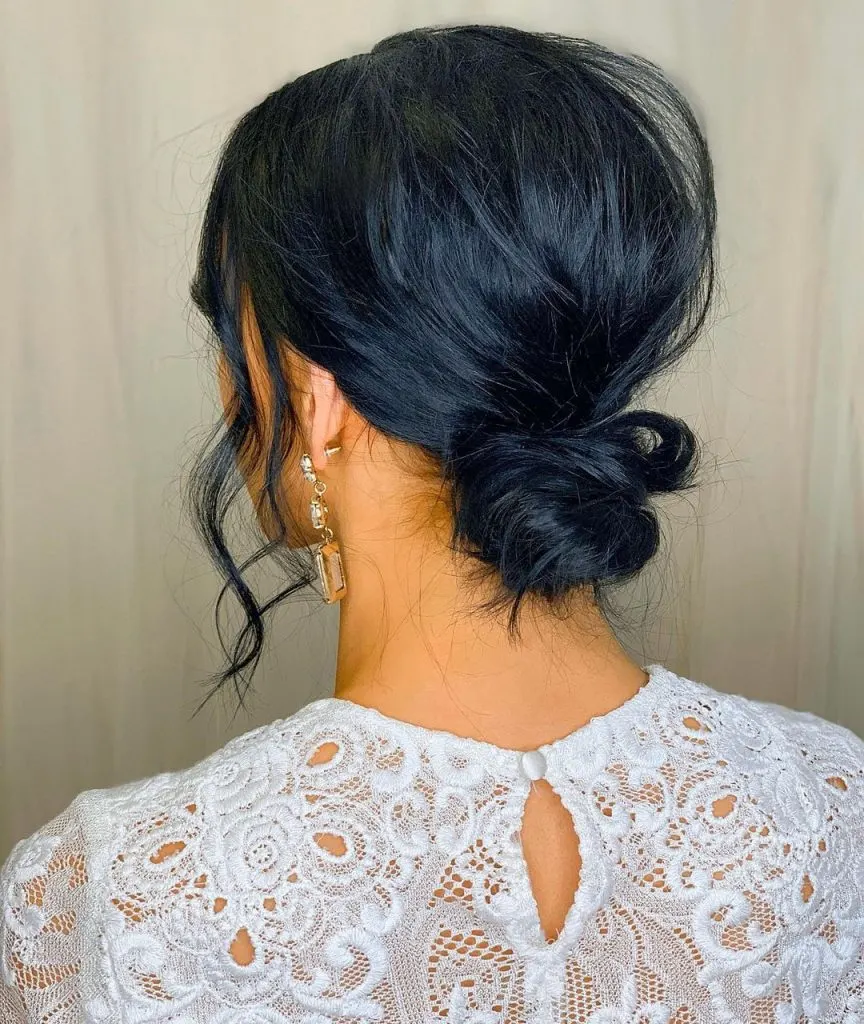 Elevate a low pony or a low bun by teasing the hair at the top of the head to create lots of volume in the section above it. This also looks flattering from the front because it creates lift at the crown.
77. Half-Up Braided Hairstyle With Beads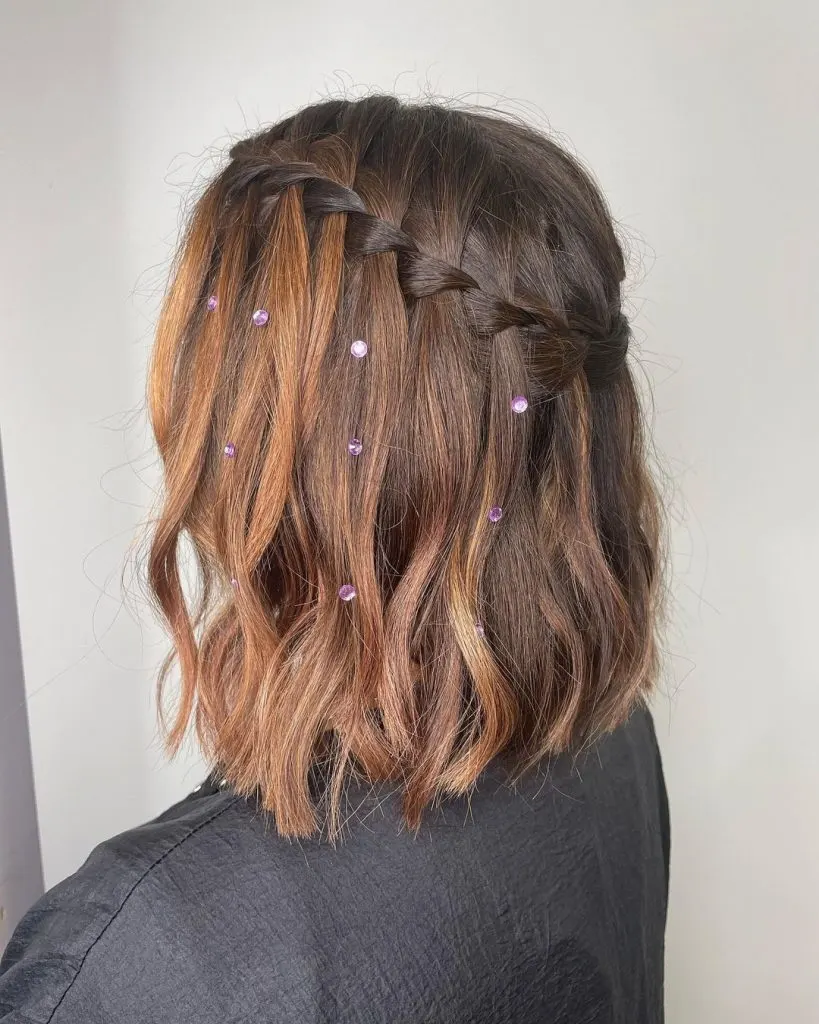 Simple hairstyles don't take away the attention from hair accessories. This lovely waterfall braid is the perfect base for raindrop beads. Here's a tutorial to help you achieve the perfect braid.
78. Simple Low Bun With Pins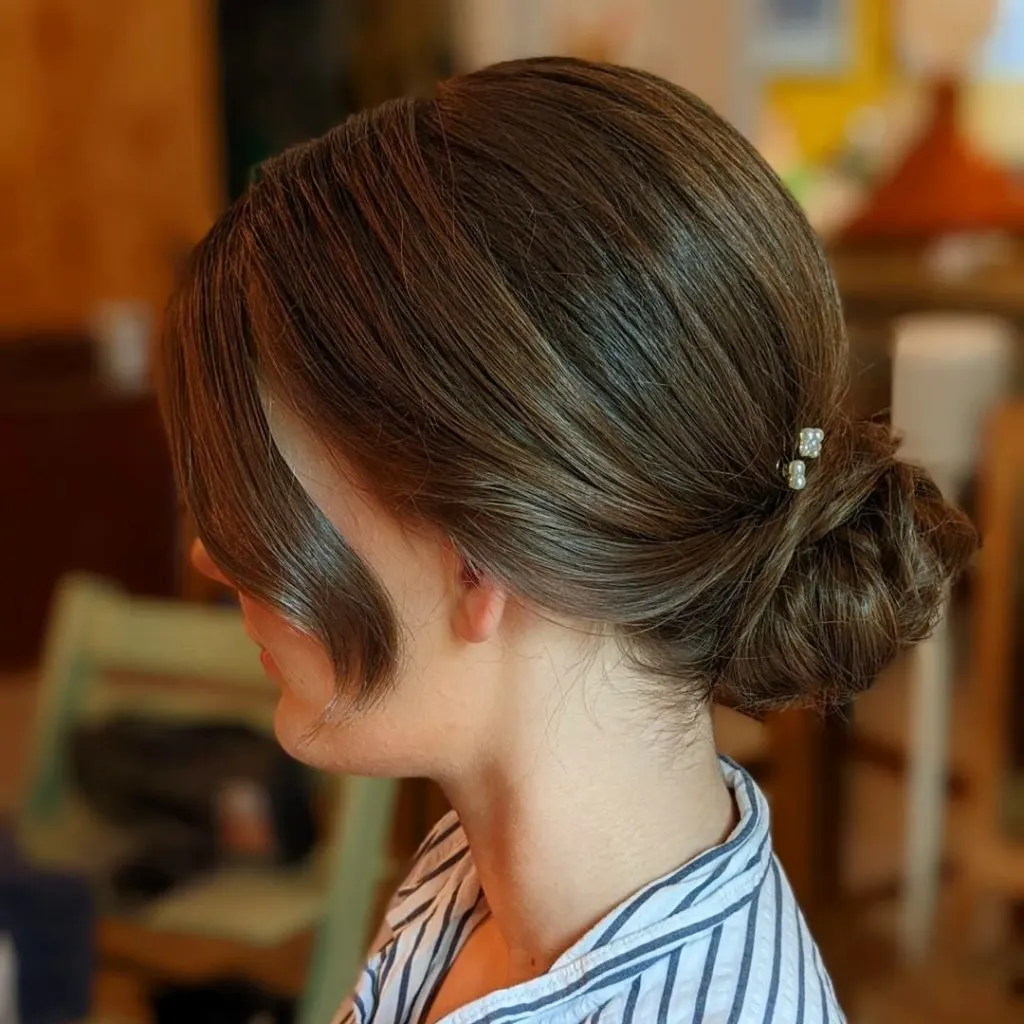 A low chignon is polished and chic, and a subtle accessory will take it to the next level. Gather the hair at the nape, tie into a pony and pin to create a bun.
79. Easy Half-Up Hairstyle For Short Hair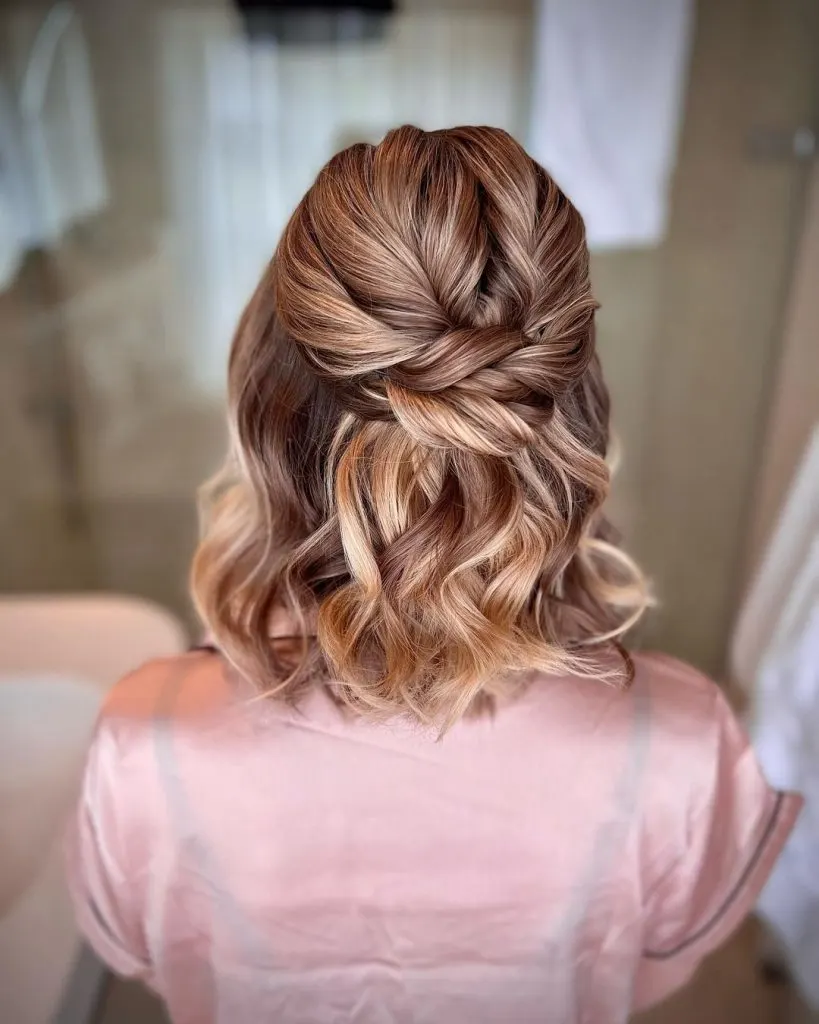 This twisted half-up half-down hairstyle will take only a few minutes and it looks gorgeous. Start from the inside and first twist the two sections at the crown, then move on to the sides.
80. Elegant Hairstyle For Short Hair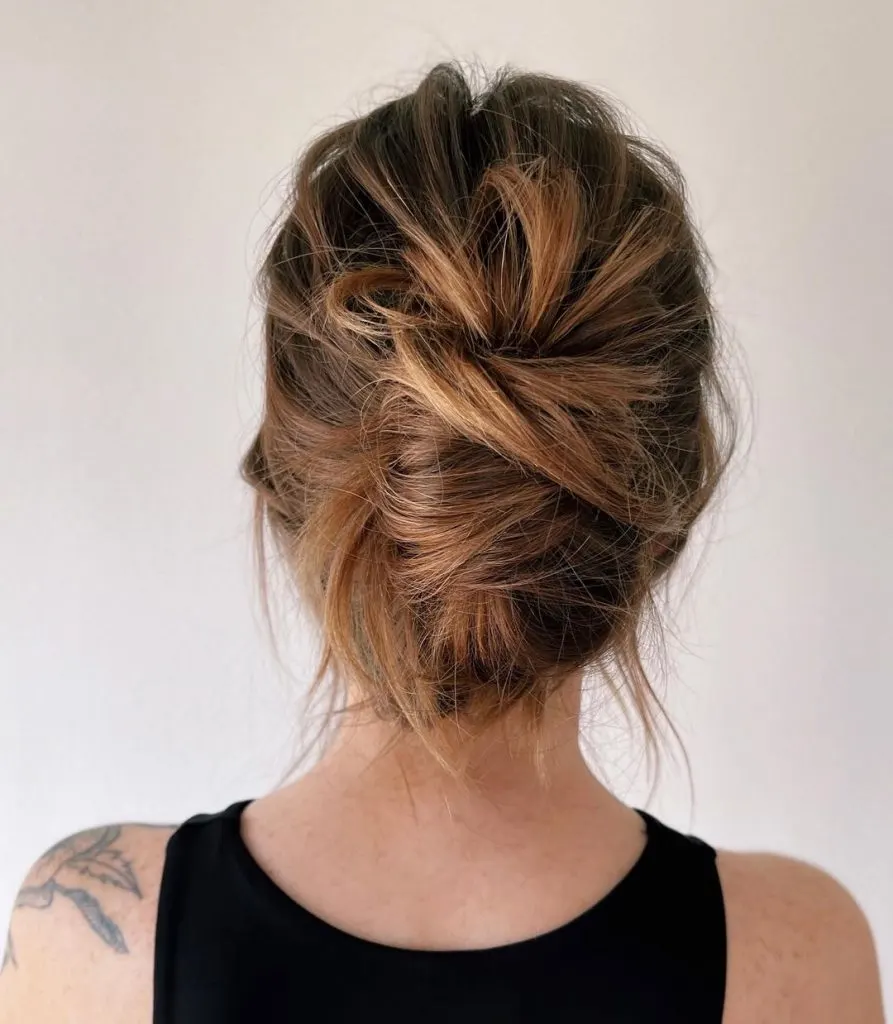 A messy updo looks effortless and cool, and it only takes a few bobby pins and a couple of minutes. Pin sections back one by one, making sure to tuck the ends underneath.