A neat, picture-perfect bob is elegant, easy, and won't ever go out of style, but it's not everyone's cup of tea. Some of us prefer a look that's a little bit more exciting and a lot more effortless and we've got you covered if you're another fan of the edgy choppy bob.
Here's all the inspo you need to find your perfect cool-girl style.
1. Edgy Bob With Choppy Bangs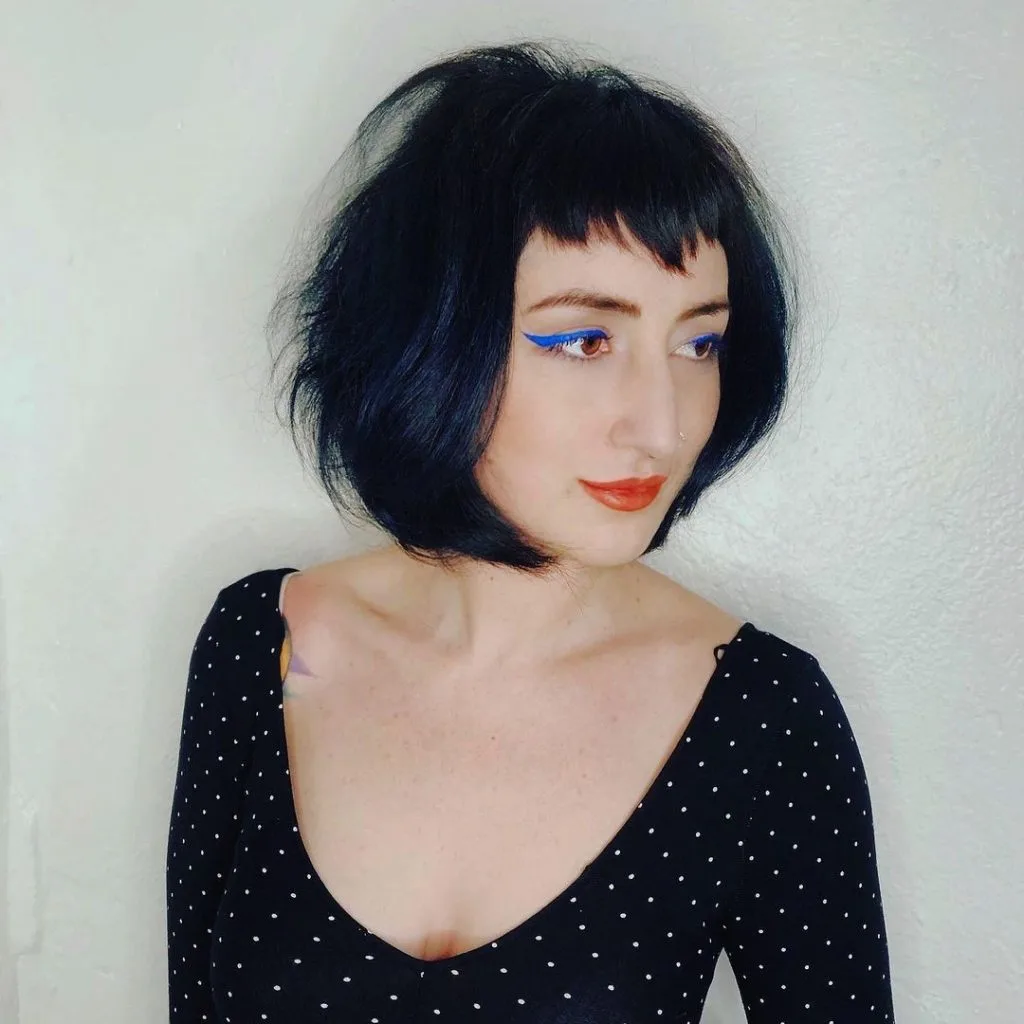 Choppy layers and razored bangs turn a classic French bob into a fun, disheveled style bursting with devil-may-care attitude that looks best when it's a little messy.
2. Choppy Punk Edgy Bob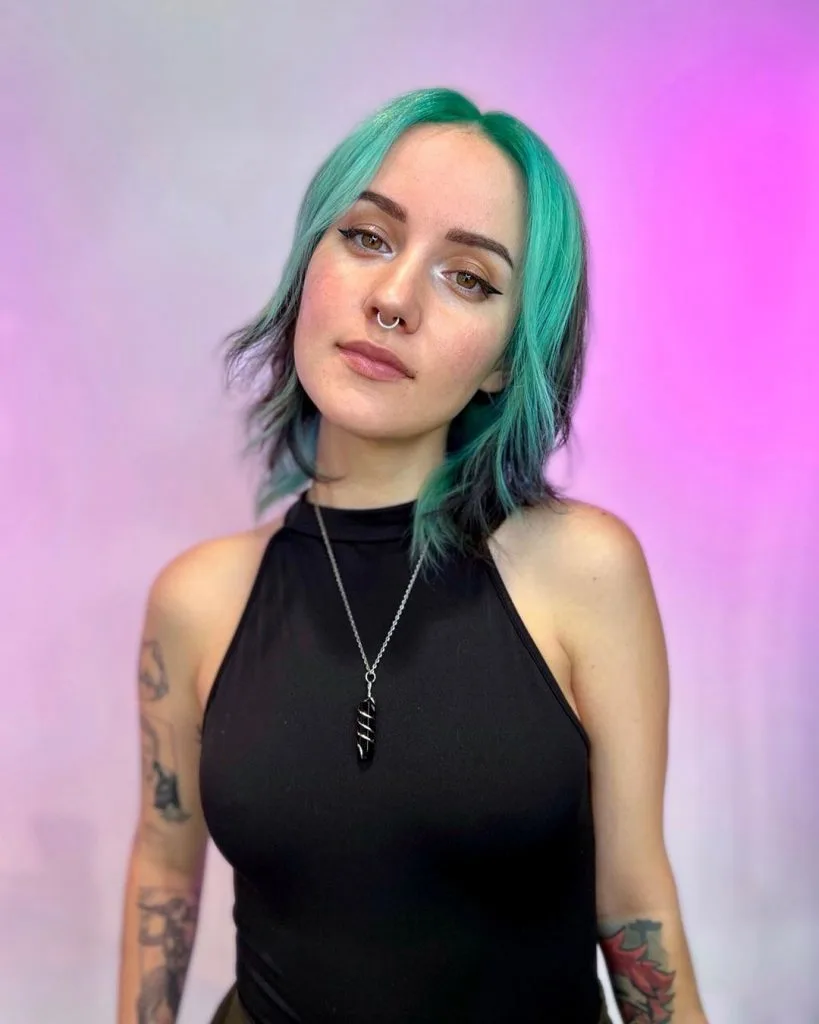 It doesn't matter if you're dying your hair blonde or green—picking the right shade for your skin undertone is key if you want the color to look good on you. Pair cool with cool and warm with warm: this mint shade flatters a cool skin undertone much more than emerald would.
3. Edgy Choppy Bob With Bangs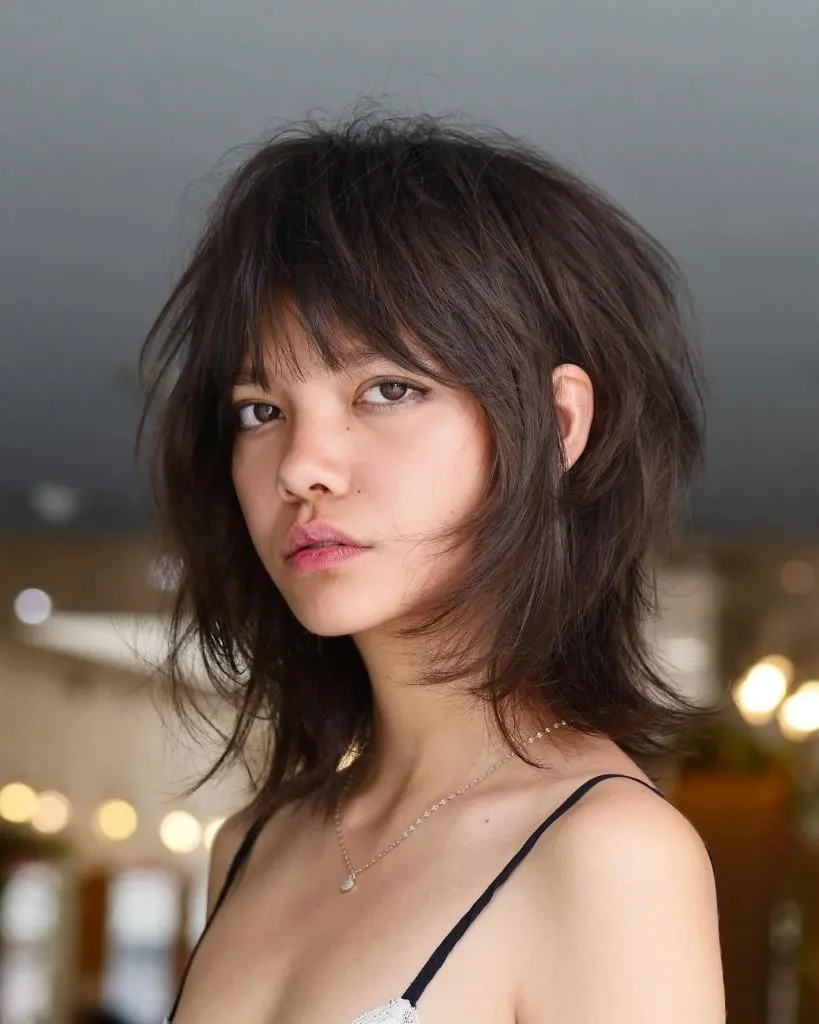 Blending all the current hair trends—the bob, the shag, the mullet and the wolf cut—into one flawless combination, a messy shaggy bob with chunky layers and fluffy styling is the hottest cut of the season.
4. Jaw Length Edgy Choppy Bob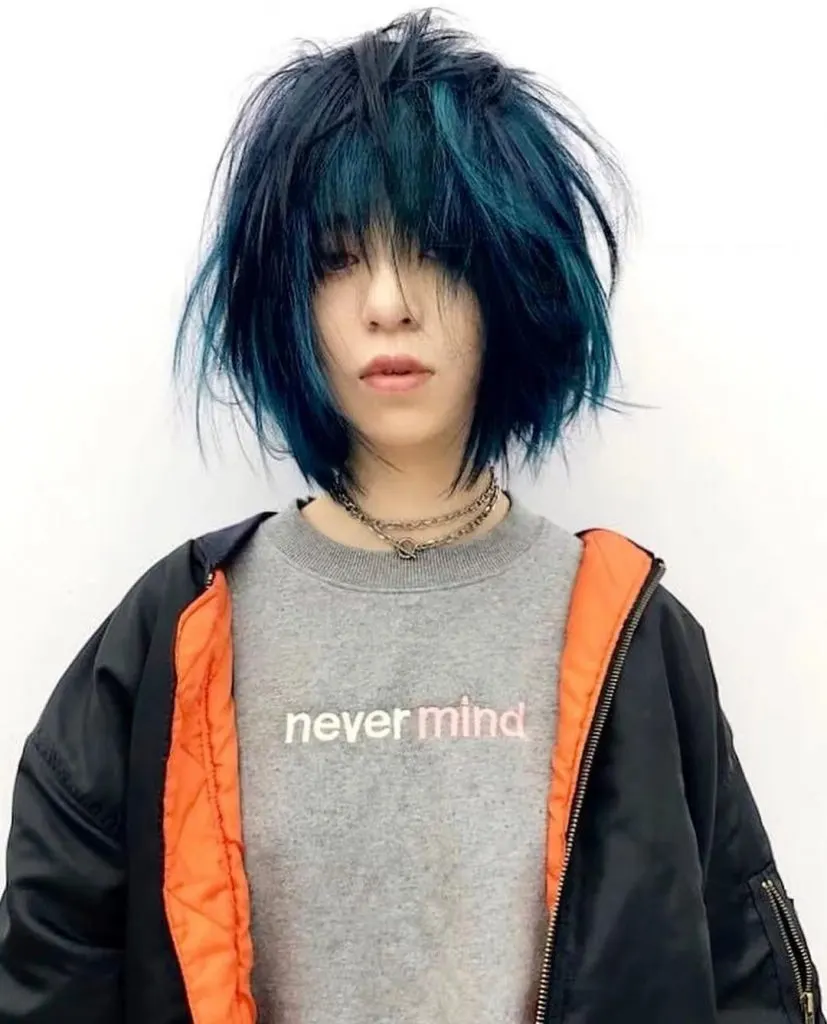 If you want a style that's edgy but can be toned down, try a bob with a classic shape but with lots of choppy ends and an edgy color which you can style in different ways. There's nothing boring about this cut, yet it's not so out there that it becomes the only thing people will notice about you.
5. Choppy Edgy Bob Haircut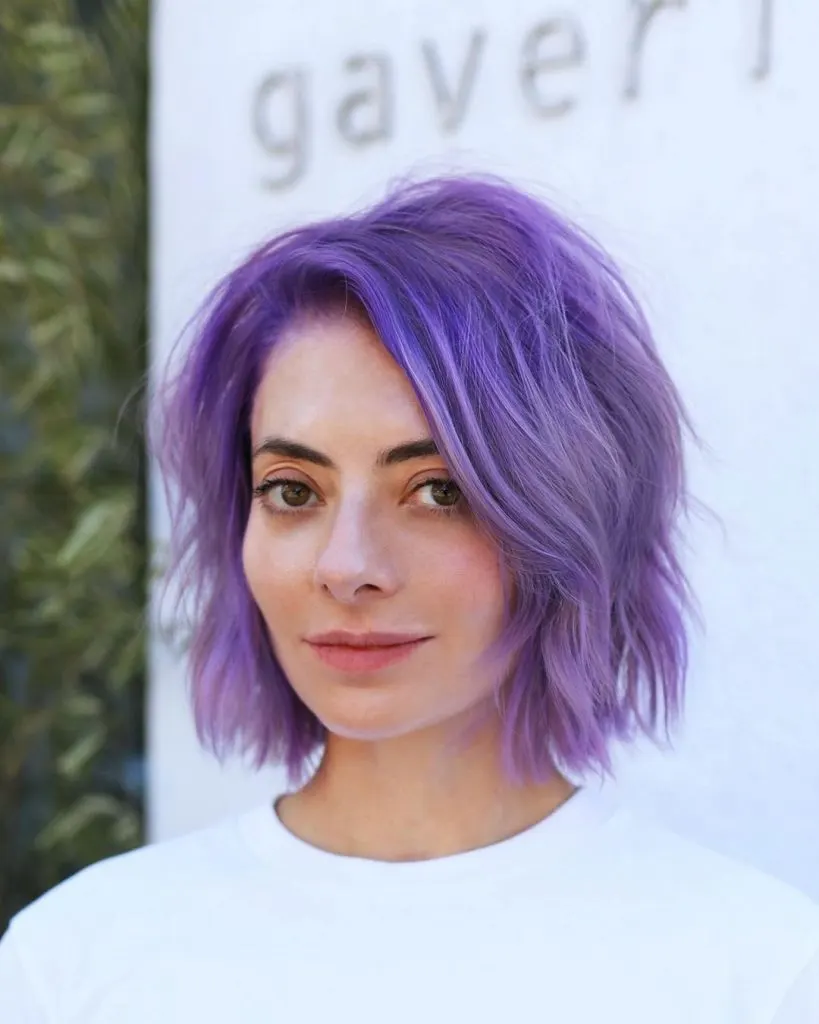 A medium-length bob with lots of texture and some face-framing pieces is pretty much the most low-maintenance haircut you can get. It doesn't only look effortless, it is effortless—it takes almost no work to style. Scrunch in some moisturizing product, let air dry and you're done!
6. Medium Length Edgy Choppy Bob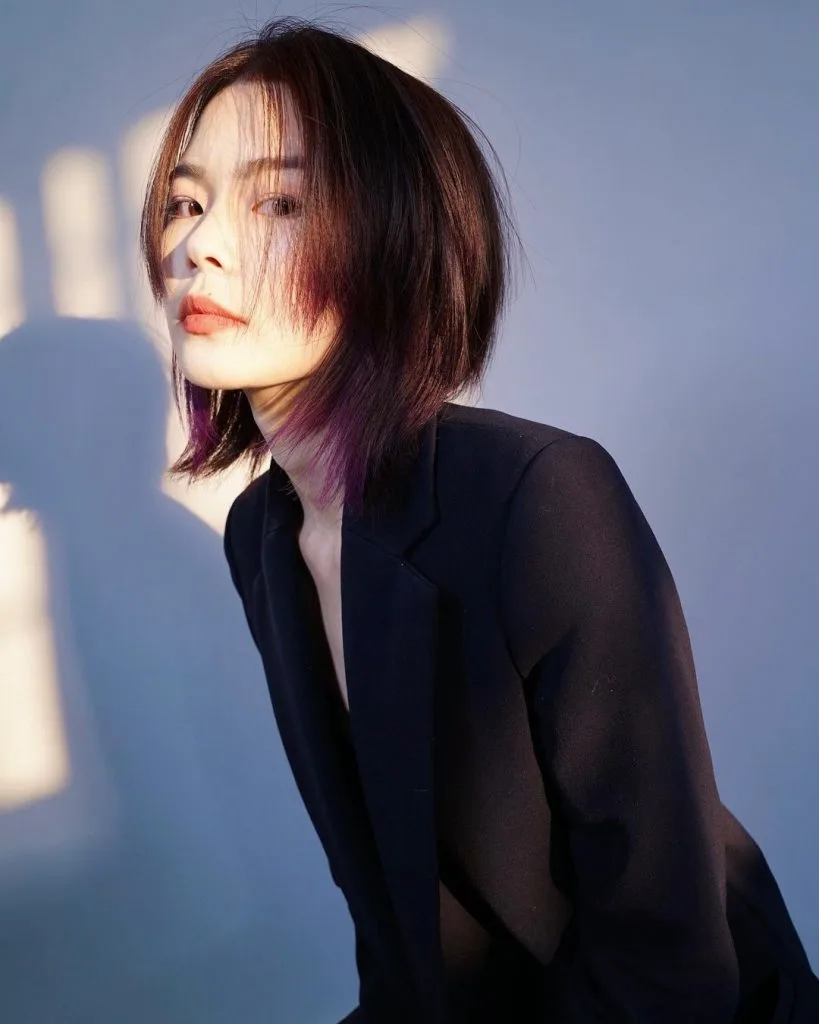 Color, cut and styling all combine to create the overall mood of a hairstyle. This choppy bob has been styled neat, so it looks less edgy than it would with a messier texture, but it still has a bold charm—it looks fresh and chic at the same time.
7. Choppy Edgy A-Line Bob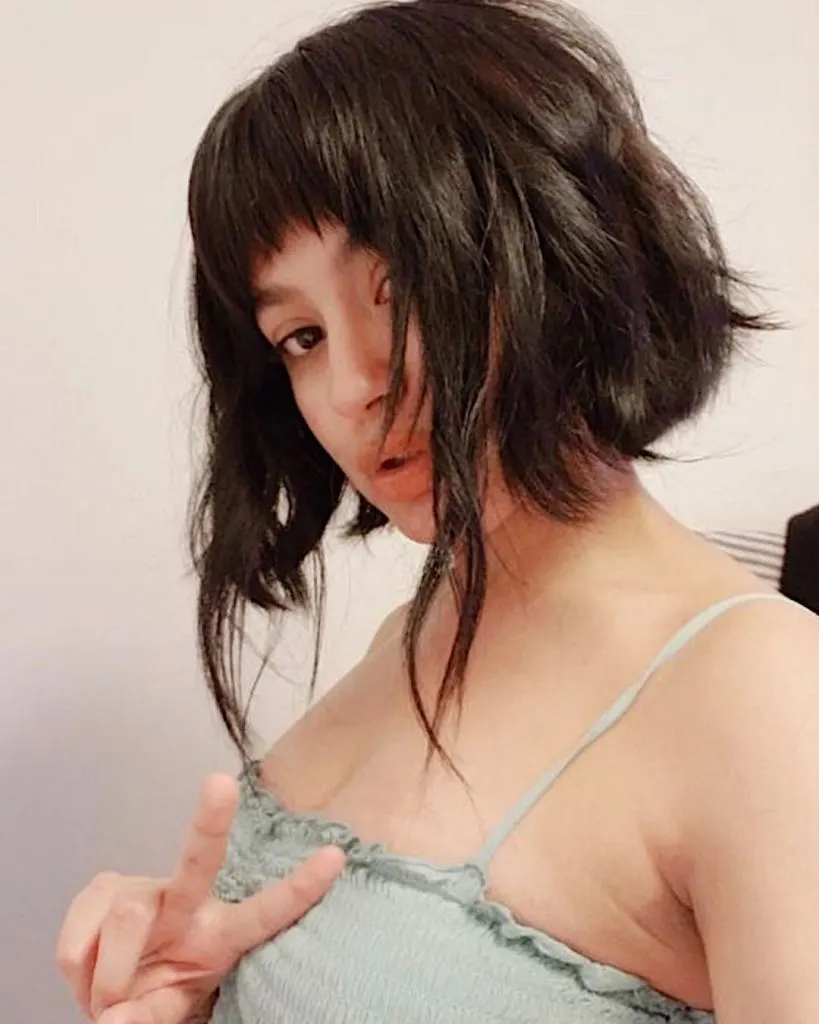 Super long strands in the front transform a regular angled bob into something super edgy and eye-catching. Emphasize the cool vibe by adding some choppy layers throughout and avoid neat styling and blowouts.
8. Shaggy Edgy Choppy Bob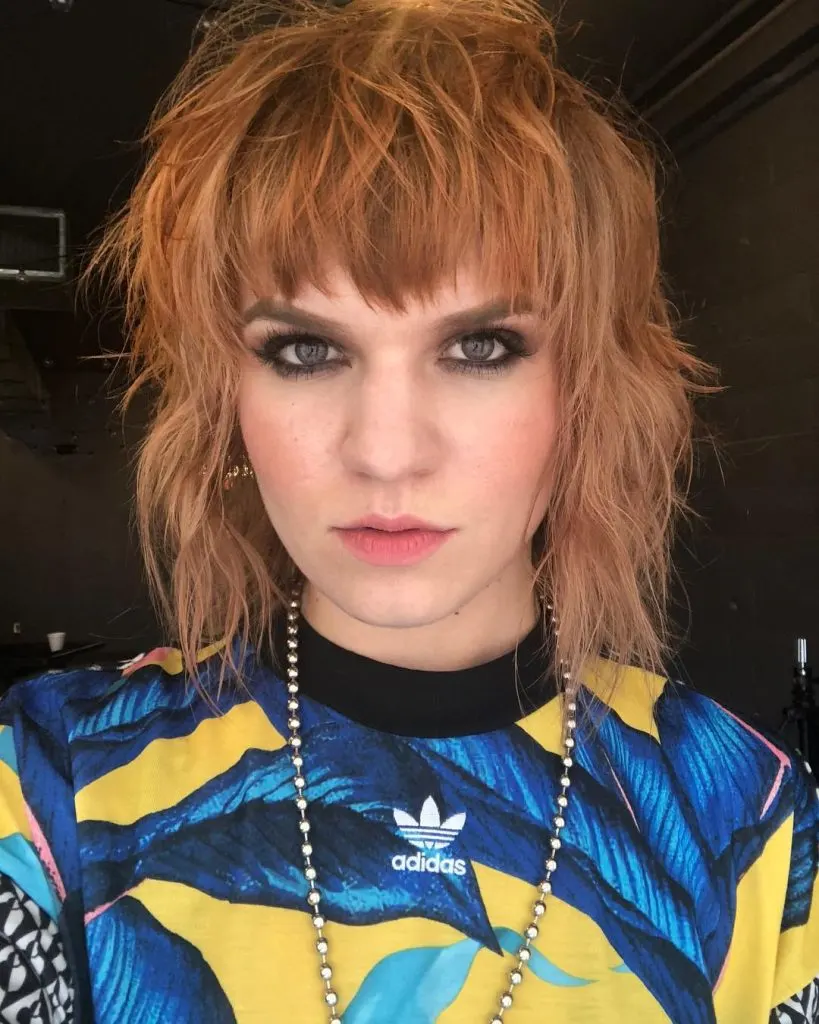 Forget about the flat iron and the round brush and lean into the choppiness. Replace the nozzle attachment of your blow dryer with a diffuser and start scrunching until you achieve the cool gritty texture. If your hair is pin-straight, you can achieve the look by starting off with a texturizing product.
9. Edgy Bob With Chunky Choppy Layers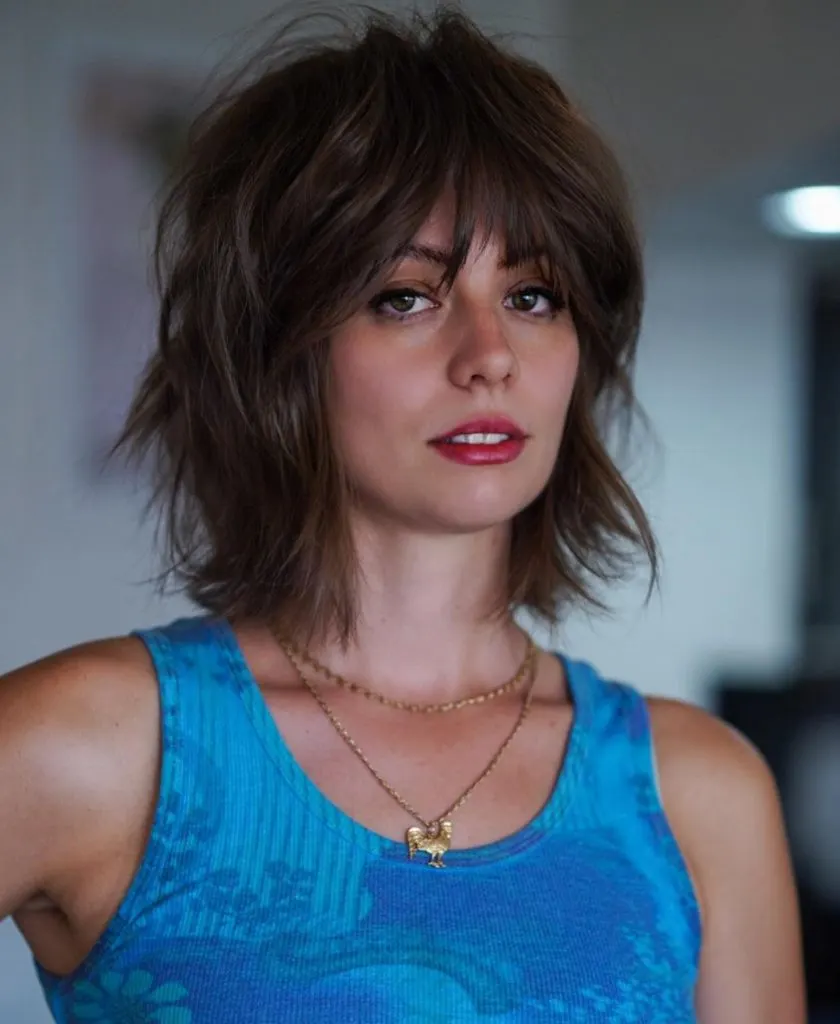 This ultra-choppy lob doesn't only look cool, it also creates a flattering frame for the face. Ask for short layers on top and the sides and add at least one short strand at the forehead to complete the look.
10. Edgy Choppy French Bob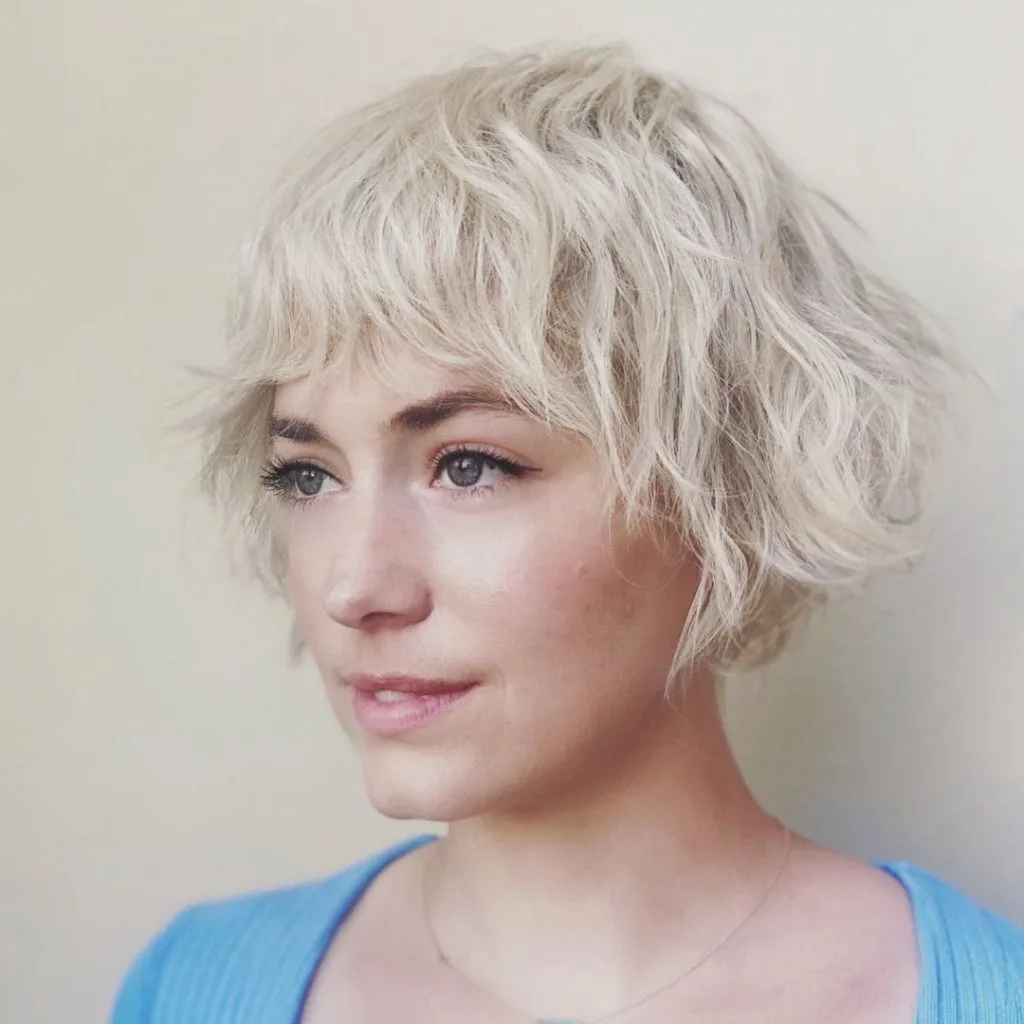 The French bob is cool and effortless as it is, but a few choppy layers will also give it a massive boost in volume. Short layers at the crown and texture throughout create lift and the appearance of fullness, which makes this the perfect style for thin hair.
11. Short Edgy Choppy Bob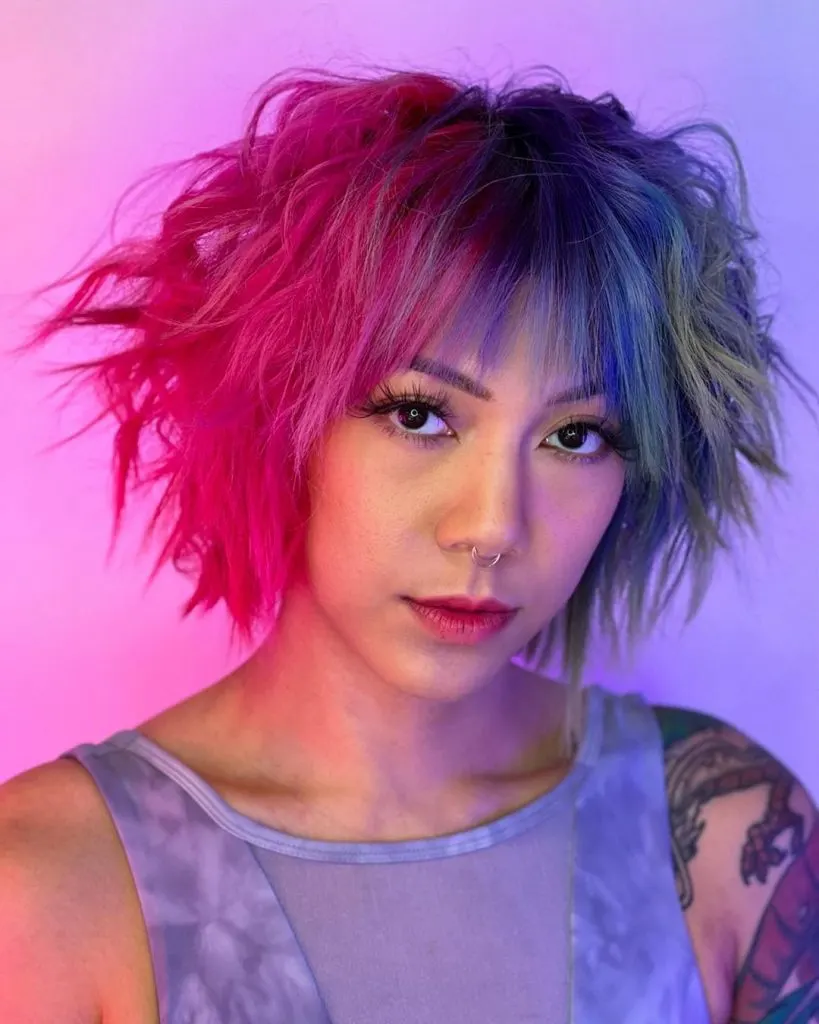 Do you know what you want when it comes to your hair but you don't want to look like you tried too hard? Make a statement with a style like this short choppy haircut: the Gemini color shows that you take care of your hair, but the messy styling says that you don't take things seriously.
12. Jaw Length Messy Choppy Bob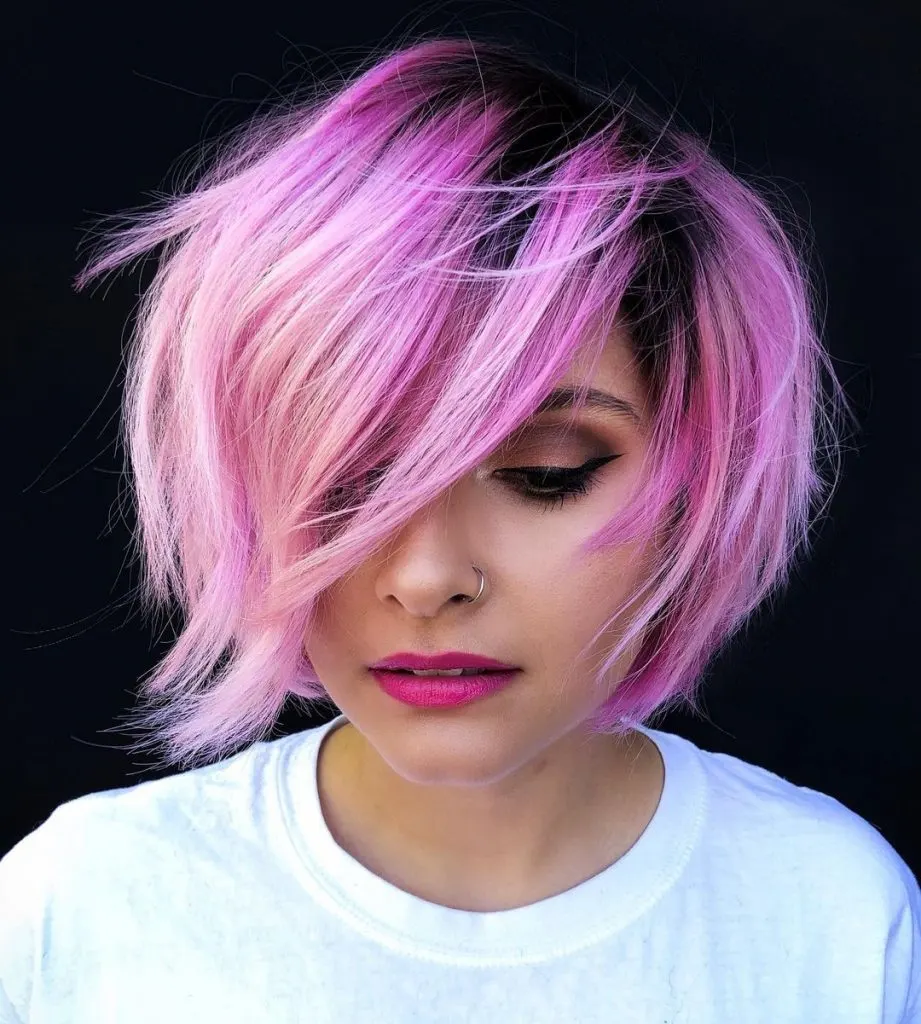 Shadow roots mean less upkeep, and they also add depth and visual interest, especially when it contrasts more than it blends into the main color. Here, it takes this bright pink choppy bob from dreamy to laid-back.
13. Edgy Choppy Bob For Thick Hair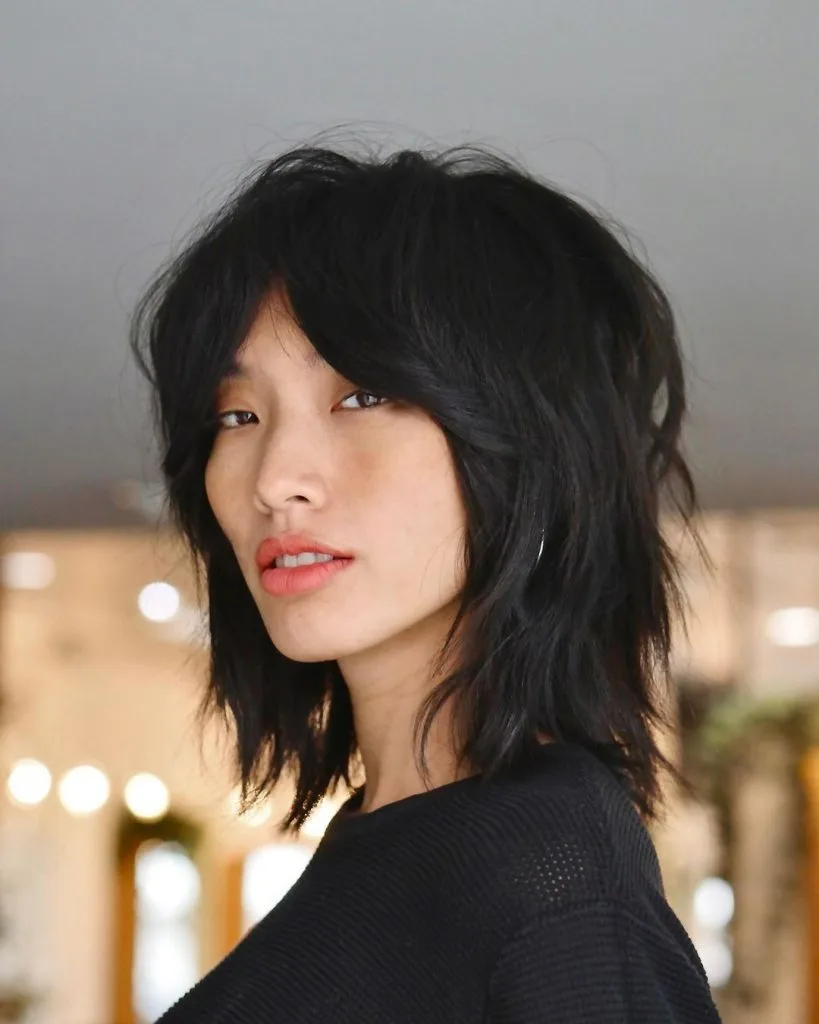 Thick hair tends to have too much weight at the bottom, and the choppy bob tackles that concern in the most stylish way. Instead of bulky, unattractive shape, choppy layers will give you a super-trendy look.
14. Choppy Edgy Short Bob With Bangs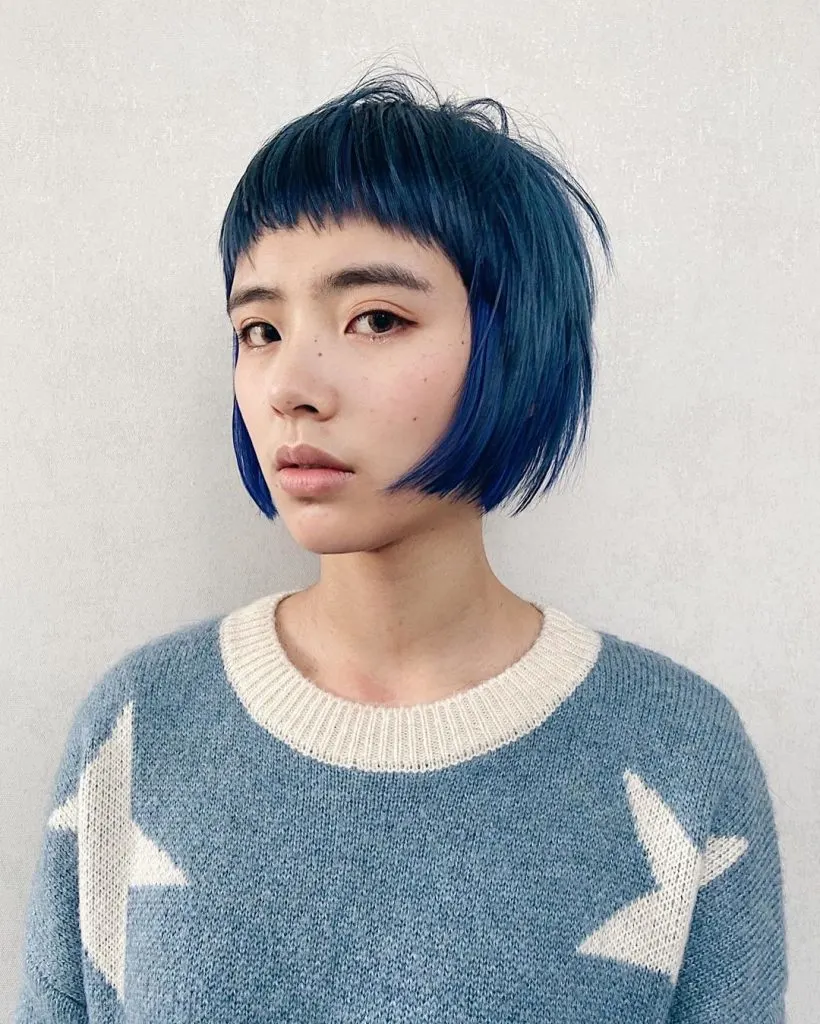 One-length perimeter combined with choppy layers and razored bangs is a bold, deliberate look. It's an interesting take on a short bob with bangs, especially paired with the dramatic indigo color.
15. Choppy Bob With Bangs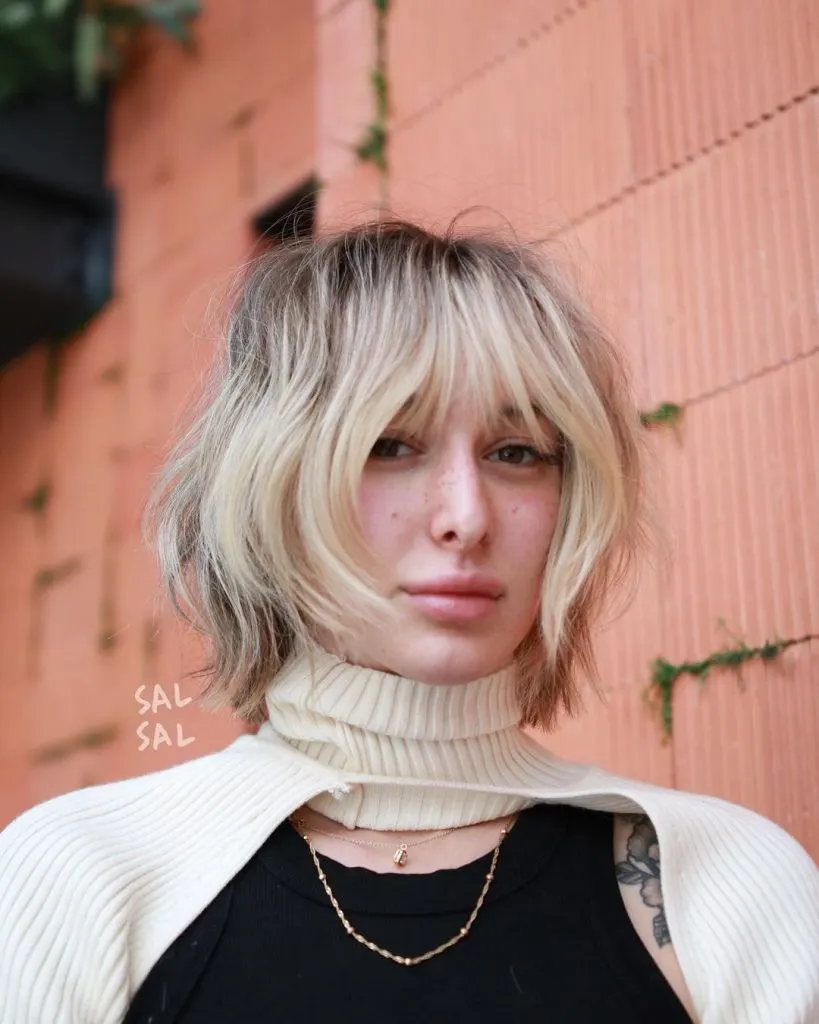 This cute and edgy choppy bob has lots of volume and face-framing, so it's as flattering as it's trendy. Tip: when getting layers near the face, make sure you don't go too short—cheekbone-length is usually as short as you can go to avoid a bulky-on-top look.
16. Choppy Edgy Messy Bob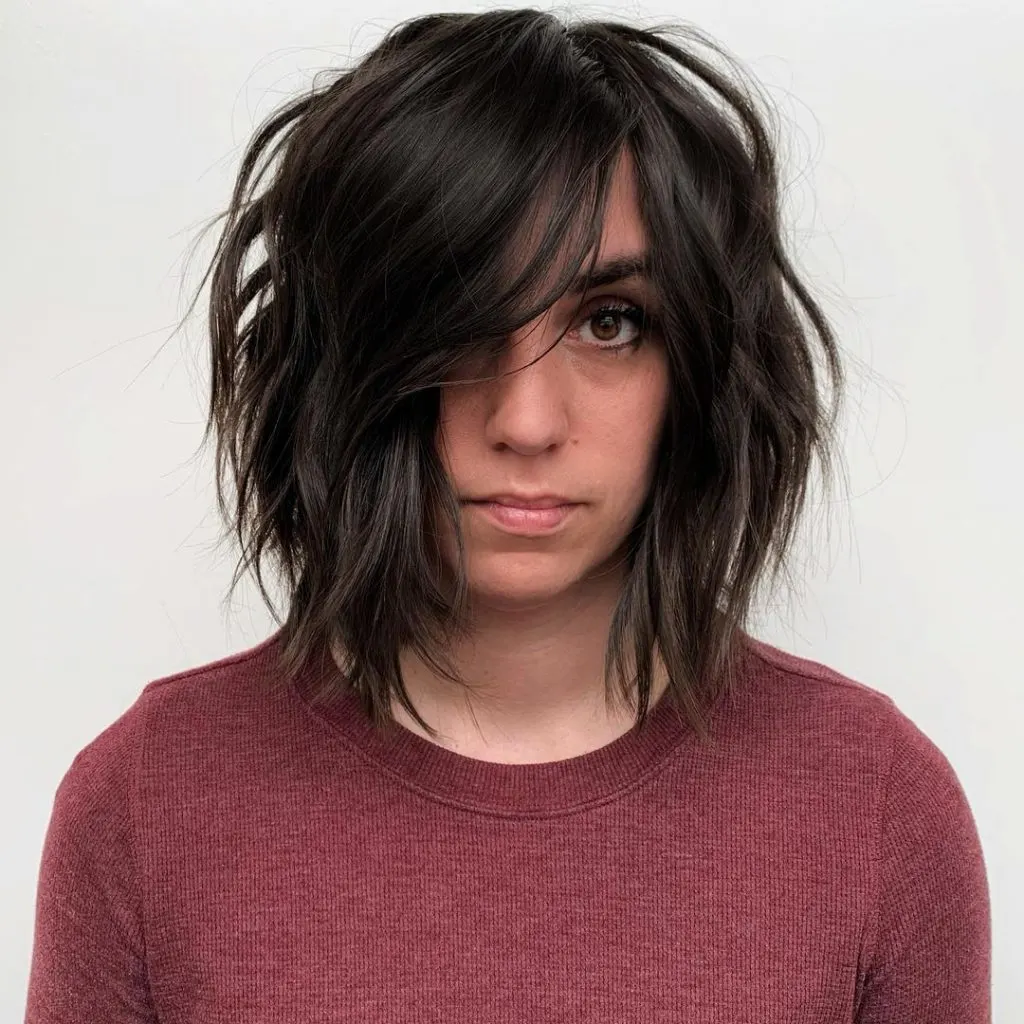 Choppy layers add body, lift and so much of that yummy lived-in texture that instantly turns your hairstyle from ordinary to cool.
17. Edgy Choppy Bob With Fringe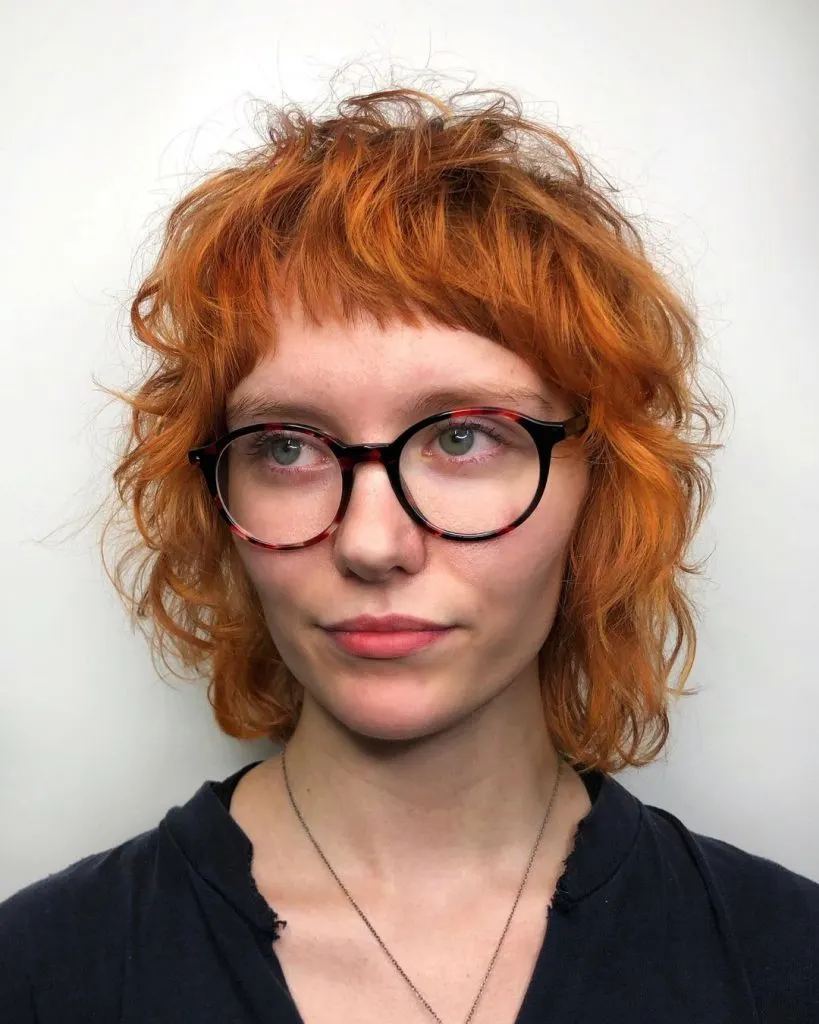 Shag/bob hybrid styles are all the rage at the moment, and there's something for all hair textures and face shapes. Tiny baby bangs elongate a round face and give the cut a cute/edgy vibe.
18. Choppy Short Bob With Bangs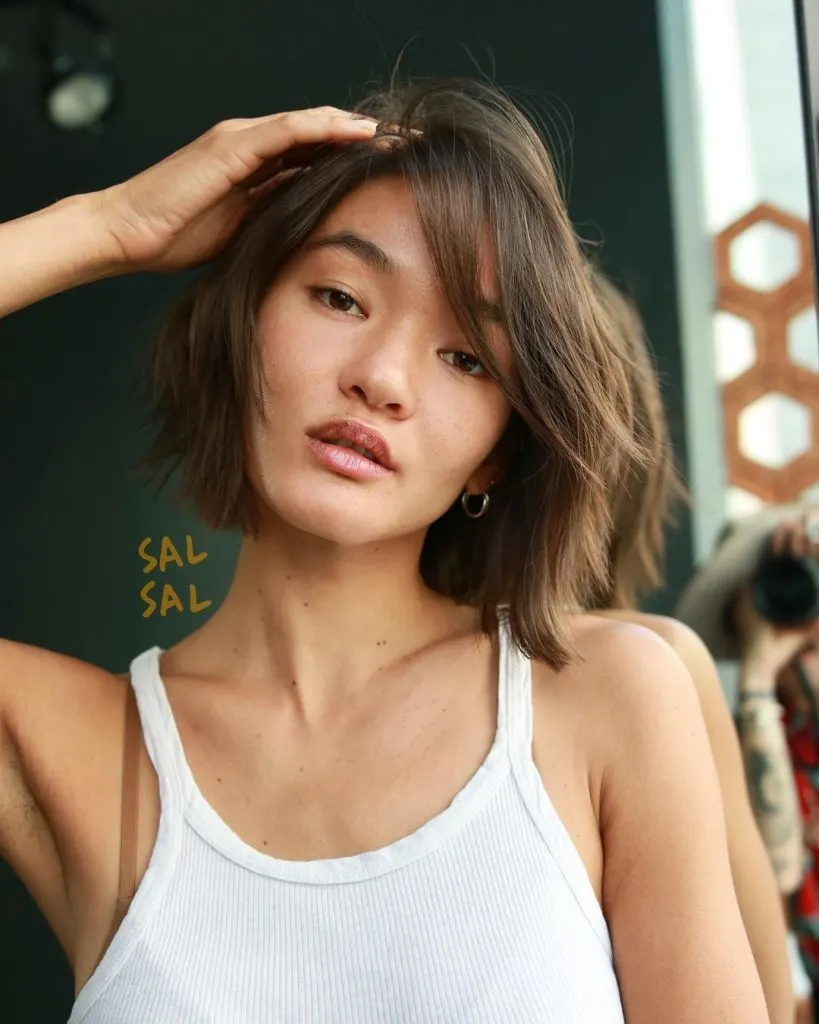 Longer choppy layers with a strong bob outline will give you the bedhead look—this gorgeous bob with side bangs looks like you just woke up and rolled out of bed with perfect texture. You'll probably need to actually style your hair, but if it's cut just right, the effort should be minimal.
19. Edgy Textured Bob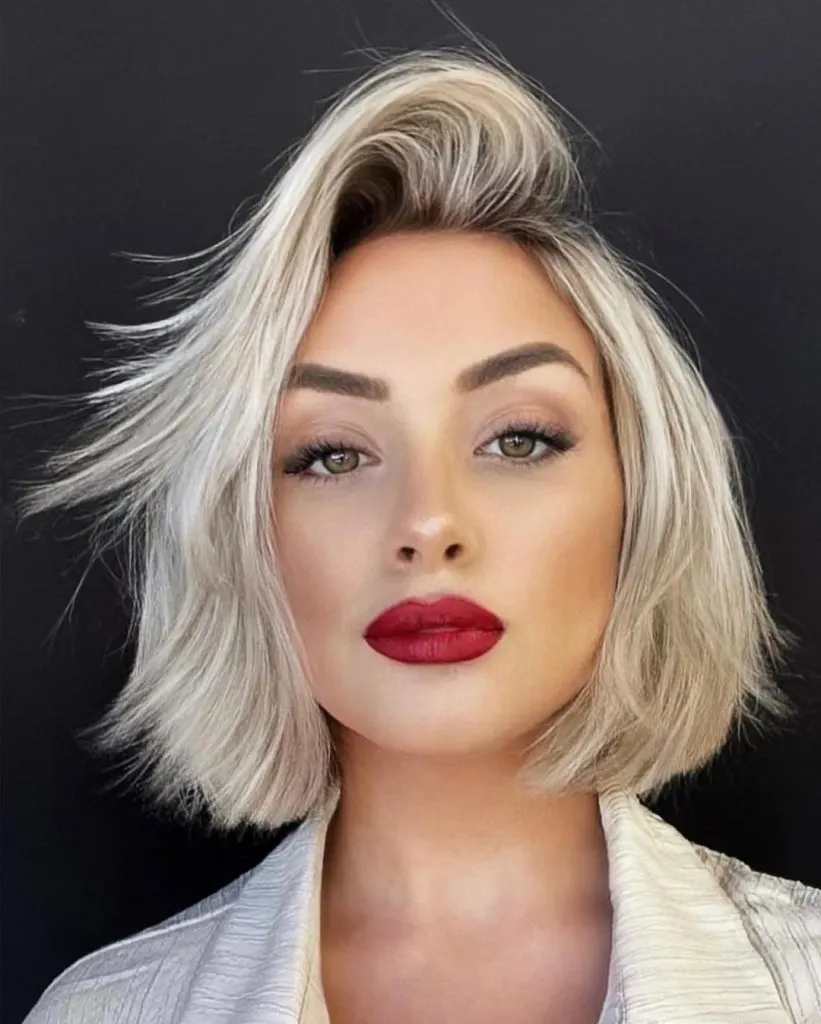 Texturizing layers with choppy ends add lots of movement. Avoid products with a strong hold so that you can flip your hair and switch your parting throughout the day.
20. Fine Hair Edgy Choppy Bob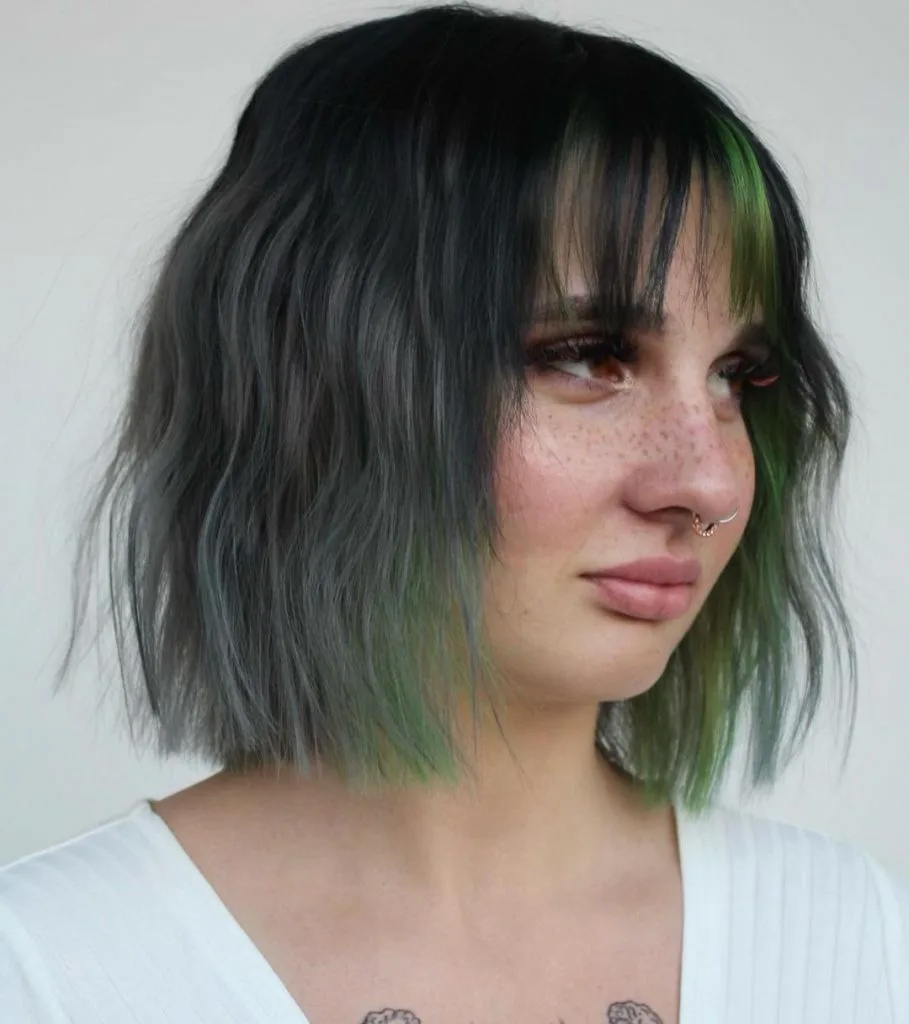 If you have fine hair and want a textured, piece-y look, salt spray is your best friend—it adds volume and gives you visible layers and texture. Apply to damp hair and scrunch dry.
21. Edgy Choppy Long Bob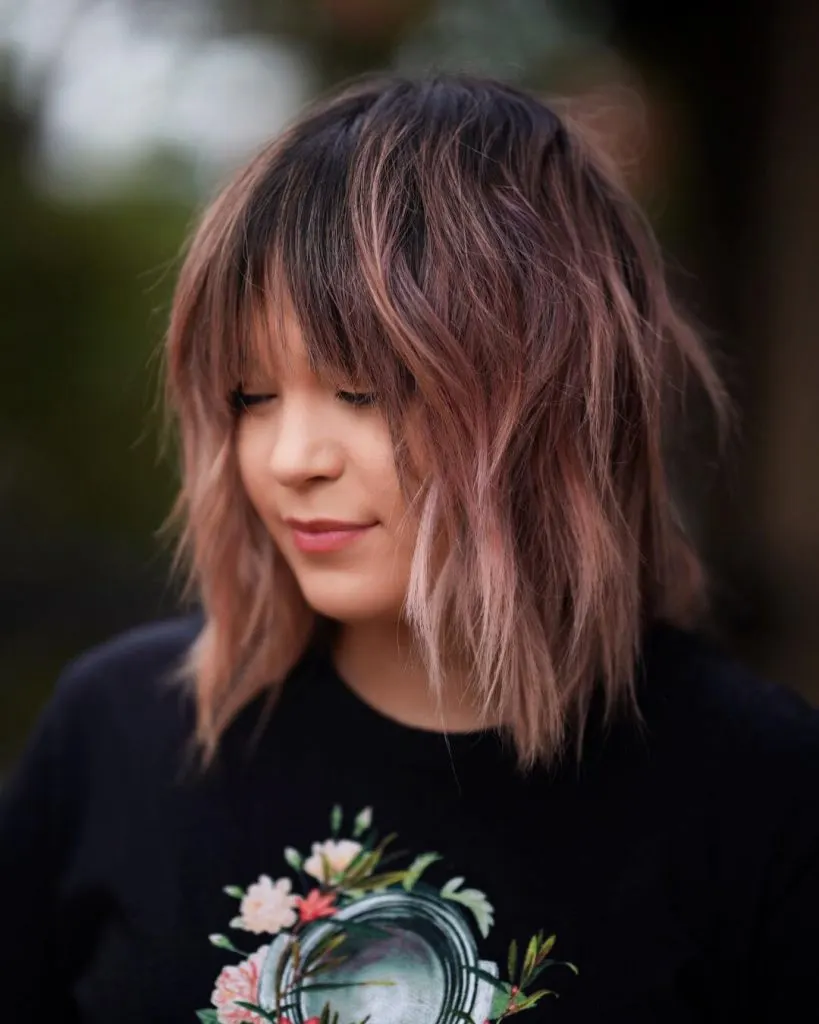 Layers take off weight and make it easy to achieve lots of volume, making your hair look thicker. Thanks to the choppy finish and soft face-framing, this textured long bob is very modern and pretty.
22. Edgy Short Choppy Bob With Fringe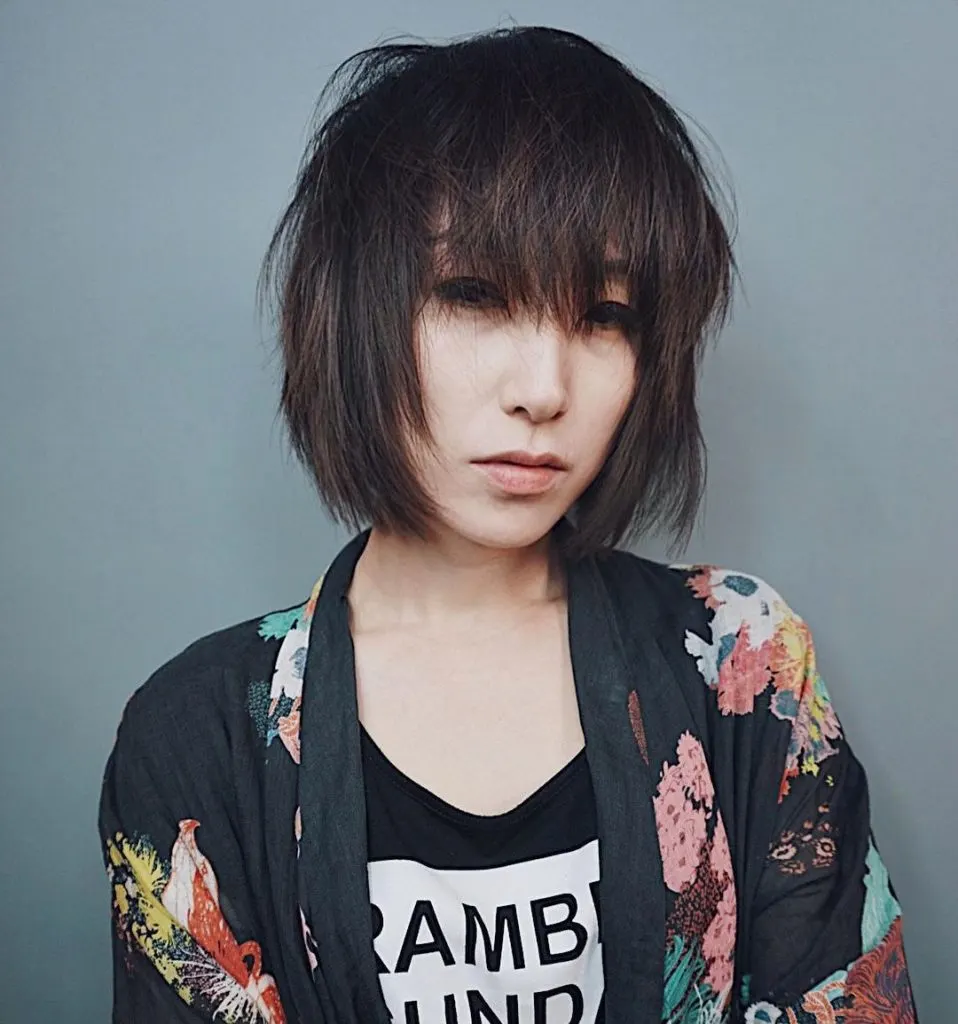 Choppy layers and thinned-out ends have been used to update a regular old bob, giving it a stylish, trendy edge.
23. Curly Choppy Layered Hair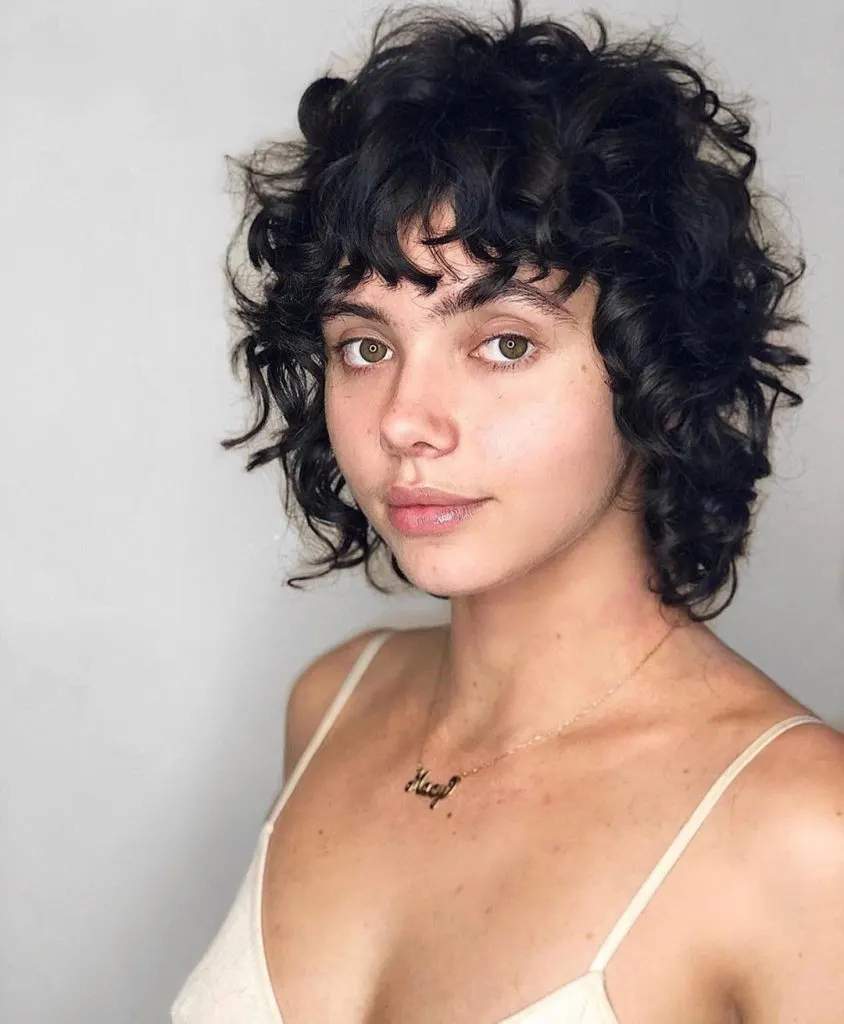 The cool thing about choppy haircuts is that they look great on any hair texture—like this adorable short curly hair with bangs. Curls and waves look more defined and lighter when you add layers, and a choppy finish gives it an edgy touch.
24. Choppy Medium Bob With Bangs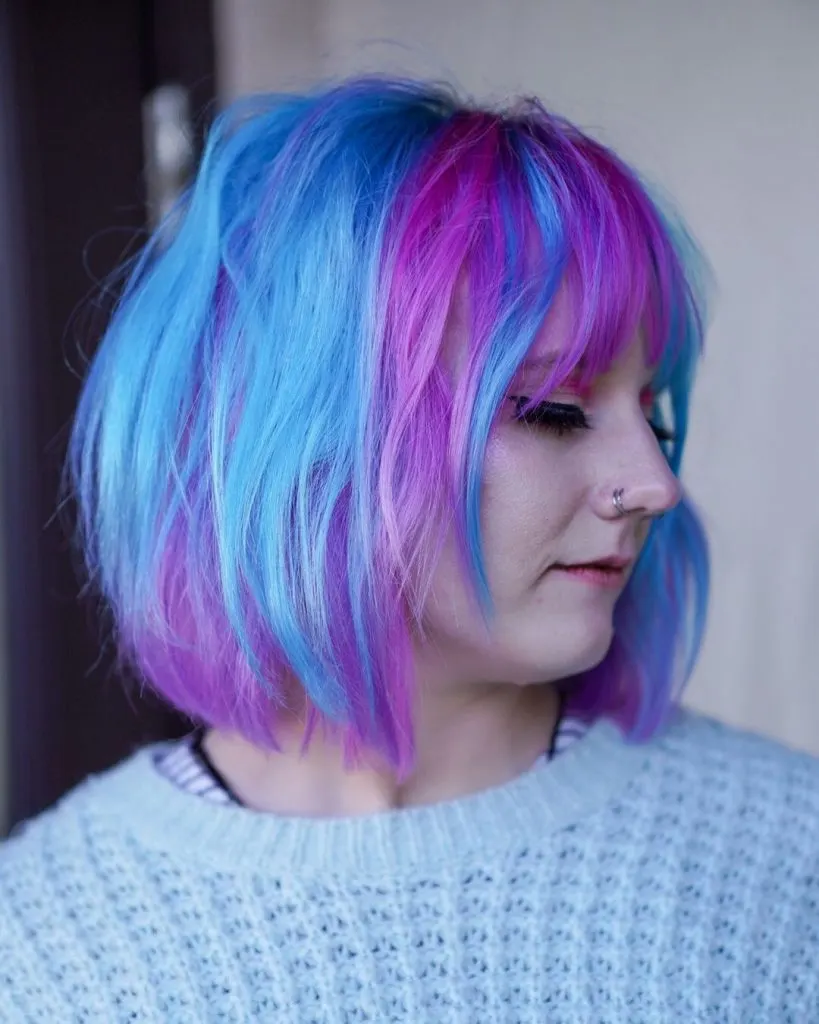 If you have fine hair, choppy layers will boost texture and give it a lot of body. This cute style uses color to enhance the volume even further, creating a playful, contemporary style.
25. Shaggy Bob Haircut With Bangs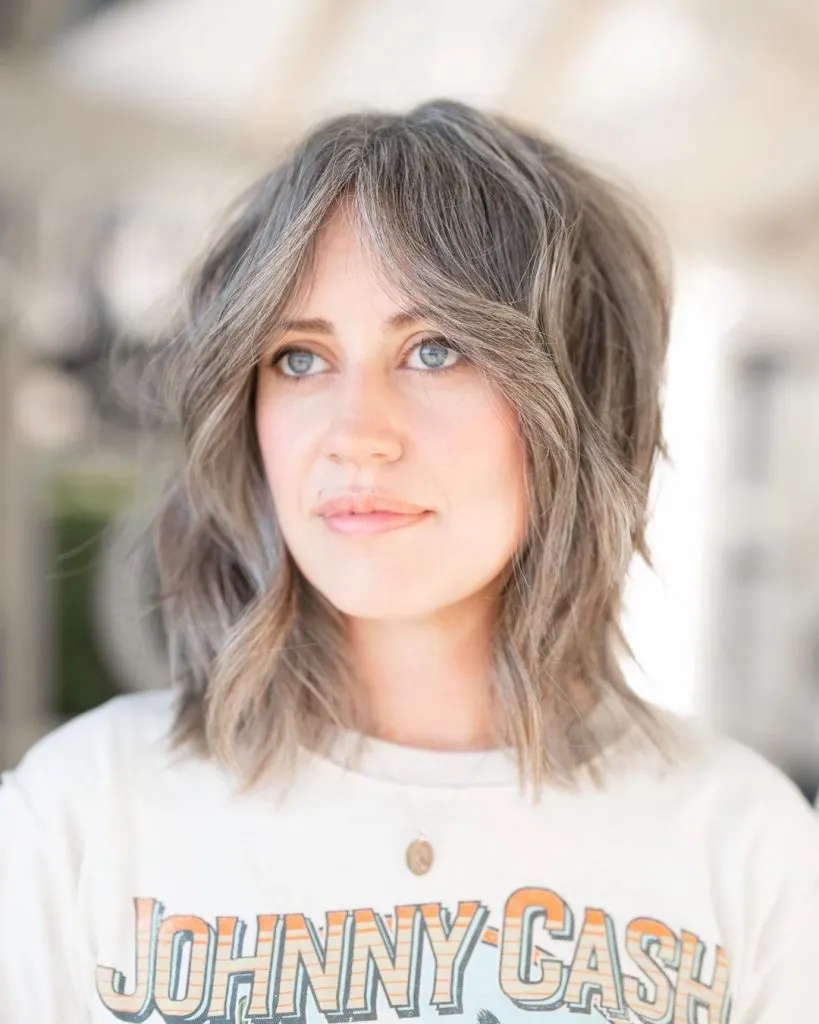 Falling somewhere between a lob and a shag, this retro style pairs chunky layers and curtain bangs in a modern way.
26. Edgy Short Bob With Bangs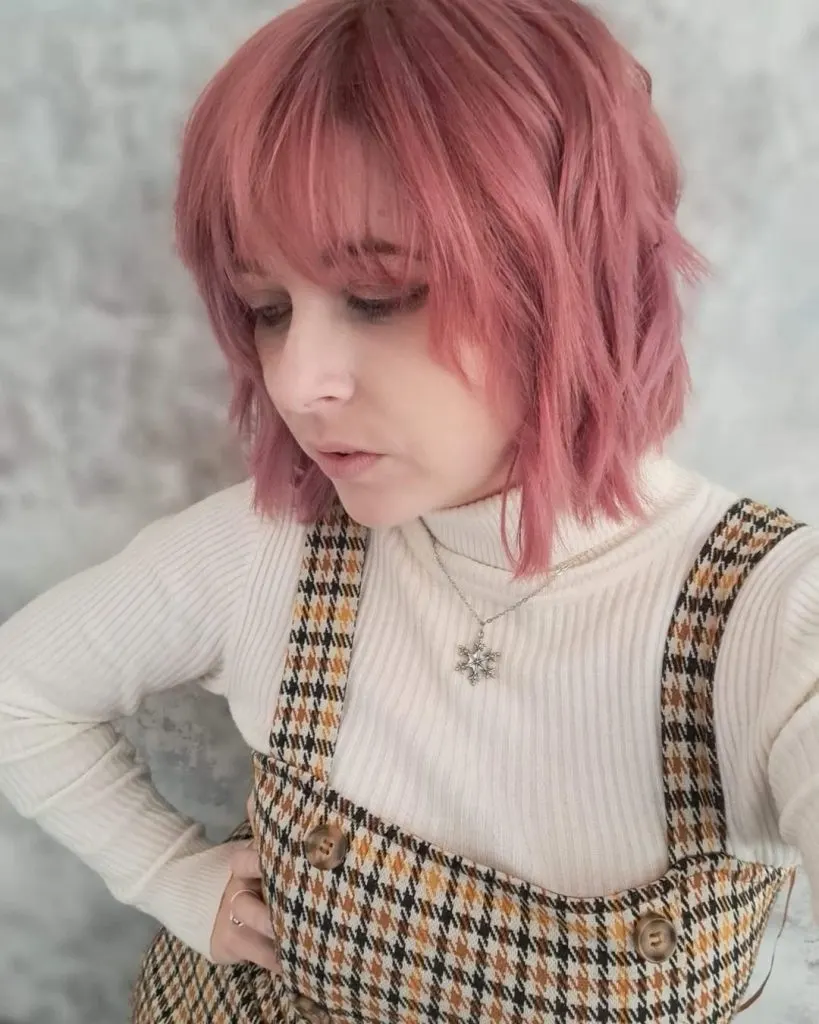 See-through bangs and a couple of face-framing layers are all this dusky rose choppy bob needed to go from edgy to cute.
27. Choppy Wavy Bob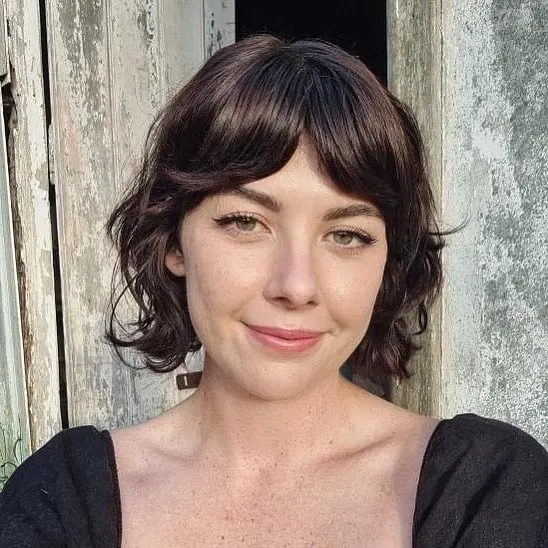 A fun way to go short: messy layers and natural texture of this bob with curtain bangs ultra-flattering if you have a round face.
28. Shaggy Choppy Bob With Bangs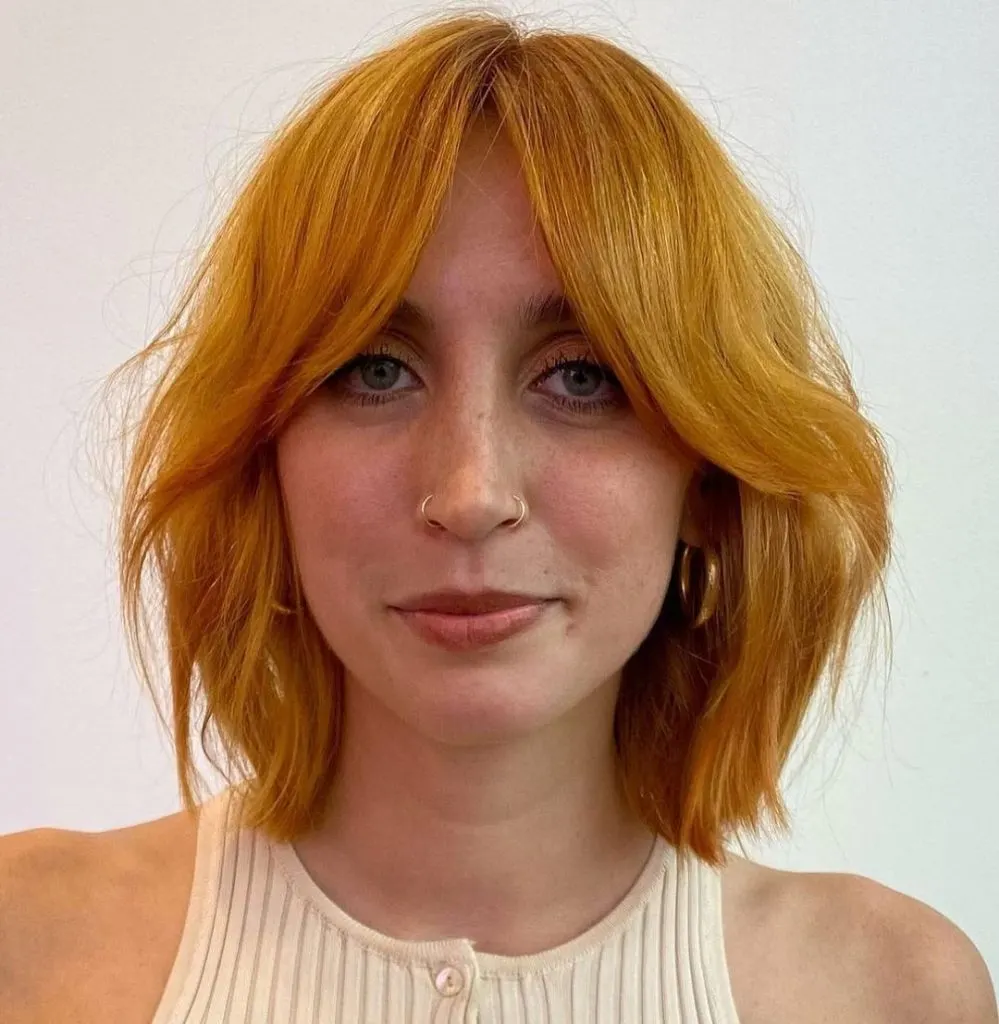 The versatility of a short layered bob with curtain bangs is that you can tone down your otherwise edgy hairstyle by styling it smooth and neat.
29. Edgy Shaggy Bob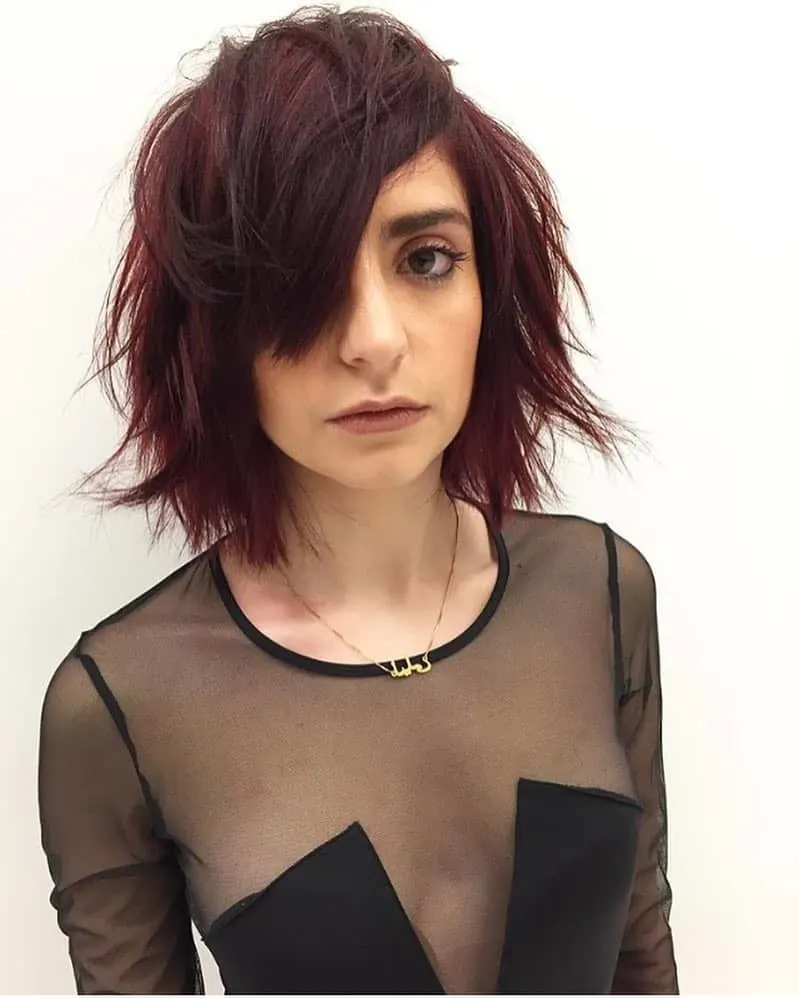 Play with different ways to wear your choppy layered bob—by changing the parting, the product and how you dry it you can create a completely different style every time.
30. Asymmetric Choppy French Bob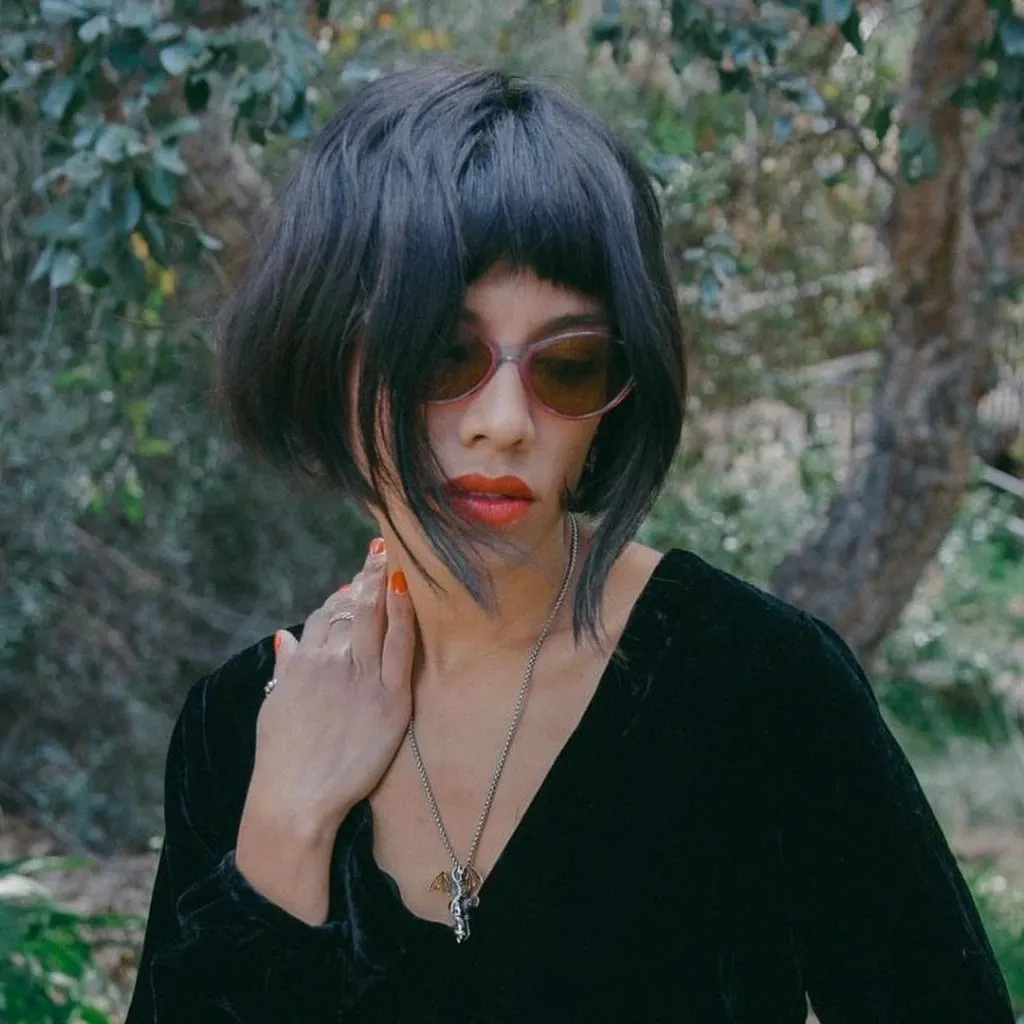 There's something both deliberate and effortless about this sharply angled bob—the choppy ends and casual styling keep it modern and carefree.
31. Edgy Choppy Bob For Fine Hair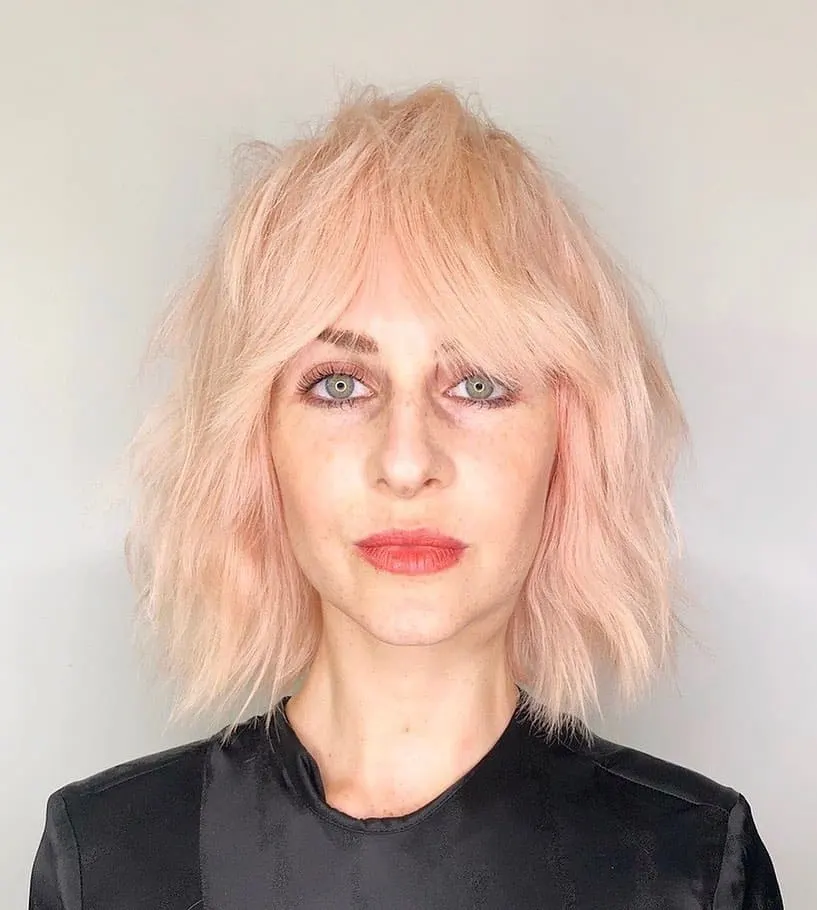 A choppy long layered bob doesn't take off any volume—instead, the layers creates lift at the crown and add volume around the face. It's a great way to add dimension and shape without thinning out already thin hair.
32. Choppy Edgy Bob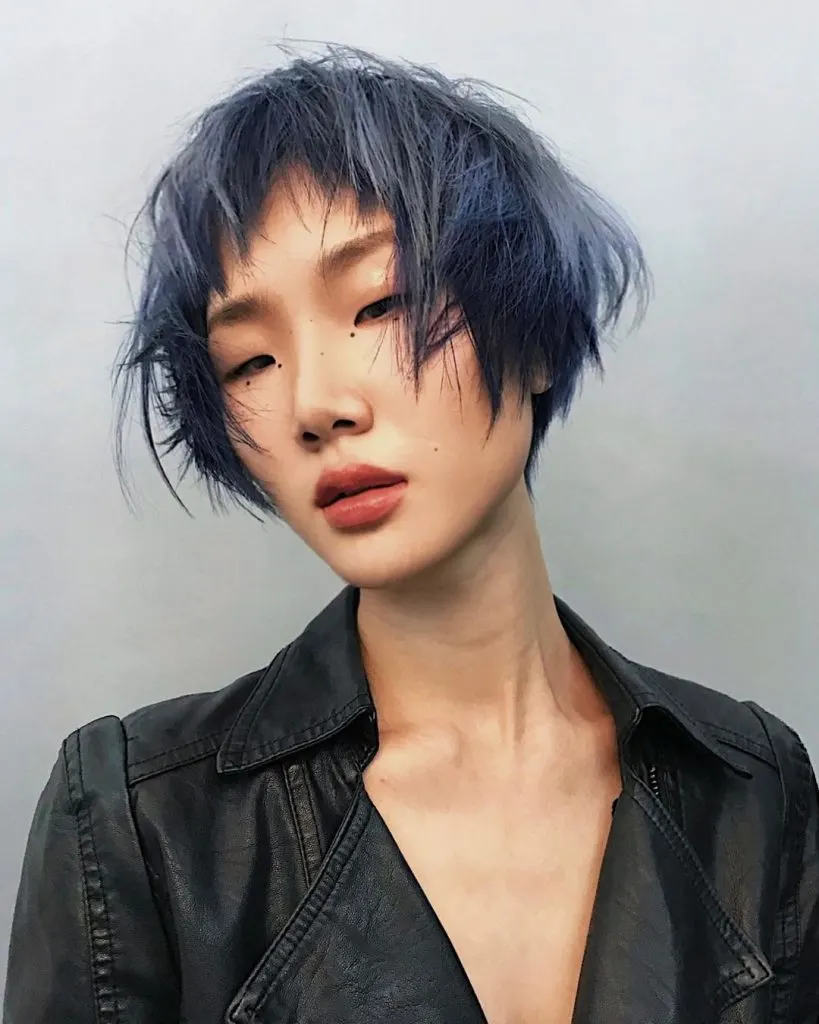 Get experimental with an ultra-short edgy choppy bob that can be styled neat or wild. If you're not a fan of tiny choppy fringe, it will work with any other type, or none at all.
33. Choppy Layered Inverted Bob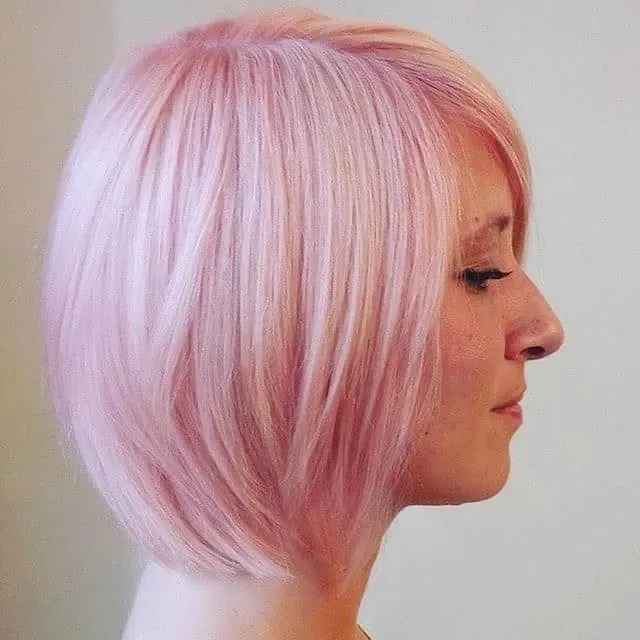 Styling can bring a dramatic change to any haircut, but it's particularly obvious with a choppy bob, because of the layers and its short length. This smooth, elegant style can become edgy and chic just by drying it differently.
34. Choppy Layered Bob For Thick Hair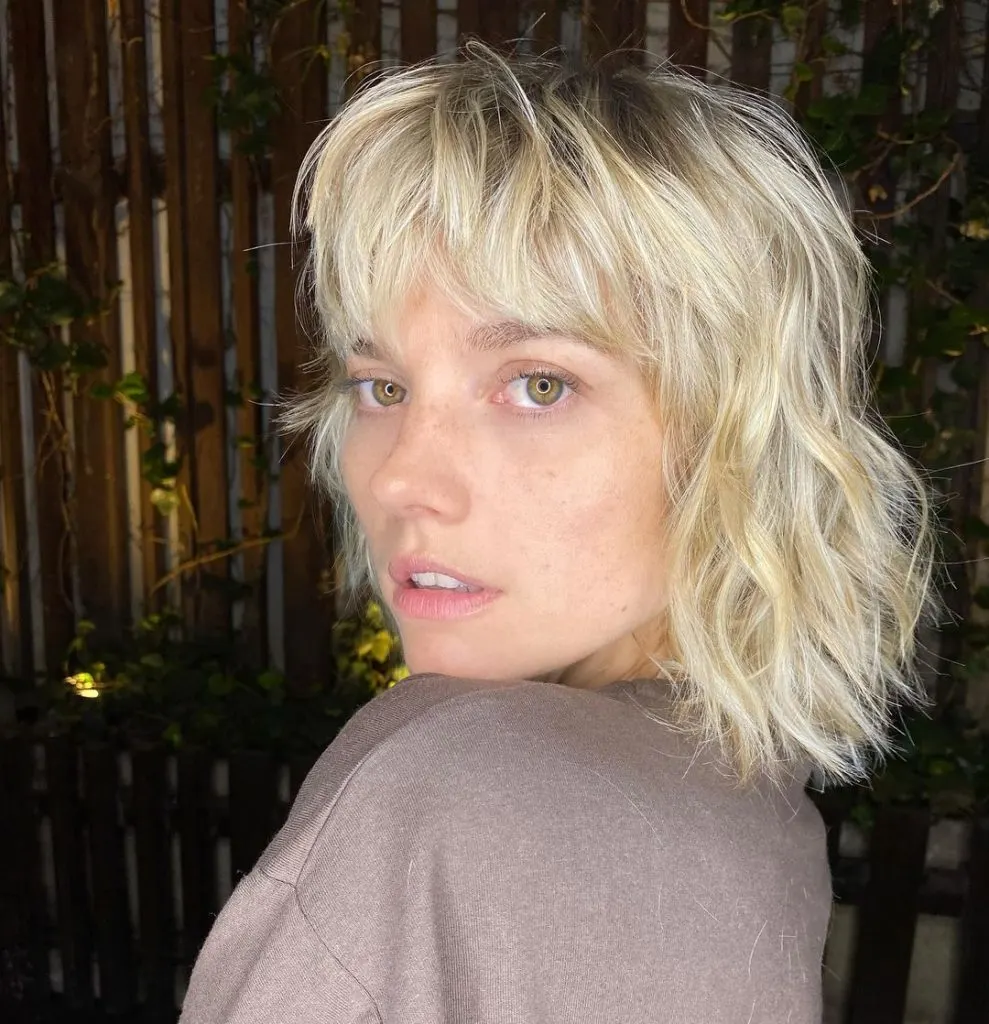 With lots of sexy loose waves and messy styling, this platinum choppy bob is the it-girl style of the season.
35. Jaw Length Edgy Choppy Bob With Bangs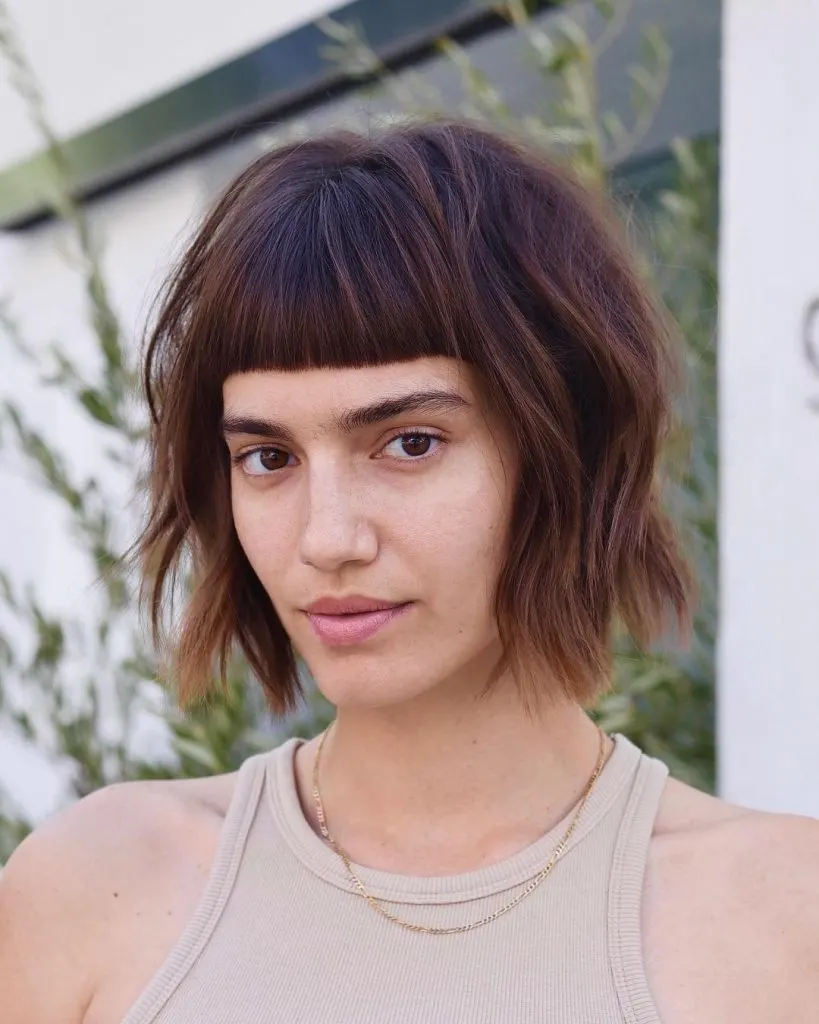 The blunt straight-across fringe contrast the choppy ends and add visual interest. Wispy see-through bangs would have a similar effect but they work better for thin hair.
36. Short Choppy Bob With Bangs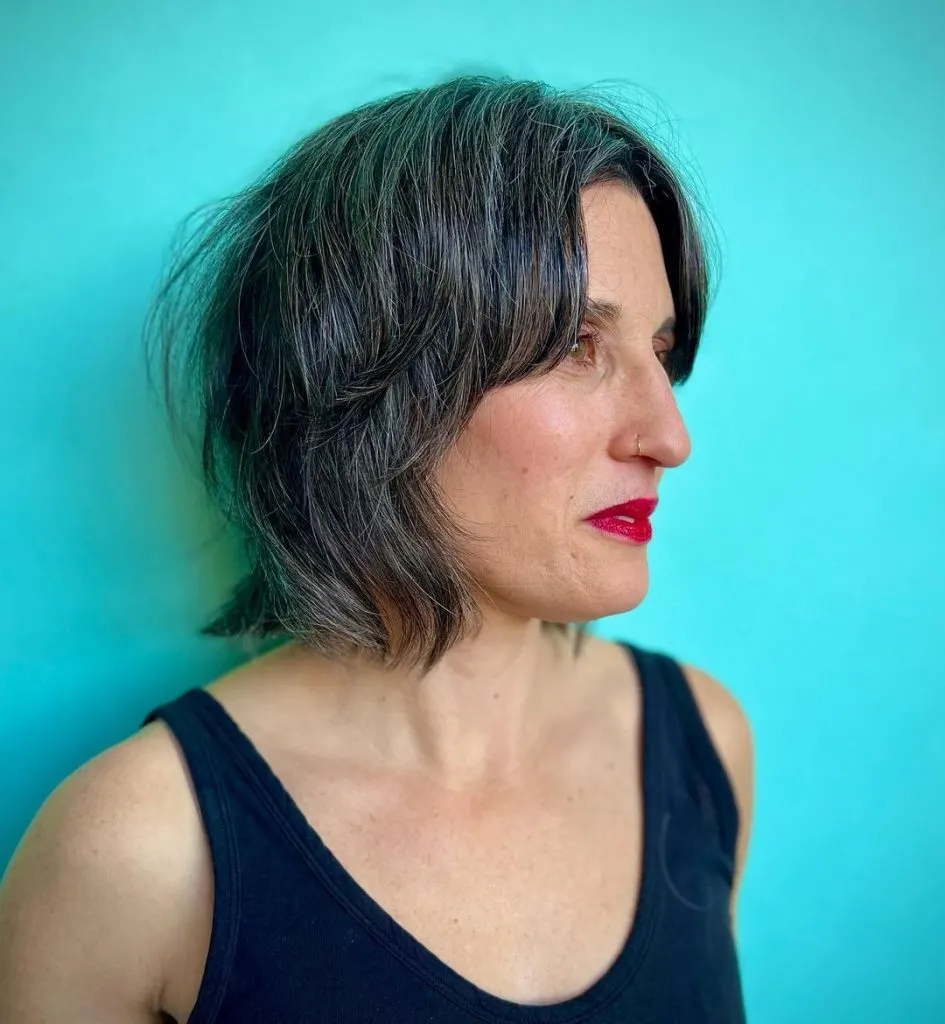 Taking off bulk from the bottom and playing up the volume on top makes this bob fresh and trendy. Style this flattering layered bob with bangs as natural as possible to keep it effortless and chic.
37. Choppy Haircut With Bangs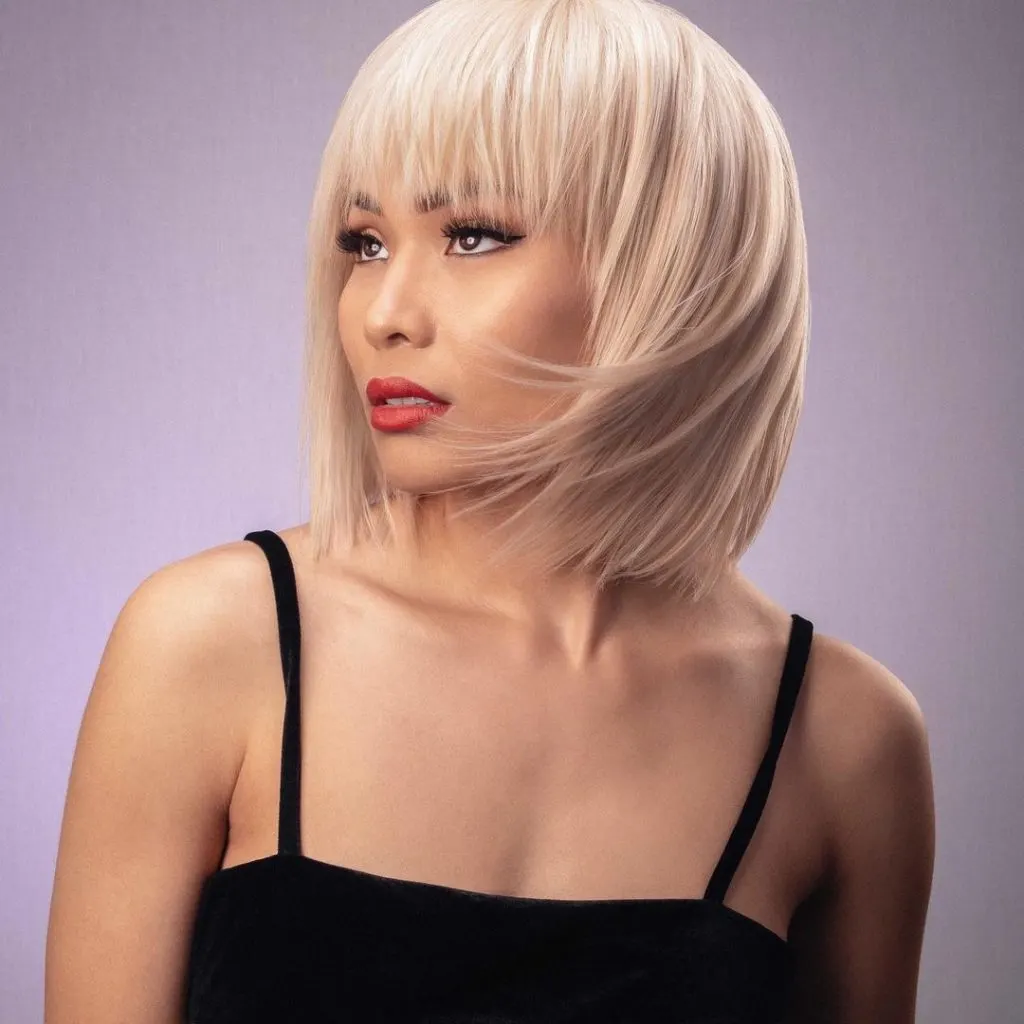 Choppy ends and lots of layers look amazing tousled and casual, but when you're in the mood for a change, try straightening your hair completely sleek to create a completely different look that isn't any less edgy.
38. Choppy Bobs With Thick Fringe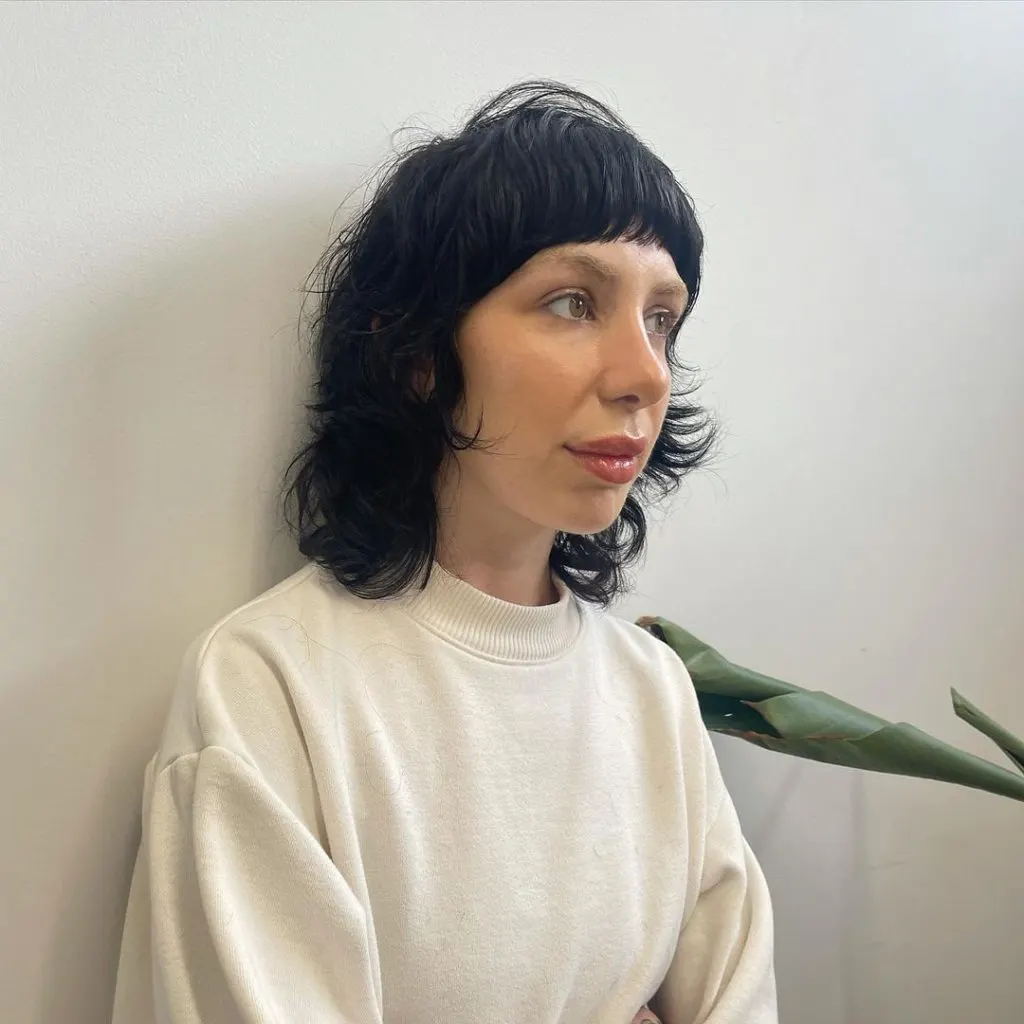 This style of fringe might not be for everyone, but the haircut works for the person wearing it. There aren't any rules on how a haircut should look—combining your favorite elements can give you a unique style that really speaks to you.
39. Edgy Choppy Bob For Thin Hair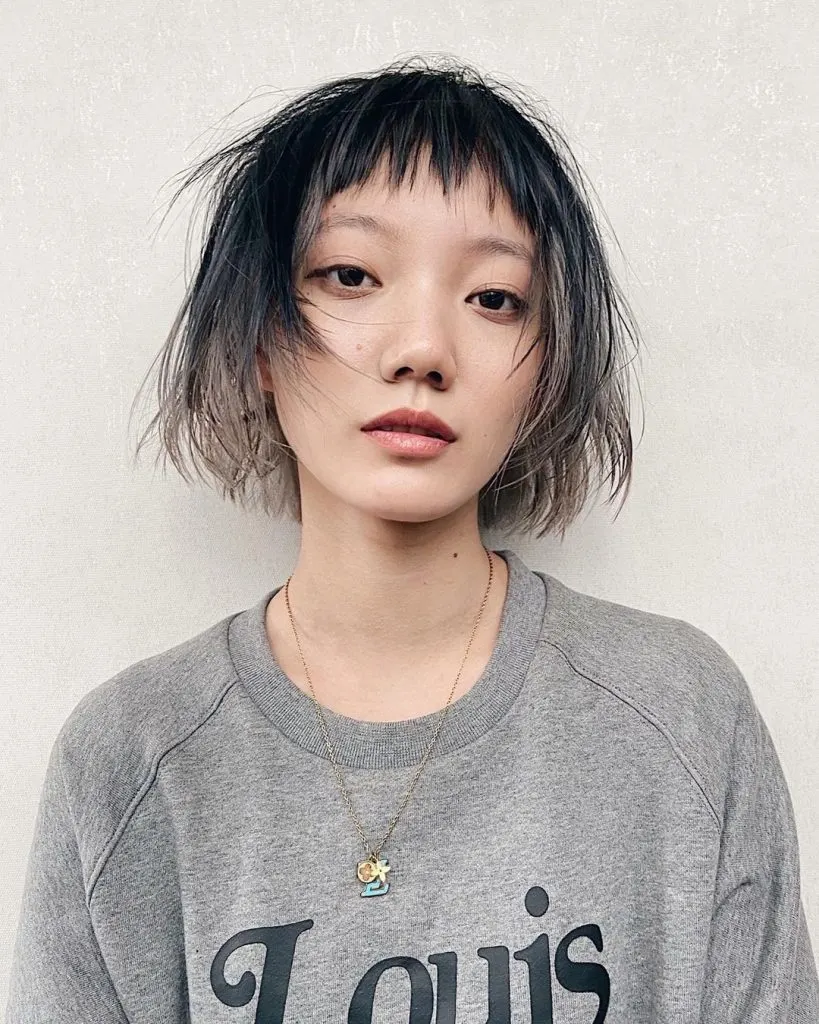 Short, thick bangs can be hard to wear, but the secret to making them work with your face shape is to create a texture. Here, the jagged ends soften the face and avoid a harsh line.
40. Long Choppy Bob With Fringe
This edgy choppy bob isn't just cool, but it also looks amazing with any hair type, including thin: the choppy layers with lots of texture that lift the hair at the crown and create the appearance of fuller hair.
41. Shaggy Layered Bob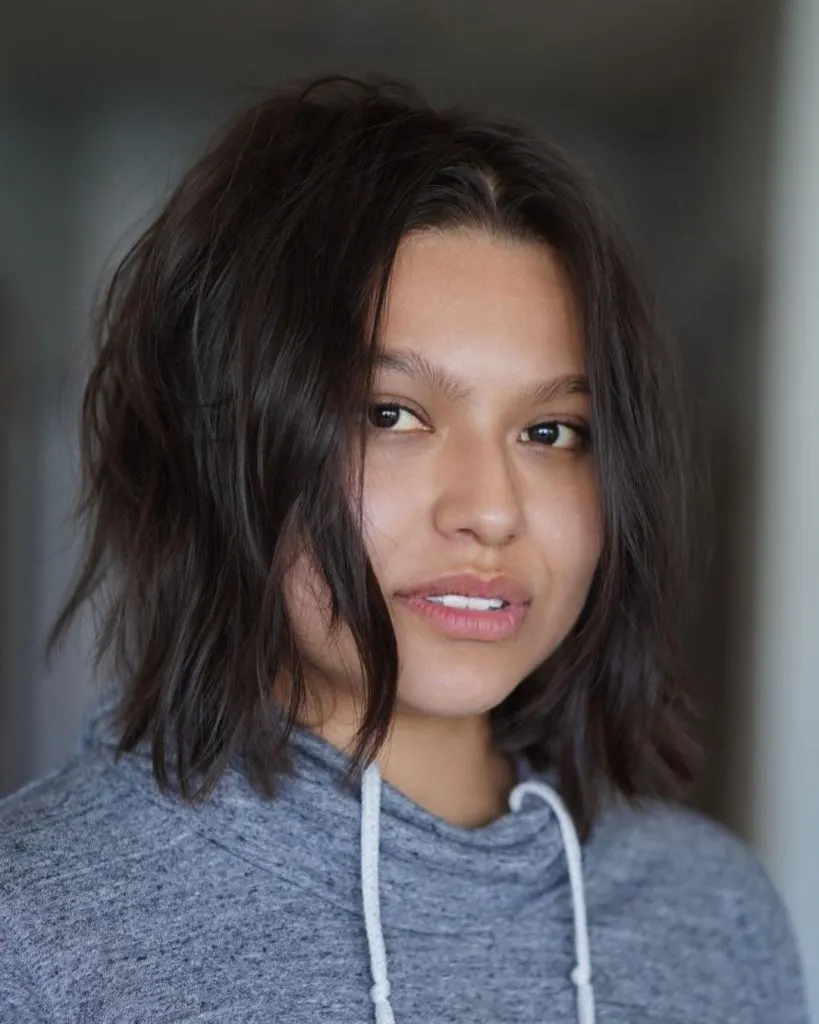 Tousled, easy and pretty—this kind of bob looks great at various lengths, and it's going to look great all the way until your next trim appointment.
42. Choppy Shoulder Length Layered Bob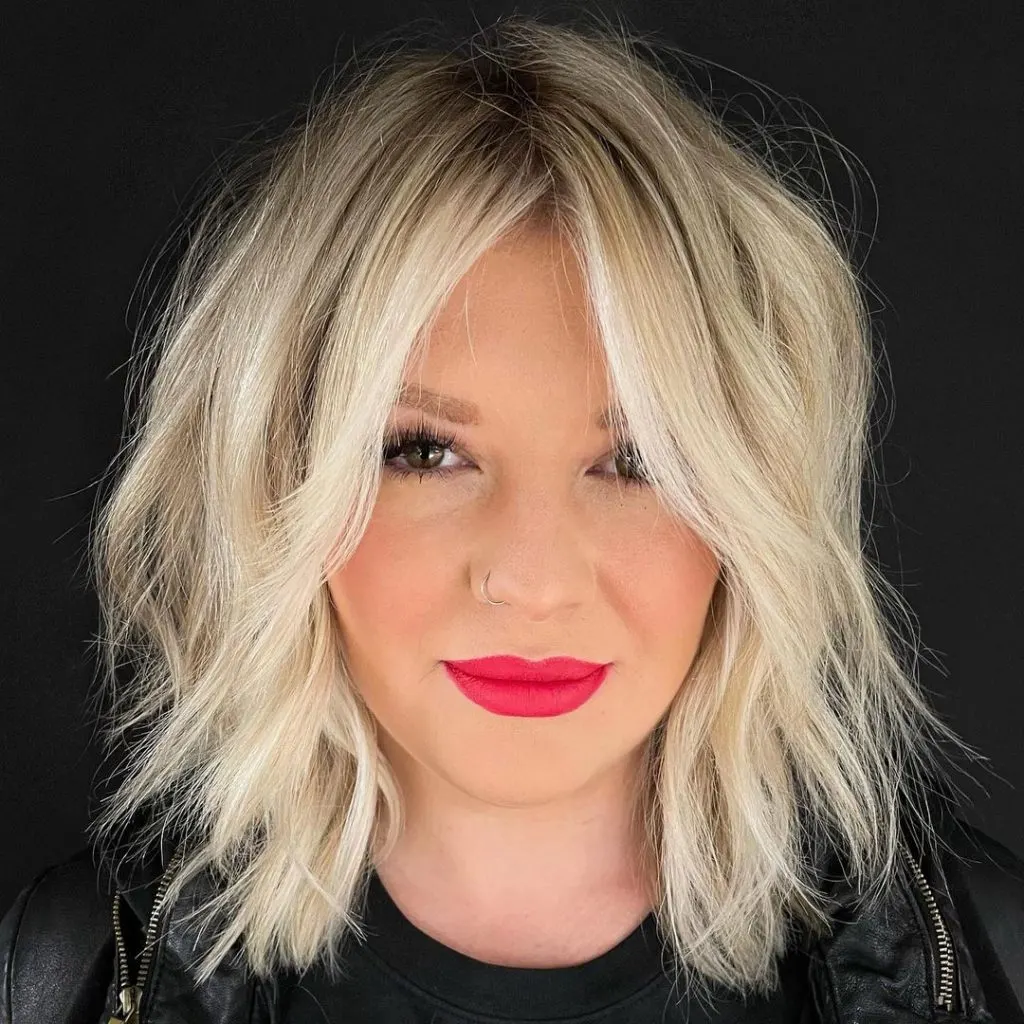 If your hair is fine or tends to easily fall flat, layers are necessary, but you don't have to go for an obviously layered style. Here they're choppy but long, so this hairstyle is full of texture with a full silhouette.
43. Edgy Short Choppy Inverted Bob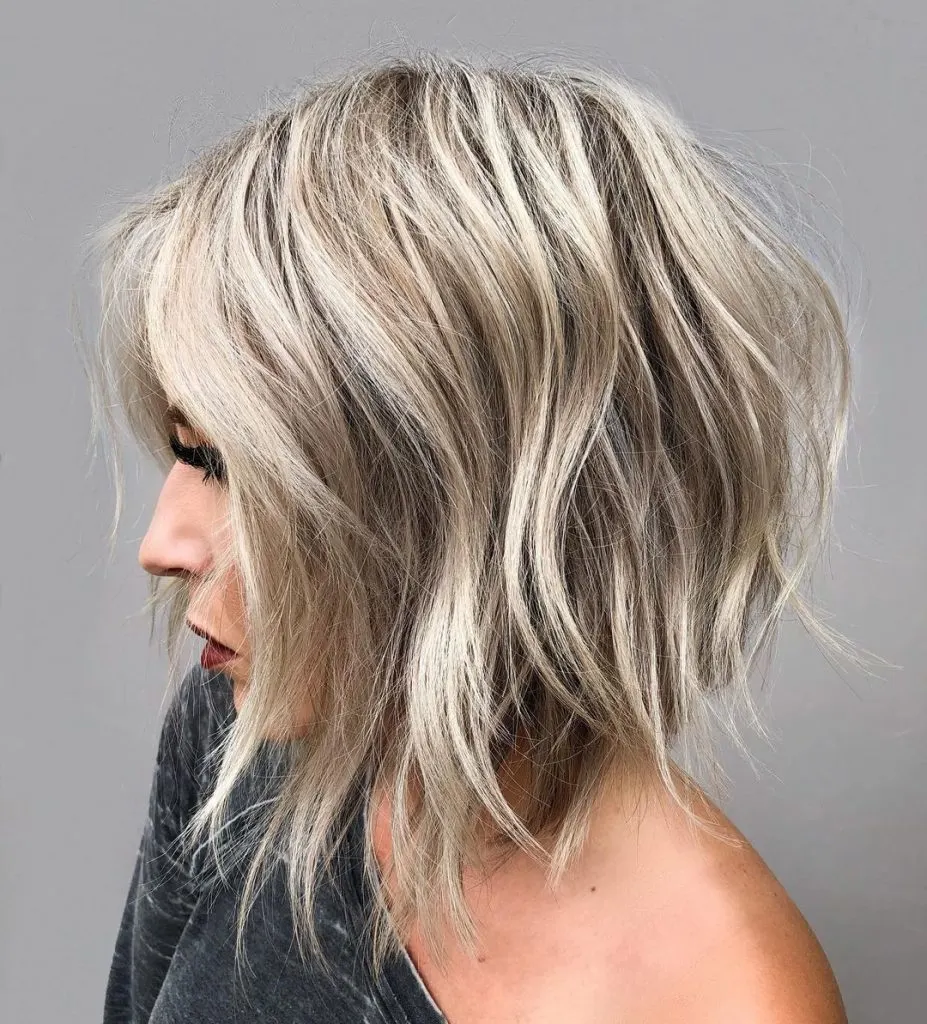 This inverted bob would look professional and chic straightened, but loose waves give it movement and make the wispy ends stand out.
44. Choppy Layered Bob With Bangs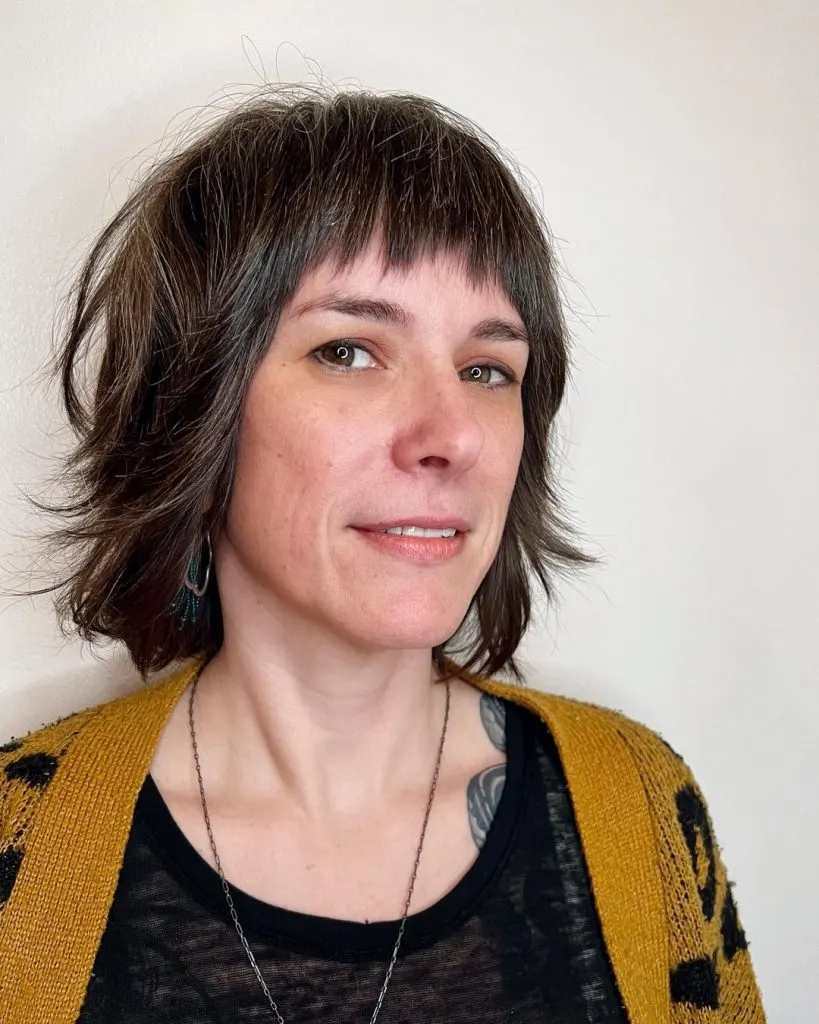 Face-framing layers can be incorporated into any haircut to make it more flattering. Hair near the face softens the features and makes them pop.
45. Jaw Length Choppy Bob With Bangs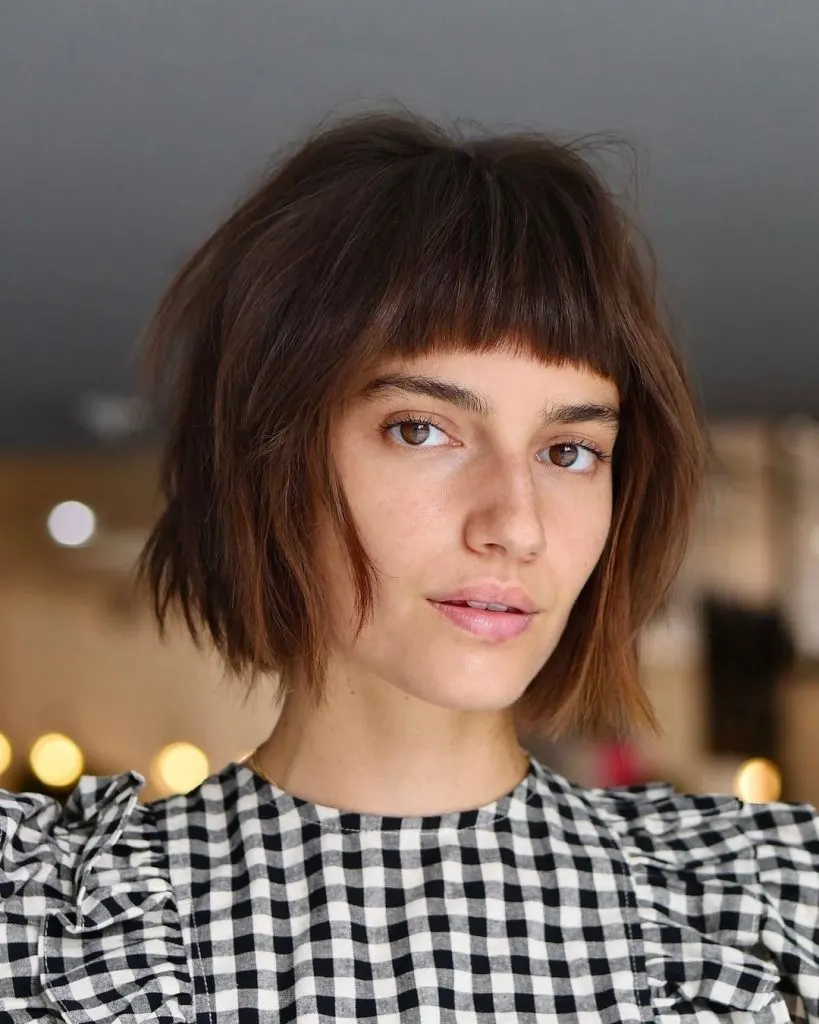 A chin-length bob with bangs is a classic and can be appropriate for any occasion, depending on how you style it—playful, elegant or edgy.
46. Choppy Straight Bob With Bangs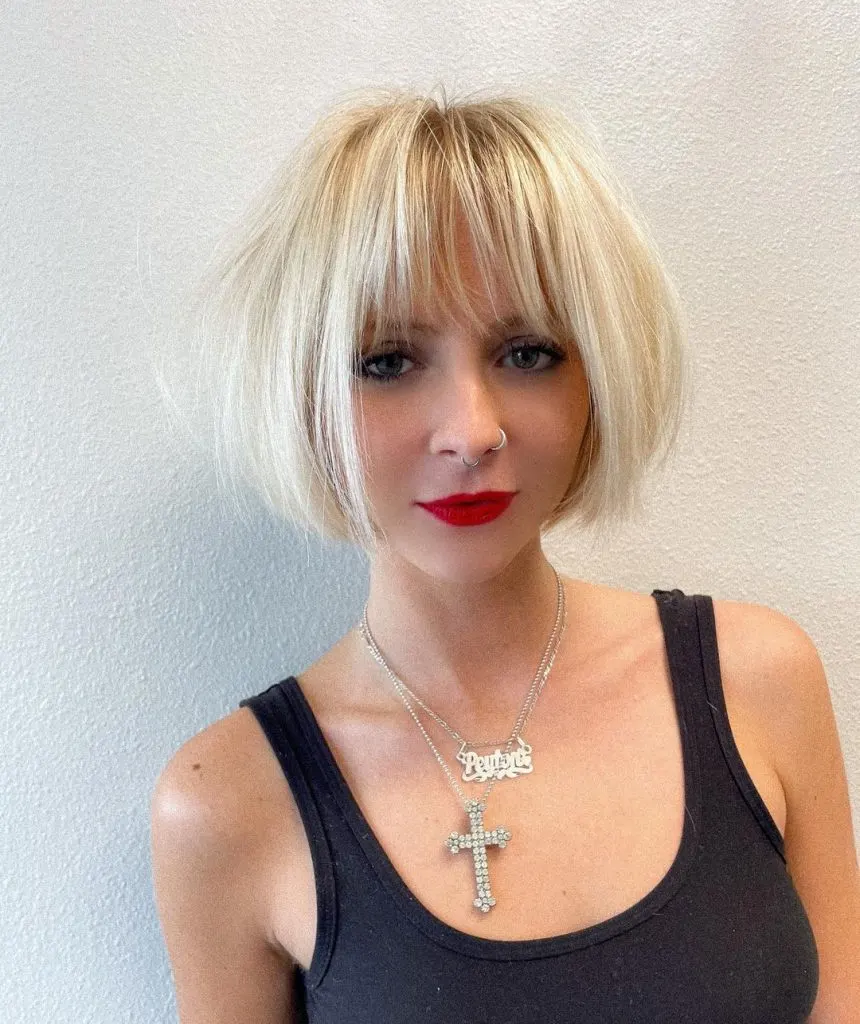 Short straight hairstyles are rarely the first thing that comes to mind when you want to make your hair look fuller, but this one does the trick. Layers are invisible and the choppiness is in the bangs and the ends, creating body and volume without focusing on the texture too much.
47. Messy Bob With Bangs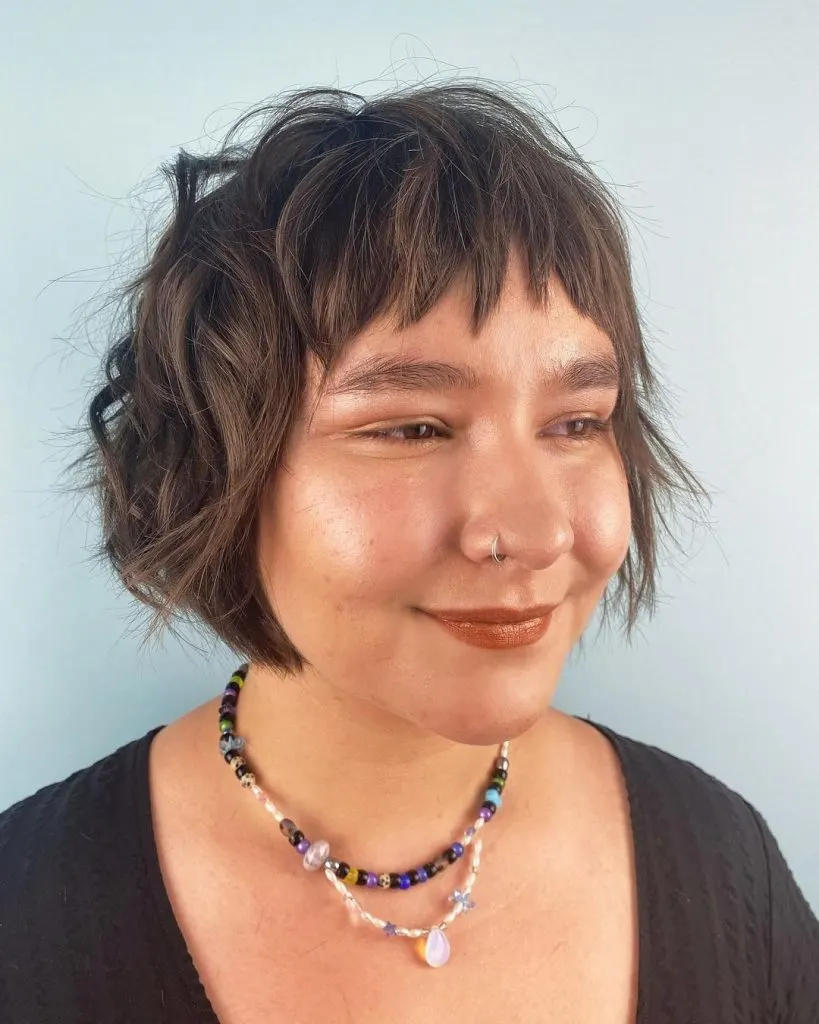 This length is perfect for tucking behind the ears and the tiny pointy bangs are quirky, but flattering. A cute and unique styles.
48. Jaw Length Short Choppy Bob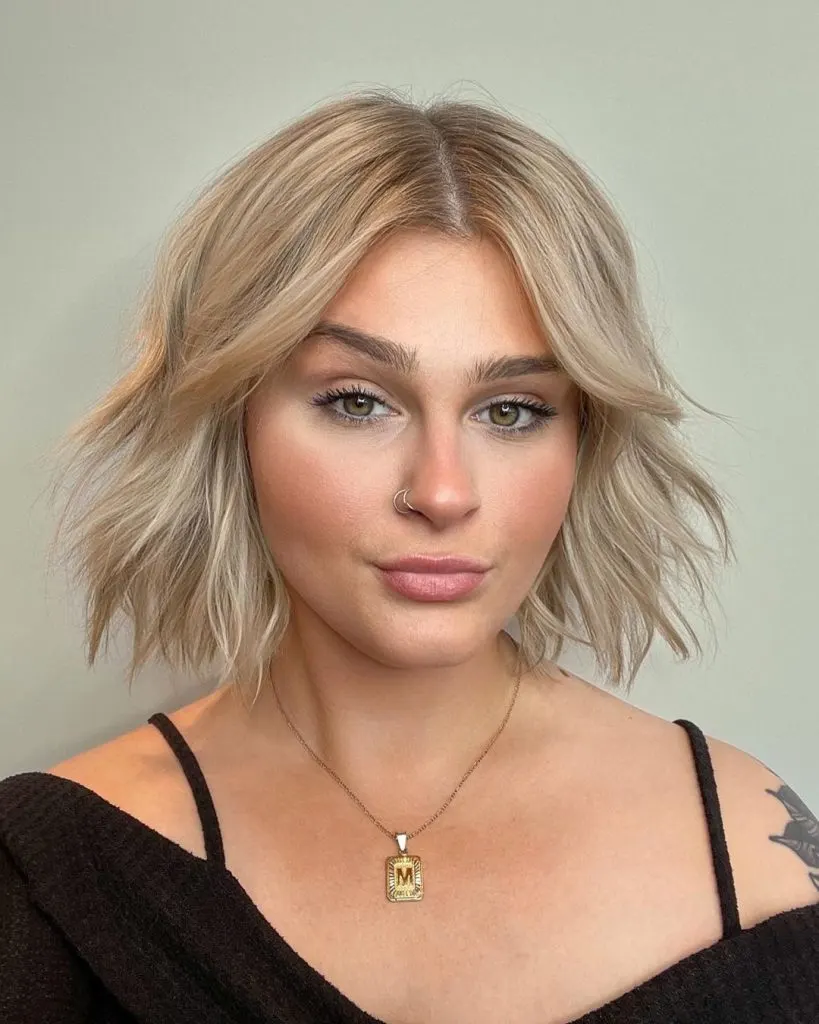 If you have a narrow forehead, classic straight-across fringe might not work for you, but you can still rock bangs. This long, center-parted variation creates balance, completes the style and frames the face.
49. Choppy Edgy Stacked Angled Bob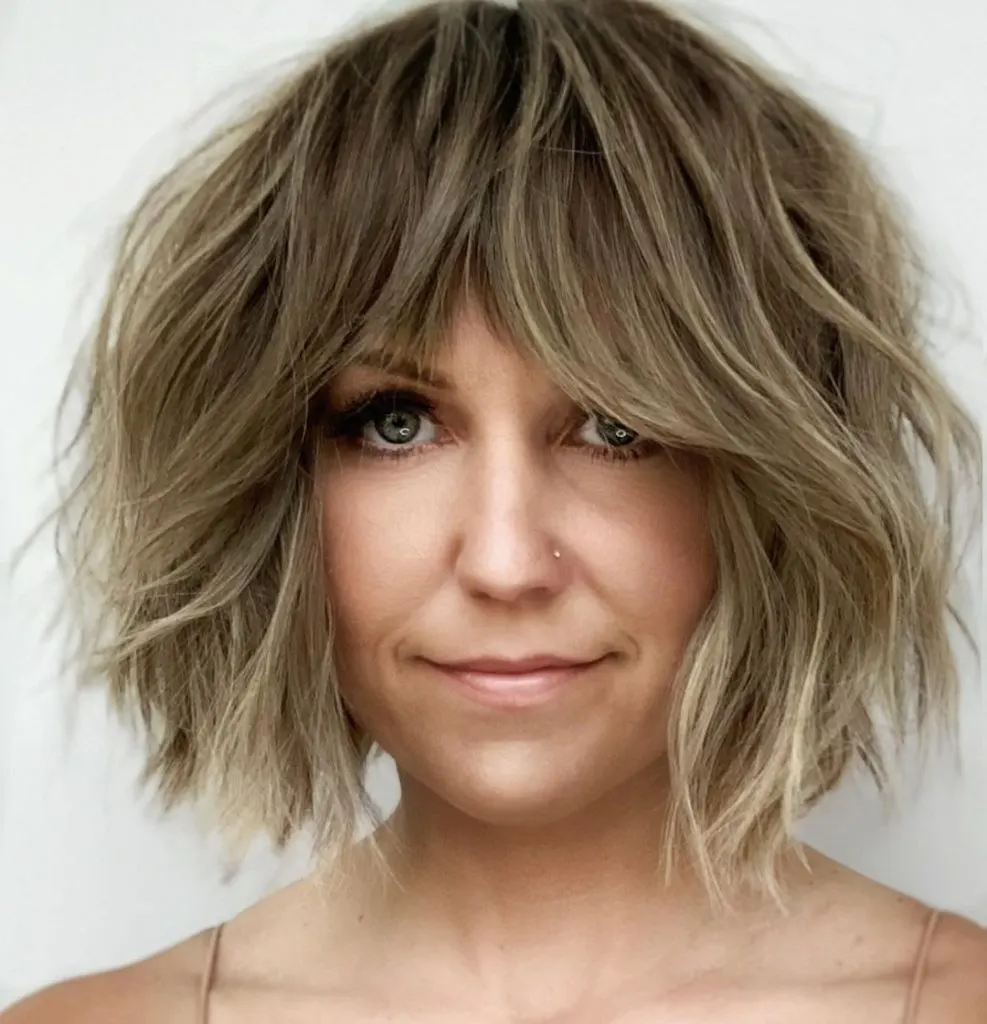 A choppy stacked bob is a classic—tons of texture, more volume than you know what to do with and full curtain bangs. Cute and timeless.
50. Choppy Short Layered Bob
Short layers on top make it easy to create unexpected looks and play with volume, but they can also be worn neat and conventional when you need it.