A layered bob with bangs is versatile and easy. It can go from casual to edgy to flirty depending on the type of bob and the type of bangs but also on how you wear it.
Take a look at our selection of latest bob haircuts with layers and different styles of bangs, and pick your favorite combination.
1. Layered Bob With Side Bangs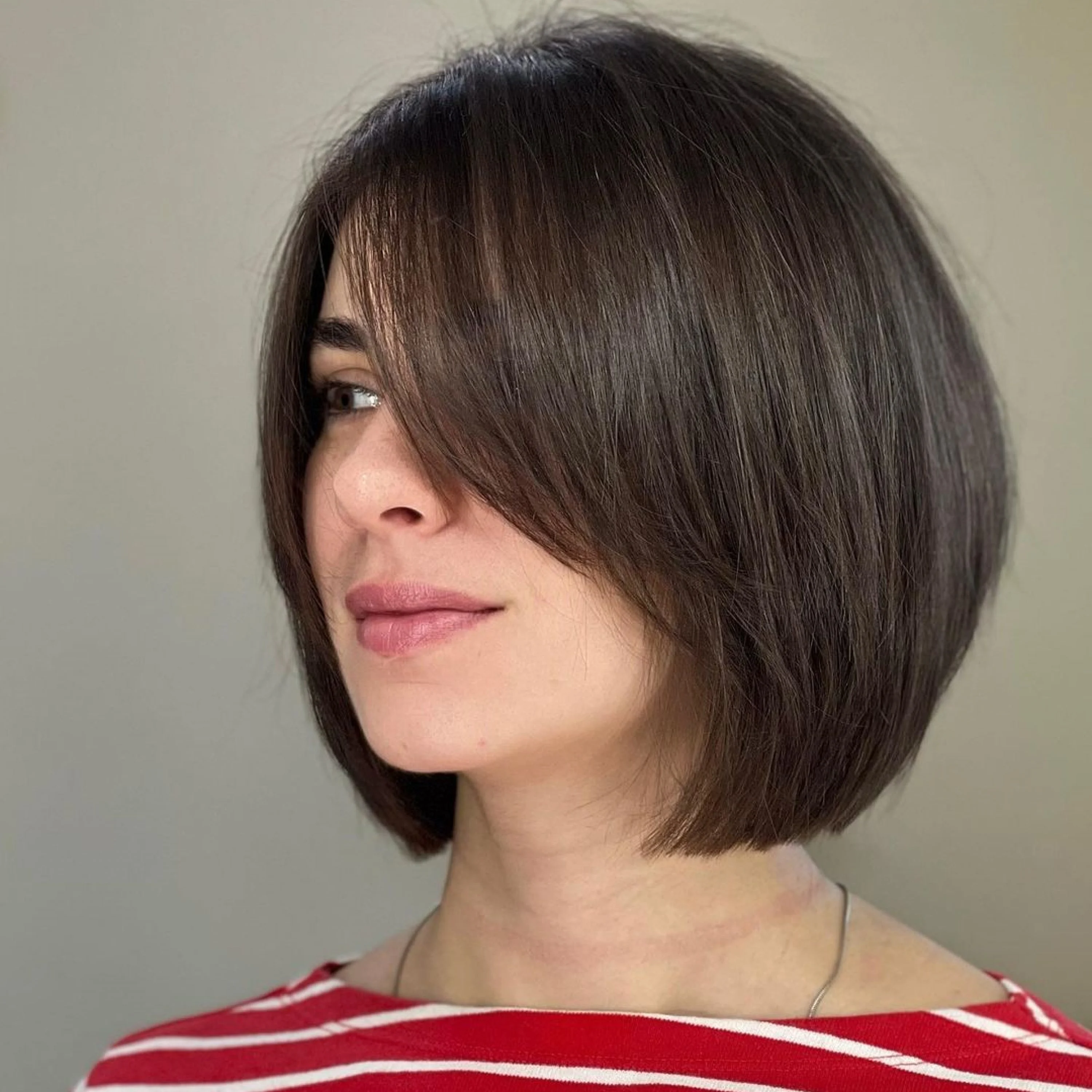 Medium length bob with side bangs is a classic. It's flattering because it's tailor-made to suit the face—the bottom part has been thinned out to avoid a bulky look, and the bangs have been shaped to create a pretty frame.
2. Choppy Angled Bob With Bangs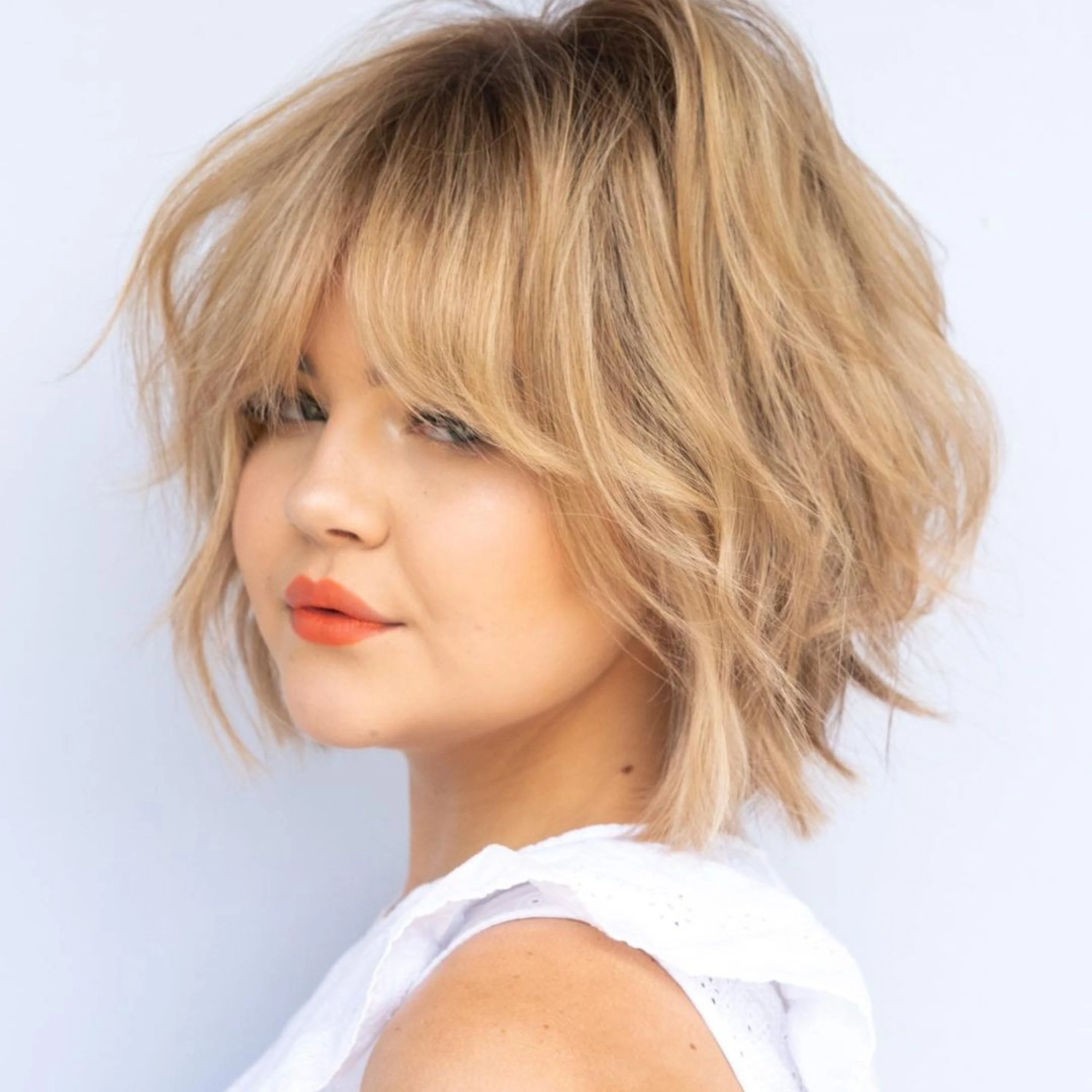 Eye-grazing bangs complete this adorably messy look. You can wear them in a few ways: swept to the side, tousled, or center-parted and flipped outwards like short curtain bangs.
3. Bixie Bob With Bangs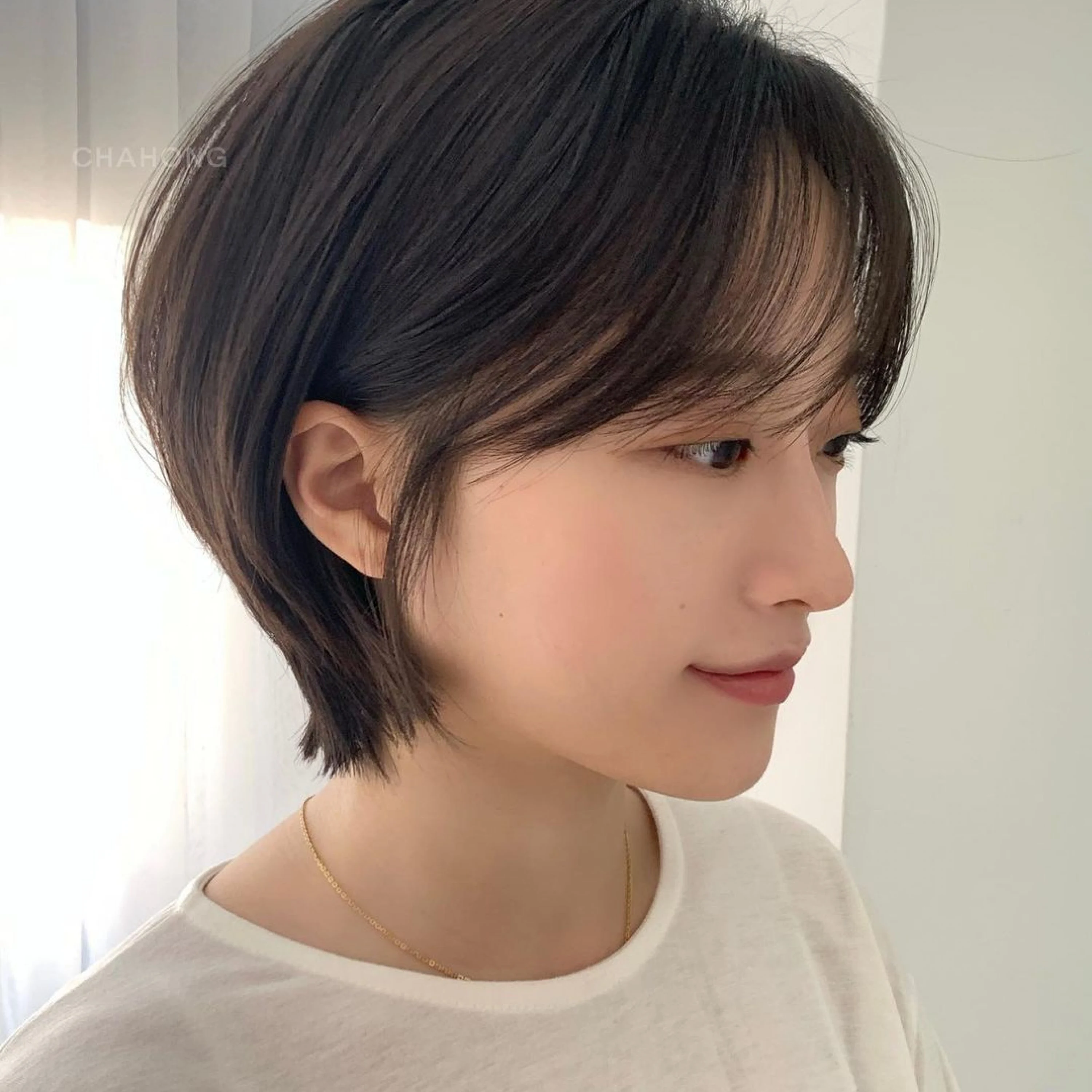 Tapered ends create a very versatile cut somewhere between a long pixie and a short bob. When the front part is tucked behind the ear, a bixie looks shorter, but when the strands along the face are worn loose, it's a short layered bob.
4. Edgy Short Bob With Bangs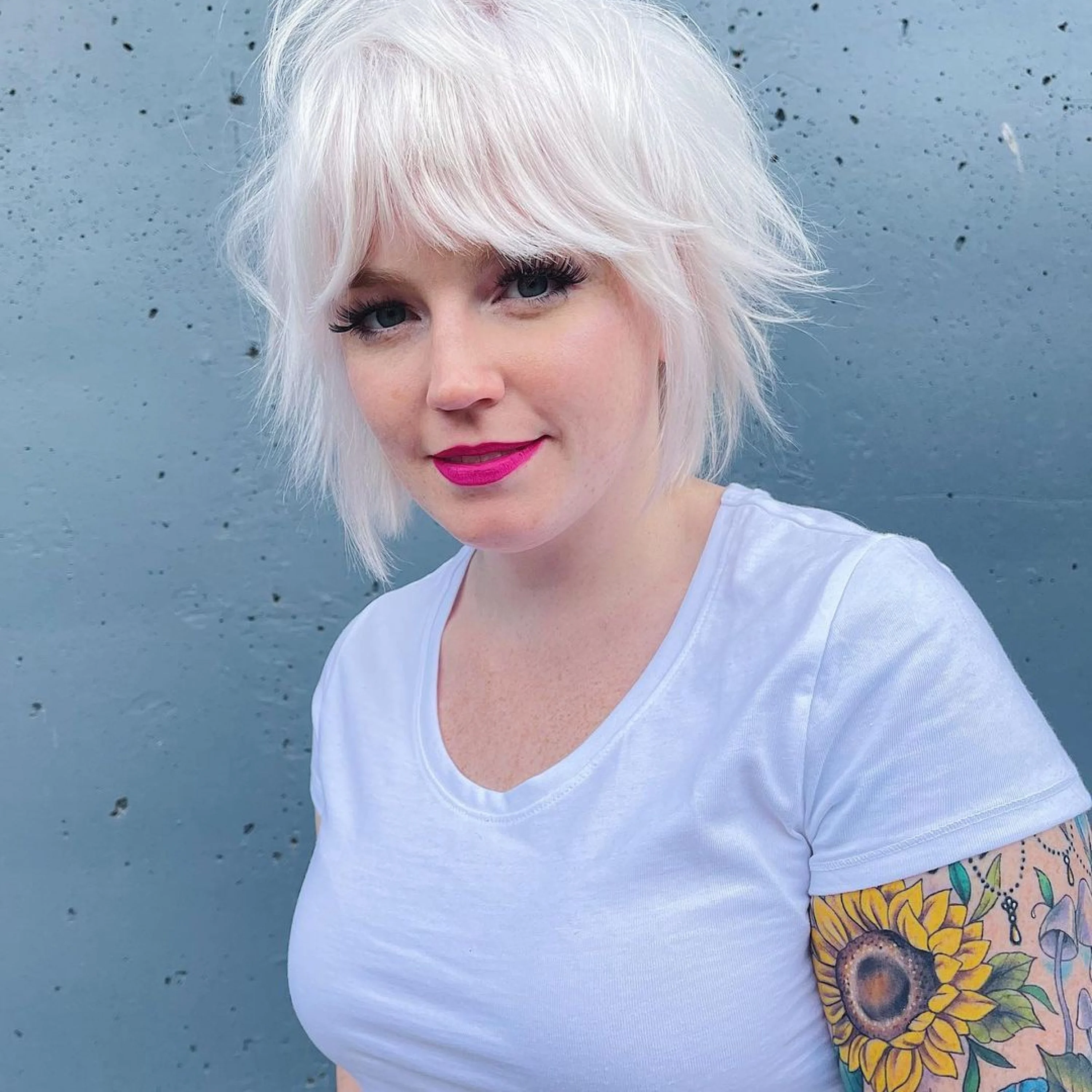 Choppy bobs are fun and easy to wear—even if you don't style them perfectly, they still look good. Here, flipped-out layers create a laid-back, casual effect.
5. French Bob With Bangs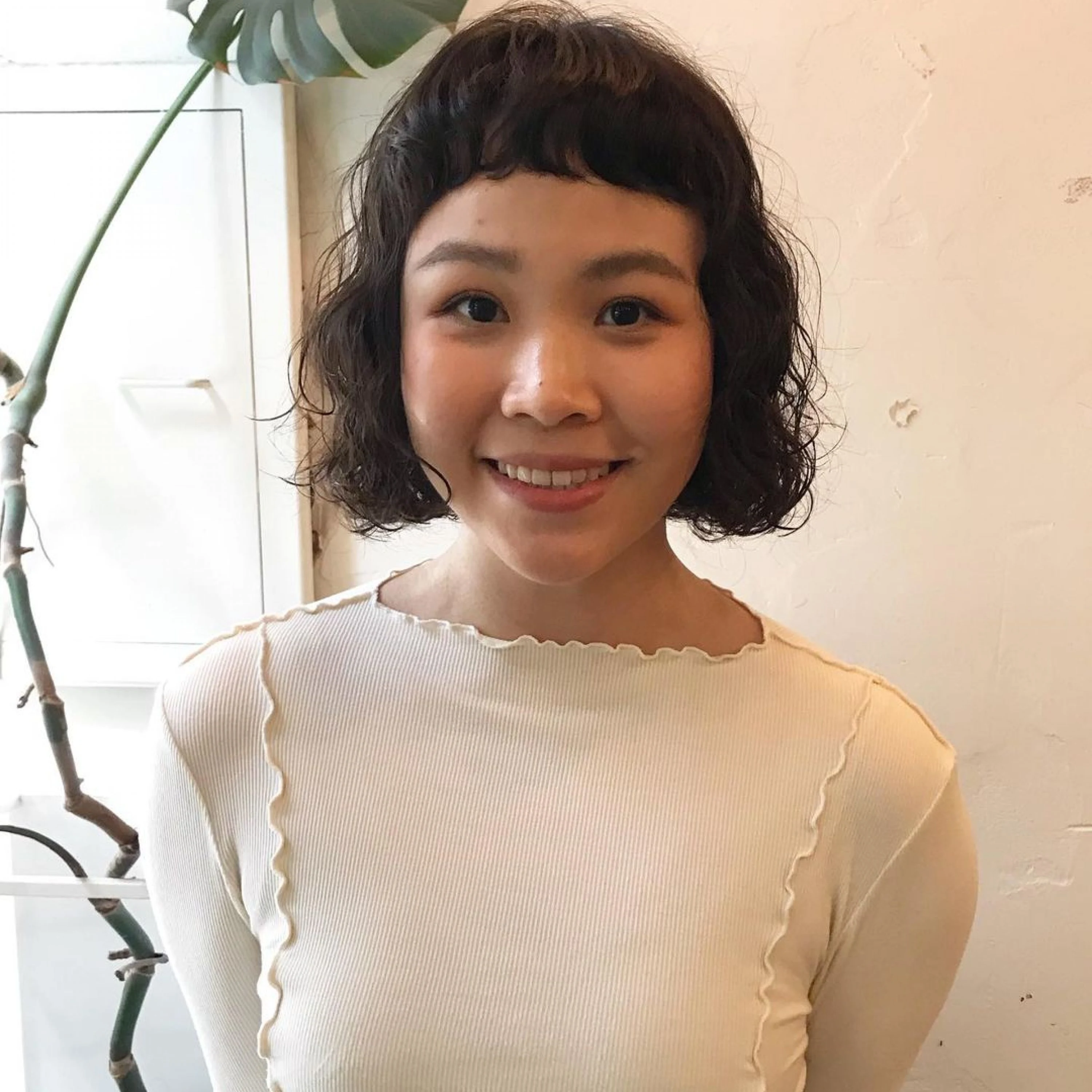 Subtle layers give dimension to the wispy curls, while the contrasting chopped bangs add a tomboyish charm to this cute style.
6. Blunt Bob With Bangs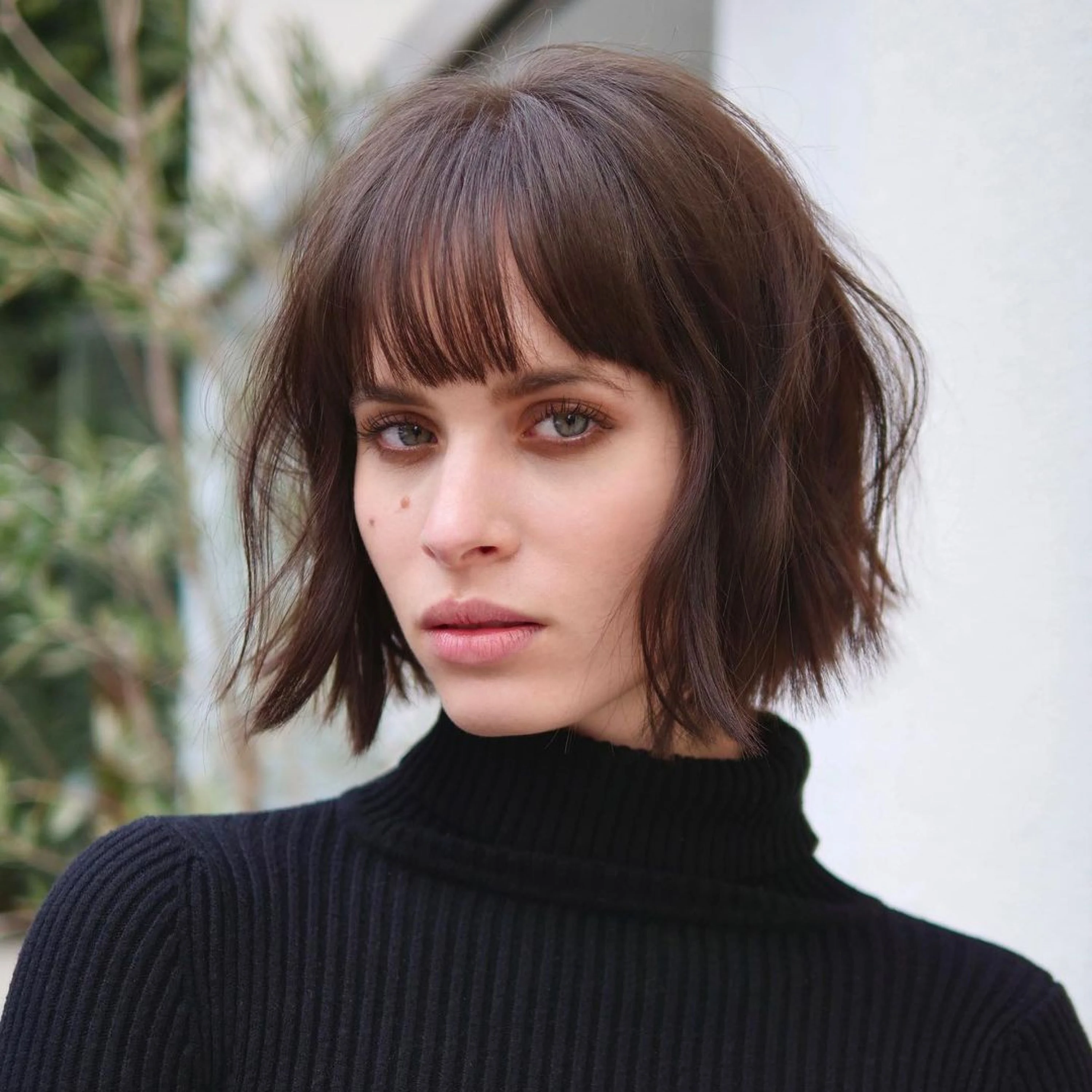 Even though this bob is layered, the blunt ends give it a trendy one-length feel. Short bangs can be used to shorten a long forehead while accentuating the eyes.
7. Curly Bob With Bangs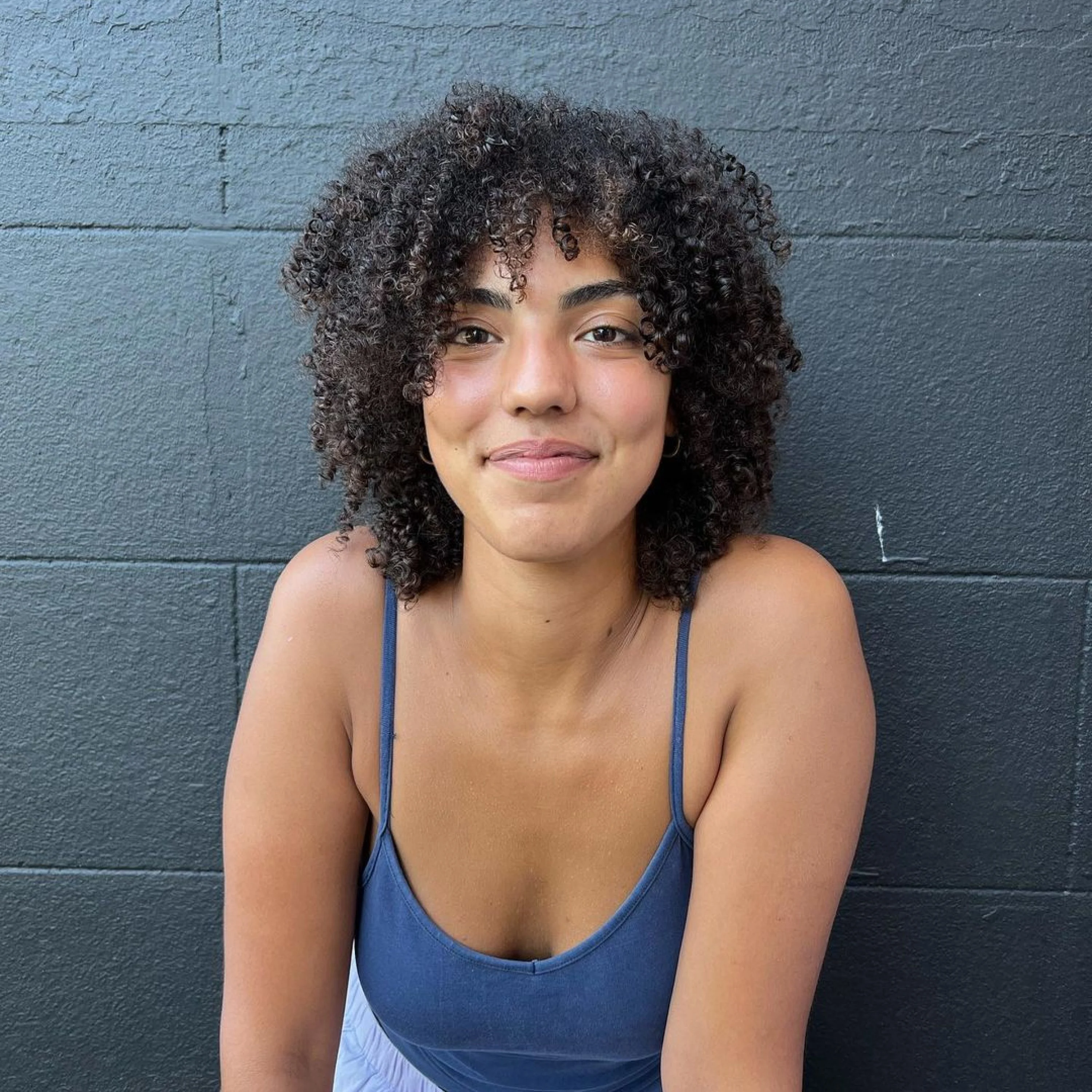 Layers are used to create movement and give bounce to this short curly hair with bangs. Extra short bangs pair with tiny curls to give the short curly overall style a super cute look.
8. Shaggy Bob With Bangs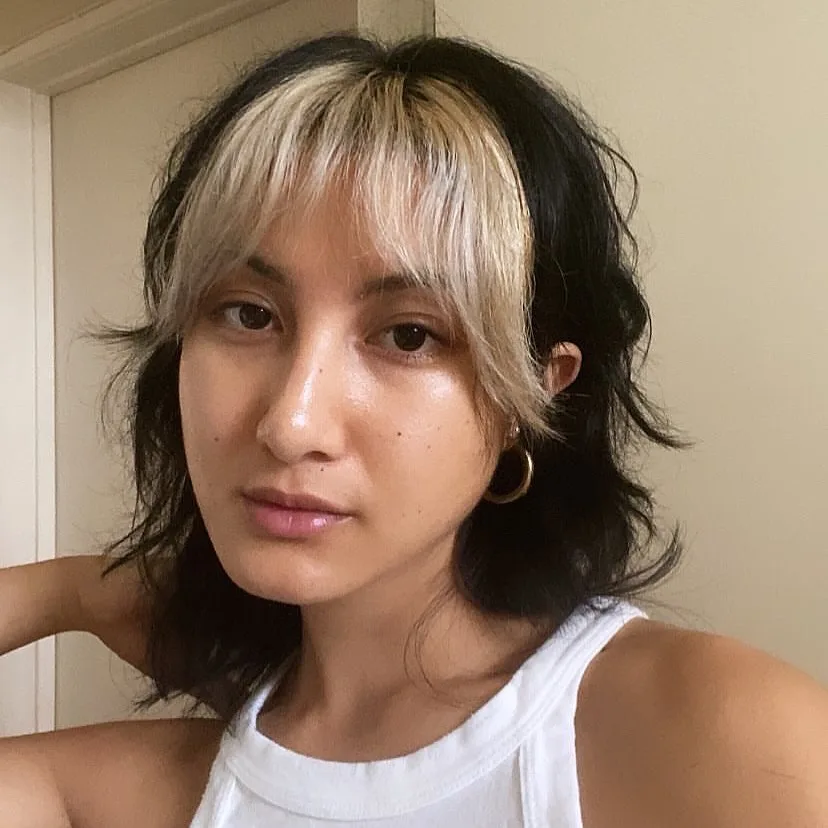 Blunt ends and choppy layers have a competition for the trendiest long bob style: 70s-inspired shaggy cuts have been trending for a while now with no sign of fading away. Tip: If you want to try a shag cut, consider your hair texture first because the layers are cut quite short.
9. Medium Length Bob Cut Bangs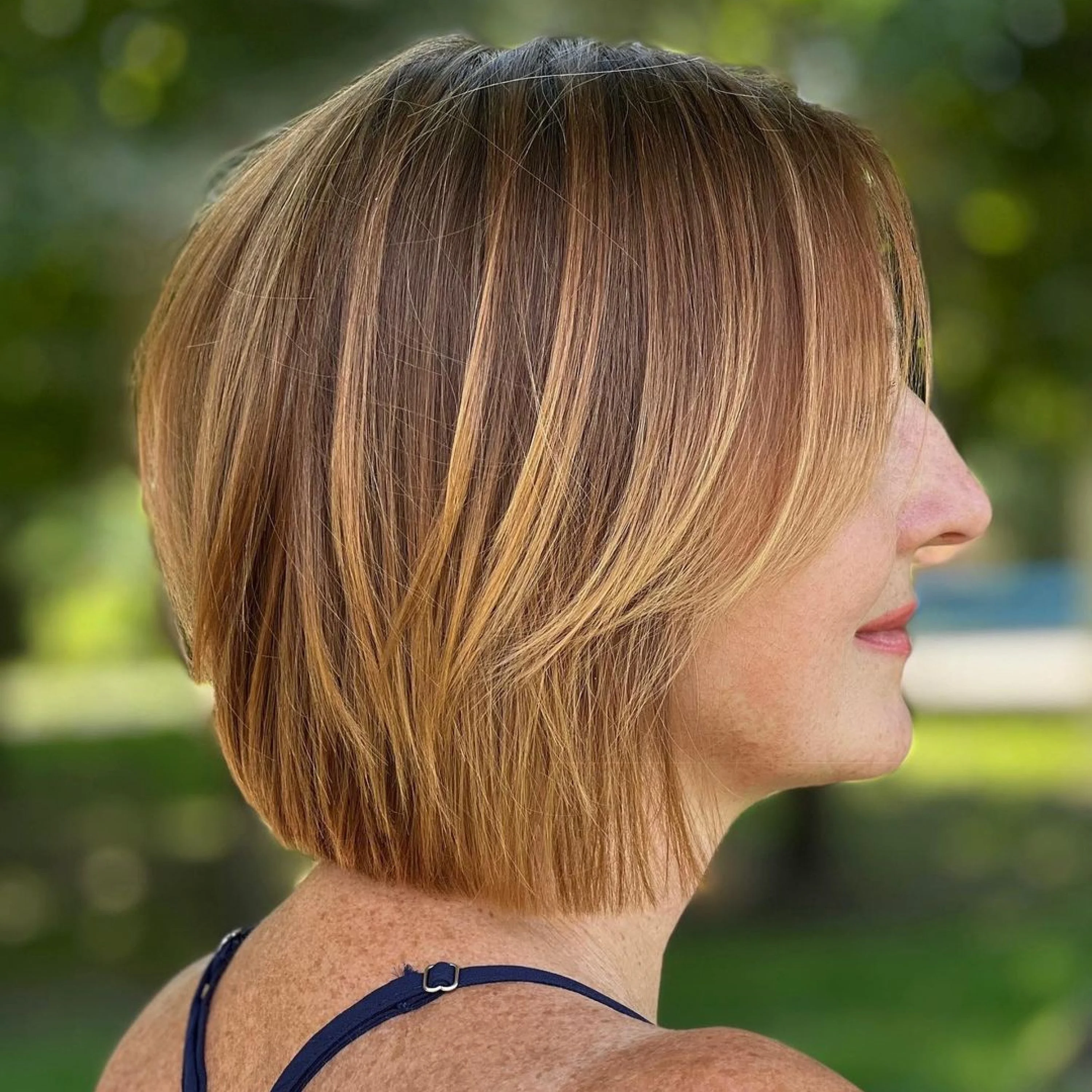 This mid-length bob is refreshing and low maintenance. It can be super sleek with a careful blowout, but for a quick style, blow-dry on a low-speed setting, brushing the hair back. The layers will fall into place and even if the ends flip outward, it will still look good.
10. Messy French Bob Haircut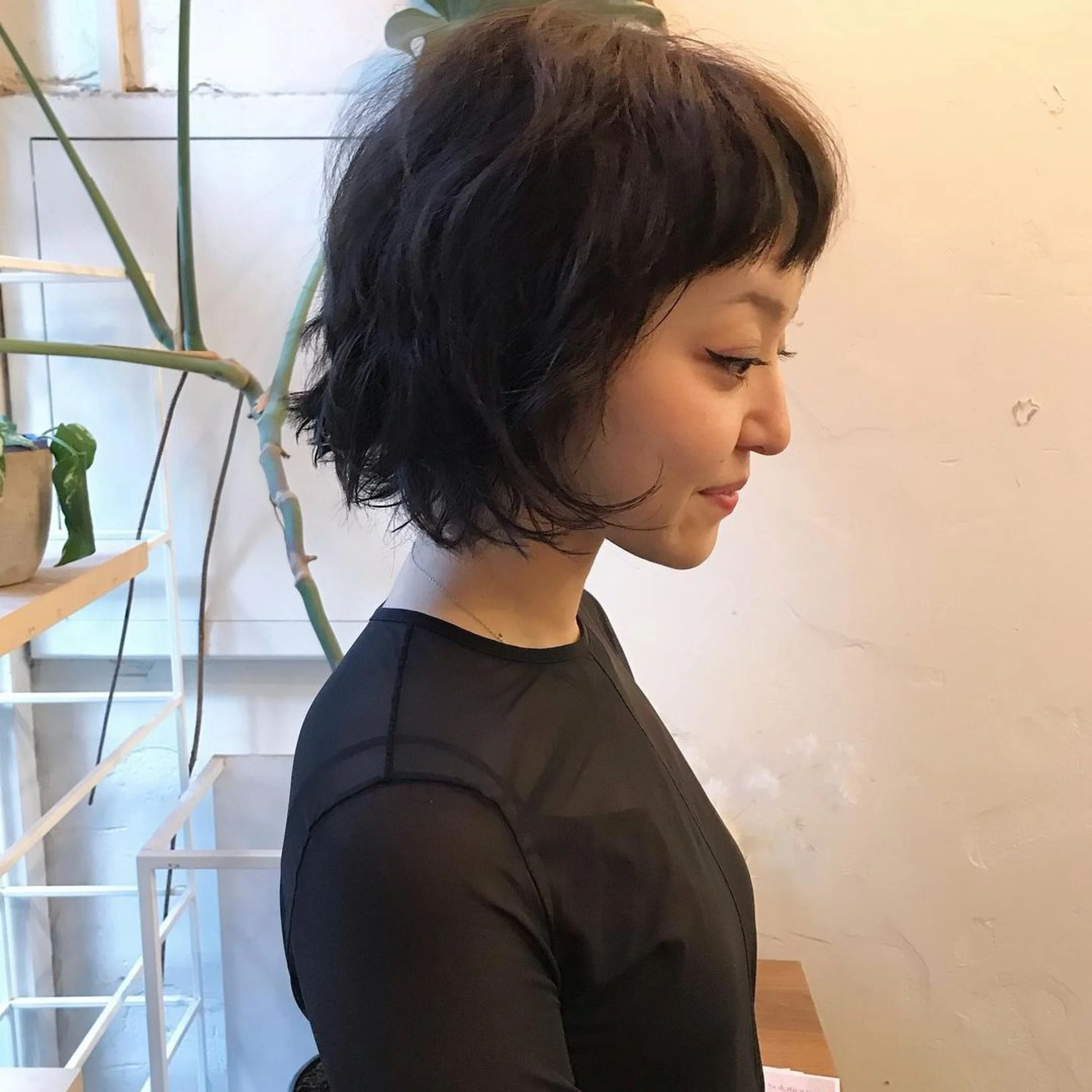 Adding layers and texture to a classic French bob is a great way to update it. Adding a bit of lift to the full bangs as well ties the whole look together.
11. Jaw Length Blunt Bob With Bangs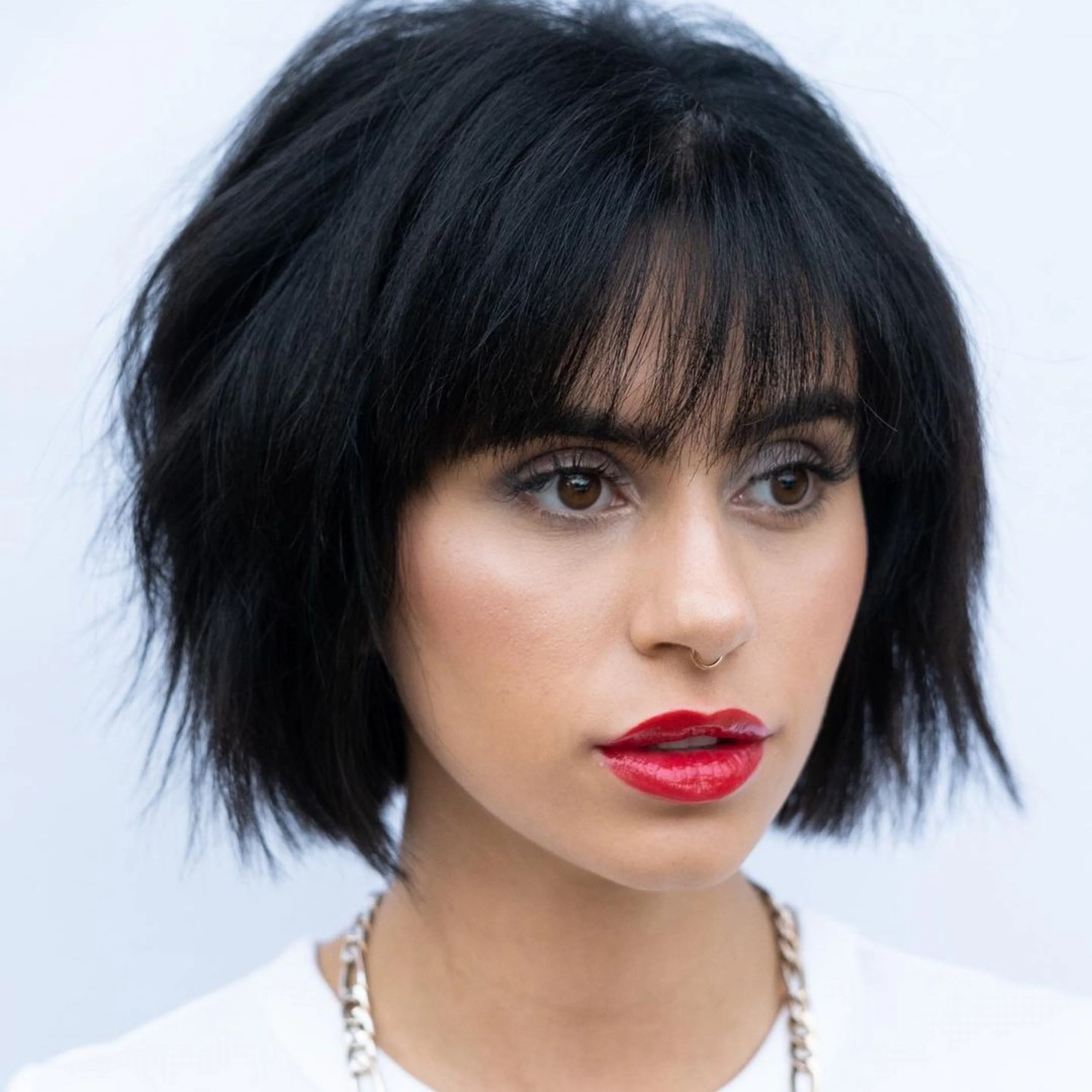 Layers are used to achieve a crisp texture and give a ton of volume to this short bob. See-through bangs emphasize the relaxed look but also give it a romantic vibe.
12. Shoulder Length Layered Bob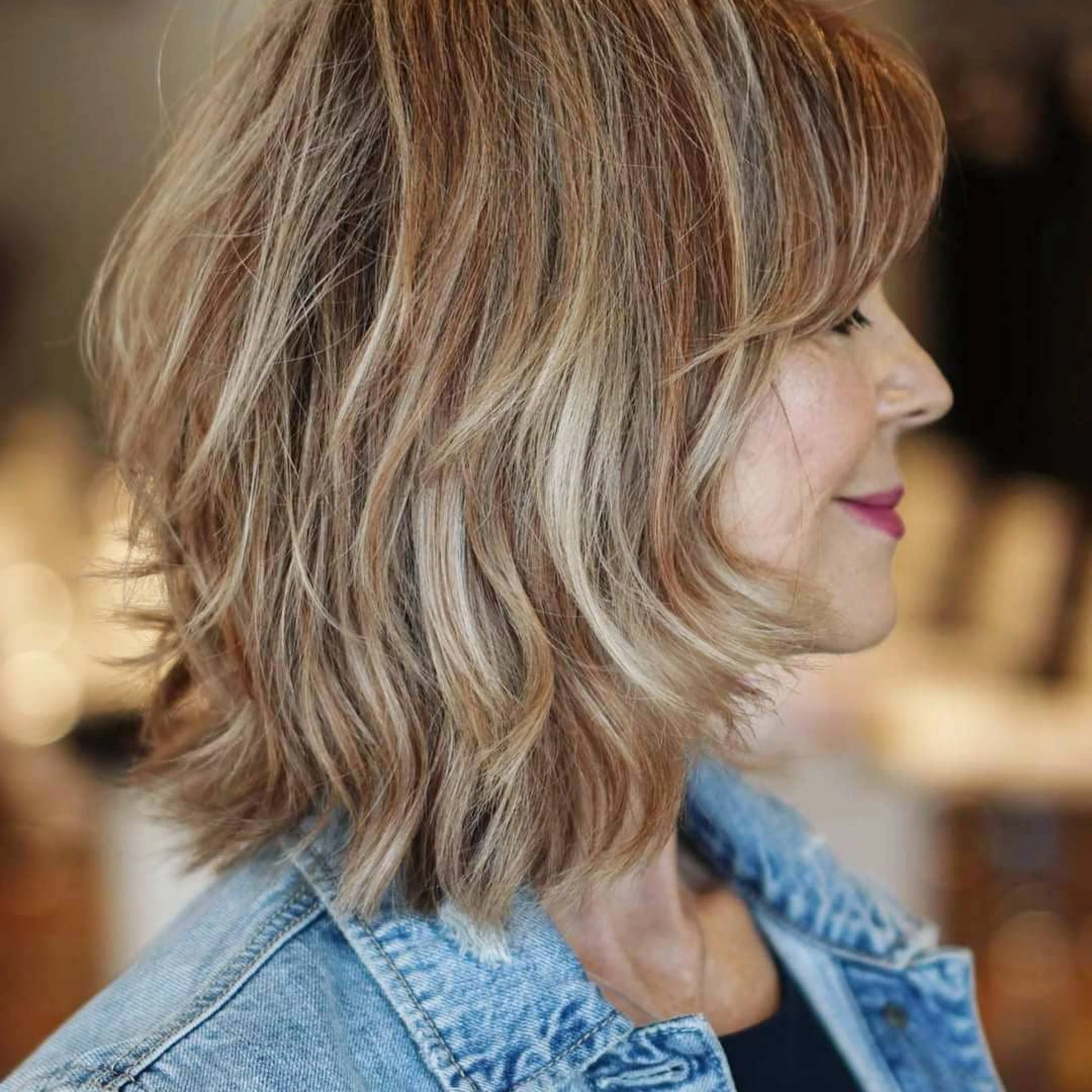 The placement of the layers creates a lift at the crown and volume around the middle, yet this shaggy bob isn't bulky. Shorter layers around the face and the bangs create a customized look that flatters the face.
13. Wispy Curtain Bangs Bob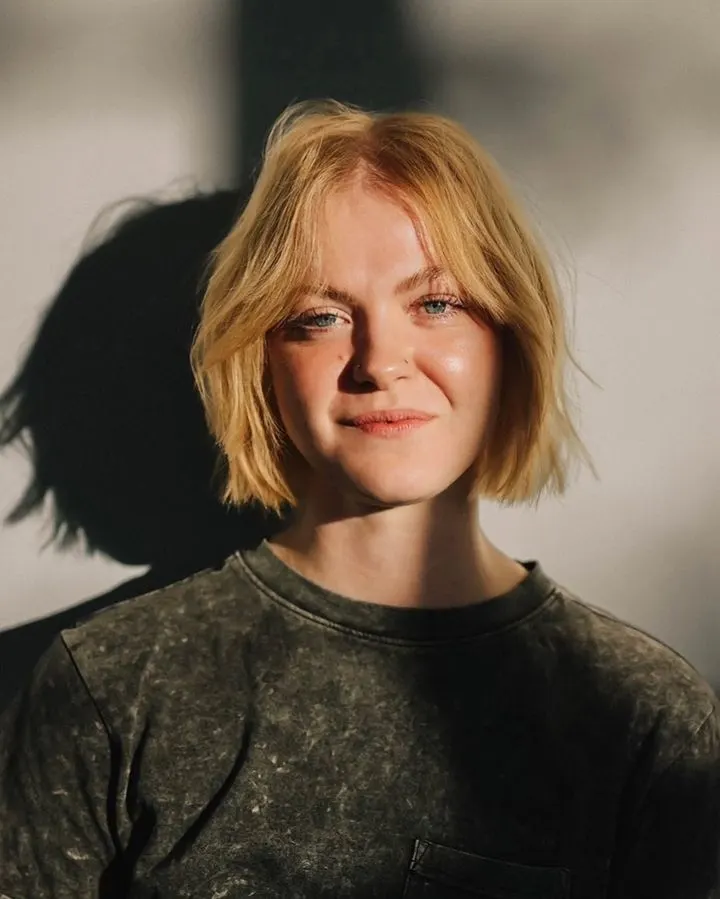 Wispy layers and delicate curtain bangs keep this style from looking static. The warm strawberry-blonde color makes it even more vibrant and dynamic.
14. Short Layered Bob With Bangs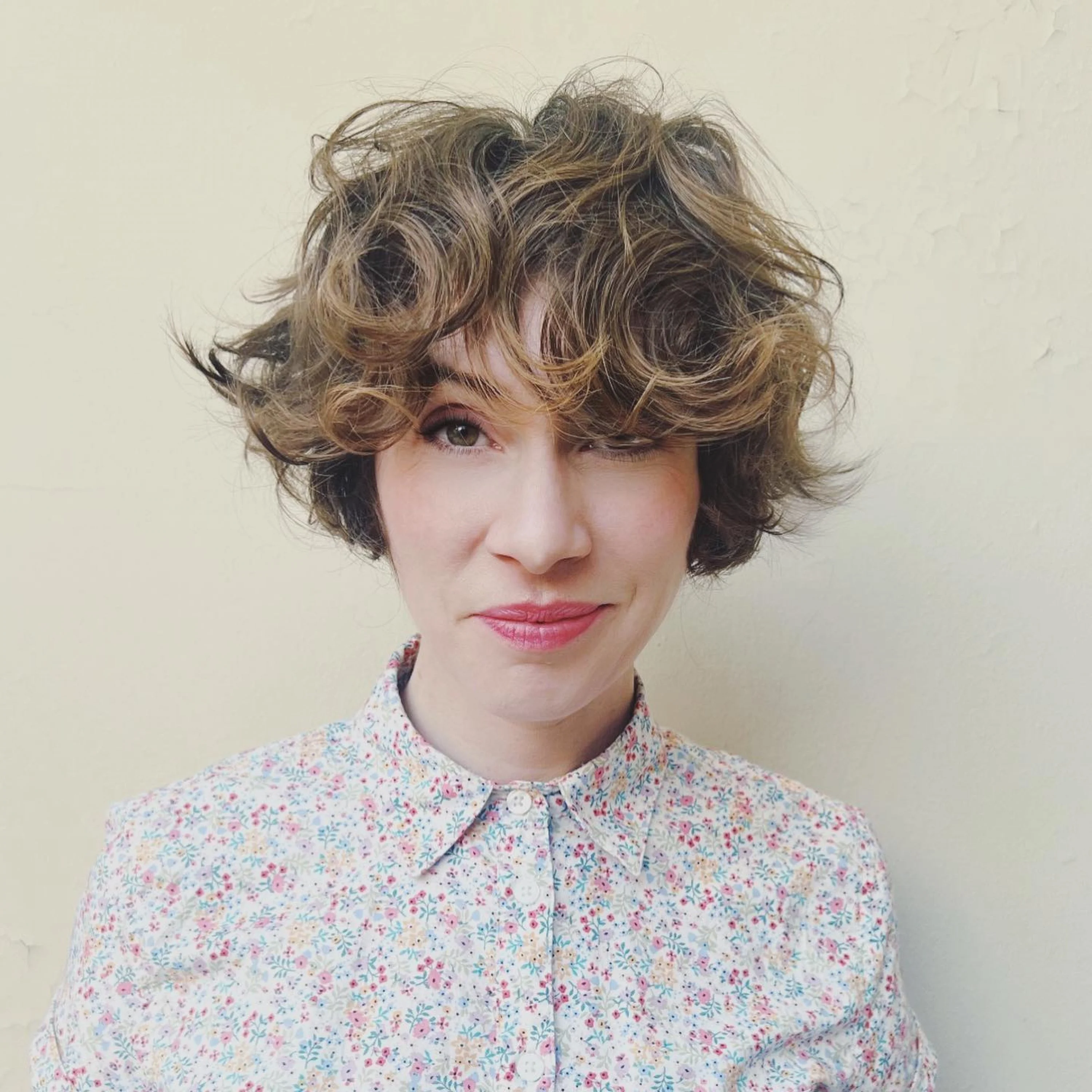 Large round curls are usually kept long, but this jaw-length bob with bangs proves that it's possible to showcase them even when your hair is short. The curls are the focus of this style, so it has been cut to accommodate them.
15. Choppy Layered Bob For Thick Hair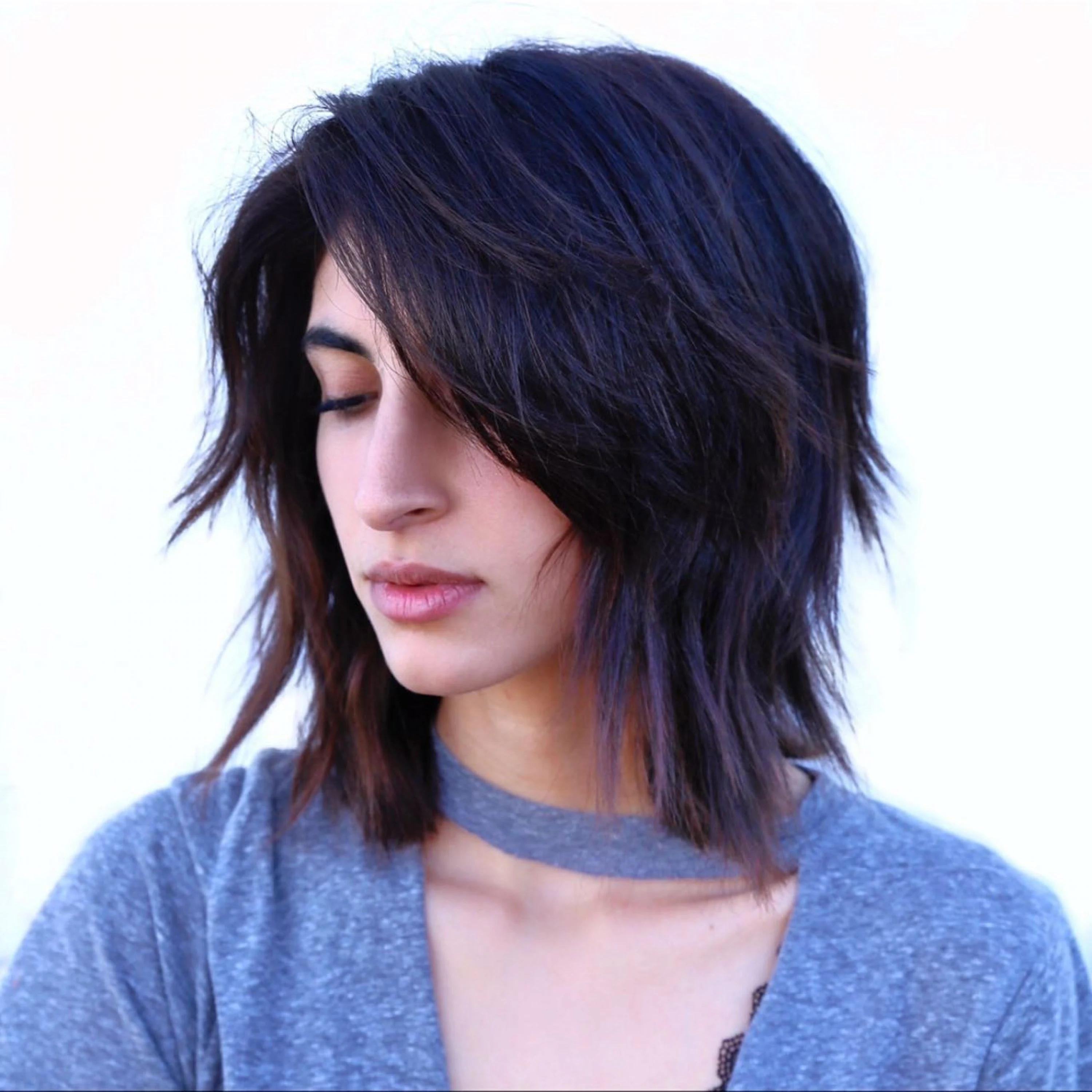 Razored layers can help control thick hair without taking away its volume. Instead of making it flat, layers only take the weight off, creating dimension and long bangs complete the look of this edgy choppy bob.
16. Shoulder Length Bob With Bangs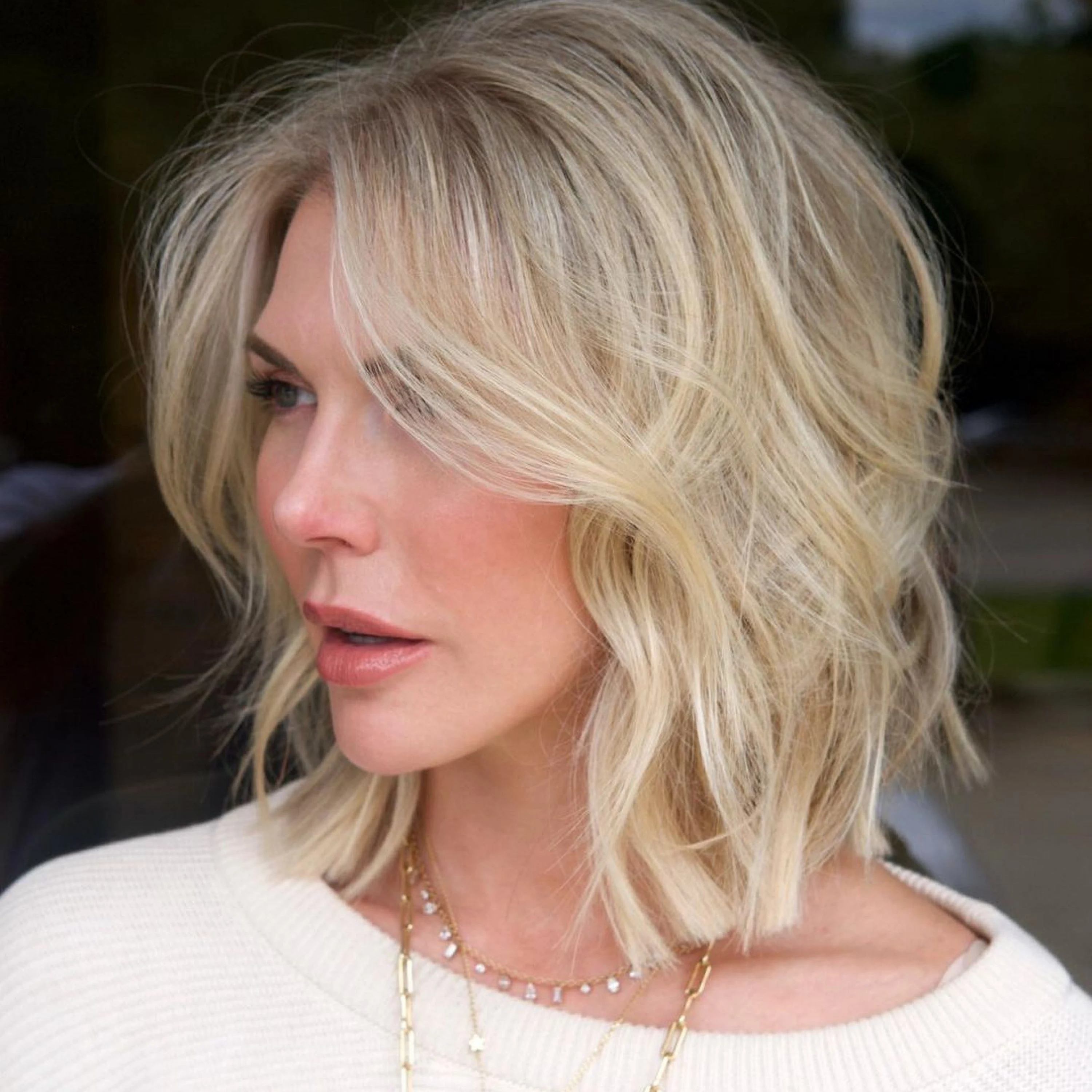 Texture and movement are at the core of this haircut. The layers are seamless and the long bangs accentuate the features while adding lightness to the style.
17. Curly Chin Length Bob With Bangs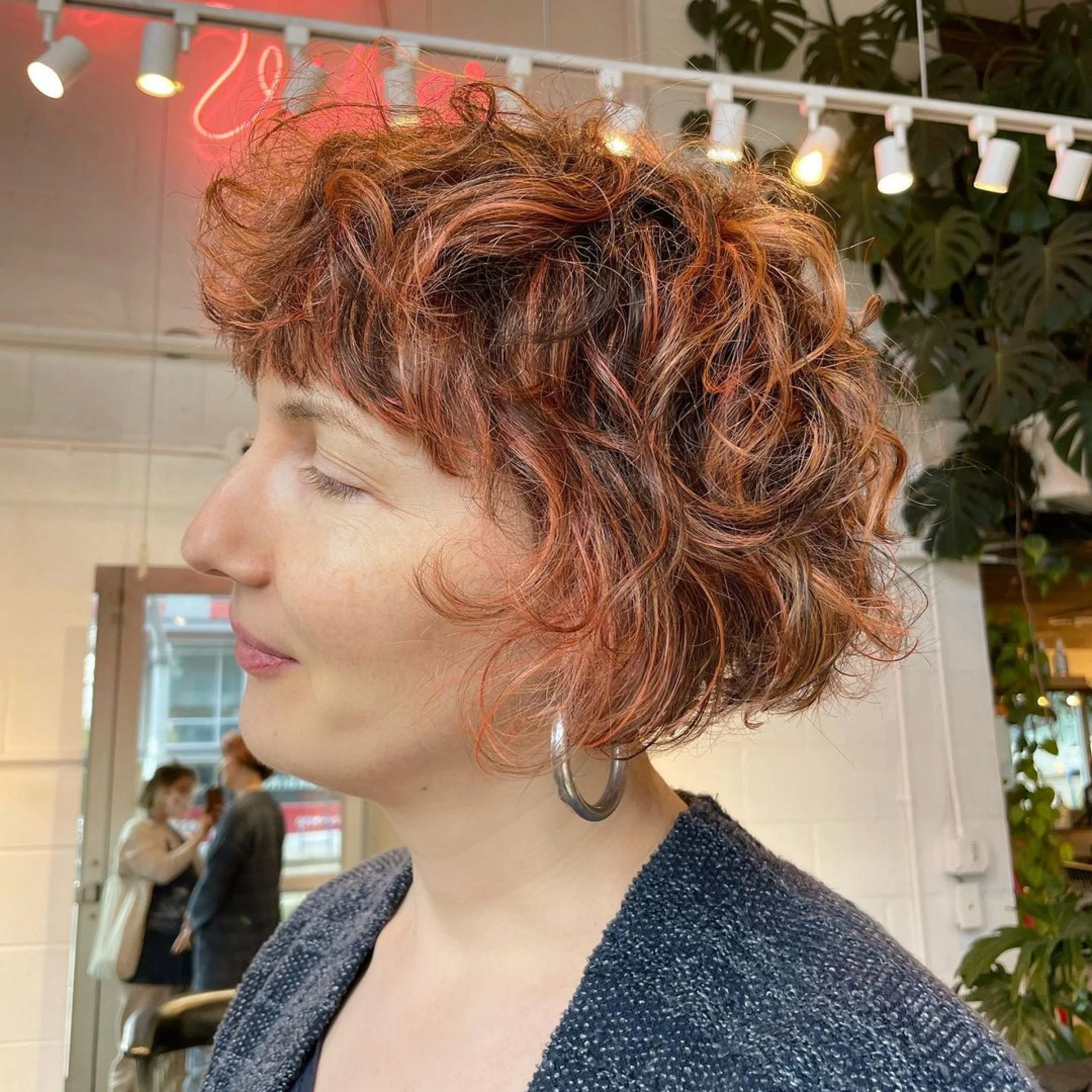 Curly short hair is always at risk of looking too round, but that's where layers come in. You don't need to straighten your hair to rock a French bob—you only need a hairdresser who knows how to work your curls.
18. Choppy Layered Bob With Fringe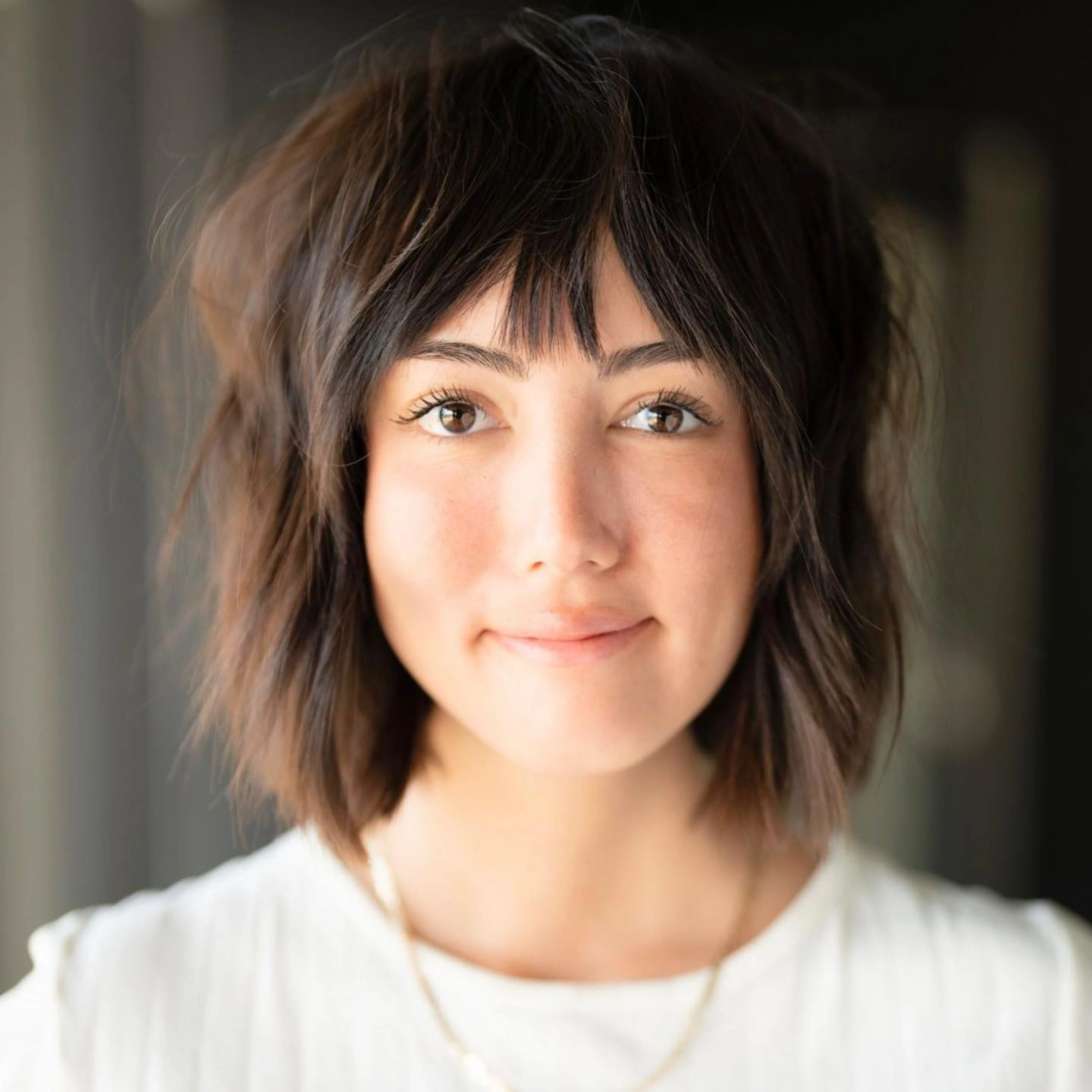 Textured bangs shorter in the middle and tapering at the sides create a frame for your face. They can be shaped however you want—meaning, you can use them to bring forward or conceal any features you want.
19. Textured Medium Bob With Bangs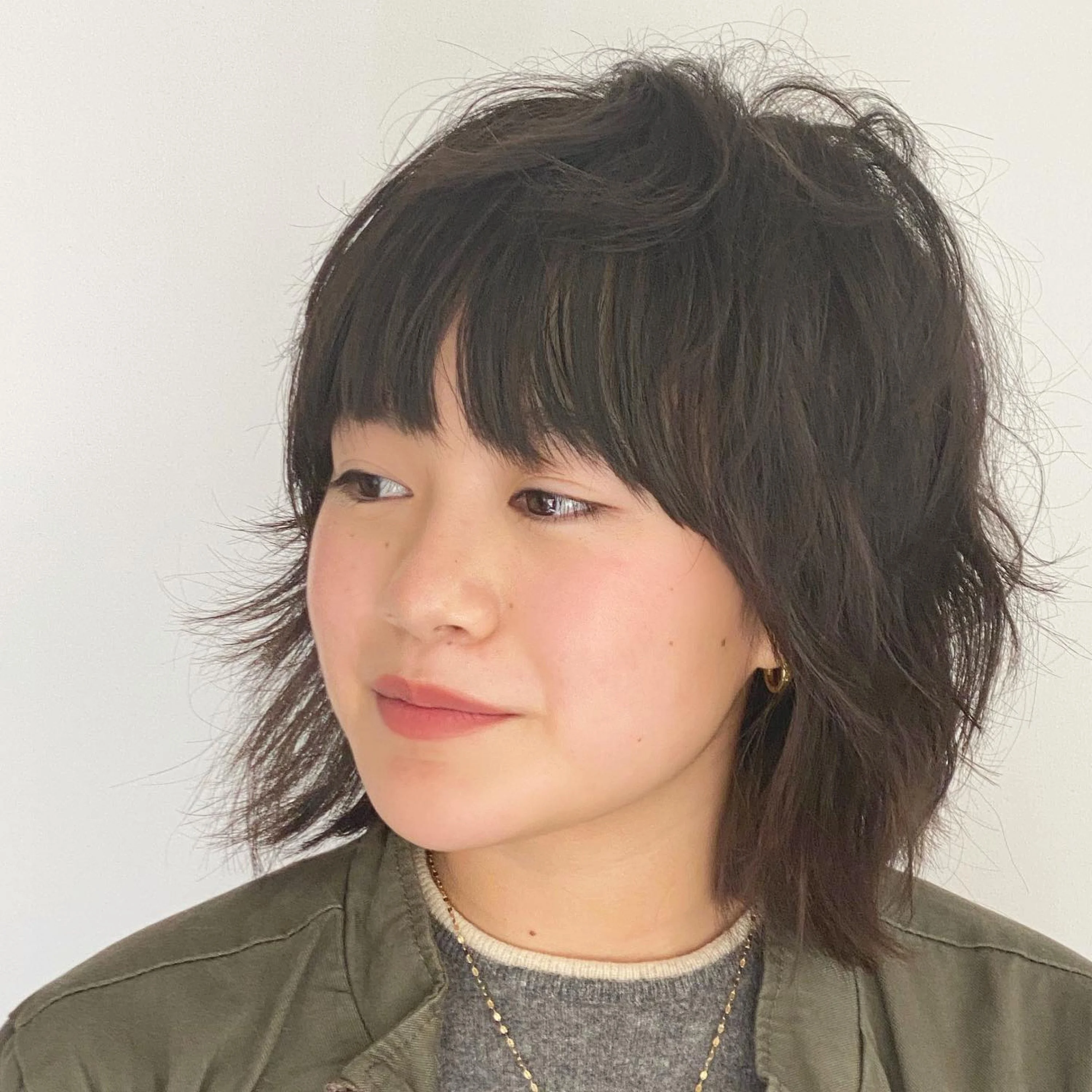 Shaggy bobs with bangs are all the rage, and straight-across fringe is especially popular because of the contrast it creates with the tousled look of short layers.
20. Layered Wavy Bob With Long Bangs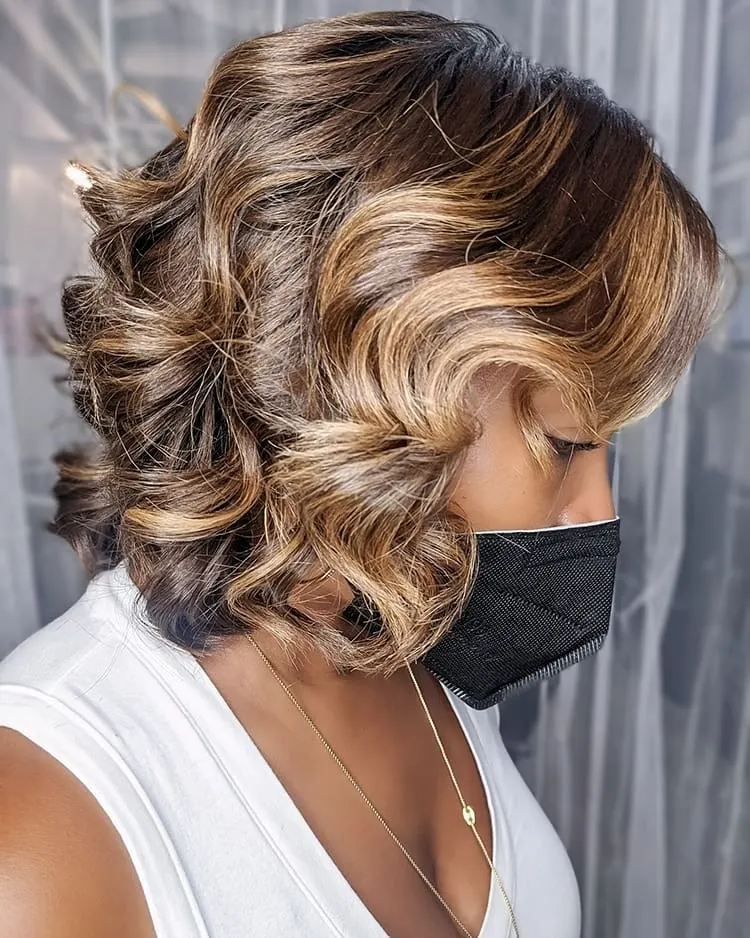 Large curls fall flat easily if the weight of the hair is dragging them down, but with a few barely-noticeable layers, they last much longer. Adding bangs to create a point of interest around the face makes this long layered bob a classic look.
21. Layered Lob Haircut With Long Bangs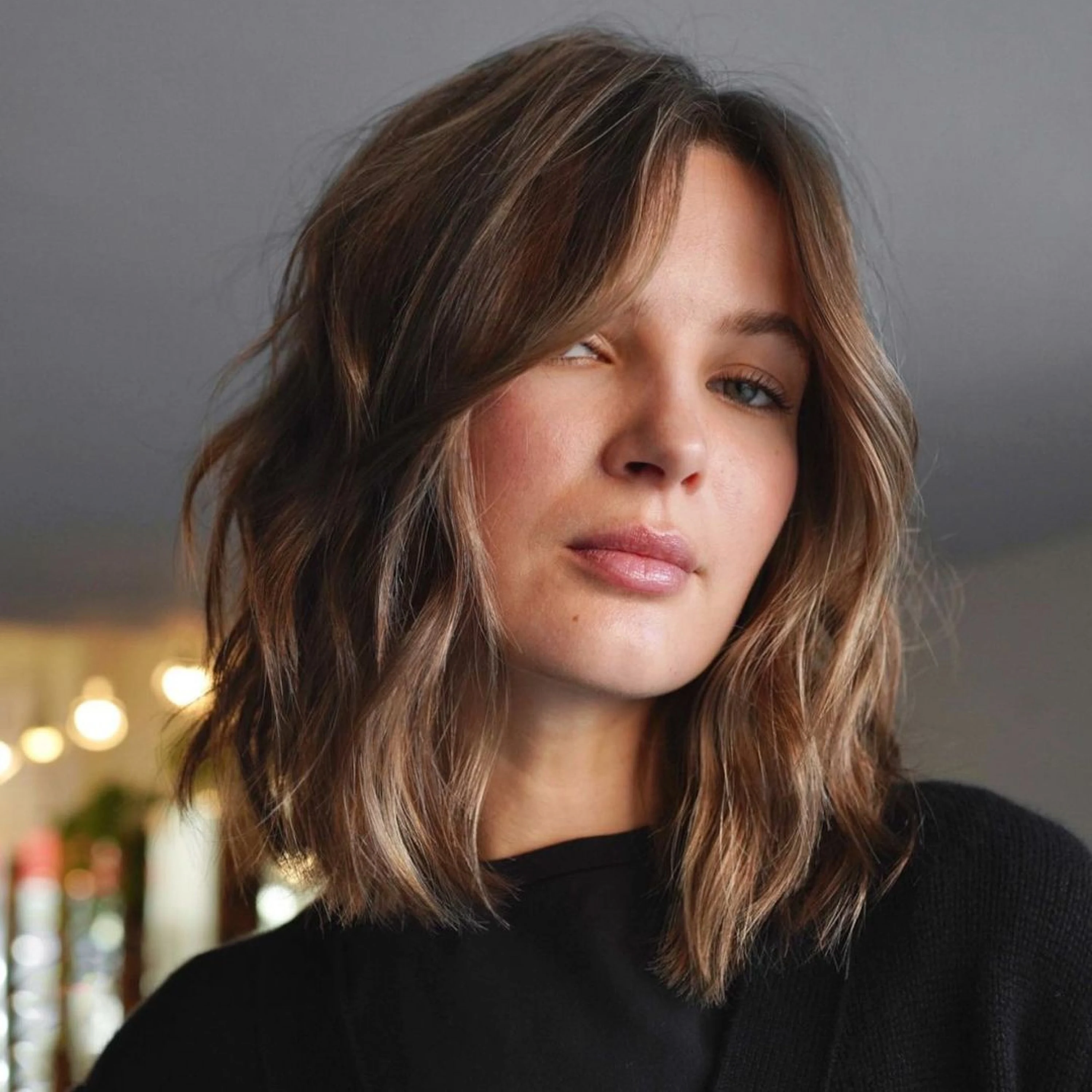 Wavy lobs, how much do we love them? Combined with subtle layers, long face-framing bangs and natural-looking highlights, this is a go-to style that will work on everyone.
22. Shaggy Bob With Bangs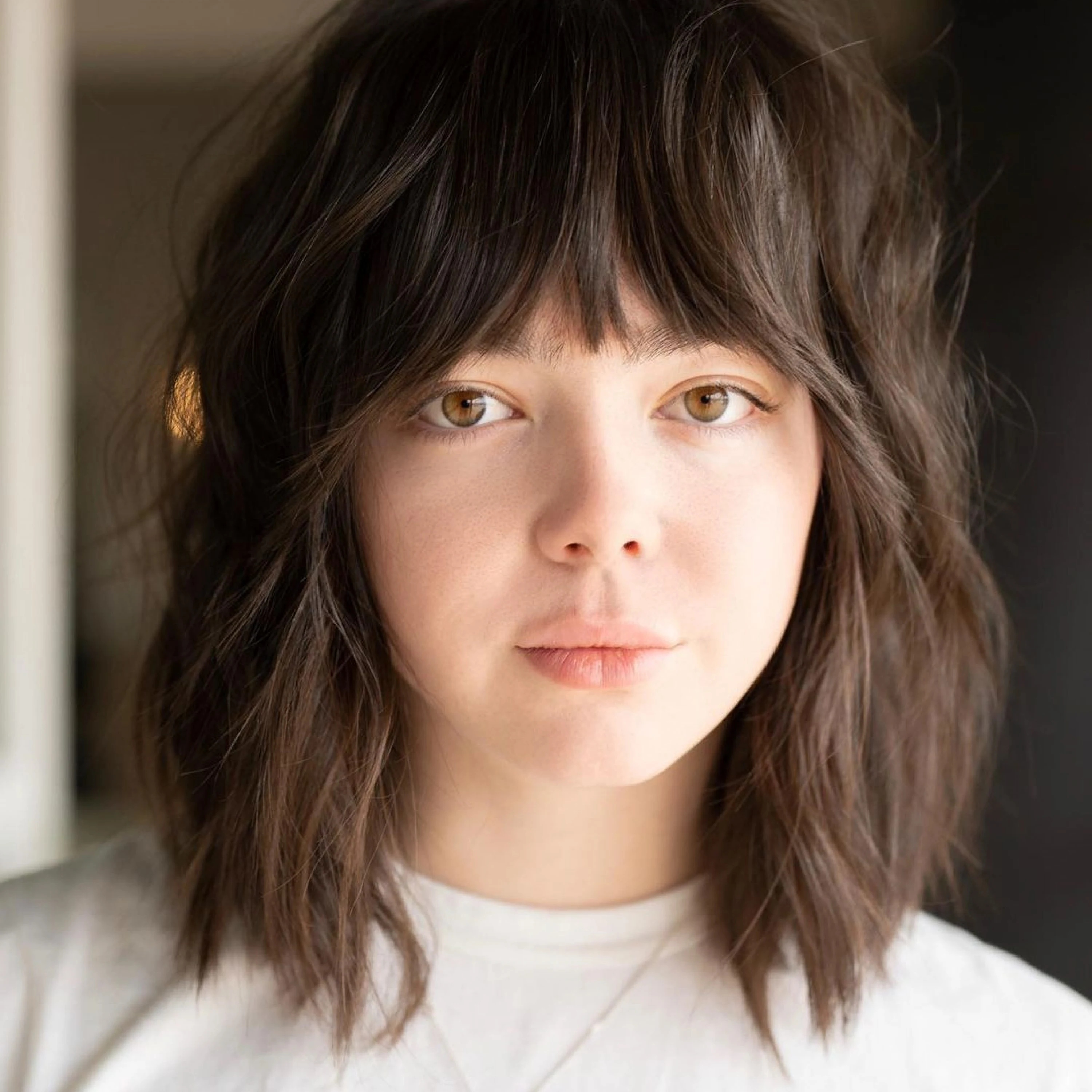 Choppy, textured ends and tousled styling look carefree. The bottleneck bangs that blend into the sides add a cute touch while also helping shorten the face.
23. Long Layered Bob With Bangs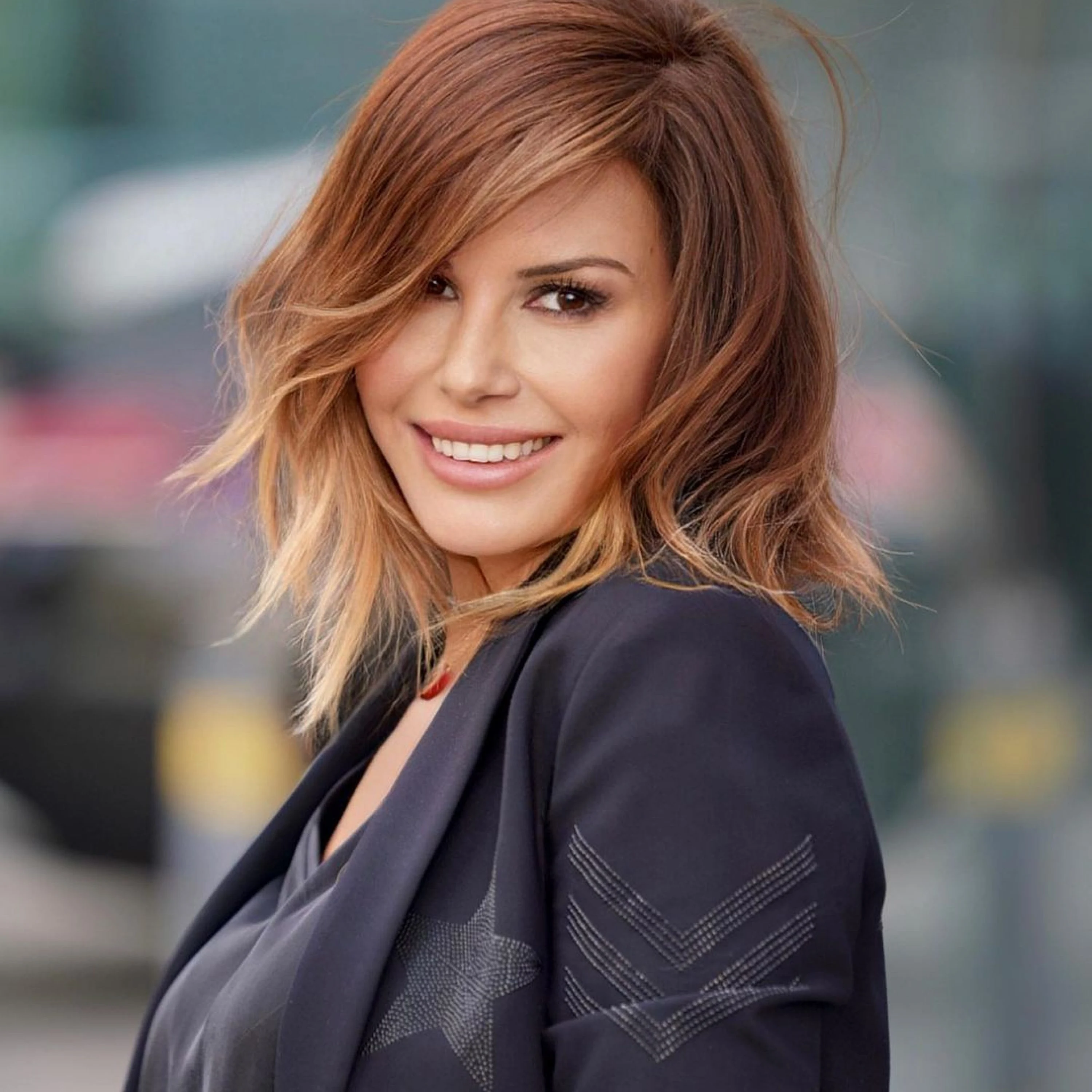 This long bob looks breezy thanks to layers and long, side-swept bangs, and it's voluptuous because of the volume at the crown and flippy ends.
24. Jaw Length Choppy Bob With Bangs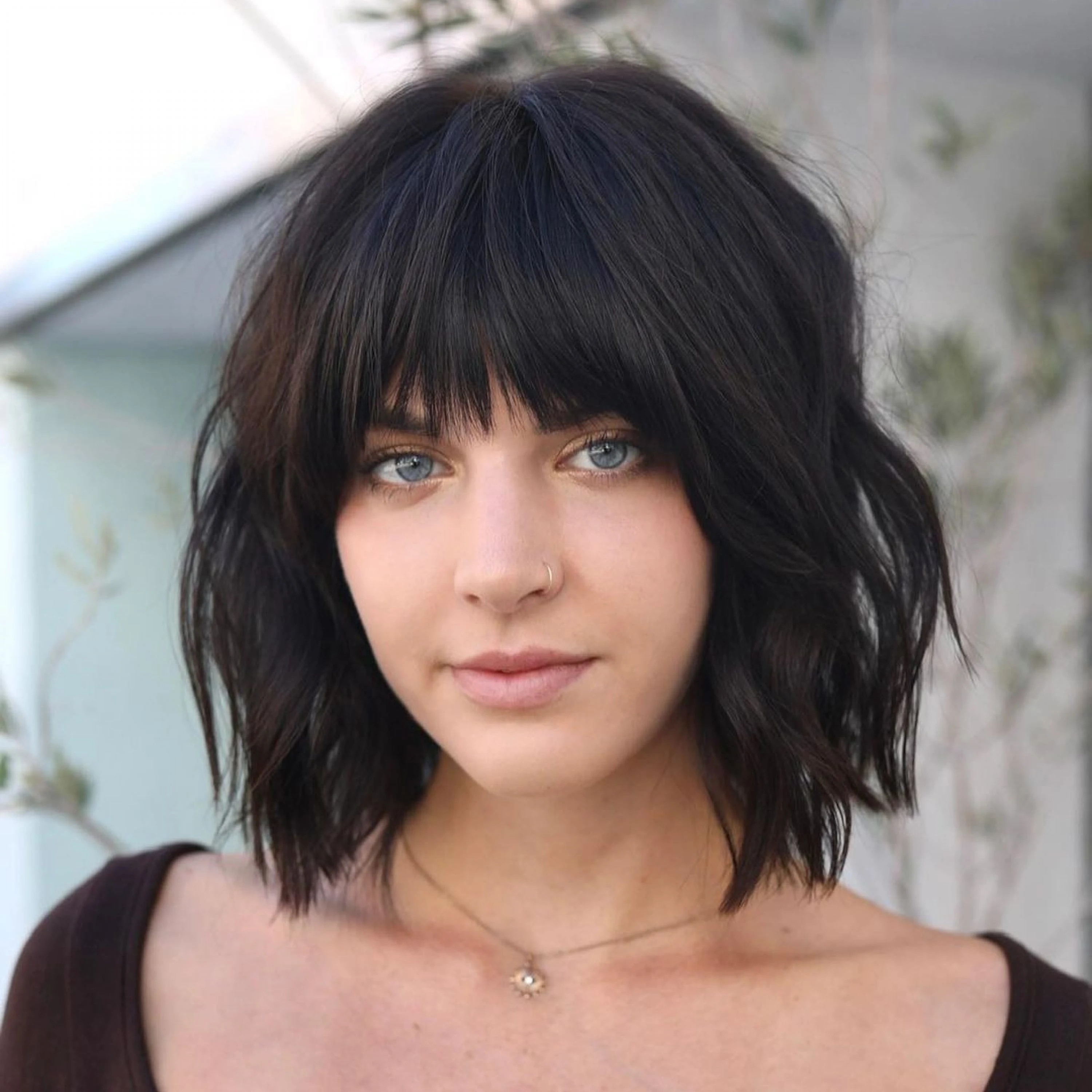 A shoulder-length bob styled wavy and textured leaves a completely different impression depending on the type of bangs you choose. This short, full fringe makes it totally adorable!
25. Layered A-Line Haircut With Bangs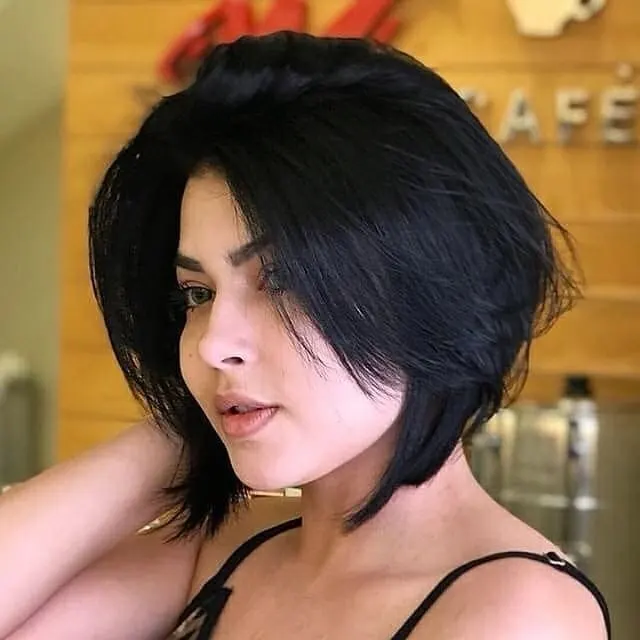 A-line bobs can look severe, so if that's not your vibe, add some bangs to yours to create a flowy and flirty style full of movement.
26. Long Bob With Layers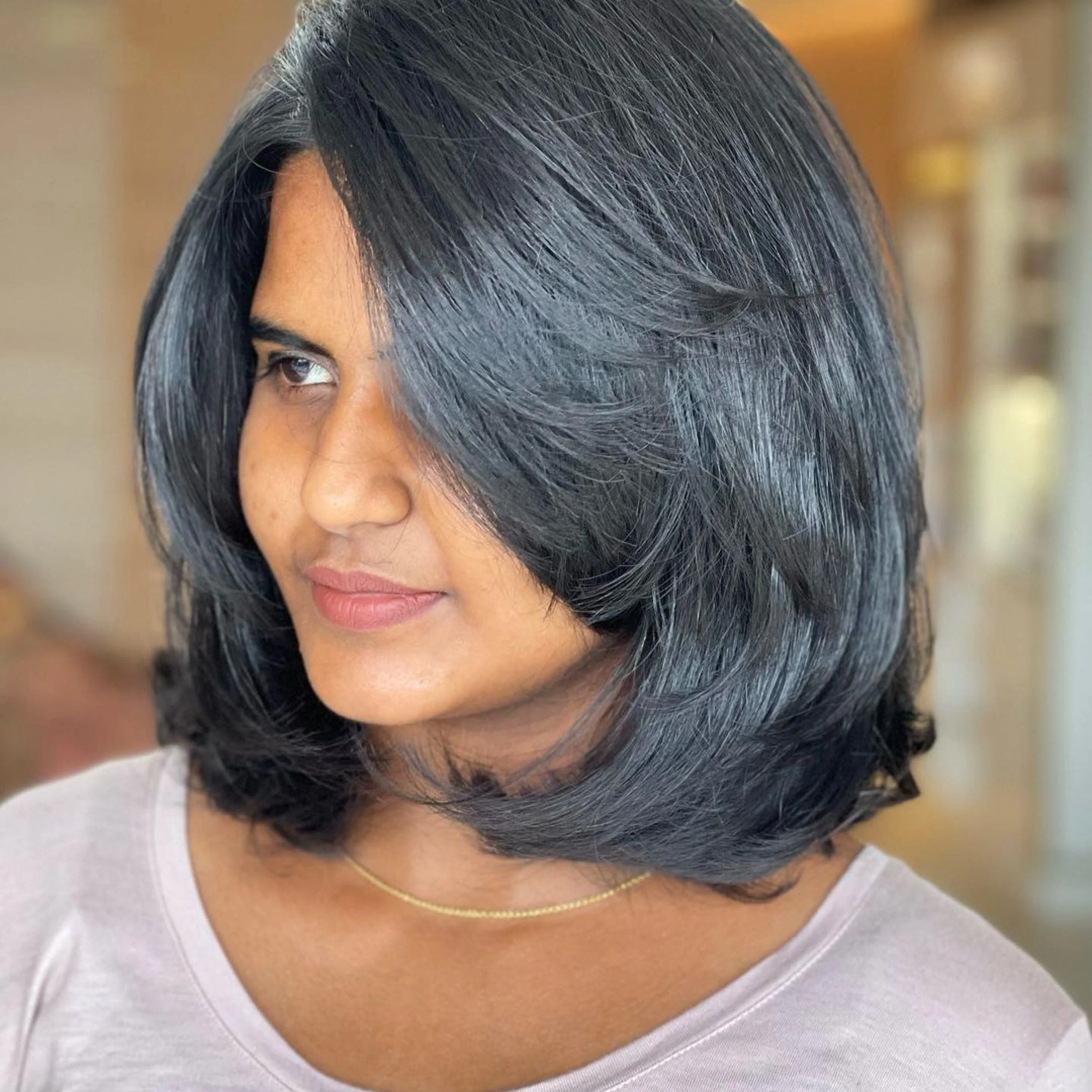 A relaxed lob with long bangs can be styled wavy or straight to achieve different looks. Rounded ends and a sleek blowout create a luxurious finish meant to show off your tresses.
27. Short Layered Bob With Wispy Bangs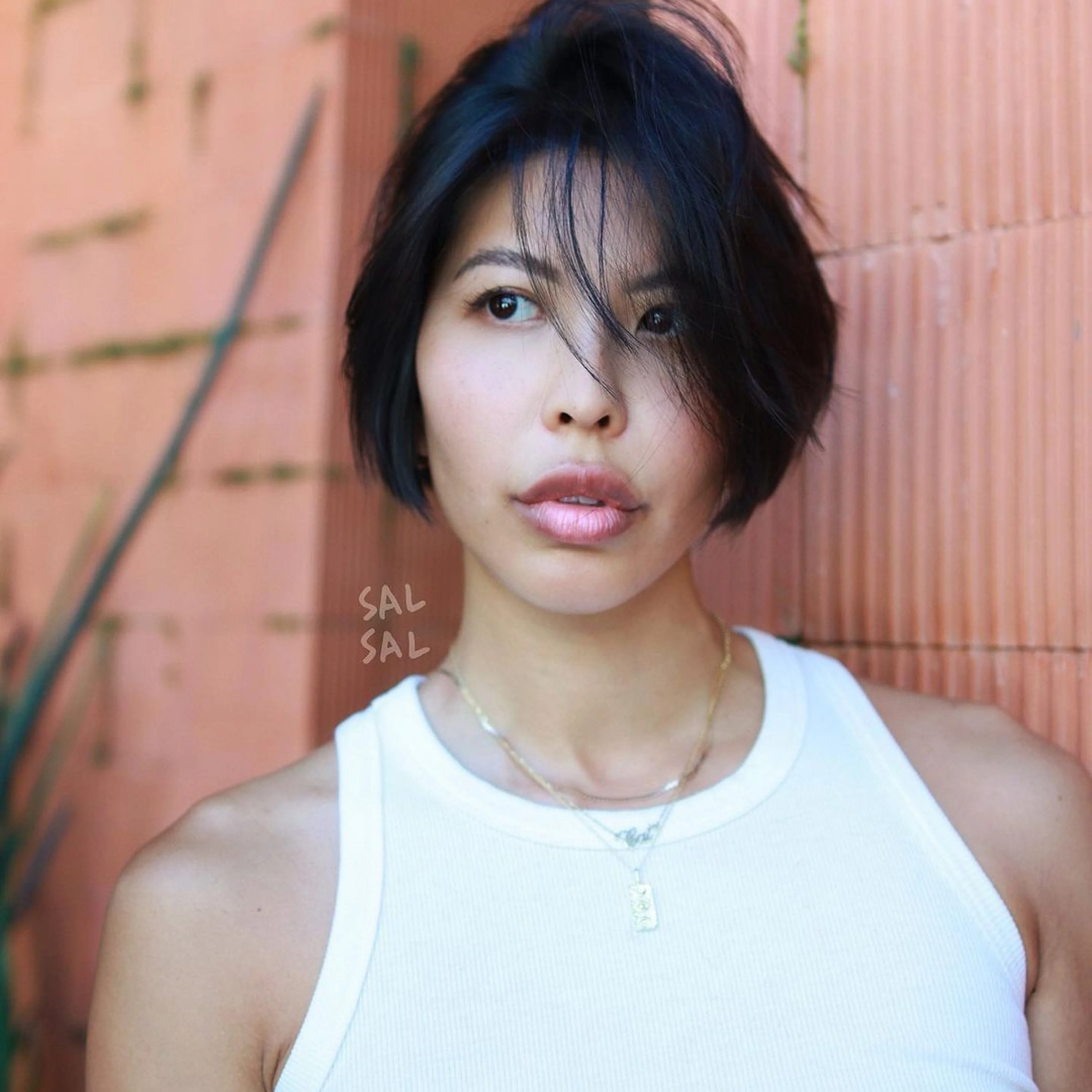 This short layered bob is perfect for those who like their hair to frame the face but can't be bothered with styling that takes a long time.
28. Fine Hair French Bob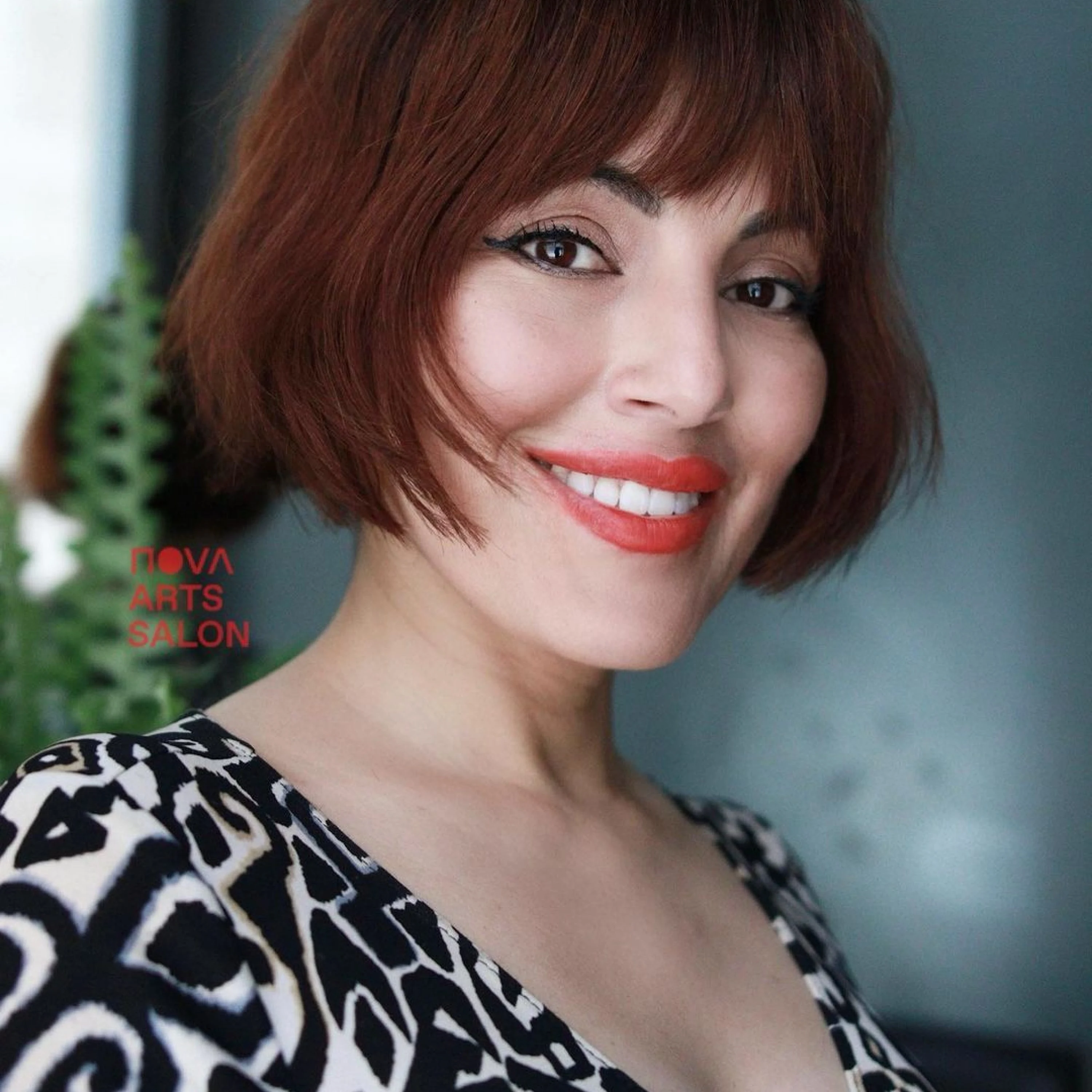 The secret to a voluminous French bob is layers—they create lift and movement and help the bangs blend in, resulting in a cute and effortless look.
29. Layered Long Bob Haircut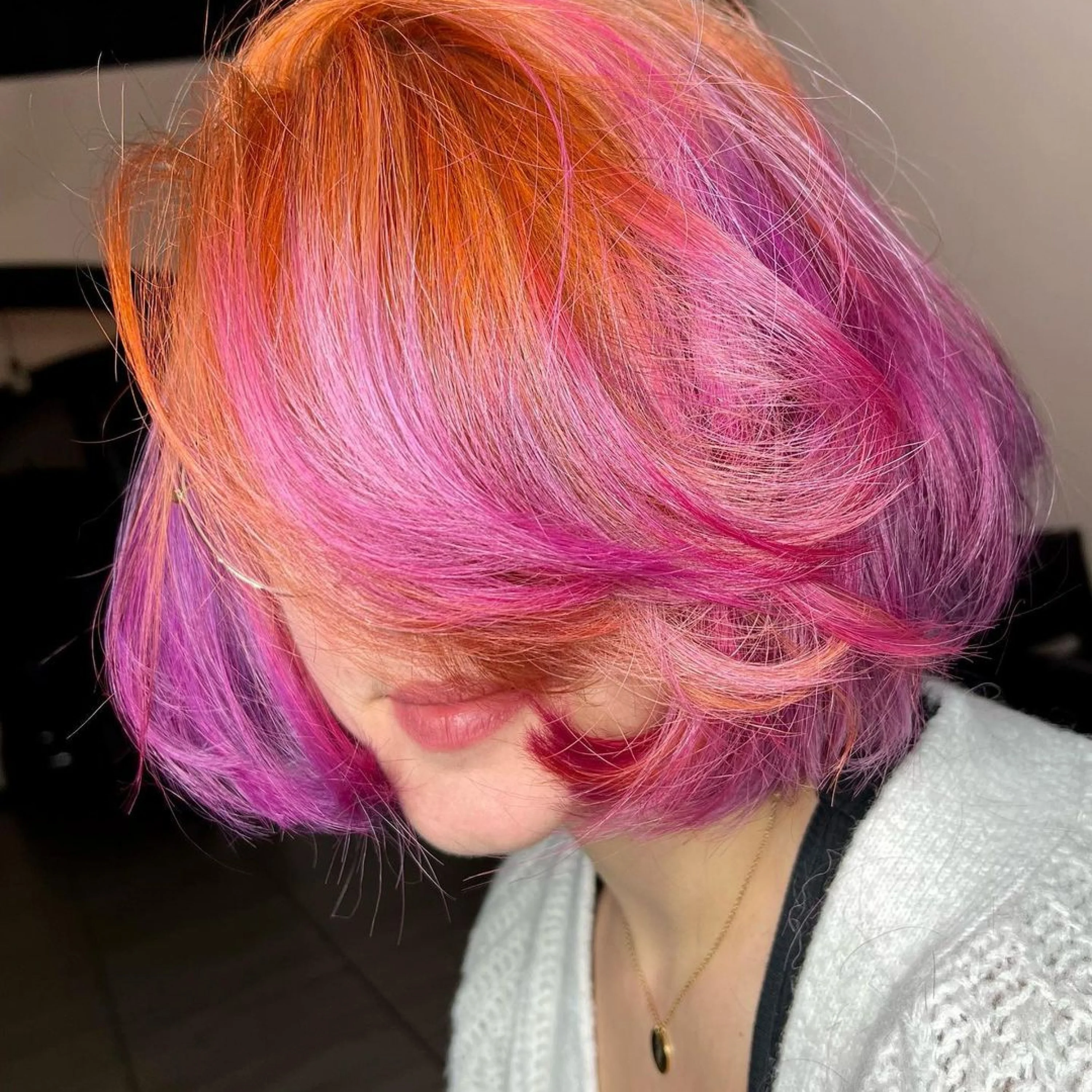 If you prefer to keep the ends full, adding subtle layers will prevent them from looking too thick and weighing your whole style down. Long bangs have the same effect and fit perfectly with this style.
30. Curly Long Bob With Bangs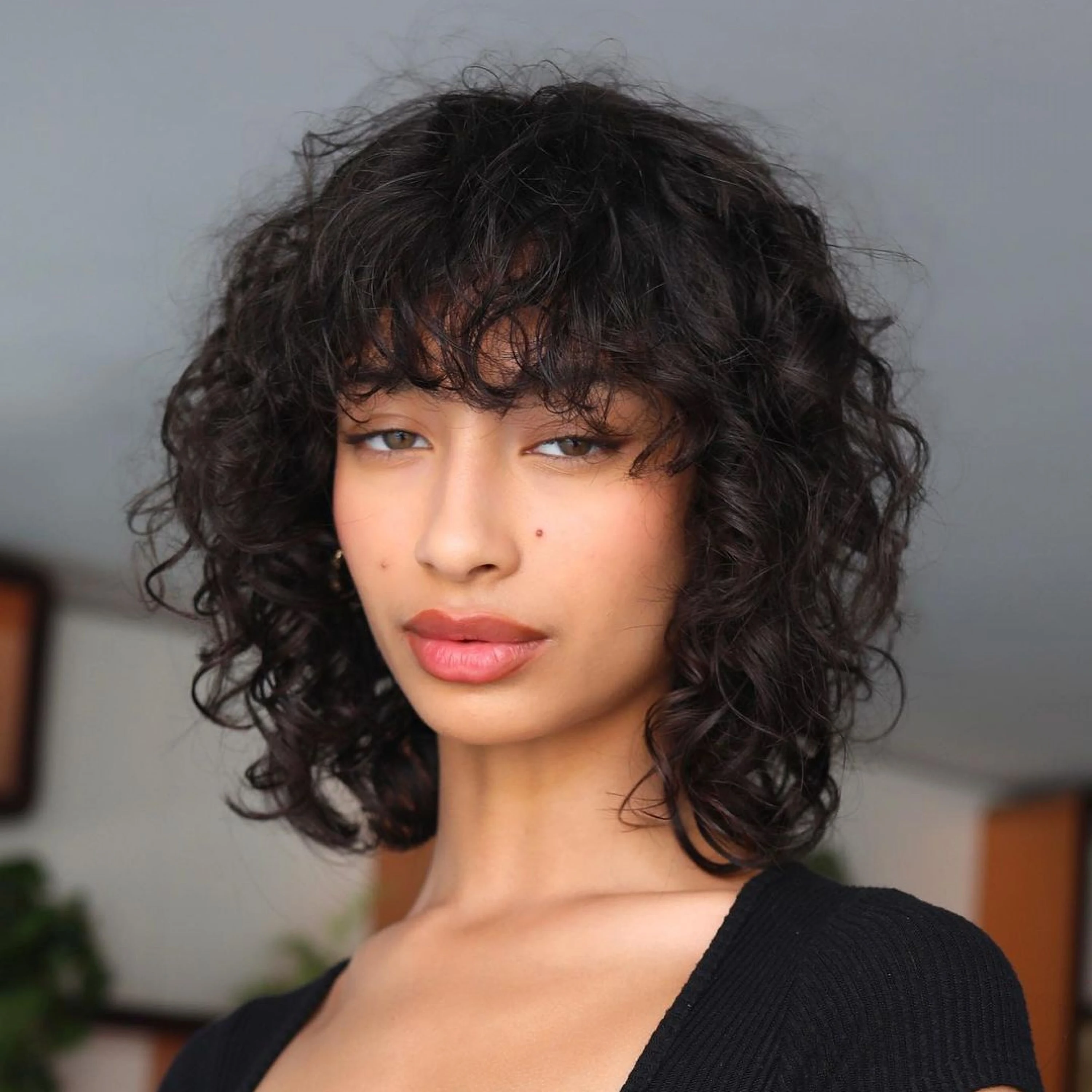 This long curly bob has been shaped to perfection—every strand is exactly where it's supposed to be to achieve a flawless shape and the short bangs add the final touch.
31. Fine Hair Layered Bob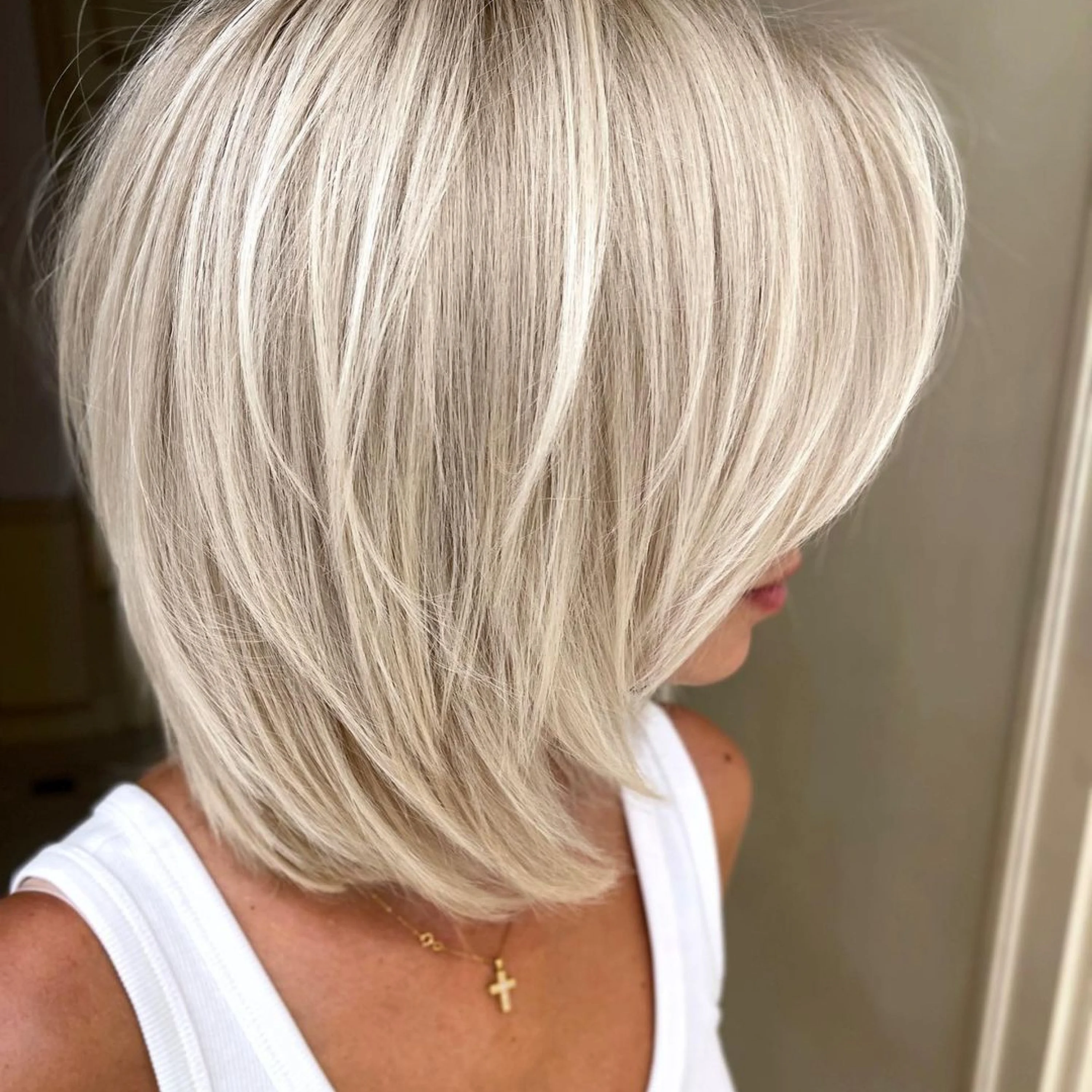 A long stacked bob is the way to go if you want dimension without weight. Long bangs round up the look for a polished finish.
32. Chin Length Layered Bob With Bangs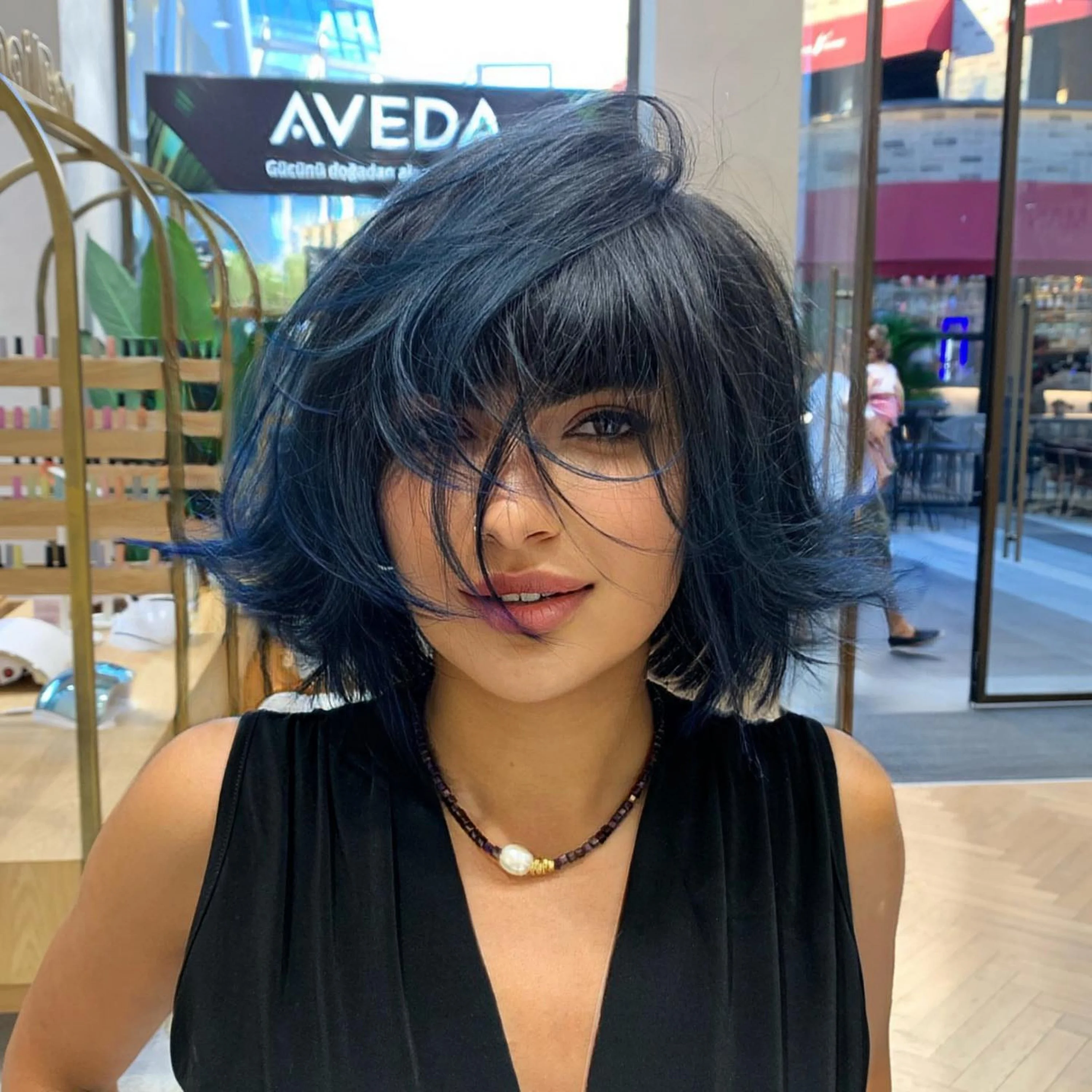 It might seem like layers are completely absent from this cut and, if it were styled neat, it would be completely flat. In reality, it's the delicate, wispy layers that create softness and this bob is always full of movement.
33. Textured Bob Haircut With Bangs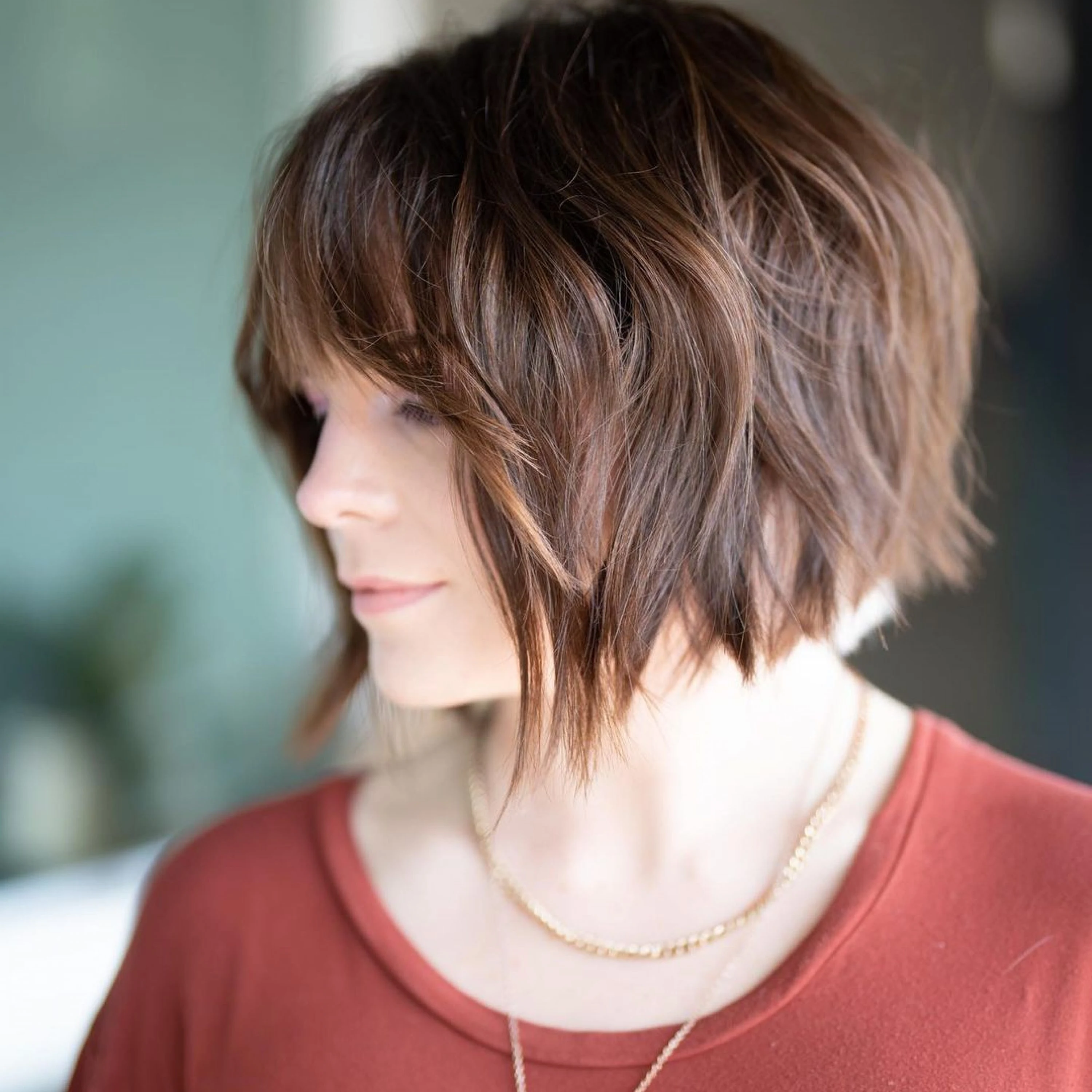 The slight angle gives an edge to this textured bob, while the layers in the back add dimension. The bangs are versatile enough to wear straight or flipped outwards.
34. Graduated Bob With Long Bangs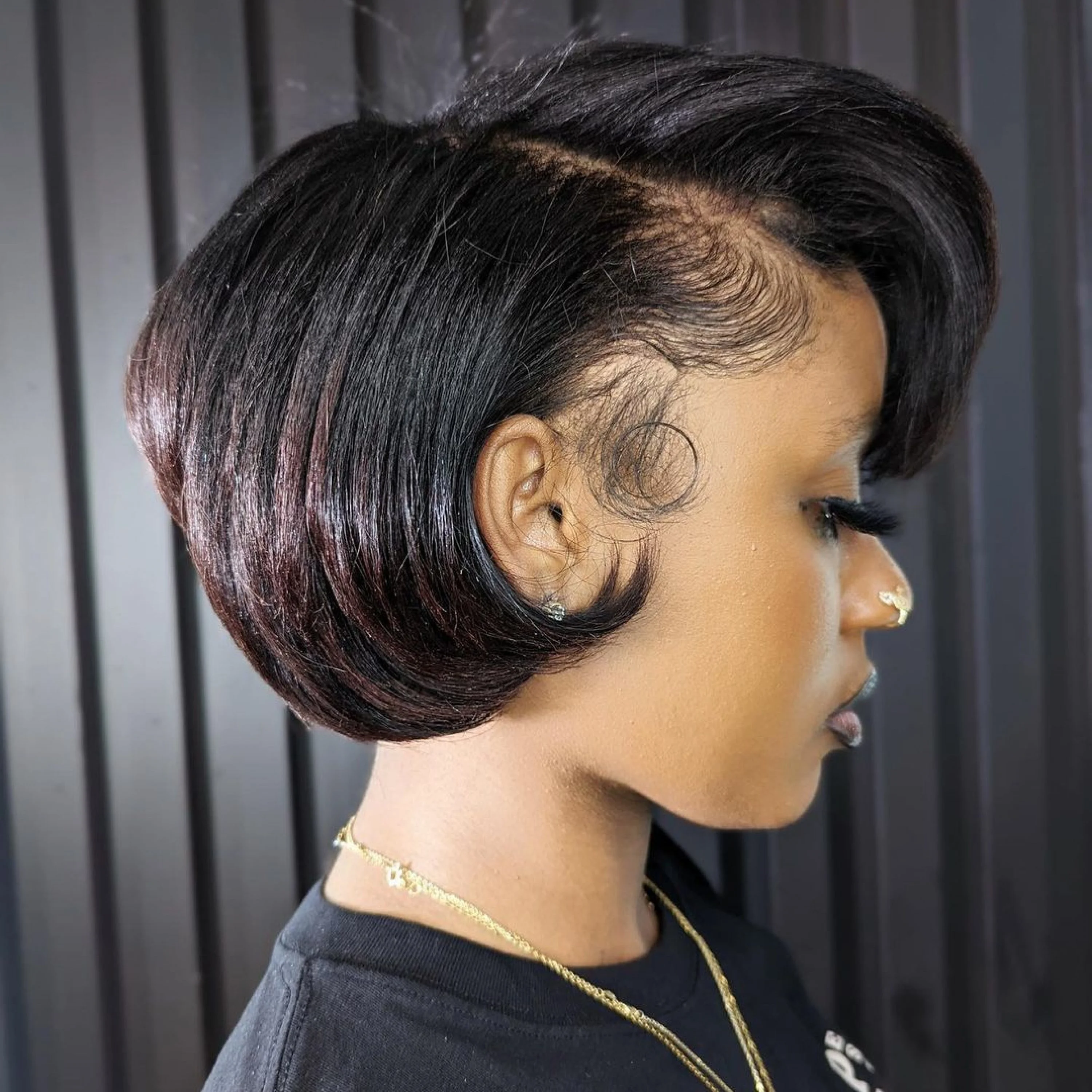 A graduated bob is a guaranteed way to create dimension in the back and lift on top. Dramatic long bangs give this look a flirty vibe.
35. Thick Hair Layered Bob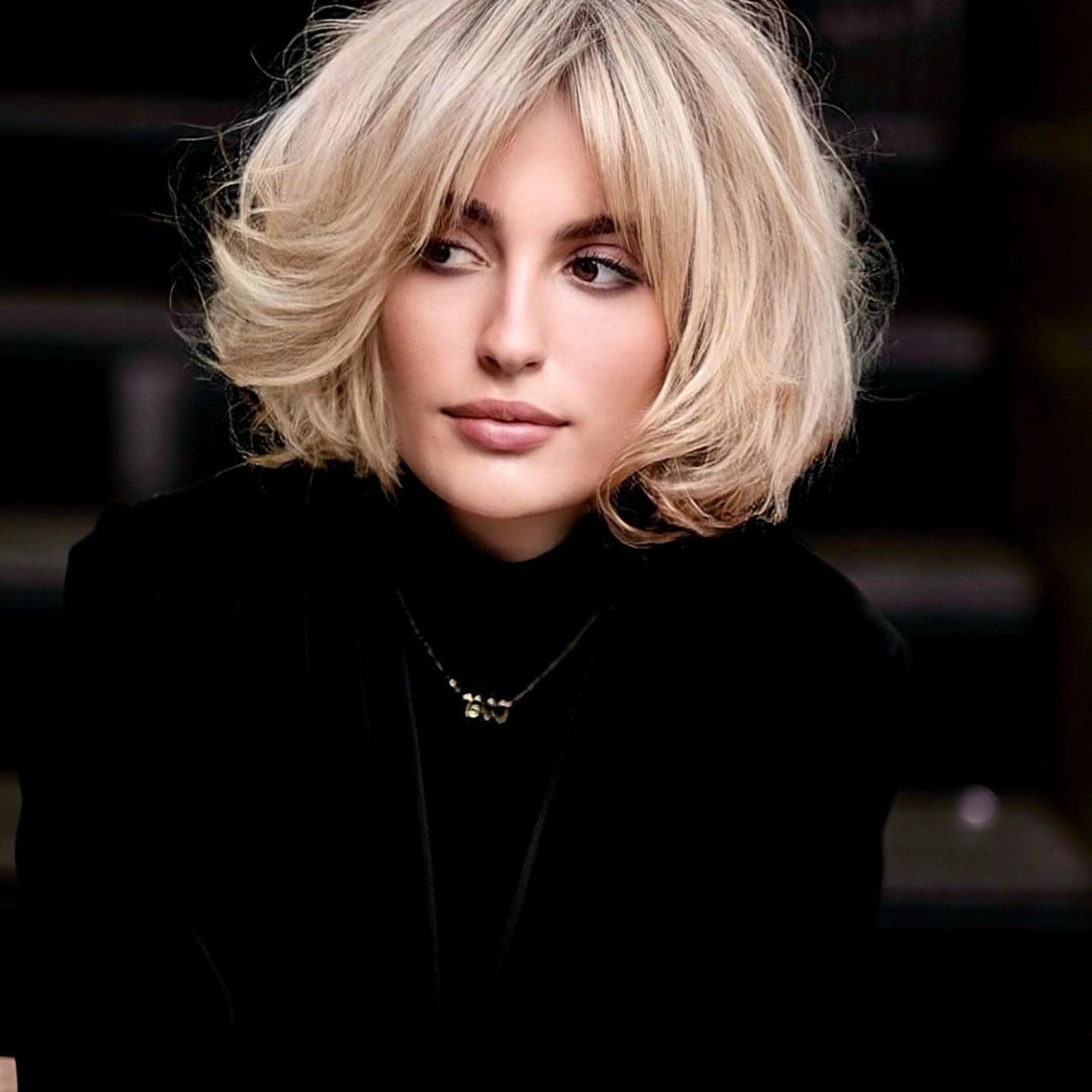 Messy styling is used to achieve a sexy bedhead look. Short bangs help create the halo effect around the head to create a style reminiscent of the divas of the past.
36. Inverted Bob With Layers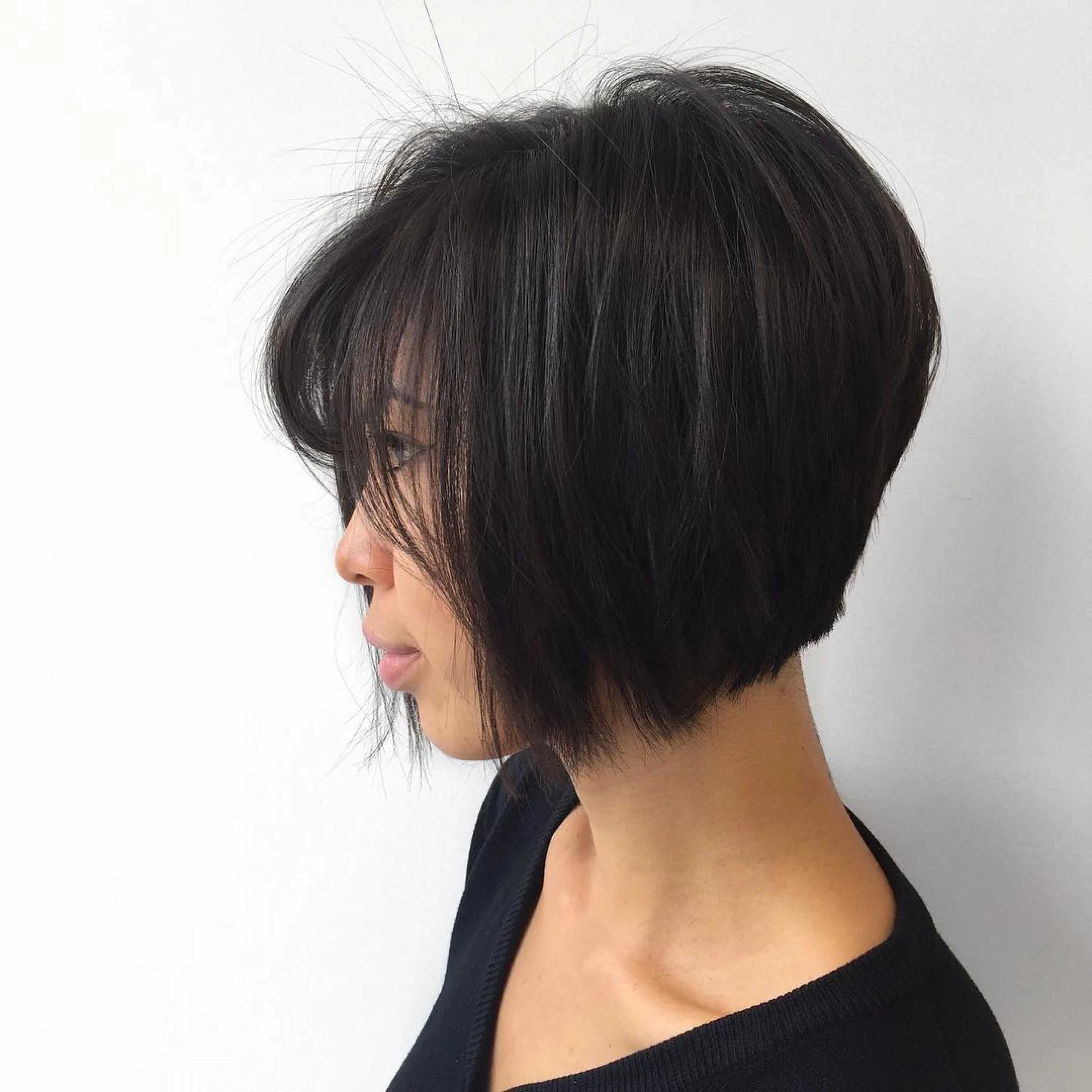 To prevent your inverted bob from looking frumpy and instead achieve a modern look, style it straight instead of round and let the layers at the top have all the movement.
37. Inverted Bob With Bangs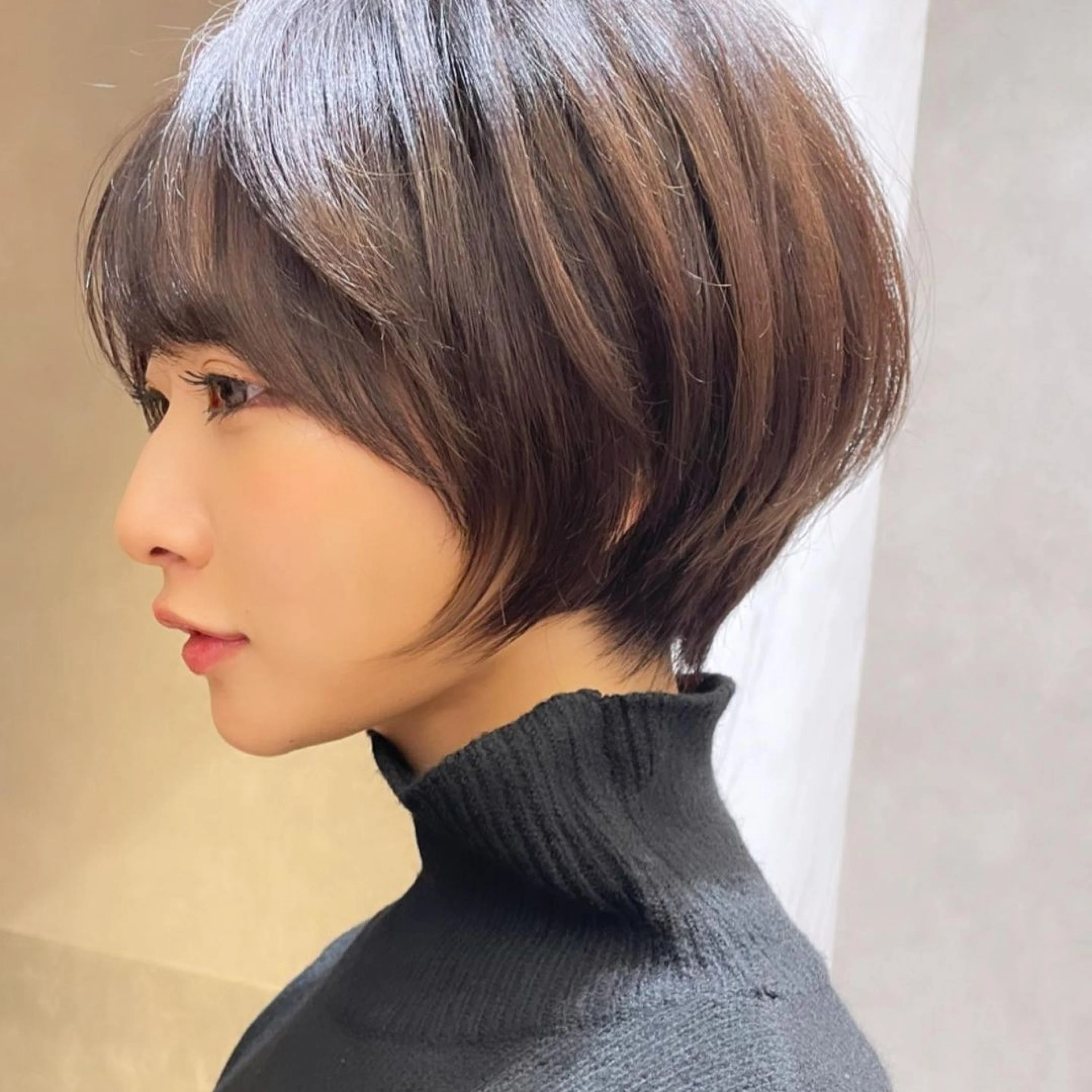 This short rounded bob draws attention to the jawline and it's best suited to oval, round and heart-shaped faces. If your face is square, keep it a little longer, and you're good to go!
38. Layered Bob Haircut With Bangs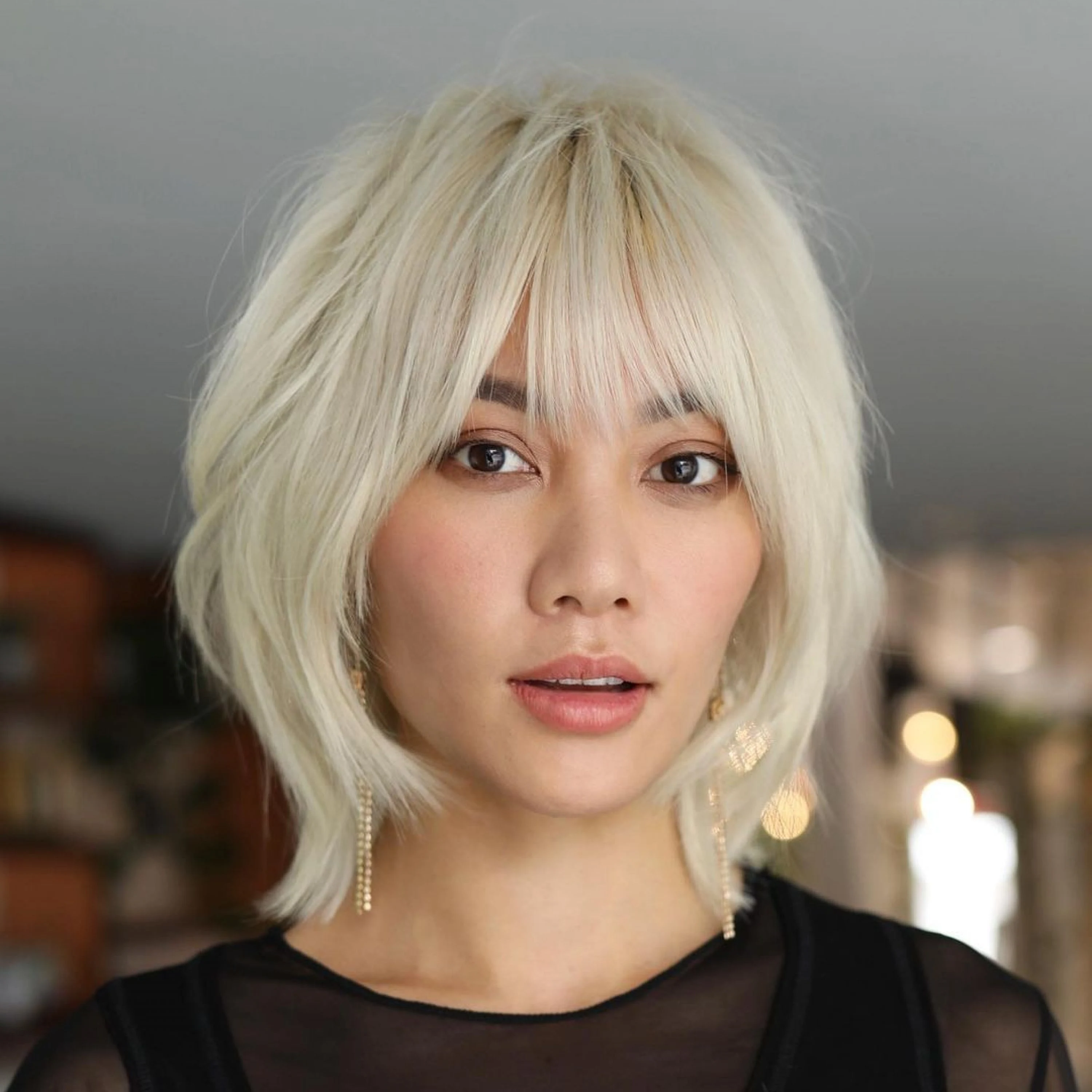 If you need a change and don't know what to choose, this is the style of the moment. This ultra-trendy layered bob with bottleneck bangs looks cool, but it's also flattering on nearly everyone.
39. Short Wavy Bob With Bangs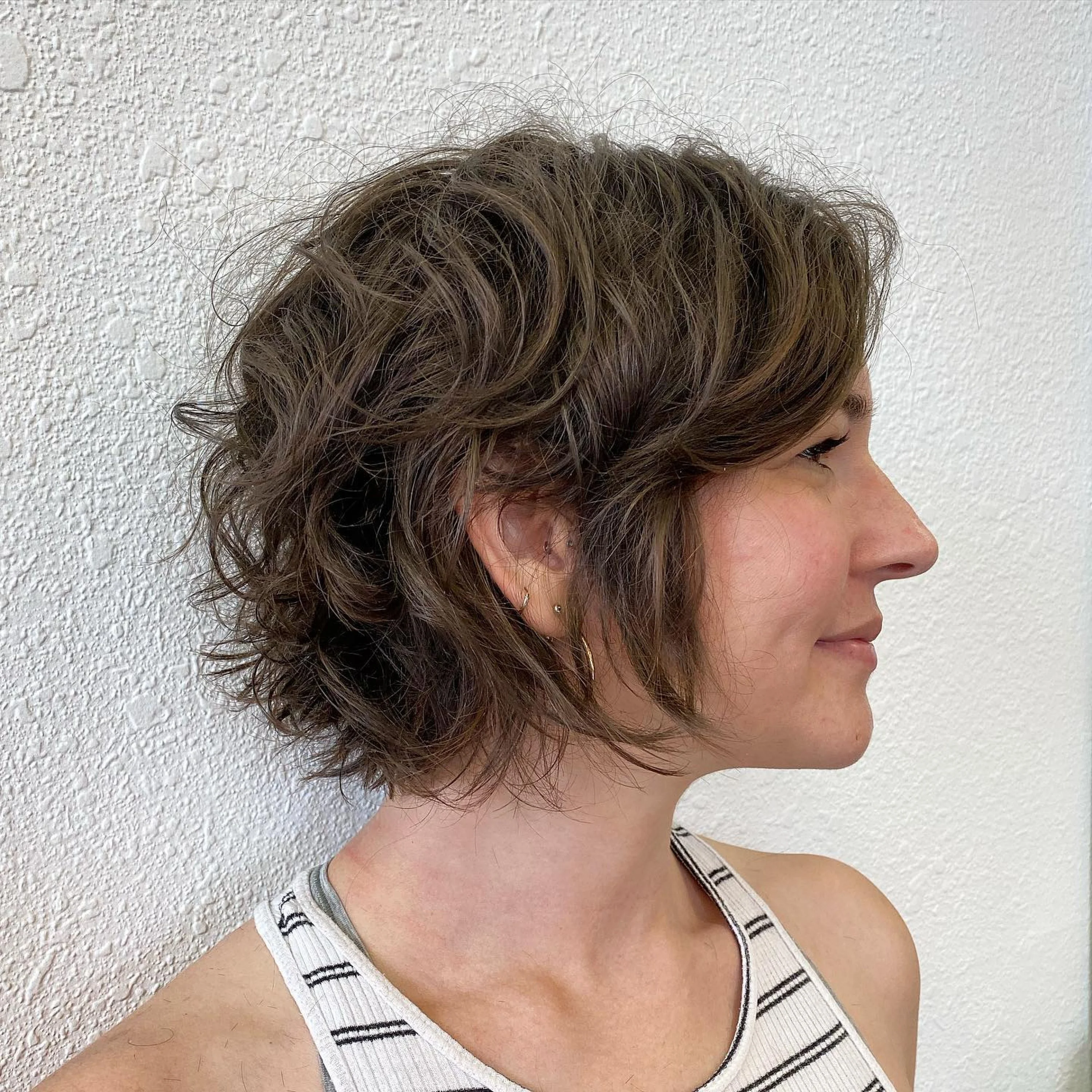 Beachy look on short hair? It's possible! This chin-length layered bob with bangs really looks as effortless as if you've been playing in the sea all day—that's to say, it looks awesome!
40. Short Inverted Bob Haircut With Bangs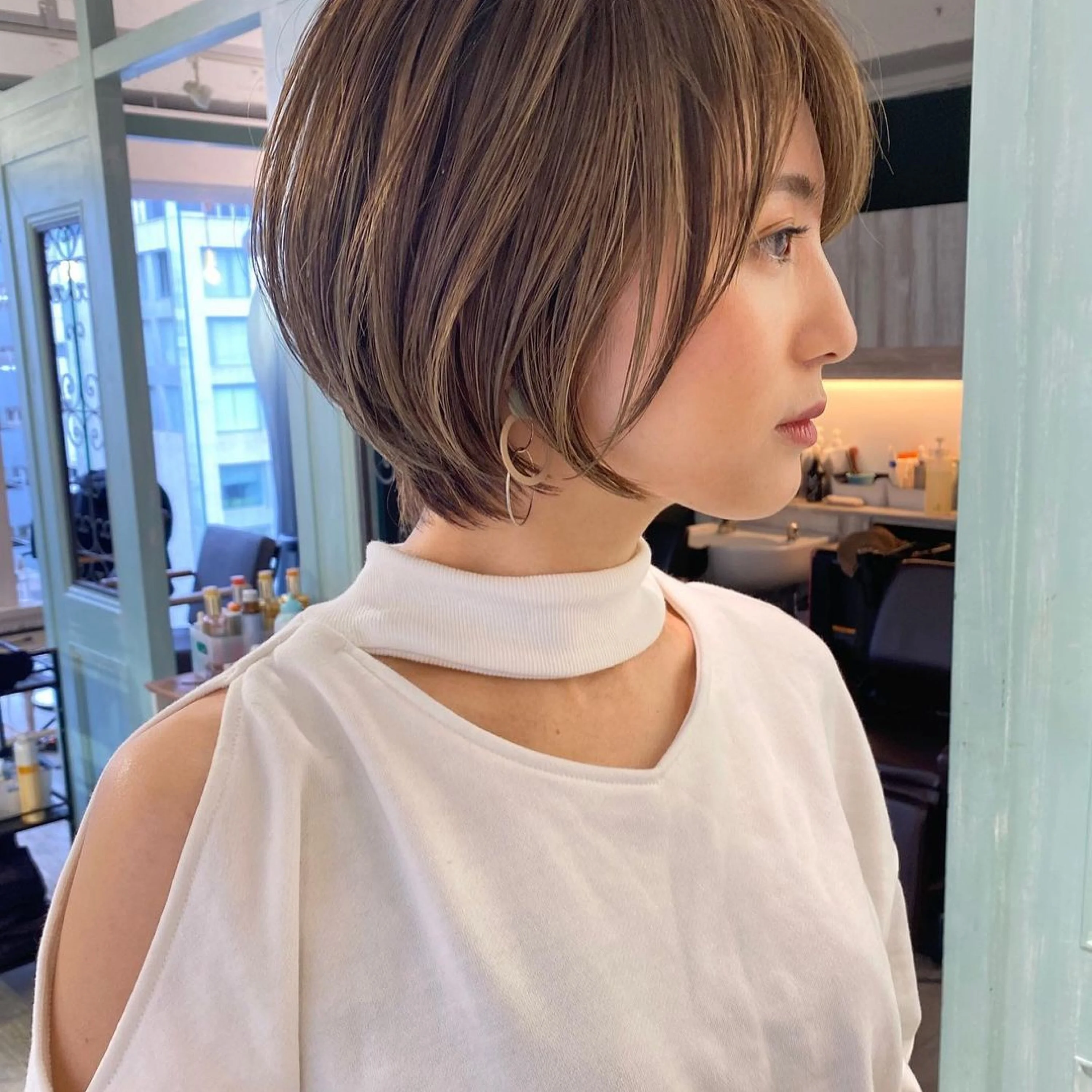 This neat and lightweight inverted bob with bangs looks sophisticated, but it can also be playful if you change up your styling. Long layers create dimension without taking out too much weight, so it's great for those with thinner hair.
41. Edgy Layered Bob Haircut With Bangs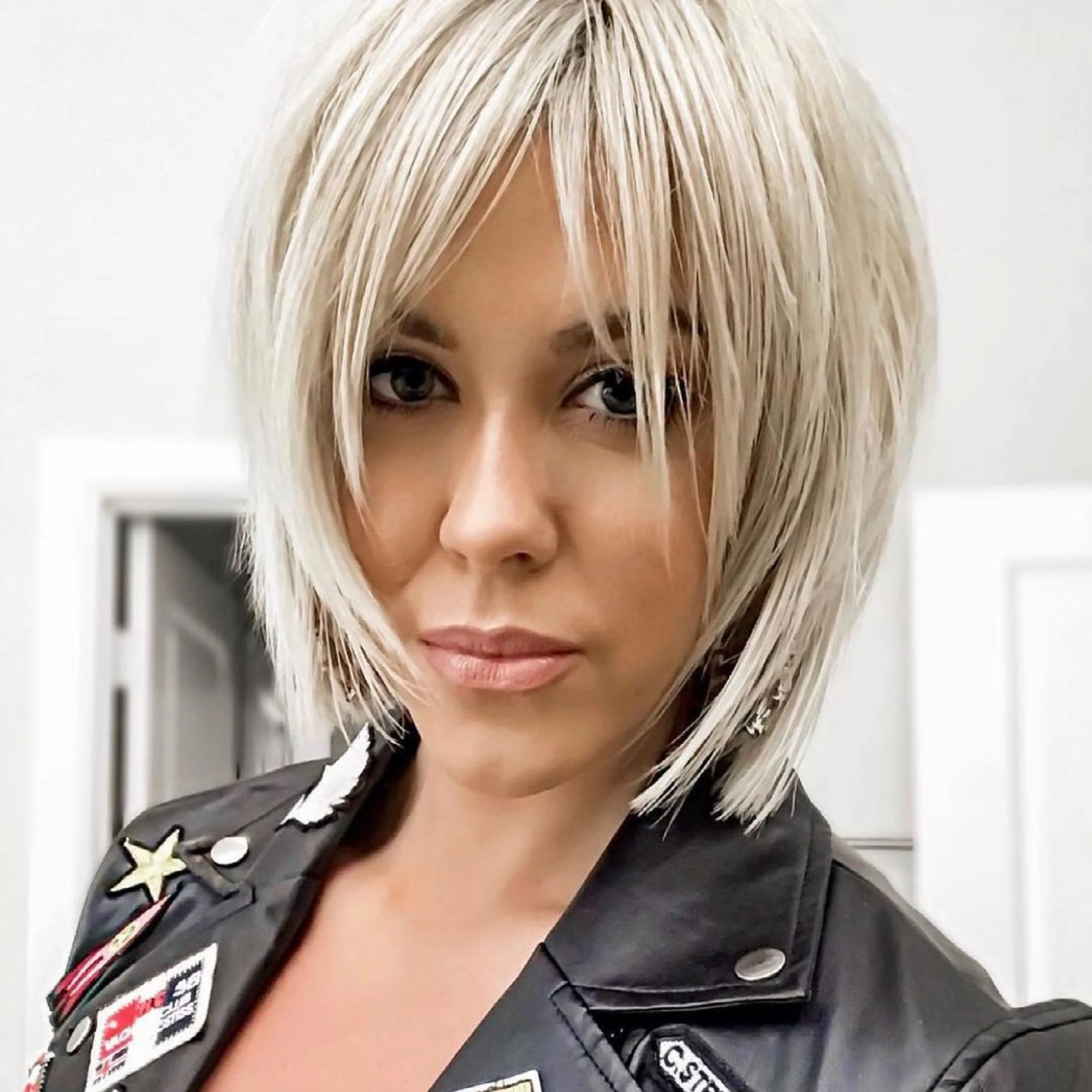 This edgy layered look can be straightened like in the picture or worn messier for an even more rebellious look.
42. Stacked Bob With Bangs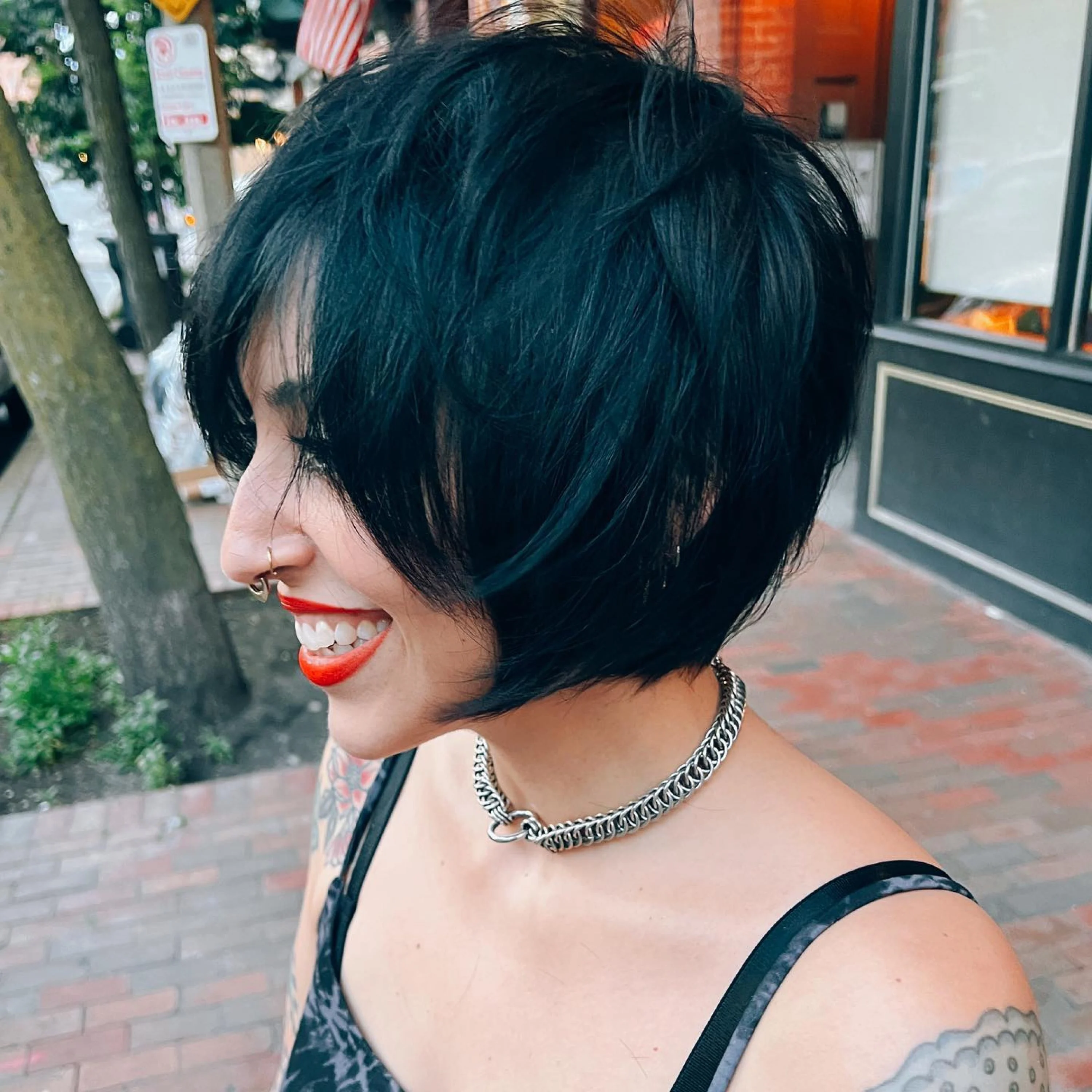 Texture and messy styling give this cut a lived-in feel while also creating visual interest. A twist on the classic bob with bangs, it's a good look to try if you want something different.
43. Curly Bob Haircut With Bangs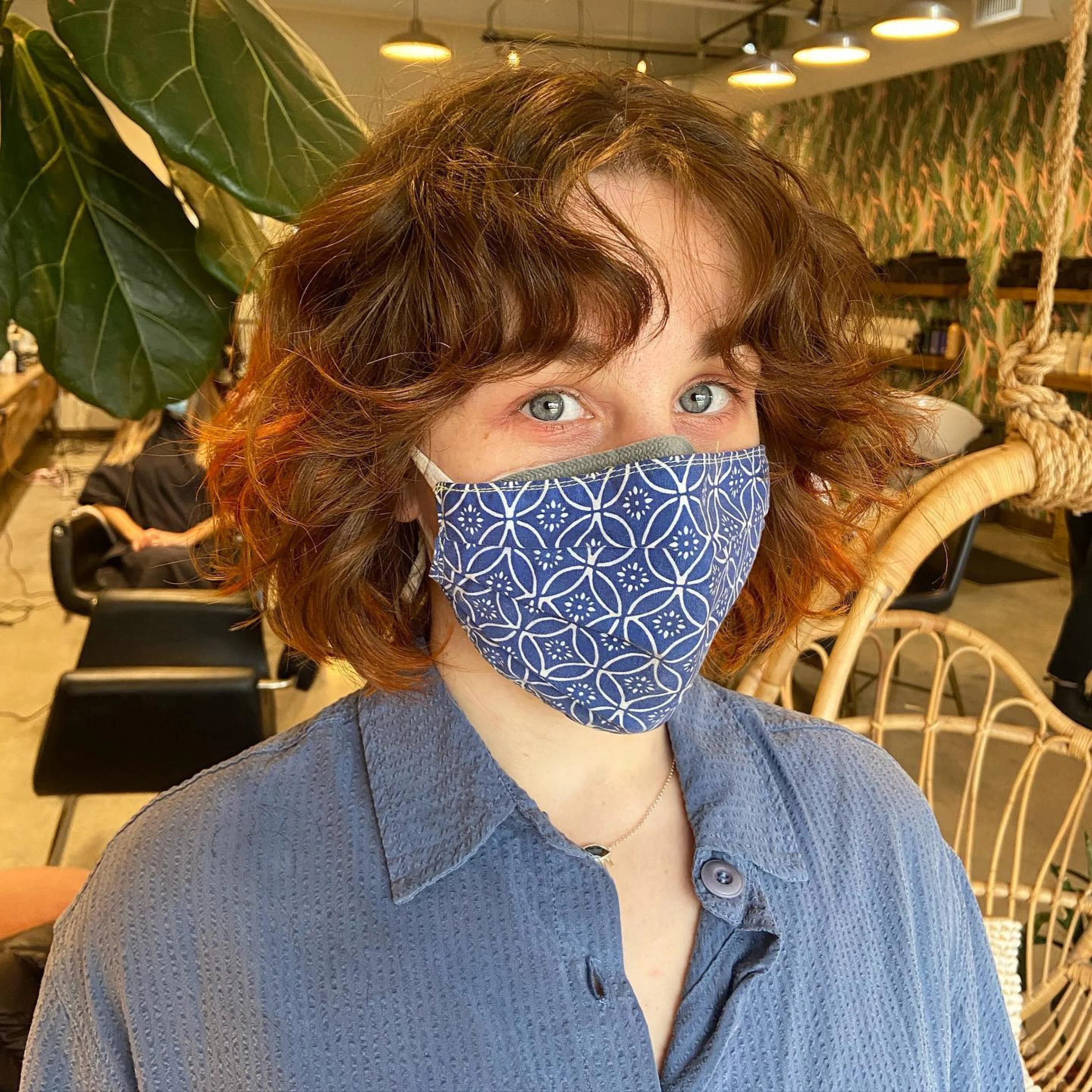 When curly hair is cut well, it's much easier to style without compromising the curls. For this layered style, as long as you choose the right products, you can air-dry it with great results.
Layer It On
As you've seen, adding bangs and layers to a bob can transform it in multiple ways. Nearly all styles can be adjusted to fit a face, so pick one that suits your style and gives out the same vibe you want to be associated with.