Blonde hair color is timeless and always finds its way in fashion trends. But why wouldn't it? Let's face it: who could resist it? I know I can't!
Shades Of Blonde Hair
Here's the ultimate collection of all the hues of blonde hair you should take into consideration before dyeing your hair. But what shade should you choose according to your complexion, age, skin undertone…? Let's face it: each of these hues is stunning and picking the most beautiful one seems impossible. Well, that's why I'm here: to give you a hand.
1. Platinum Blonde
Platinum blonde hair color is powerful, and it makes you look and feel more confident than ever. It doesn't have the typical blonde brightness and it doesn't have much yellow pigment in it. It is a cool, almost ashy hue with an almost white and silver look.
Even though all skin undertones can pull off a platinum blonde, this shade looks best on women with cool tones.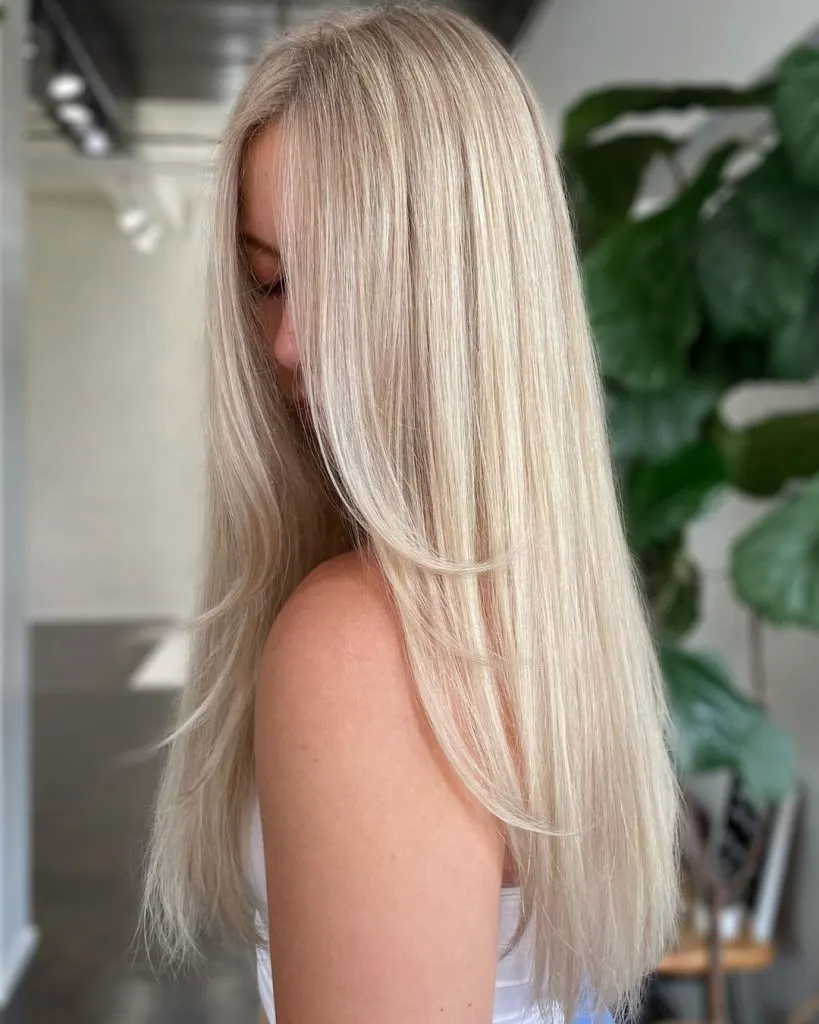 2. Blonde Highlights
If you're looking for a low-maintenance way to get blonde hair, blonde highlights should be your top choice. The best part about this style is that blonde highlights look amazing on almost all bases. They can brighten up your blonde hair, while blonde highlights on dark hair transform your entire look.
Will you go with babylights, chunky, 90's inspired highlights, face-framing highlights, a money piece? The choice is all yours.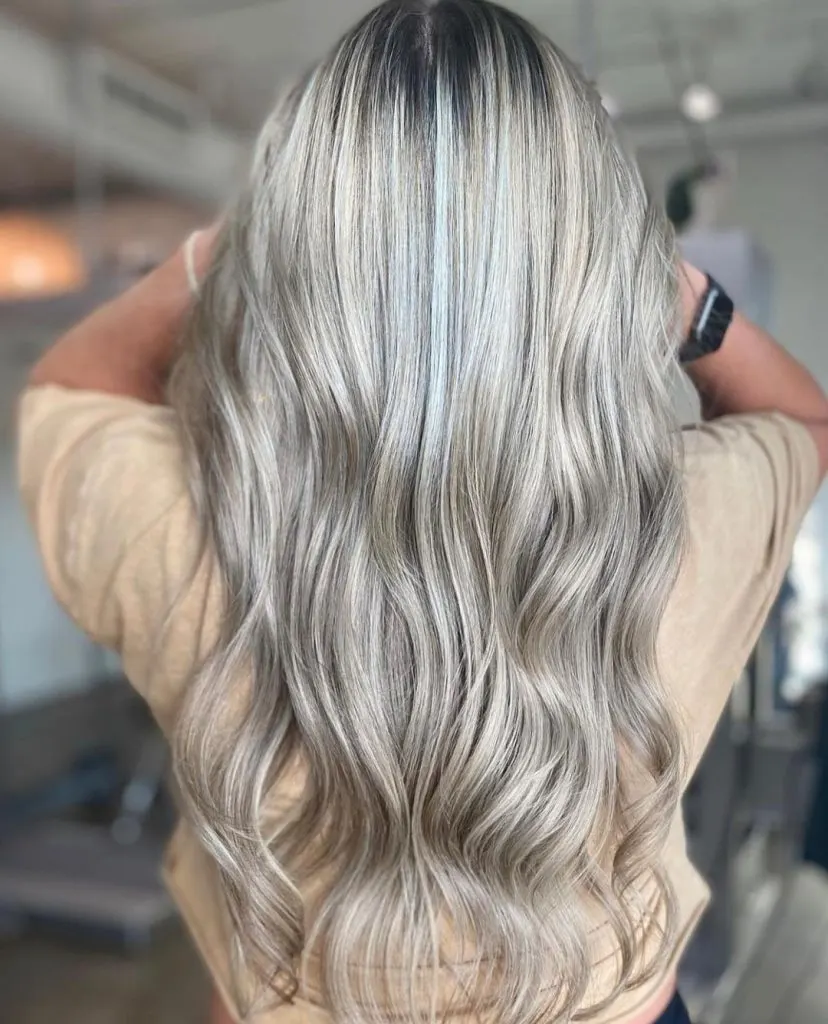 3. Dark Blonde
If you're still not sure whether blonde hair color is the right choice for you, I strongly recommend dark blonde. It's a low-maintenance color, and it's great for transition period. Also, it's one of the hues that will damage your tresses the least.
Dark blonde hair color looks best on ladies with warm skin undertones. You can dye your entire hair in this color, or go with highlights or balayage.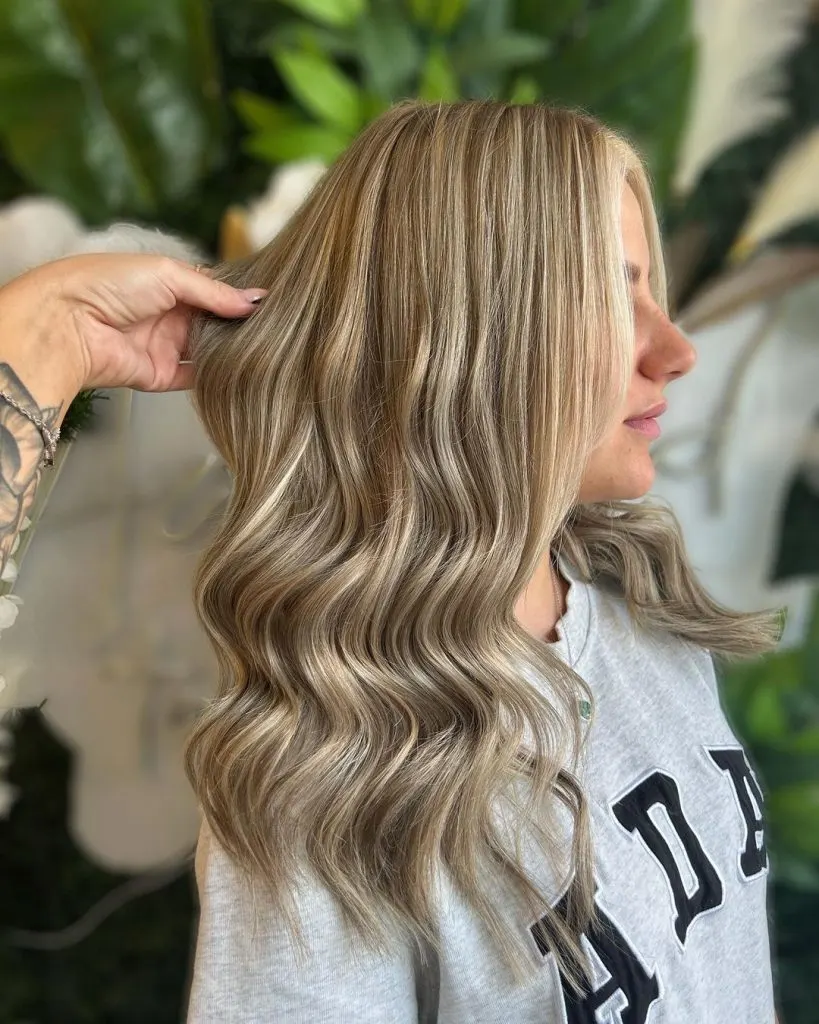 4. Ash Blonde
No, you don't have to be naturally gray to go for an ashy blonde hair color. It's a cool color that looks exceptionally good on ladies with fair and cool skin tones.
The best thing about ash blonde is its diversity. It can go from gray, dark or light ash blonde hues.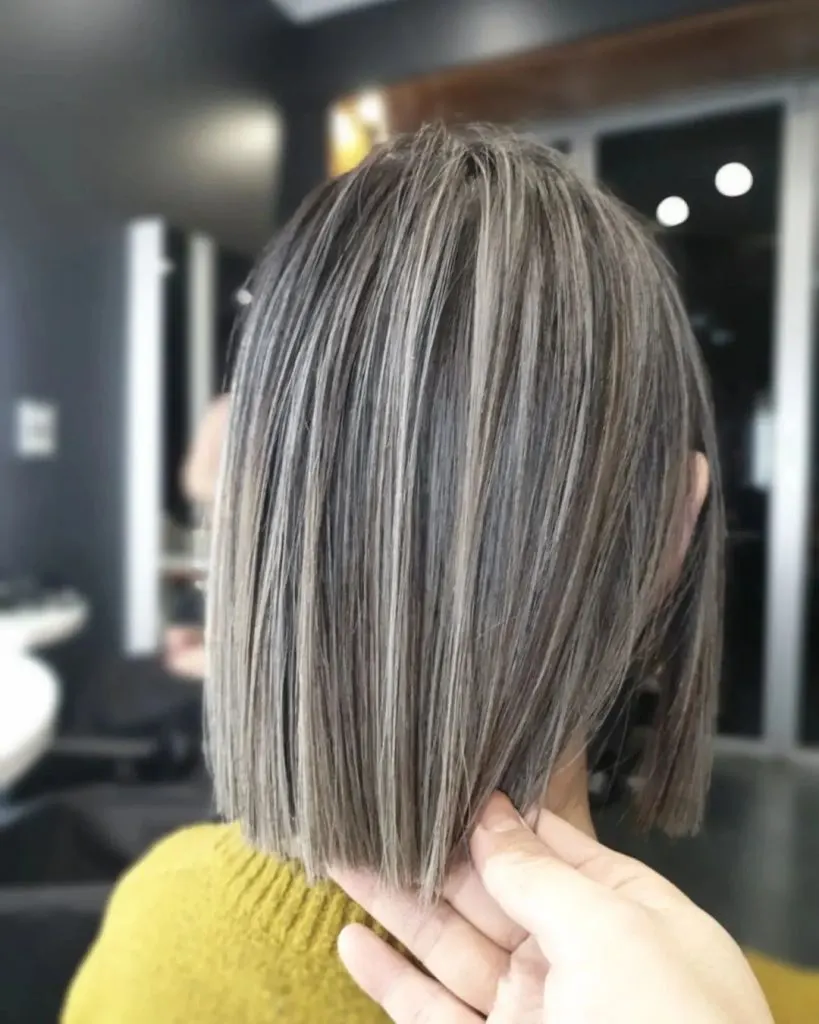 5. Dirty Blonde
Don't worry, we're still not done with low-maintenance blonde hair colors. Dirty blonde is definitely one of them since it requires minimum maintenance, especially if you're a natural brunette.
To be exact, dirty blonde combines brown, medium blonde, and wheat blonde tones. Therefore, it won't surprise you that it looks best on warm-skinned girlies.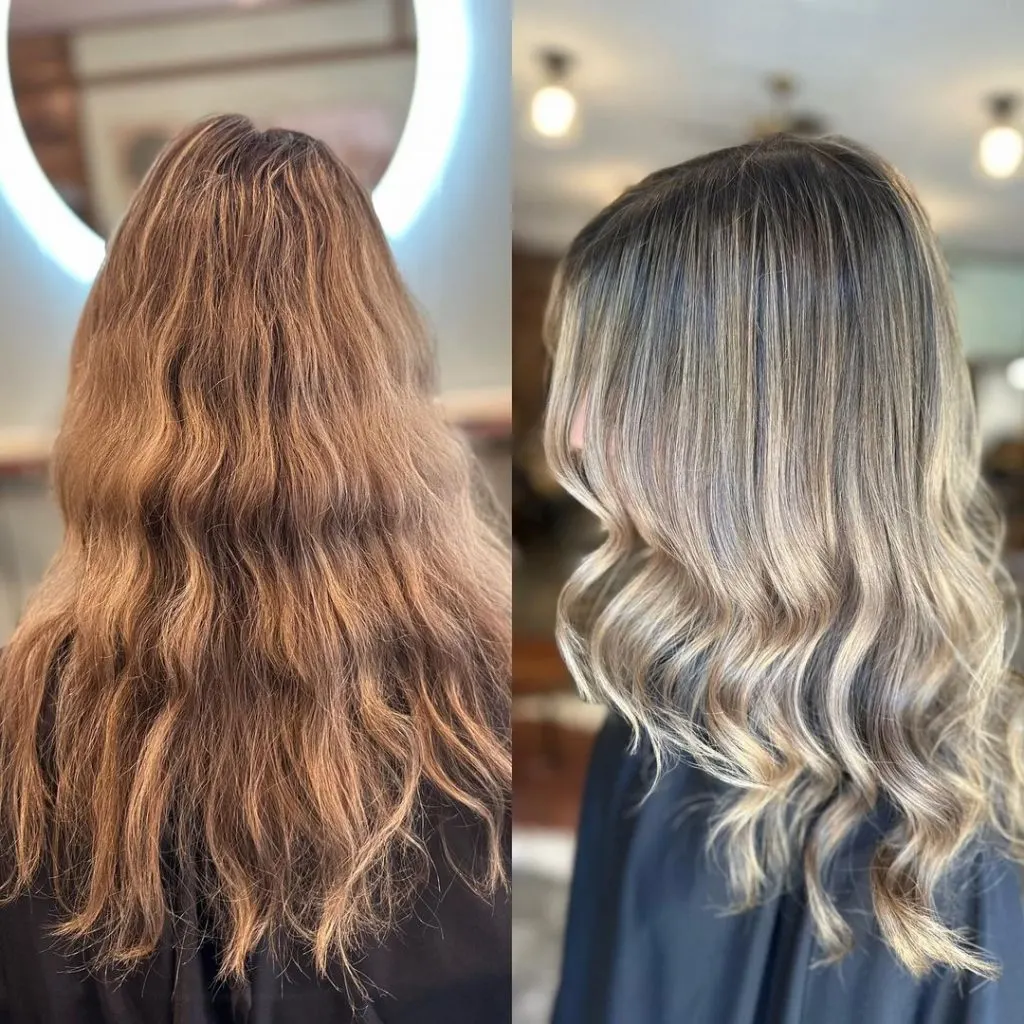 6. Bronde Hair
Can't decide between blonde and brown? Who says you have to? Instead, take the best from both worlds and go bronde. Bronde is the perfect match of these two timeless hues, which can never go out of style.
The possibilities are endless here and the choice is all yours. Will you go darker or lighter? Will you have both colors on your tresses? Either way, I bet it will look astonishing, especially if you have a warm skin undertone.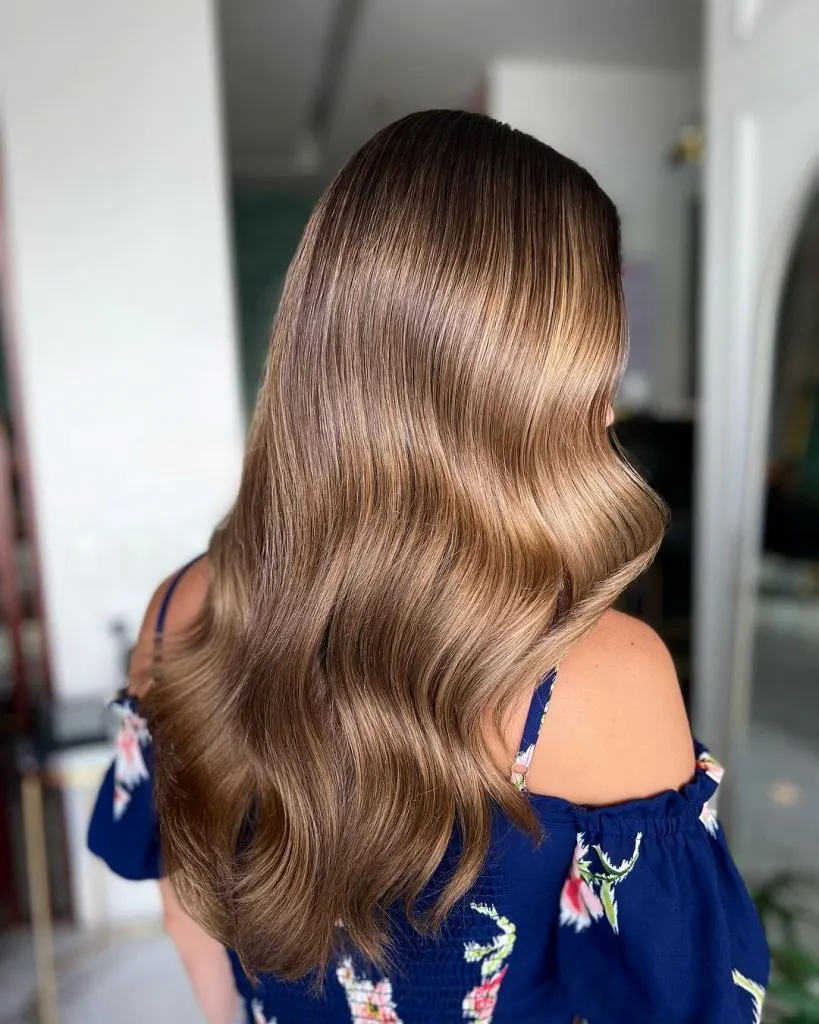 7. Undone Blonde
The power of undone blonde hair color is in the way it makes you look carefree. It's an effortless hue that gives you I woke up like this kind of appearance. But worry not, you won't end up looking messy in the wrong way. It's a beautiful shade that will give you a more natural look.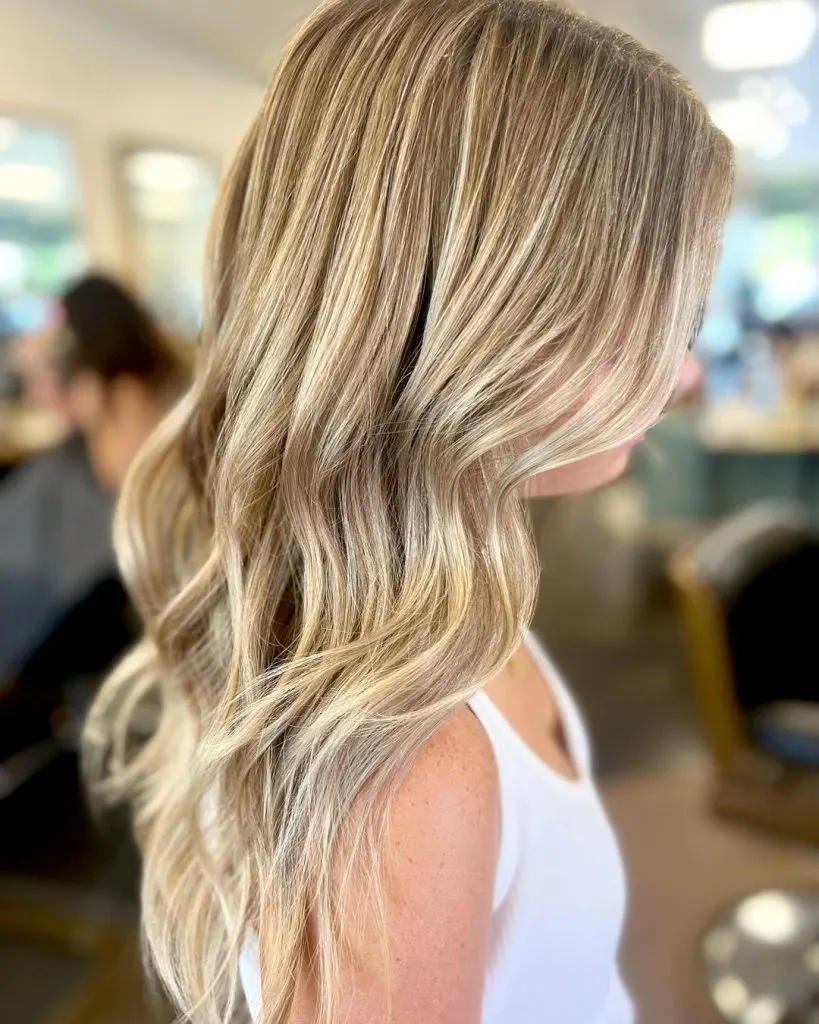 8. Gold Blonde
Are you ready to be sunkissed all year long? Or at least, to look like that? Good news: now you can and it's easier than ever. All you have to do is ask your hair colorist for a golden blonde hue, which looks exceptionally well on all complexions.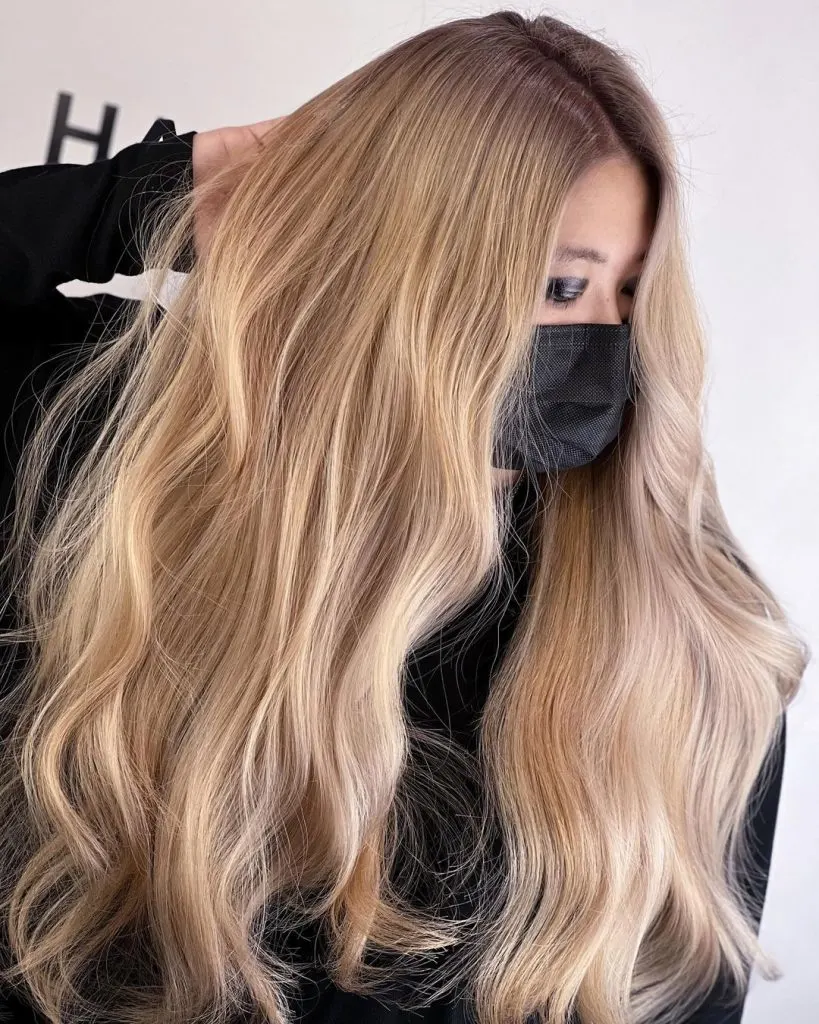 9. Blonde Balayage
Lately, blonde balayage has been the number one trend in the hair industry. And it's like that for a reason. I mean, just check out how powerful and beautiful it looks on different hair lengths.
Blonde balayage is a coloring technique that includes applying highlights without foils. It's a free-hand technique and it has endless variants.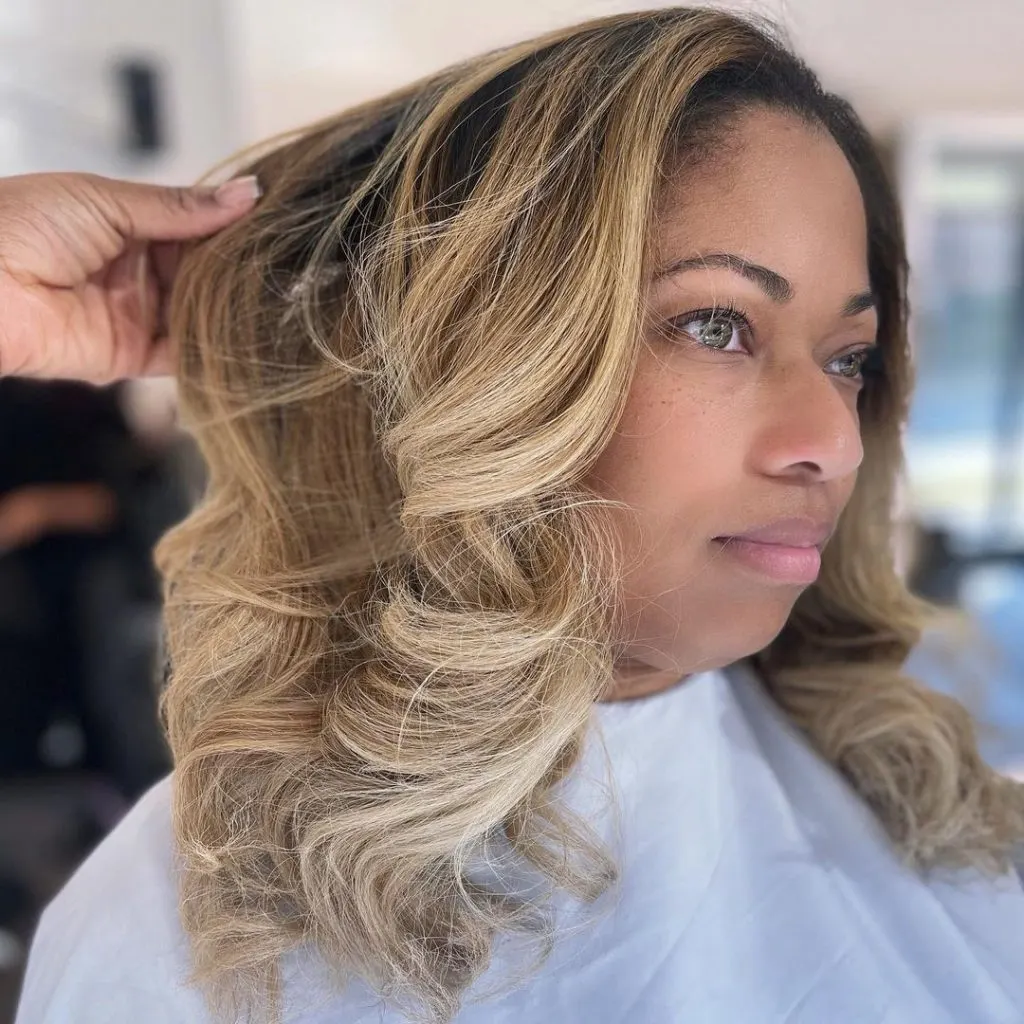 10. Blonde Ombre
Who remembers ombre? For some time, you couldn't picture a trendy hairstyle without this technique. Luckily, blonde ombre is back in fashion and it's stronger than ever.
Ombre means shades in French. To be exact, this is a coloring technique that includes blending darker shades with lighter ones. The trick is to gradually lighten the darker hue along the lengths.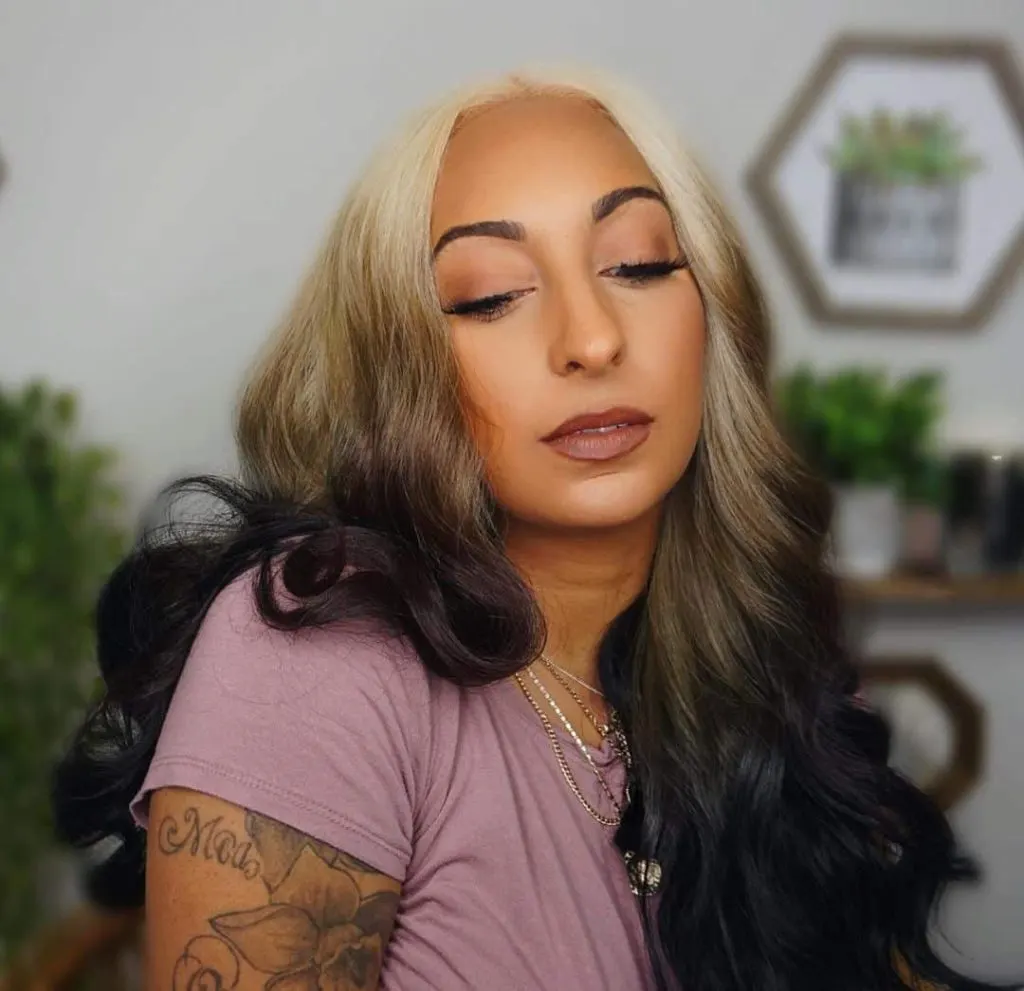 11. Honey Blonde
You're looking at one of the warmest shades in the spectrum of blonde hair color. It embraces light brown, golden, and sometimes even reddish hues.
And most importantly, honey blonde hair color is suitable for all skin tones.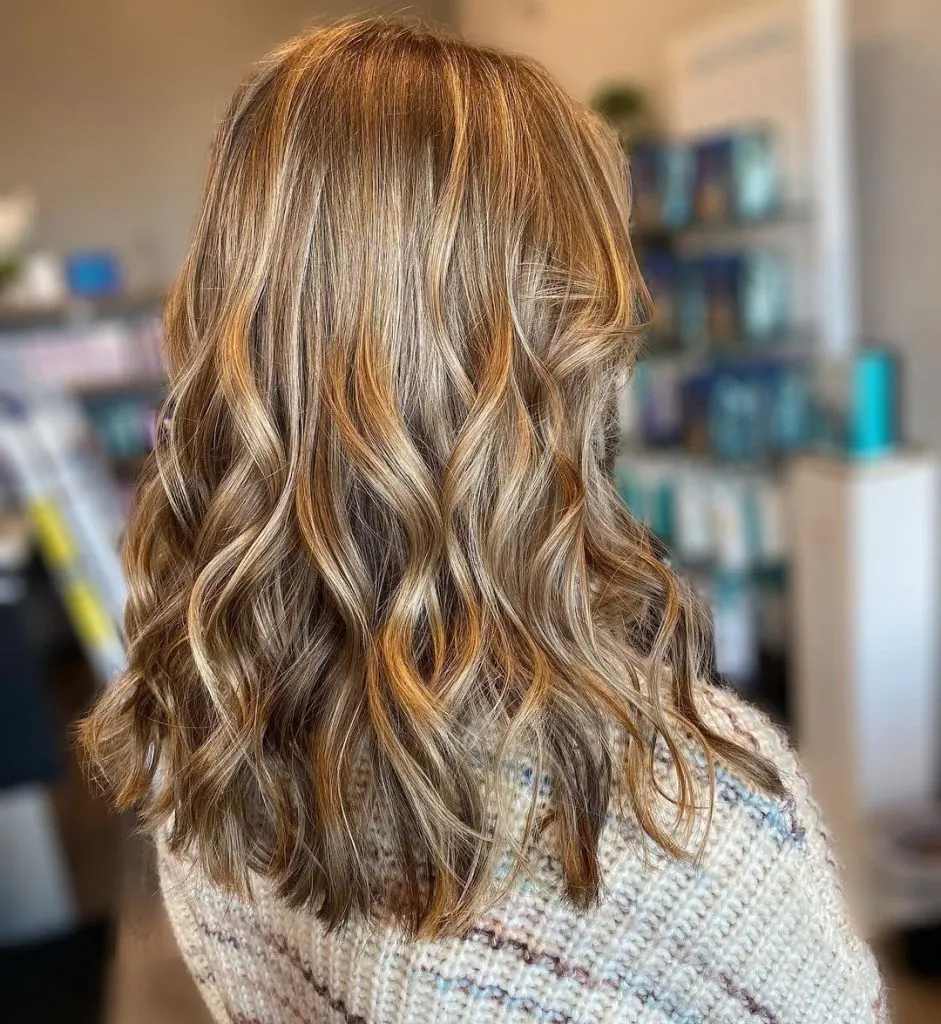 12. Caramel Blonde
I'm sure you're dying to hop on the "old money" trend. Well, now you can. Ask your hair colorist for a caramel blonde hue. Trust me: this hair color will make you look more expensive and luxurious than ever. It doesn't matter if you go with caramel blonde highlights, balayage, or dye your hair caramel blonde; you can't go wrong.
Caramel itself is warm, and blonde is cool. The two of them combined give a universal hair color that looks great on all skin tones.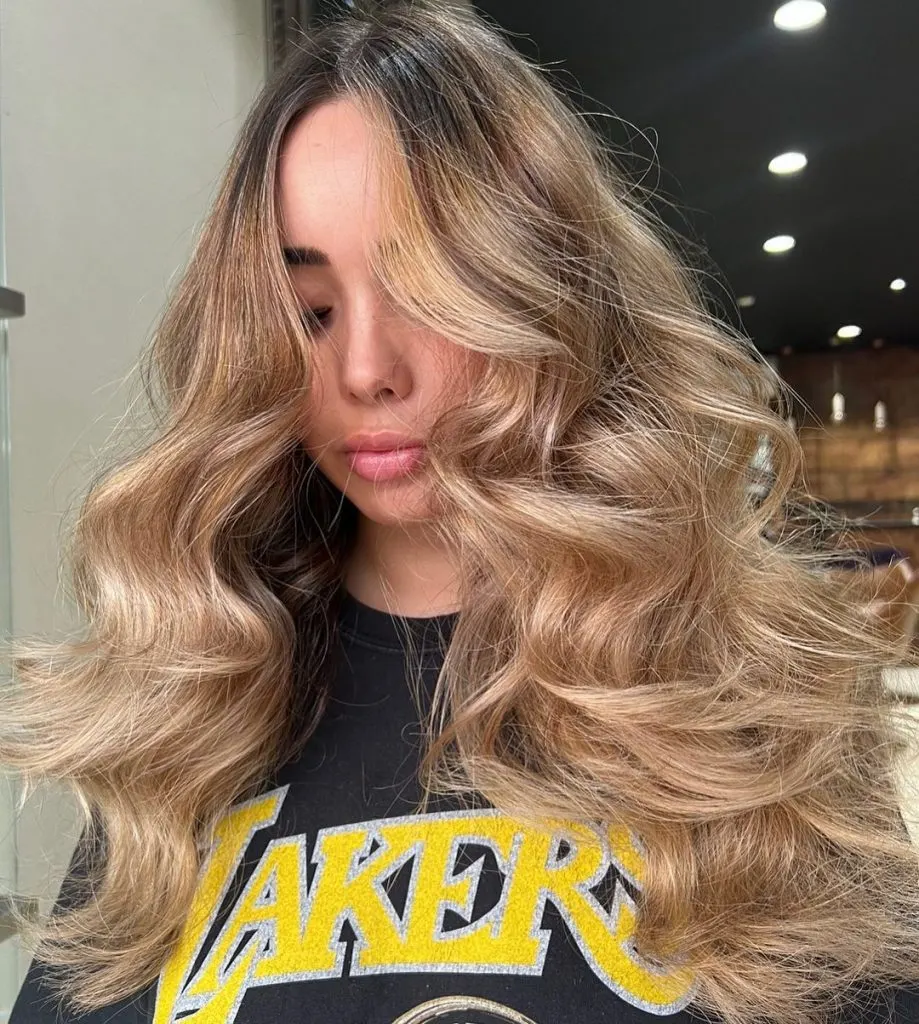 13. Blonde And Red
If you're looking for a way to upgrade you look, you've just found one: add a bit of red to your blonde or vice versa. Red and blonde hair color is for the bravest only, but don't worry, it doesn't have to look too funky at all. Instead, you can easily wear this combination as an everyday look.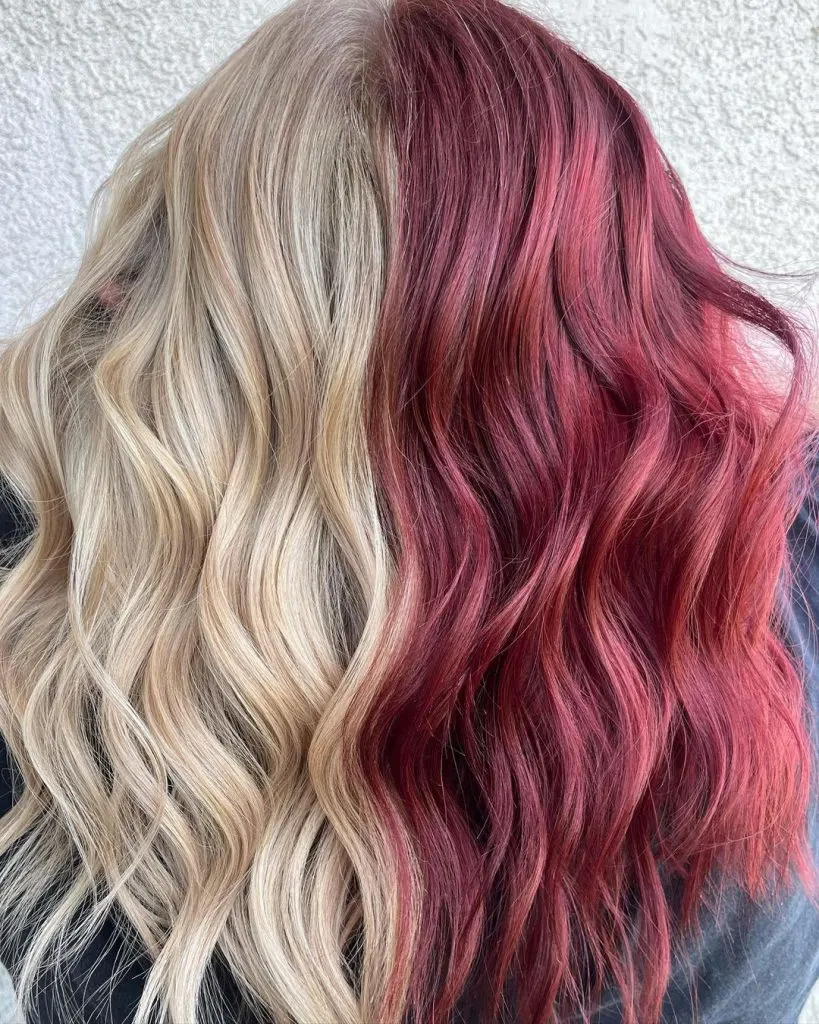 14. Strawberry Blonde
Strawberry blonde is another blonde shade that screams luxury and makes you look richer than ever. Its secret lies in the fact that it combines light red and warm blonde shades, which results in a beautiful hair color.

15. Black And Blonde Hair
Sick and tired of your boring blonde hair? I hear you and I'm here to give you a hand: pair black and blonde! Yes, you heard me right. Combined thes two contrasting colors on your tresses and you'll end up having a unique hairstyle everyone will be amazed by. You can add black highlights to your blonde hair, blonde highlights to your black hair, or choose a split dye.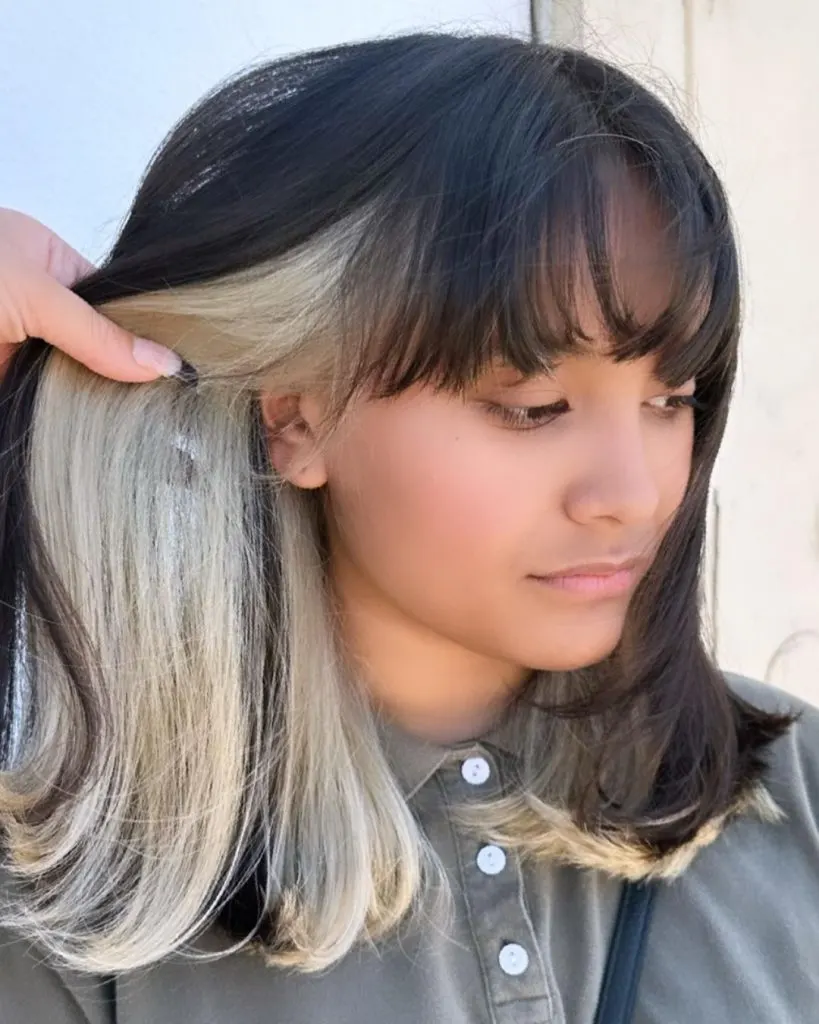 16. Lowlights On Blonde Hair
Lowlights don't only have an aesthetic purpose. Besides looking beautiful, lowlights are also here to give your hair depth and dimension. That is exactly why they look exceptionally good on thin hair since they make it visually thicker.
But what are lowlights? Well, unlike highlights, lowlights are one or couple of shades darker than your original color.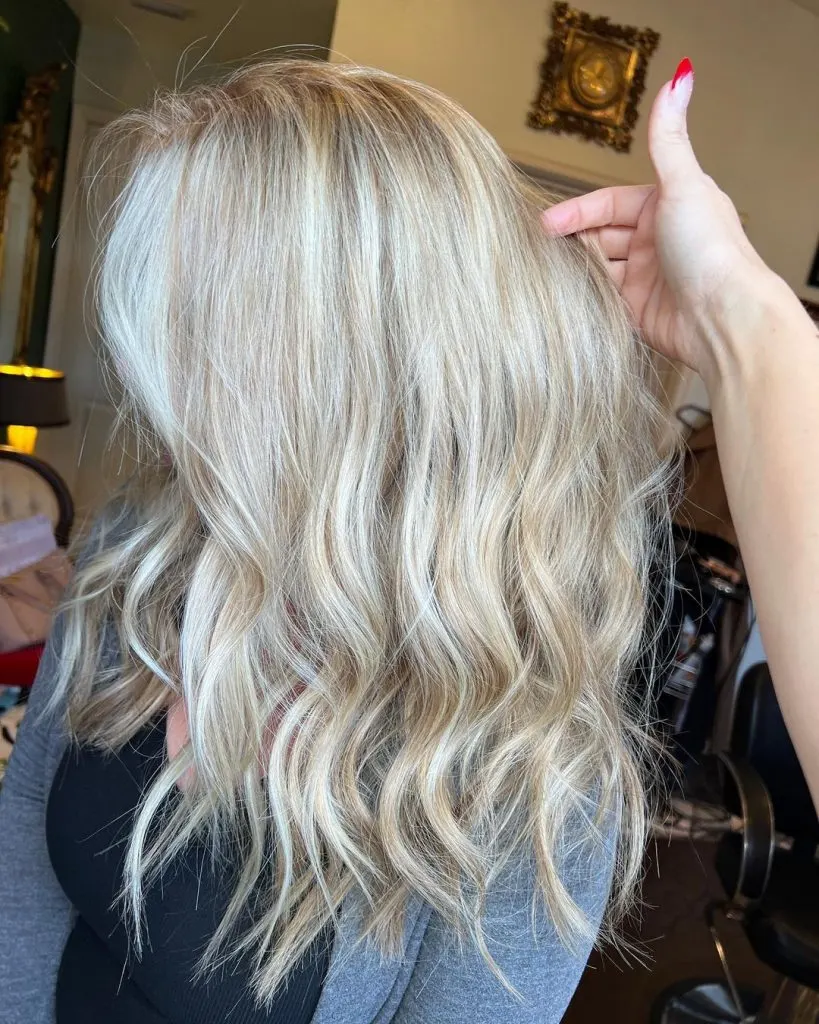 17. Sandy Blonde Hair
Sandy blonde is a perfect blend of warm and cool tones, which makes it suitable for literally everyone. It has champagne, beige, vanilla, and light brown hues It's a great gray coverage, but it looks astonishing on younger women, as well.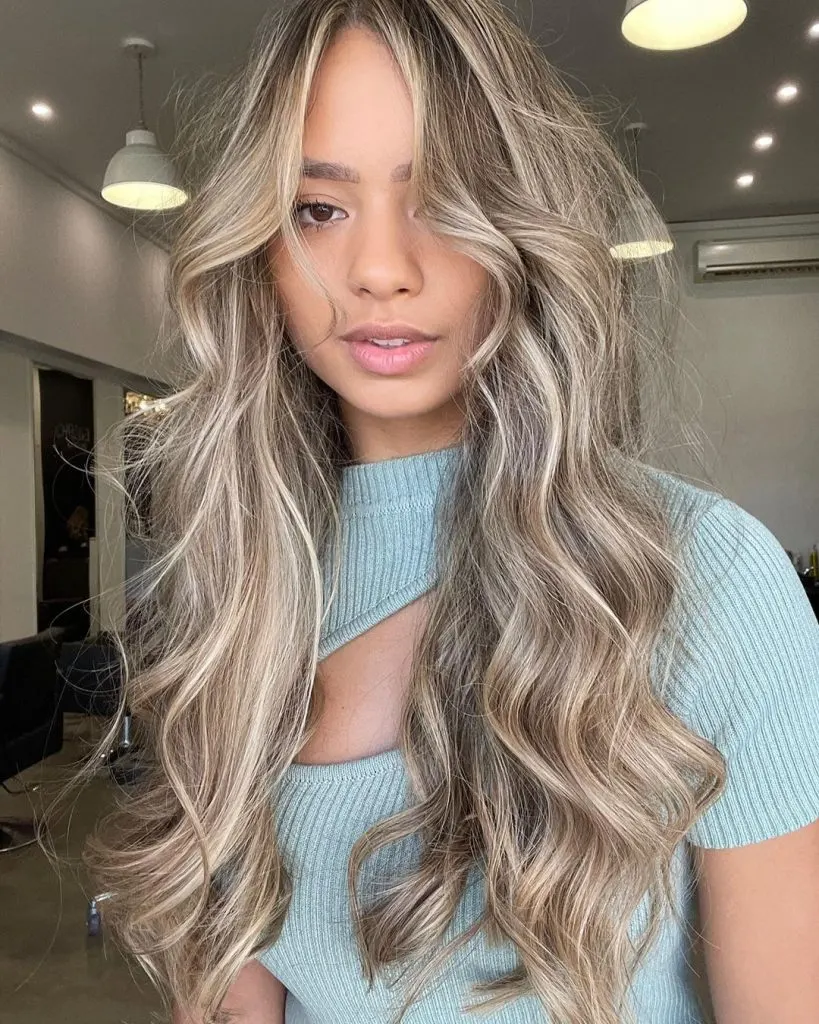 18. White Blonde Hair
White blonde hair is the lightest of all blonde shades (yes, it's even lighter than platinum blonde). The biggest problem with this hair color is that it requires bleaching which often damages the hair. That means that you should pay extra attention to hair care if you decide to go white blonde. Also, this shade requires regular touch-ups and maintenance, especially if you have darker natural color. Some women have trouble achieving white blonde at first try.
White blonde hair is the most flattering for ladies with cool, fair or porcelain complexion.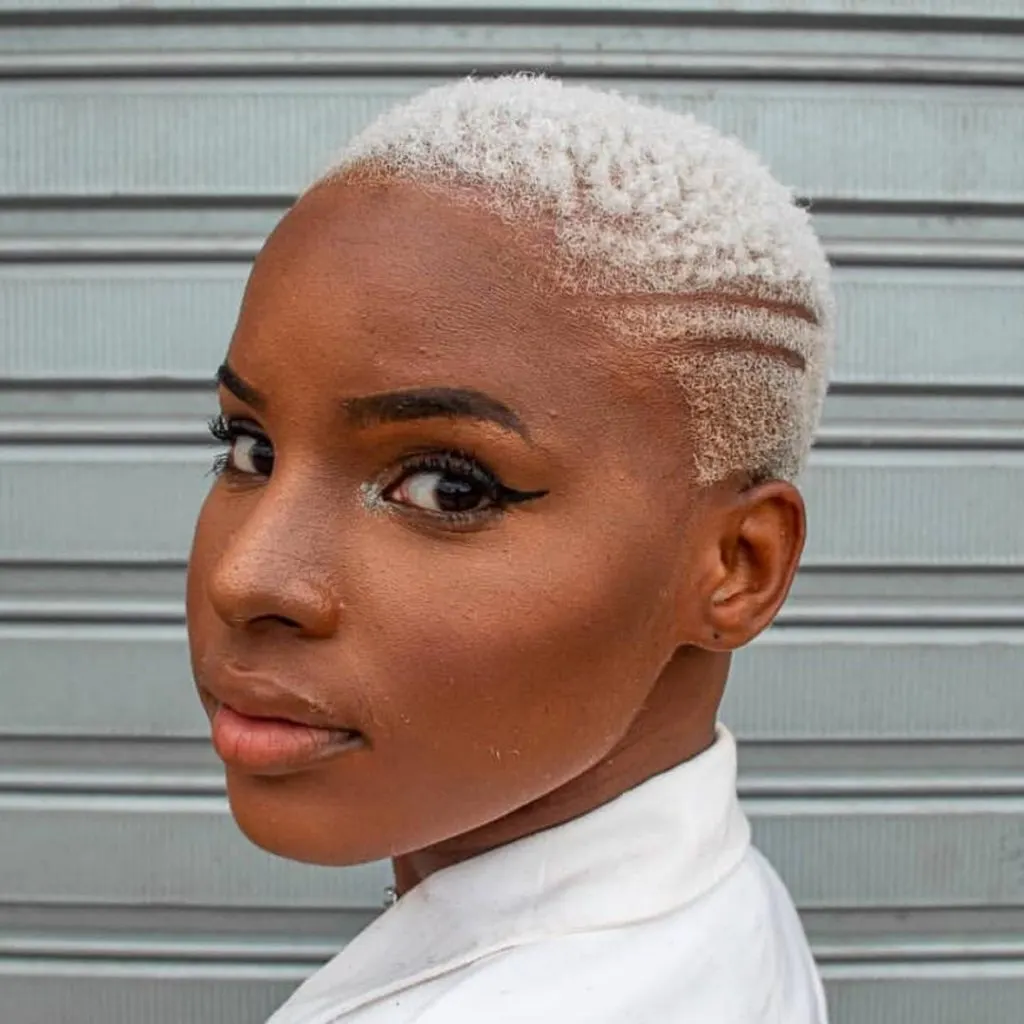 19. Blonde Hair With Dark Roots
I'll warn you: you need a skilled haircolorist to get this look because you want the blonde to blend in perfectly with the dark roots, also called shadow roots. This combination of colors is perfect for ladies with dark natural hair because it requires less maintenance.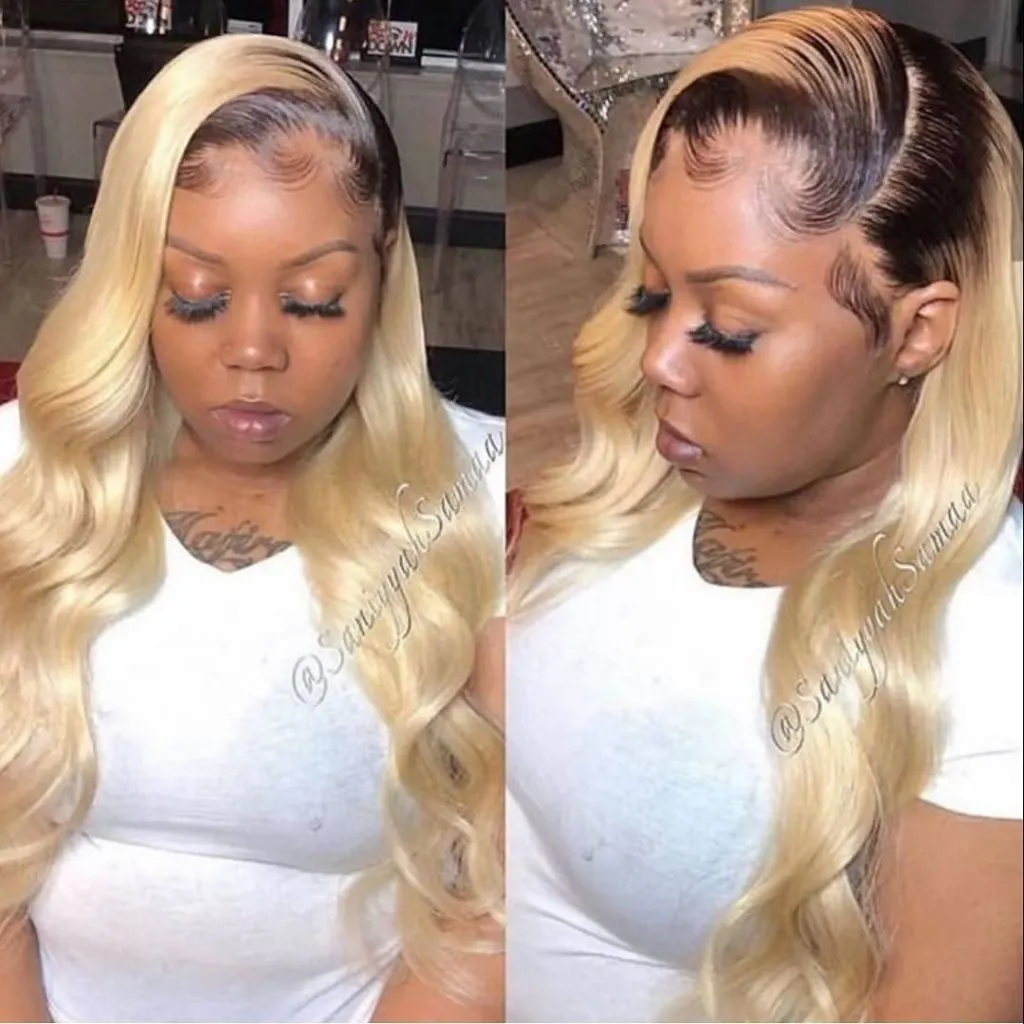 20. Blonde And Pink Hair
Are you ready for one of the funkiest color combinations of all times? That's right, I'm talking about pink and blonde hair colors. The best part about this look is that it offers ton of variety. You can look like a real-life Princess, a mermaid, or a bold badass; it all depends on the shades you choose.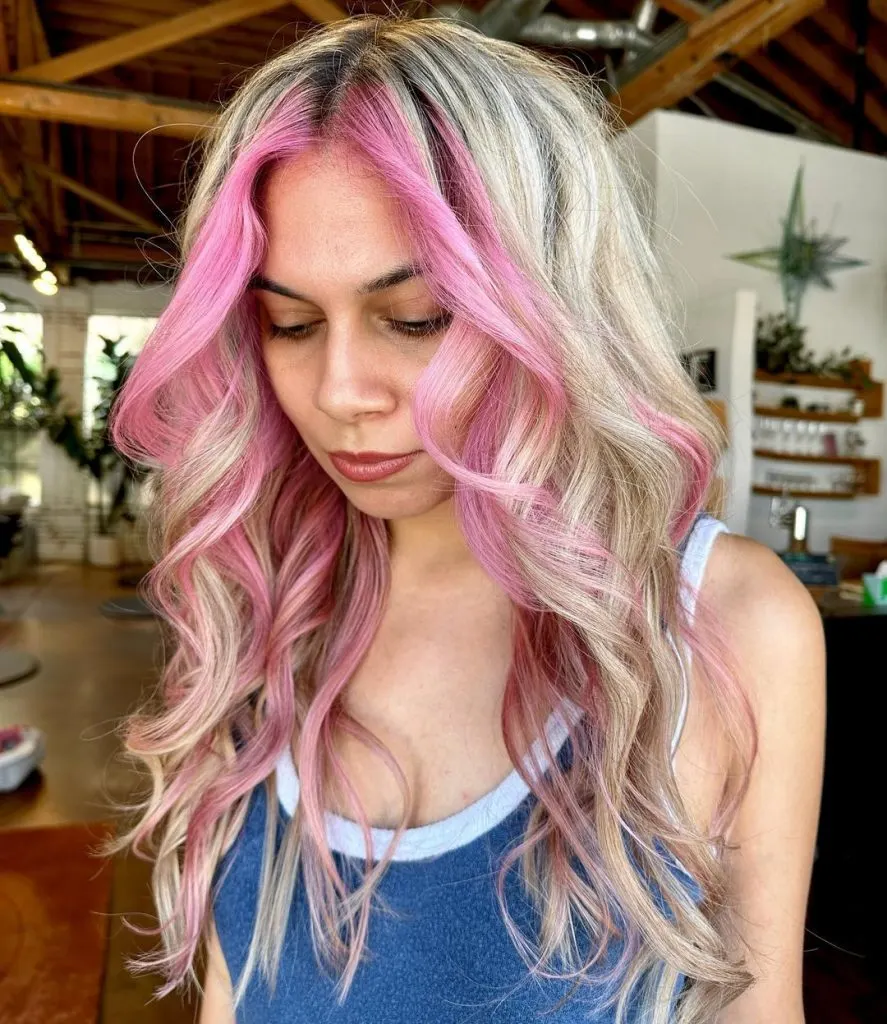 21. Buttery Blonde
Buttery blonde is gentle, deep, multi-dimensional, warm, and bright all at the same time. It blends cool and warm tones together, and it looks equally beautiful on women of all skin undertones. It is a rich, expensive-looking and chic hair color you'll fall in love at first sight.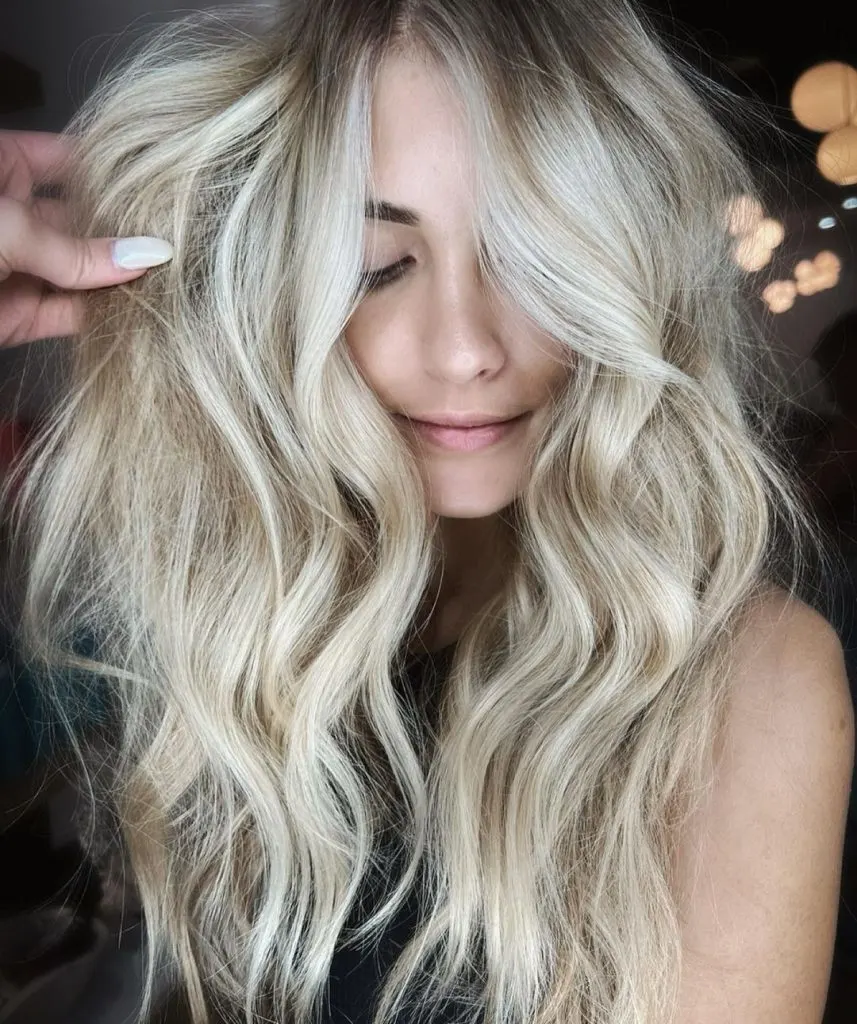 22. Pearl Blonde
Pearl blonde is a shade that incorporates the best parts of different blonde shades: white blonde, ash blonde, platinum blonde… In fact, it even has purple, pink, pastel blue and mauve undertones.
It is a cool hue, but it is a bit warmer than platinum blonde.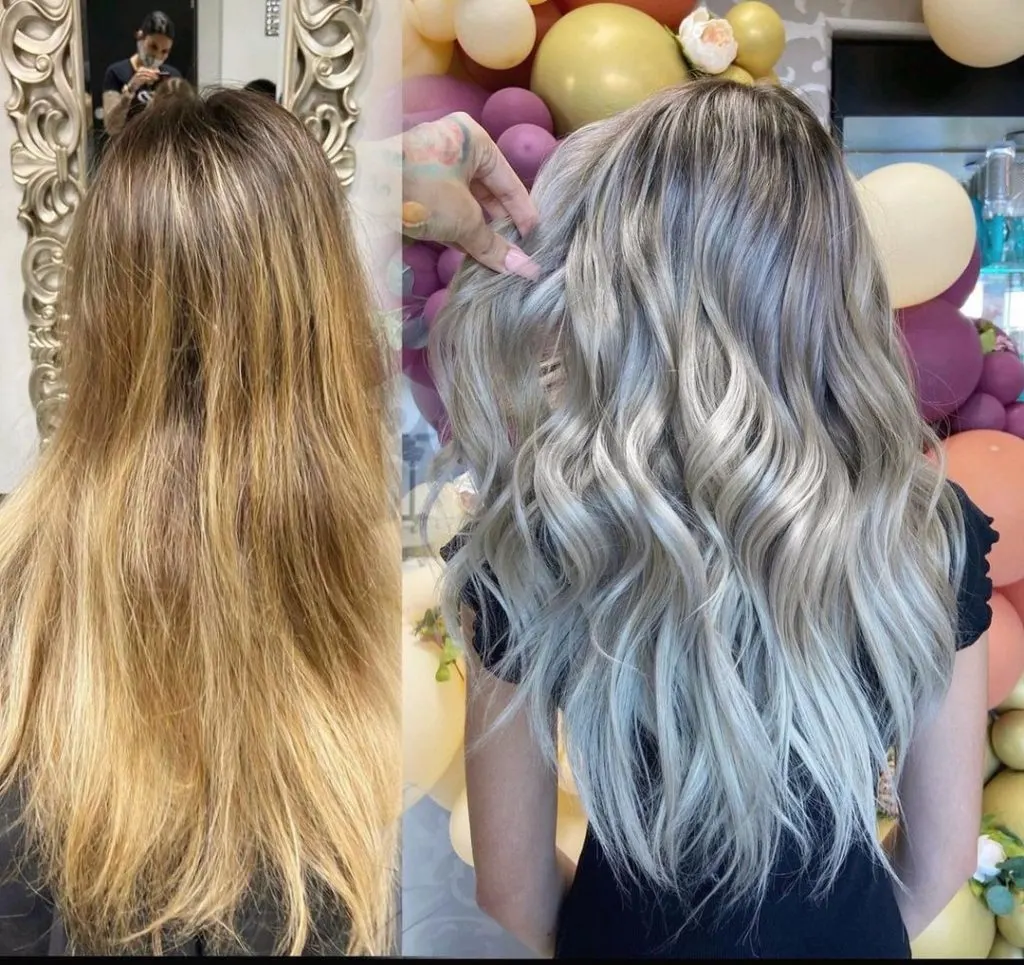 23. Wheat Blonde
Wheat blonde hair color is a shade between buttery, beige and Champagne blonde. Sometimes, it also contains tones of hazelnut, and light brown. And of course, let's not forget the honey undertones.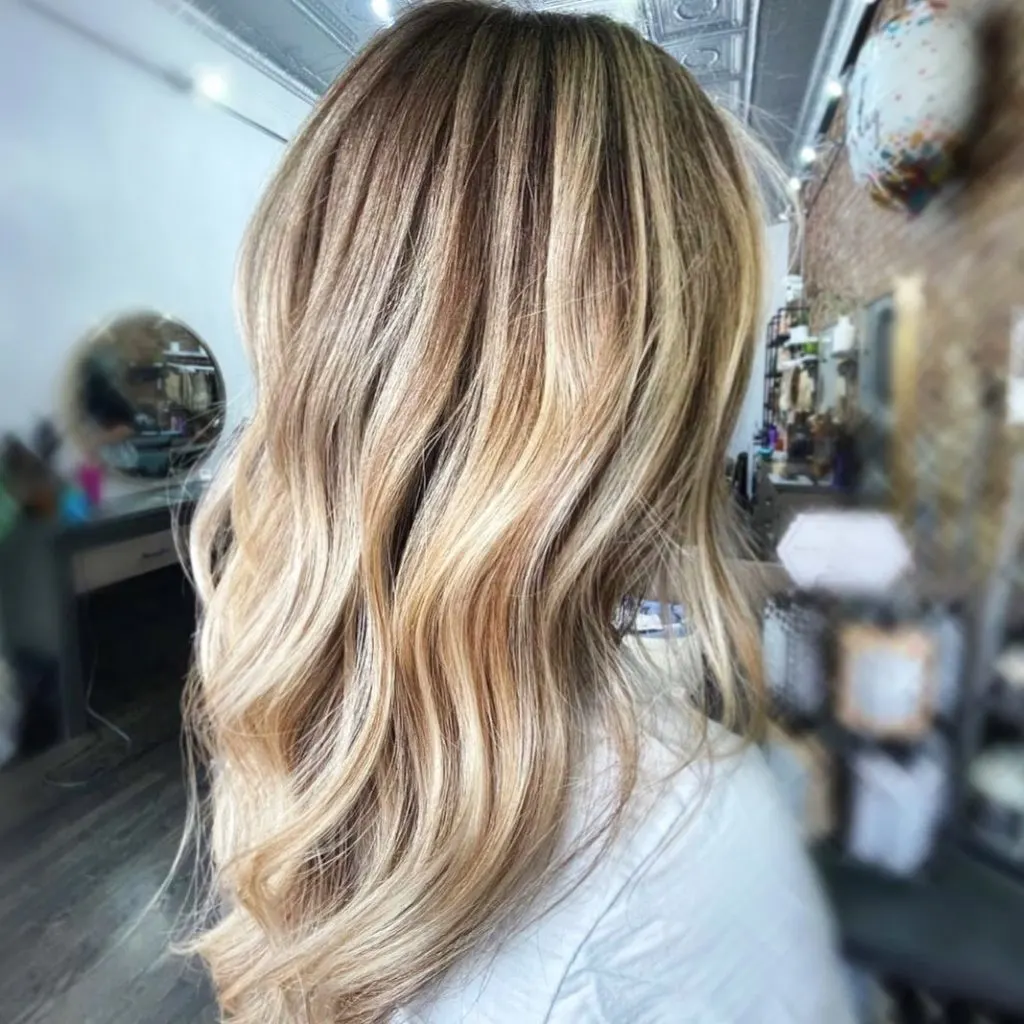 24. Natural Blonde
Experts claim that there natural blonde only appears in 2% of the entire world population. But what if you're not lucky enough to be among these people but want to look like a natural blonde? Is it possible? Of course it is; you just have to show these inspo pics to your hair colorist.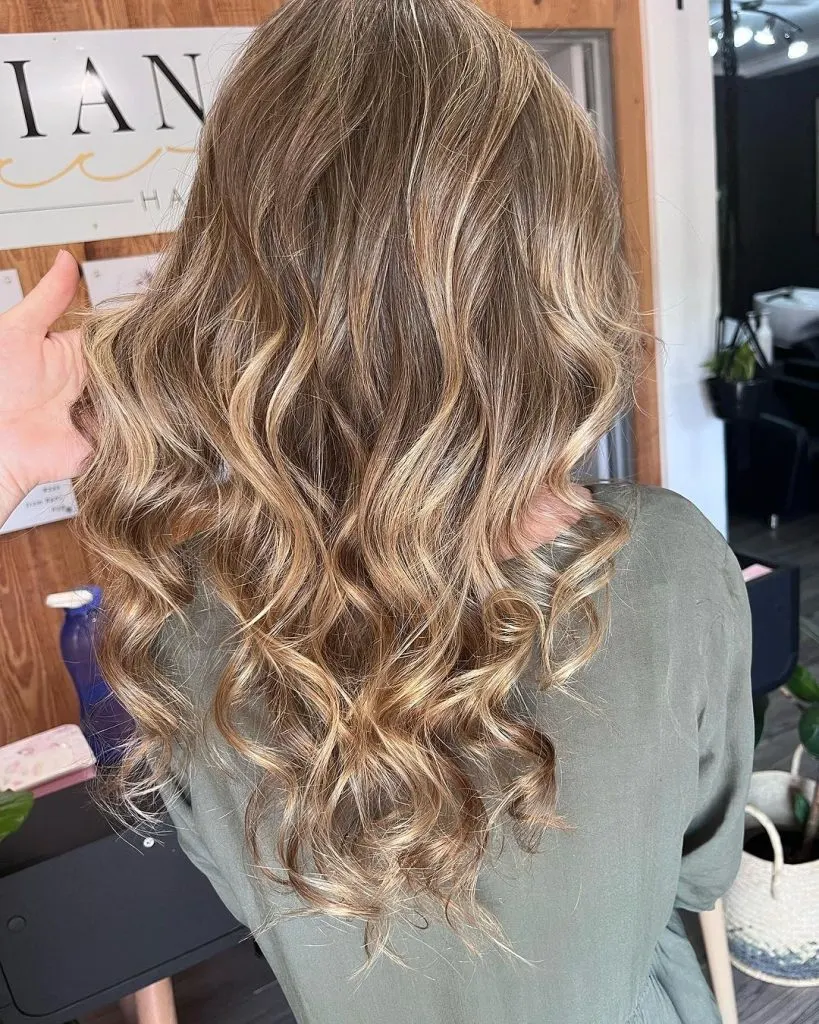 25. Yellow Blonde
Blonde with yellow color blocks? Or blonde with yellow tones? Either way, I'm sure you'll look spectacular with this dash of funkiness. Most importantly, you'll be unique and never have boring hair. And if you want to go an extra mile, add orange or peachy babylights for maximum effect.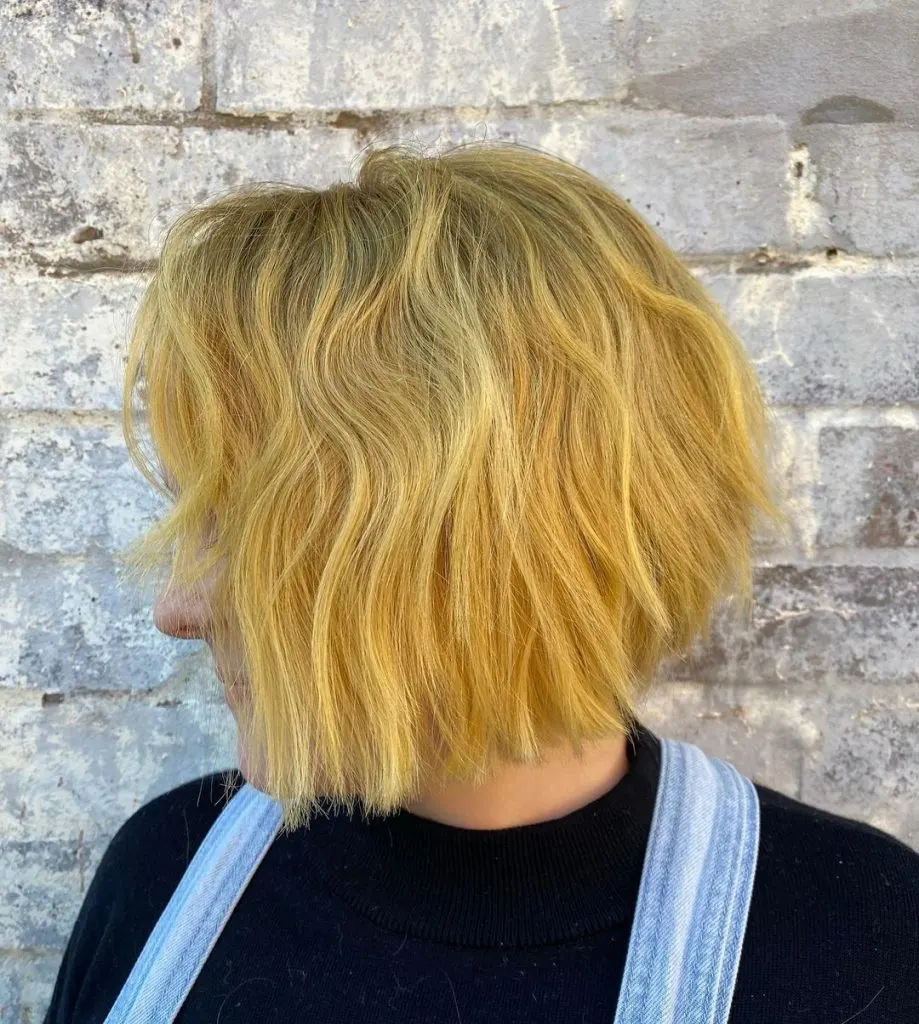 Blonde Hairstyles
Now that you've found your perfect blonde hair color, it's time to match it with a stunning cut. Once again, it's difficult to choose but I'm here to guide you!
1. Blonde Pixie Cut
Dyeing your hair is not change enough for you? Well, why wouldn't you chop those long tresses of, as well. That's right, I'm telling you to get a pixie cut.
Blonde pixie cut is a timeless hairstyle that never goes out of trend. It looks great on women of all ages and face shapes.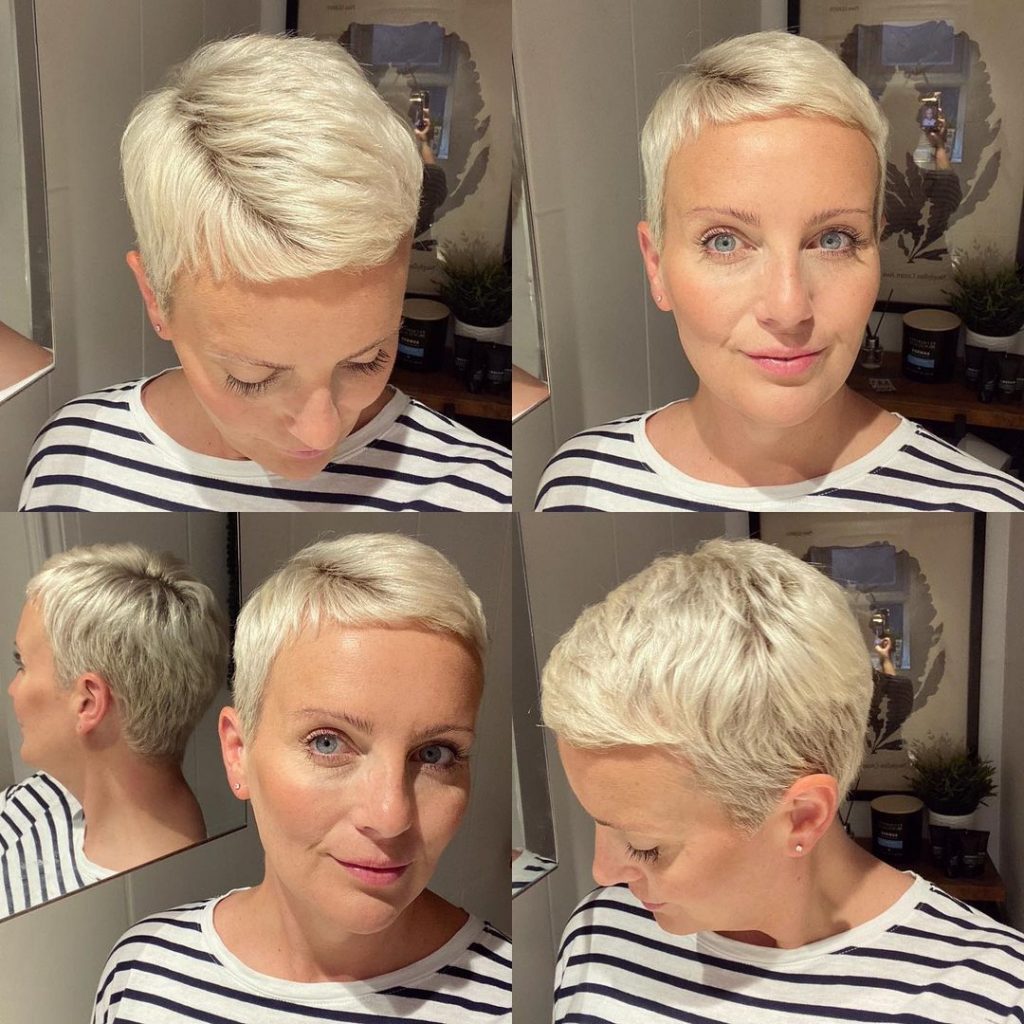 2. Blonde Bob Cut
A bob cut is one of the most versatile hairstyles out there. It's elegant, classy, and it can be badassy. But you know what's even better than a bob cut? A blonde bob cut!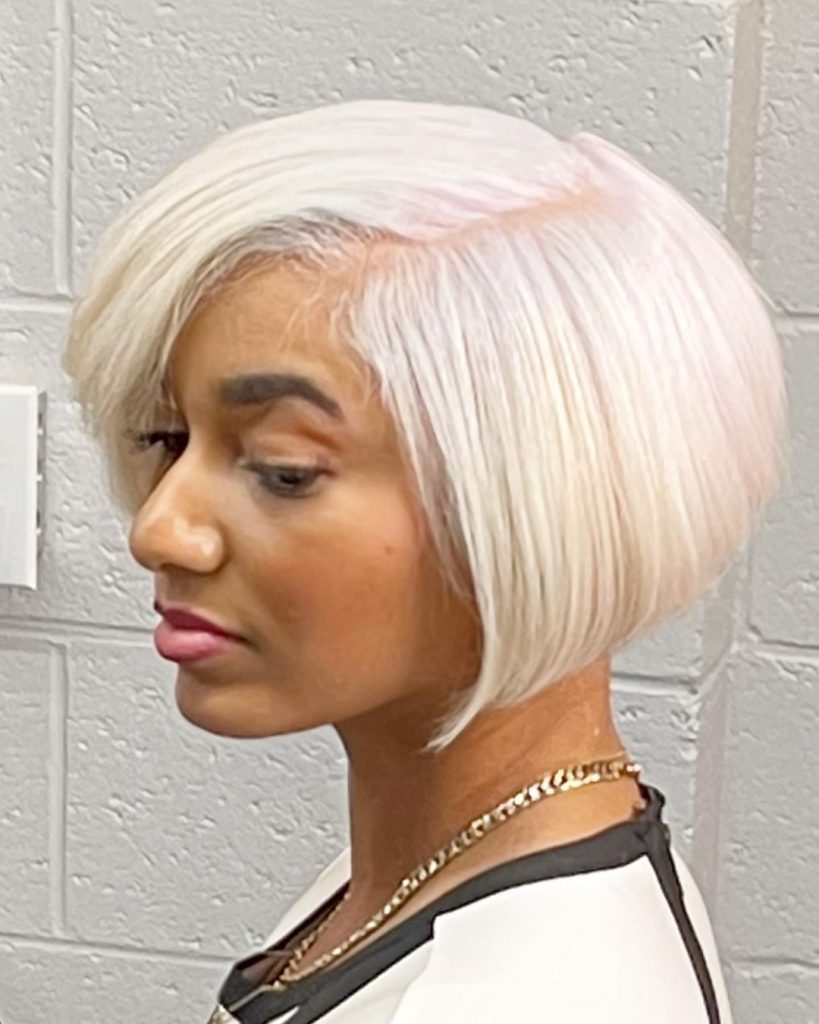 3. Long Blonde Hair
Is there anything more beautiful and appealing than long, shiny, blonde hair? I don't think so. If you're lucky enough to have this length and color, make sure not to keep it dull. Instead, use the versatility you've been blessed with and change between hairstyles.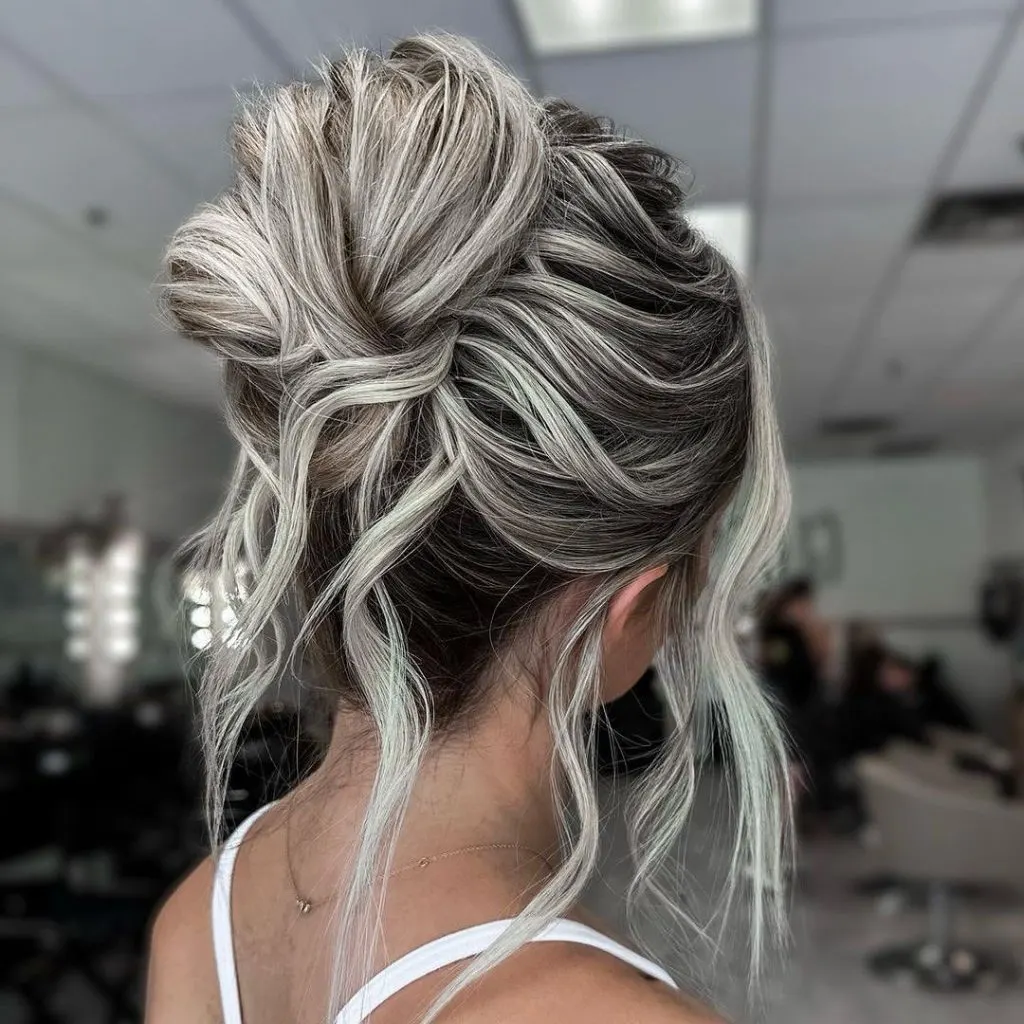 4. Medium Length Blonde Hair
Medium-length hair is low-maintenance, it accentuates your facial features, it draws attention to your cheekbones, and jawline, but it's still long enough to give you tons of versatility. Sounds too good to be true, I know. But trust me, it looks even better, especially when paired with blonde hair color.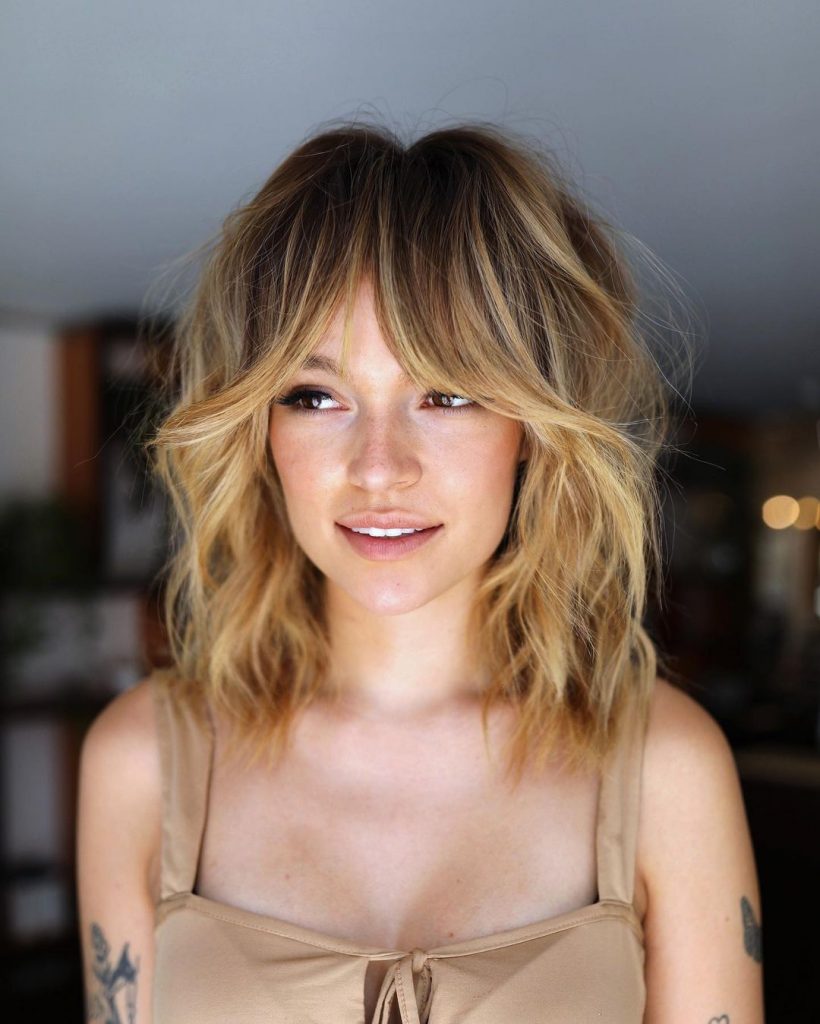 5. Curly Blonde Hair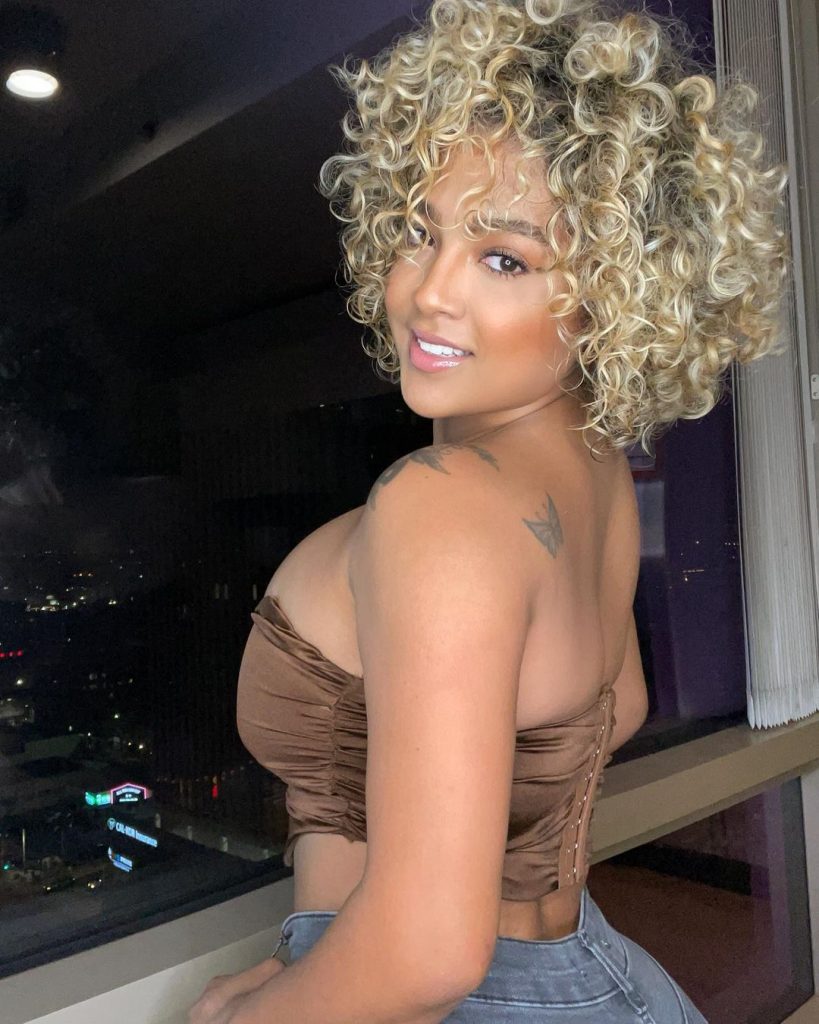 6. Blonde African-American Hair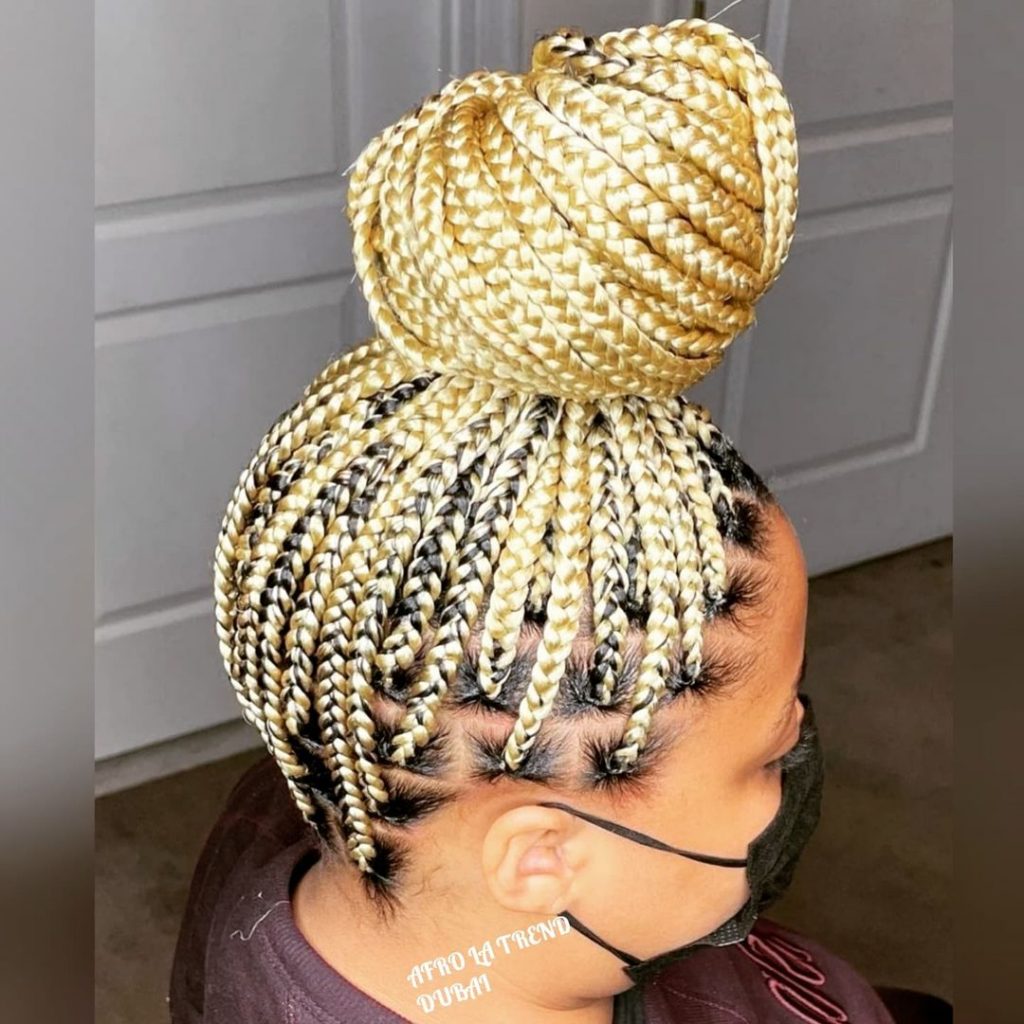 7. Blonde Hair With Bangs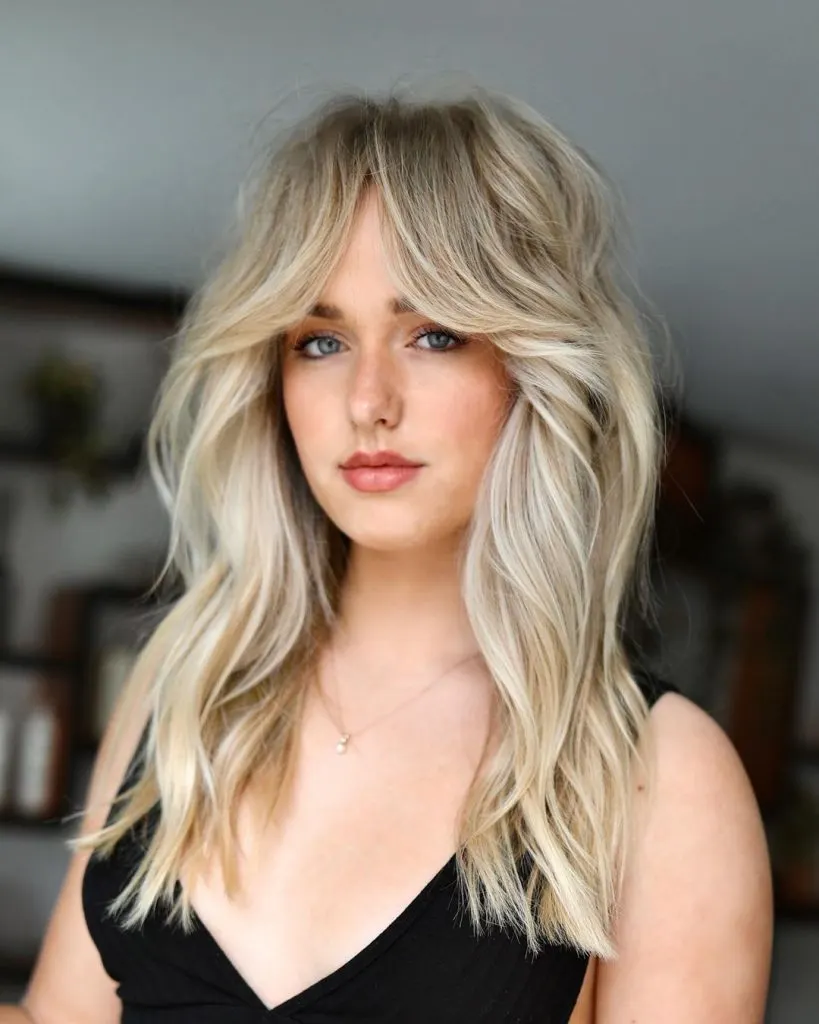 8. Blonde Hair For Women Over 40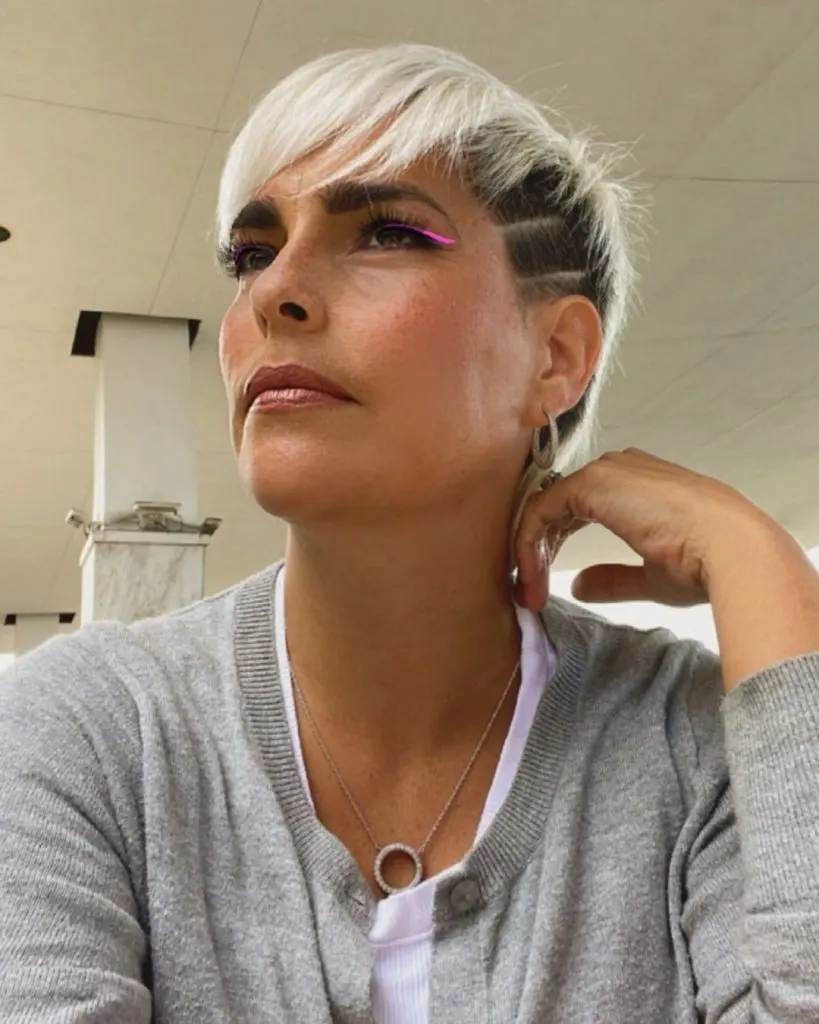 9. Blonde Hair For Women Over 50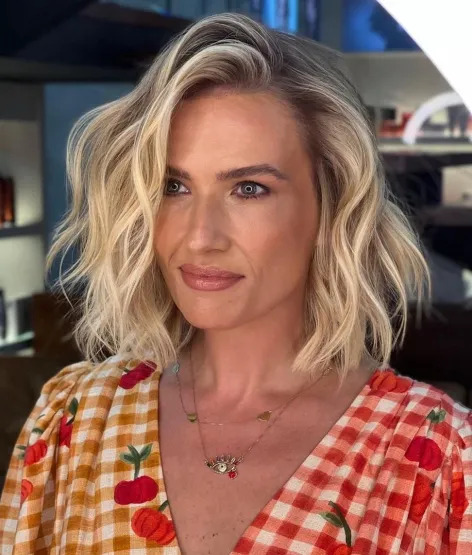 10. Blonde Hair For Women Over 60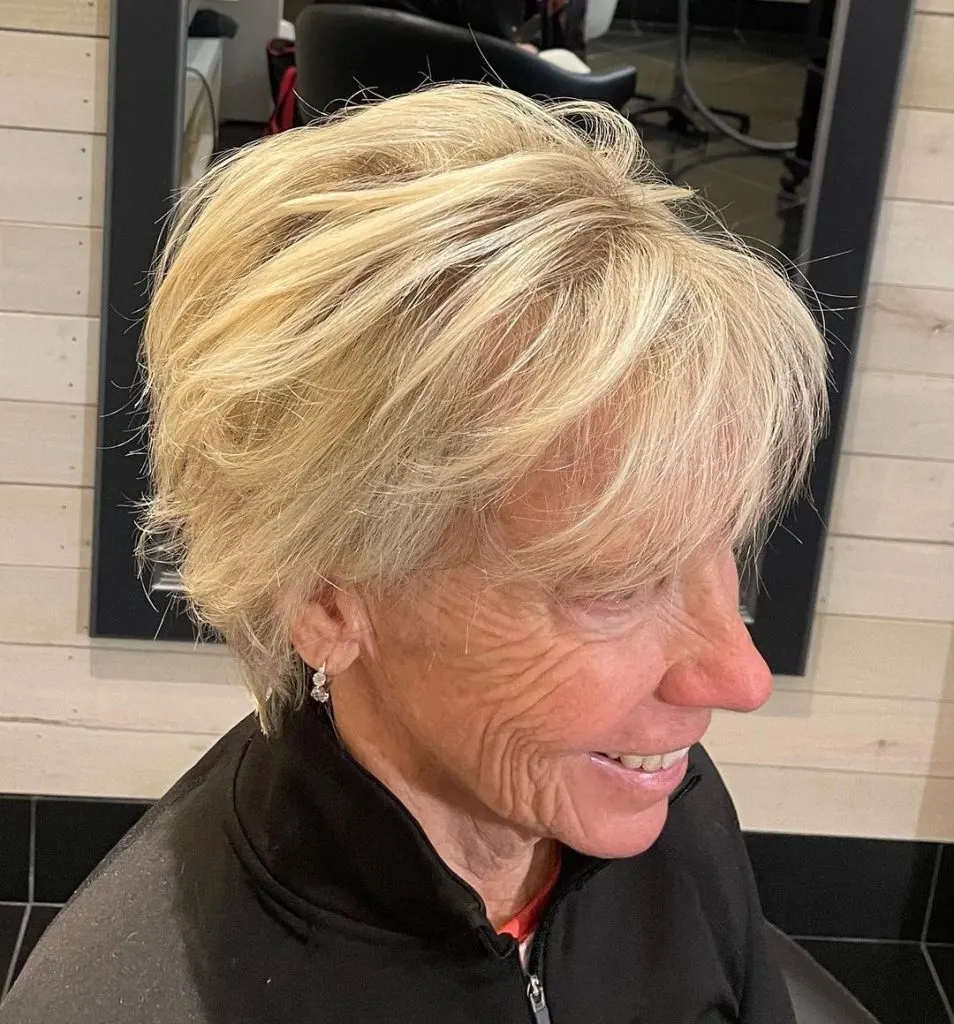 How To Take Care Of Blonde Hair?
You say that you can't have healthy and blonde hair at the same time? Well, think again! Try these tips and tricks out and say goodbye to split ends, breaking, and damage tresses.
1. Heat protection
The first step to taking care of your blonde hair is heat protection. If you're blow-drying, ironing, or curling your hair, you must use heat-protecting products. These products create a barrier between the heat and your chemically treated hair, which is essential for your locks to remain healthy.

2. Sun protection
The same goes for sun protection. If you're sunbathing or just spend too much time on daylight, don't forget to always wear a hat together with heat protecting products. Don't forget that the sun, salt, and chlorine can change your hair color, especially if you're freshly dyed.
3. Hydration

Hydration is the key to keeping your blonde hair healthy. First of all, you should use a moisturizing shampoo and conditioner. Also, don't forget to use a silk pillow case and DIY natural homemade conditioners.
4. Purple Shampoo
Is purple shampoo a myth or does it really help with blonde hair? First of all, let me tell you what purple shampoo is. It is a toning shampoo that is made for blonde hues. You should use it if you want to neutralize orange and red tones in your brassy blonde hair. So yes, if you use it, it will help you preserve your blonde color vibrant and fresh.
5. Cut Split Ends

Don't even try it because I know exactly what you're abut to say. You can't get yourself to chop off your hair since it took it so much time to grow. But hey, does the length really count if most of it are actually split ends? I don't think so! I'll be honest with you: you can invest in all the hair care in the world but all of it will be in vain unless you trim your split ends on a regular basis. Trust me, your hair will grow back!