Bangs can be magical or scary; when done right, they contour, soften and slim the face, but when they're wrong, you just want to grow them out ASAP. Real talk though, who hasn't cut their own bangs at 2 a.m. and lived to regret it?
If you're ready to get the right type of bangs—those that elevate your look and accentuate your features—here's all you need to know to make the right choice.
Read on to learn not only how to avoid the disaster of having the wrong bangs and the pain of growing them out, but how to find the perfect style that will take your look to the next level.
Who Can Wear Bangs?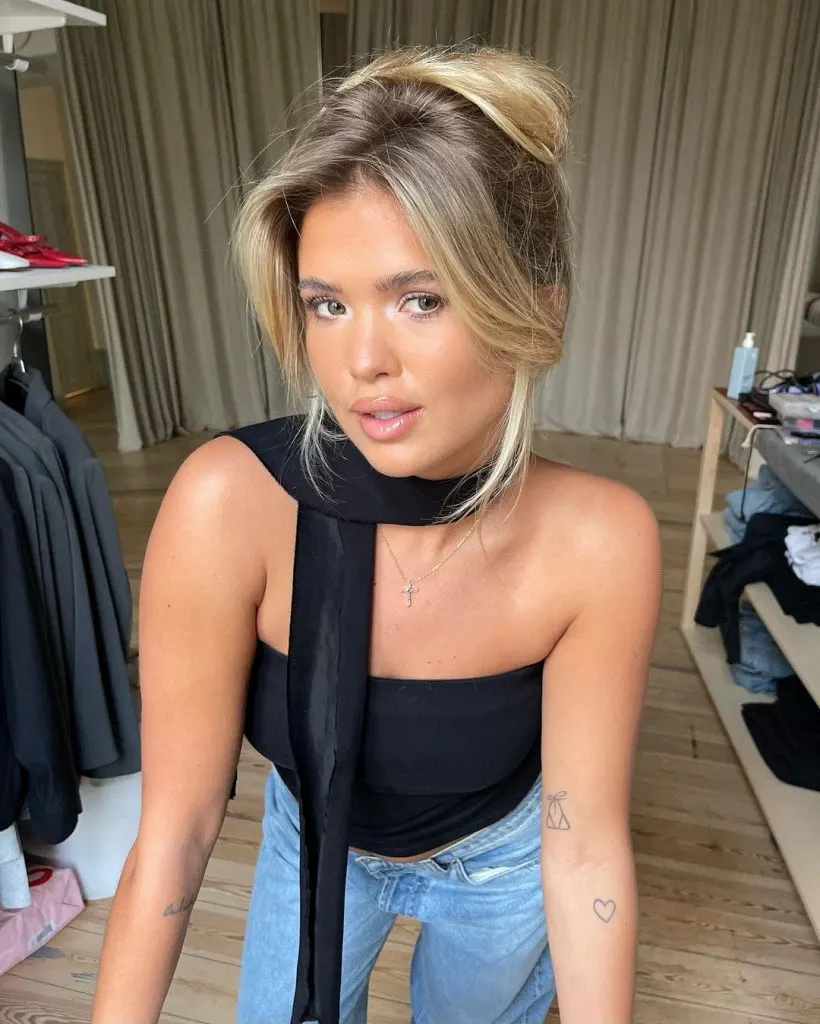 The short answer is, everyone who has hair. According to Jayne Matthews, the master of organic haircuts, you already have them anyway.
"Everybody has bangs," she says. "It depends on whether they hit your chin, they graze your cheekbones, or they are softly sitting against your eyebrows. Bangs are simply the hair that lives above your hairline and frames the front of your face."
A cute hairstyle with bangs is just a matter of shaping the hair near your face to perfectly suit you.
Should You Get Bangs?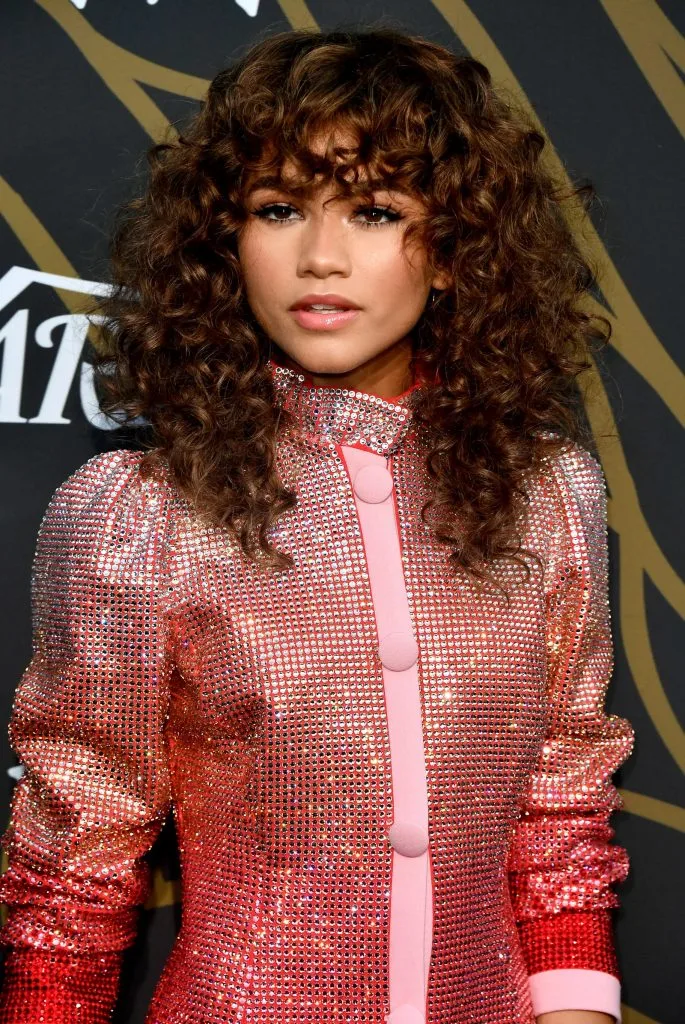 Yes! But before you grab scissors and try to DIY it, do your research (and consider going to a hair salon.)
If you've ever asked yourself, "Should I get bangs?" and immediately decided against it, you were probably thinking of thick, blunt, straight-across fringe, but this type of bangs is actually wrong for lots of people.
The right bangs can elevate any haircut. A pixie cut isn't quite right without a cute fringe, a bob with bangs is a classic for a reason, modern medium hairstyles feature bangs more often than not, and even long hair looks more fresh and up-to-date with soft strands around the face.
The key is finding a type that fits your face shape, doesn't clash against your hair texture and suits your lifestyle. Let's start with getting familiar with the types of bangs that might work for you.
20 Types Of Bangs For All Face Shapes And Hair Types
The best bangs for you are those tailored for your individual style, your facial features and the texture of your hair. While you're shopping around, scroll down to see what's out there to help you out find your perfect match.
1. Blunt bangs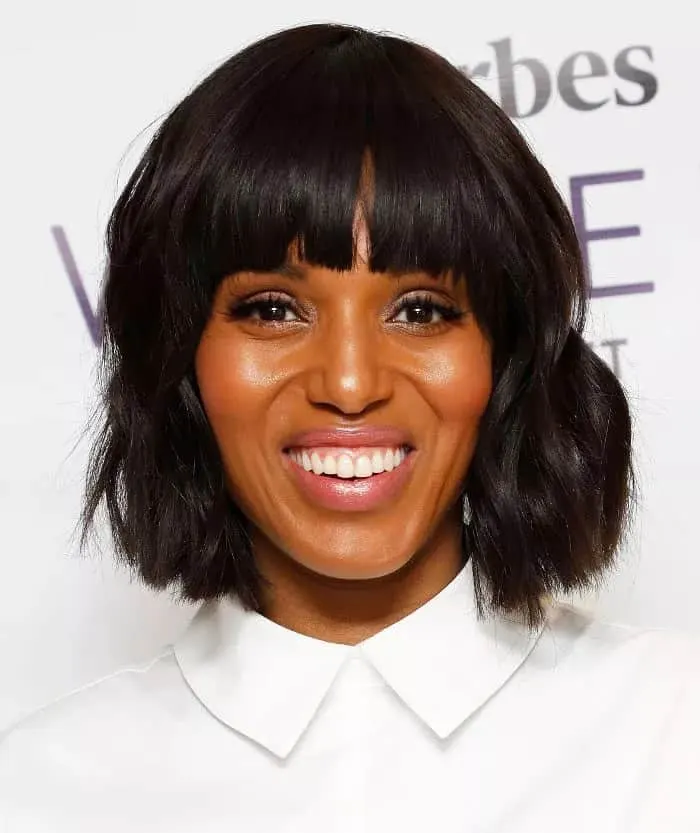 While blunt bangs are the default for most people, they're just one of many styles of bangs. They create a bold, defined look that says, "Yes, I have bangs now."
They're not very easy to wear, though. Cut straight across the forehead, blunt bangs can be too harsh for many face shapes. But if you like the look of this classic style, a few adjustments will make them fit you better.
• An oval face can handle blunt bangs without issue, since this balanced face shape can pull off various styles. They do a good job of making an oblong face appear shorter, and look super dramatic on an angular diamond-shaped face.
• A round face can look even more round with bangs that are too blunt or too short. The ideal length is at the eyebrows, and instead of a harsh line, choppy ends will be much more flattering.
• If you have a heart-shaped face, blunt bangs will suit you as long as you avoid making them too wide.
2. Curtain bangs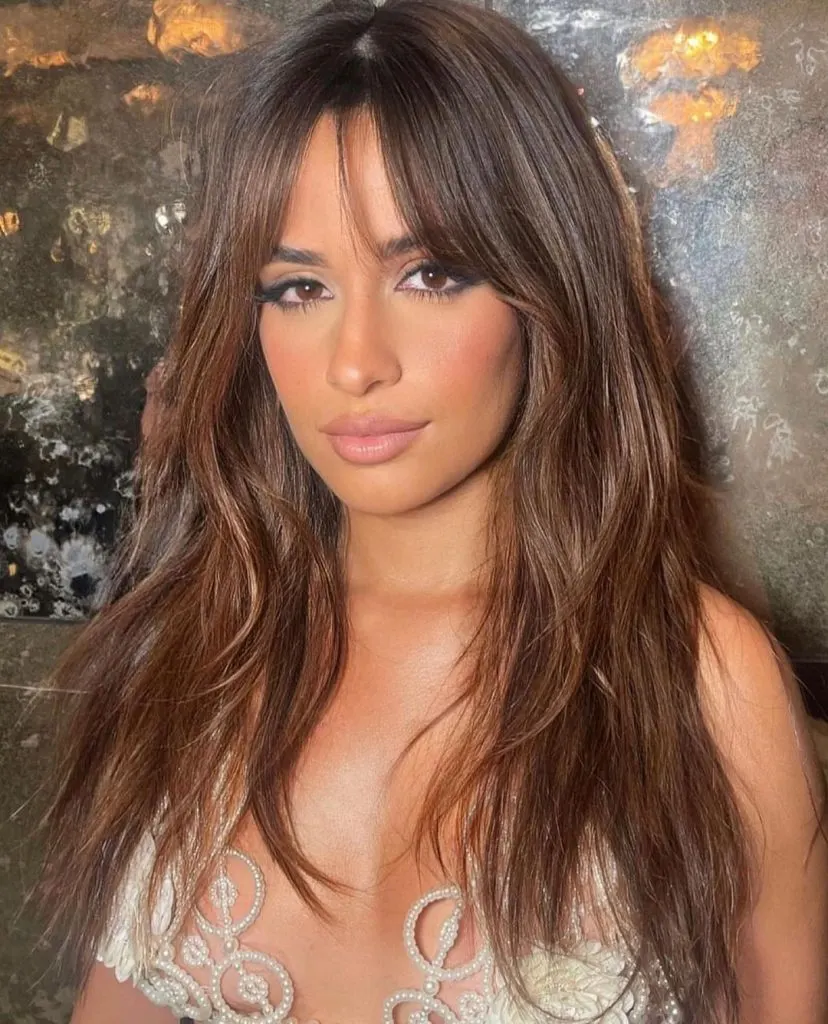 When in doubt, you can't go wrong with curtain bangs. If blunt bangs are difficult to pull off, curtain bangs are the opposite—almost everyone can wear them and look fabulous.
Curtain bangs are parted in the middle and fall to the sides, so instead of a harsh line, they create a curtain-like frame around the face.
They're versatile and work with different face shapes, hair textures, lengths and styles. For example, go for a bob with curtain bangs to flatter a heart-shaped face or choose to elevate your ponytail with soft curtain bangs to blunt the angles on a square face.
Curtain bangs are also one of the most low-maintenance types of bangs, since they don't need to be kept at a certain length to look good and don't require any special styling.
3. Bottleneck bangs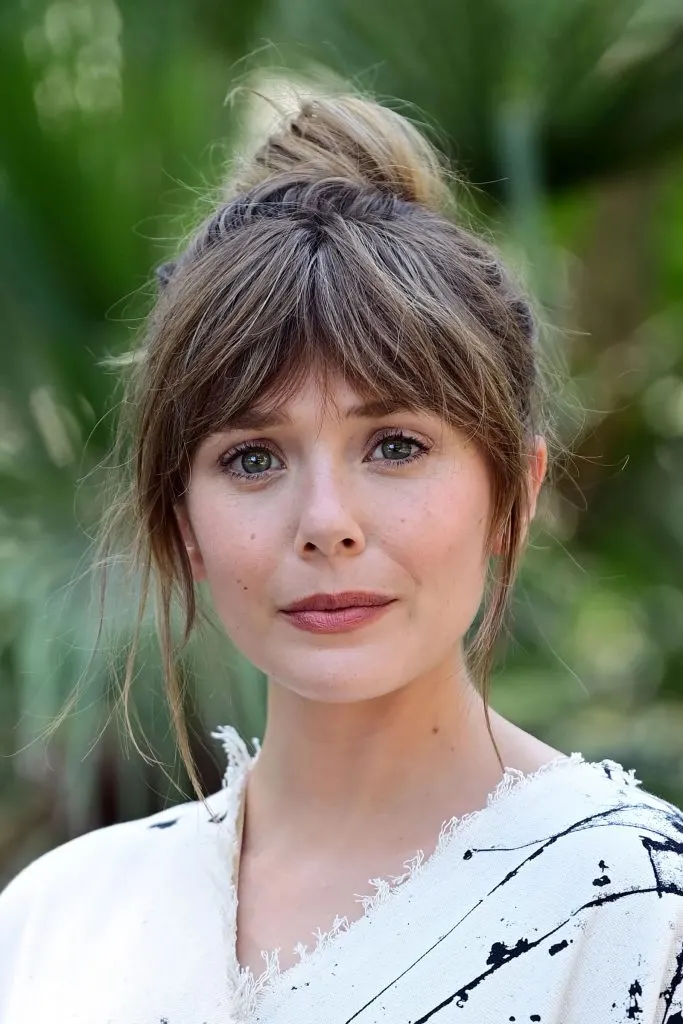 This trendy bang style can be considered a sub-type of curtain bangs, since it has a similar effect, but there are some key differences you should know to ask for at the salon.
Bottleneck bangs are the shorter and choppier cousin of curtain bangs, more modern and fresh.
Short in the middle and gradually longer towards the sides, bottleneck bangs stop somewhere around the cheekbones and don't taper as much as curtain bangs.
This style of bangs is a bit more of a statement and nearly universally flattering. They key is to find the right angle they fall at and let your natural texture do the rest.
4. Birkin bangs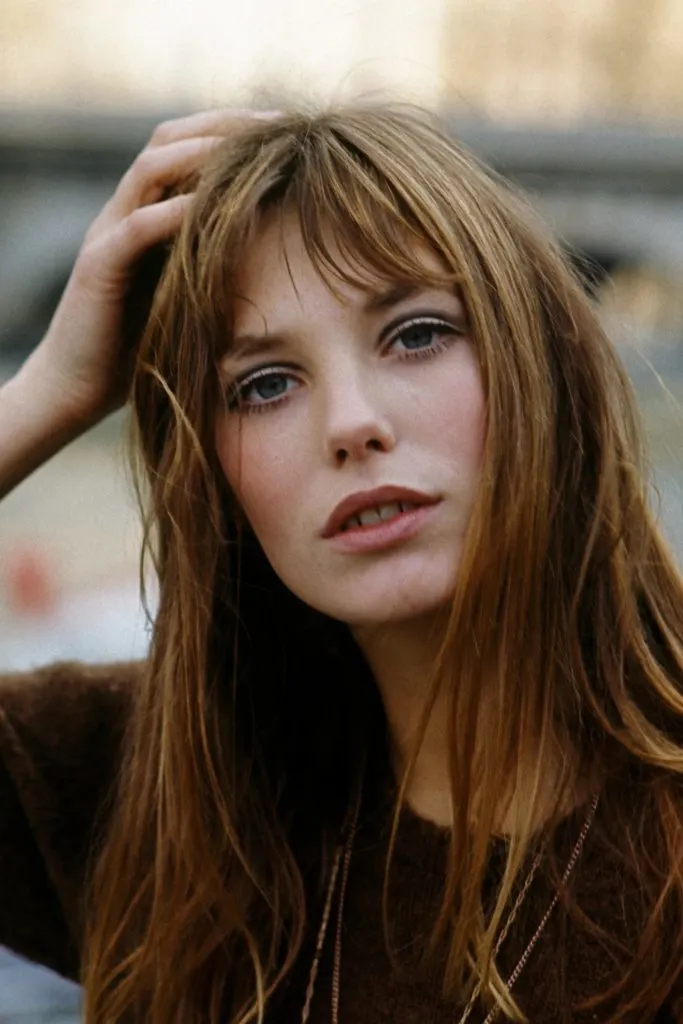 Birkin bangs are eyebrow-grazing and wispy, emphasizing a natural, undone look. Instead of a blunt finish, the ends are thinned out or choppy.
These bangs are narrow and thin, so they're easy to grow out. They're a good choice if you're still not convinced that bangs are for you.
• A good alternative to blunt bangs, Birkin bangs are the perfect length and wispy enough to complement a round face.
• Because they're narrow, Birkin bangs won't add width to a heart-shaped face and they'll make the forehead appear smaller.
• Wispy, relaxed Birkin bangs will soften the angles on a square face and a diamond-shaped face.
5. Parted bangs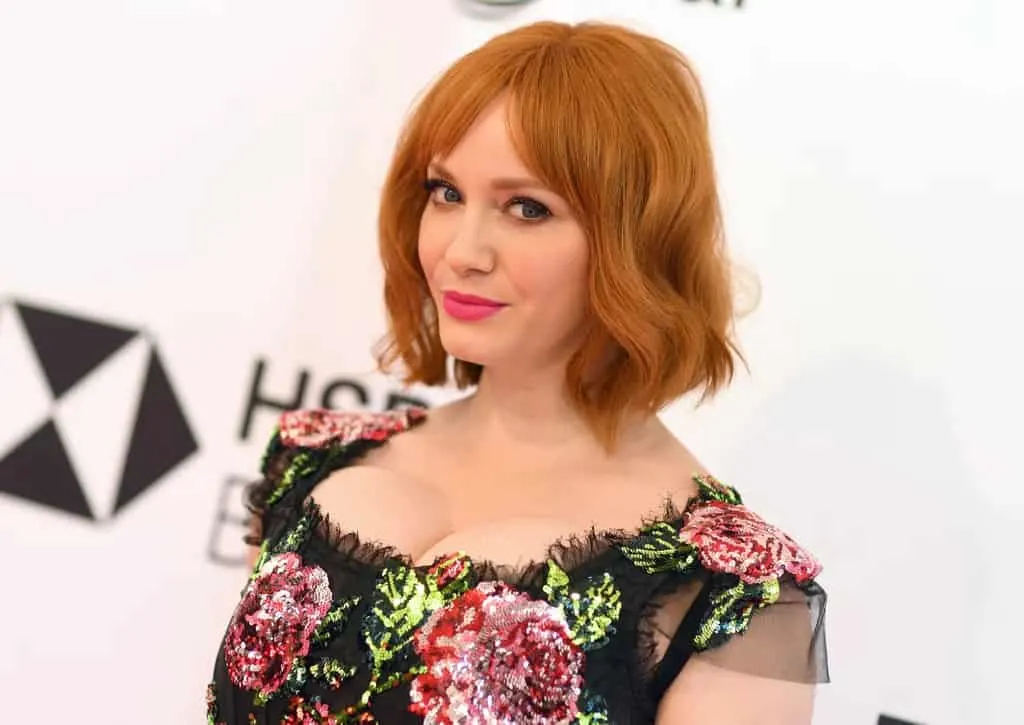 Middle-parted bangs are a blend of blunt bangs and curtain bangs—they're short and full, but much softer than a classic straight-across bang.
This style of bangs works with different hair textures and looks best when the ends match your overall haircut: they can be choppy, blunt or soft.
• Middle-parted bangs create a symmetrical look, so they're particularly well-suited for an oval face shape and emphasize its balance. However, if you have a cowlick, parting your hair where it naturally falls will be much more effortless that forcing a middle part.
• They elongate a round face and soften the angles on a square face, and are especially flattering if you have a heart-shaped face.
6. Layered bangs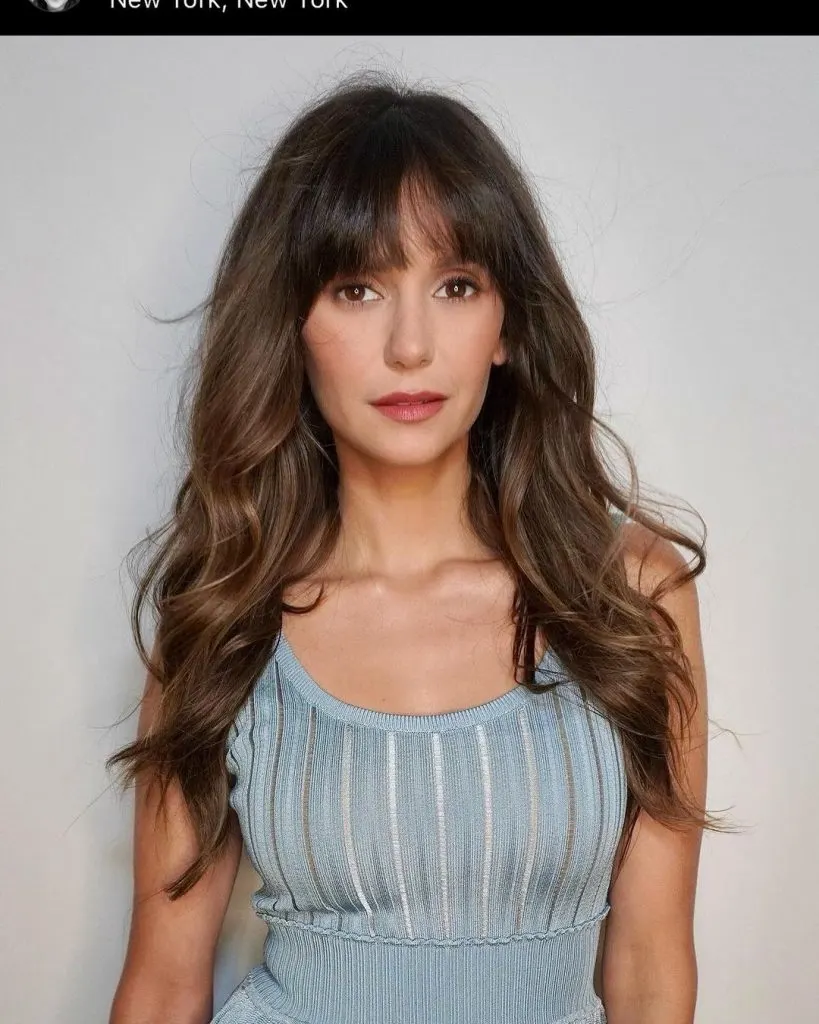 Layered bangs feature layers of different lengths throughout, which gives them a lot of movement and a dynamic and casual vibe.
Because they're not structured, they're versatile and suit most face shapes. They can be adapted to any face shape but making them thinner, fuller, wispier or longer.
Like all types of bangs, they complement an oval face, but they also elongate a round face, make an oblong face look shorter, soften angular face shapes and balance the width of the forehead on a heart-shaped face.
7. Textured bangs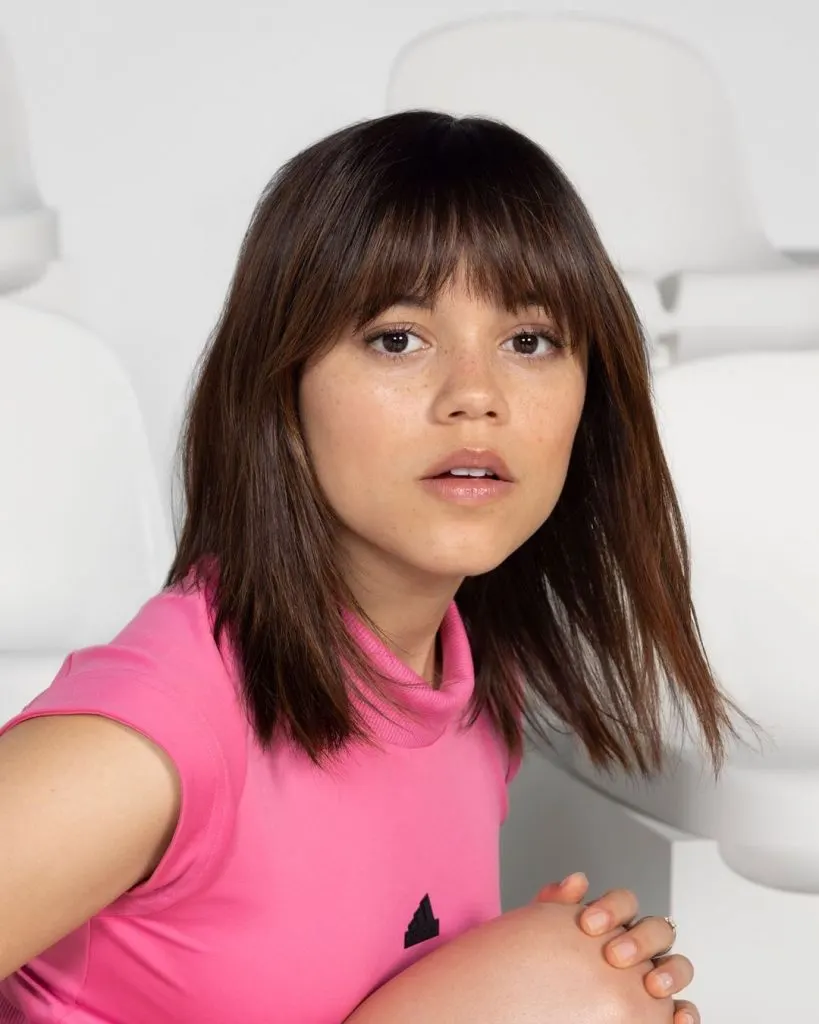 Textured bangs are the less soft counterpart of layered bangs—they're more tousled and effortless. They're intentionally piece-y and undone, so they create a look that's less polished and relaxed and more dynamic and edgier.
Similar to layered bangs, they complement a range of face shapes and they're a great option if you prefer a very casual look.
8. Bettie bangs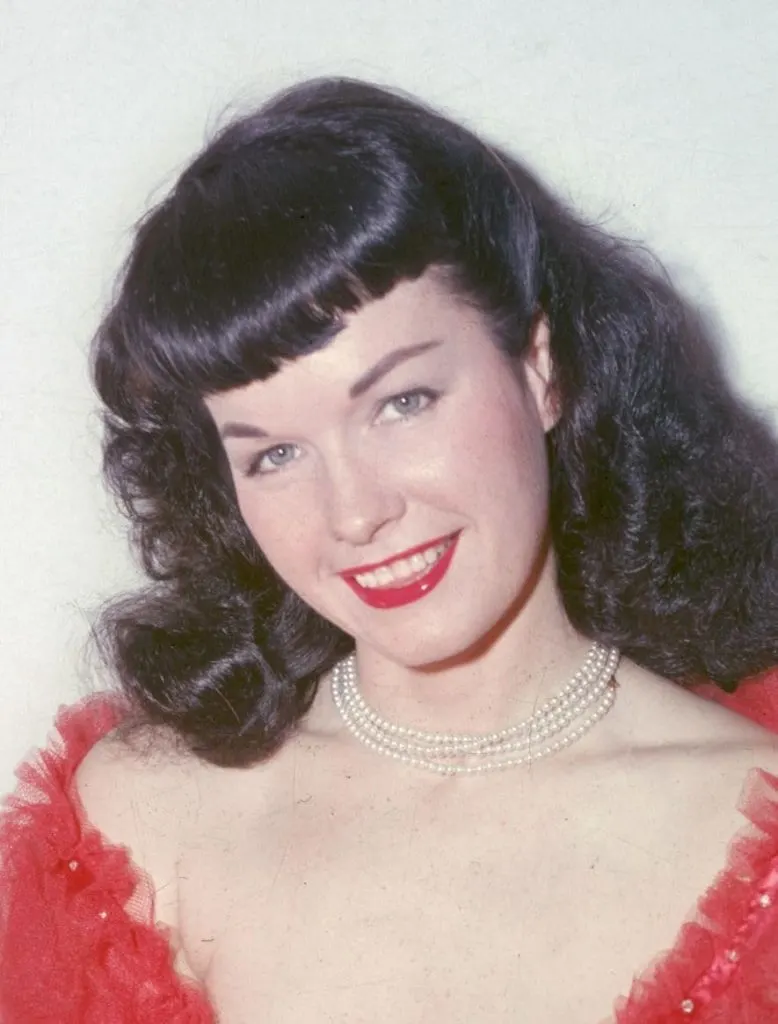 The iconic Bettie bangs are inspired but the '50s pin-up model Bettie Page. They're very short and have a characteristic rounded shape.
This is a statement look and difficult to grow out if you're unsure, so they're quite a commitment.
• They're not cut wide, so they make the forehead on a heart-shaped face seem narrower, and their length makes an oblong face look shorter.
• They call attention to the cheekbones on a diamond-shaped face and emphasize its angularity with an edgy look.
9. Shag bangs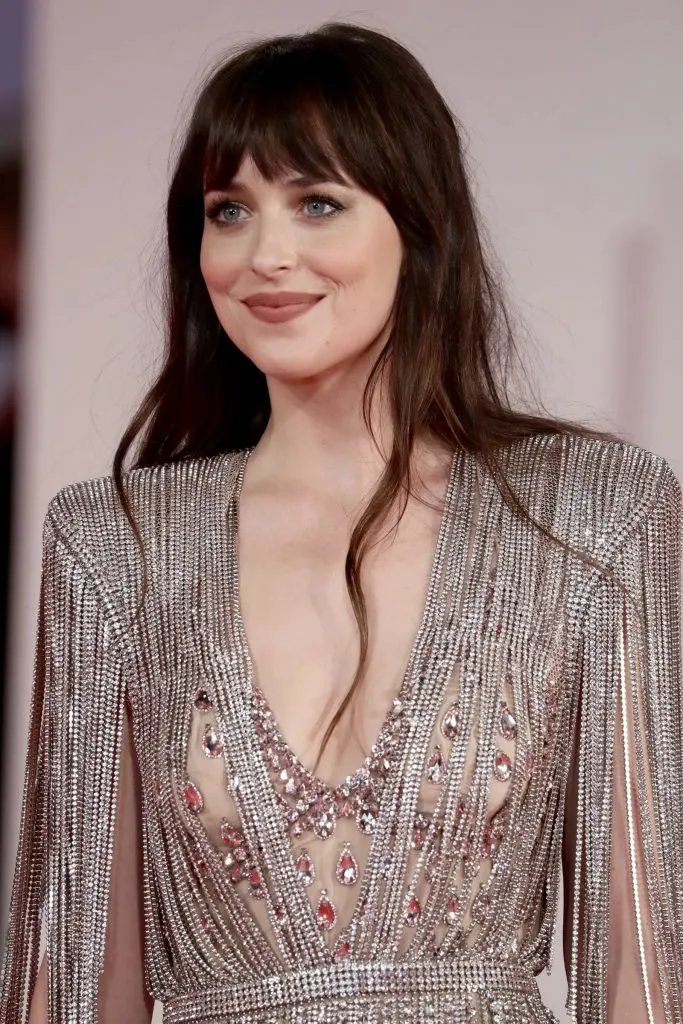 Shag bangs usually accompany the currently super-trendy shags, but they can be worn with other haircuts. They're choppy and uneven, which creates a casual and chill vibe.
They're usually cut in a way that follows the natural flow of the hair, so they suit all face shapes and hair textures.
Shag bangs are completely customized, so they're low-maintenance and require nearly no styling because they look best when they sit where they naturally fall.
10. Crescent bangs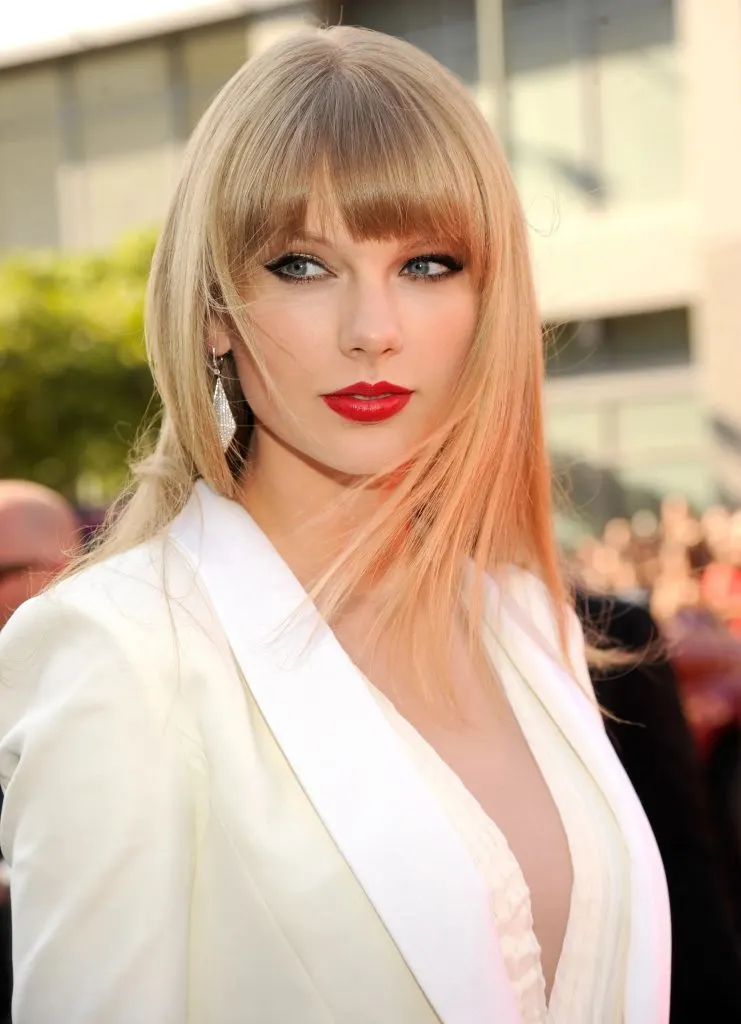 Crescent bangs curve across the forehead, creating a rounded face frame. They're less harsh than blunt bangs and more structured than curtain bangs. They can be worn full or wispy, longer or shorter.
This style of bangs softens angular face shapes and makes the forehead appear shorter, so it's also a good choice for heart-shaped and oblong faces.
11. Curly bangs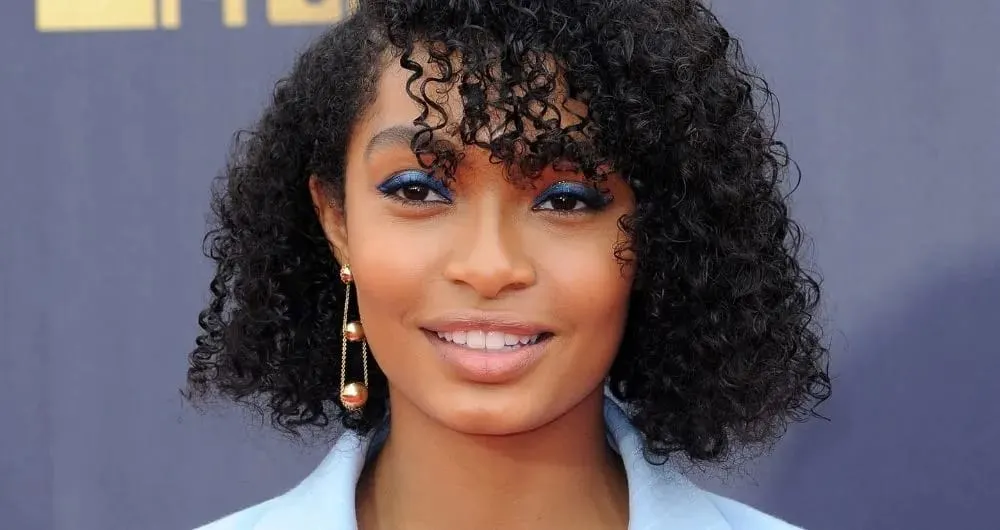 Curly hair with bangs creates a gorgeous frame for the face, but getting it right can be a challenge. While most types of bangs can be curly, there are some things you should always consider if you have curly hair.
• Your curl pattern will determine how exactly the bangs will fall, so trying to force a different shape will be a struggle.
• Curly hair shrinks, so finding a stylist who understands dry cutting curly hair is essential, or you might end up with much shorter bangs than you want.
• Your bangs will behave the same way your hair does, but it will be more noticeable. If your hair is prone to frizz, so are your bangs.
12. Baby hair bangs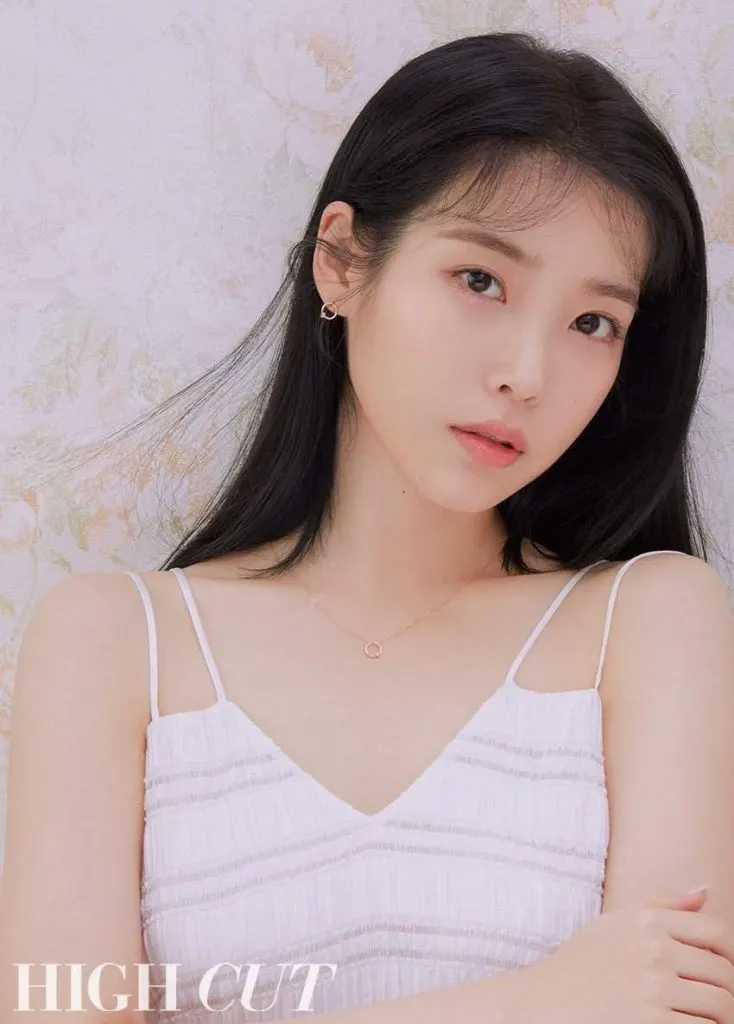 Styling your baby hairs changes your hairline and has a face-framing effect, so they can be considered a type of bangs.
If you have pronounced baby hairs, they already affect your look. You can choose to leave them as they are or style them.
When styling your baby hairs, you have a variety of options: they can be worn soft and subtle or dramatic and stylish.
13. Choppy bangs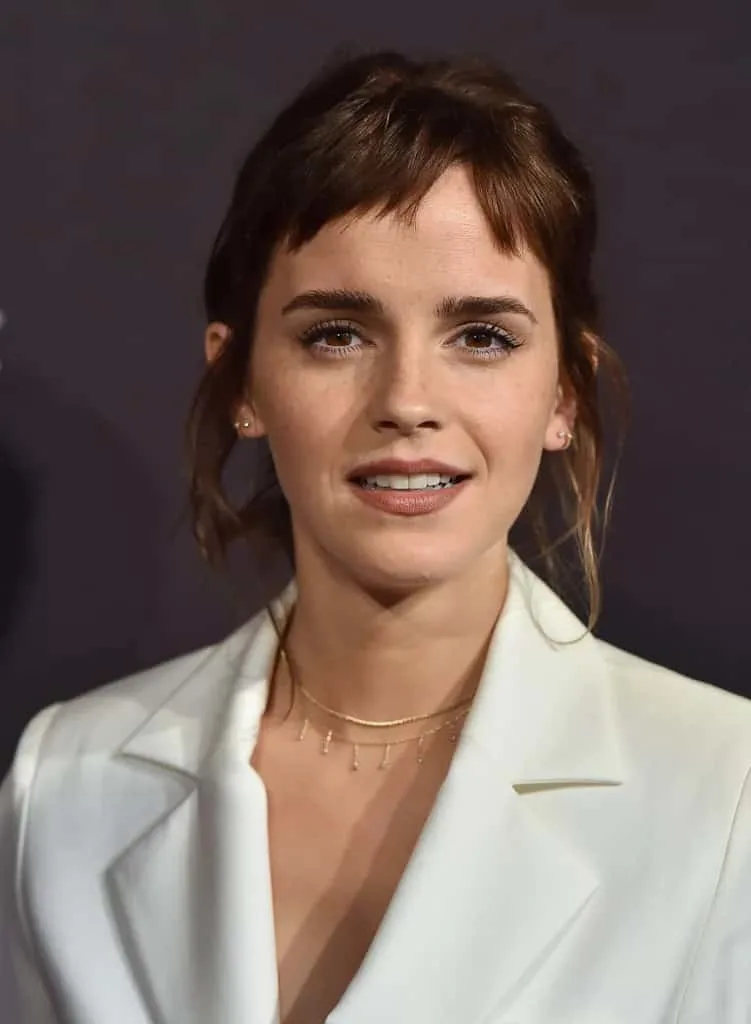 Bangs of any length can be choppy—the point are the uneven, jagged ends. Cut with varying lengths and framing your face in an unexpected way, choppy bangs will give you a cool girl vibe.
Even if it seems like they're all about an edgy look, choppy bangs also flatter and frame the face. Most face shapes can pull them off, but they suit a round face particularly well, adding sharpness and elongation, especially if you opt for a shorter variety.
14. Piecey bangs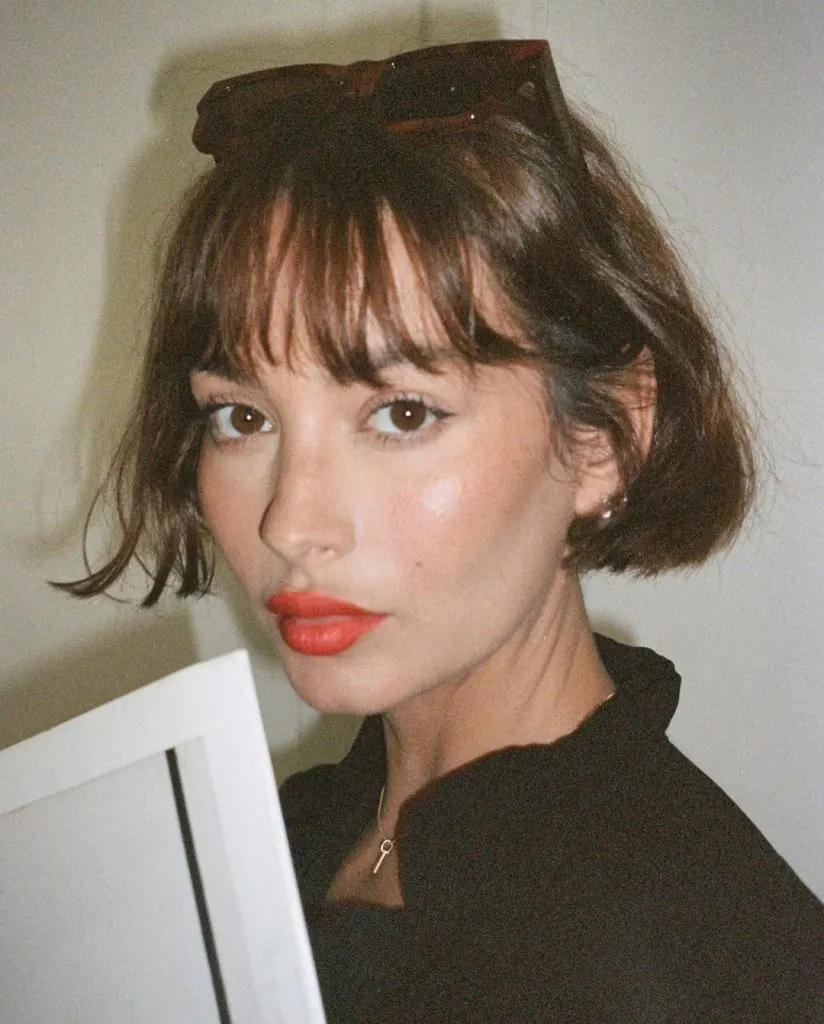 Piecey bangs are a low-maintenance, low-commitment type of bangs with a modern, stylish vibe. Unlike more polished styles of fringe, piecey bangs create a carefree and effortless effect.
Cut narrowly and styled to separate individual sections to achieve a piecey look, they look good on nearly everyone.
• Because they're not solid, they soften angular face shapes, like square and diamond, and since they're not blunt, they add a vertical dimension to a round face.
• They're a very good choice for a heart-shaped face since their width makes the forehead appear narrower.
15. Wispy bangs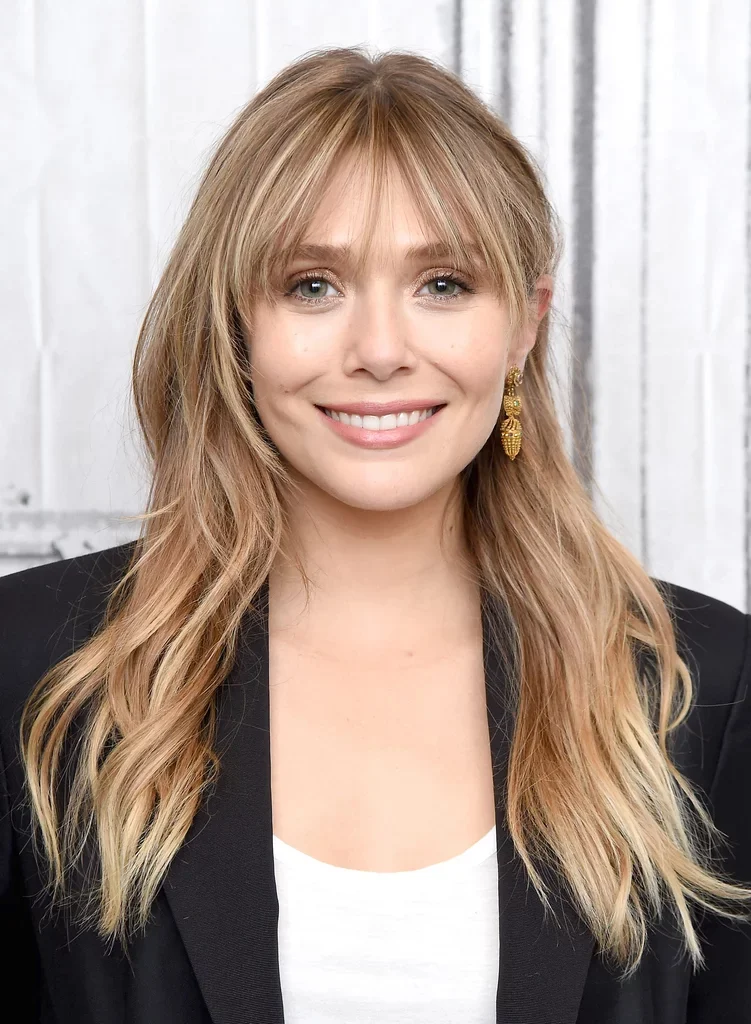 Wispy bangs range from barely there to fluffy, but they have two things in common: they're fine and light, creating an airy effect and they look flattering on all face shapes.
This is the ideal style of bangs if you want to add a romantic and delicate quality to your look. They complement hairstyles that have a similar vibe, like soft curls, and contrast with more structured styles, like a blunt bob.
16. Micro bangs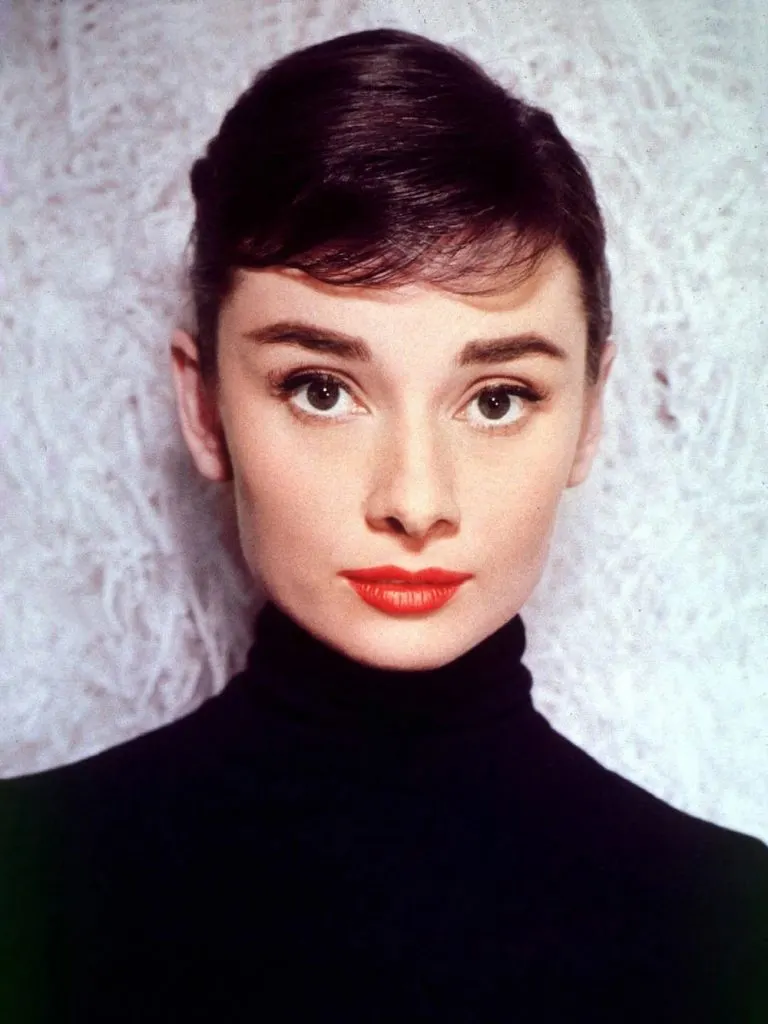 Micro bangs, also known as baby bangs, are defined by their short length. This is a statement look: they sit high above the eyebrows, so there's no way to miss them.
Other than being short, micro bangs can be interpreted in any way you prefer—blunt, thextured, wispy or choppy—to create a personalized, flattering look.
Unlike the oval face shape, which can wear all types of bangs, some face shapes are overwhelmed by very short bangs. Other than oval, micro bangs suit a heart-shaped face, a square face and a diamond face.
17. Long bangs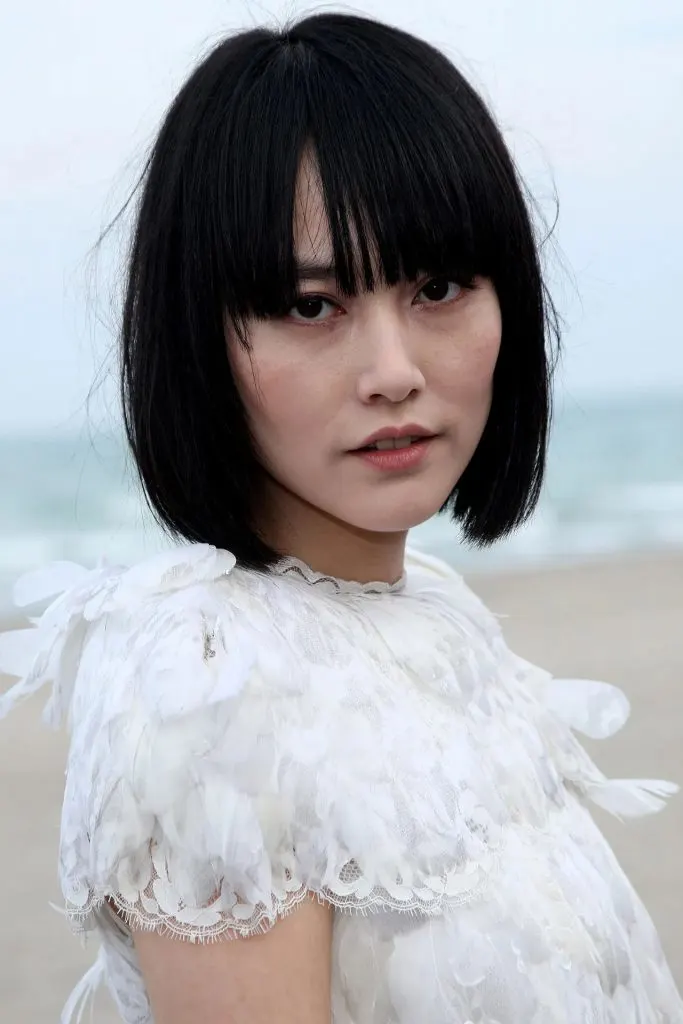 Bangs that go past the eyebrows can be considered long bangs, whether you intended to wear them that way or you're growing out a shorter style.
Long bangs are versatile and let you style them in various ways—you can part them, tuck them behind the ears or pin them back.
Long bangs will elongate the face, so avoid them if your face is oblong. If you have an angular face, wearing them parted to the side will add softness and frame your features.
18. Long side pieces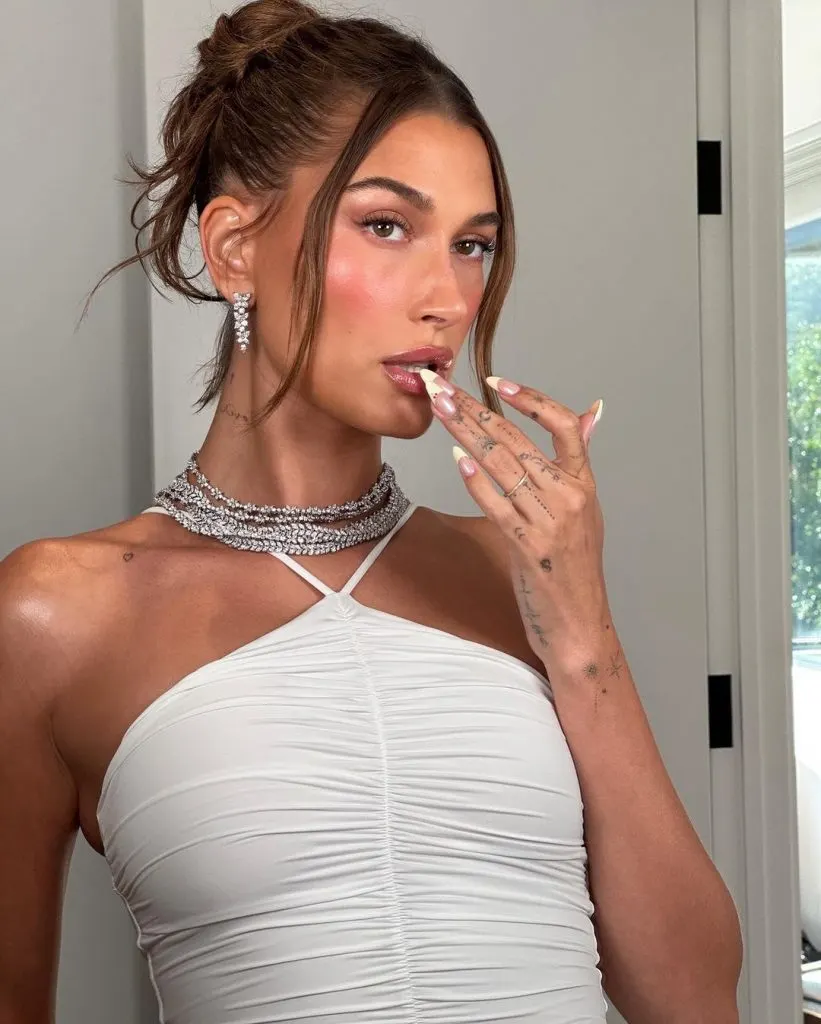 Long side pieces are super-long bangs that extend past the cheekbones or even reach the jawline. They can be thick or fine and they're worn parted in the middle or on the side to create chunky pieces near the face.
This is a low-commitment way to get some face-framing into your haircut, since you can easily blend them with the rest of your hair. They soften your look, and they're especially flattering with an updo.
19. Side-swept bangs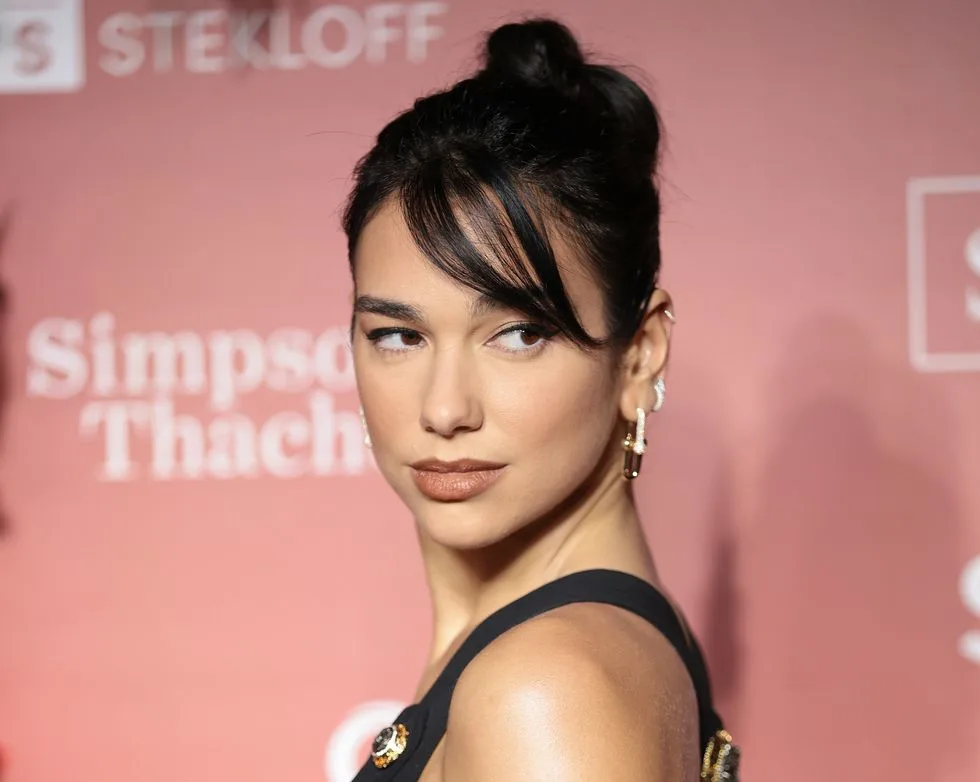 Side-swept bangs is one of the easiest to wear and most flattering types of bangs. They break up harsh lines, soften the features and create a sense movement, so they suit all face shapes.
Side bangs are easy to conceal if you decide against bangs, but you probably won't because they elevate any hairstyle: from a pixie, to a bob haircut to long hair.
20. Asymmetrical bangs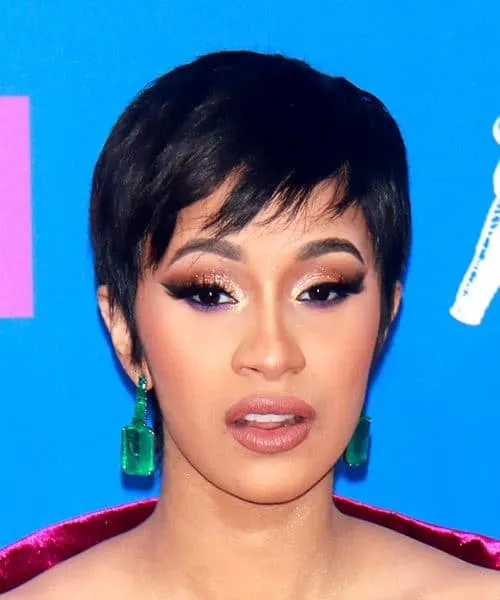 Asymmetrical bangs are intentionally cut unevenly and go short to long across the forehead. Depending on how they're cut—choppy, precise, layered—they can give you an edgy look or create a cute or classy impression.
This dynamic style of bangs suits many face shapes.
• They elongate a round face and add angles to make it look sharper. When cut in a sleek diagonal line, they create a cool editorial look.
• On a heart-shaped face, they make the forehead look narrower.
• If they have soft ends, they break up the angles of square and diamond-shaped faces.
If you want to see if asymmetrical bangs are for you without committing, try faking them by parting your hair in a deep side part and letting the strands fall at different lengths on either side of your face.
What To Know Before Getting Bangs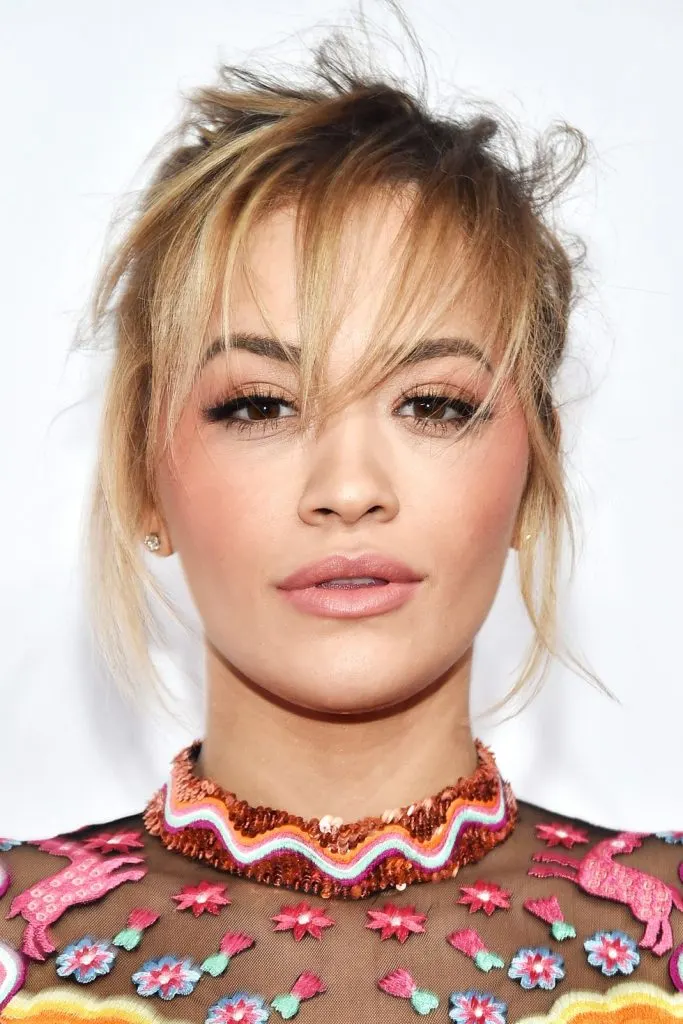 Gone are the days of stiff, overly-styled hair, and this extends to bangs.
Jane Matthews agrees. "Really good bangs are not nearly as complicated as you think," she says. "It's all about carving each section carefully and letting them sit where they naturally live. No forcing, no hot tools."
This doesn't mean that structured looks are out—it means that you shouldn't have to fight your hair to wear bangs.
Here are some things to consider before getting bangs.
1. You have multiple options
Your bangs will frame your face and flatter your features only if they suit your face shape and your hair texture, but that doesn't mean that there's only one style you're destined to have.
Figure out your face shape and consider your hair texture, then explore all the styles that would look good on you.
2. Consult your stylist before making a decision
Talk to your stylist and bring lots of inspo pics to give them an idea of what you like. Assess if they're a good match for you and if they can give you what you want.
Let your stylist give you suggestions instead of getting stuck on one style which might not be right. A few small changes can make most types of bangs suit various faces.
3. If you're unsure, go subtle
If you're not quite sure about bangs, don't ask for blunt, thick micro bangs. Instead, start with a style that's easier to hide and grow out; for example something long or wispy.
How To Choose The Right Style Of Bangs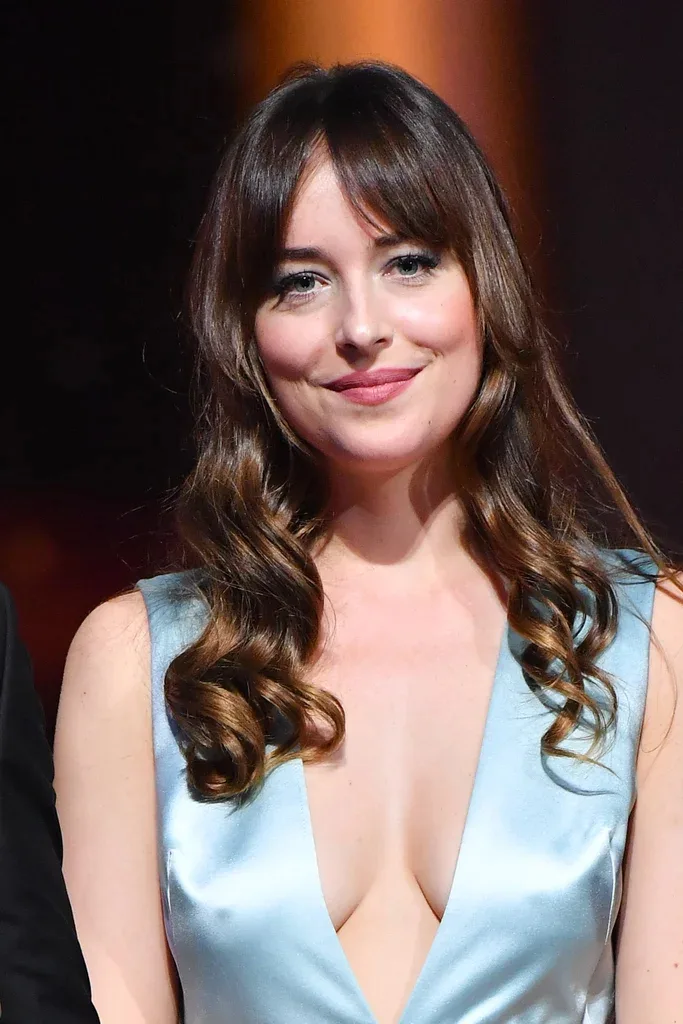 Choosing the style of bangs that will come close to perfect for you starts with considering your face shape, hair texture, your lifestyle and your taste.
1. Face shape
Knowing your face shape can help you figure out which type of bangs will suit you best, but don't worry if you can't define the exact shape of your face. Your face is unique, so think of these as rough descriptions rather than the norm.
The goal is to create balance, so using bangs you can play with proportion and symmetry to achieve a flattering hairstyle.
OVAL FACE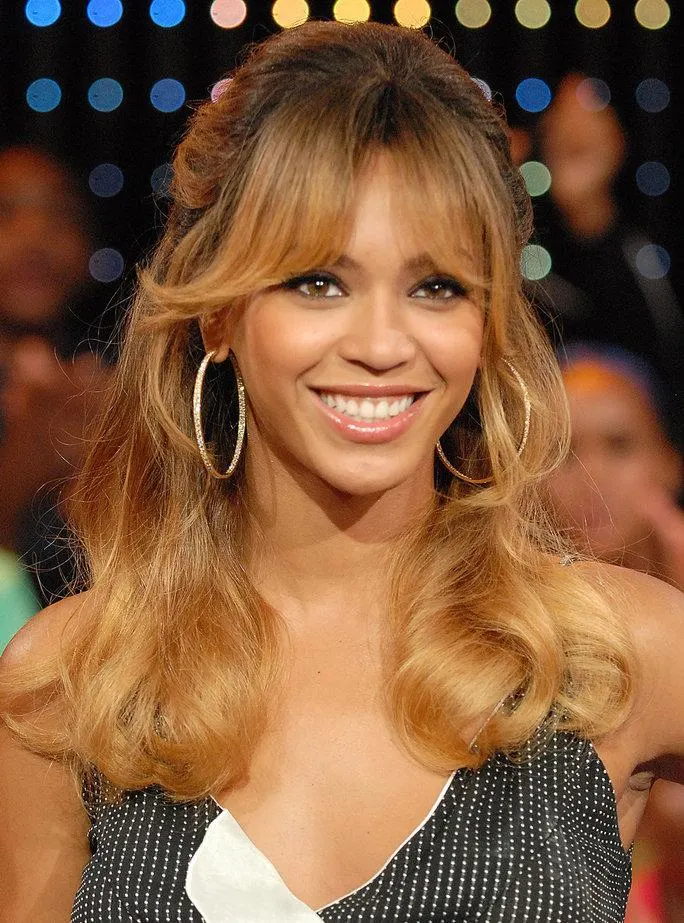 An oval face is longer than it's wide and has a gently rounded chin and forehead.
If this is your face shape, you're lucky—it already has balanced proportions and looks harmonious with many different hairstyles.
This versatility lets you play and experiment with different looks. Your face doesn't require any special accommodations, so you have lots of options—you can wear any type of bangs without disrupting the balance.
Draw attention to your eyes with short baby bangs or emphasize your cheekbones with middle-parted long side pieces.
OBLONG FACE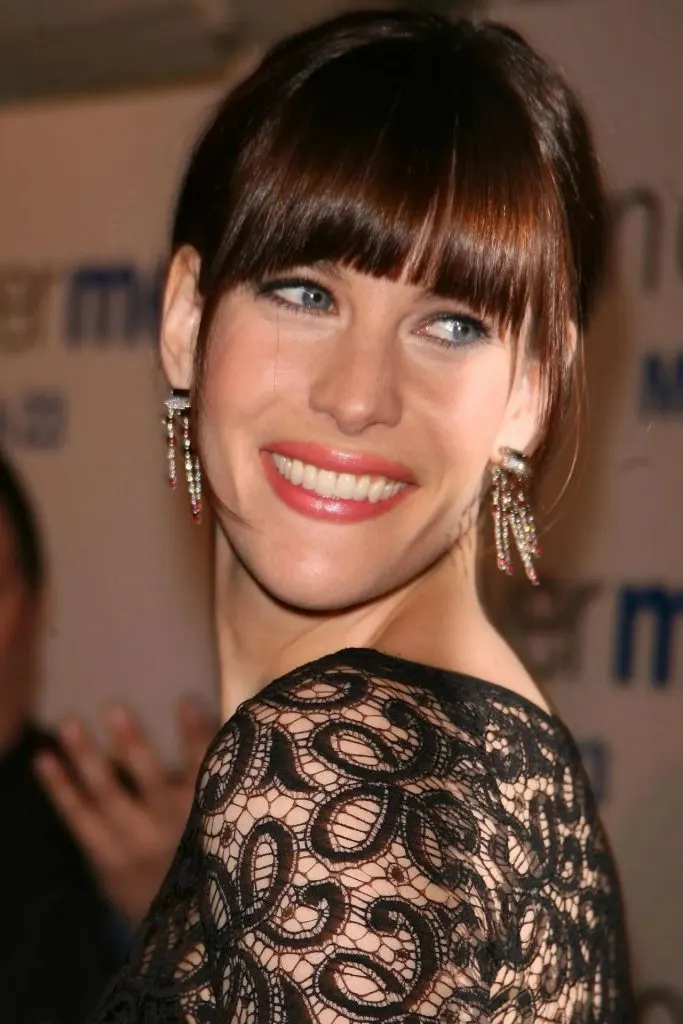 If the defining feature of your face is length, you have an oblong face.
The way to achieve balance is to make it appear shorter, so when choosing bangs, you'll want to focus on shortening the forehead while maintaining the weight on the sides.
• Below the eyebrow is the ideal length for bangs if you want to make your face appear shorter.
• The shape of your bangs on the side doesn't matter much; you can choose whatever you prefer and still have a flattering look if you opt for a longer style.
SQUARE FACE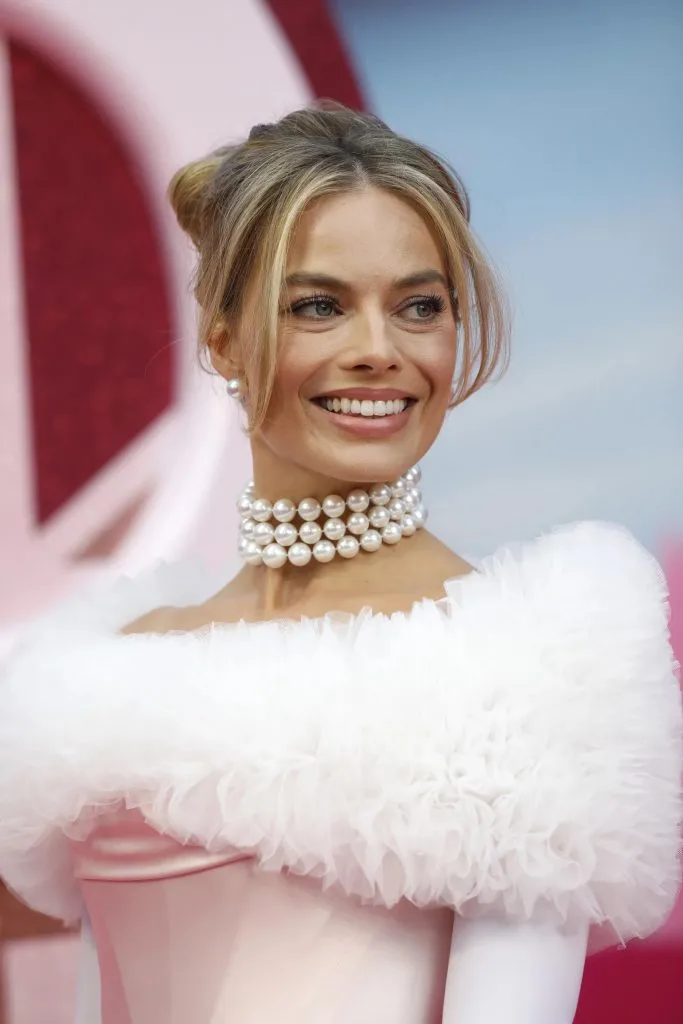 A square face is defined by straight lines. The forehead, cheekbones, and jawline are of similar width; the forehead is wide and the jawline is sharp.
To create a balance on a square face, the aim is to soften the angles.
• Long, parted bangs or side pieces will take off some width on the sides, creating a gentle face frame. Layers will create an even softer look.
• Wispy bangs will break up the angles and add softness.
• Layers and the length of the hair also plays a part in softening your look—opt for a haircut that doesn't end at the jawline to avoid calling attention to it. For example, choose a layered lob with side bangs instead of a blunt, chin-length bob.
ROUND FACE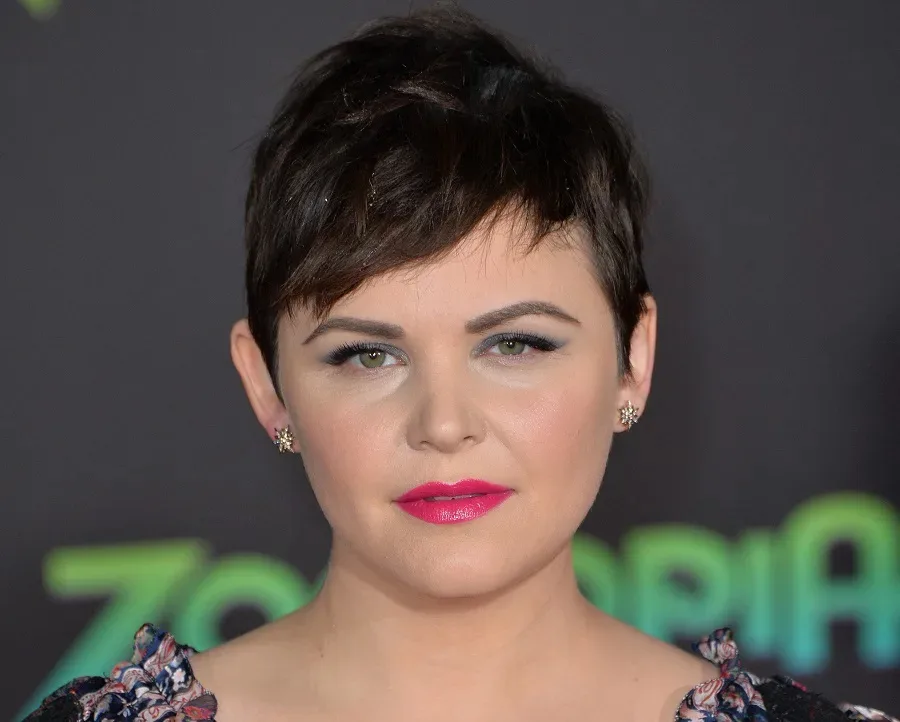 A round face is almost as long as it is wide with a curved forehead, a rounded jawline and wide cheeks.
If your face is round, you want to make it look slimmer and more elongated to achieve a balanced look.
• Choose bangs that add angles to your face, such as side-swept bangs that draw attention to your cheekbones to make them more prominent so your face will appear more angular.
• If you want a shorter bang, don't go too short or too long–around or a little bit above the eyebrows is ideal to avoid losing length.
• Layers on the side and choppy ends are your friend: they break up the round shape and carve your cheekbones, adding structure and balance.
HEART-SHAPED FACE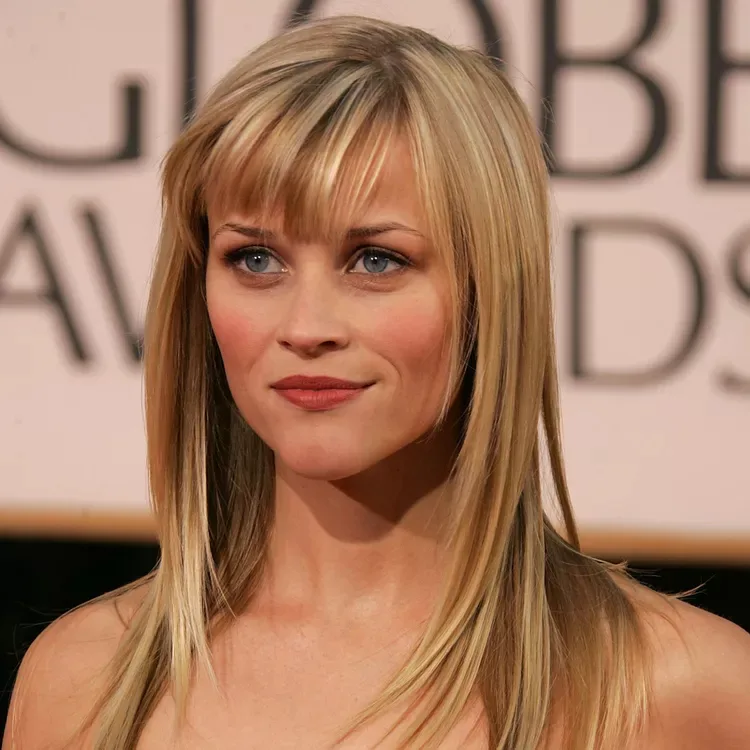 A heart-shaped face is longer than it's wide—the forehead is wide and the cheekbones are prominent, while the jawline is narrow and the chin pointed.
To achieve balance, you want to add volume around the jawline and avoid emphasizing the cheekbones.
• You want to make your forehead appear narrower, so avoid cutting the bangs too far to the side. Don't go far beyond than the arch of your eyebrows so your forehead will seem less wide.
• Side-swept or bang styles that are shorter at the center of the forehead and layered at the sides—like crescent, bottleneck and curtain bangs—are super flattering if your face is hear-shaped.
DIAMOND FACE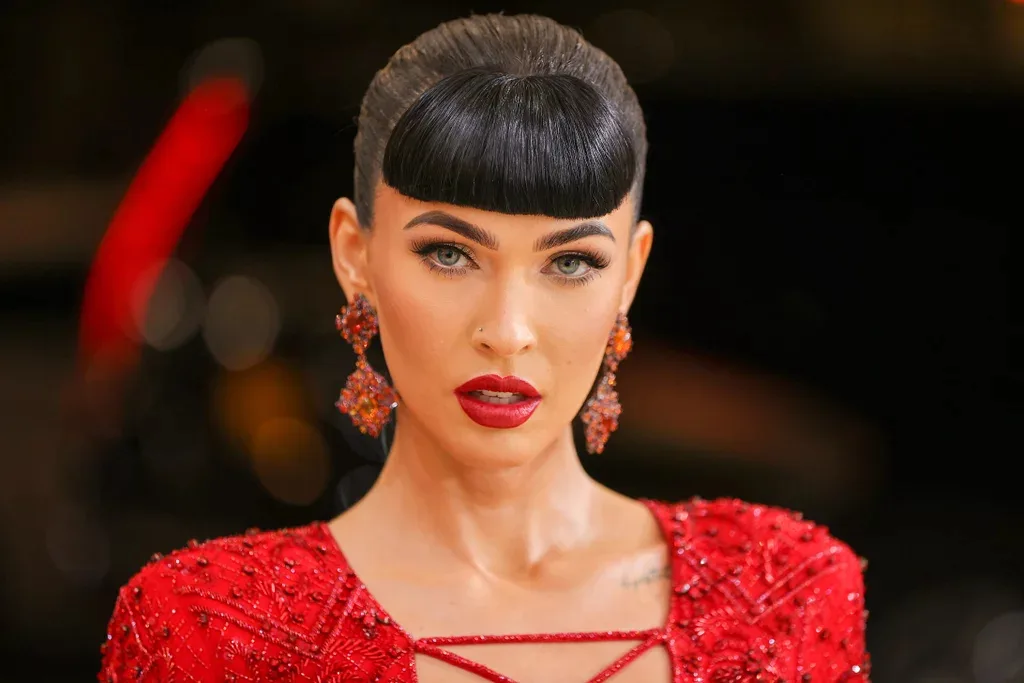 A diamond-shaped face has a narrow forehead and jawline, with wide and high cheekbones.
This is a balanced but an angular face shape, so you can go for an edgy look or soften the angles.
• Wispy, side-swept bangs will create a softer look, giving you less sharp cheekbones and jawline. You can also go for layers or soft waves.
• You can also go for structured and dramatic types of bangs if you like the sharpness of your face and a more edgier look.
2. Hair type and texture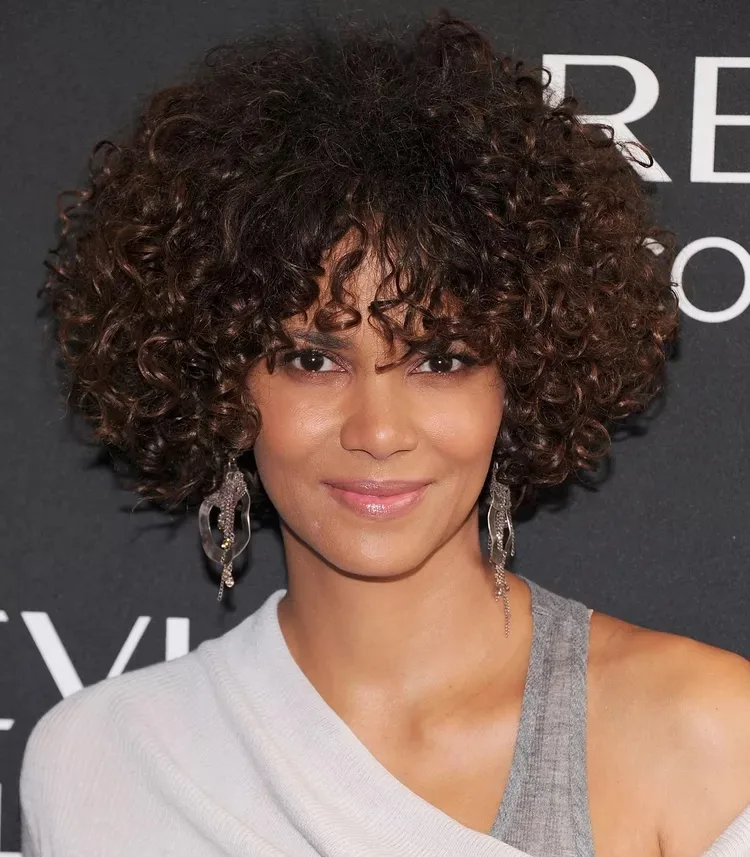 Don't worry if you don't have straight hair—all hair types and textures can wear bangs.
"If you take into account your client's growth pattern, cowlicks, and hair texture you can sculpt them to go with the flow and always look cool. AND unique to them," Matthews says.
The key is to find a stylist who knows how to cut your hair the right way, especially if your hair is curly, wavy or coily.
The exact style of bangs you choose doesn't matter as much as the work behind it—if you have fine hair, adding texture will make it seem fuller and if your hair is thick, subtly thinning it out will make it more manageable.
3. Environment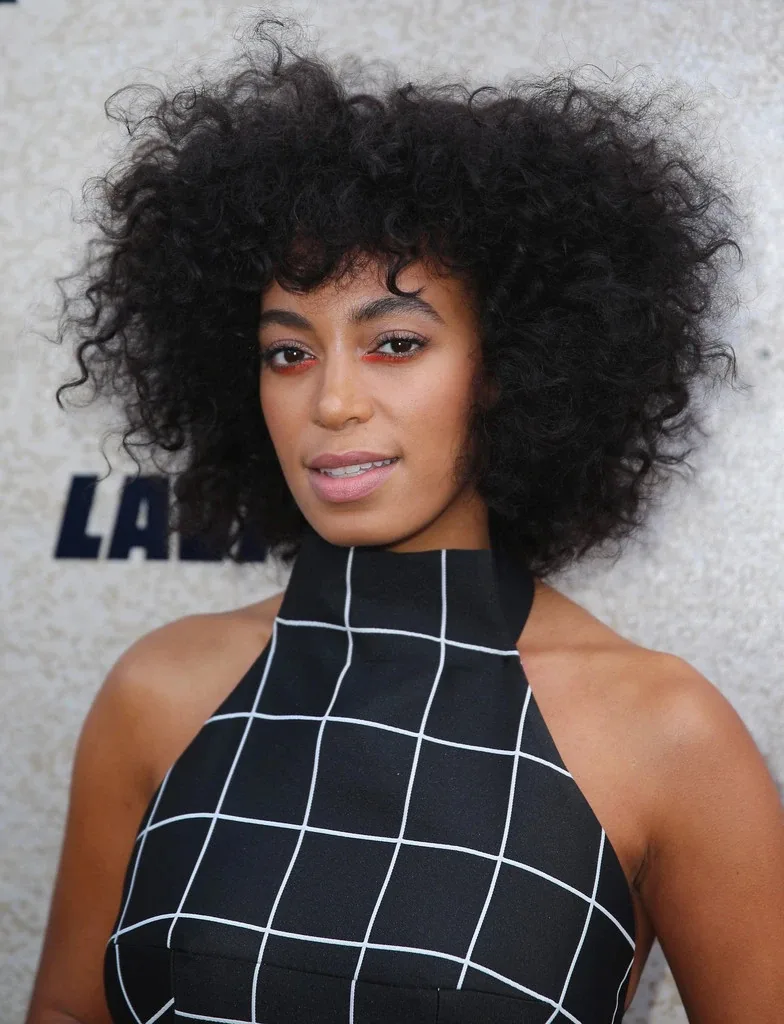 One thing you definitely need to take into account is your environment and how your hair behaves: your bangs will behave the same, but in a much more noticeable way.
If you live in a humid environment and your hair tends to get frizzy, the same thing will happen to your bangs. Choose longer or thinner styles that you can pin away when you want them out of your face.
4. Maintenance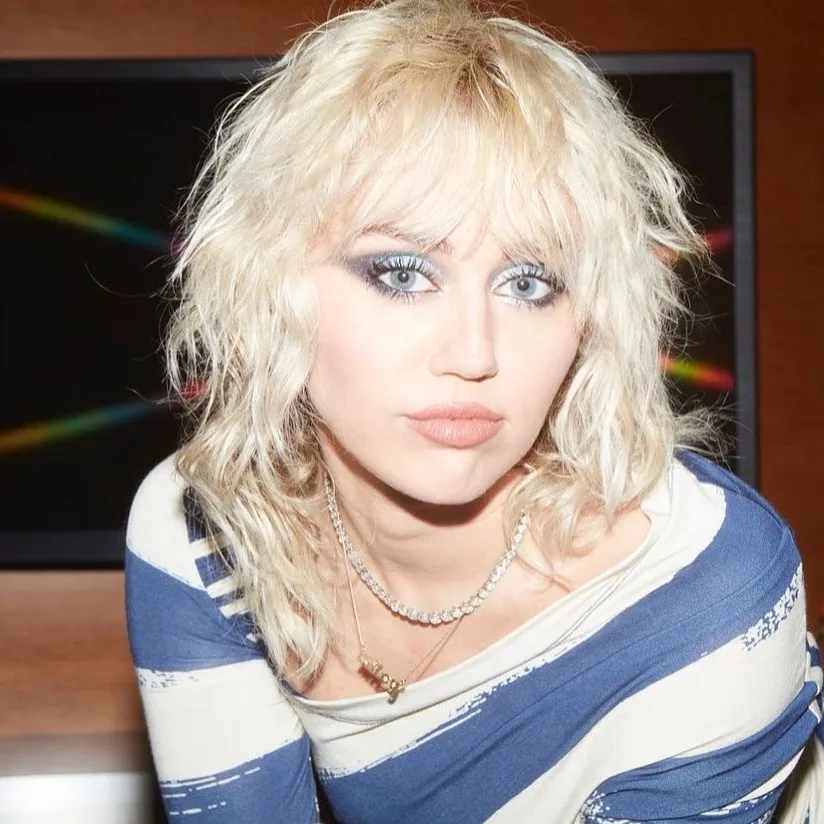 Bangs maintenance is frequently considered a point in the cons column when weighing whether or not you should get bangs, but there are ways to make them work for you.
• Styling
If you enjoy fussing with your hair, you have a wider range of options and can also choose a type of bangs which might not be ideal for your hair texture.
If you're a wash and go type, then go with a more seamless, organic style. You don't have to wake up an hour early every morning just to style your bangs—all you need to do is choose bangs that work with your hair.
Plenty of styles look different depending on whether you style them naturally or blow-dry them, which gives you another level of versatility.
• Upkeep
Upkeep isn't actually that bad—bangs need trims, but so do hair ends. If you want to maintain a certain length of bangs, it's enough to have them trimmed when you have the rest of your hair done.
If you enjoy a hairstyle that transforms as it grows out, you can let your bangs grow and change shape until you're ready for a shorter style again.
5. Lifestyle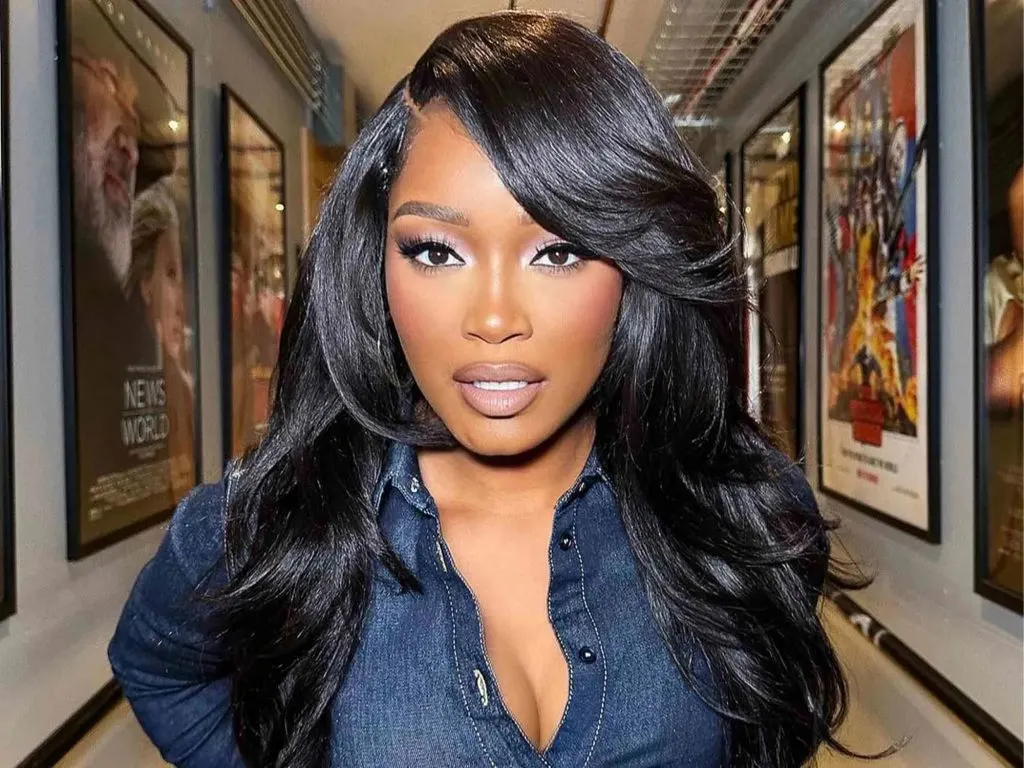 Face shape and convenience aren't everything—your choice of bangs also depends on your personal style and the impression you want to leave.
If your lifestyle and personal preferences are more edgy, a soft, wispy bang might seem too boring even if it would perfectly suit your face shape.
Likewise, if you work in a conservative environment or if your have an elegant style, a funky bang could be overwhelming.