Are you ready to embark on your hair color journey and find the look that speaks to your unique sense of style? Whether you're on a quest for classic beauty or you're in the mood to embrace your wild side, we've got you covered.
Bright blondes, luscious browns and fiery red hues, or something boldly different that will let your personality shine—which of these hair color ideas will make you feel absolutely fabulous?
1. Blonde Highlights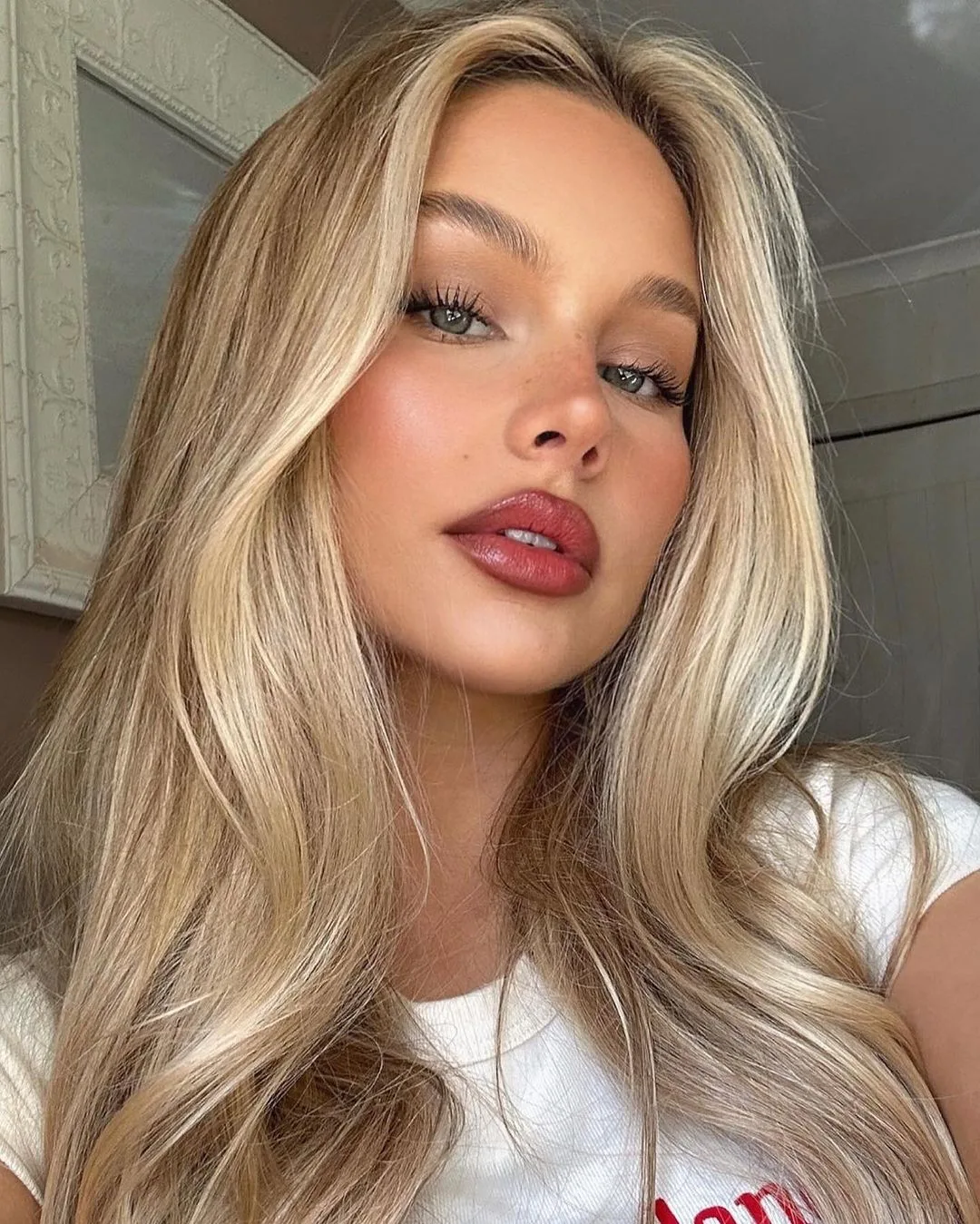 To bring a little (or a lot) of brightness to your complexion, you can't go wrong with blonde highlights. Regular maintenance is necessary to keep them fresh and vibrant, but it's worth it for the sun-kissed glow they'll add to your hair. They look best if your base is already a shade of blonde, but they can work on any color.
2. Cowboy Copper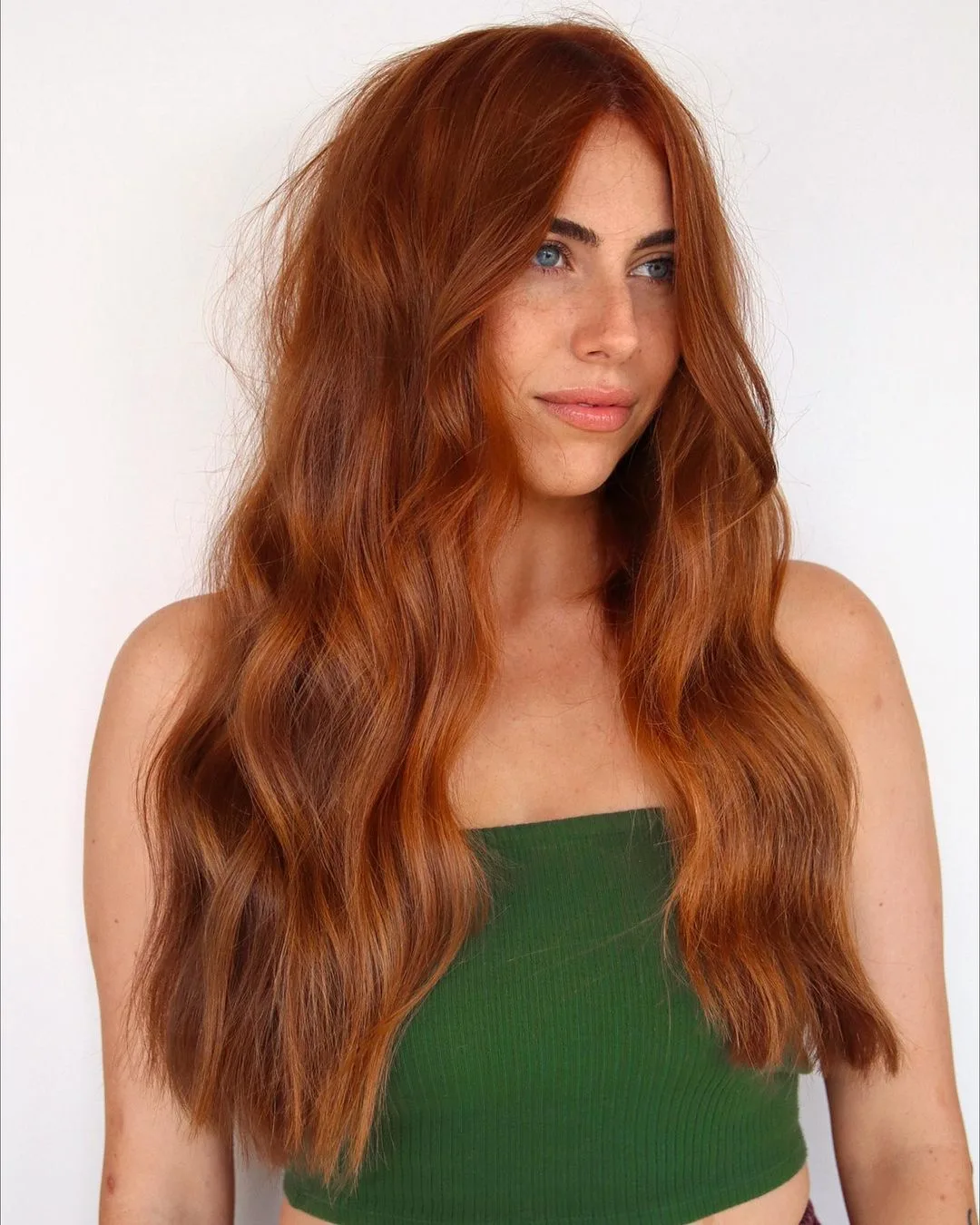 One of the hottest colors of the season, cowboy copper will infuse warmth into your tresses. This shade is a rich and vibrant combination of copper and brown—the perfect choice if you're looking for something that's more low-maintenance than pure copper but more vivid than brown. Unless you're a regular at the salon, it will wash out quickly, though.
3. Poison Green Money Pieces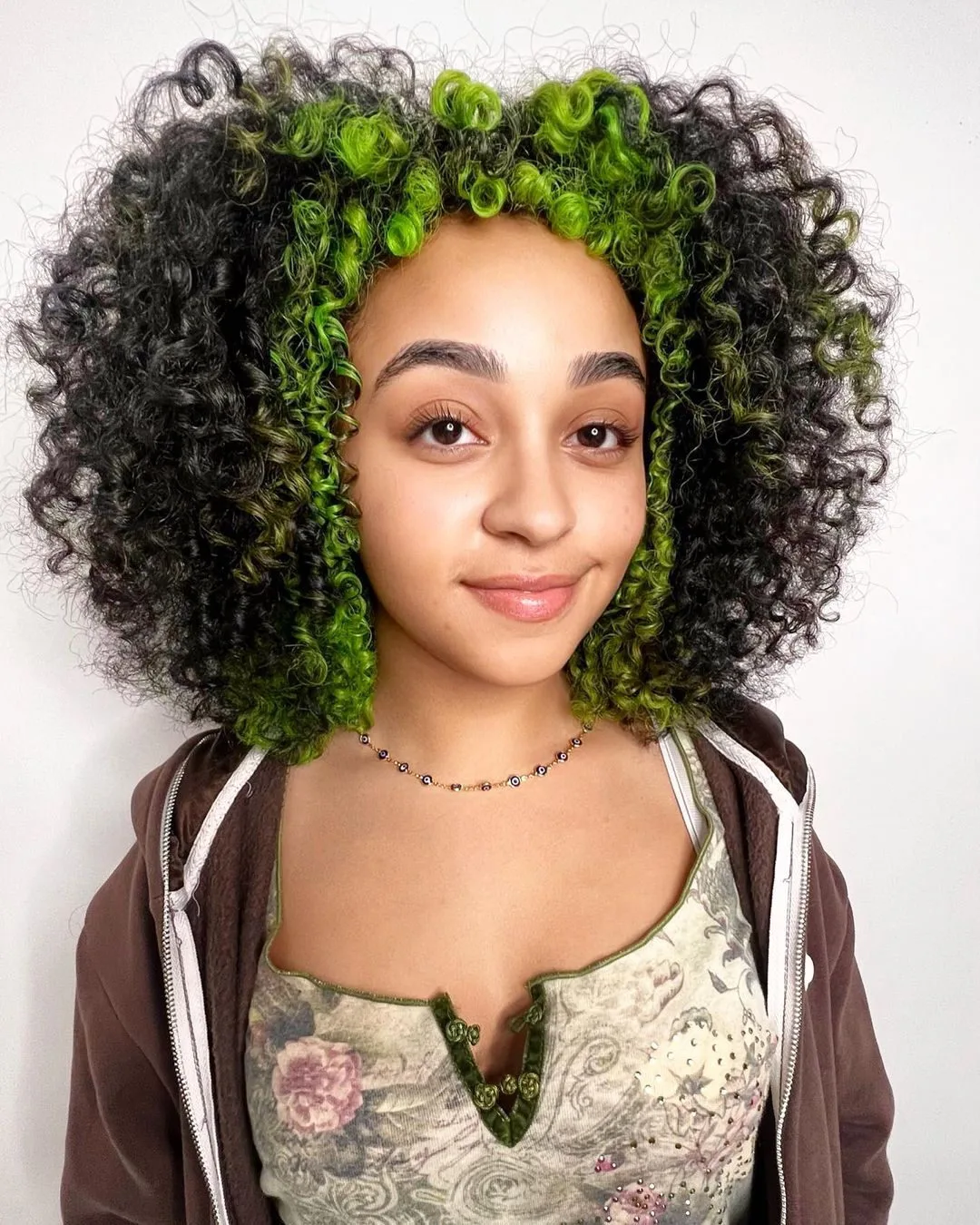 A splash of vivid color is always a bold statement, but especially if you opt for something unusual, like this bright green frame for the face. This type of modern and edgy look is ideal if want to express your unique style and make sure you stand out from the crowd.
4. Glossy Black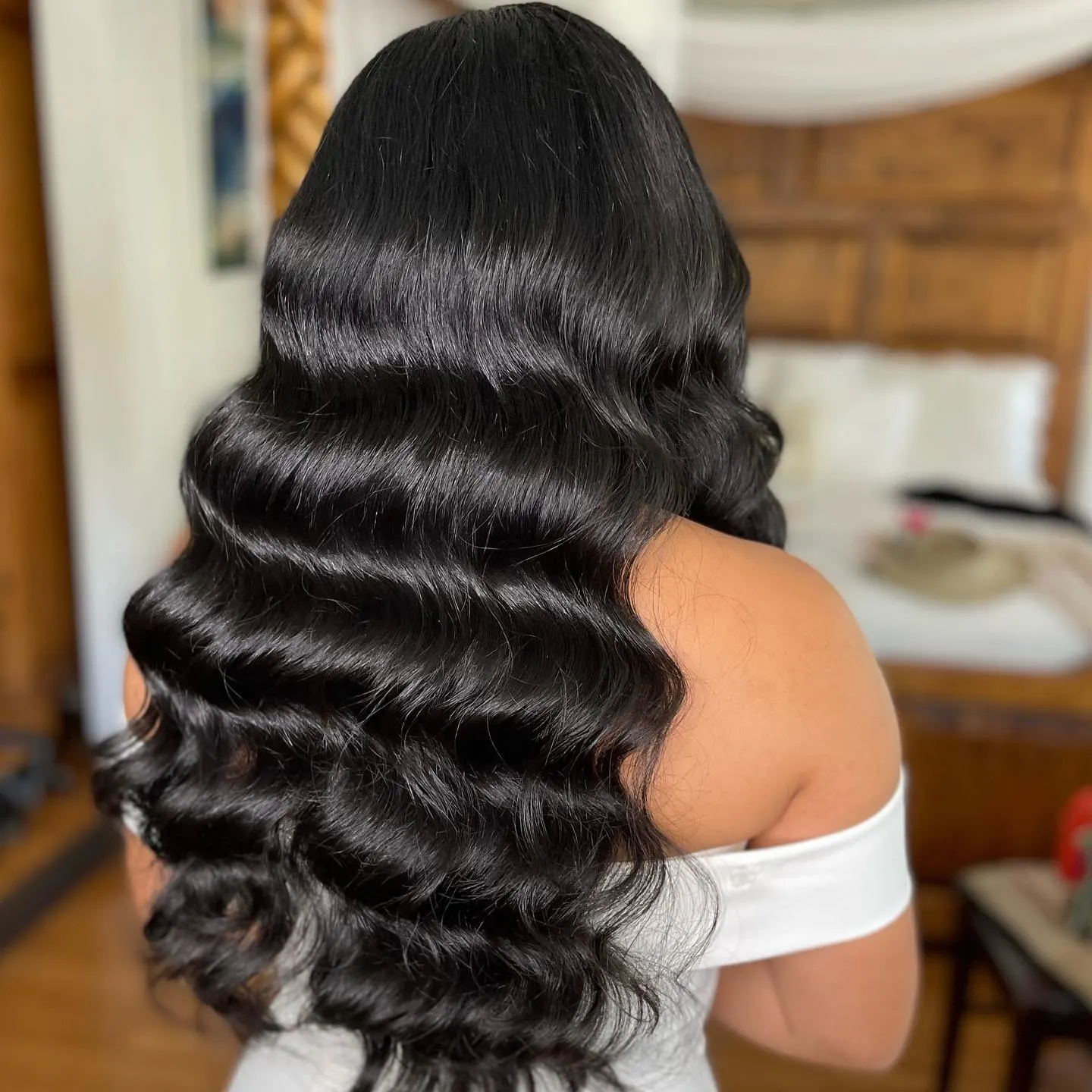 Glossy black is the embodiment of sophistication—you'll never look messy with this hair. This timeless color will elevate your whole vibe, making you look elegant wearing whatever outfit you throw on. To maintain the shine, visit the salon for regular gloss treatments.
5. Grombre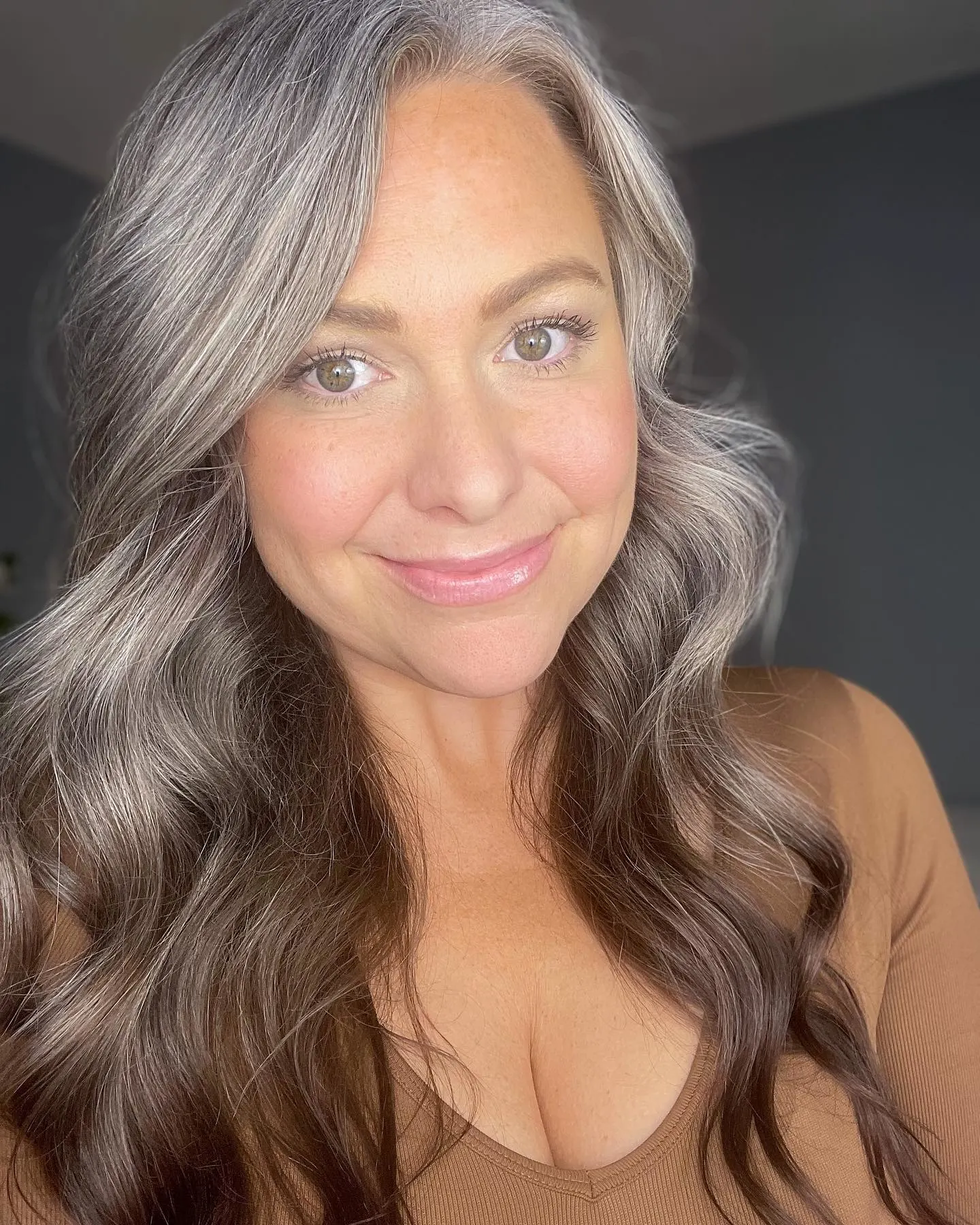 Grombre embraces the natural graying process, turning grays into a chic look. This low-maintenance color is the perfect solution if you've decided you want to celebrate your natural gray tones with style.
6. Lavender And Pink Gemini Hair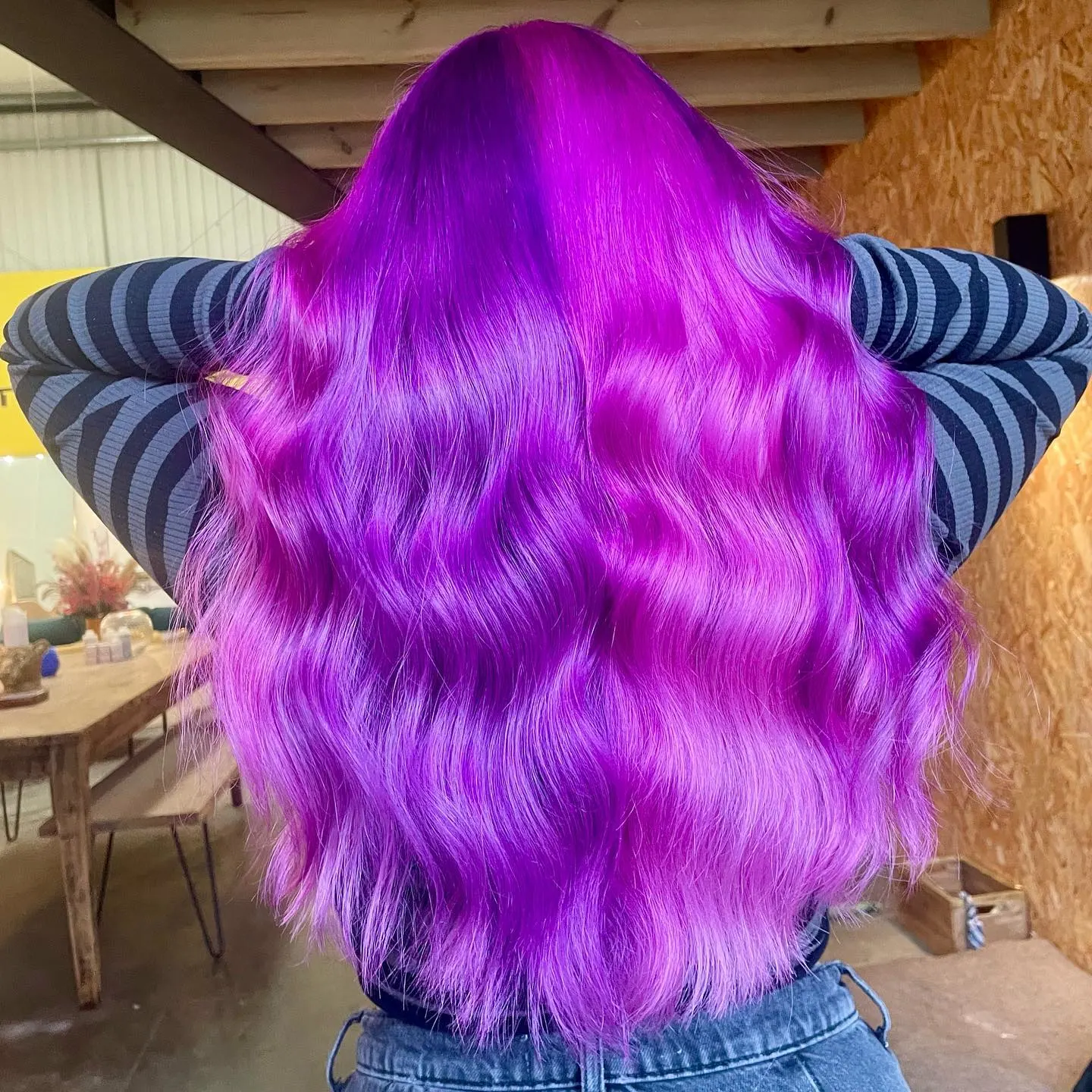 When you think "gemini hair", sophisticated probably isn't the first thing that pops into your mind, but this lavender and pink combo is exactly that. Combining two similar shades results in an unusual but elevated look while at the same time remaining full-on whimsical and edgy.
7. Honey Blonde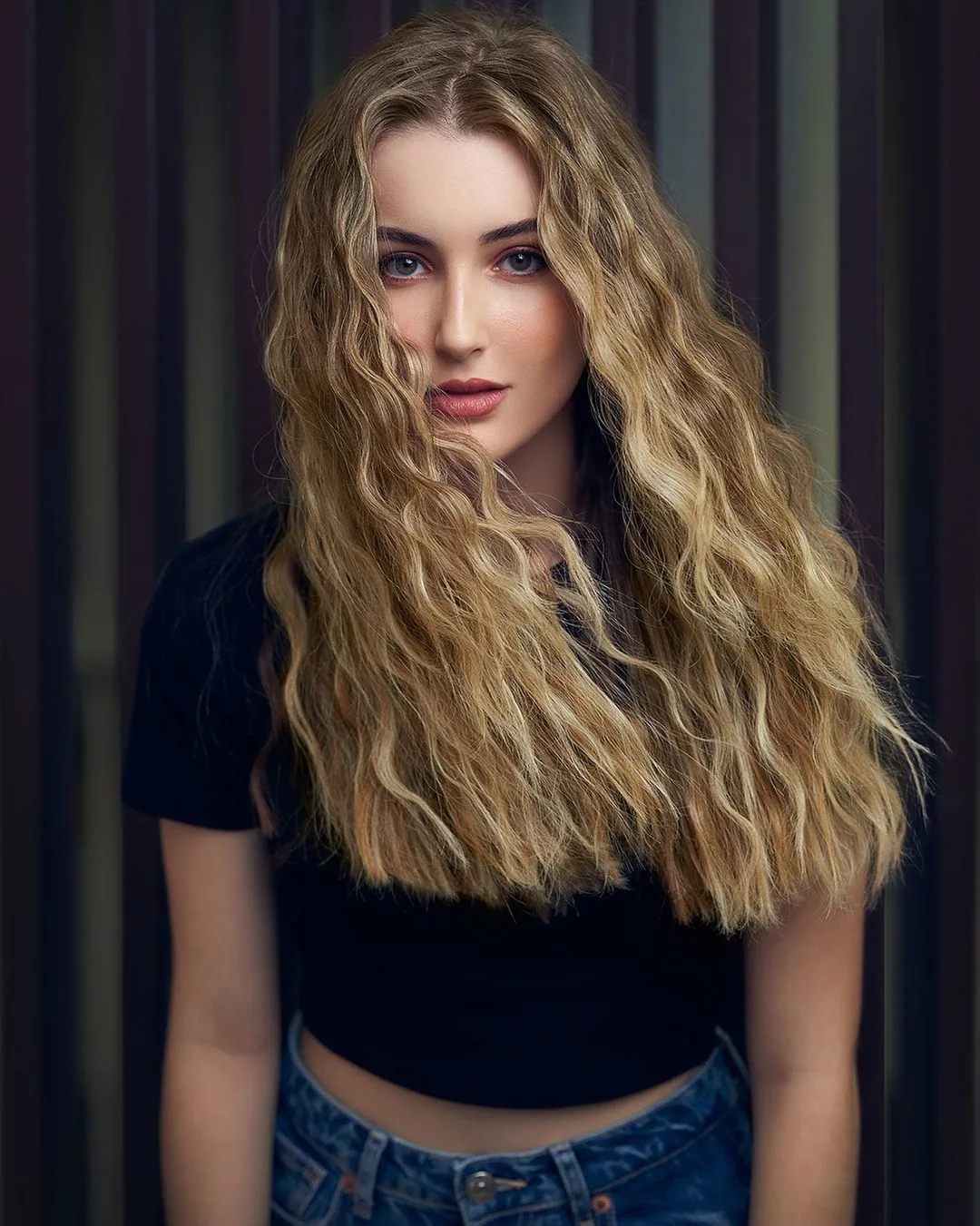 Honey blonde radiates warmth and sweetness, making you look cute and approachable. Styled in loose waves, it has a dreamy feel—a perfect choice if you prefer a natural or a soft aesthetic.
8. Burgundy Hair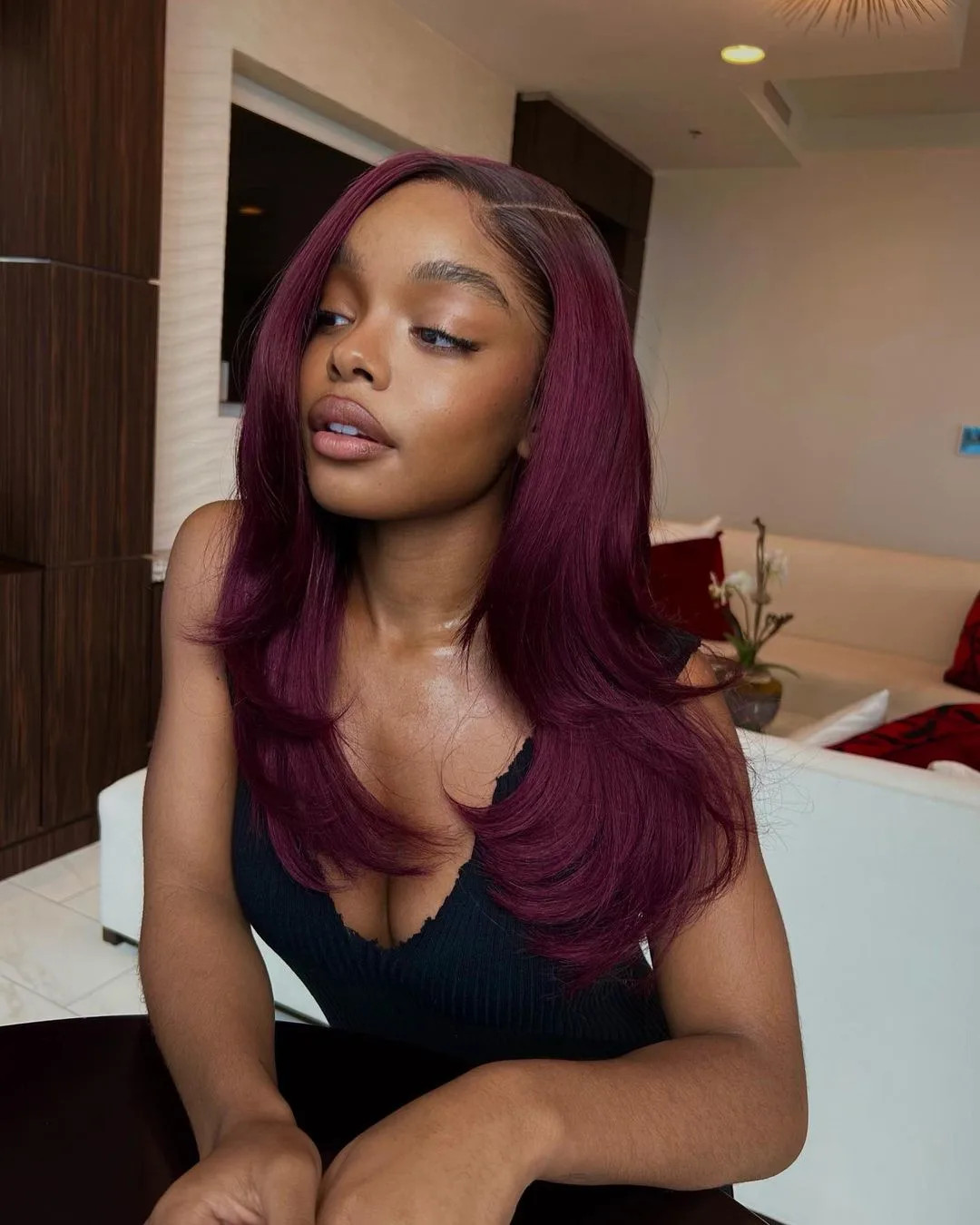 Inspired by rich wine tones, burgundy hair is the luxurious way to wear vibrant red hair. Deep and warm, it's an excellent choice if your skin has warm undertones. Opulence!
9. Ash Blonde Hair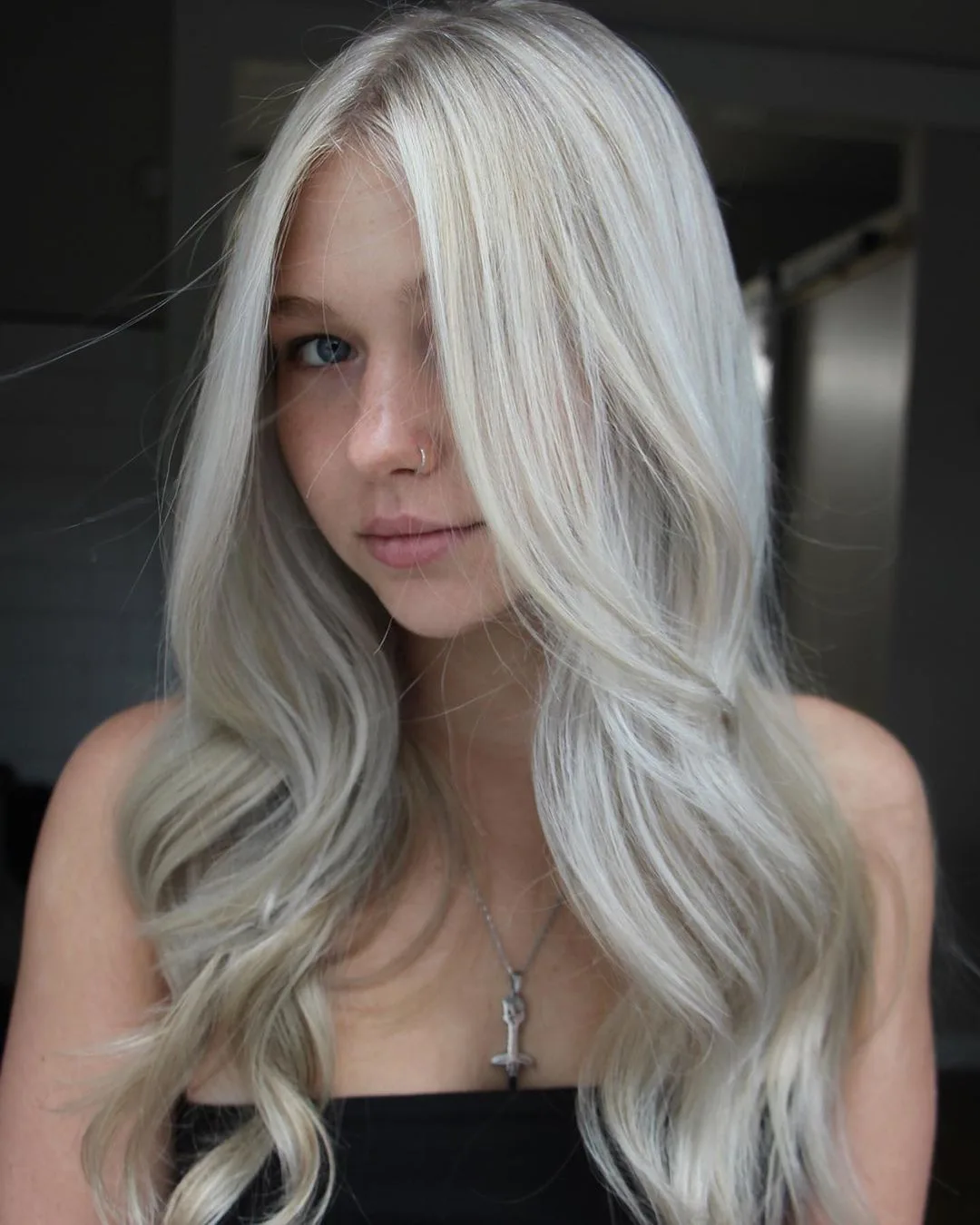 You want an ethereal model look? Ash blonde is is a high-impact color that always has a fashion-forward, editorial look. Despite being so light, it suits various skin tones and gives you a cool-girl vibe. Maintain the ashiness and avoid a yellow hue with regular toning treatments.
10. Neon Pink Money Pieces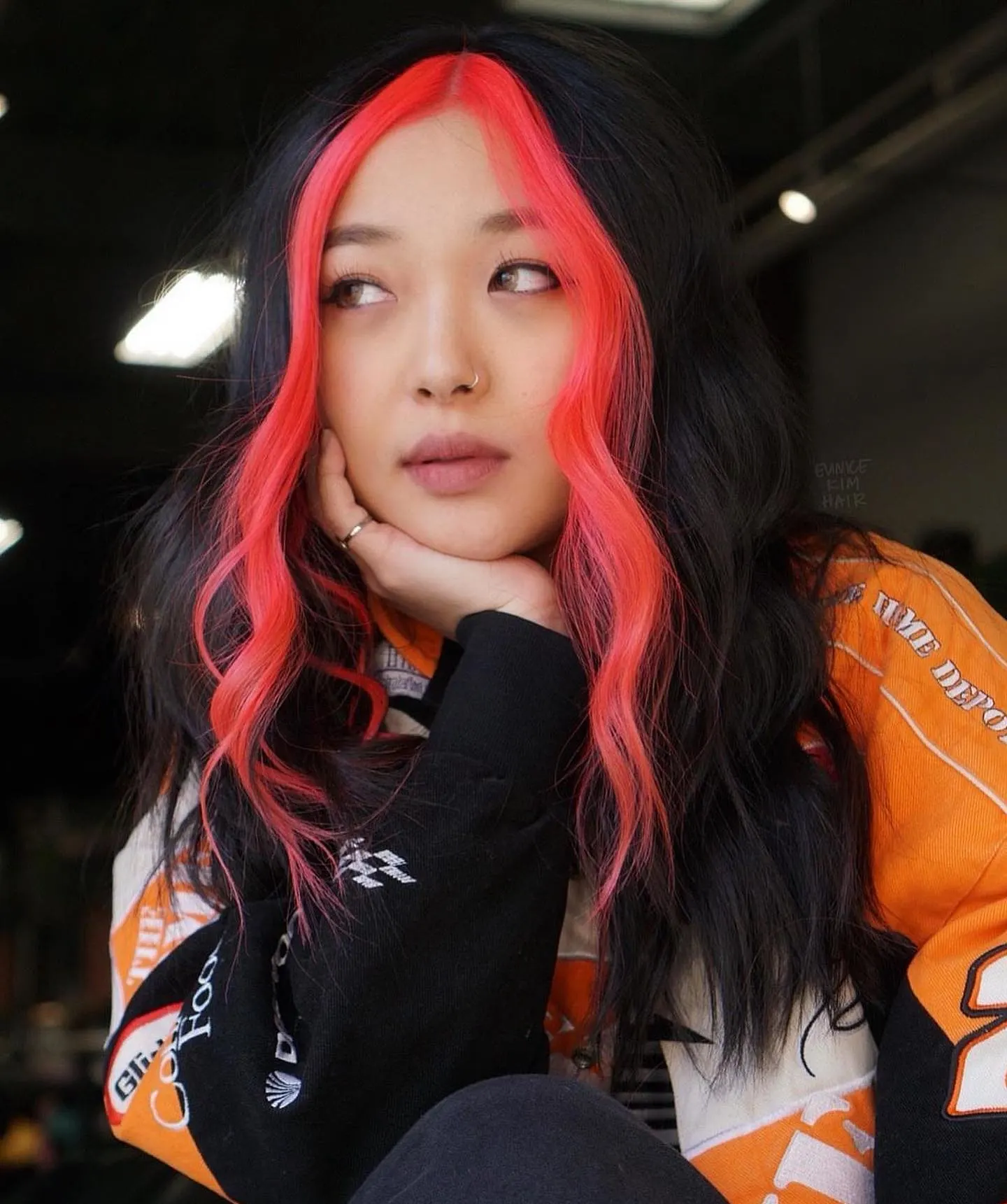 Face-framing streaks can be about giving your complexion a natural glow or about contrast and a pop of color. Neon pink money pieces are a burst of vibrancy and edge—an attention-grabbing look for sure! Only for those who want to be in the spotlight. (And if neon-pink isn't your shade, how about highlighter yellow?)
11. Brown Hair With Blonde Highlights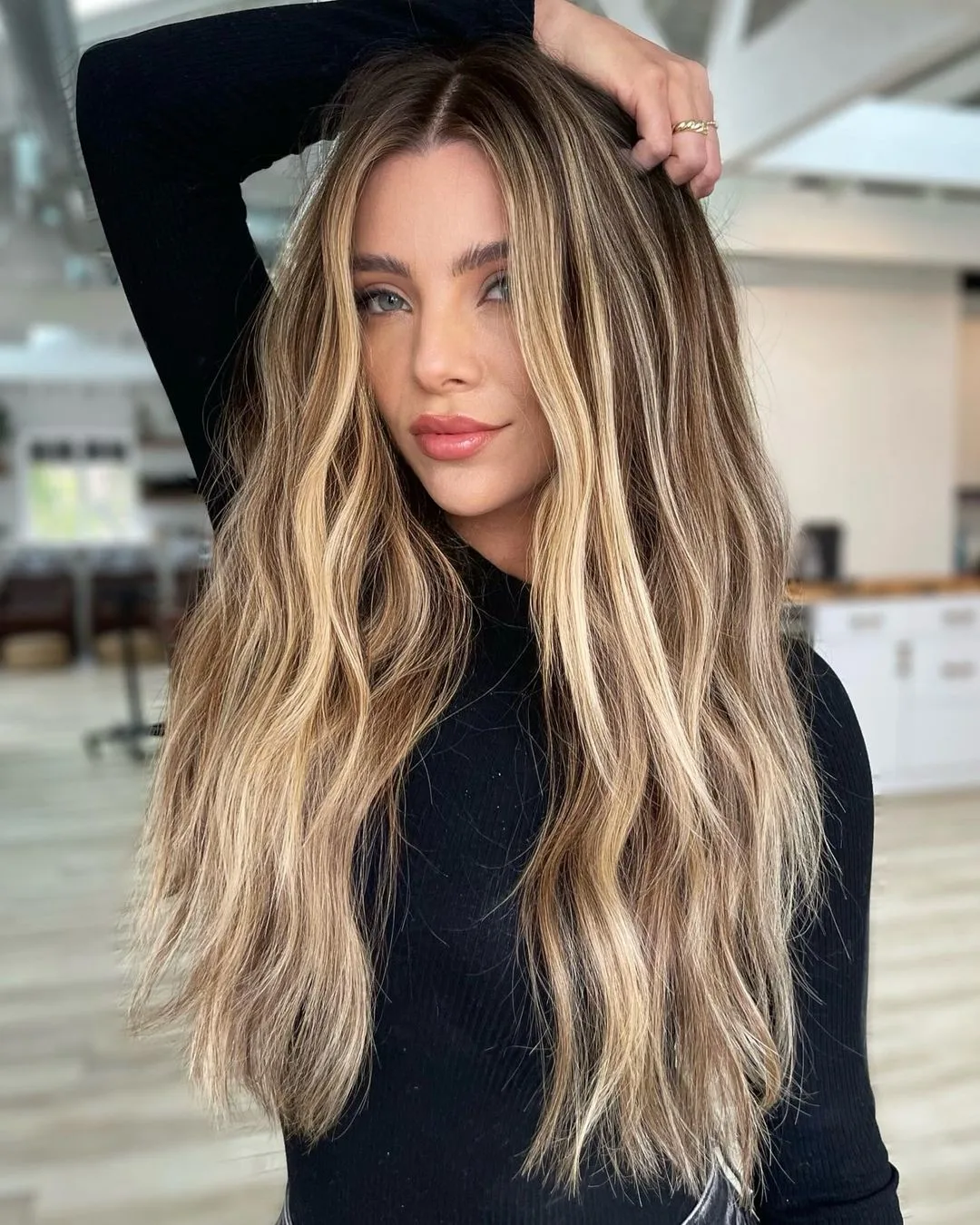 A classic. Brown hair with blonde highlights has dimension and brightness, thanks to the interplay of hues creating a natural and sun-kissed effect. The placement of the highlights will make all the difference, so consult your colorist on what you're looking to achieve.
12. Expensive Brunette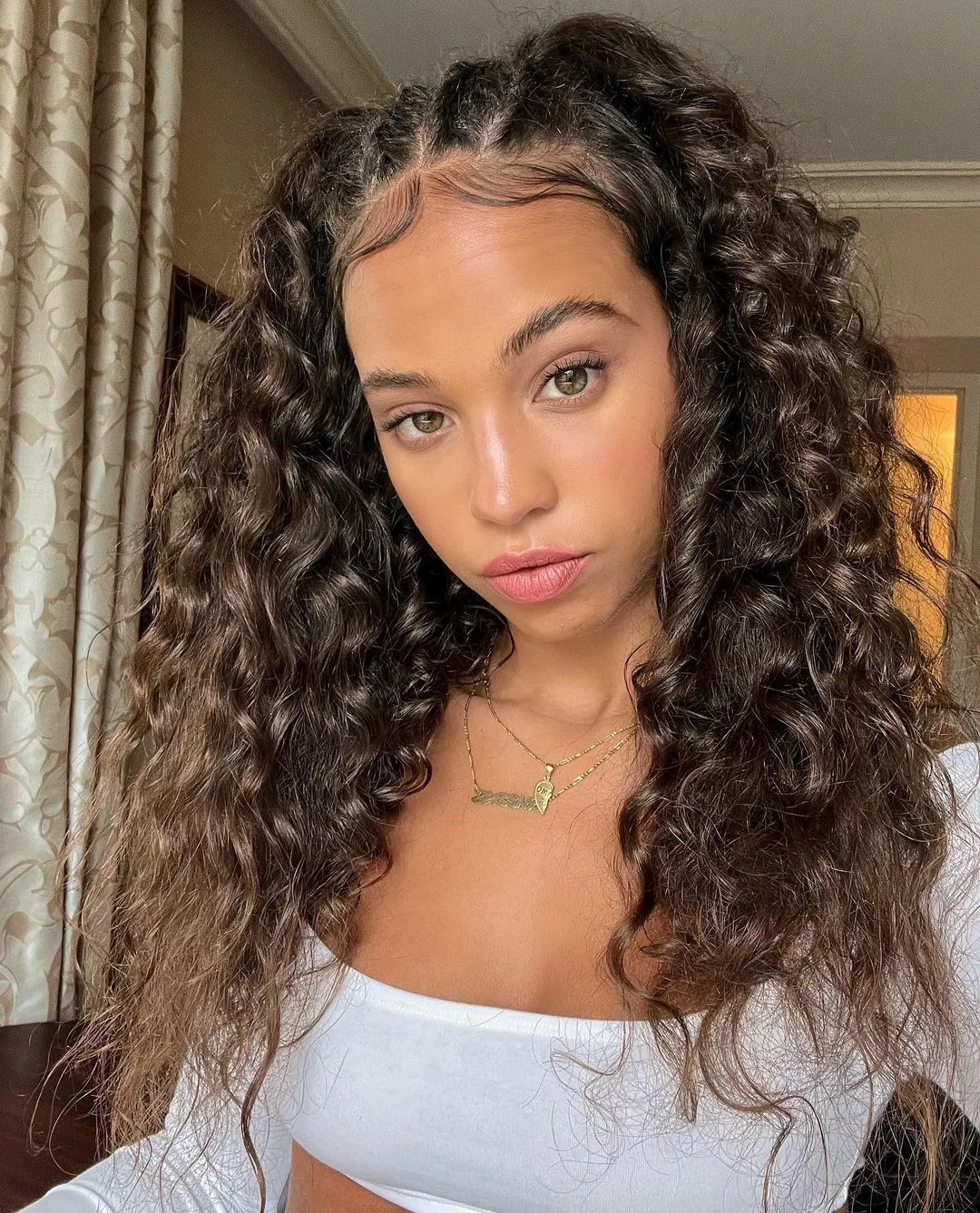 Expensive brunette isn't a brand new trend: it's the subtle addition of highlights to enhance brown hair that only just got a name. Like nude makeup for your hair, this is an elevated natural brunette that has an effortless but luxurious vibe. And because of its simplicity, it's timeless and is super wearable as a signature look.
13. Warm Green Balayage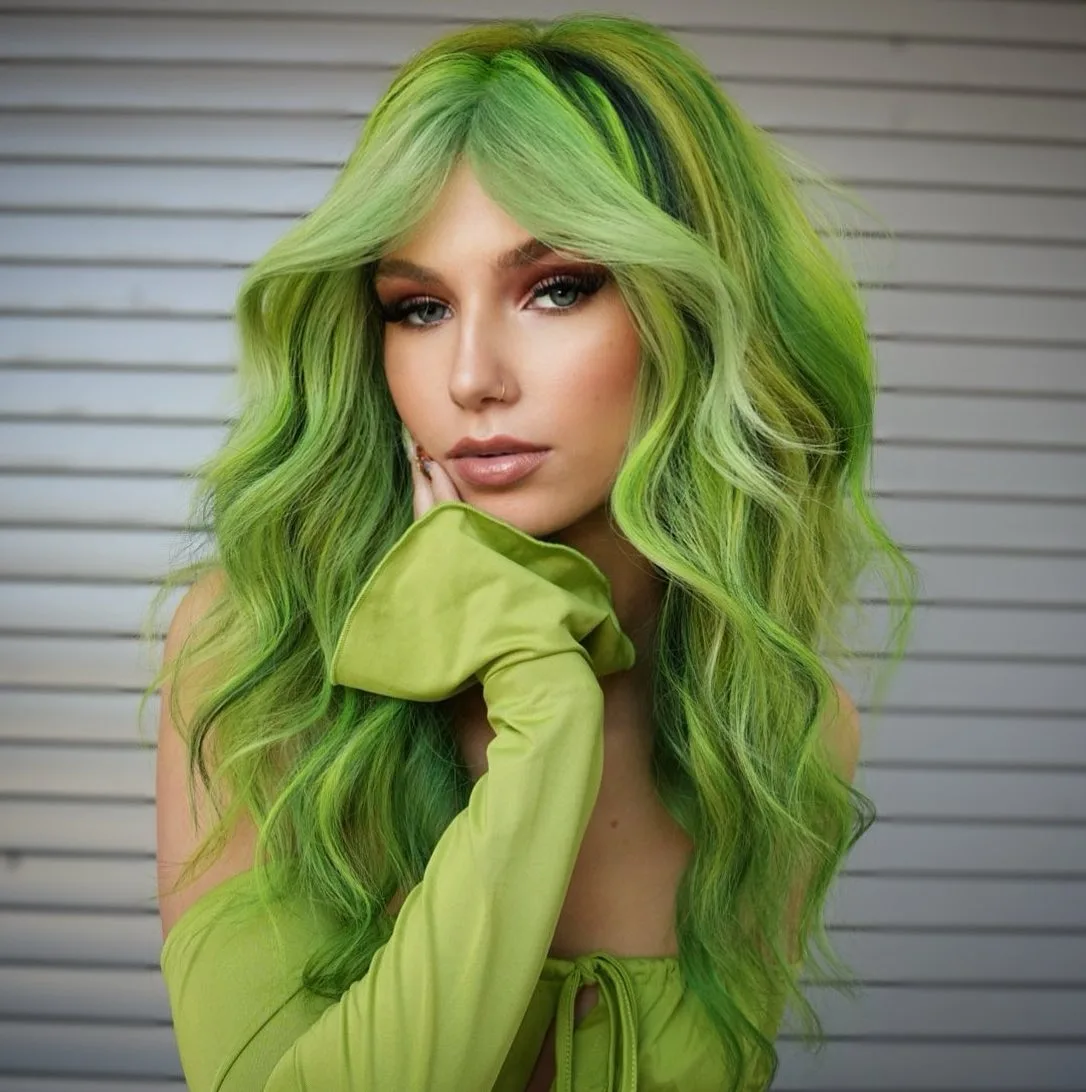 Why dye your hair green? Why not?! Warm green brings an unexpected and nature-inspired warmth to the hair. This particular shade has a similar effect as blonde, only crazy, bold and eye-catching.
14. Black With Subtle Highlights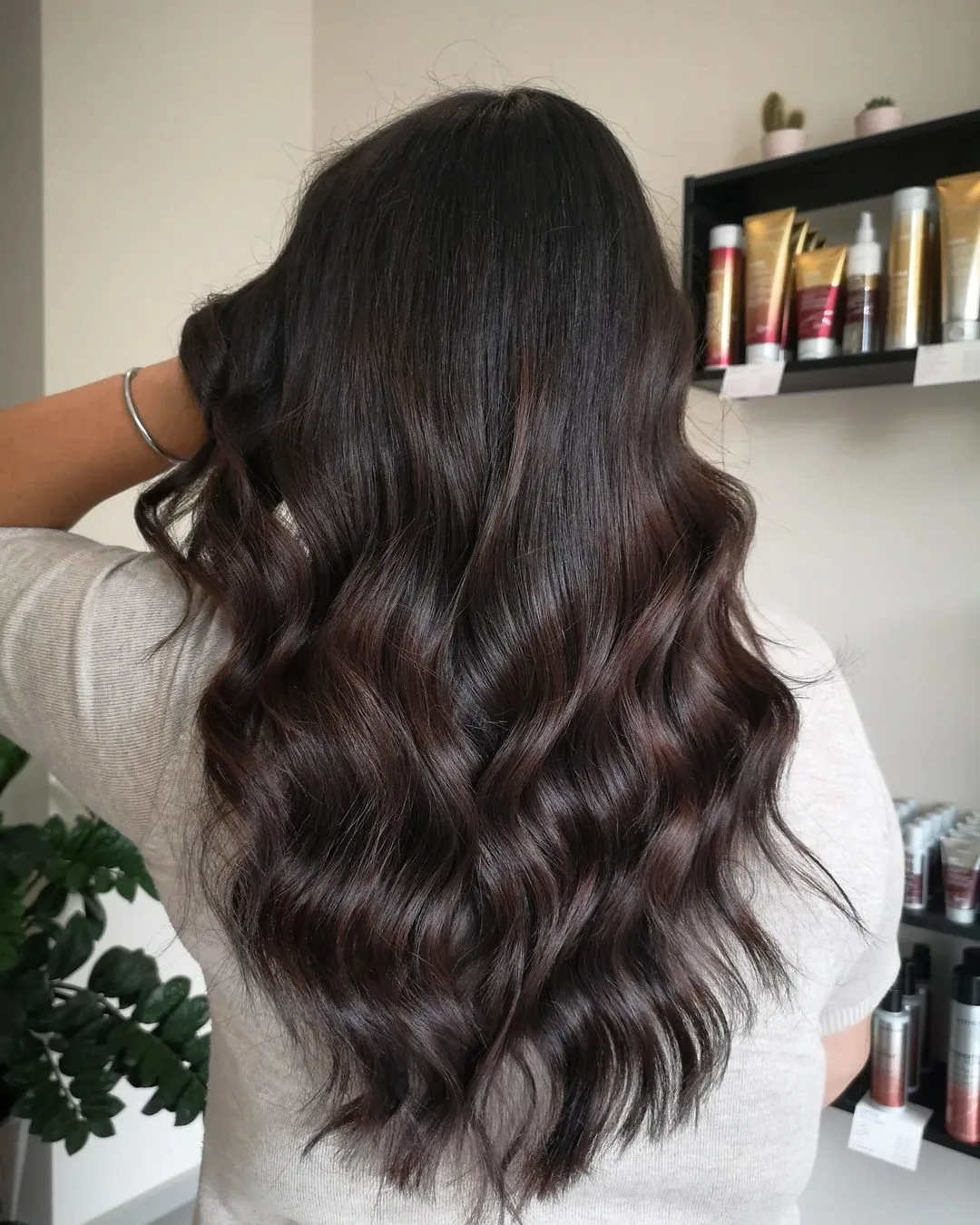 You don't have to choose between having dark hair and having fun—you can keep your black hair and add some interest to it. If you're just starting to experiment, a good first step is to get subtle highlights. They add dimension and depth to the hair so it's not flat and bland, but they're still a safe choice.
15. Red Hair With Blonde Highlights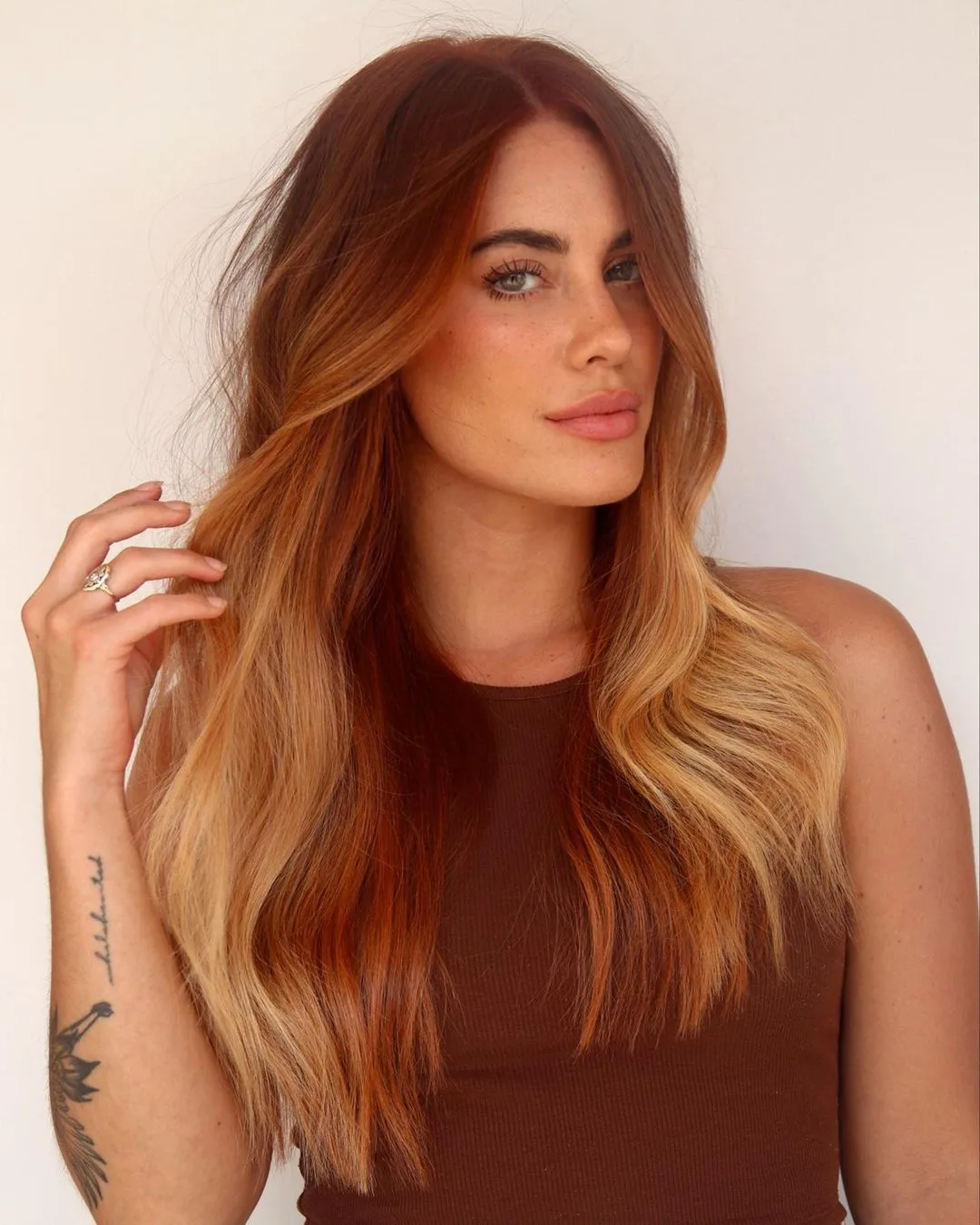 You don't often see red hair with blonde highlights, but this combo is flawless. The fiery red tones are complemented by bright blonde accents, creating a unique, dynamic and head-turning look.
16. Platinum And Fuchsia Gemini Hair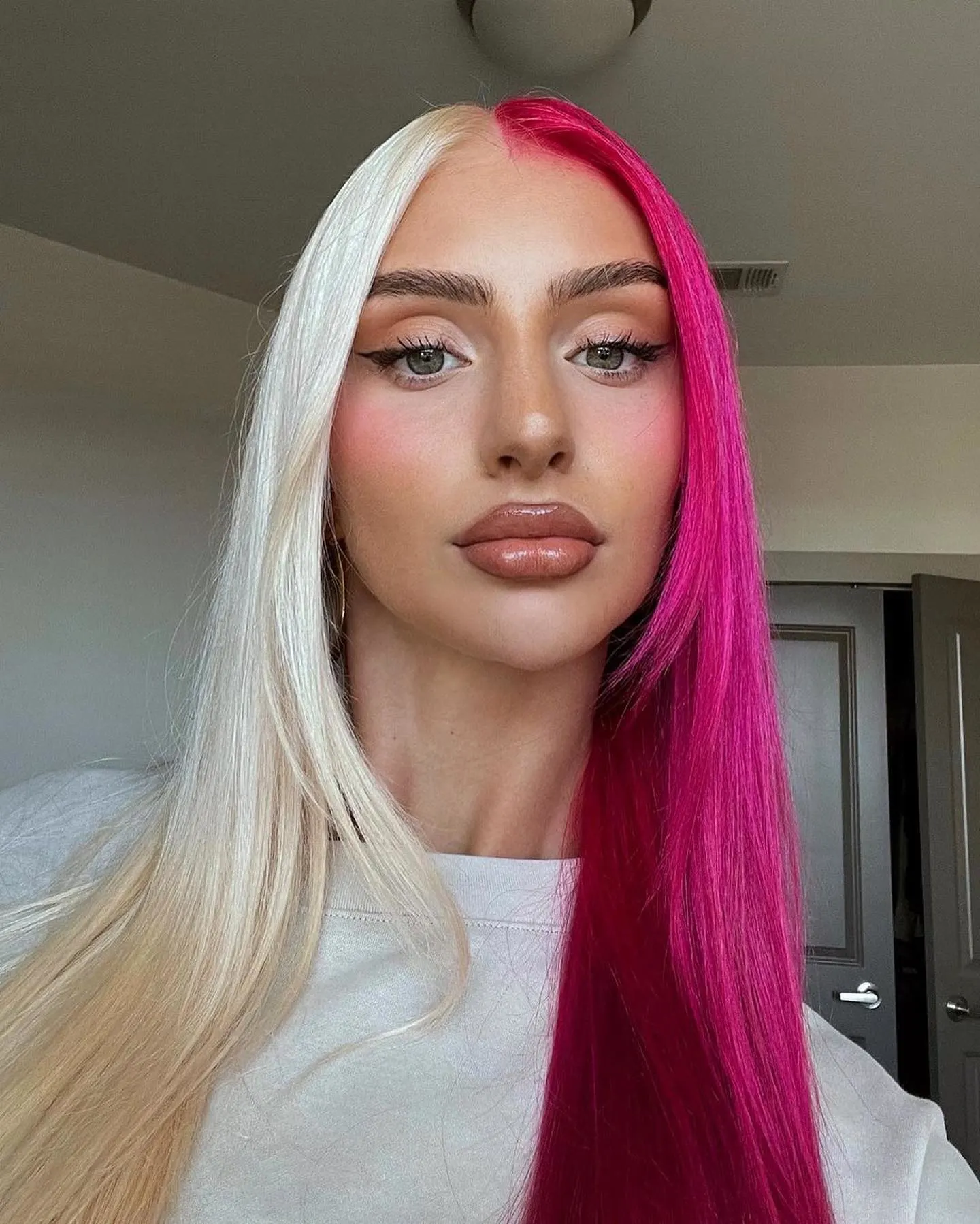 Platinum and fuchsia gemini hair looks like something that people from 40 years ago might have pictured as stylish in the future, and they would have been right. It's still a daring choice even now, and perfect if you want to adopt an edgy aesthetic.
17. Intense Copper With Black Roots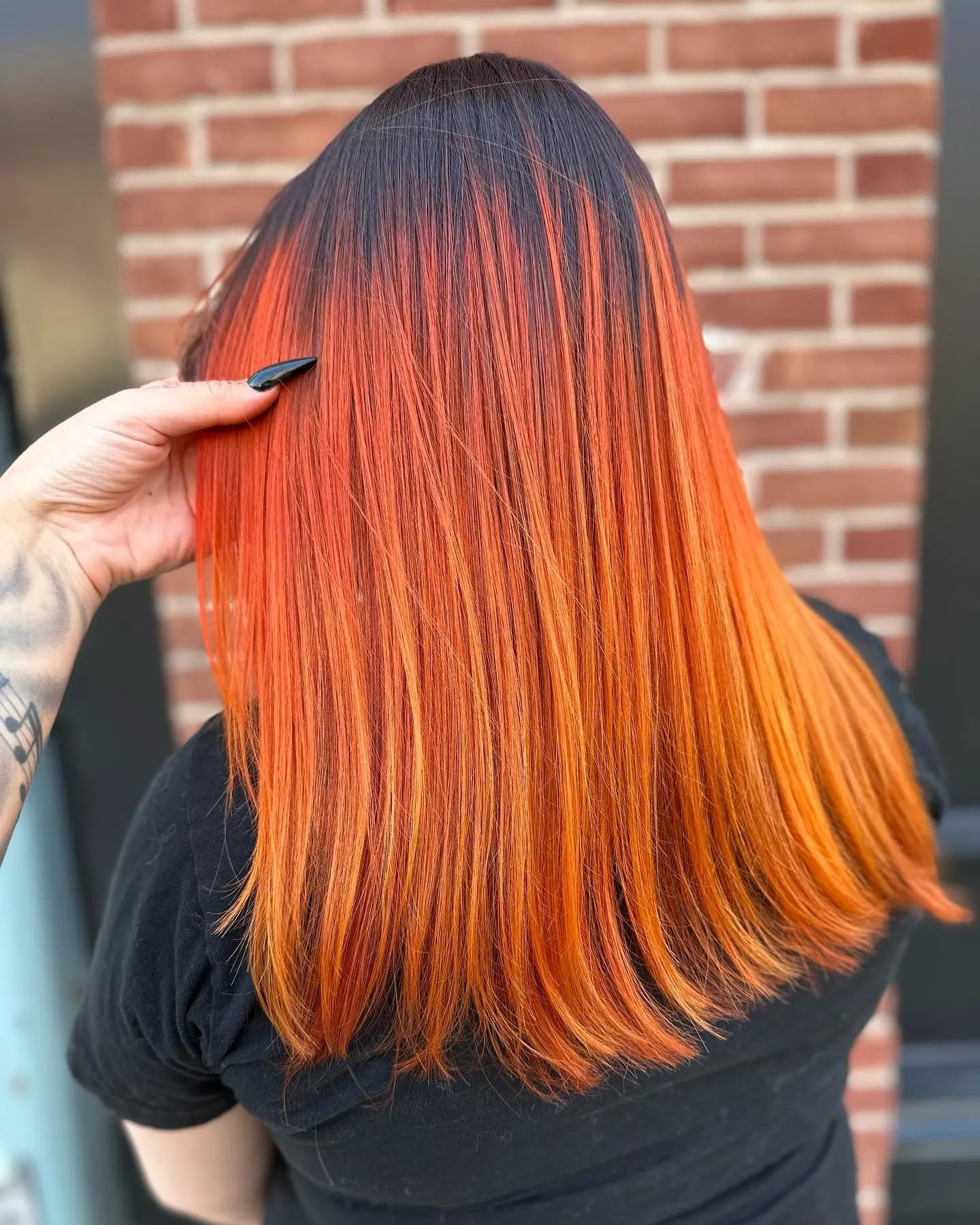 This intense copper with black roots is giving modern witch or rockstar—dramatic, high-contrast and oh-so-cool. Don't be fooled by the natural(-looking) roots, though: this copper will wash out and become yellow in a couple of weeks, so schedule your next appointment before you leave the salon.
18. Golden Brown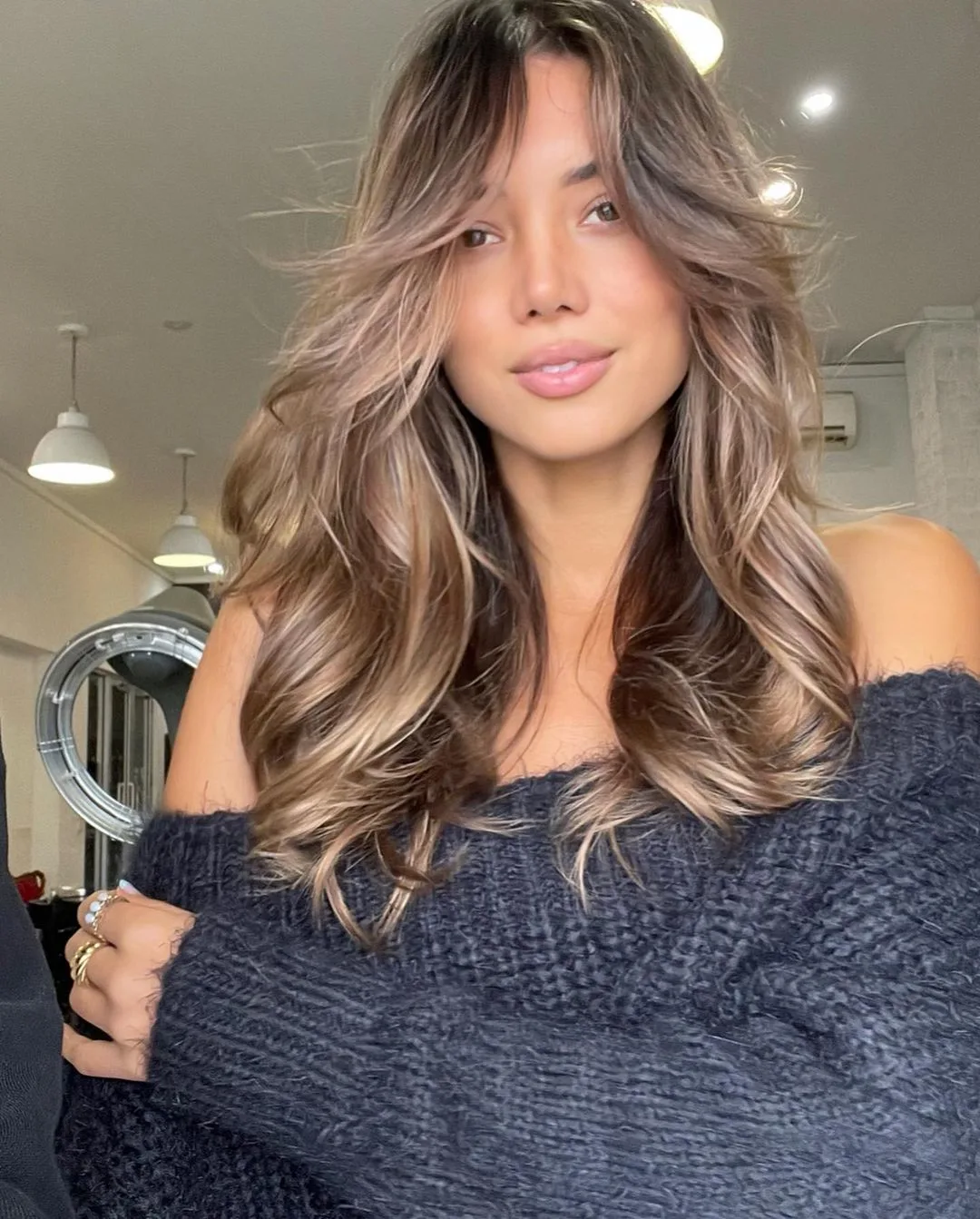 Feeling pretty and want to feel even prettier? Golden brown is it. Sweet and cozy, it exudes warmth and radiance, but with a softness that isn't present in golden blonde.
19. Strawberry Vanilla Milkshake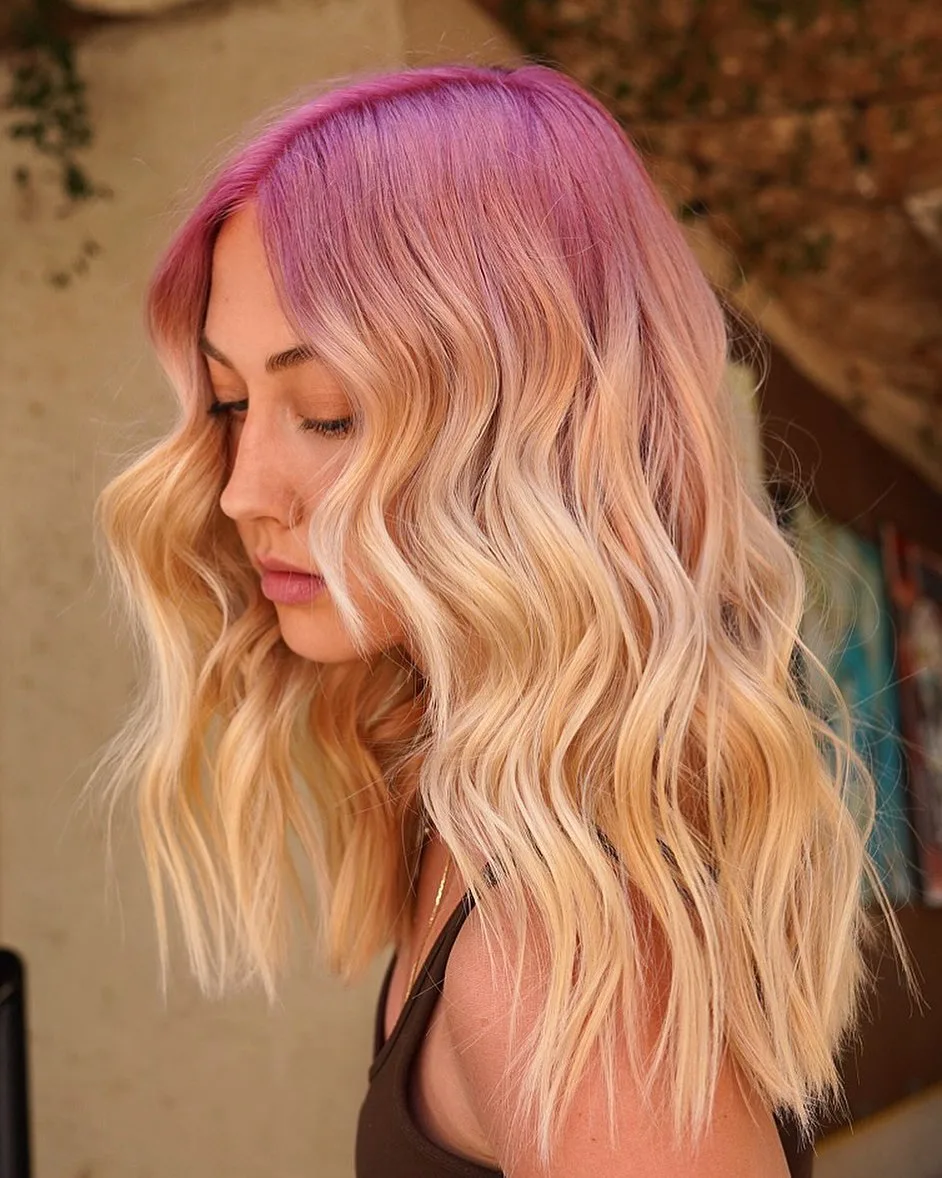 Why yes, you're a natural pinkette with your roots showing. Right? If strawberry vanilla milkshake is the type of hair color that suits your aesthetic, you'll love wearing this particular combo—the sweetness of strawberry tones and the creamy vanilla blend into a playful and delicious look.
20. Matte Black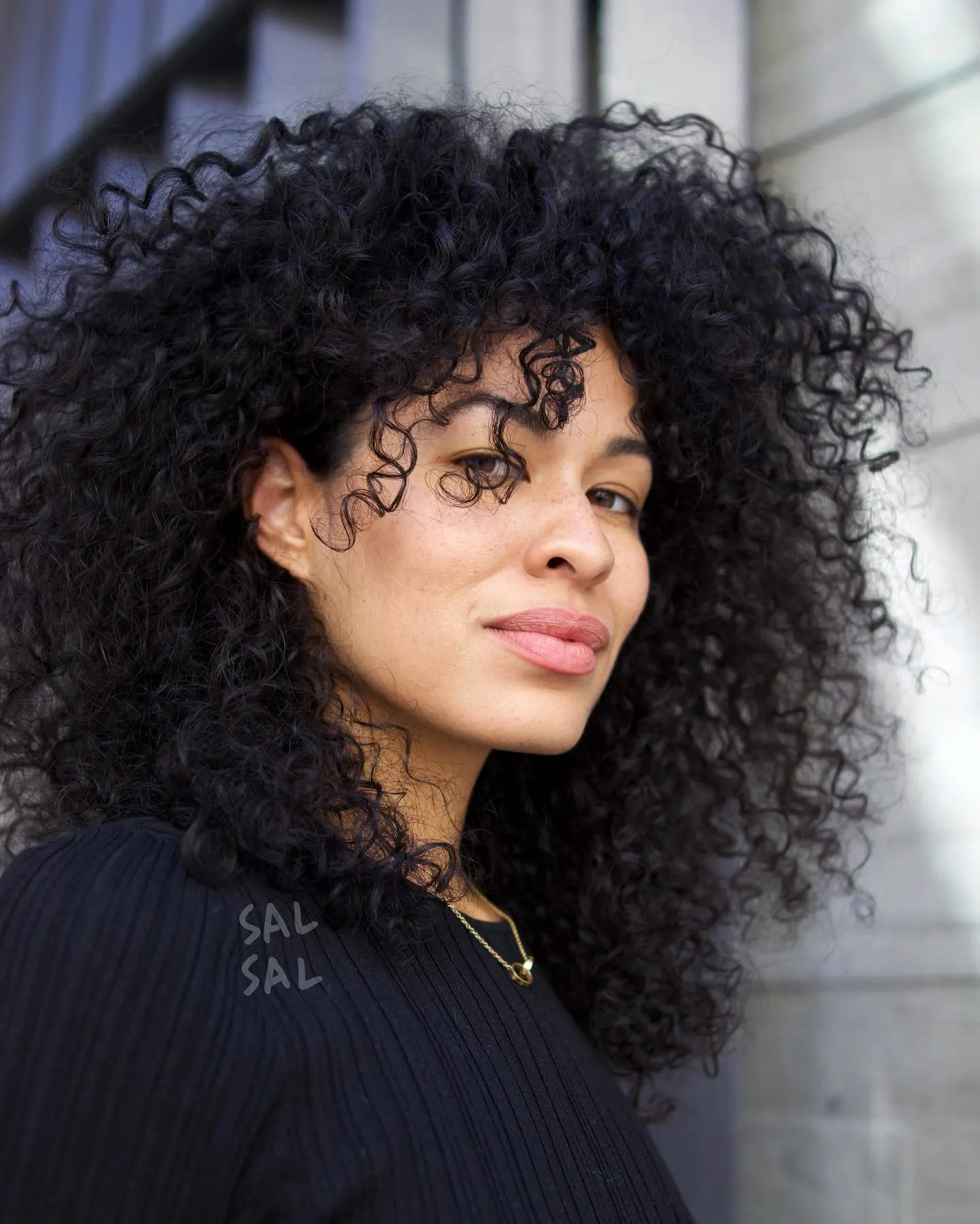 There's something very current about matte black. It's chic and refined, with a touch of edge, so it can suit a variety of personal styles.
21. Warm Blonde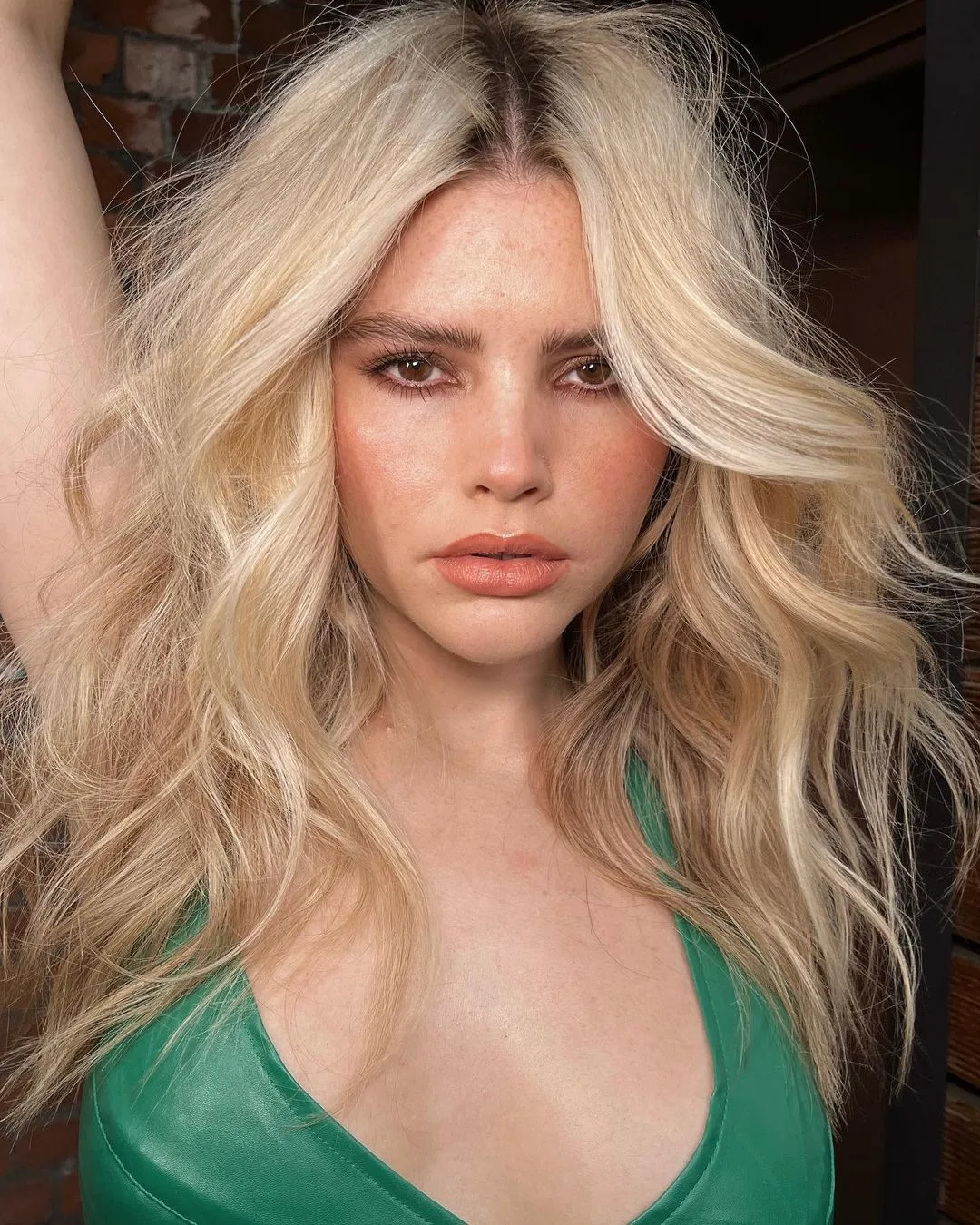 The best word to describe warm blonde hair is "glow". It radiates with golden and honeyed tones and illuminates the face. Bright and sunny, and has a carefree and effortless vibe.
22. Neon Orange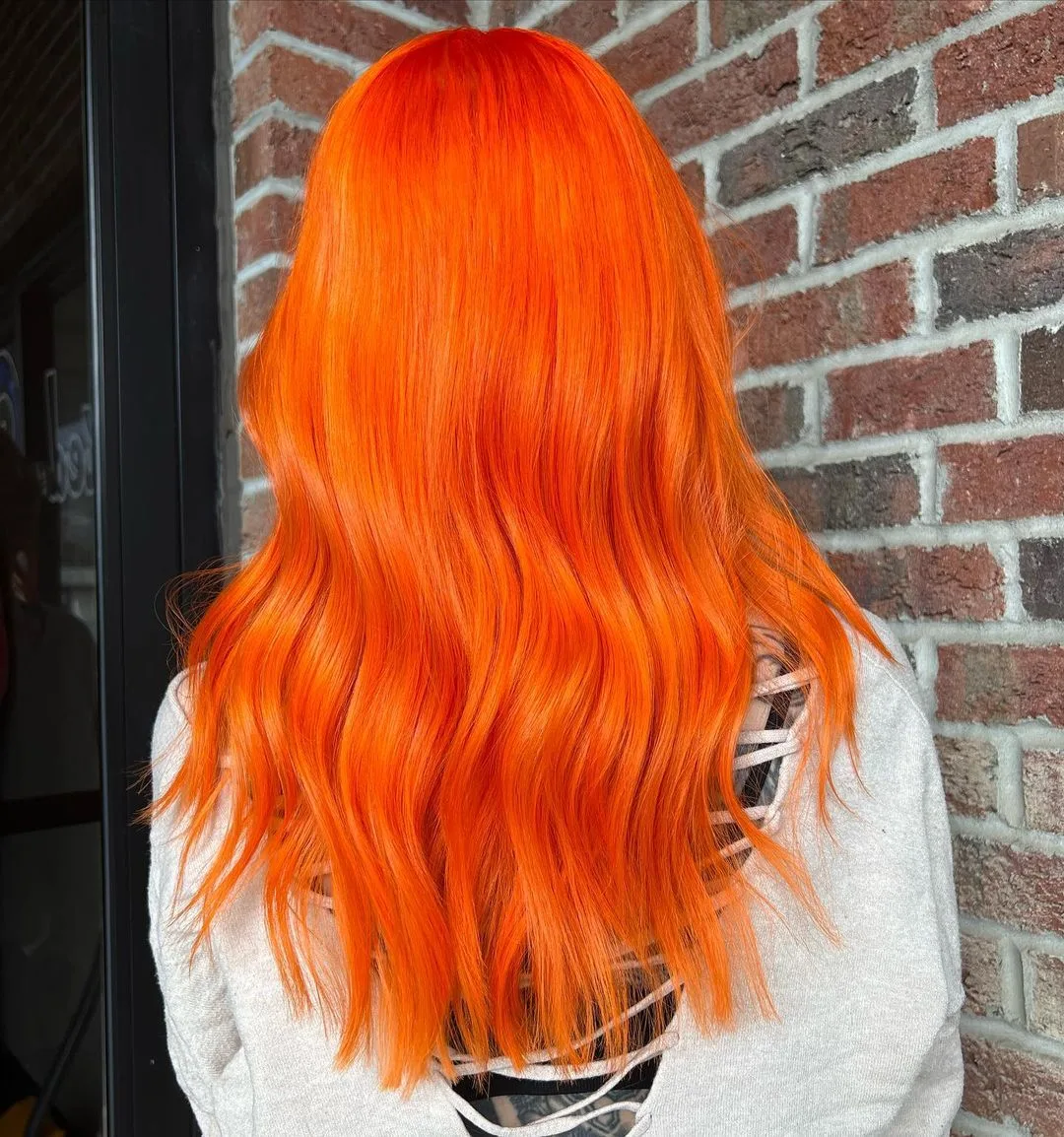 Electrifying! A full head of neon orange takes daring and patience, because it will make you the center of attention and also a regular with your colorist. This vivid, high-energy color needs lots of maintenance, but it's so worth it.
23. Baby Blue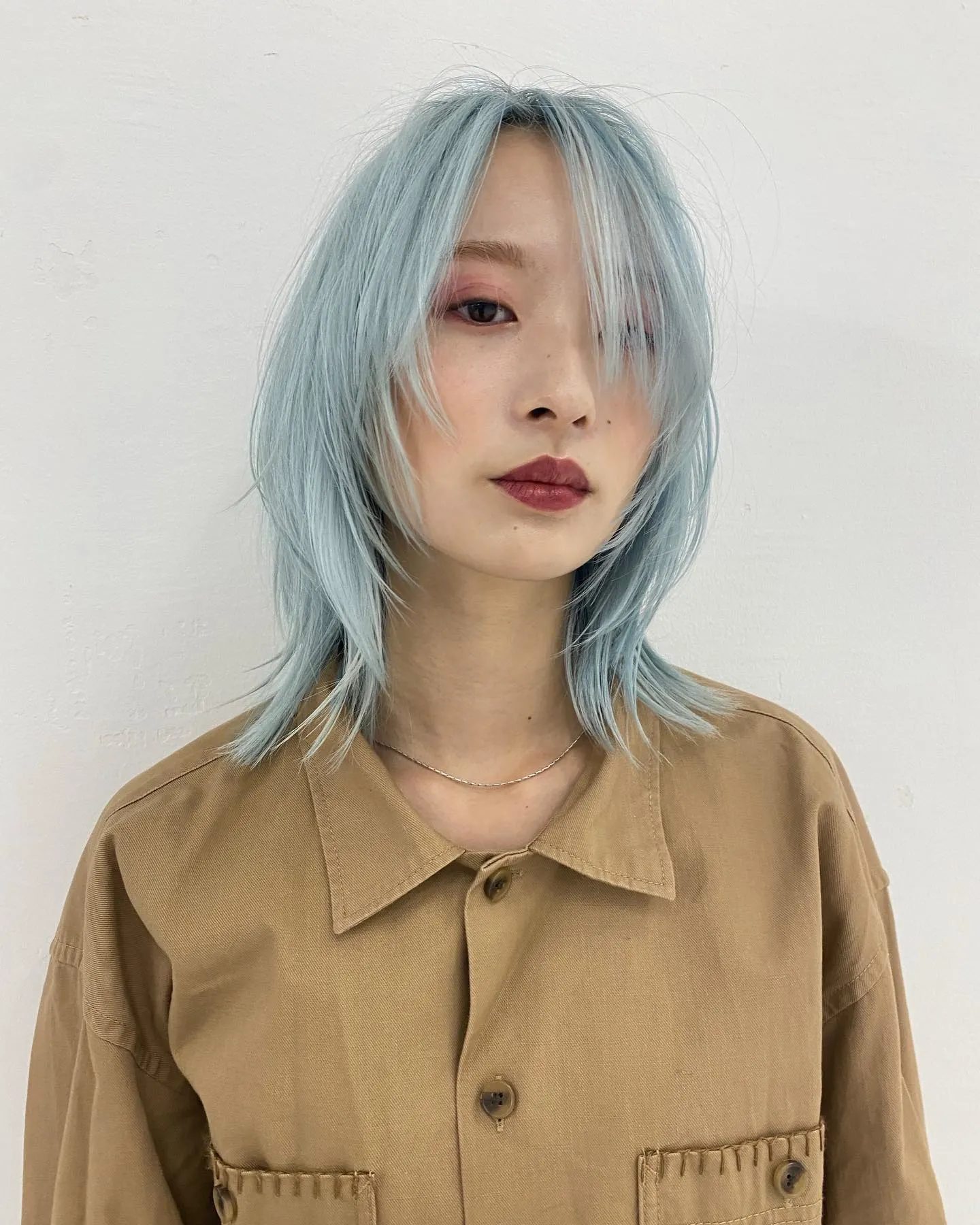 Because it has the intensity of pale blonde, baby blue is much milder than unnatural tones that might have higher chroma. It brings a fairy-tale-like, dreamy hue to the hair, so it's a great choice if you want to create a whimsical and ethereal look.
24. Dimensional Dark Brown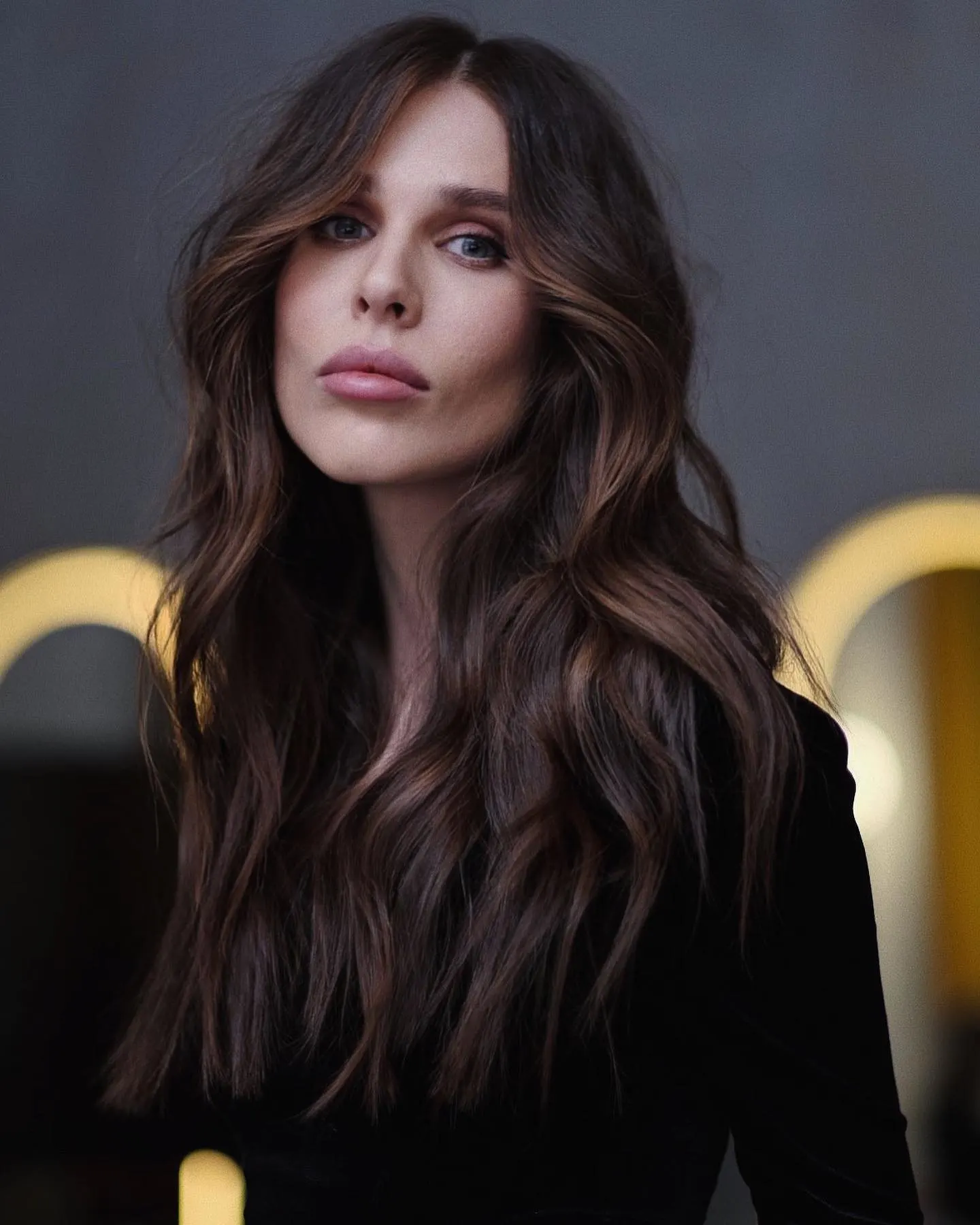 Dimensional dark brown is all about depth and richness. To create a multi-dimensional look that makes the hair look luxurious and dynamic, subtle highlights are enough.
25. Milk Tea Blonde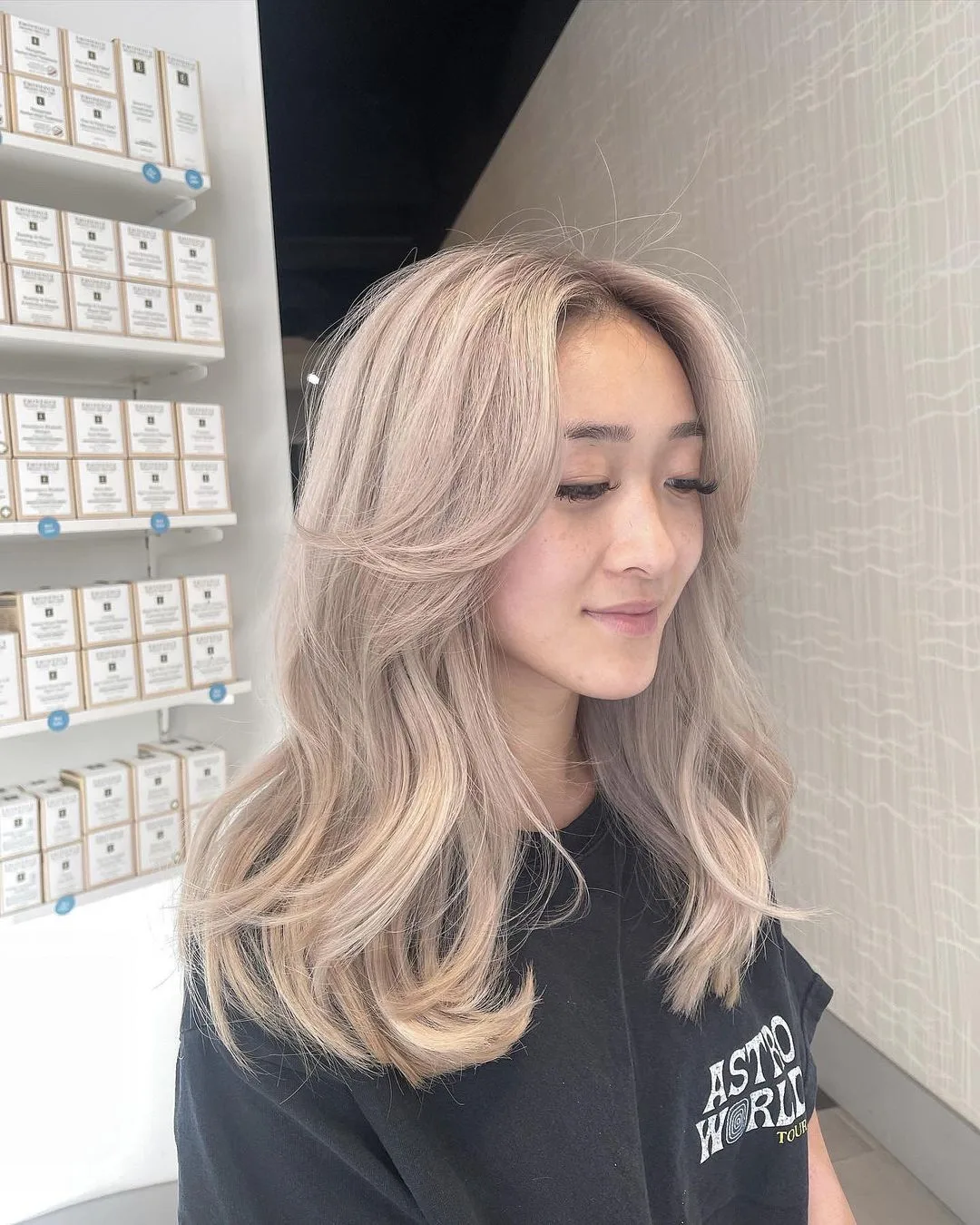 Milk tea blonde is a neutral shade that combines creamy cool and warm blonde tones. The resulting look is soft and tender, and sooo pretty!
26. Cherry Red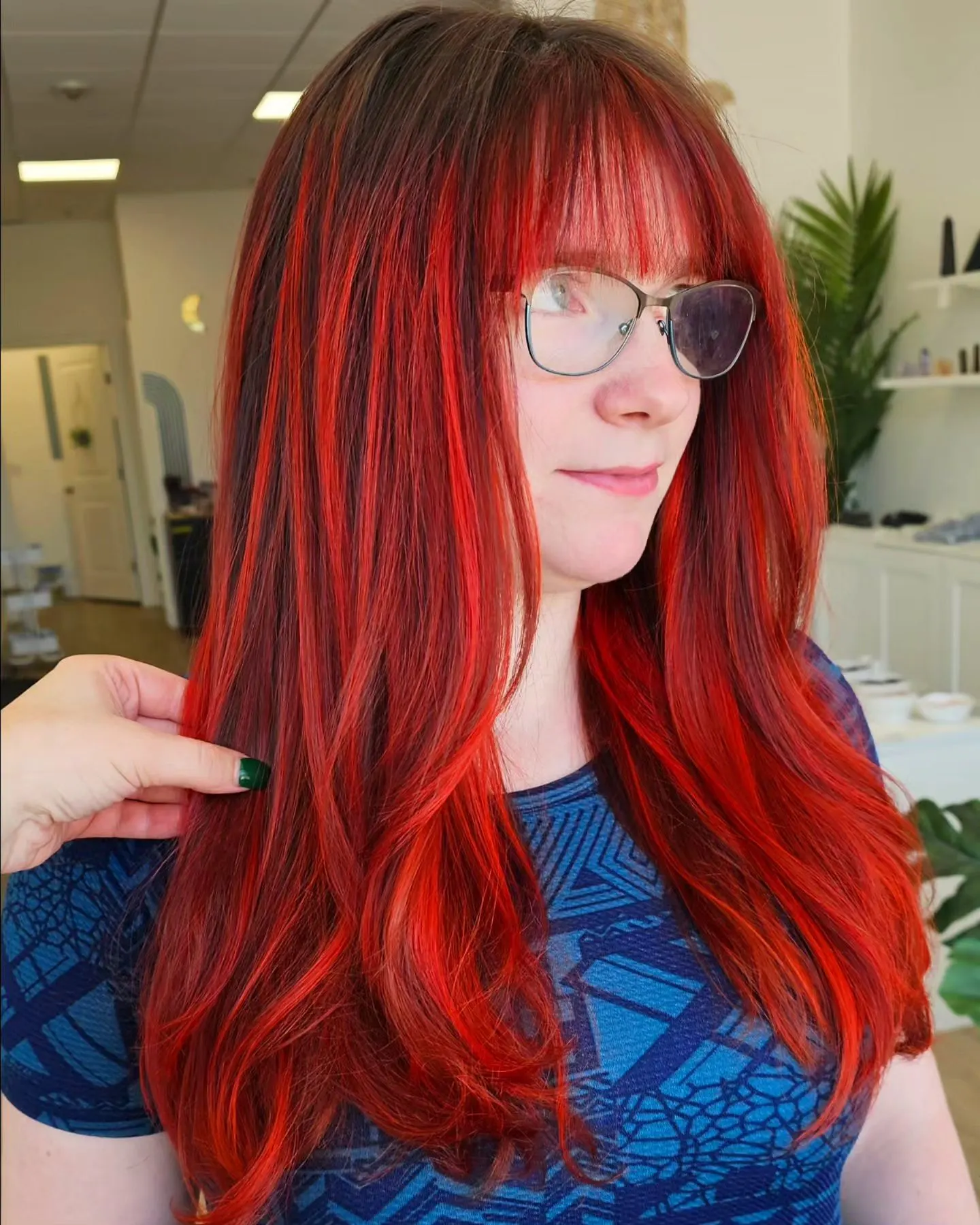 With cherry red, your hair becomes the first thing people notice about you—this sweet yet fierce color is all about making an entrance.
27. Ash Brown Hair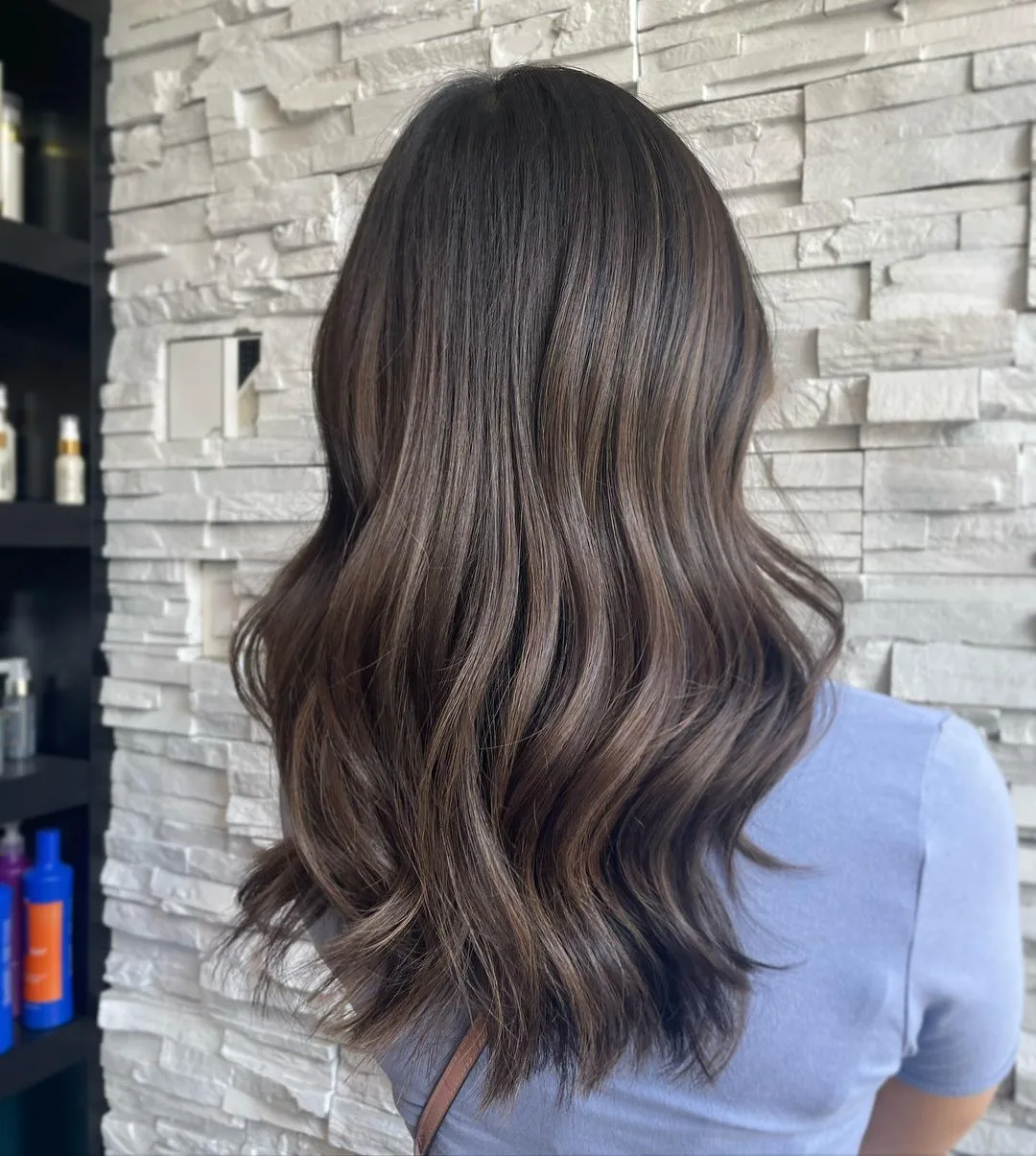 Ash brown is your go-to choice if you want understated glamour. It's polished and contemporary—perfect if you're going for effortlessly chic. To keep it from going brassy, add blue shampoo to your routine once a week.
28. B&W Color Block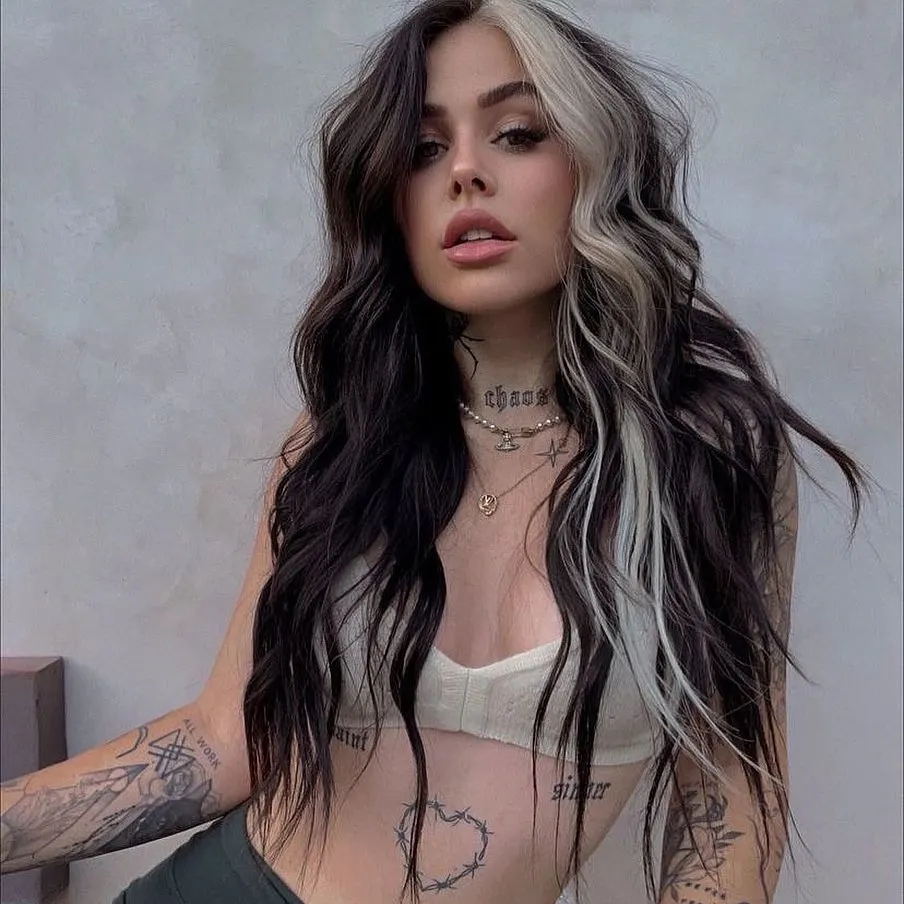 B&W color block might be simple in execution, but it's a head-turner: the bold, contrasting color scheme created by a single section of hair dyed white creates a graphic, avant-garde aesthetic. Not to mention that it's giving Cruella.
29. Rooted Warm Blonde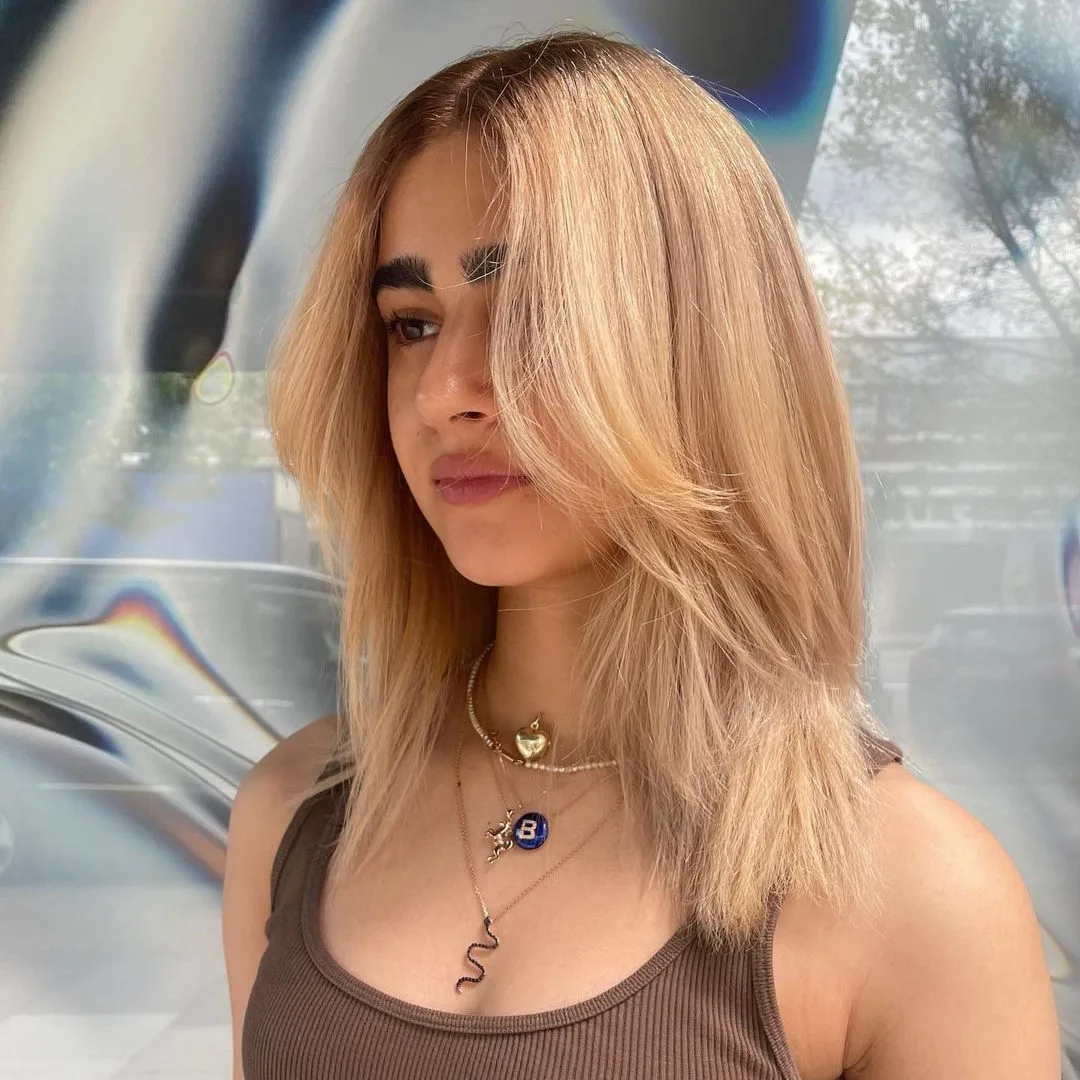 If you like the warmth of a sun-kissed glow, but want something with more depth, rooted warm blonde has a natural and lived-in look. Bonus: it's actually effortless and low-maintenance.
30. Reddish Brown Balayage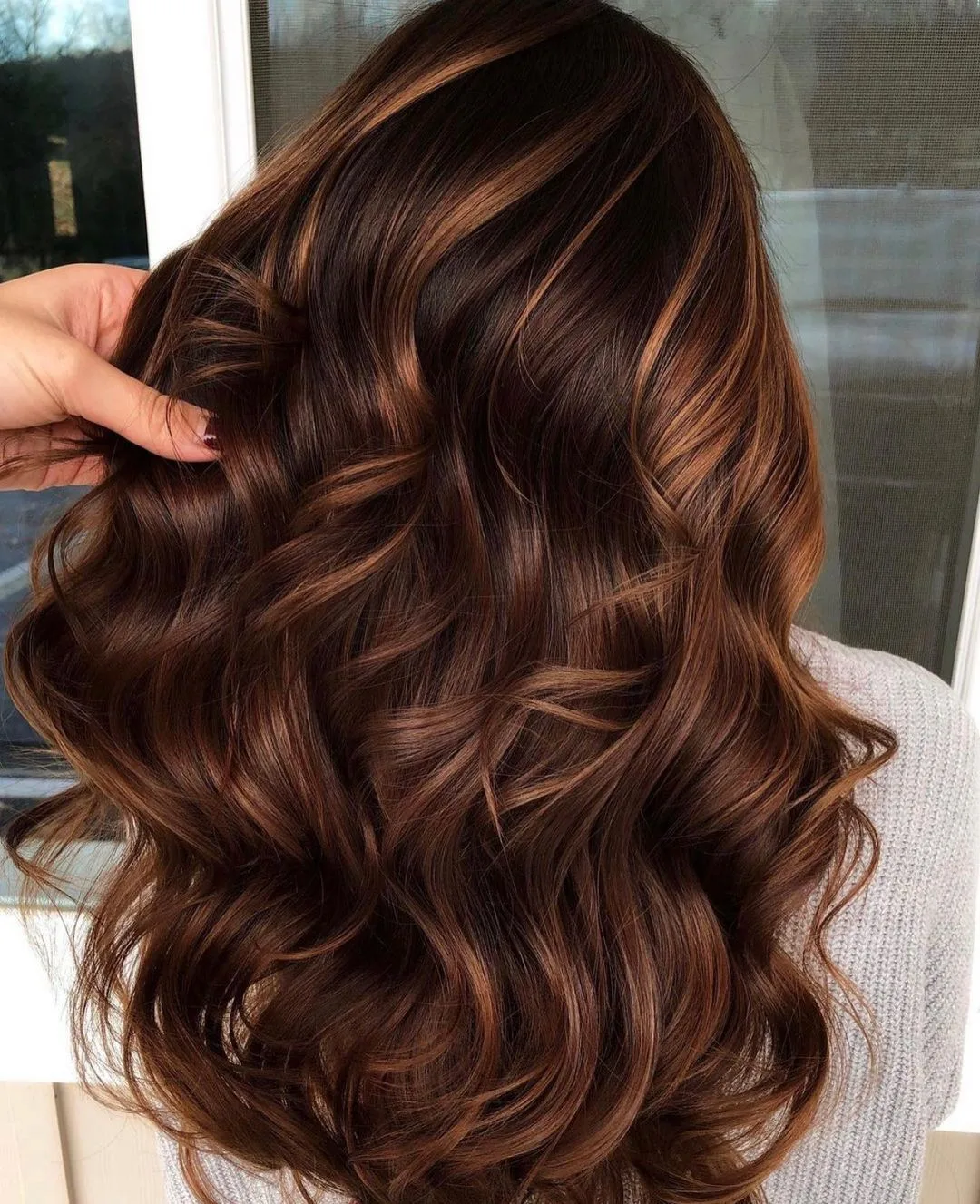 This reddish brown balayage is the perfect fusion of rich red and deep brown tones. The seamless blending creates a natural and dimensional look. Be prepared to spend lots of time admiring your hair because it's impossible to look away.
31. Blue And Purple Ombre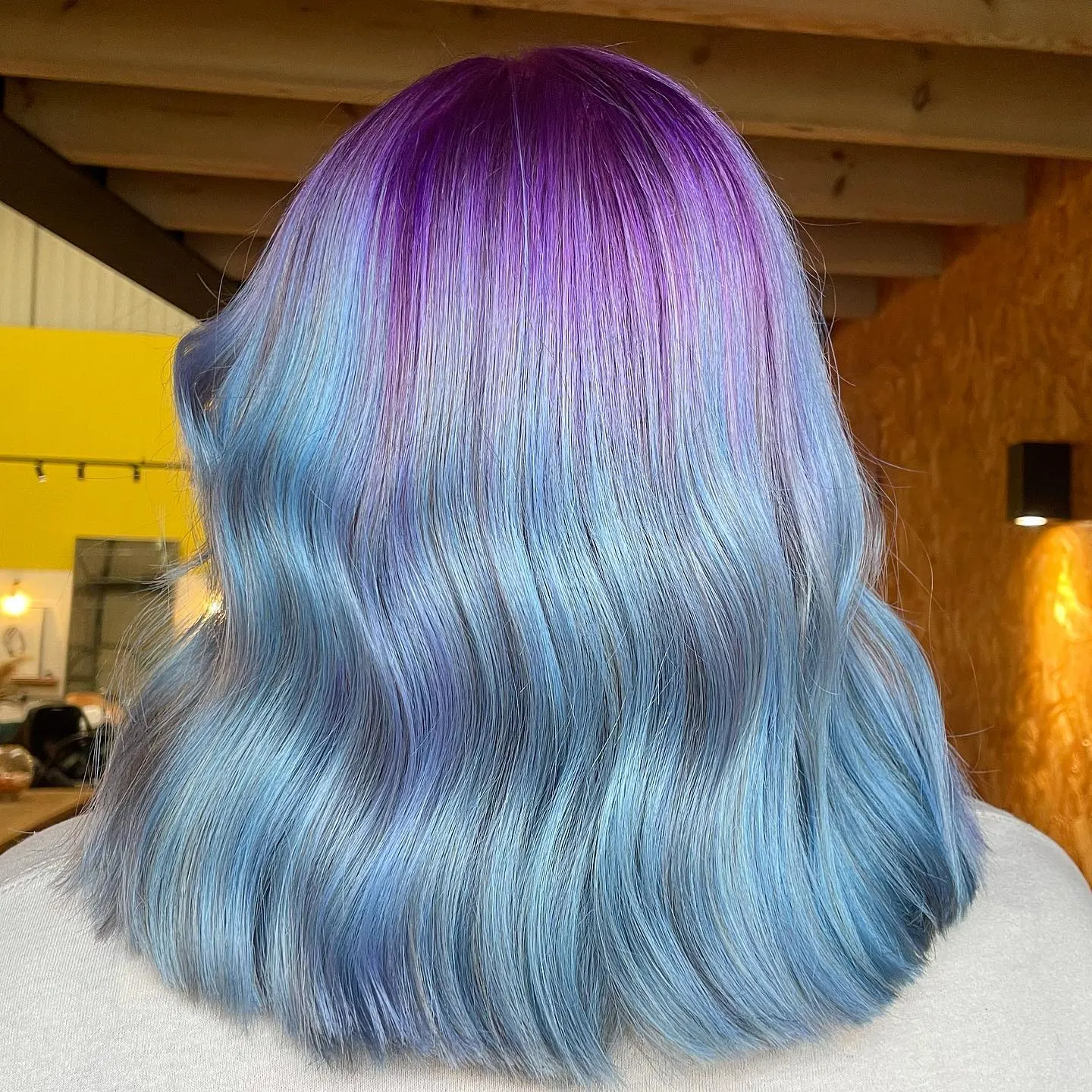 Let your hair become a canvas for self-expression. This stunning blue and purple ombre transition is nothing short of magical.
32. Blonde Balayage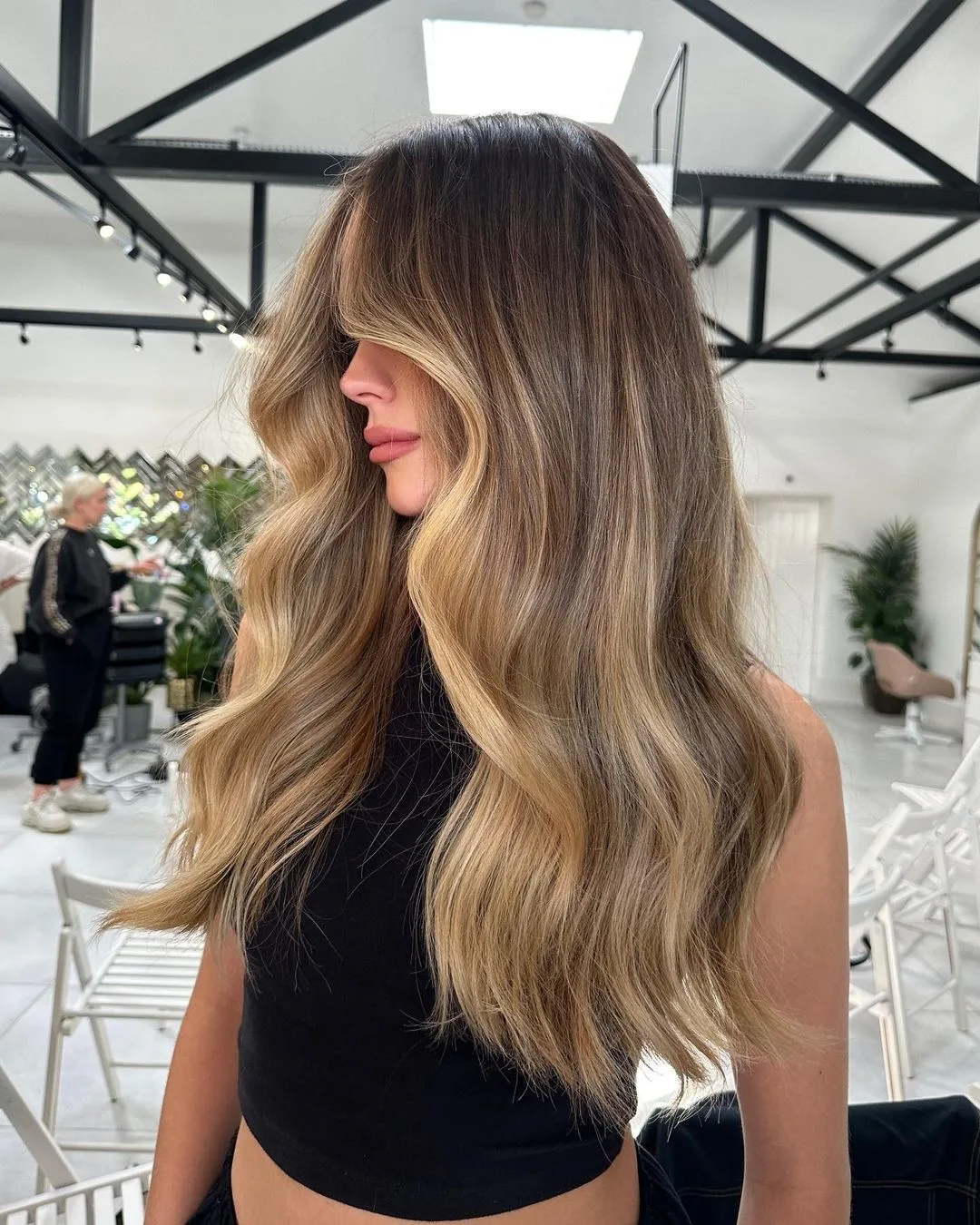 There's a timeless beauty in a blonde balayage. This sun-kissed style effortlessly blends blonde tones throughout the hair, drawing attention to your features by illuminating them.
33. Magenta Hair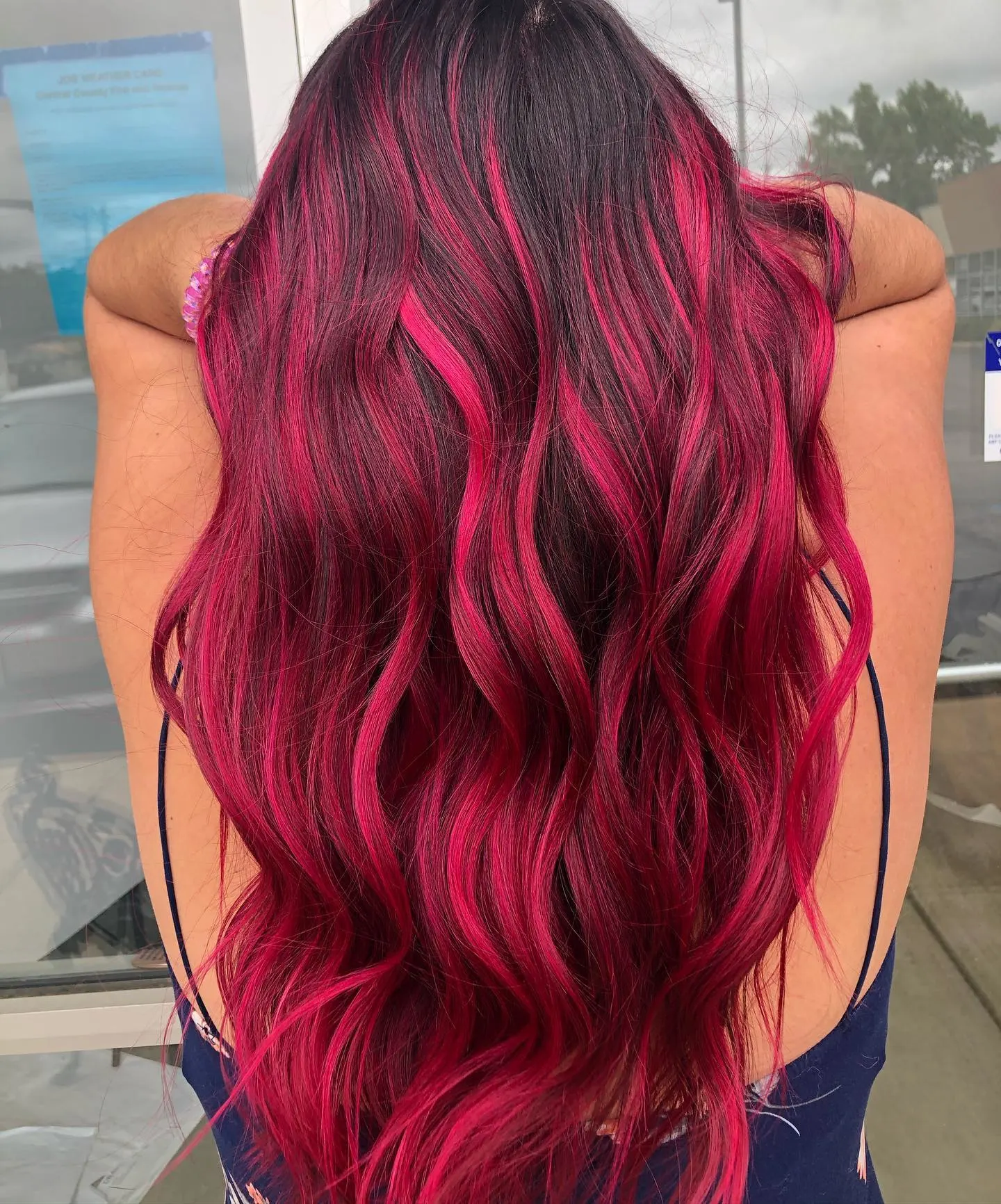 Have natural tones lost its appeal and you're ready to stand out from the crowd? Here's a suggestion: magenta hair. If your skin undertone is too cool for cherry red, this vibrant, electric hue will be perfect.
34. Sandy Brown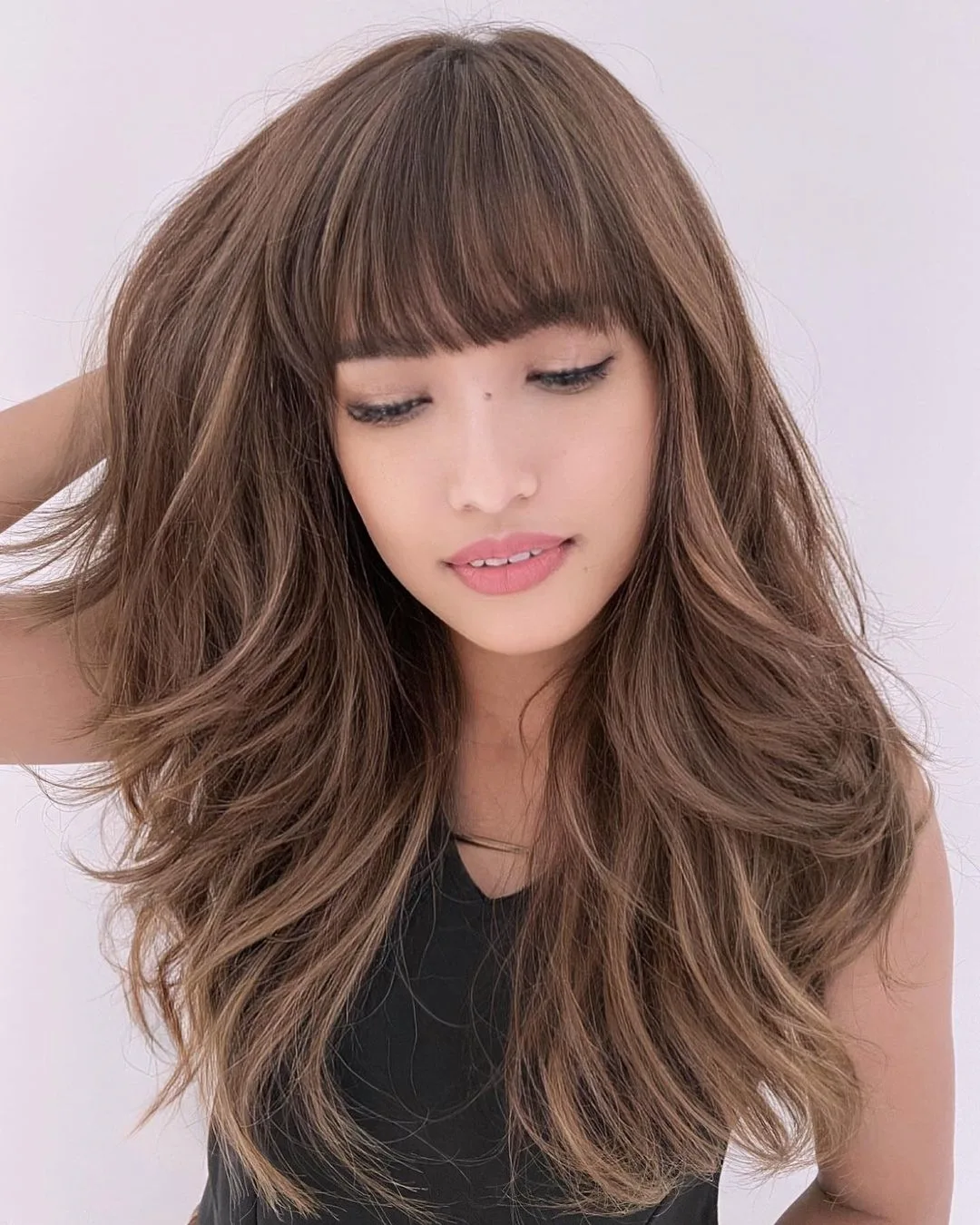 Breathe in and feel the scent of the ocean. Dive into the sun-soaked charm of sandy brown, where your hair captures the essence of a beachy paradise. This warm and natural hue is all about laid-back and summery aesthetic.
35. Red And Blonde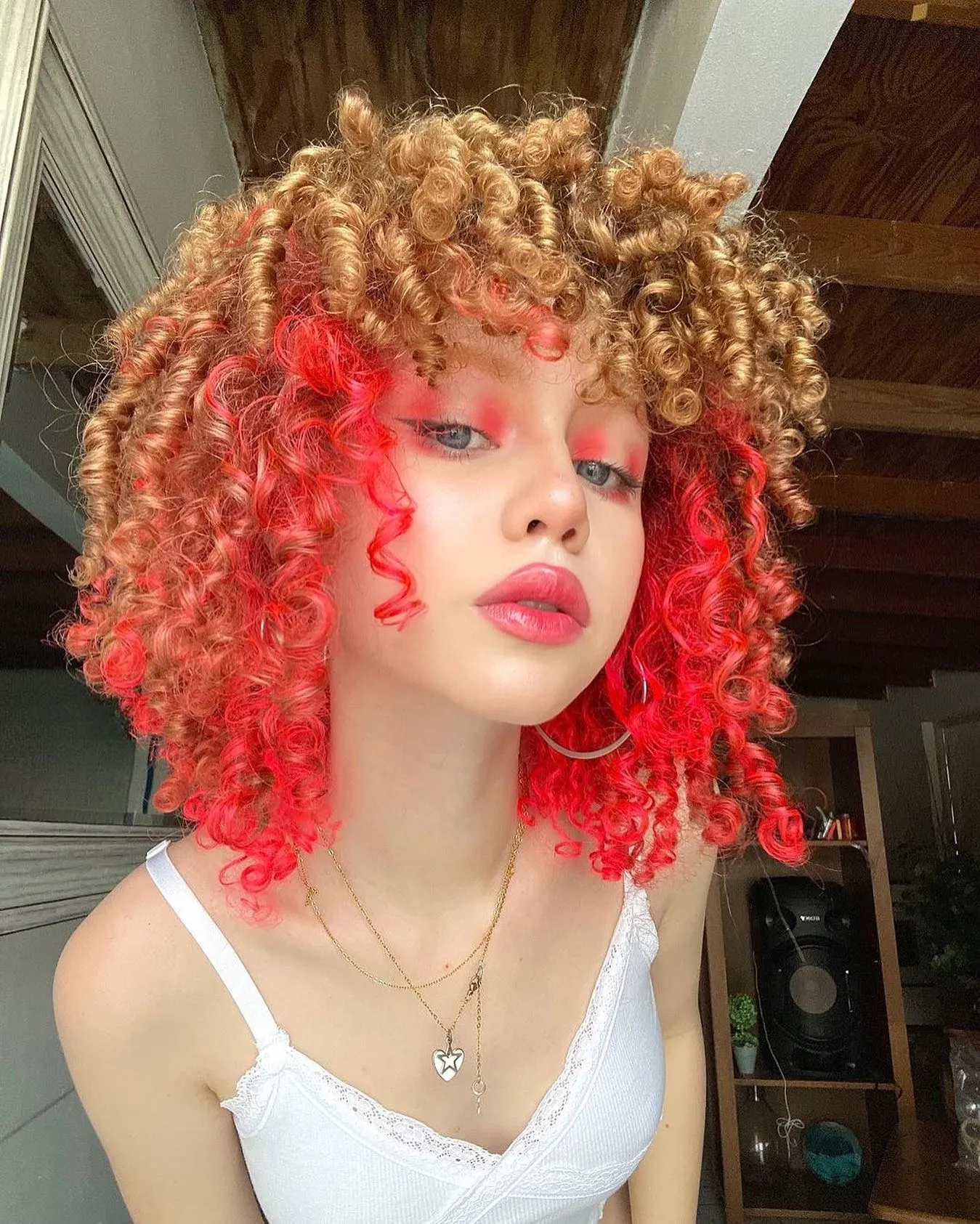 The vibrant duo that are red and blonde hair colors is impossible to ignore. When these two powerful colors combine forces, get ready to become the center of attention.
36. Velvet Brown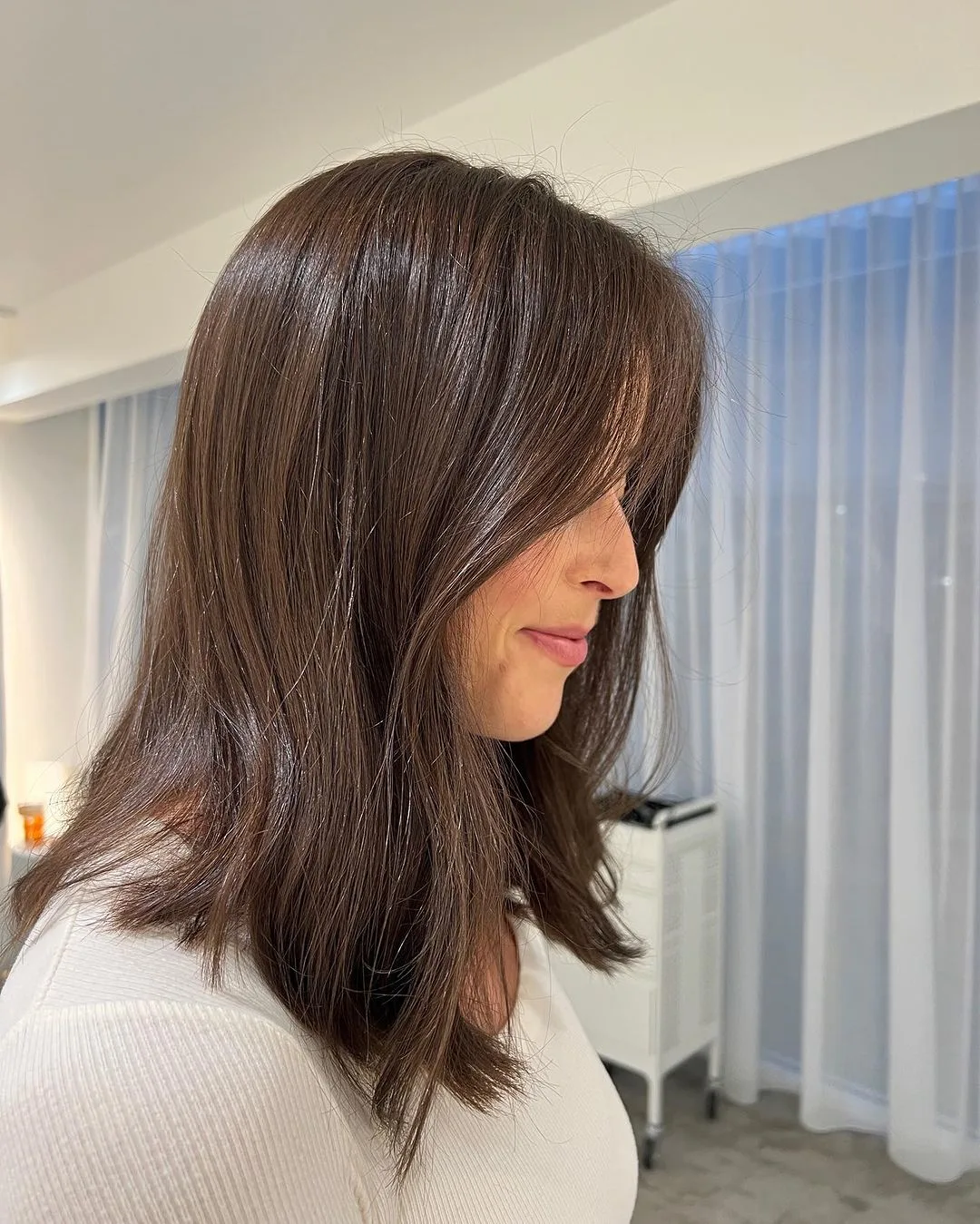 Rich, sophisticated, understated: velvet brown is the epitome of refined elegance. This medium brown shade is glossy and has a uniform, all-over color that looks both luxurious and down-to-earth.
37. Dark Strawberry Blonde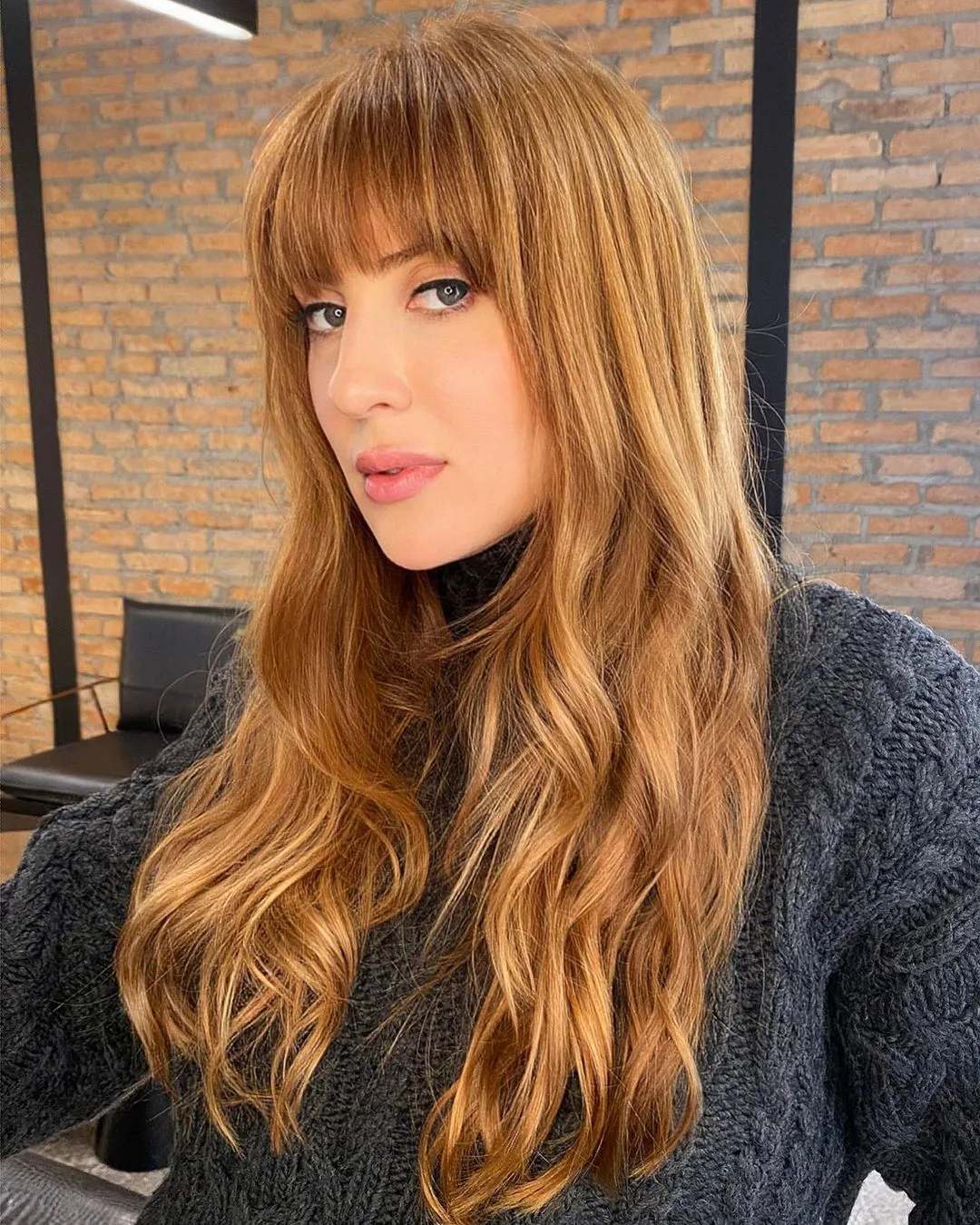 Dark strawberry blonde is the perfect blend of sweet and sultry. It's a rich hue that suits warm undertones; perfect if blonde tones are too bright and red tones too deep for you.
38. Brown And Blonde Gemini Hair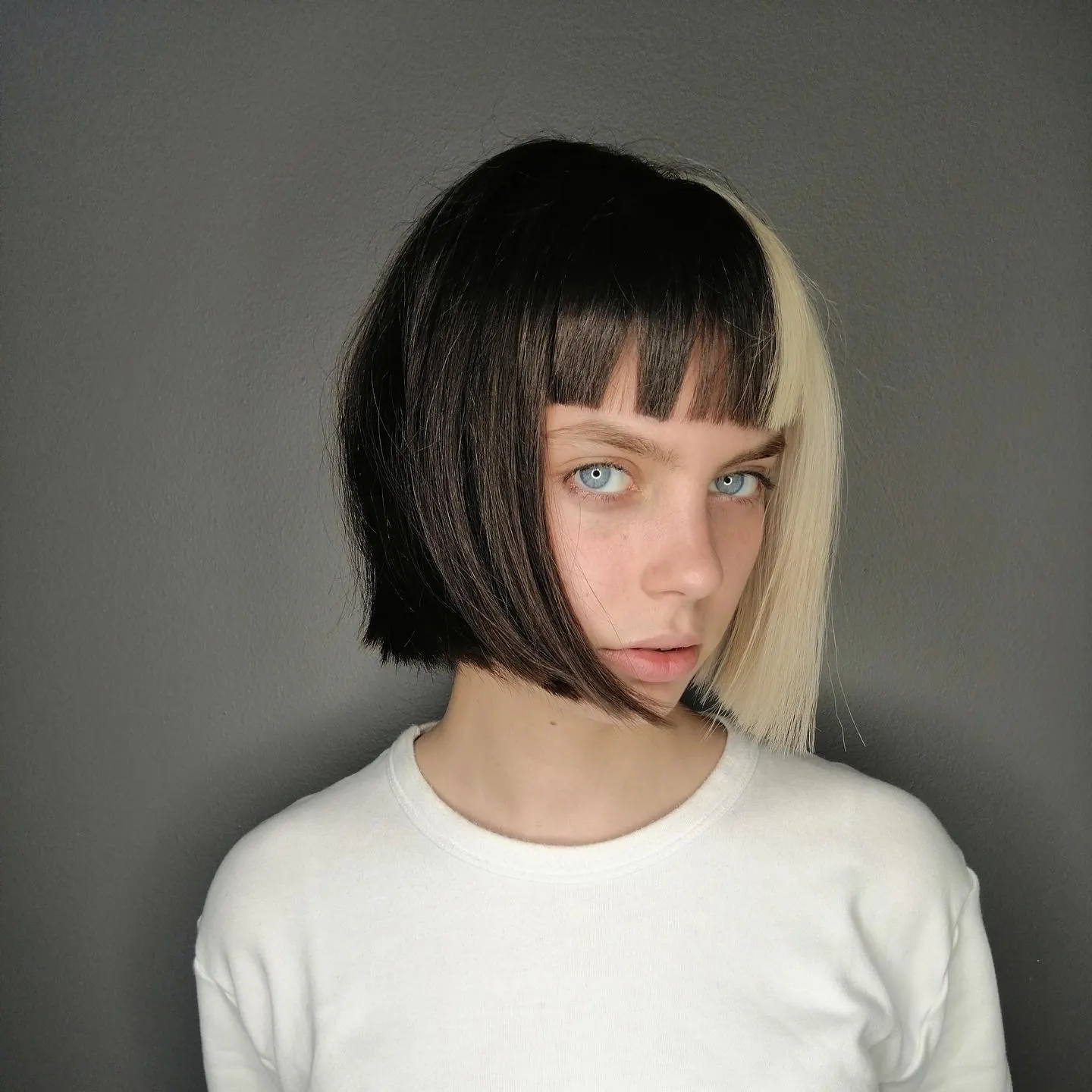 Embrace the duality! The dynamic combination of brown and blonde hair looks best when it's styled to showcase the seamless transitions between the two colors.
39. Espresso Brunette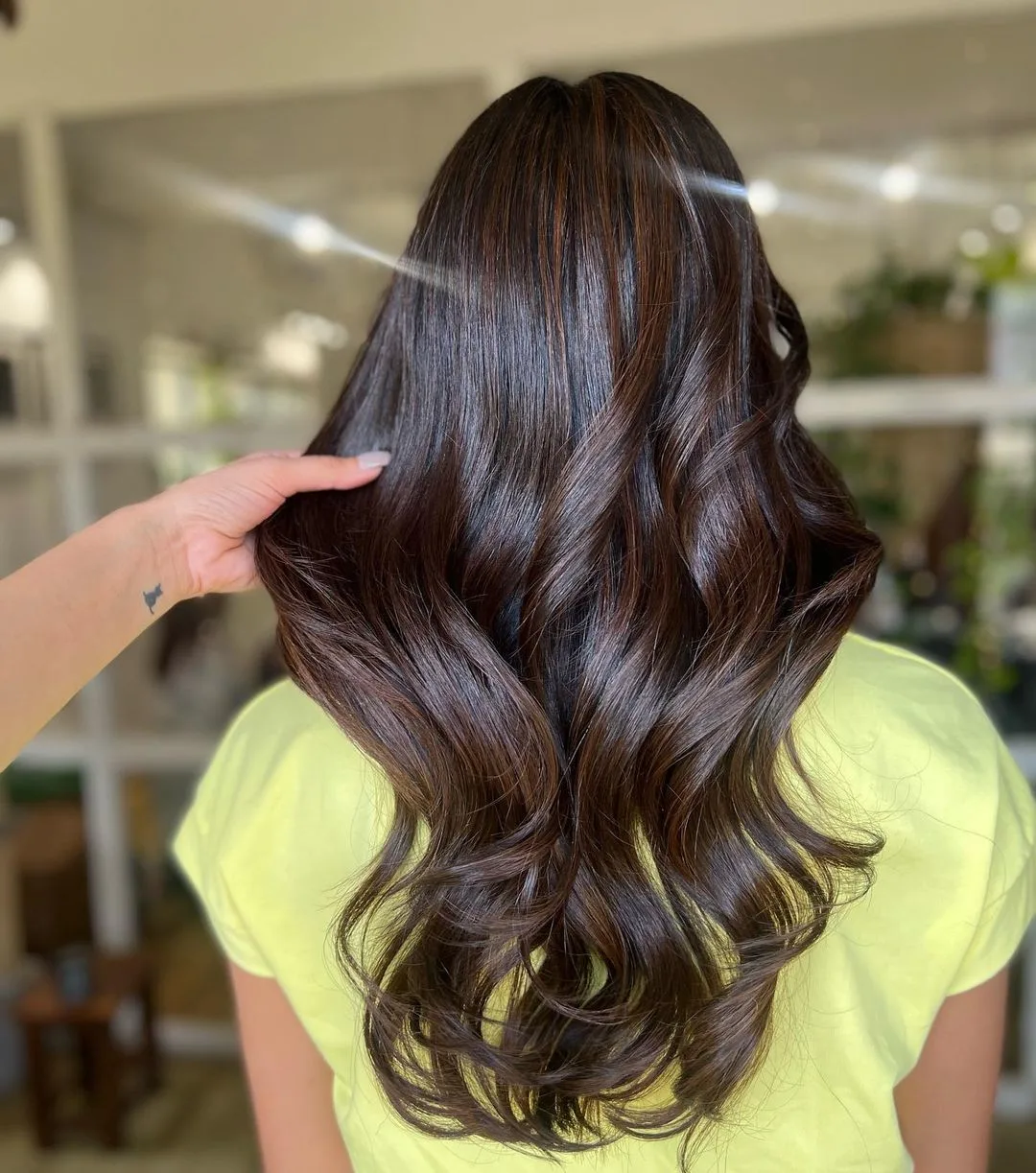 Among the hundreds of hair color ideas for brunettes, espresso brunette is one of the most eye-catching: it's dark enough to look striking, but the dimension is still obvious.
40. Strawberry Pink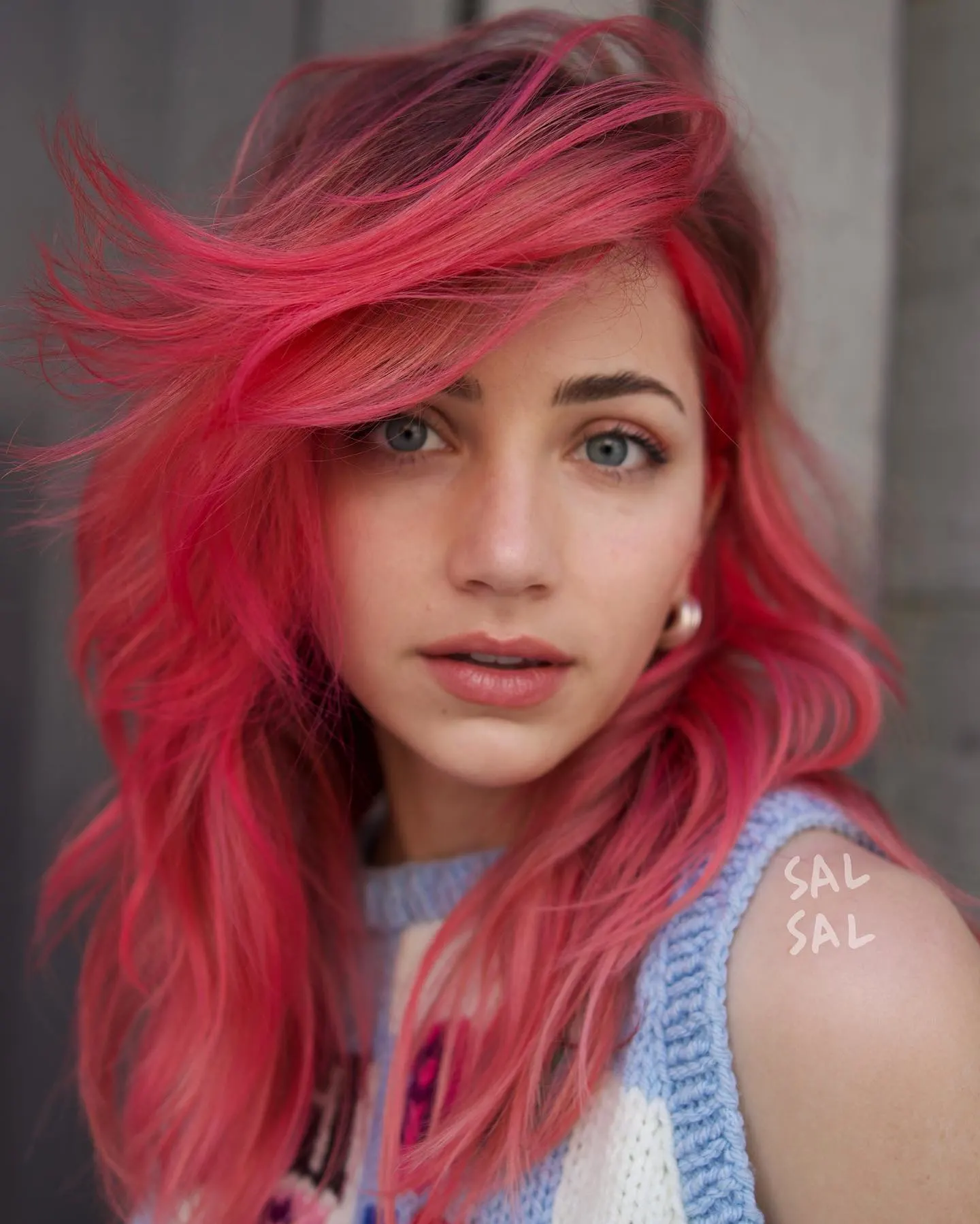 The delightful and sweet strawberry pink radiates playfulness and charm. This warm hue will make your eyes stand out and your complexion glow.
41. Dark Blonde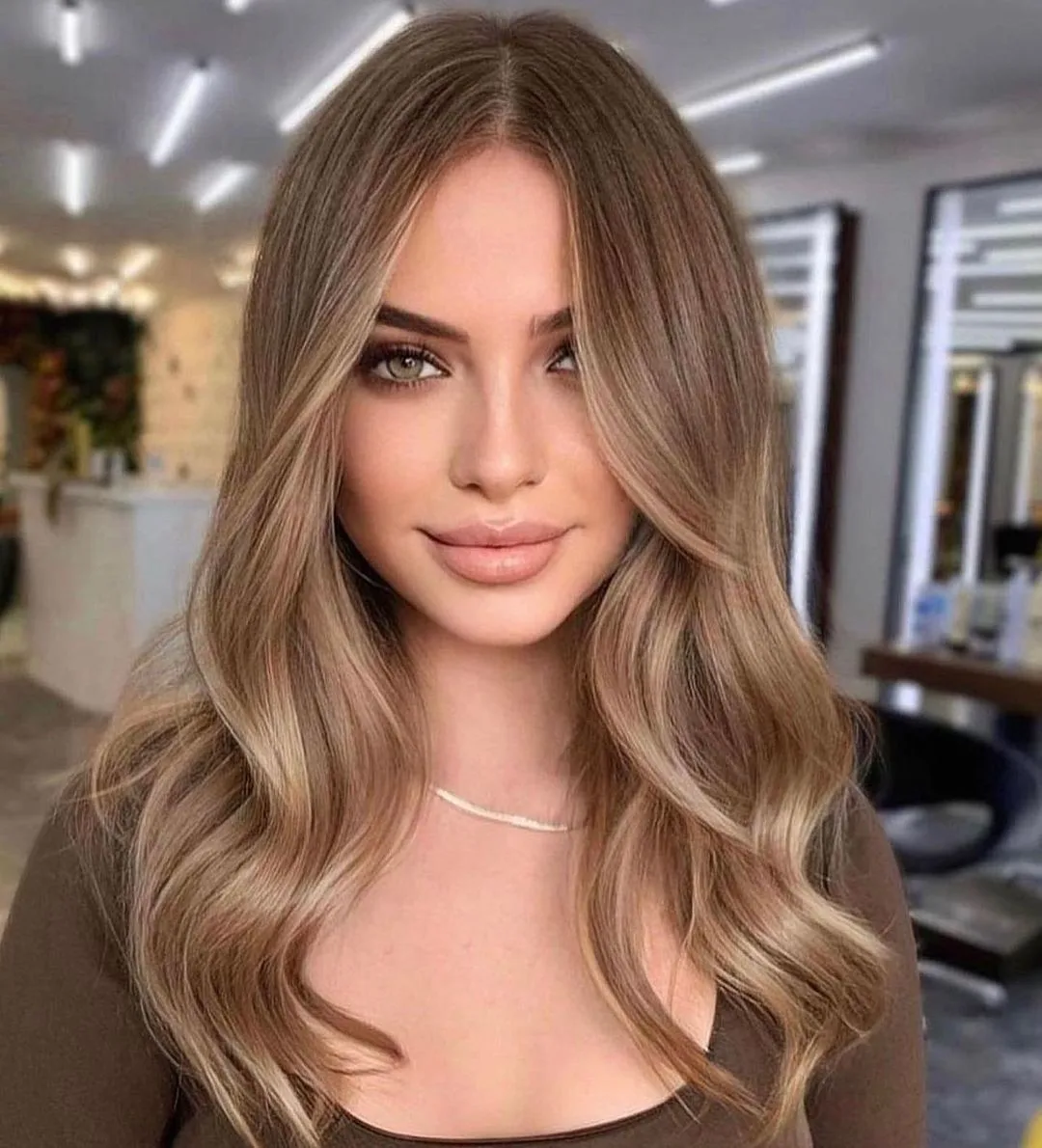 If you naturally have dark blonde hair, a glossing treatment can give it a transformative shine you didn't know you were missing.
42. Ashy Brown Hair Balayage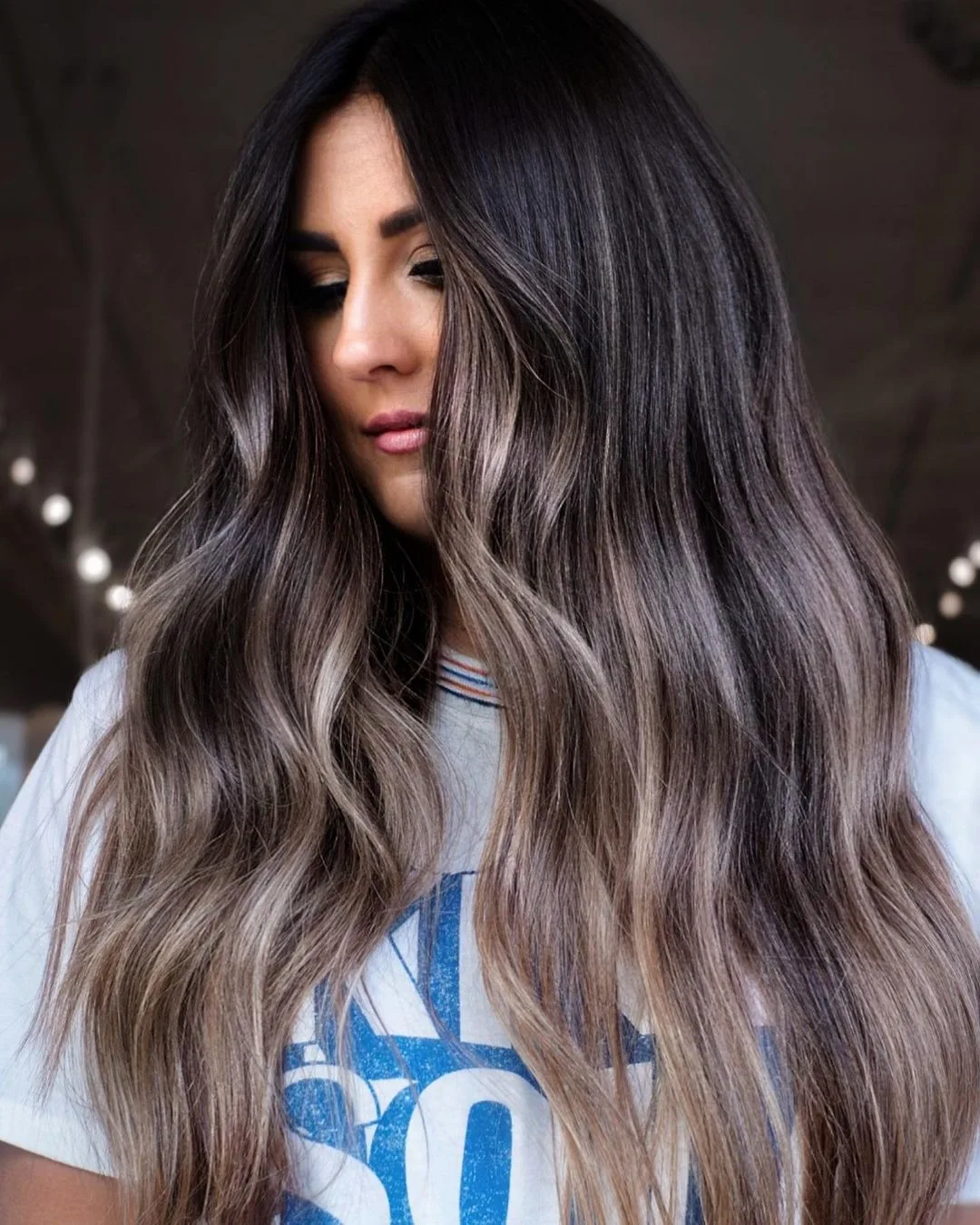 To make different colors look harmonious, matching the warmth of the tones is essential. If you have cool-toned dark hair, ashy brown hair balayage will look seamless, but on a warmer base it might look dull.
43. Soft Pink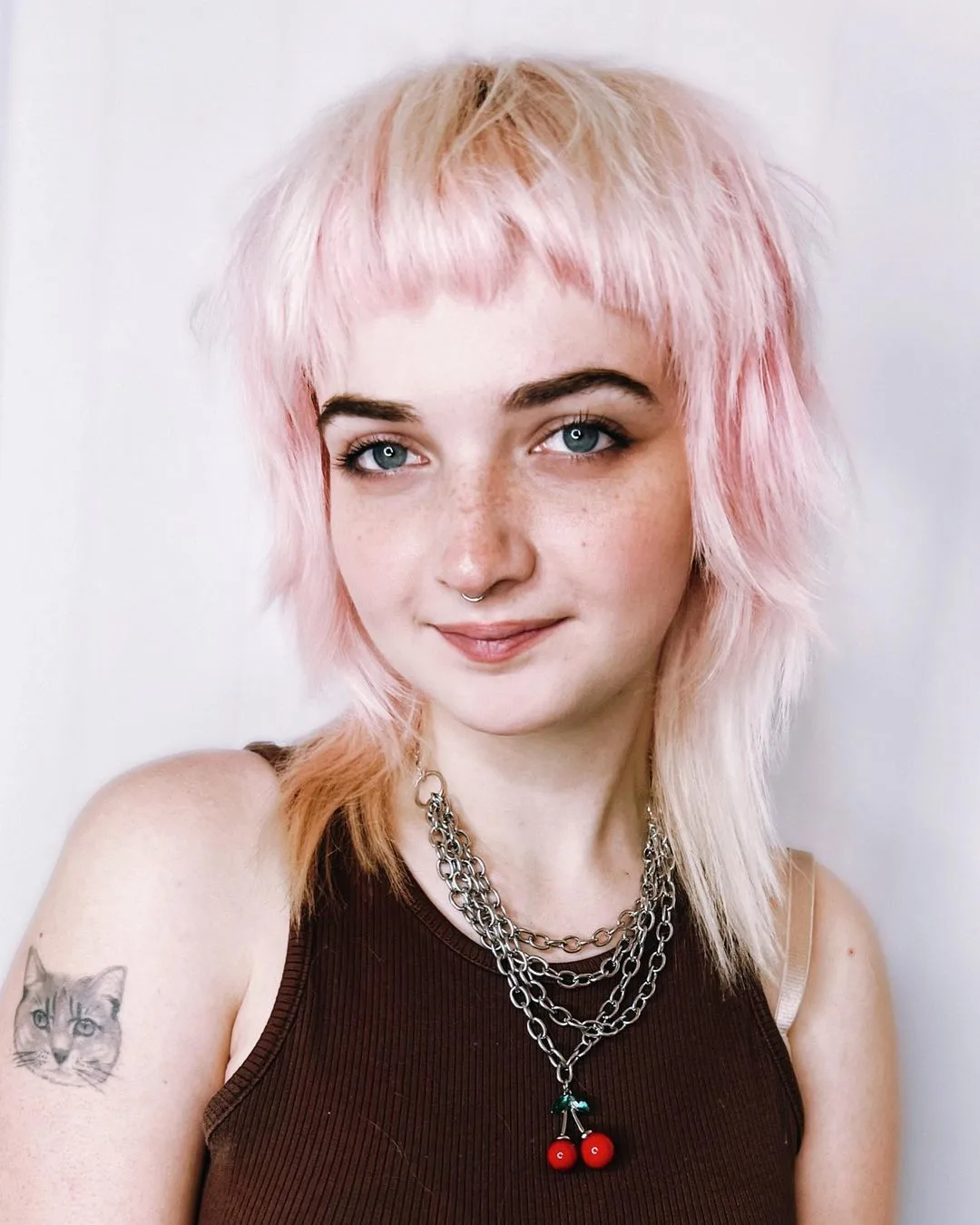 Soft pink brings a delicate and romantic touch to your look and makes your overall vibe feel whimsical and playful. You'll need to lighten your hair to level 10 to achieve this look, so you'll need it to be healthy before you start.
44. Dark Ginger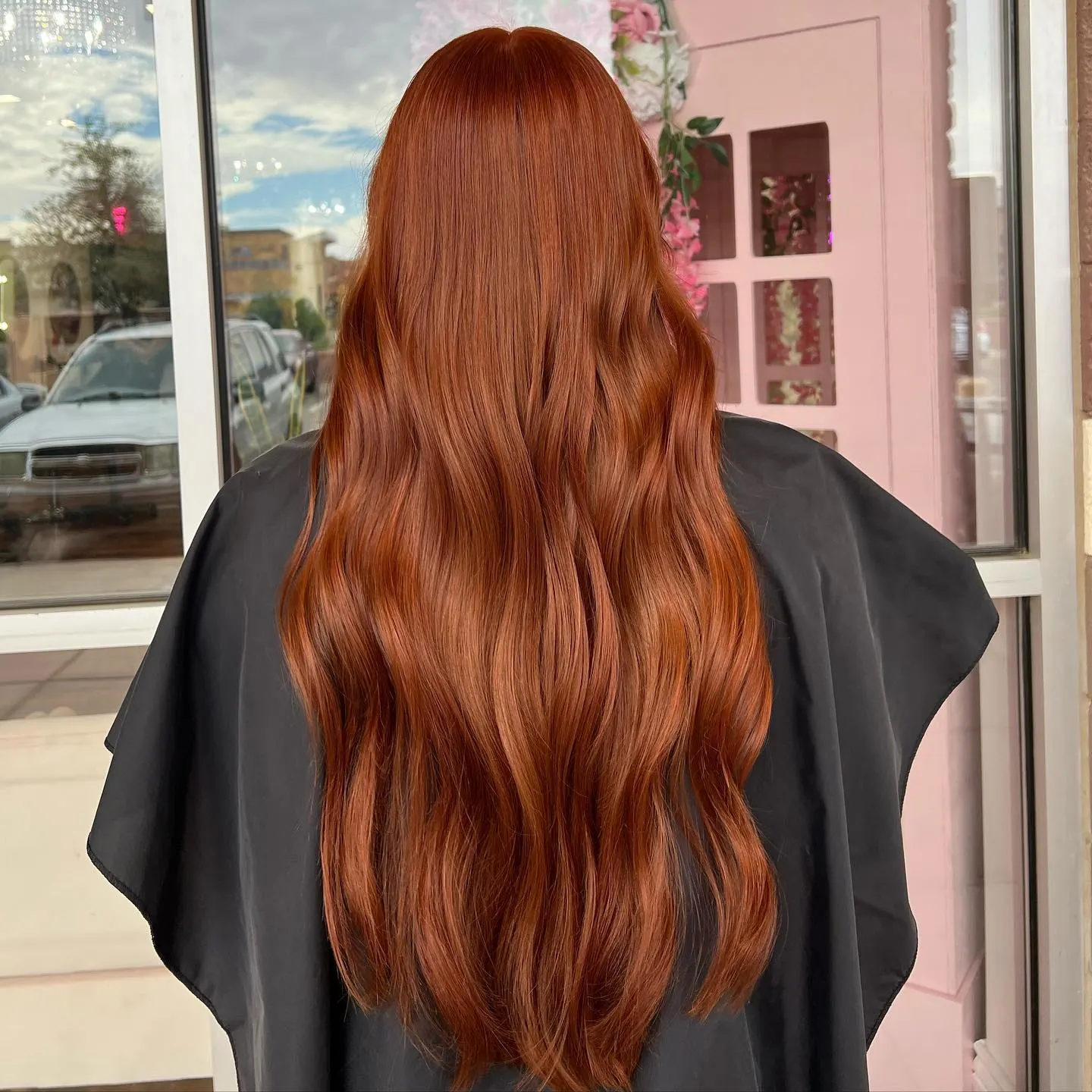 One look at this picture and you want to march down to the salon? We've all been there. This dark ginger is absolutely magnificent, but guess what? Super easy to achieve, even if your hair is dark. Call your colorist.
45. Dirty Blonde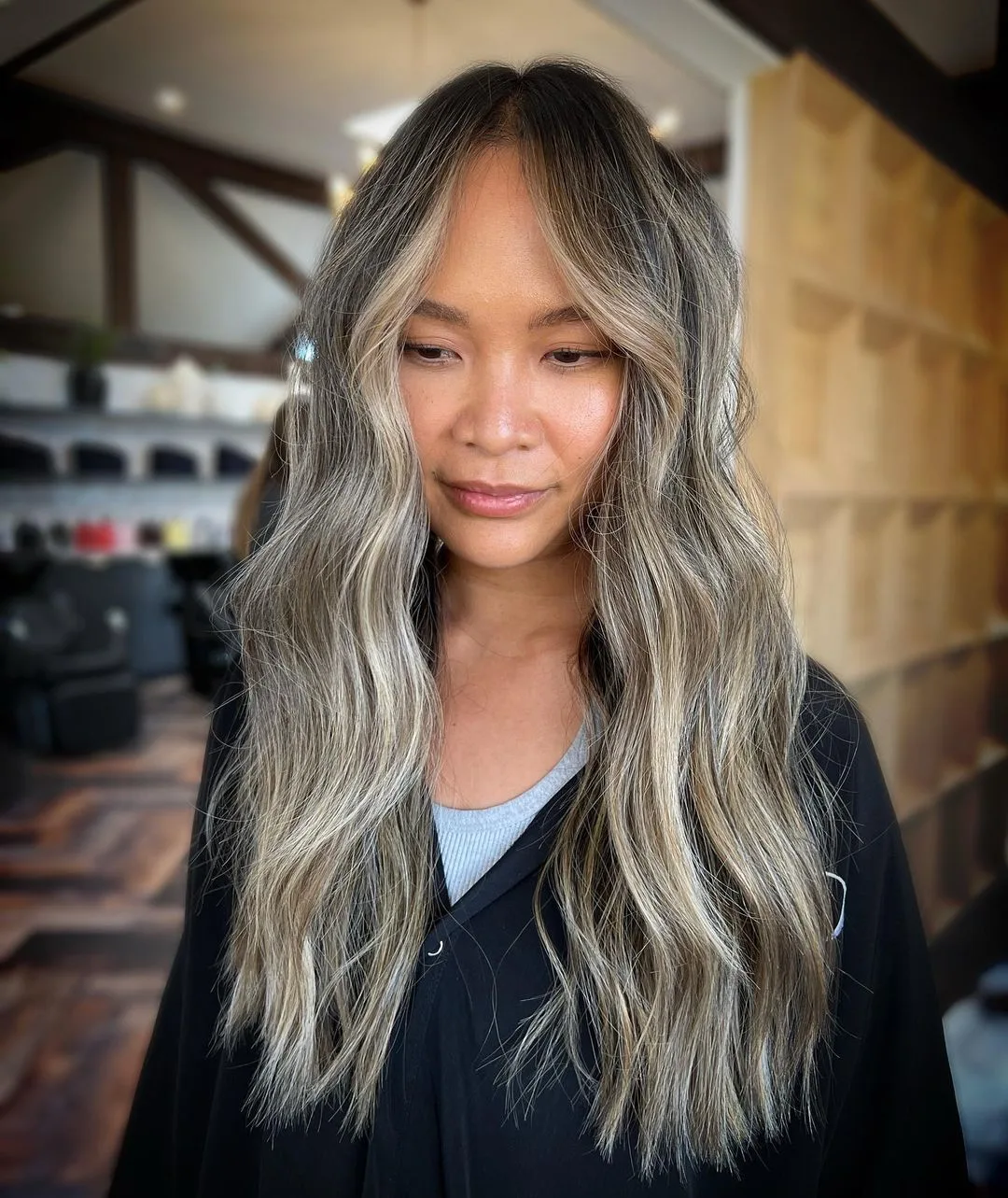 Dirty blonde hair, the perfect blend of blonde and brunette hues, has that coveted lived-in look that will give you effortlessly chic vibes—a low-maintenance yet stylish look.
46. Unicorn Hair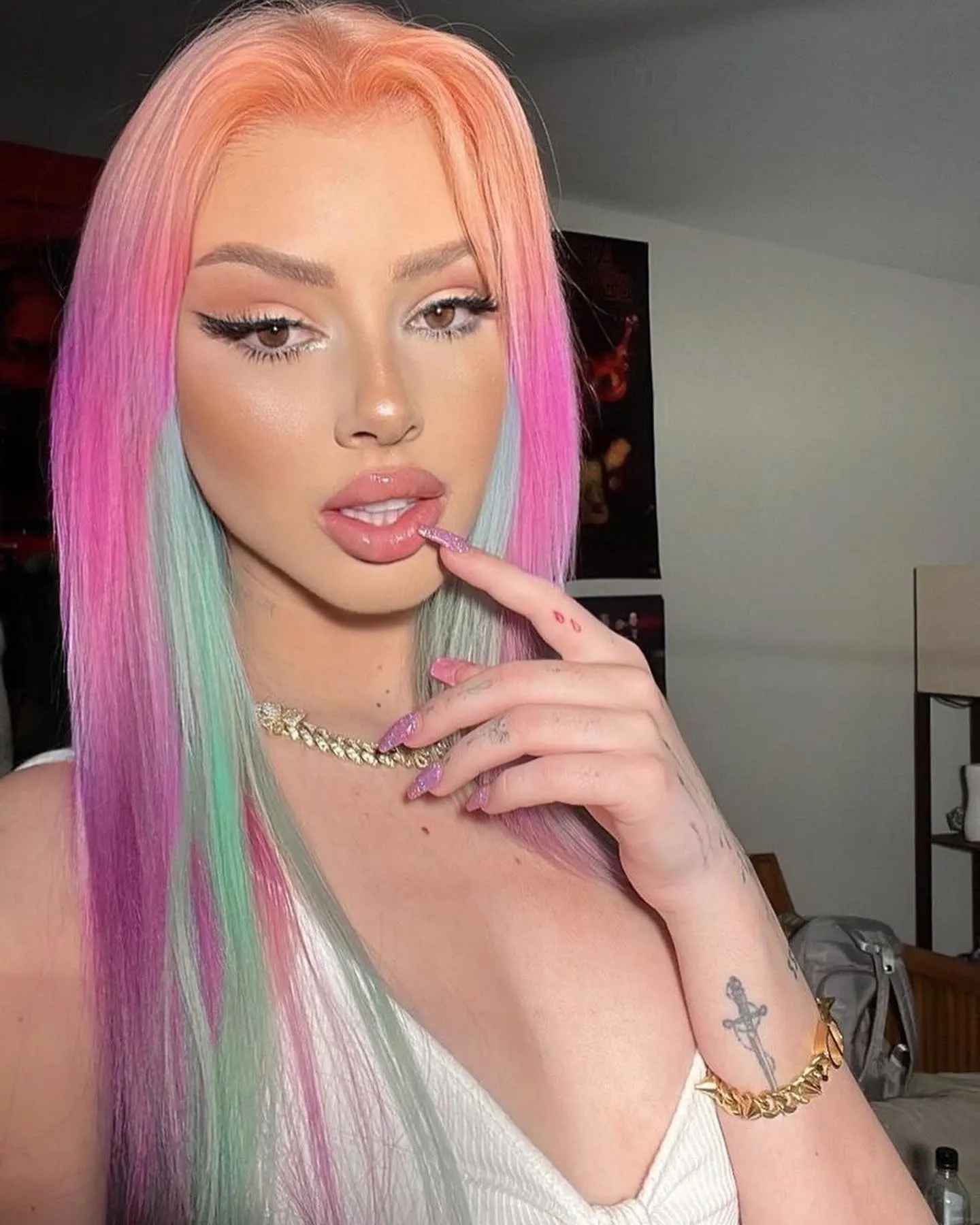 Once you dive into the magical world of unicorn hair everything else will start to look greige and blah. How to ever go back to anything less once you've tried a blend of whimsical colors that unleash your inner fantastical creature?
47. Chestnut Balayage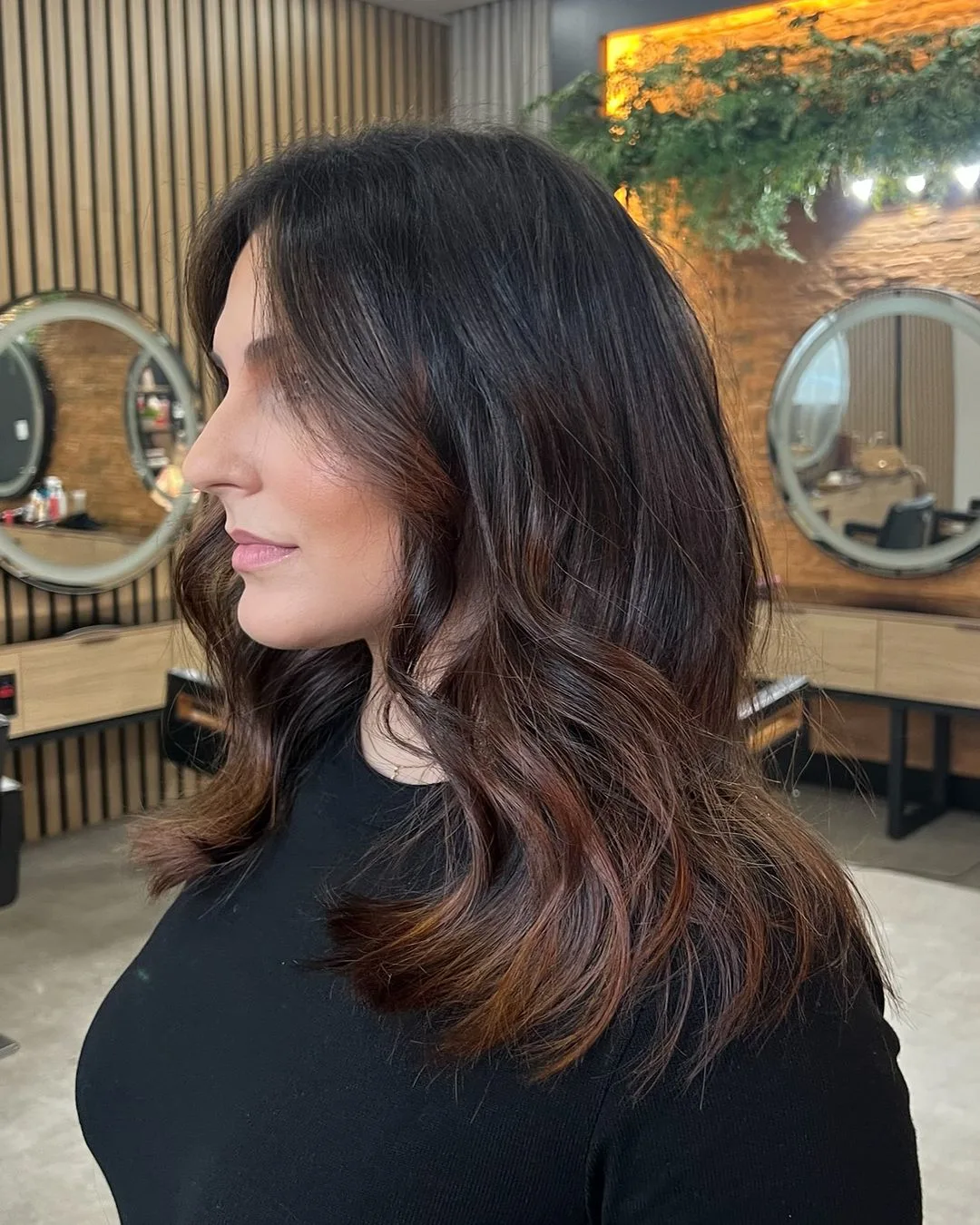 The chestnut balayage is a sophisticated blend of deep browns and highlights that results in rich and warm tones that will add depth and dimension to your locks.
48. Red Balayage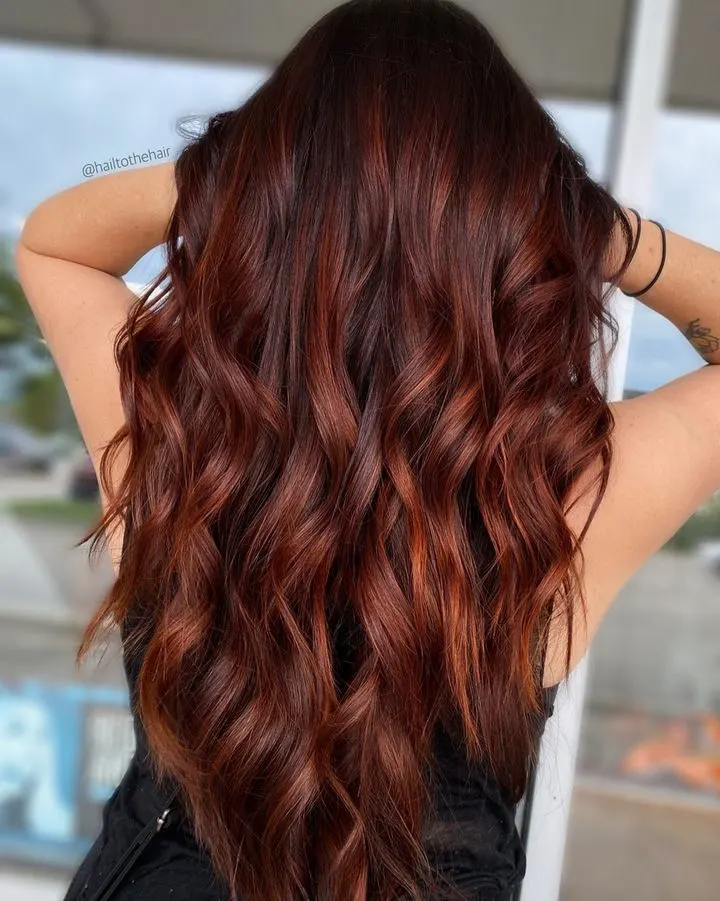 This fiery red balayage balayage looks natural and dynamic thanks to the few lighter highlights throughout. To protect the vibrancy of the color, use a color-protecting products and avoid heat.
49. Undone Blonde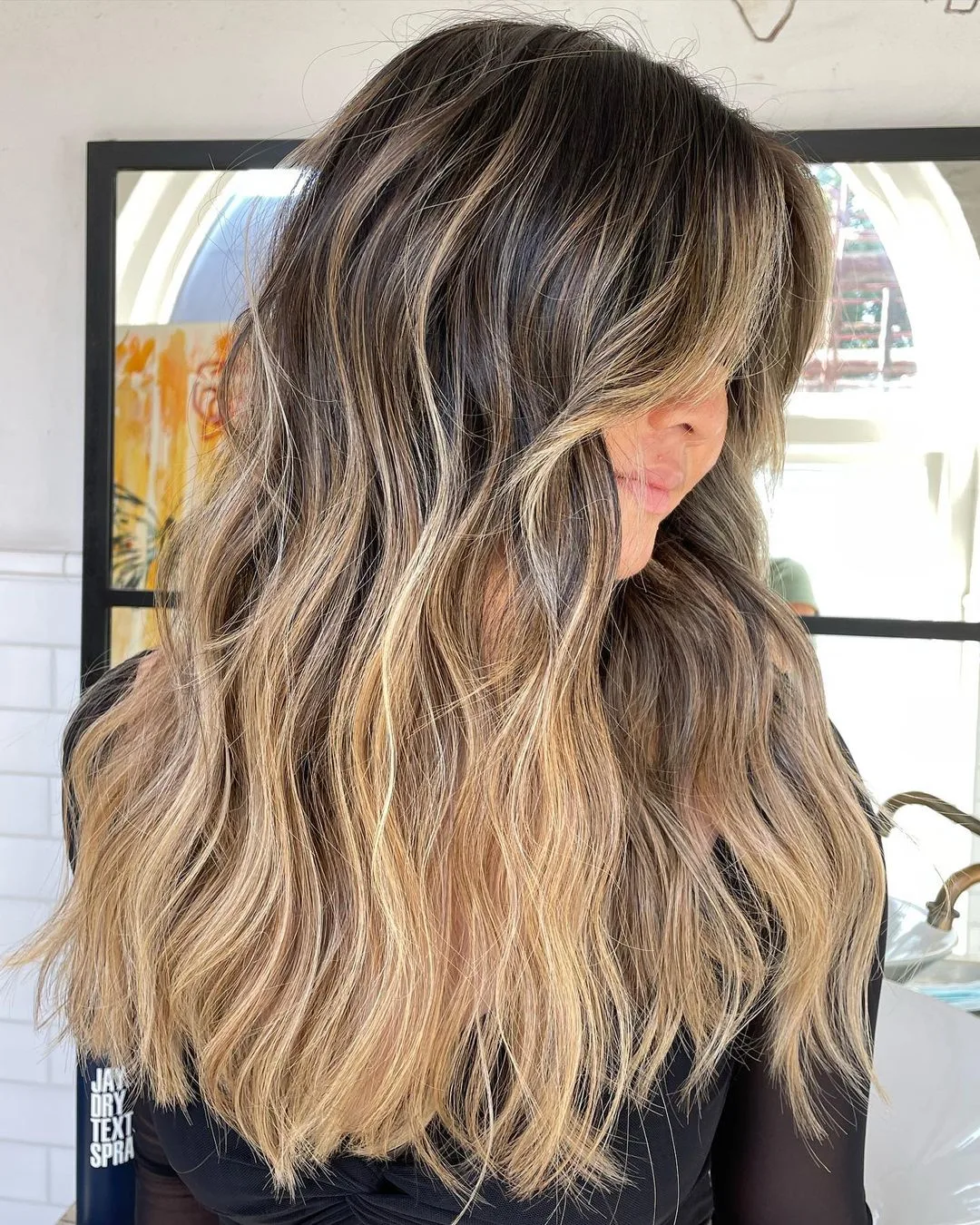 With its lived-in and carefree vibe, undone blonde fits perfectly with natural and laid-back aesthetics. Wear it tousled or in beachy waves to really play up the effortless look.
50. Brown Hair With Blonde Streaks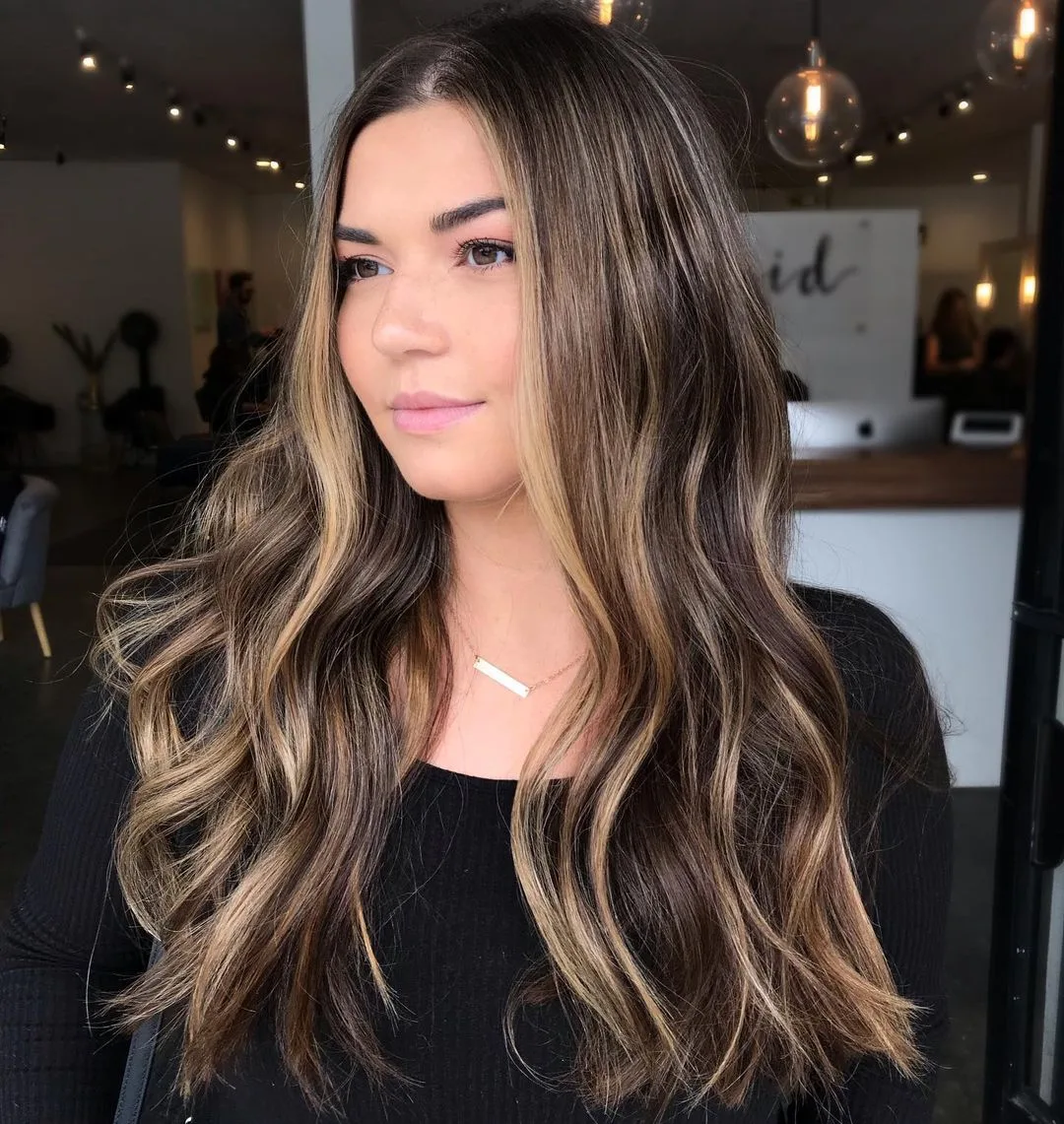 This classic and timeless combination that is brown hair with blonde streaks remains popular because of the flattering and beautiful sun-kissed effect it creates. The easiest way to elevate your brown locks.
51. Purple Balayage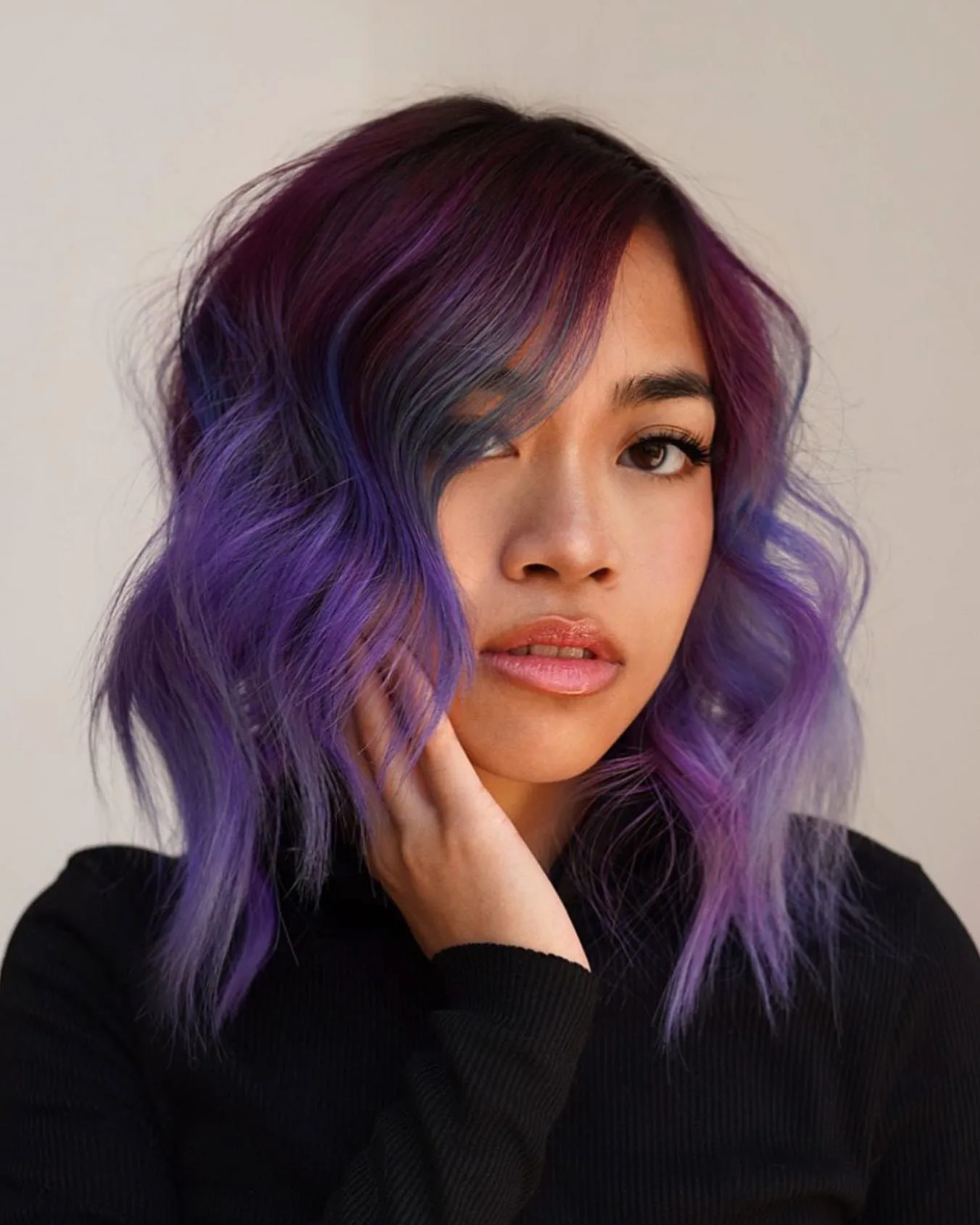 The way this look seamlessly blends together different hues of purple is nothing short of mesmerizing. This enchanting purple balayage creates a dimensional effect, adds a pop of color and is just overall stunning.
52. Golden Blonde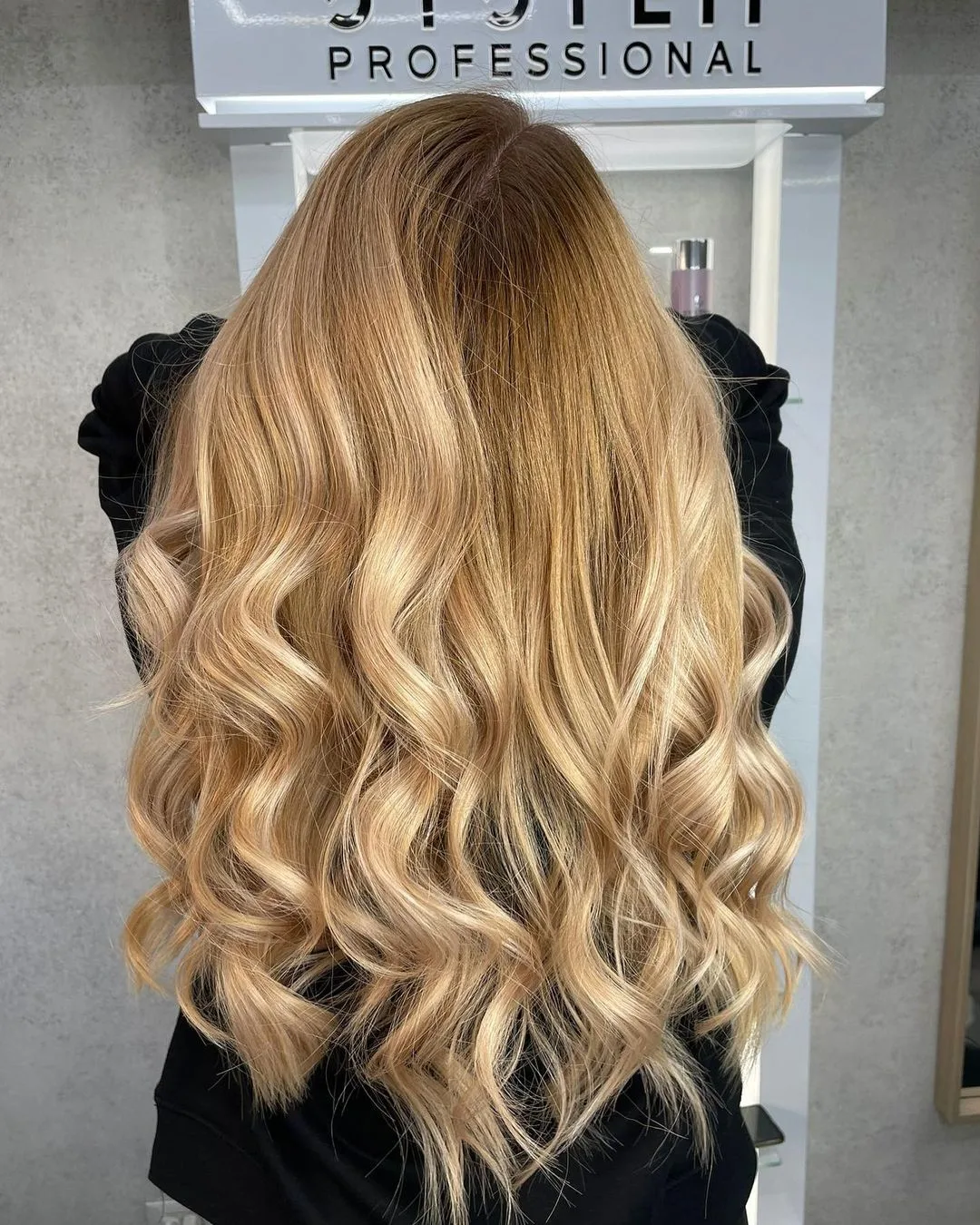 Whether you're looking to enhance your natural blonde tones or want a complete transformation, golden blonde is the sun-kissed dream that will instantly brighten your look.
53. Ash Black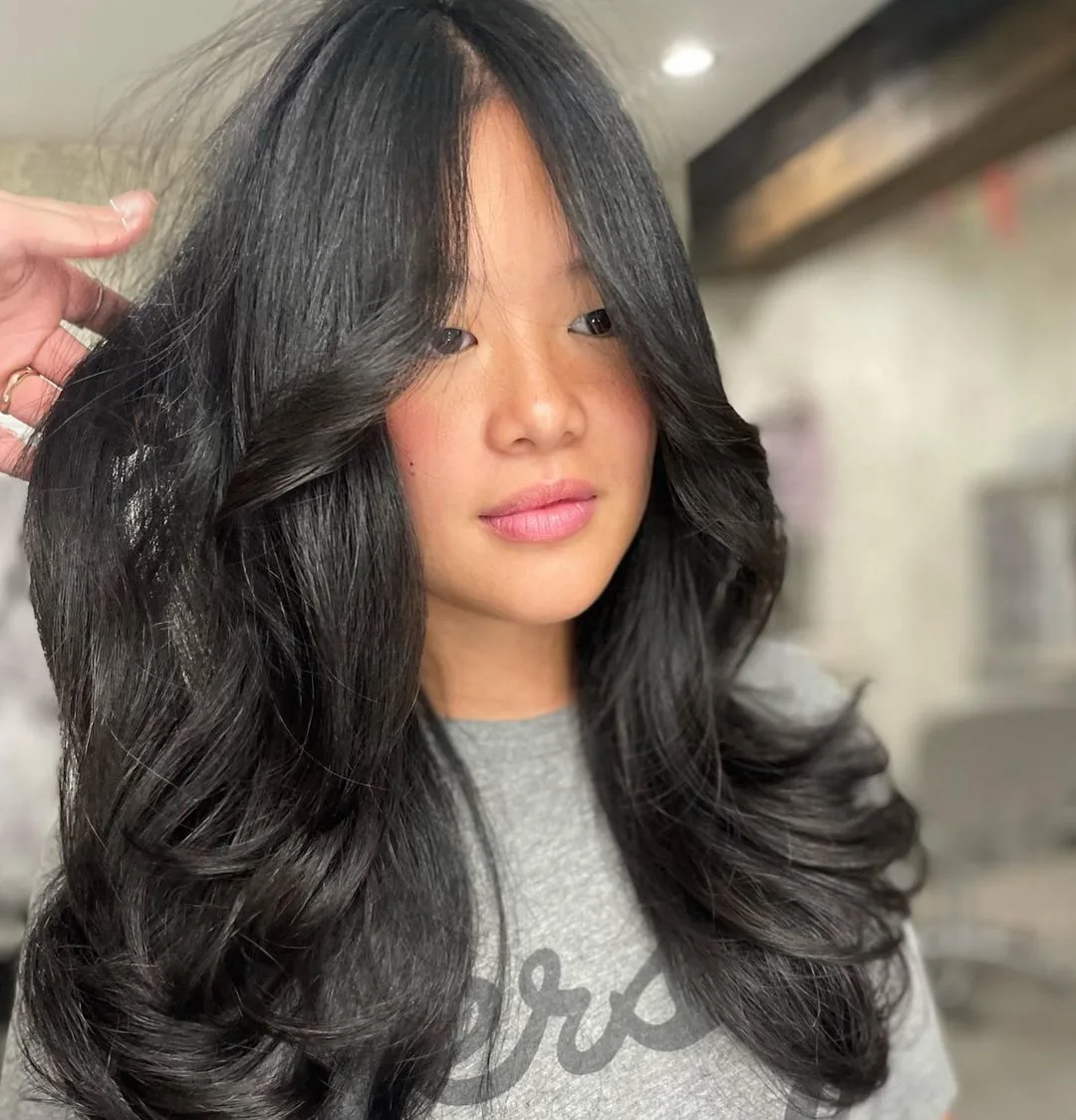 Most people have black hair, so how to set yourself apart if you don't want to change your hue? Ash black is a modern take on the traditional color that looks super current and cool. This smoky, muted shade has a neutral vibe that can suit any aesthetic.
54. Peach Pink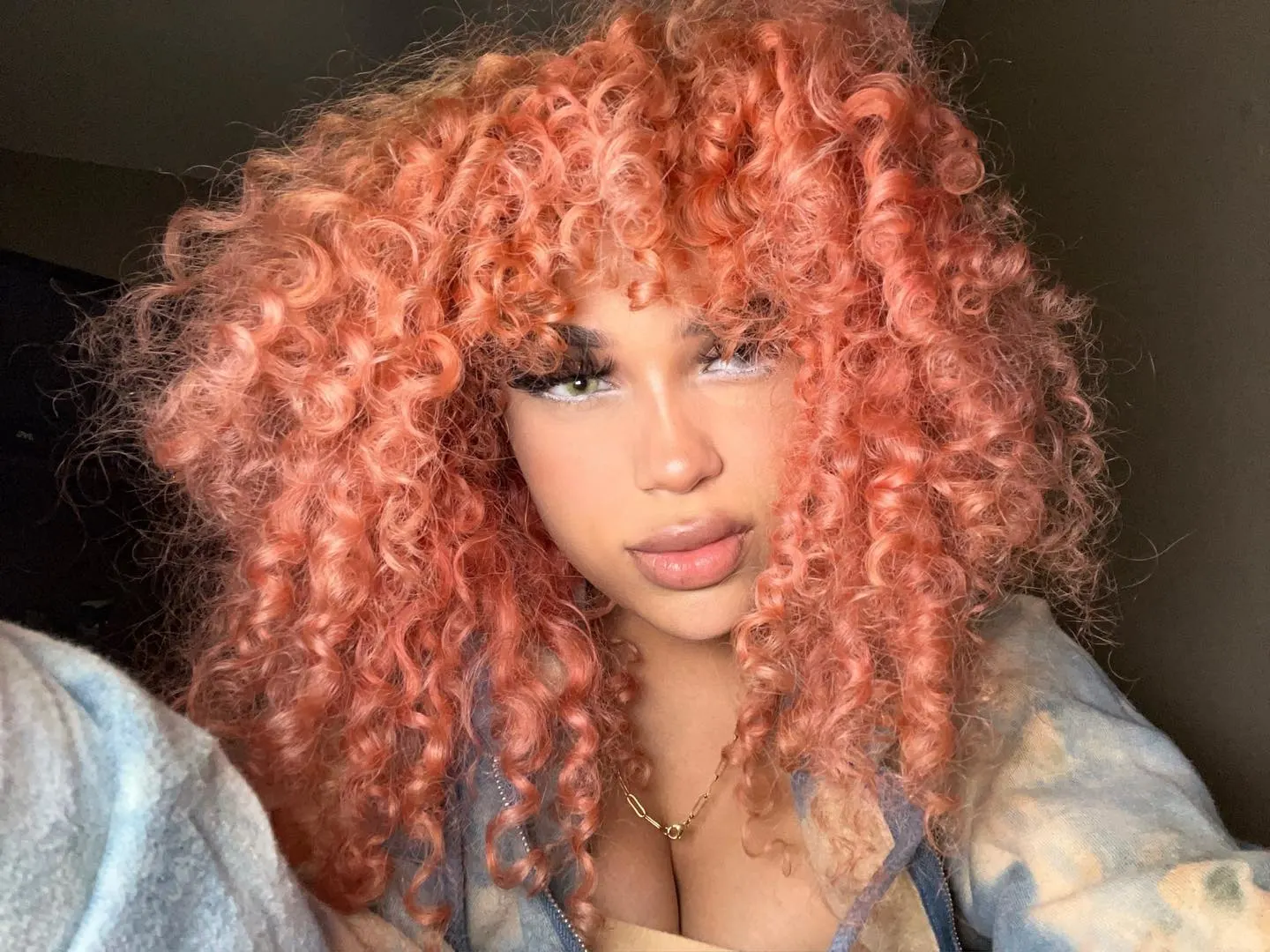 Sweet and delicate peach pink is gorgeously whimsical. Warmer than typical pink, this hue will make your face glow with its warm peachy tones and gentle pink hues.
55. Mahogany Hair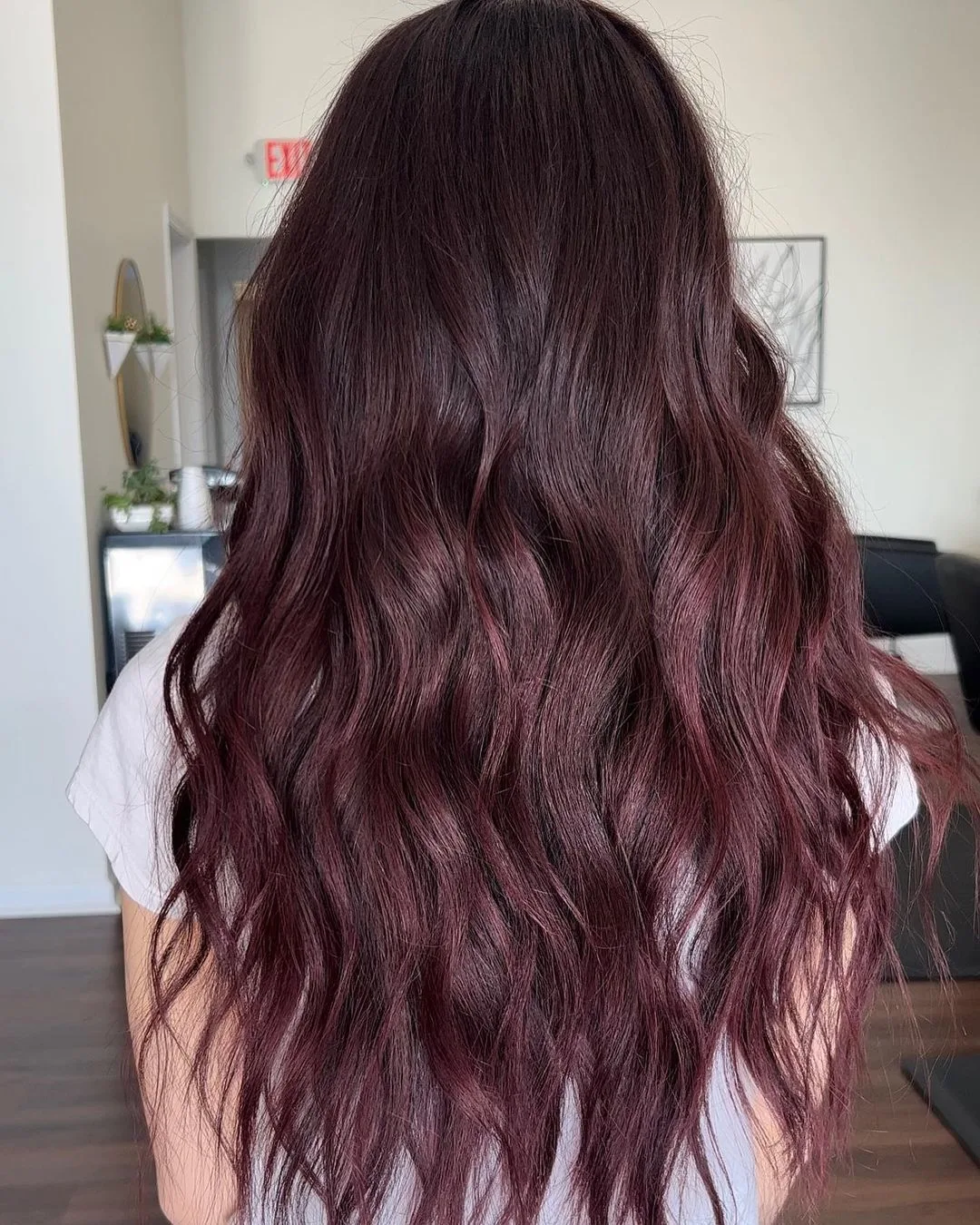 There's something both lush and subtle about mahogany hair. It's the deepest among the reds, blending the vibrancy of red and the depth of dark brown hues into a timeless look.
56. Caramel Blonde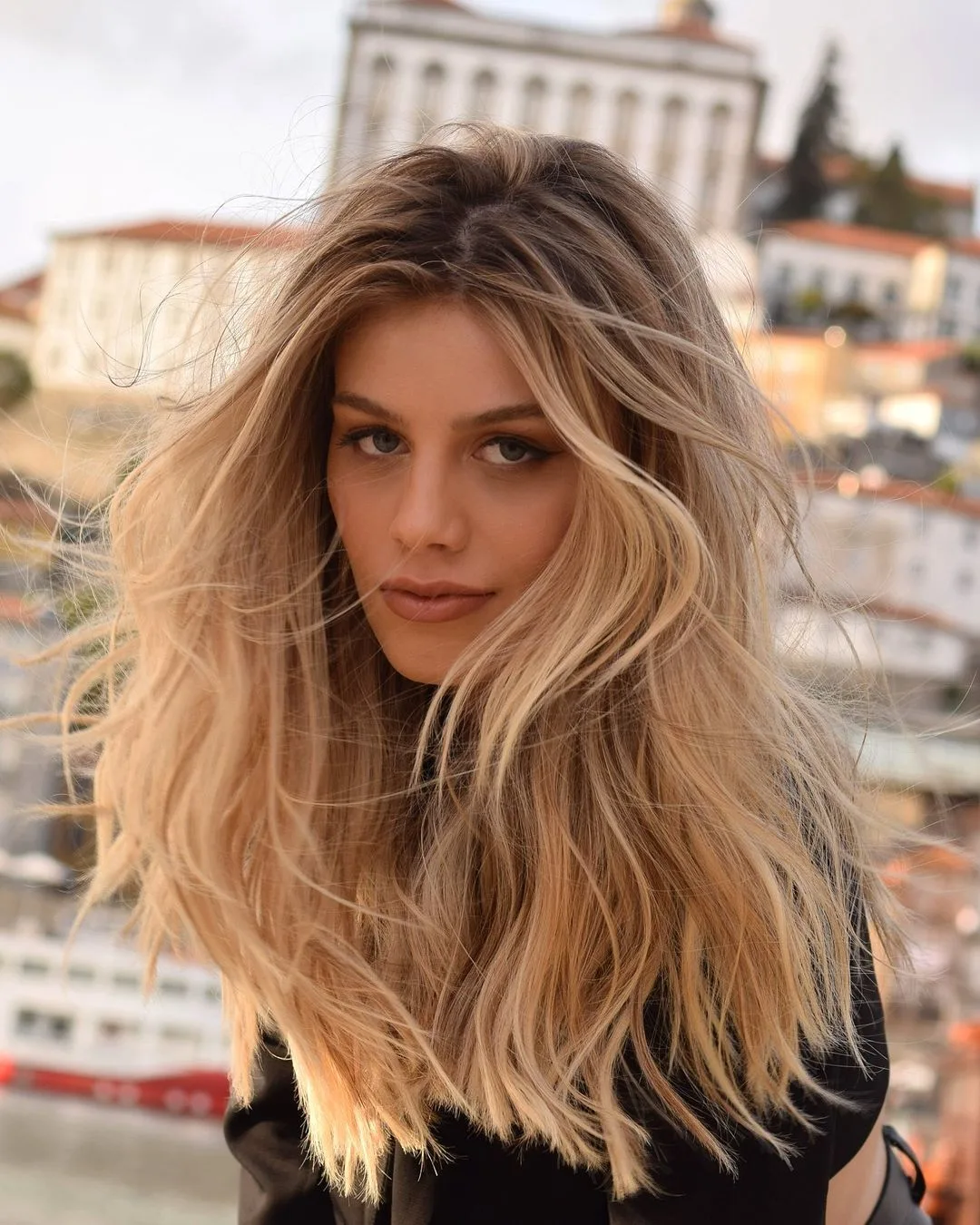 If you want your hair to be warmer but have a little oomph, the sweet caramel blonde hair combines the warmth of caramel with the brightness of blonde, creating a sunlit, inviting look.
57. Brown Hair With Caramel Highlights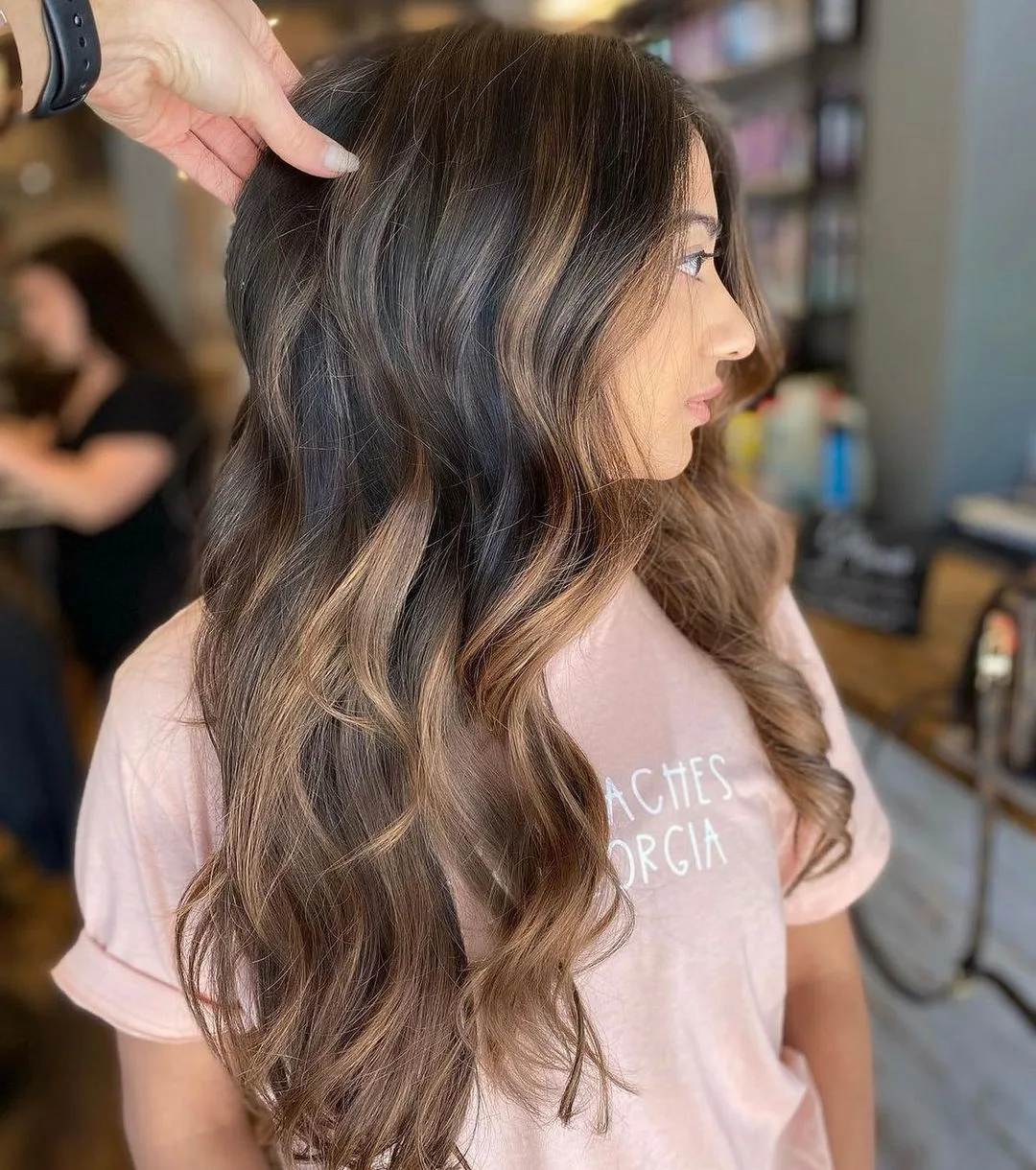 The classic, the no-brainer, the standard for brunettes: brown hair with caramel highlights. The warmth and the dimension provided by the golden caramel will elevate your brunette locks and complement your beauty.
58. Ginger Hair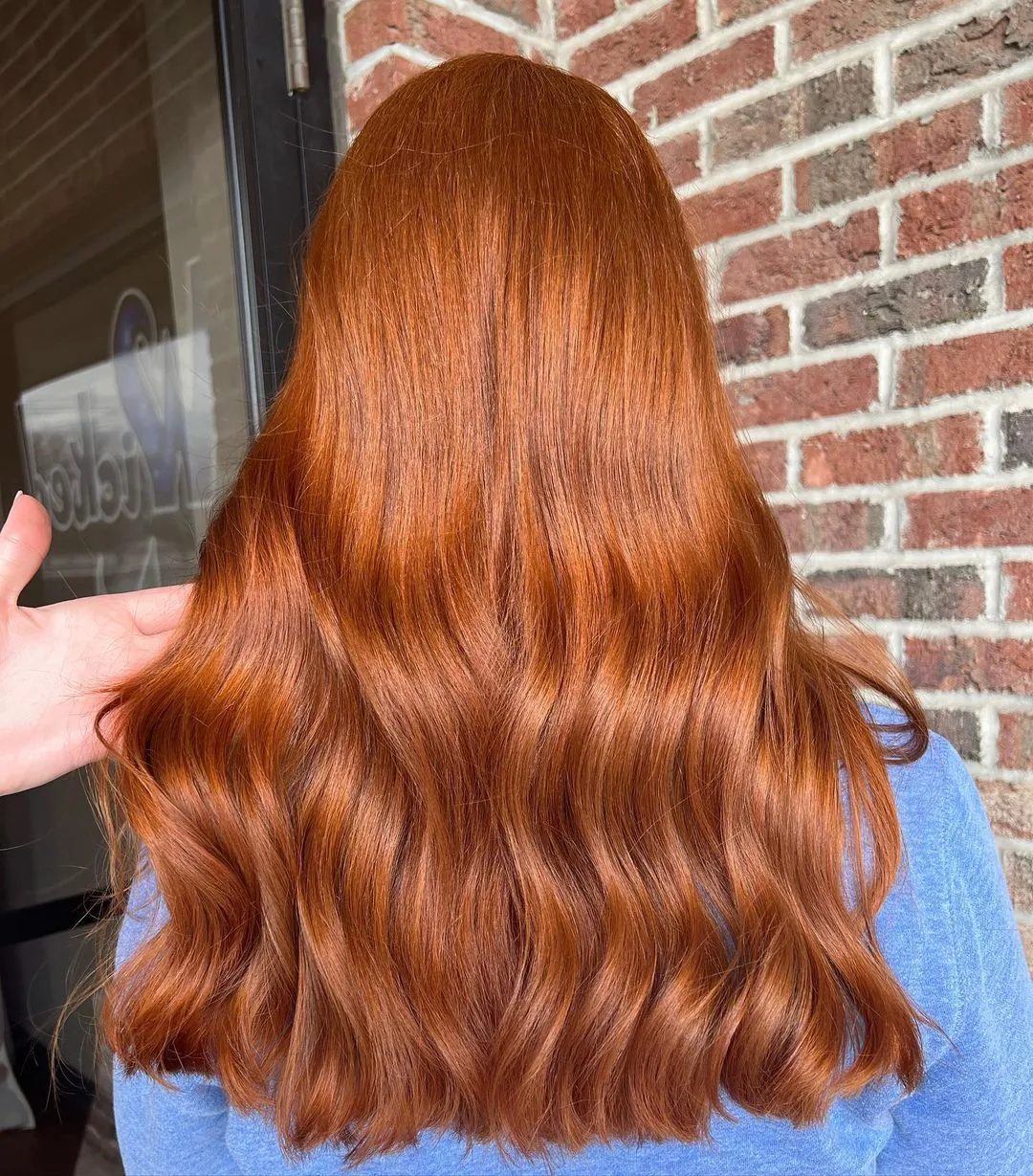 Spice, energy, and personality—ginger hair will create an impression before you even say anything. This gorgeous, playful hue is perfect if you want to stand out.
59. Brunette Balayage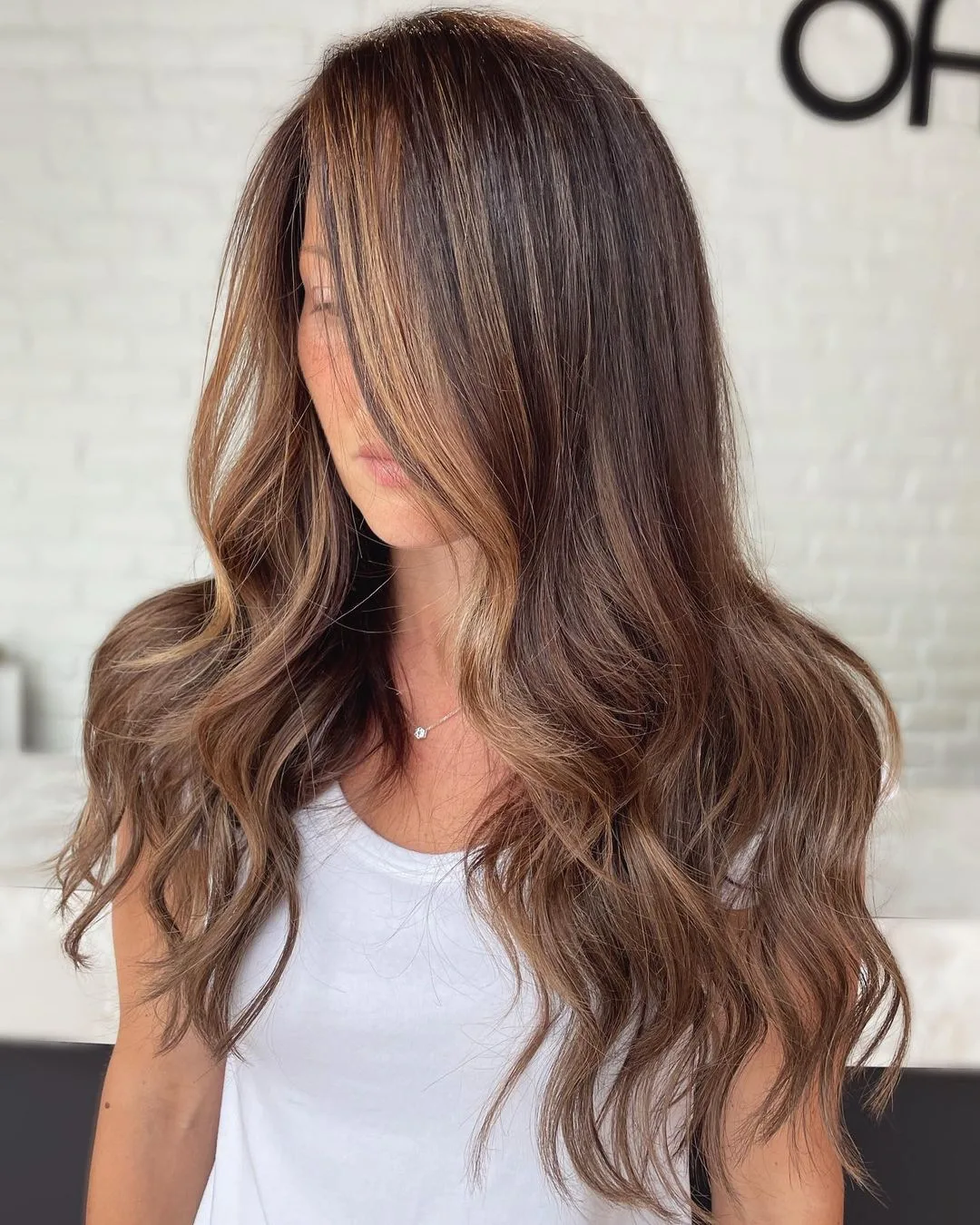 Brunette balayage can be interpreted in different ways, such as this very subtle version of the technique. Seamlessly blending various brown hues to create a natural and sun-kissed effect is the goal, and the details can be whatever you prefer.
60. Dark Brown With Bleached Money Pieces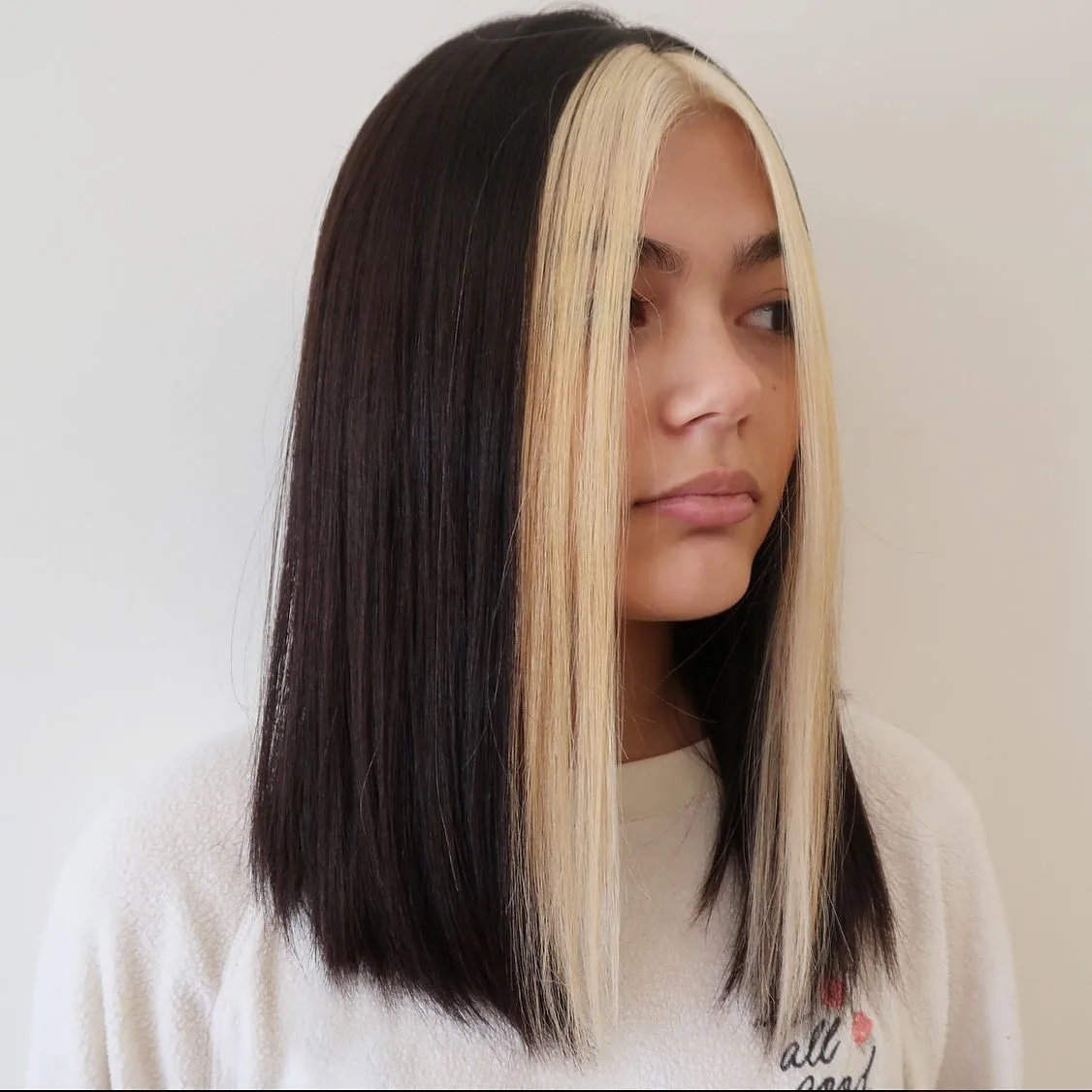 Among the various dark brown hair ideas, this is one of the most in-your-face. Bring a touch of edge and excitement to your dark brown locks with bleached money pieces!
61. Strawberry Blonde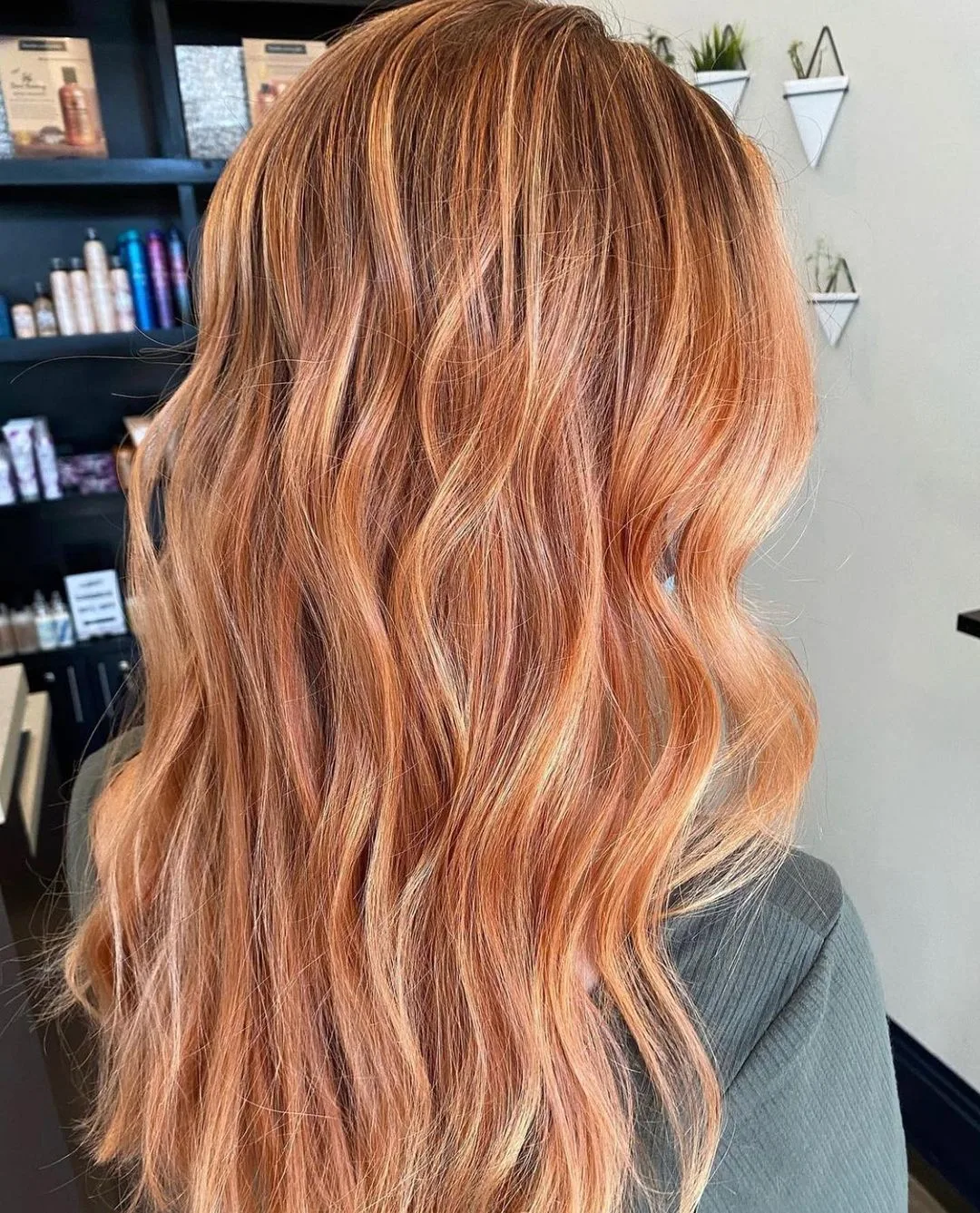 Strawberry blonde combines the warmth of blonde with subtle hints of strawberry red. If you've been feeling washed out in blonde hair, this might be just the pop of color you need.
62. Blonde Highlights On Dark Hair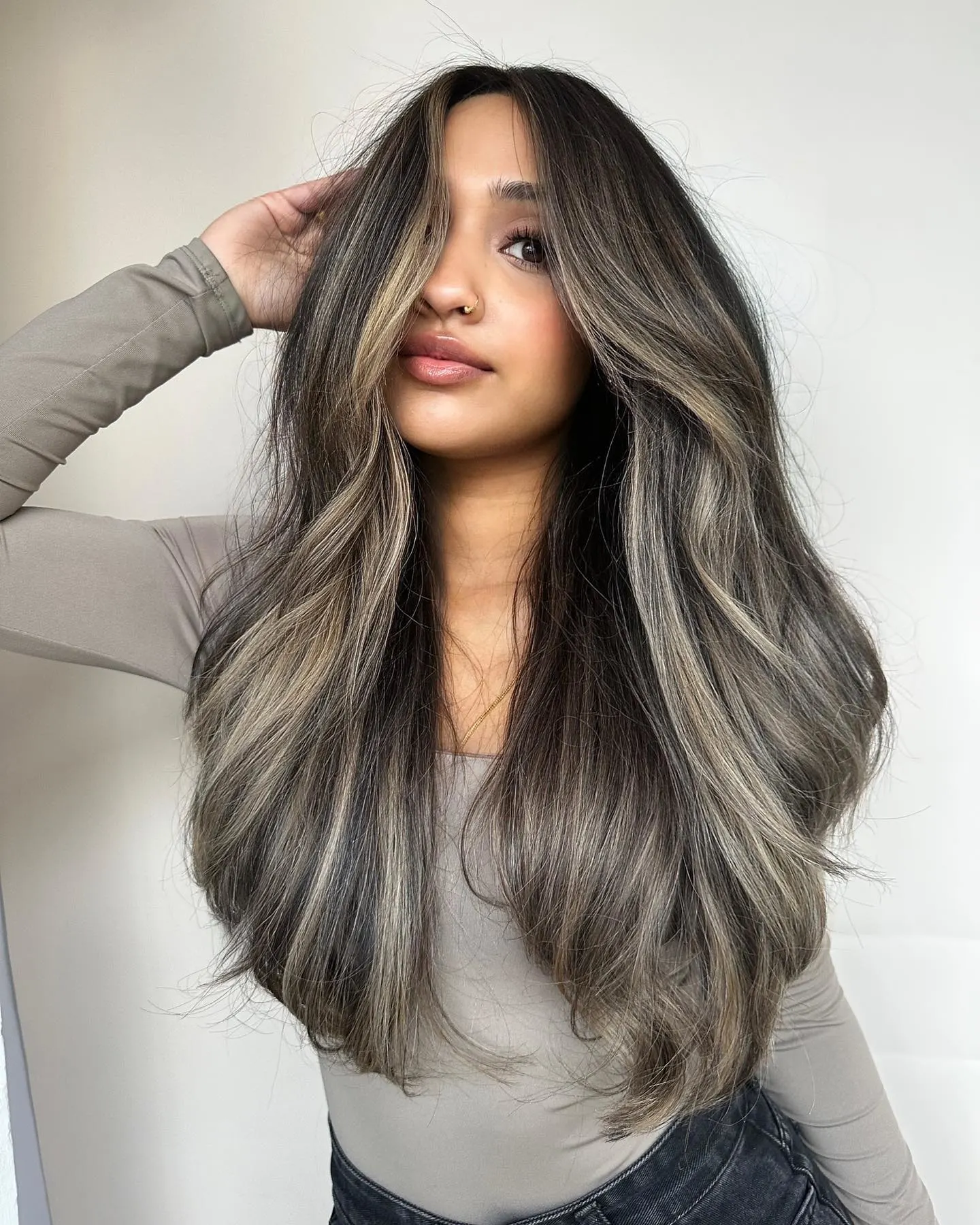 Whether they're seamless or high-contrast, sparse or dense, cool or warm, one thing is for sure: blonde highlights on dark hair will transform your look. And still easier to achieve and maintain that going full blonde!
63. Chestnut Brown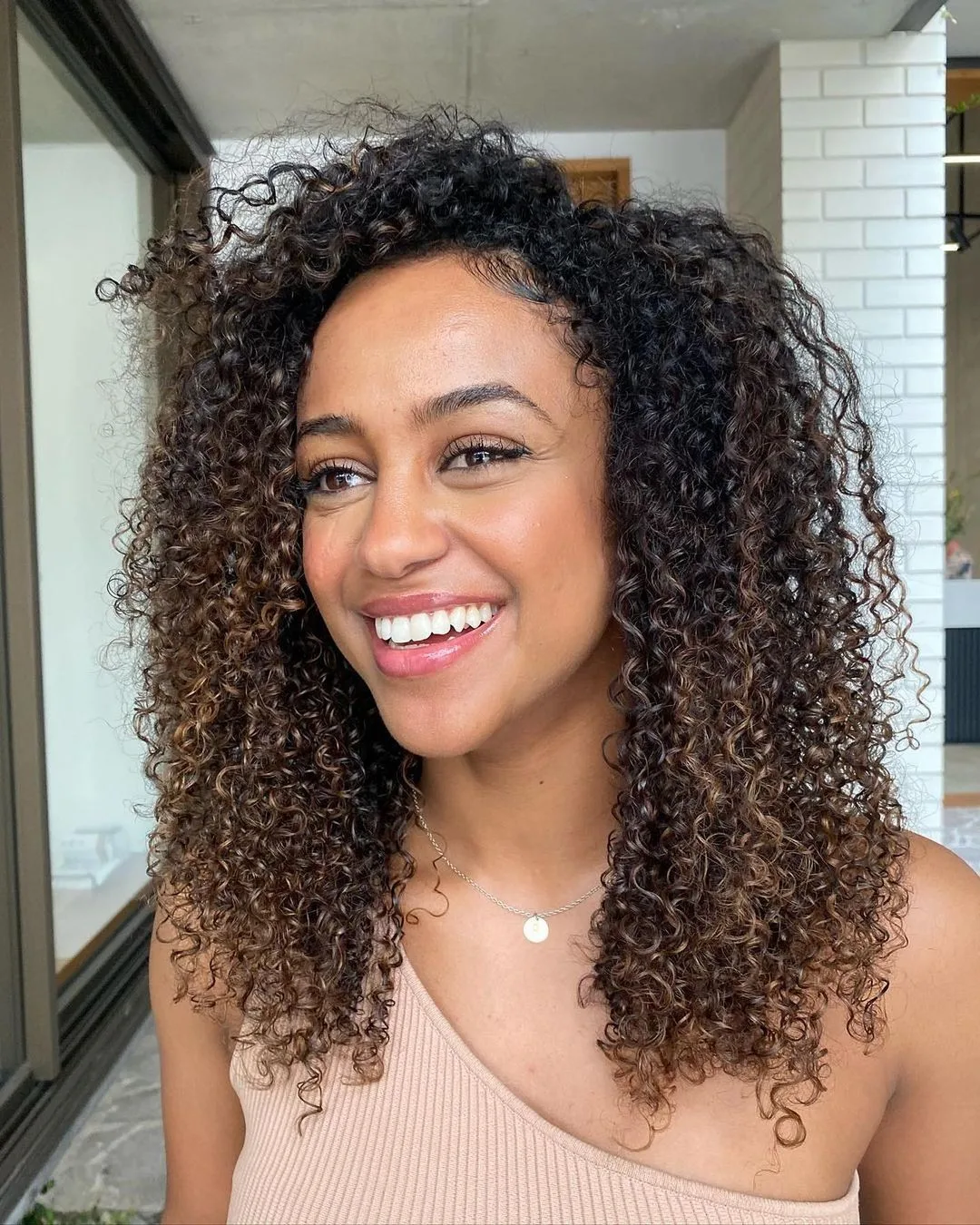 When people say that simple is the best, they mean chestnut brown hair, right? This lovely color is soft and inviting, perfect if you want to look friendly and approachable.
64. Purple Money Pieces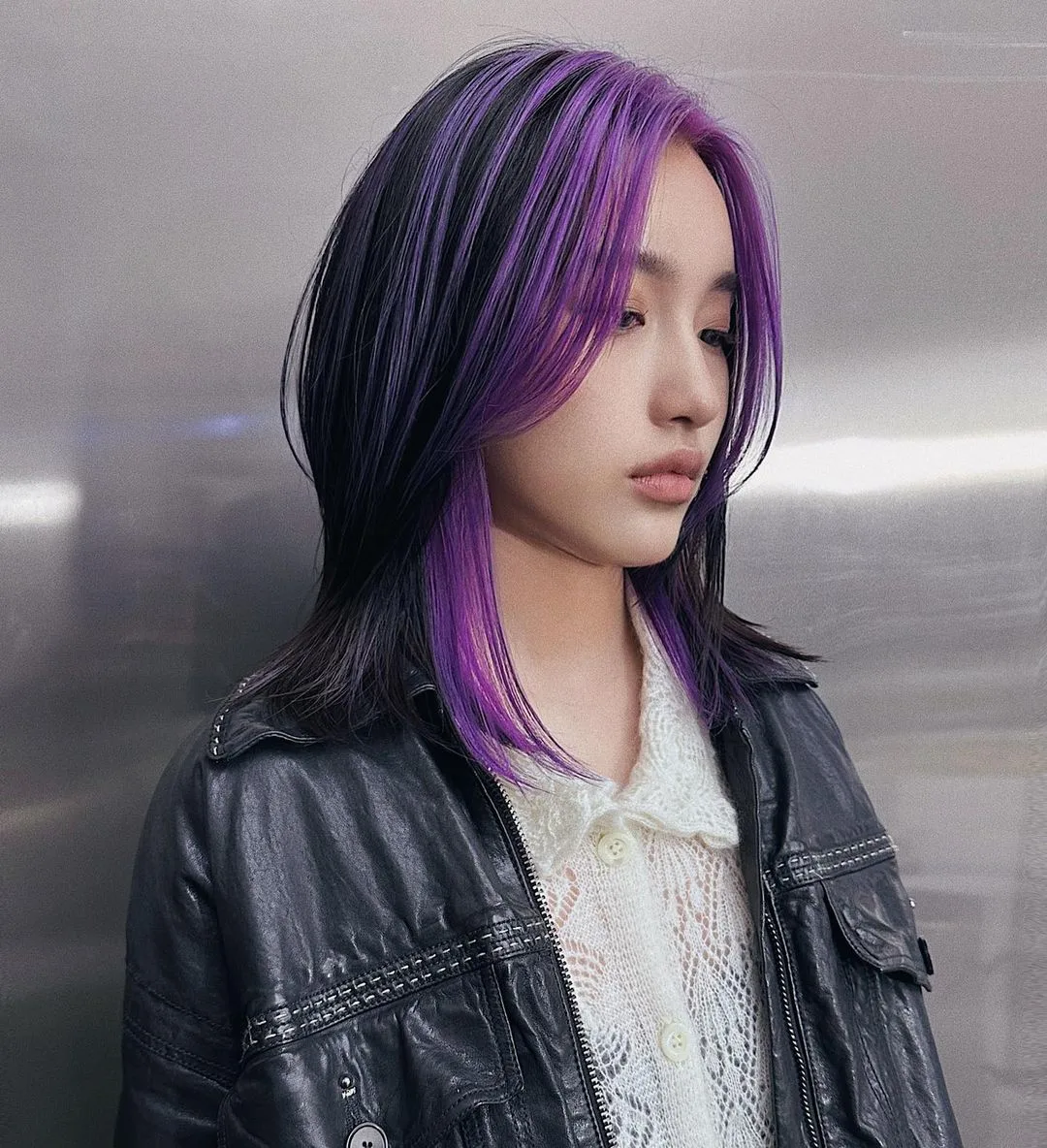 Vivids are demanding and require a lot of upkeep, and here's how to make things easier on yourself: instead of full head of color, take a look at these strategically placed purple sections that still create a bold look.
65. Fairy Pink Ombre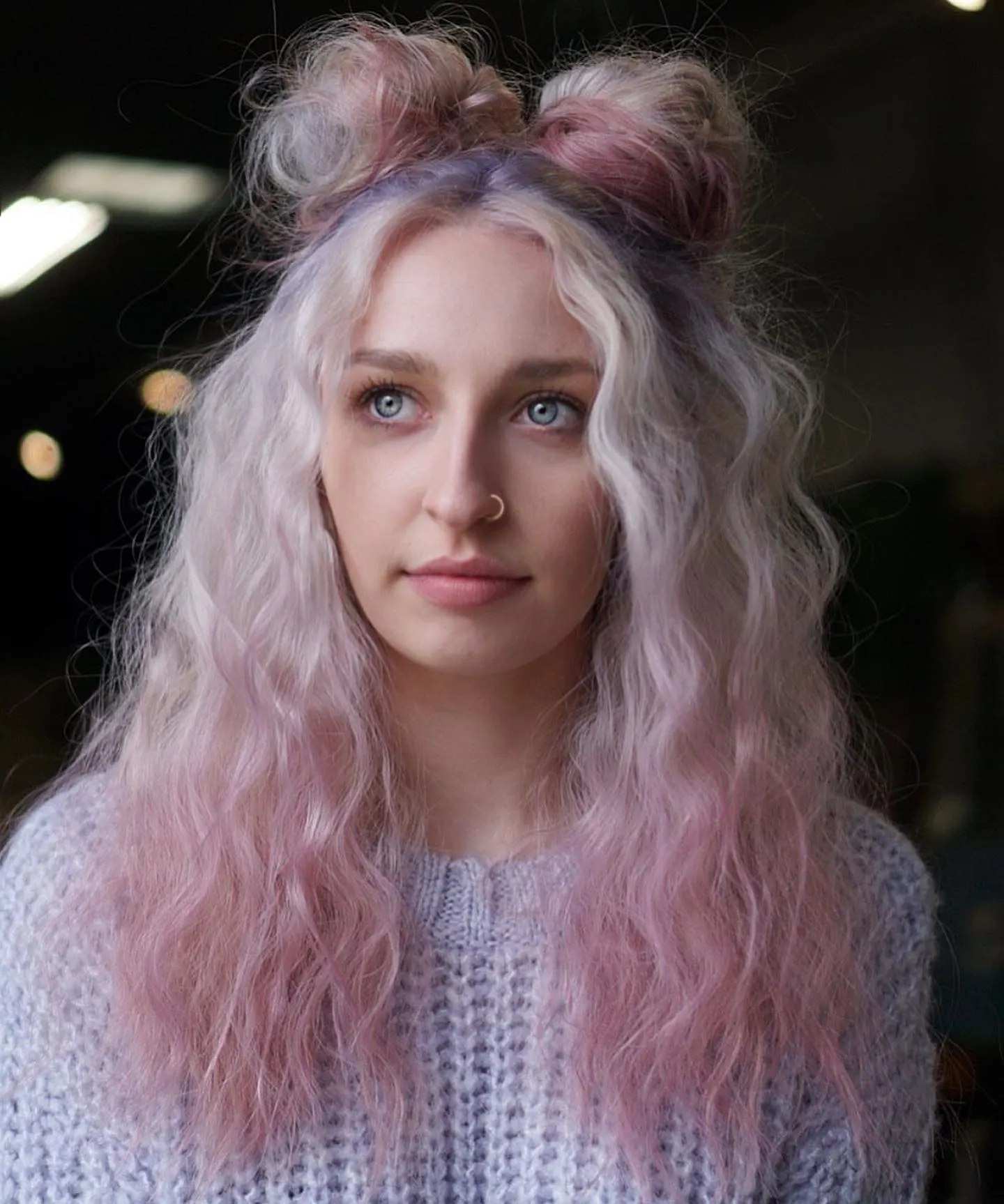 The magical realm of fairy pink ombre is expecting you, you'll only need a whole day at the salon. But good things are worth the wait, no?
66. Mushroom Brown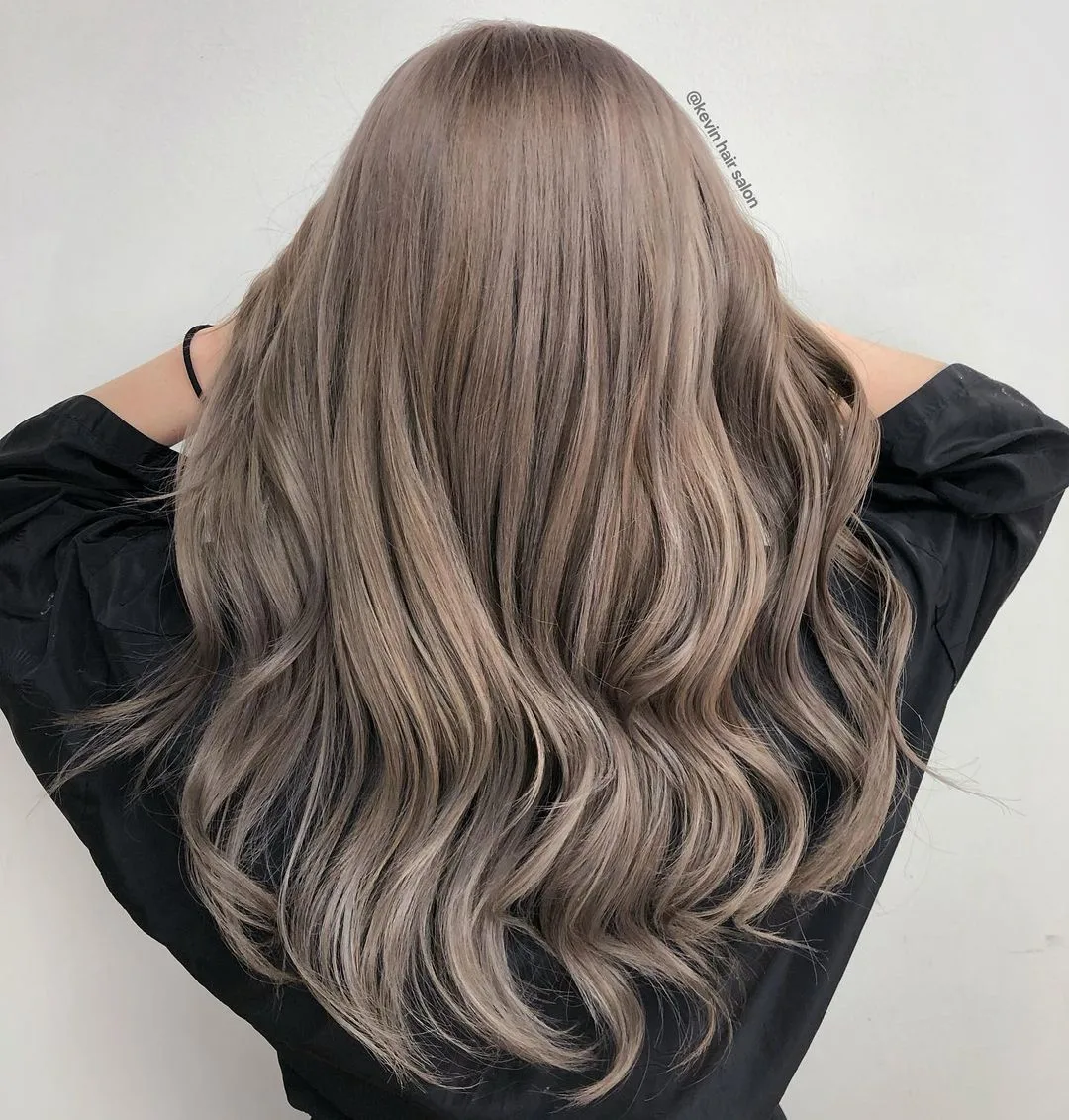 Mushroom brown combines muted brown hues with subtle undertones and looks sophisticated in a modern way. Despite looking so natural and simple, neutrals can be challenging to achieve so make sure you tell your colorist exactly what you want. (Bring this pic.)
67. Vanilla Blonde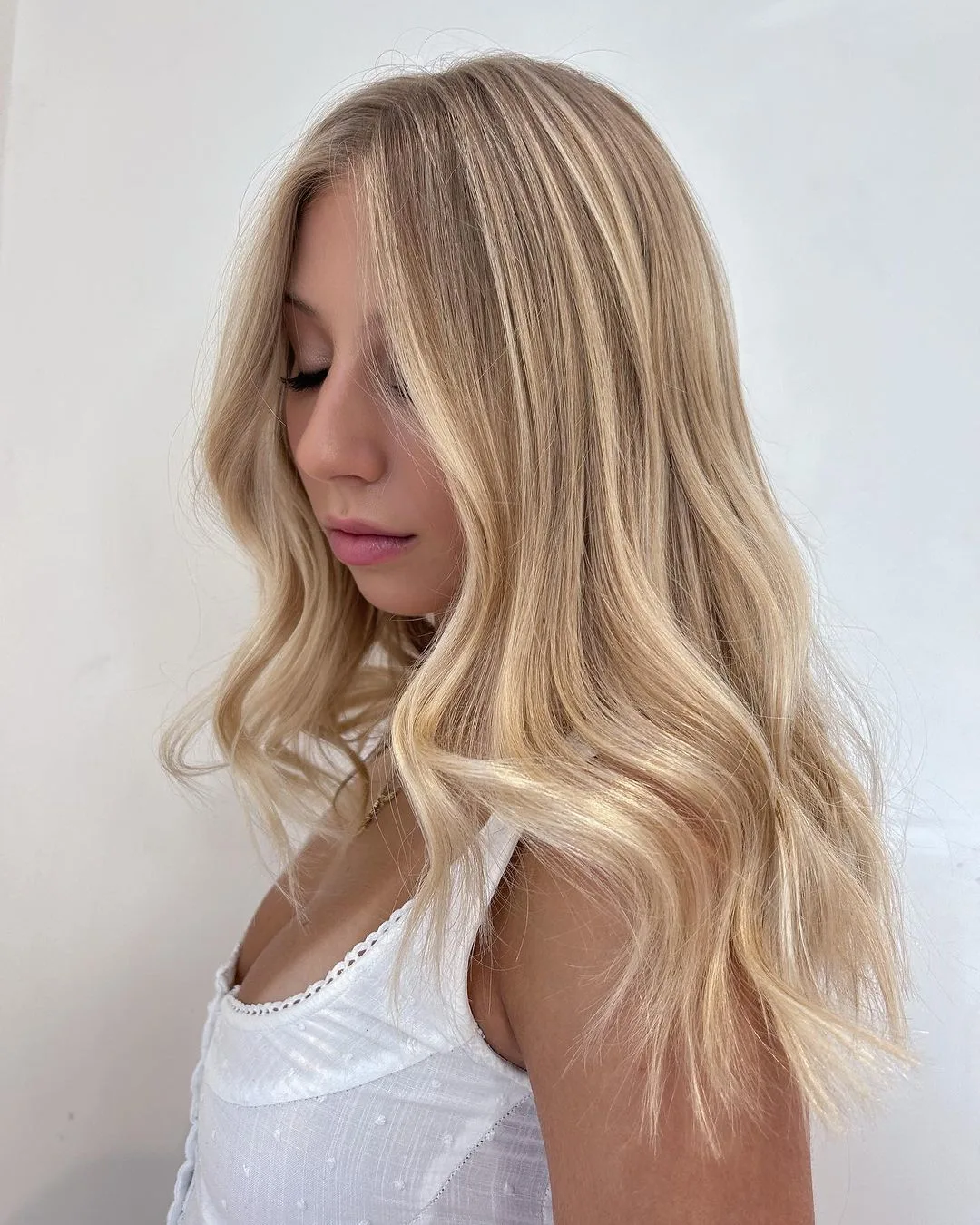 One of the prettiest blonde hair colors, vanilla blonde is fresh and bright. The most important part of this creamy dye job are the brightest face-framing pieces—they make a bigger difference than you might think.
68. Icy White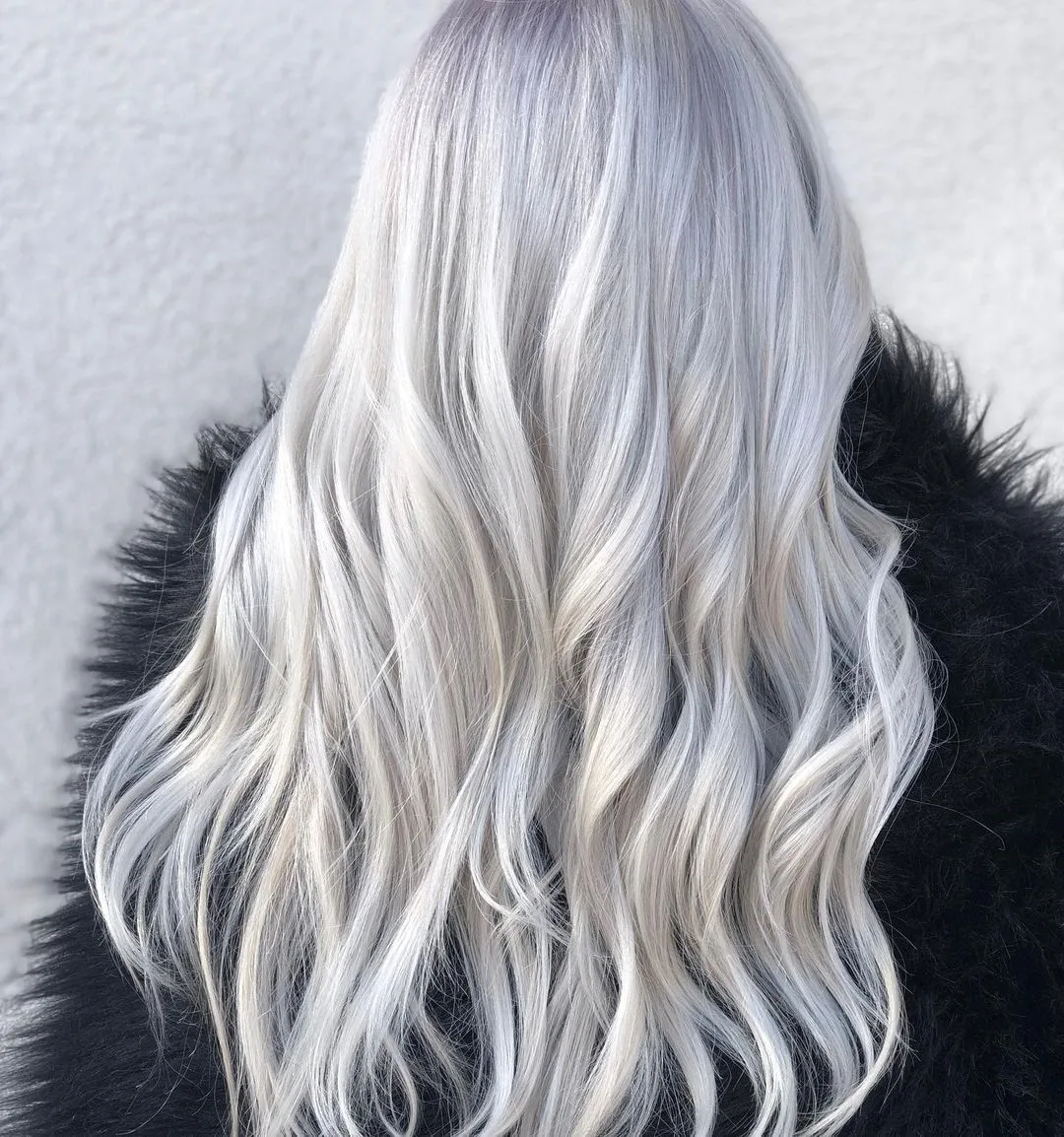 If you want to live out your ice princess dreams, your hair will need to be bleached to level 10, then toned to achieve a crisp, frosty white color. But this is not where the story ends: be prepared for frequent visits to the salon to keep it from going brassy and for touch-ups.
69. Red Brown Blend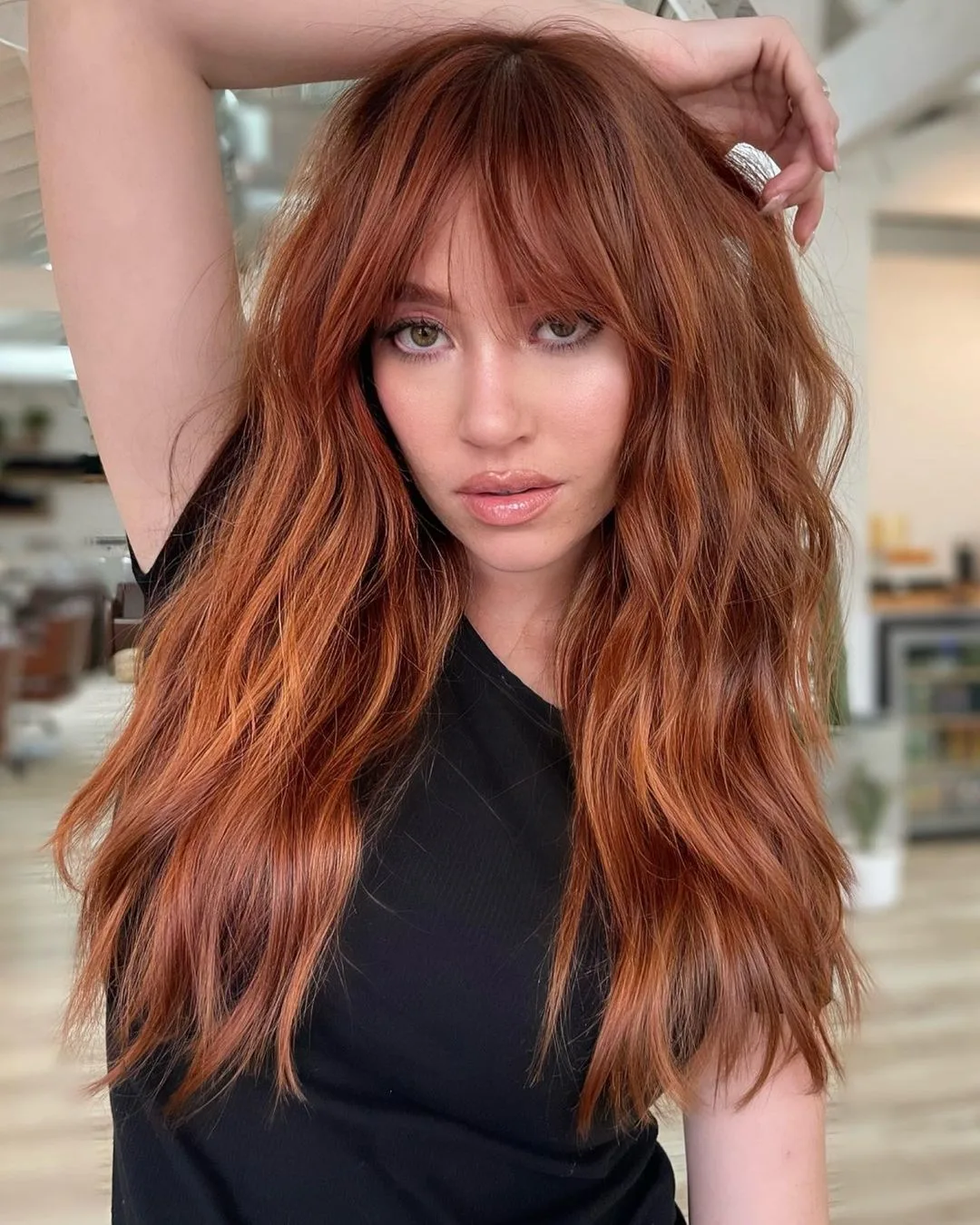 What can be more inviting that the richness of red and the depth of brown? A red brown blend that combines both the warmth and the vibrancy of these two hues.
70. Icy Blonde With Shadow Roots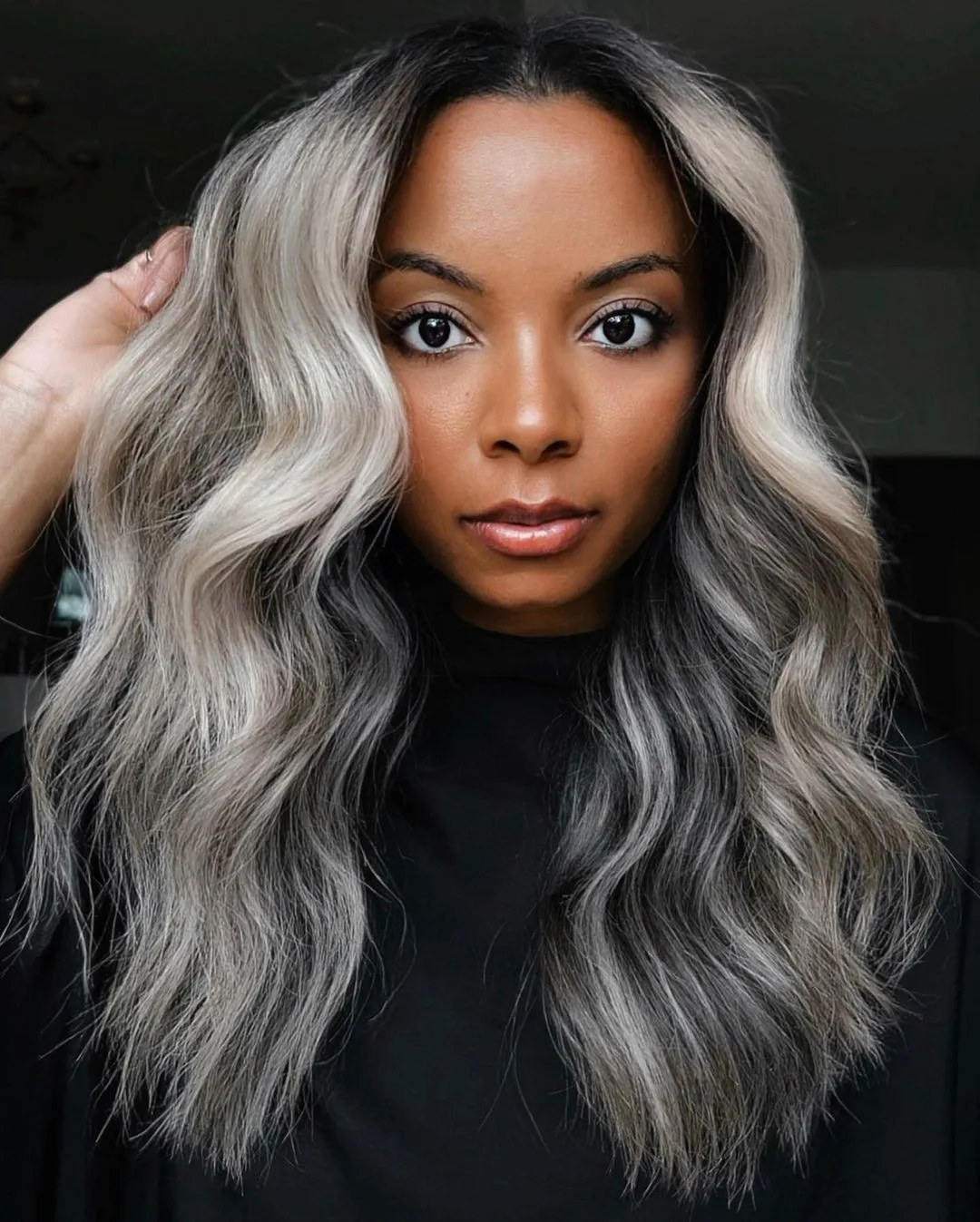 Icy blonde with shadow roots has a cool and modern aesthetic: a high-contrast and edgy look.
71. Bright Red Hair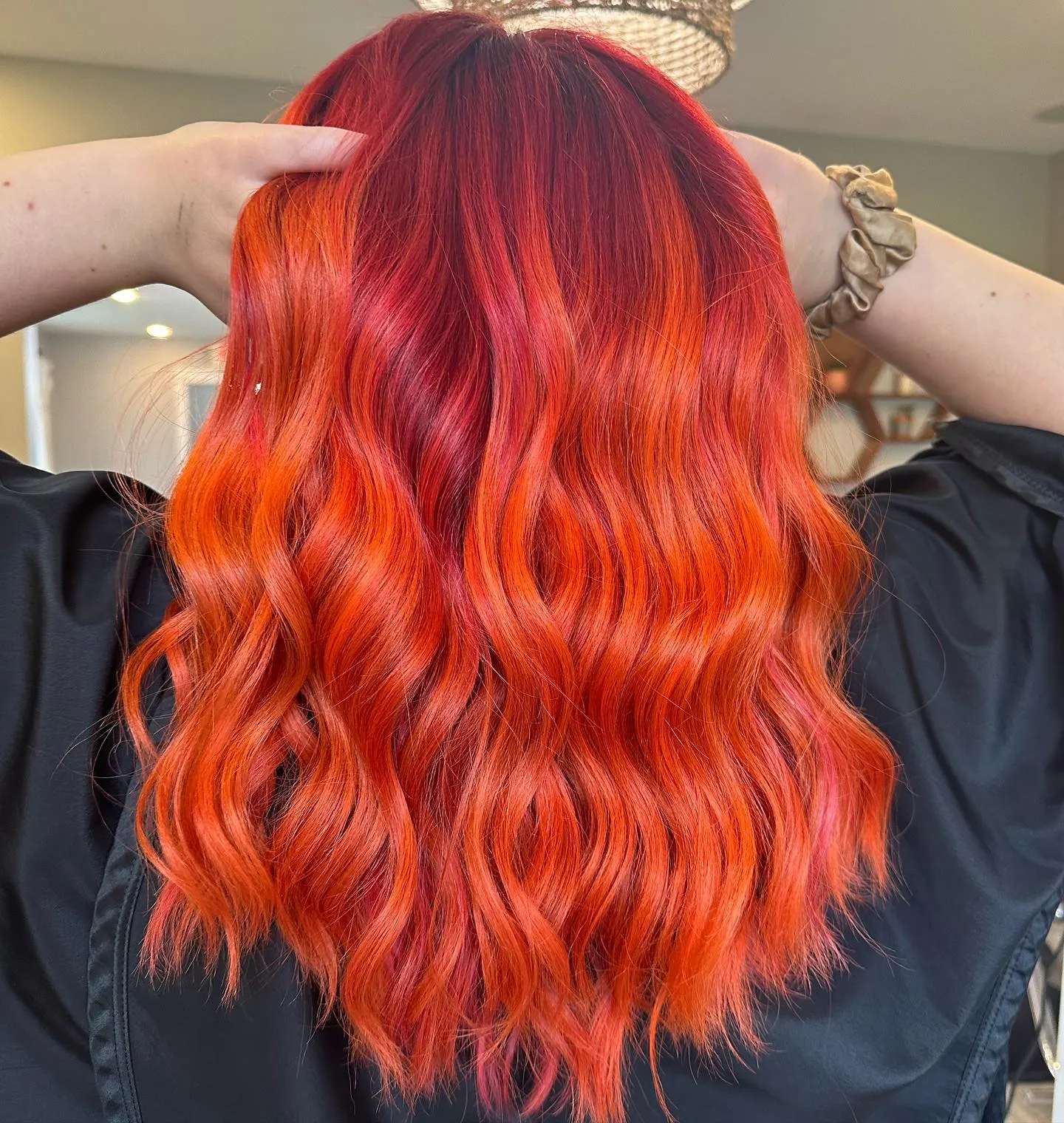 The thing about bright red hair is that it might be more hassle than it's worth—j/k, it's totally worth it. Not kidding about the hassle, though, you'll be at the salon a lot, fyi.
72. Brown Black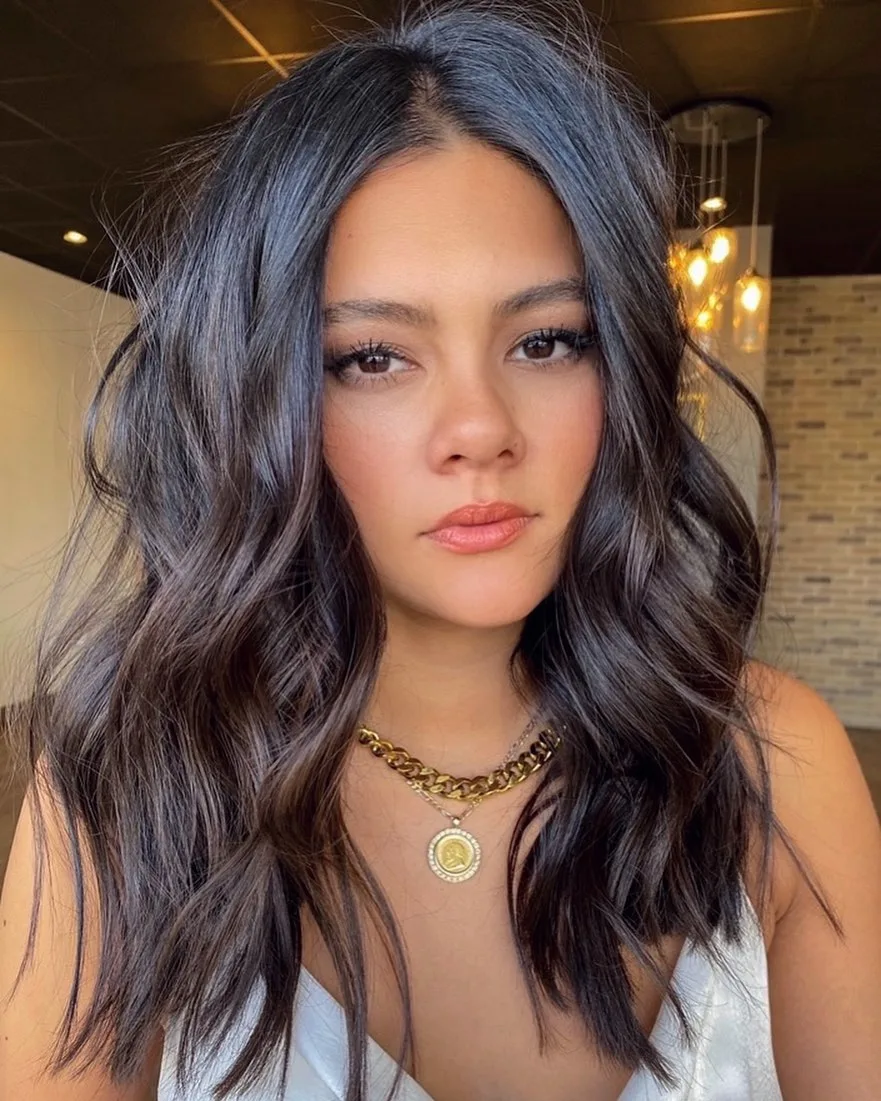 Black is too harsh, but you don't feel like a brunette? Here's the one and only level 3 hair, brown-black. It has the intensity of black and the soft warmth of brown that can even handle a few face-framing highlights.
73. Almond Brown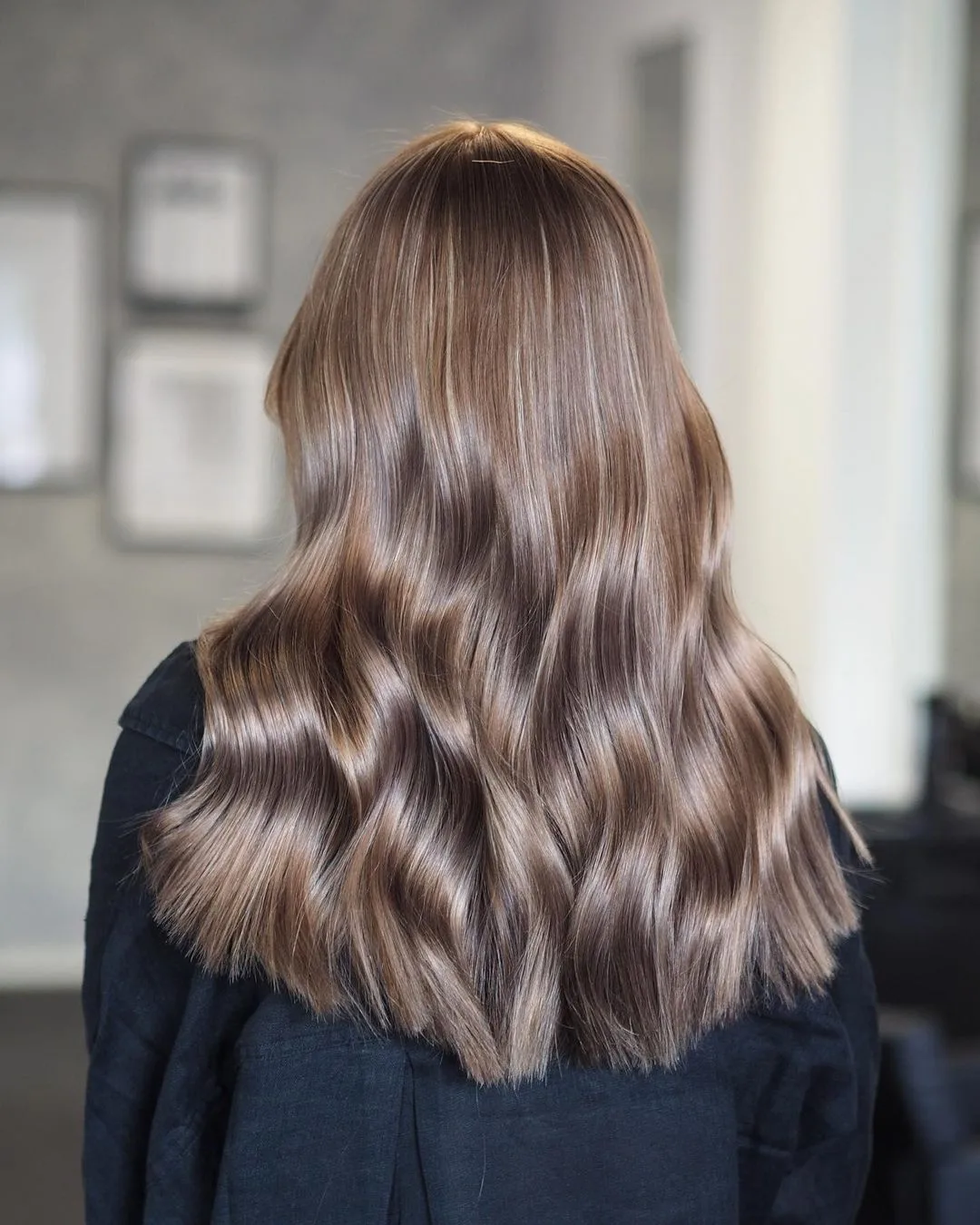 Everything about this almond brown is neutral—it's neither cool or warm, neither dark or light—but it's effective. It's the perfect color if you want something understated, but far removed from mousey brown.
74. Honey Brown Hair With Highlights
Like portable sunshine, this honey brown hair with highlights will make your skin glow and your eyes glitter. Not bad for a low-maintenance look.
75. Red And Black
Something about red and black makes them the perfectly compatible colors wherever you put them together. It must be because they have the same level of drama: these mahogany highlights are the right choice to brighten the black base.
76. Auburn Hair
The versatility and richness of auburn hair means that it can be slightly modified to fit nearly everyone. This blend of red and brown tones creates a warm and radiant hue that enhances natural features.
77. Red Brown Balayage
How amazing and artful is the transition between the base and the the color at the ends? This red brown balayage is seamless and gloriously vibrant.
78. Platinum Blonde
Achieving the ethereal and icy platinum blonde requires precision and skill. It also needs a commitment if you want to maintain it, so it's crucial that you have all the info before you take the leap.
79. Blonde Ombre
This lovely blonde ombre is a wonderful example of how seamless gradual transition from darker roots to lighter ends can be.
80. Beige Blonde Balayage
Beige blonde balayage with a little root showing is timeless and never goes out of style. Why? It's pretty and low-maintenance, ofc.